Class of 1982
The HHS Graduating Class of 1982 (Please Click on Pic to Enlarge)
Class of 1982 
Hemingford High School 
Student and Faculty Highlights of the Year 
This page features athletic records, officers, themes, important numbers, important happenings, and other educational information from the year in question. It provides a quick and ready resource for Bobcat Grads and families!
Student Council Highlights – 
Sponsored Homecoming activities, including the annual dance.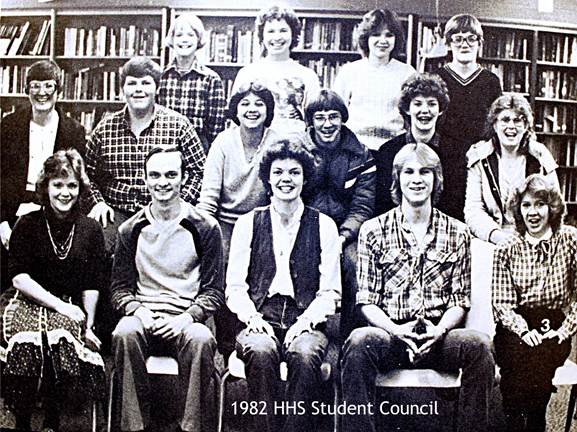 Student Council Members – 
Seniors – Mark Chaney, Lisa Jensen; Juniors – Michelle Delsing, Bill Foley; Sophomores – Kris Craig, Bill Schock; Frosh – Jennifer Delsing, Bruce Garner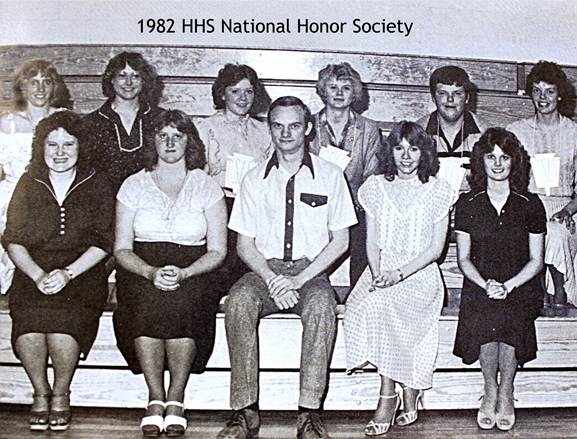 National Honor Society Members –
Melanie Murdock, Mariann Adamson, Jim Hack, Lisa Jensen, Karen Kresl, Lori Annen, Jenny Herbaugh, Angie Cullan, Tammy Cullan, Bill Foley, Michelle Delsing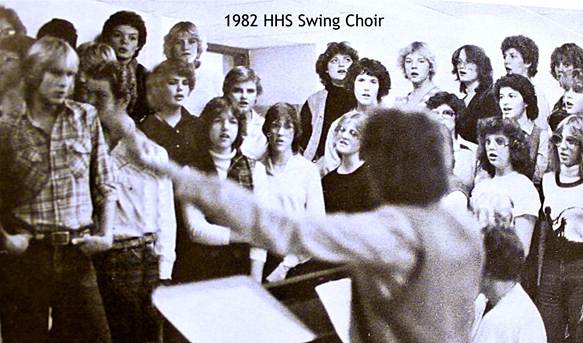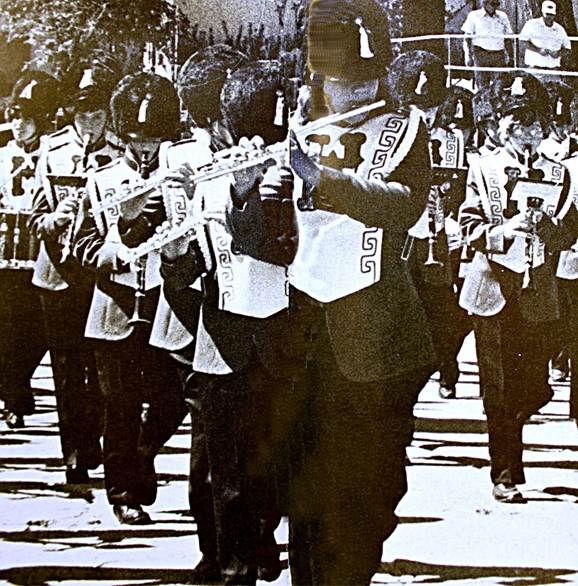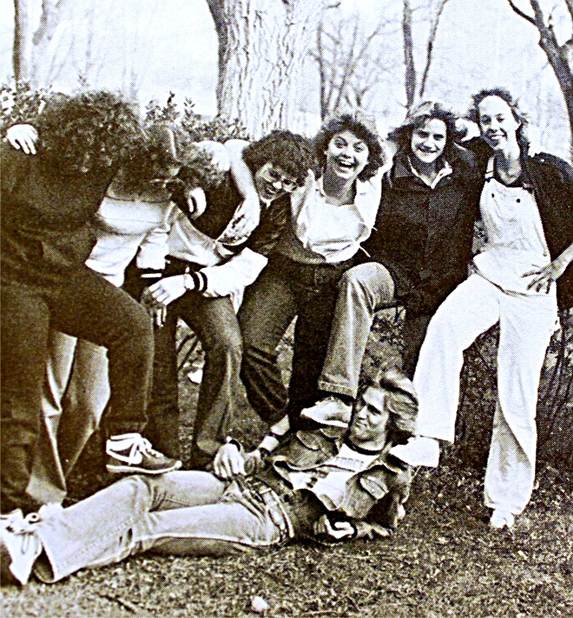 Senior Choir Members at their annual picnic.
Music Department –
Three musicians qualified for NMEA All State Music! – Michelle Delsing and Pauline Schance for band and Cindy Cole for choir.  Mrs. Kenner was the choir director.  Mrs. Shaver directed the pep band, marching band, and the stage band. The marching band also traveled again to the Nebraska State Fair to march and perform three times. They attended a Glen Campbell concert while there! Superior ratings at districts went to Melanie Murdock in clarinet solo and trio, Mariann Adamson and Lori Annen in Clarinet Trio, and the Hemingford Stage Band.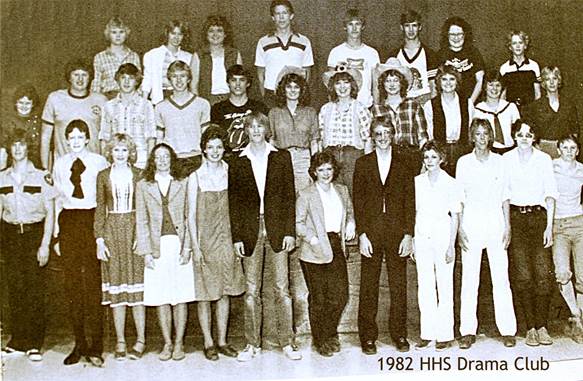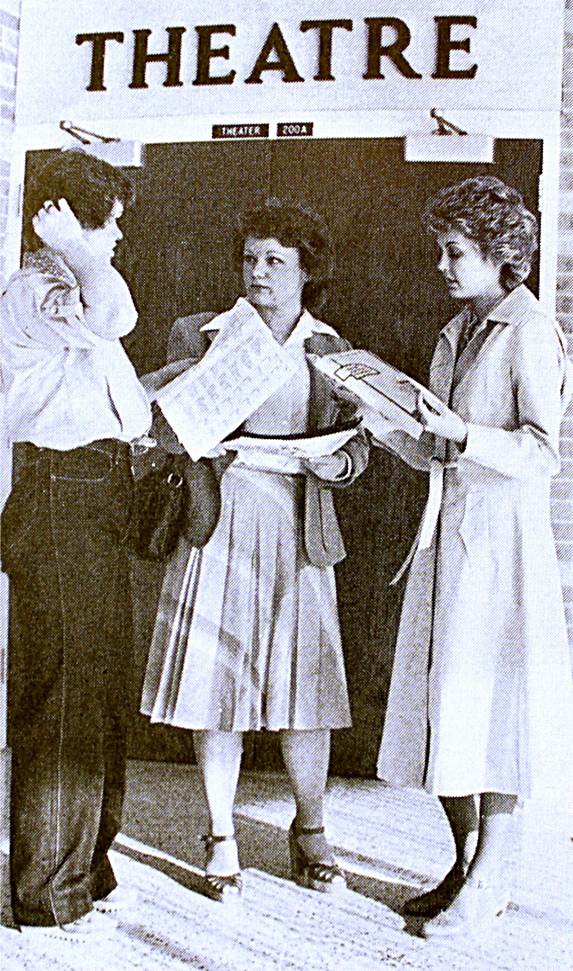 Shannon Cullan, Angie Cullan, and Robyn Morriss at the state speech meet.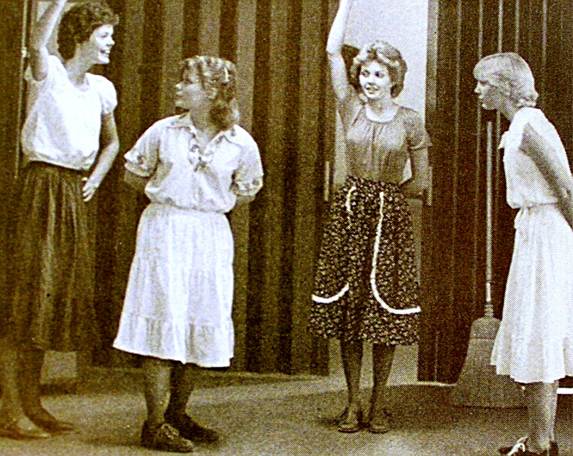 Delsing and Morriss try to prove a point to Cullan and Gasseling during the one-act.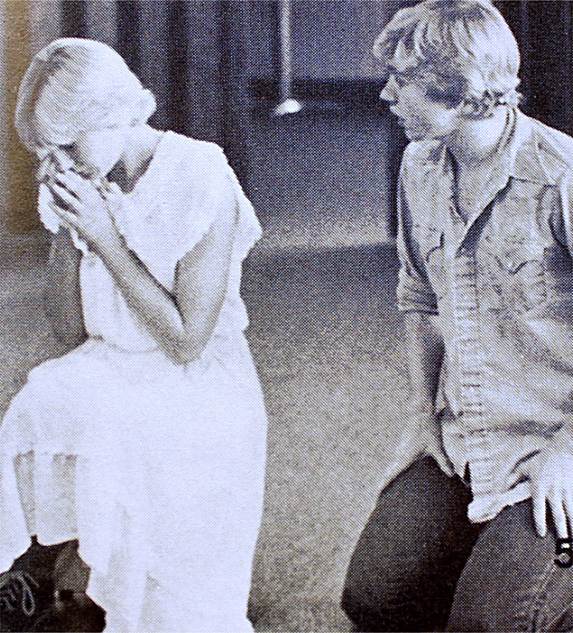 Sue Gasseling and Brad Hanson pause for a dramatic moment.
Drama and One Acts –
Director Lyle Fodnes and students produced two one-act plays, "Sunday Costs Five Pesos" and "Excellent", and the two-act play "Gramercy Ghost". Cast members included: Angie Cullan, Keith Bugin, Dana Jespersen, Michelle Delsing, Jodeen Ray, Shannon Cullan, Robyn Morriss, Lance Kotschwar, Karla Kresl, Nancy Smith, Lynn Hooper, Cindy Cole, Sue Gasseling, Brad Hansen, and Mark Chaney.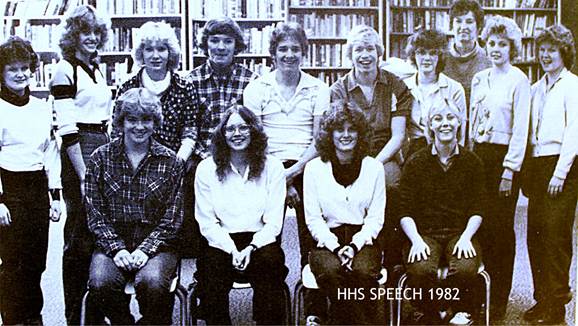 Speech – 
Mary Lliteras sponsored the Speech team of fifteen students, earning a third place at PAC. Two students, Angie Cullan in Dramatic Prose, and Robyn Morris in Informative Public Address qualified for the Nebraska State Meet!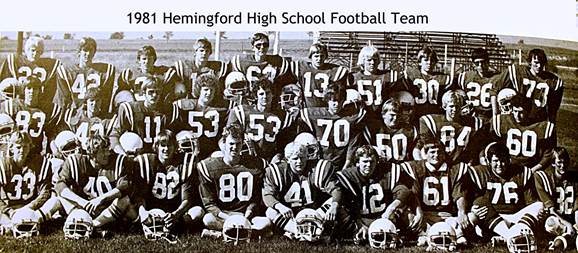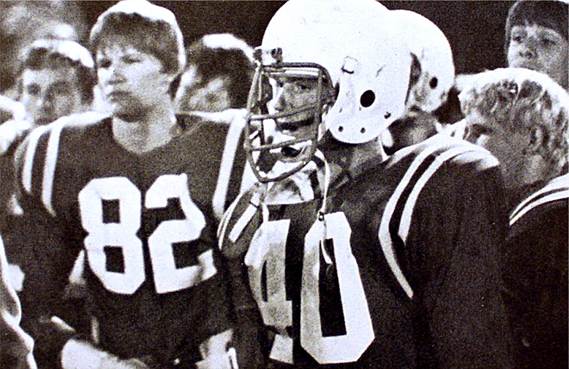 We're ready to go in coach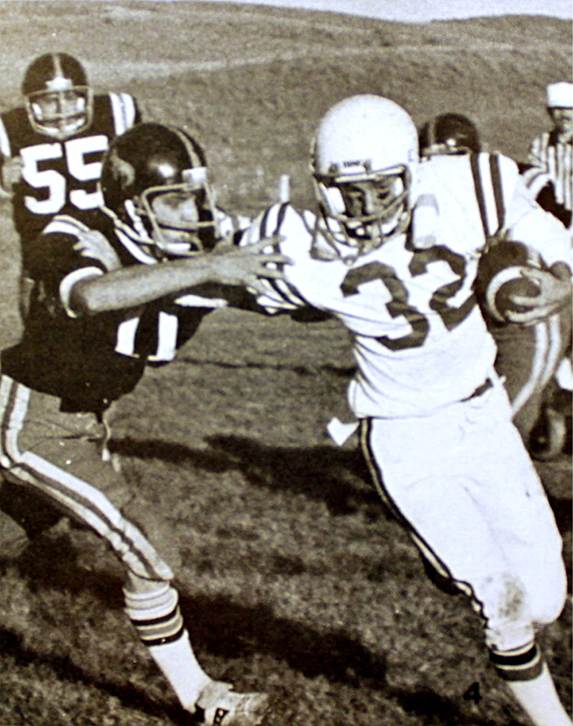 Dan Forsstrom uses the straight-arm to run for a TD.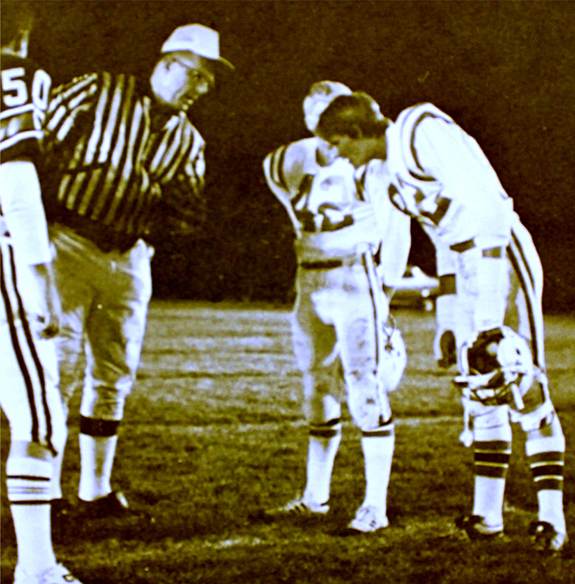 Uhhhhhhhhhhh………………….that was MY quarter ref
Football –
The first year of 8-man competition for Hemingford ended with a two win, seven loss season under the leadership of Coach John Stanton. Victories came over Harrisburg and Cody-Kilgore (6-man) Only three players were Seniors, with Chris Golka receiving all-conference honors along with juniors Nick Dannar and Bill Foley.
Other team members included: Rex Horstman, Dan Forsstrom, Wade Wilkens, the team's leading rusher, Dana Jespersen, Kent Prochazka, Randy Wood, Brad Hansen, and Brady Garner. The JV football team fell behind Crawford (0-28) before rallying for a triple OT win (34-28) for a season highlight for JV coaches Mark Bauder and Tim Lanik.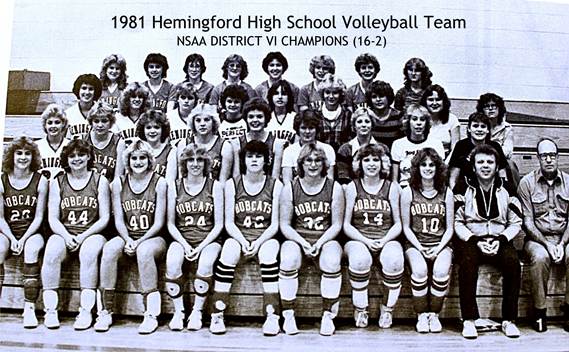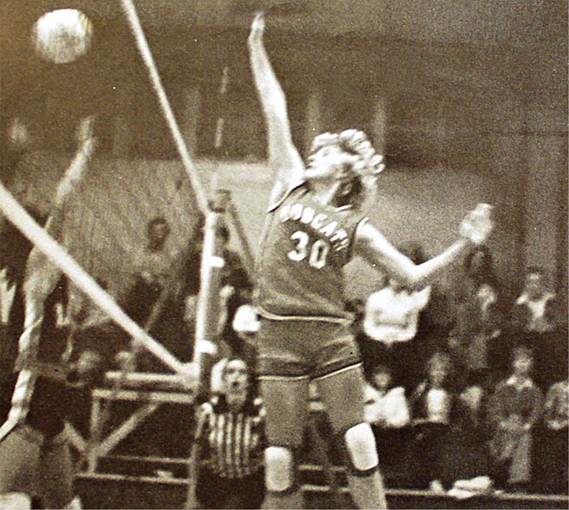 Tracy Shepard was the Lady Cats leading server in 1981

Pat Anderson sets the ball for a kill
Volleyball –
Coach Duane Knaub and the Bobcats won the first district title in Hemingford volleyball history and completed the season 16-3. The Lady Cats beat Crawford, Bayard, and Morrill to win Districts, dropping a state play-off berth with Imperial, and ended the season rated eighth in the State in Class "C" by the Omaha World Herald. Dee Campbell was a first-team PAC All-Conference player, and Lori Annen earned Honorable Mention.
Other team members included: Michelle Delsing, Kathy Vickers, Pat Anderson, Tracy Shepard, Karen Kresl, Michelle Chaney, Robyn Morriss, Loretta Adamson, Jennifer Delsing, Johnna Shepard, Karla Kresl and Billie Elder. The Ladies were not shut out in any of their matches, taking at least a set in each of their three losses.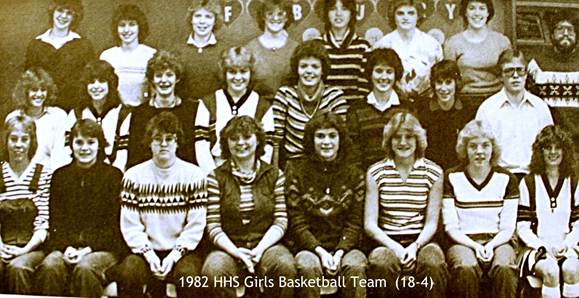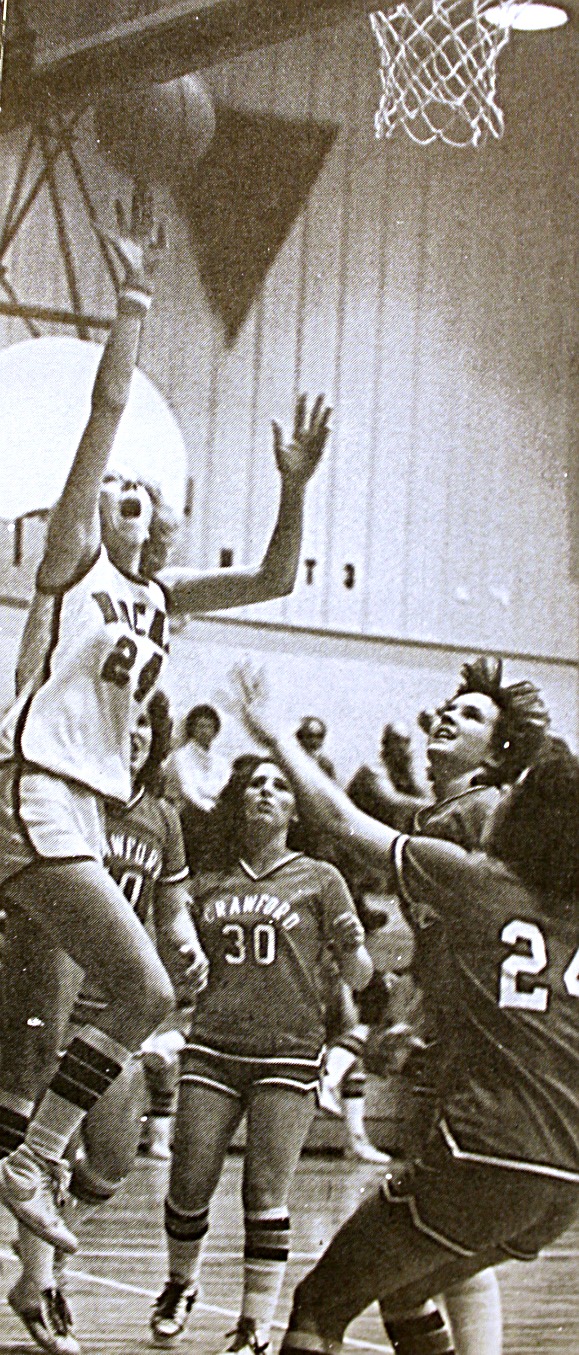 Jodeen Ray skies for a bucket over the Lady Rams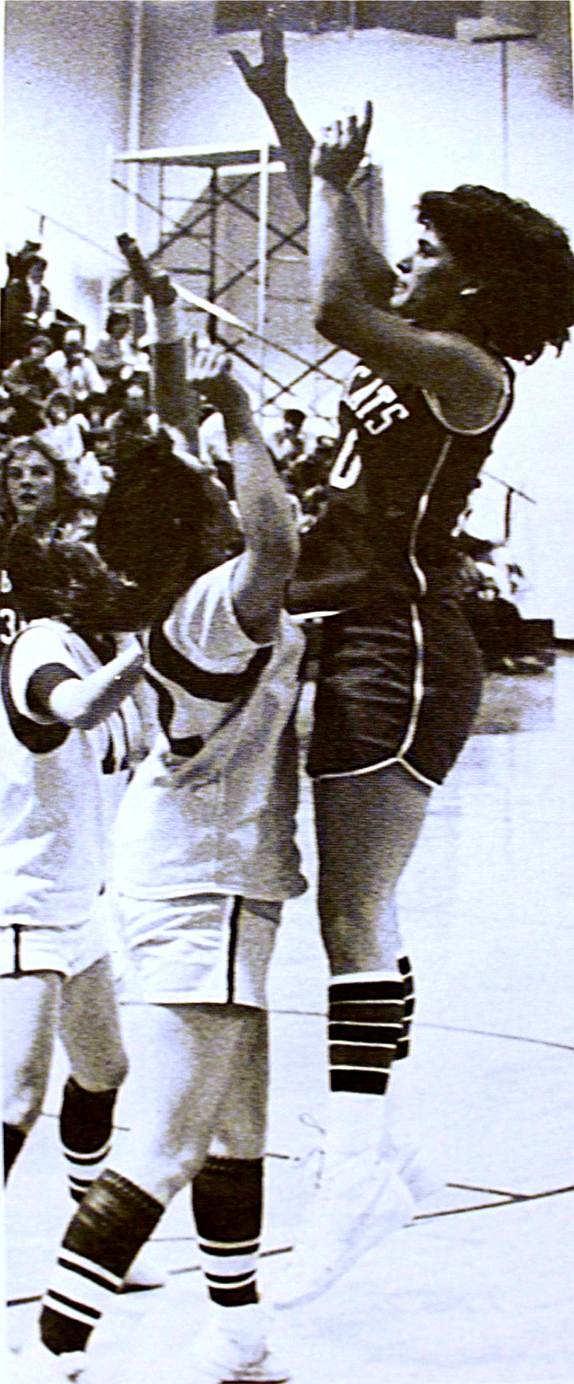 Dee Campbell for two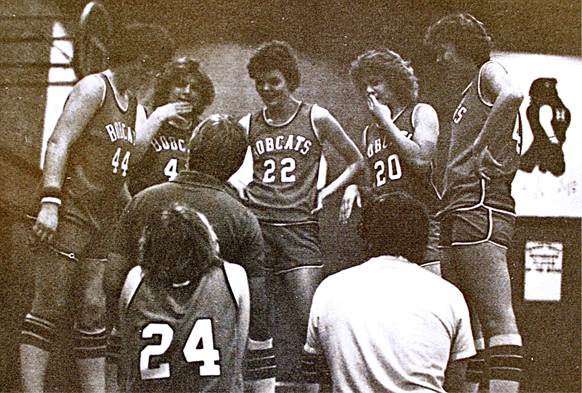 Girls Basketball –
18 wins and 4 losses marked the best record in Hemingford girls' basketball history and Coach John Stanton. The Lady Cats were also Conference Champions! Only Gordon and Bridgeport were able to beat the Ladies.  All-Conference honors went to seniors Dee Campbell and Billie Elder, along with junior Michelle Delsing. Other team members included: Michell Chaney, Jodeen Ray, Kathy Vickers, Tracy Shepard, Deb Anderson, Pat Anderson, Angela Walters, Johnna Shepard, Karla Kresl, and Karen Kresl. The Girls JV team sported an (11-5) record on the season.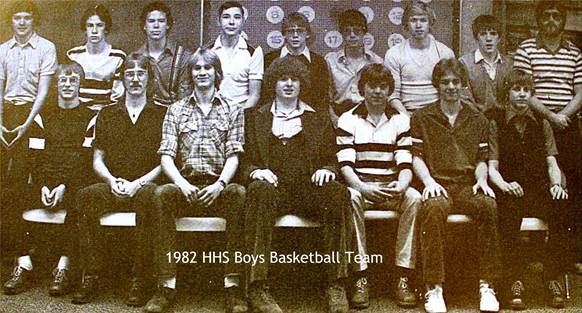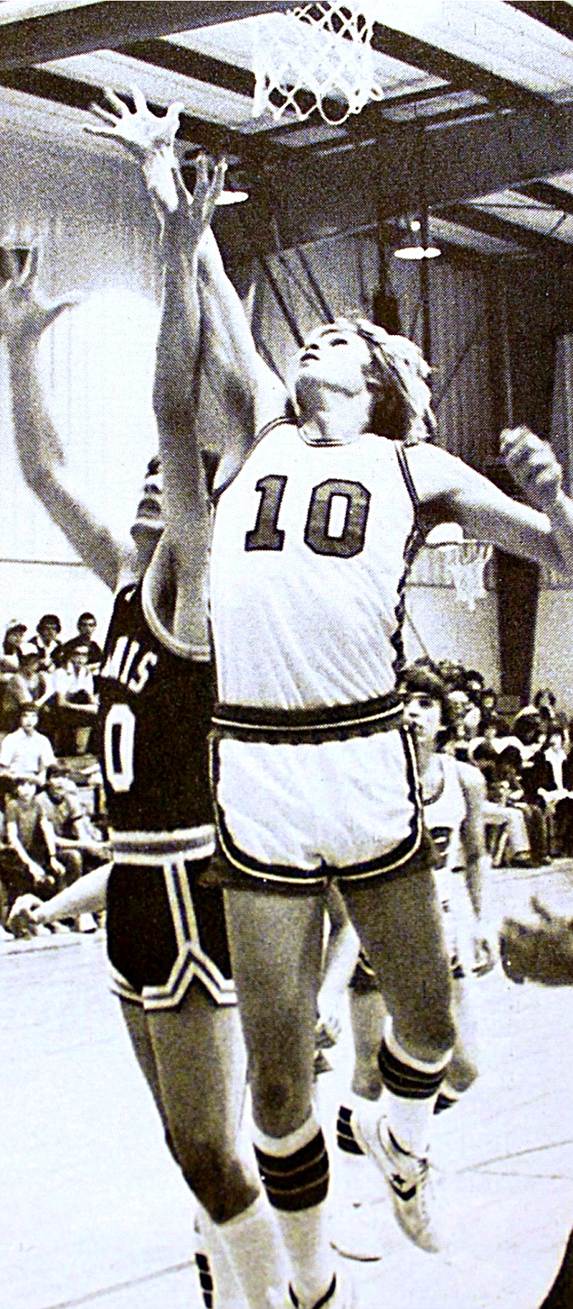 Mark Chaney shoots a layup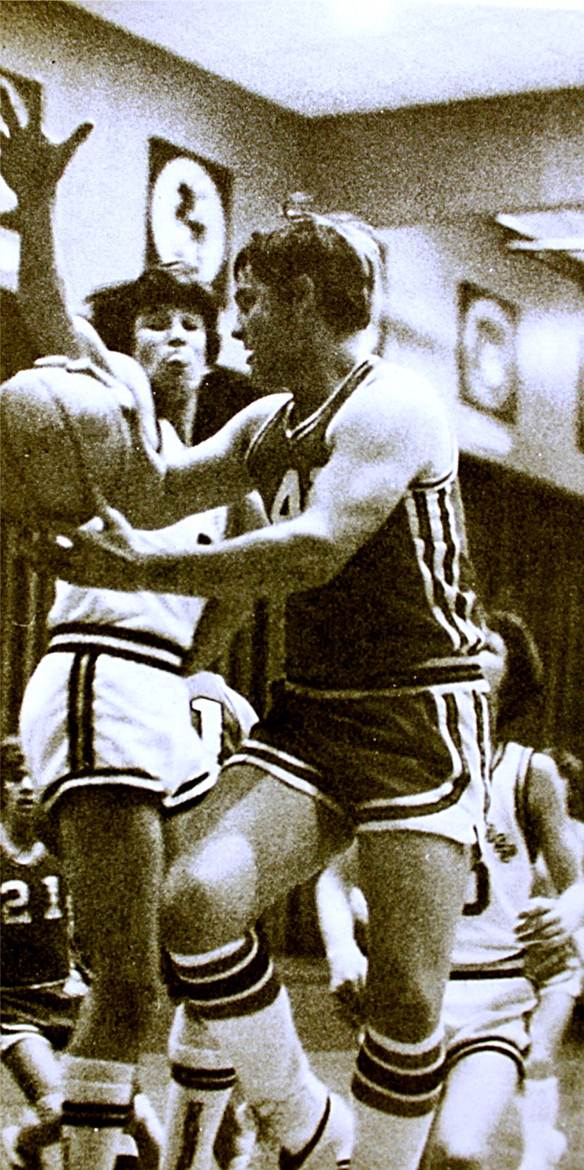 Nick Dannar looks to bounce the ball out of bounds off an opponent
Boys Basketball –
The Cats and Coach Tim Lanik worked hard in a (2-16) season, beating Harrison and the Chadron Job Corp with Mark Chaney the only senior on the team. Chaney went on to win all-conference honors for the Cats. Other team members included: Rex Horstman, Dan Forsstrom, Dave Conroy, Randy Wood, Nick Dannar, Jim Zajic, Dana Jespersen, Jeff Garber, Theo Hudsen, Lance Kotschwar, Pete Cullan, Brad Hansen, and Ron Jespersen.
JV Coach Ted White and his youngsters had a great season, winning 16 games while losing only 5. The Junior High Cats won the PAC Tourney and the Edgemont Tourney, going (10-2).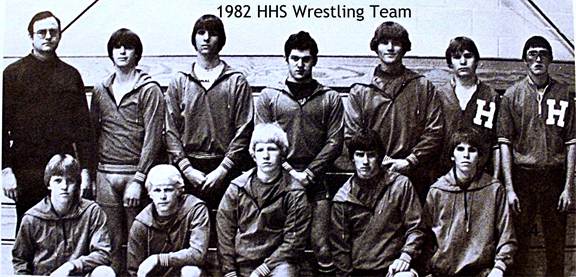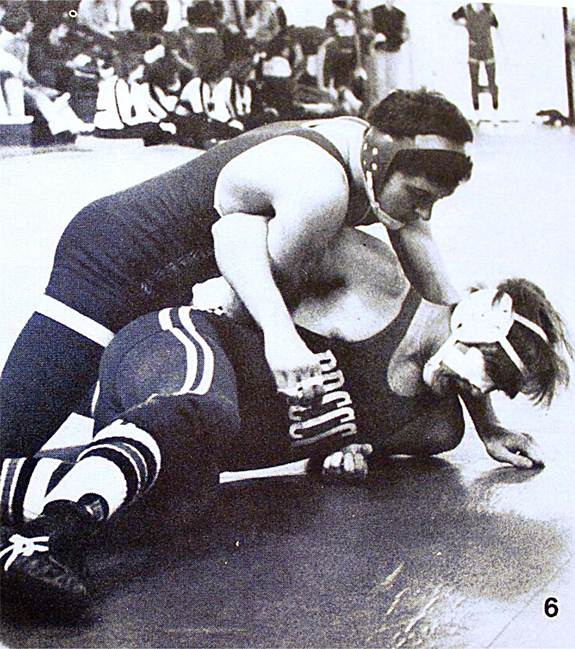 Roger Schledewitz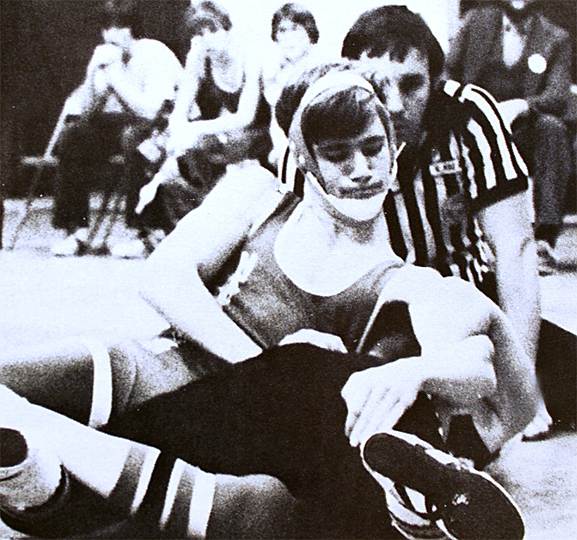 Kent Prochazka in control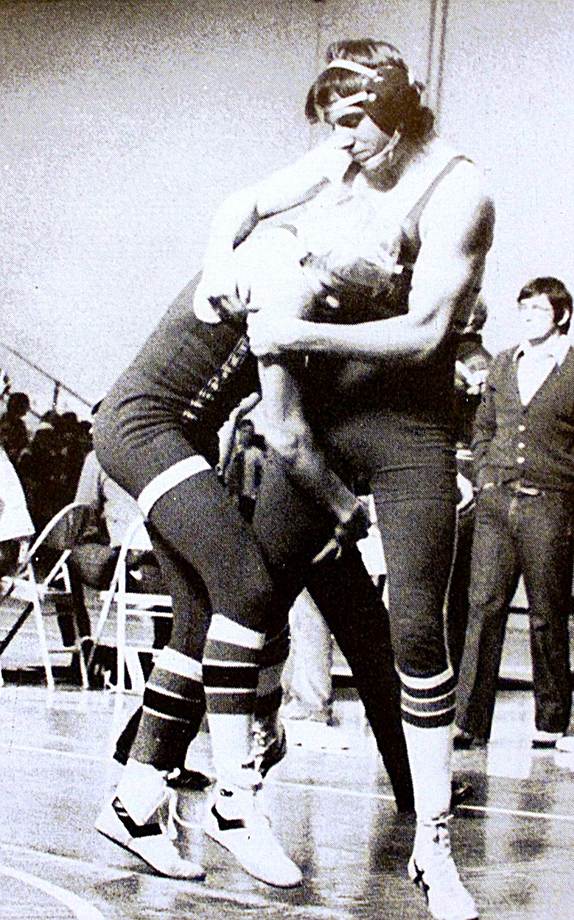 Wade Wilkins placed at State Wrestling
Wrestling –
Five wrestlers qualified for state for Bobcat Coach Ed Planansky. Chris Golka, Wade Wilkins, Brady Garner, Kent Prochazka, and Bill Schock. Wilkins placed sixth at State for the Cats. Hemingford had a record of (6-3) in dual matches, and scored a record 187 points in winning the Chadron Invitational, allowing the team to shave off half of Coach Planansky's beard, mustache, and sideburn! Other wrestlers included: Tony Wilkins, Doug Clark, Roger Schledewitz, and Bruce Garner. The Cat Junior High team won Championships at Mullen and at Harrisburg.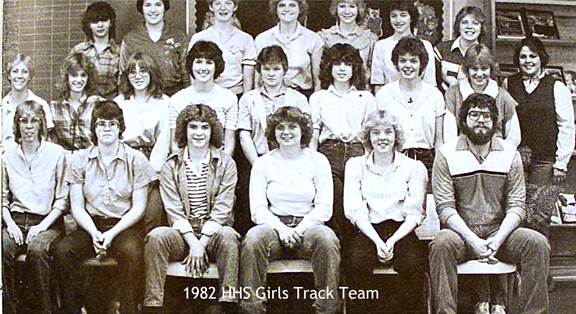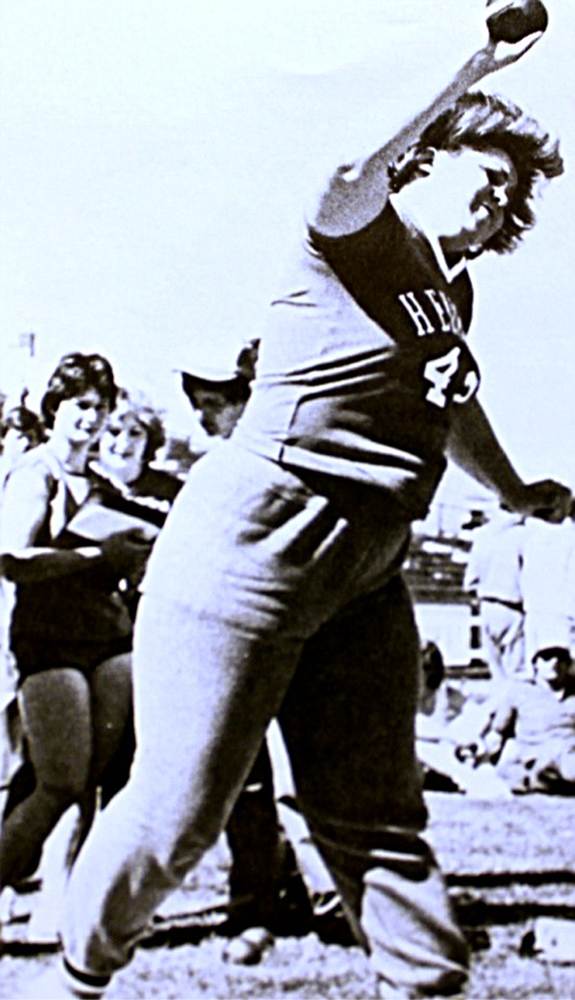 Donna Lembke puts the shot at Chadron
Girls Track and Field –
Coach Mark Bauder and his 20-member team did well.  Three records were broken during the season by Dee Campbell in the distances, with a 2:30.0 in the 800, a 6:12.8 in the mile, and a 13:44.6 in the 3200! The girls won the Hay Springs meet, and finished as runner-up in the PAC and the Hyannis meets. A new track was completed at season's end around the football practice field. Other team members included: Donna Lembke, Michelle Delsing, Tracy Shepard, Billie Elder, Jodeen Ray, Jennifer Delsing, Shannon Cullan, Shelly Prochazka, and Lynn Hooper.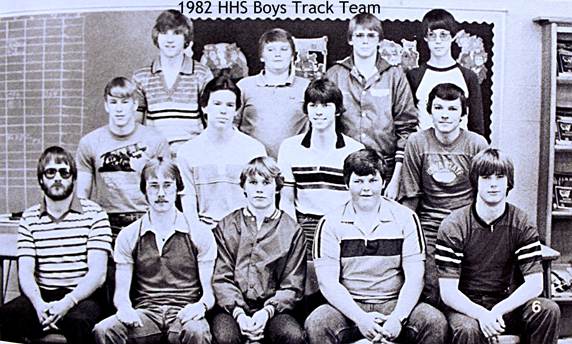 Jim Zajic wins the half-mile for the Cats!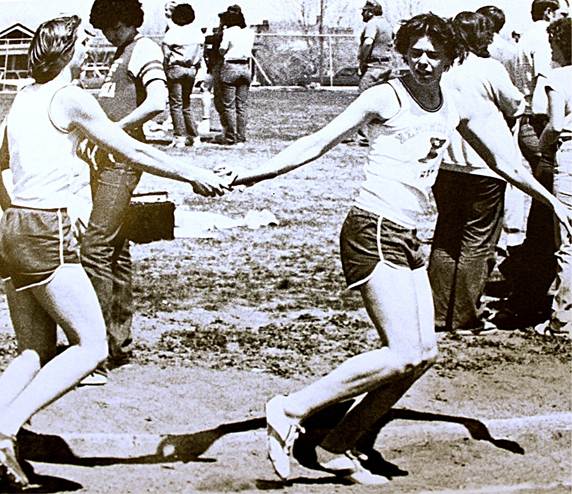 Pete Cullan passes the baton to Jeff Bickford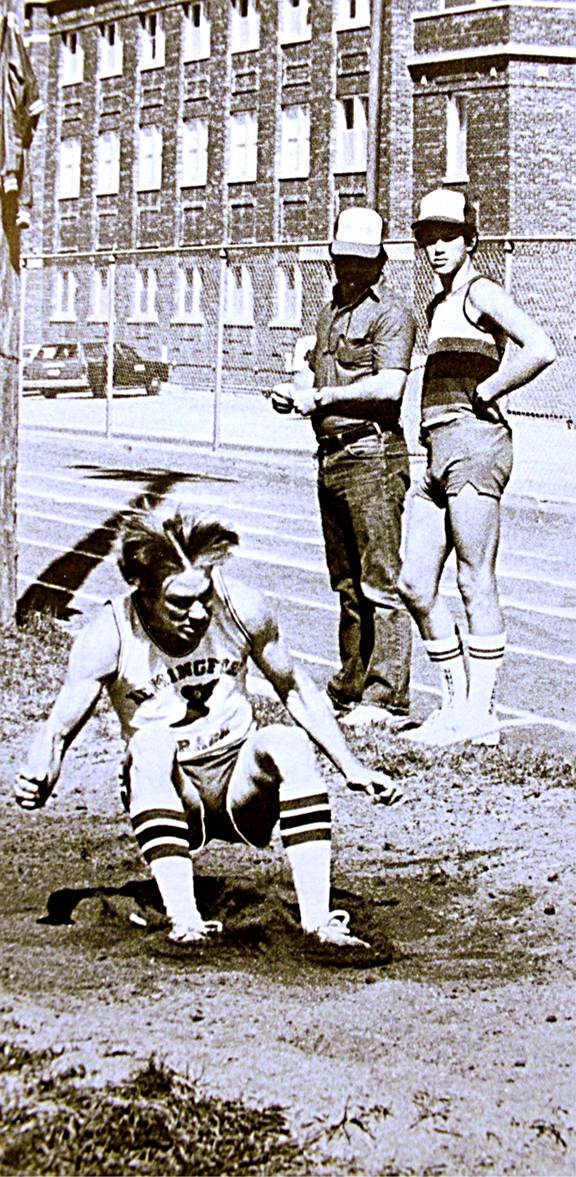 Casey Cole explodes for a long jump. Cole was the leading sprinter on the team as well.
Boys Track and Field –
A young squad with no seniors directed by Coach Tim Lanik placed third at the PAC meet and had six letter winners: Dana Jespersen, Jeff Bickford, Casey Cole, Dave Conroy, Randy Wood, and Jim Zajic. Other team members included: Dan Forsstrom, Keith Jenkins, Bill Foley, and Pete Cullan. The Hemingford junior High Track team won Championships at the PAC meet and the Gordon Invite.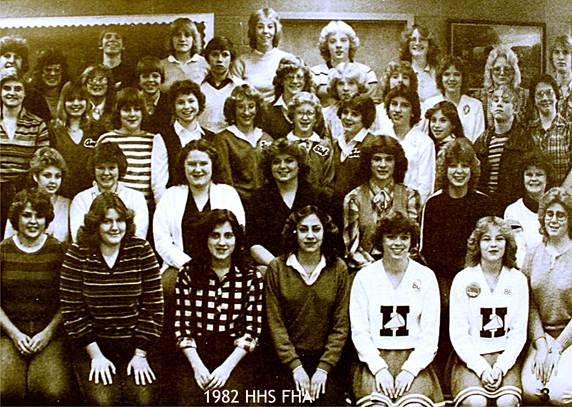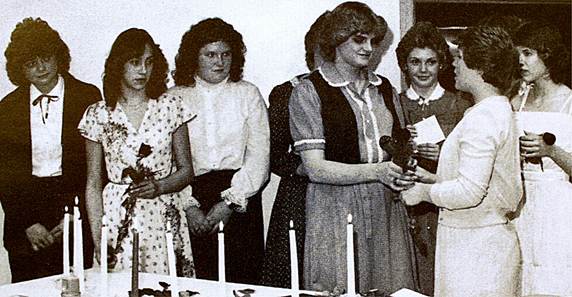 FHA Officers are installed at the Annual Banquet.FHA –
had over fifty members sponsored "Pennies Day", which featured a contest for most handsome legs, won by Coach John Stanton!  A baking contest and a ski trip to Deer Mountain in South Dakota were other events. President was Shannon Cullan, VP was Jenny Herbaugh, Tracy Shepard was the Secretary, Robyn Morriss was the treasurer, Lynn Swanson was the Publicity Chairperson, with Kathy Cullan Recreation Chairperson, and Melanie Murdock the Encounter Chairperson. Dee Campbell served as the District IX President, and Angie Cullan was a State Officer!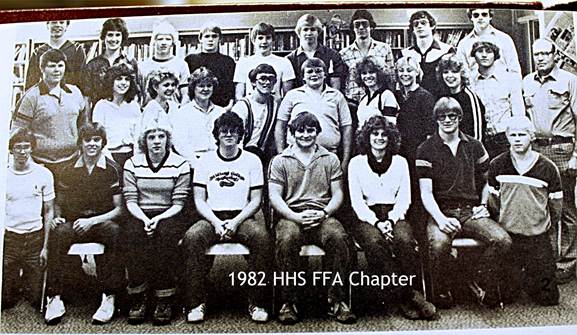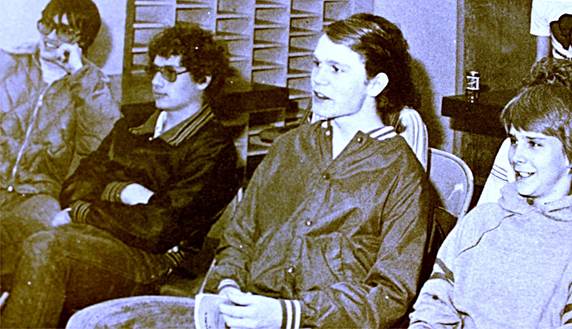 G.B. Hopper, Tony Wilkins, Jeff Bickford, and Pete Cullan patiently wait for a meeting to begin.
FFA, -
Sponsor Ken Brown said that "it was a real good year", since Hemingford sent twelve qualifiers to the State FFA meet! The agronomy team that featured members Chris Golka, Bryan Sherlock, and Tim Votruba, placed eighth at State; The Meats Team – Ron Jespersen, Kent Prochazka, and Joe Schekall placed second, with Jespersen the individual State Champion! Dairy Judging team members included Karen Kresl, Karla Kresl, and Kim Wiggins placed sixth!
Nick Dannar was FFA President, VP was Billie Jean Elder, Kathy Vickers was Secretary, Karen Kresl was Treasurer, Rex Horstman was Chapter Reporter, Dee Campbell was Parliamentarian, Bryan Sherlock was Sentinal, and Kent Prochazka was Advisor.
JETS, H-Club, Science Club, GAA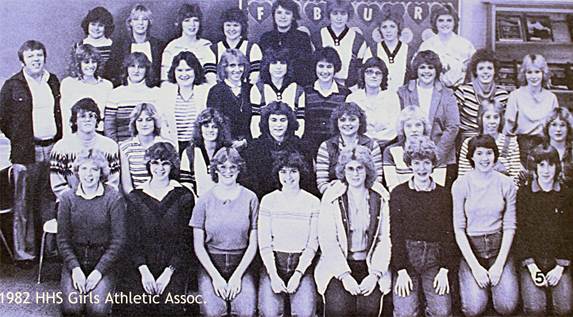 GAA – Girls Athletic Association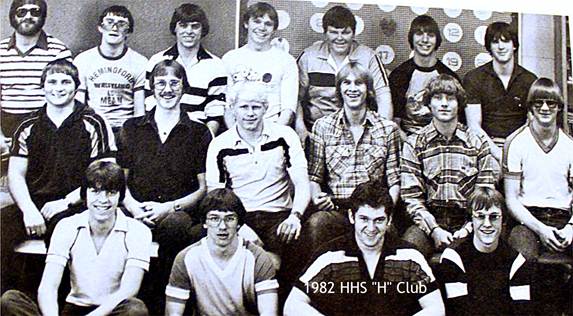 Hemingford "H" Club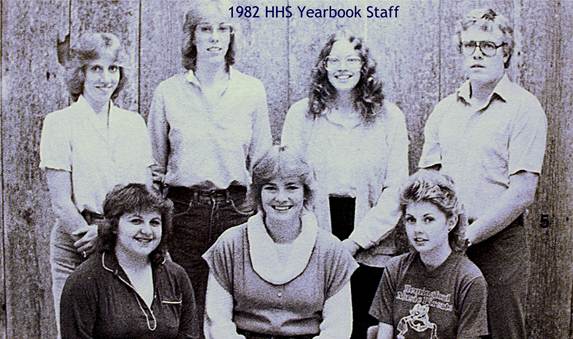 Hemingford Yearbook Staff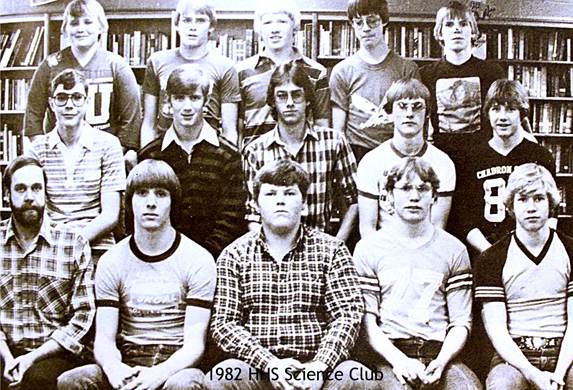 HHS Science Club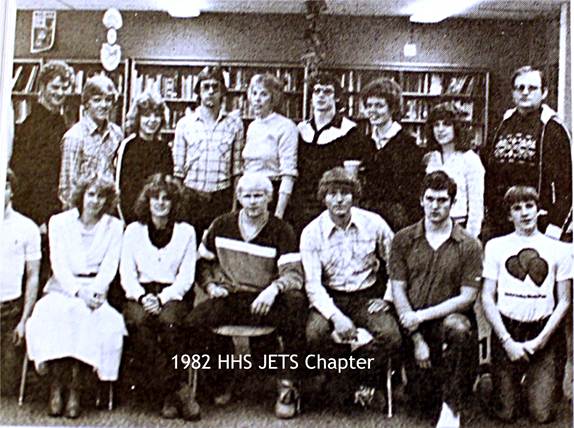 JETS Club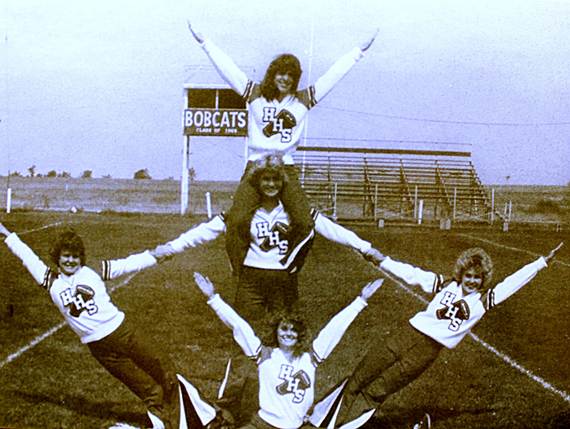 HHS Cheerleaders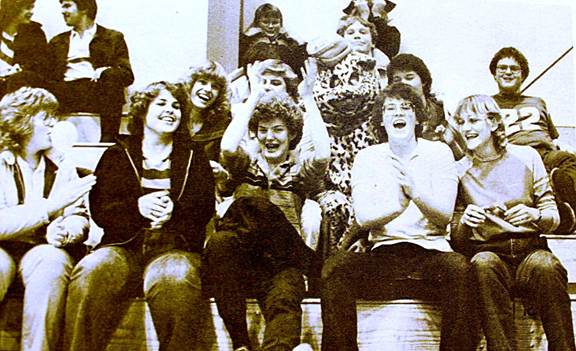 The "pep club" gets fired up against Hay Springs
Homecoming – 
"Old and New day", "Formal Day", "Cowboy and Indian Day", "Wild "n" Crazy Day", and "All Fired Up Day". Helped to make Homecoming a spirited affair!  Both the Volleyball team and the Football team earned victories over visiting Harrisburg. The Student Council sponsored the Dance, with tunes played by KCOW DJ Keith Burgin, an HHS Junior!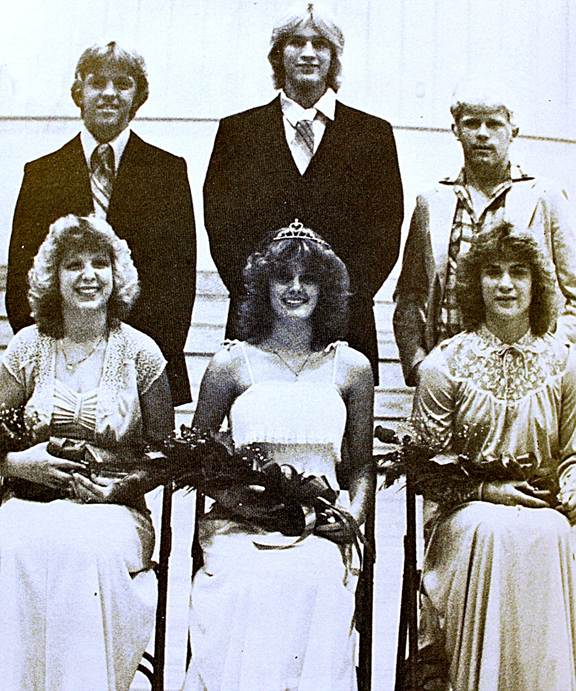 Homecoming Royalty – 
Queen – Karen Kresl; King – Mark Chaney; Attendants – Wade Wilkins, Dee Campbell, Doug Clark, Jac-Lynn Swanson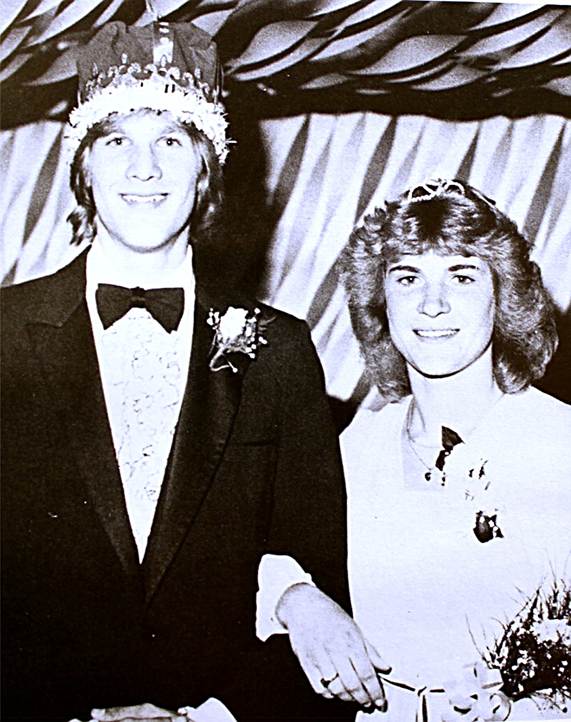 1982 HHS Prom King Mark Chaney and Prom Queen Dee Campbell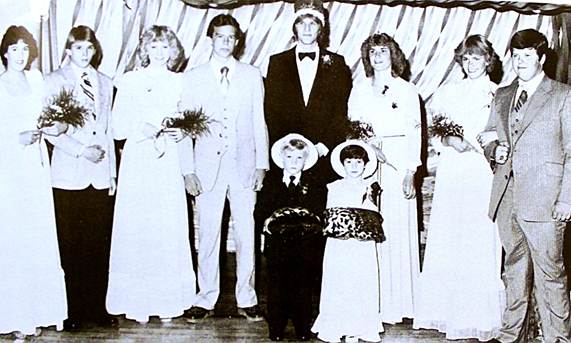 Prom Royalty –  
Queen – Dee Campbell; King – Mark Chaney; Attendants – Bill Foley, Michelle Chaney, Dave Conroy, Lynn Hooper, Pete Cullan, Diane Conroy; Crown Bearers – Jeff and Kim Shaver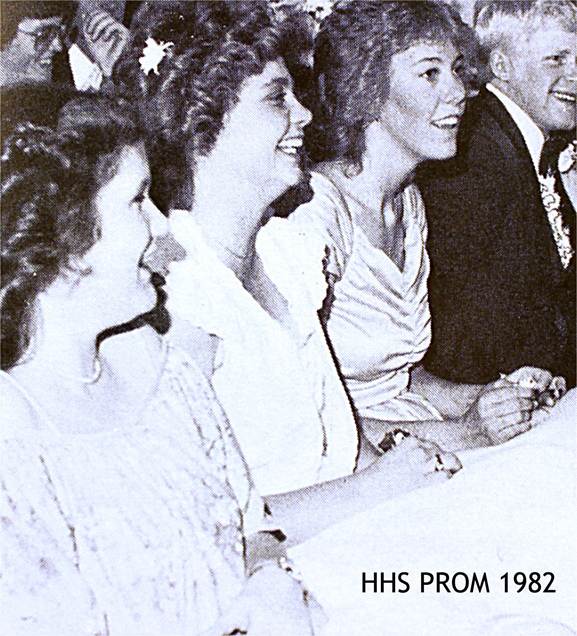 Seniors Melanie Murdock, Tracy Shepard, JoDeen Ray, and Wade Wilkins enjoy the prom skit.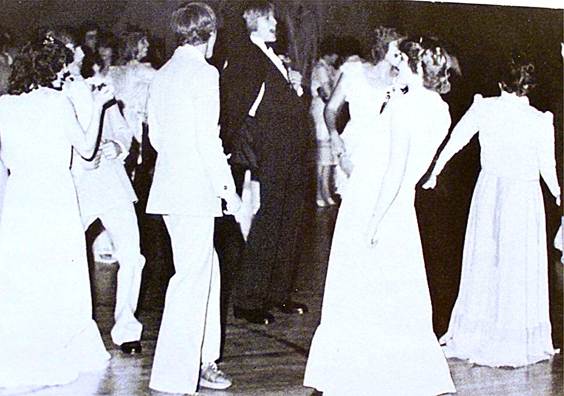 Rockin' to the "Renagades"
Prom Theme –  
"Rockin' the Paradise"was the surprise theme, since many thought that the theme would be "Stairway to Heaven"! Streamers and flowers of yellow and green decorated the Methodist Church Hall, where the Prom Banquet was held. The Junior Class mothers planned the meal, and it was served by selected sophomores Prom goers danced to the music of "The Renegades".
Senior Class Motto –
 "We are not the last of Yesterday - - - We are the first of Tomorrow"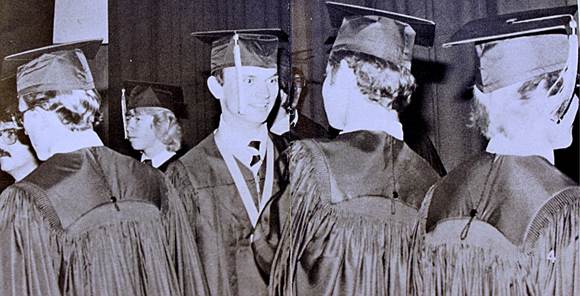 Senior Class thoughts Heard Out loud – 
"Being a Senior is no different than any other grade, just a few more responsibilities"…"I'm anxious to go out and meet new people and make new friends, but the people I know and the friends I have now are the memories I'll always treasure"…"God preserve all from the pains of American Government Class"….. "This year has been great but it will be exciting being on my own"…."I'll soon be entering a new life, lose a few friends but gain new ones"….and finally, "Graduation Day will be our salvation!"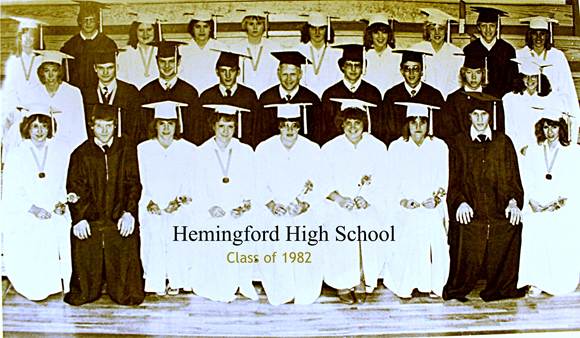 Senior Class Officers – 
President – Jenny Herbaugh; VP – Dee Campbell; Secretary – Pat Anderson; Treasurer – Chris Golka. Class Sponsor was Mr. Lyle Fodnes.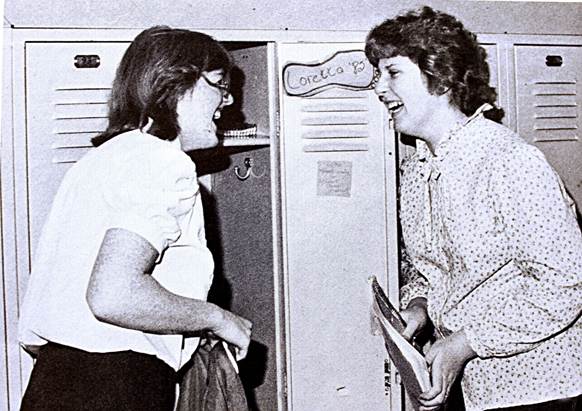 Junior Class Officers – 
President –Nick Dannar; VP – Rex Horstman; Secretary – Kim Wiggins; Treasurer – Dana Jespersen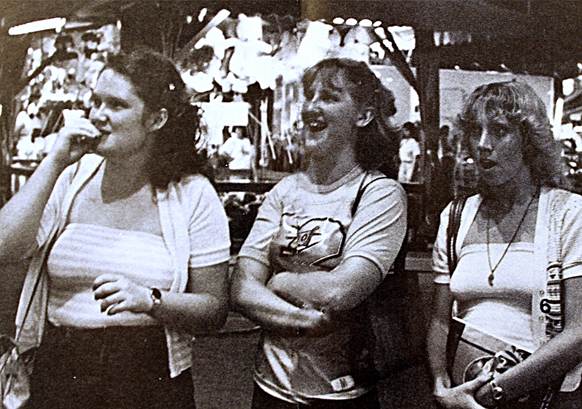 Sophomore Class Officers – 
President – Karla Kresl; VP – Tony Wilkins; Secretary/Treasurer – Lance Kotschwar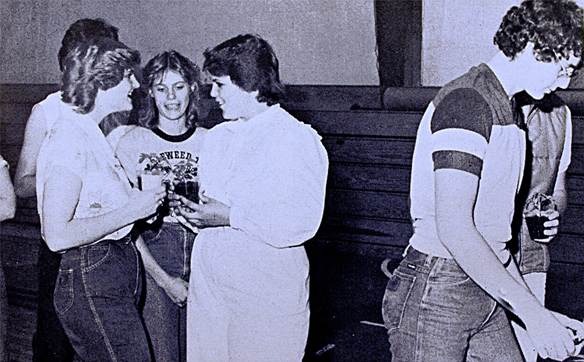 Freshmen Class Officers – 
President – Laurie Hill; VP – Shelly Prochazka; Secretary – Cynthia Jensen; Treasurer – Diane Conroy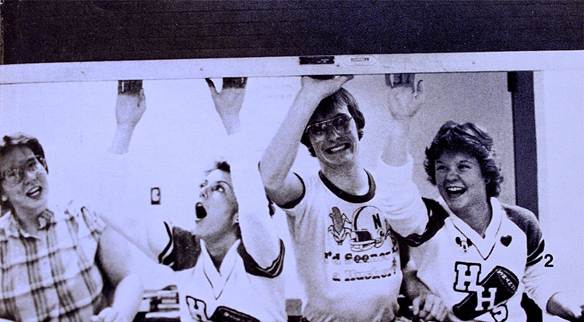 Concessions are CLOSED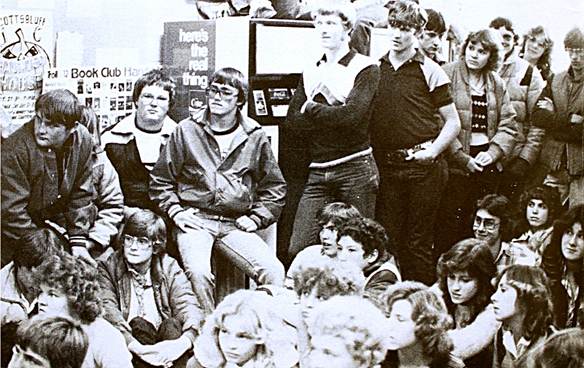 Students gather for an "in-school" Choir Concert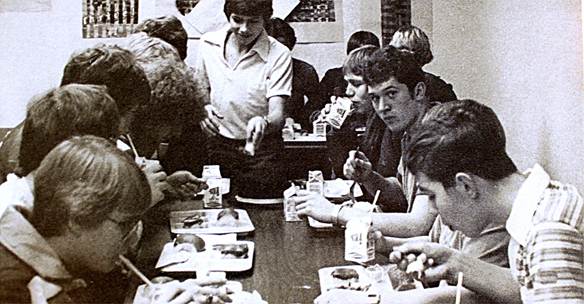 Special or Unique Happenings –
 HHS Class of 1972 Alumnus, Senator Sam Cullan came to school for a current topics talk with students. Other convocations included African Drummers. The elementary students planted over 200 pine trees as part of an Arbor Day Celebration.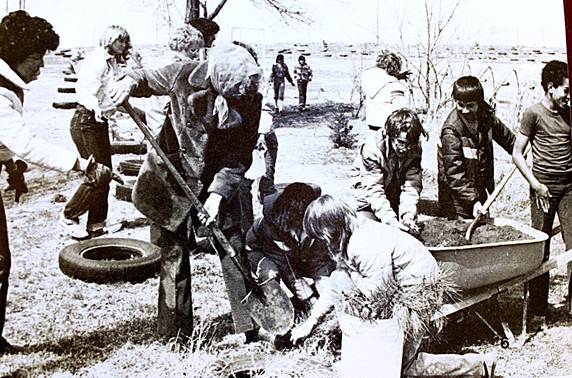 Senior Class Enrollment –28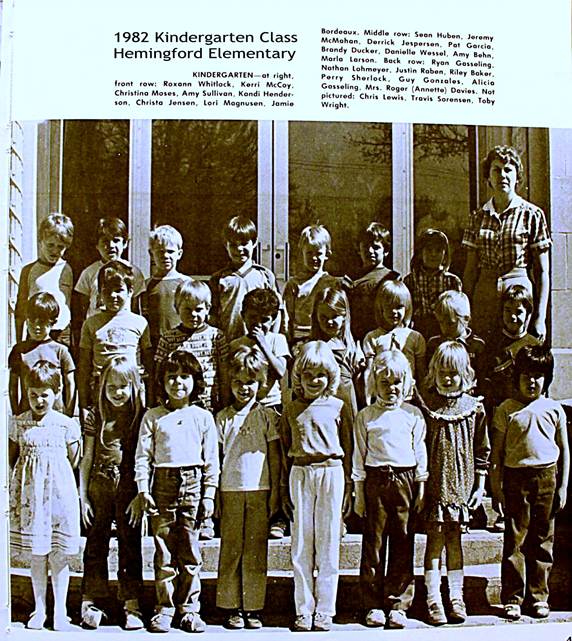 Kindergarten Class Enrollment –  23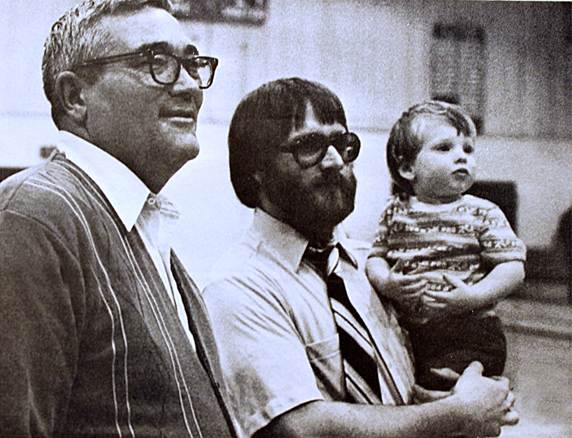 Superintendent –
Don Hanks (Also pictured Science teacher Tim Lanik and his son Nate)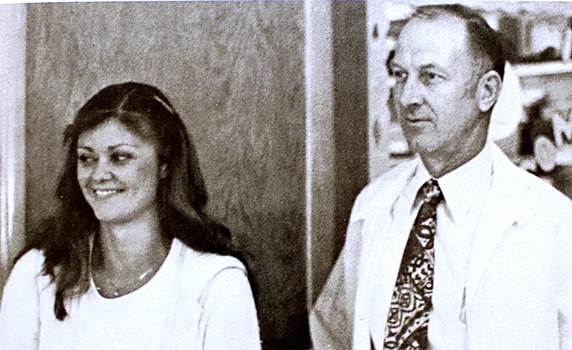 Principal – 
Mr. Glen Kotschwar, (Elementary) (also pictured Miss Worth)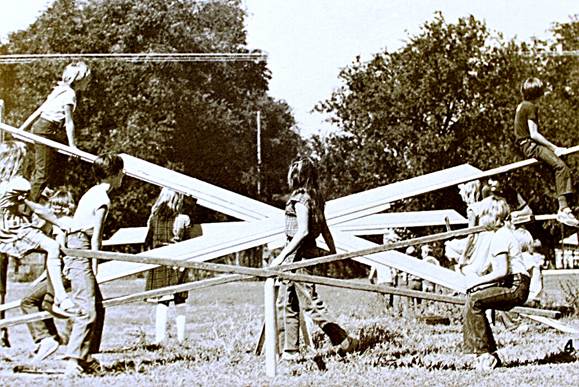 Elementary Teachers – 
Irene Christensen, Donna Engel, Sally Engelhaupt, Vicki Kotschwar, Elaine Laeger, Jaci Stolldorf, Guyla Thomas, Cindy Worth, Anette Davies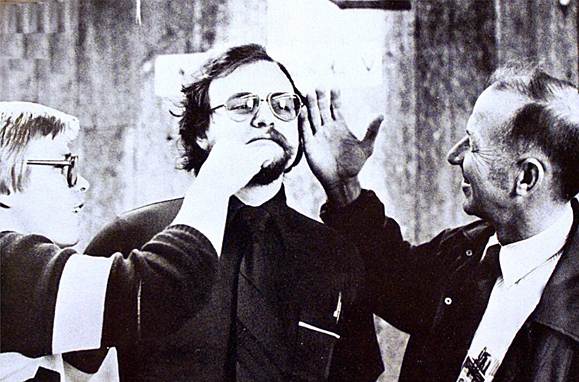 "Murph" Plananski has his post-tourney haircut and trim inspected.
Secondary Teachers –
Mark Bauder, Ken Brown, Lyle Fodnes, Judy Gasseling, Bev Hanks, Adelyn Headden, Becky Kenner, Duane Knaub, Tim Lanik, Mary Lliteras, Ed Planansky, Sue Shaver, John Stanton, Bill Stolldord, Helen Walker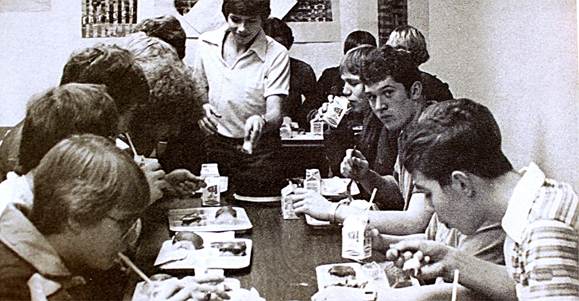 Other Staff Members –
Lynn Weldon, Pam Yardley, Devonna Price, Nancy Yardley, Darlene Anderson, Pat Burri, Dorothy Swanson, Dallas Swanson, Kay Planansky, Louis Stumf, Gay Honstein, Tarri Honstein, Norma Wood, Martin and Sharon Fenner, Leona Wilkins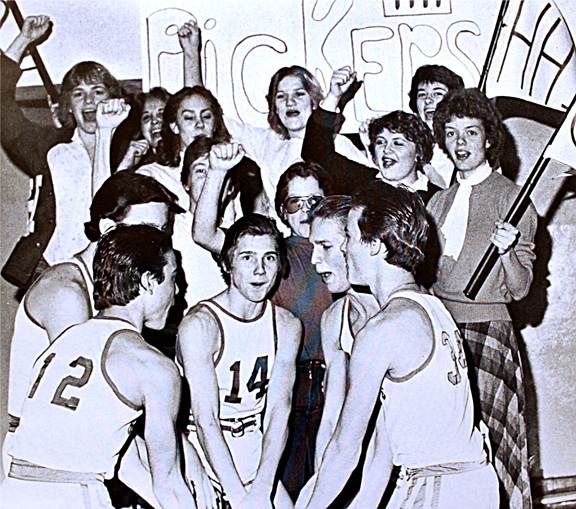 1982 was also the first year that long-time High School custodian Lynn Weldon began her job at HHS!