Class of 1981
Updated May 12, 2011
Hemingford High School Class of 1981 (Please click on thumbnail to enlarge)
19Hemingford High School 81
Student and Faculty Highlights of the Year
This page features athletic records, officers, themes, important numbers, important happenings, and other educational information from the year in question. It provides a quick and ready resource for Bobcat Grads and families!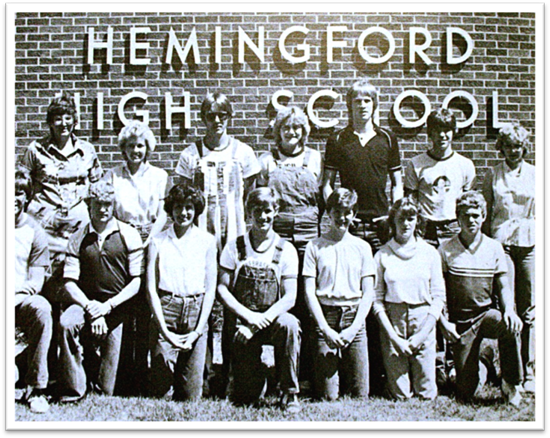 Student Council Highlights and Members– President was Tim Kotschwar, and Vice President was Rocky Grabher; Senior Representatives were Dawn Jespersen and Bob Zajic; Junior Reps were Pat Anderson and Mark Chaney; Sophomore reps were Dana Jespersen and Robyn Morriss. Frosh reps were Kent Prochazka and Angela Walters.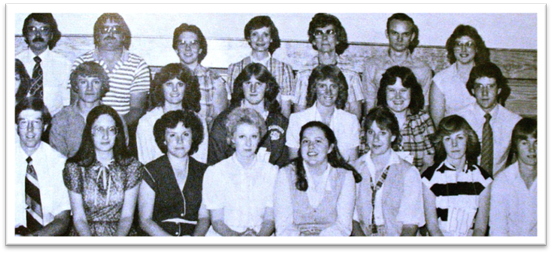 National Honor Society Highlights and Members – Kat Smith, Lori Annen, Karen Kresl, Melanie Murdock, Mariann Adamson, Tim Kotschwar, Cindee Loomis, Colleen Heinz, Karen Gasseling, Elaine Hucke, Molly Wilkins, Kenny Kresl, Lisa Jensen, Rocky Grabher, Greg Powell, Jim Hack, Jenny Herbaugh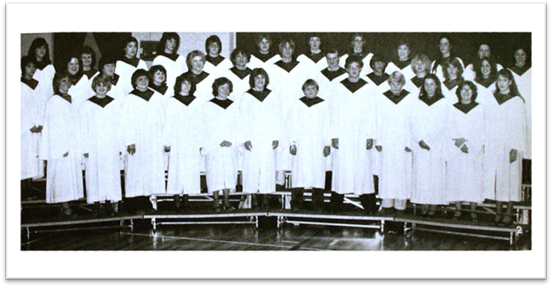 The Hemingford High School Chorus

The HHS Band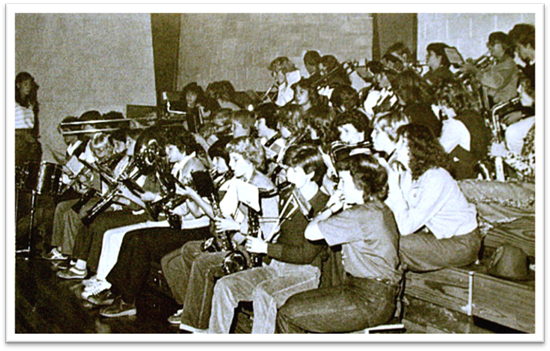 Music Department – Director Sue Shaver and her band received a Superior Rating  for the  fifth straight year at the District Music Contest in Chadron. The music department also presented two home concerts as well as hosting the Panhandle Conference Band Clinic. Band officers for the year were Dawn Jespersen, President; Shirley Smith, Vice-President; Molly Wilkins, Secretary-Treasurer; and Colleen Heinz, Historian. Choral officers were Jim Manning, President and Molly Wilkins, Vice-President.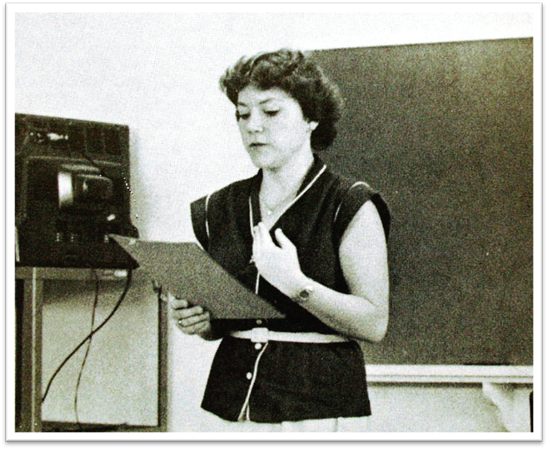 Colleen Heinz reads the Poetry cutting she performed at the State Meet.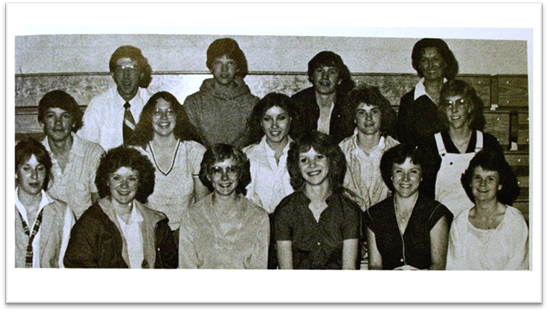 Speech - Three representatives, Colleen Heinz, Angie Cullan, and Laurie Garner, qualified for the state speech meet under the direction of speech coach Mary Lliteras.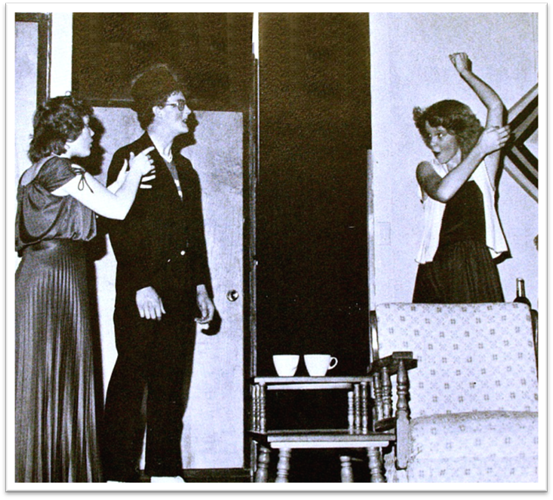 Angie Cullan and Jim Manning try to guess Laurie Garner's Charade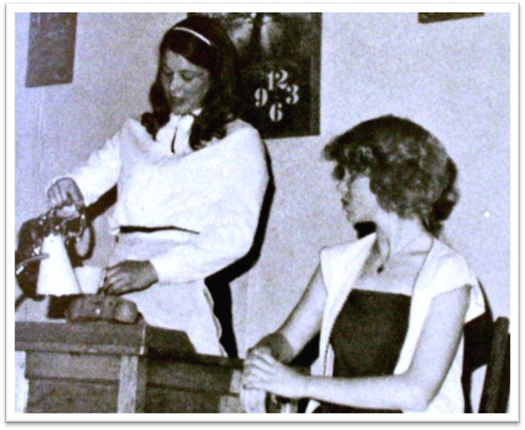 Karen Jones and Laurie Garner discuss missing diamonds in  "Exit the Body".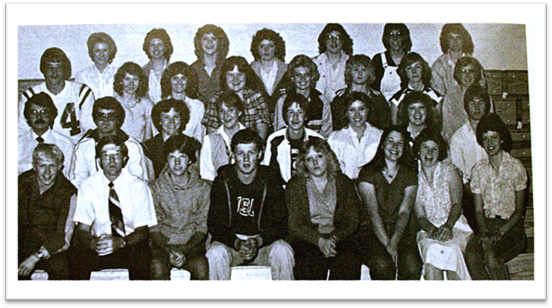 Drama and One Acts – "The Neighbors" was the one-act play directed by Mr. Lyle Fodnes.  A three-act comedy, "Exit the Body", was presented to the student body and community with many favorable comments.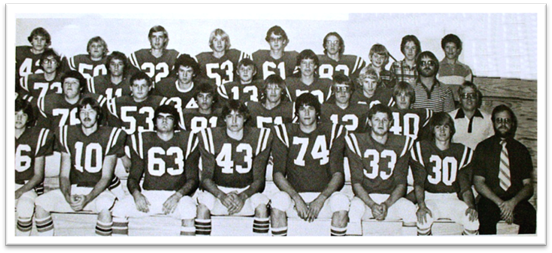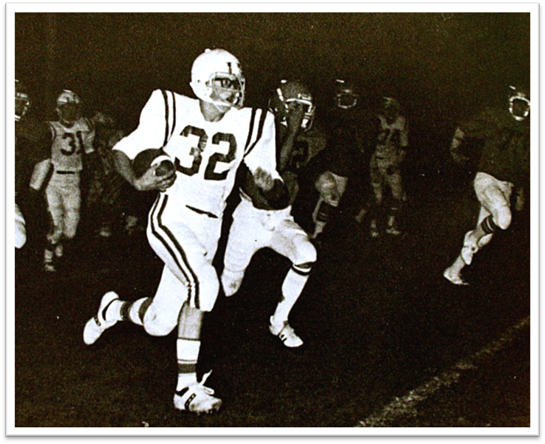 Leading rusher Jim Manning rips off another long touchdown for the Bobcats.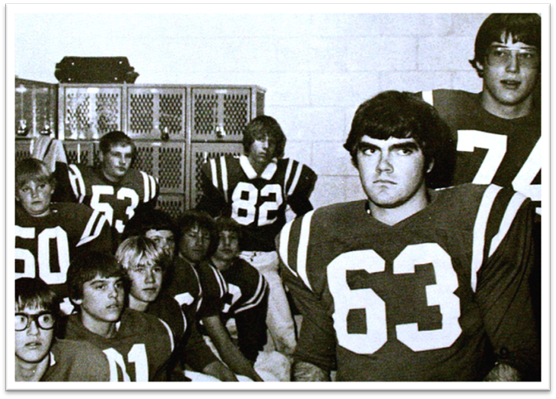 The team listens carefully to Coach Stanton's pre-game talk
Football – Under the leadership of Coach John Stanton the Bobcats finished the season with a three win, five loss record. Freshmen had to step up after injuries created multiple openings in the line-up. All- Conference Honors went to Gene Hanks, Tim Kotschwar, Dave Lliteras, and Jim Manning. Will Fiscus and Kenny Kresl received Honorable Mention awards. The Cats played eleven–man football in the fall of 1981, but plans were to play eight-man in 1982. Wins came over Hill City, Hay Springs, and Crawford.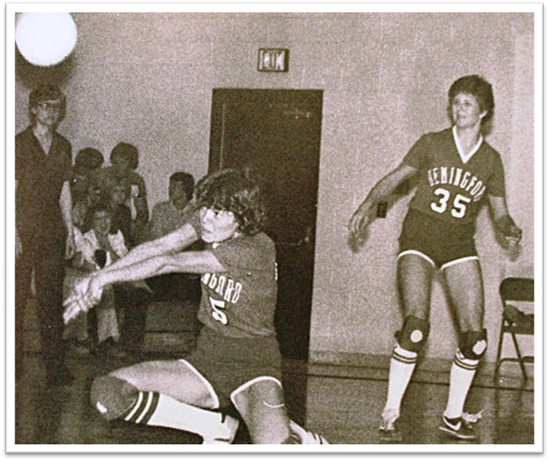 Michelle Delsing digs the ball out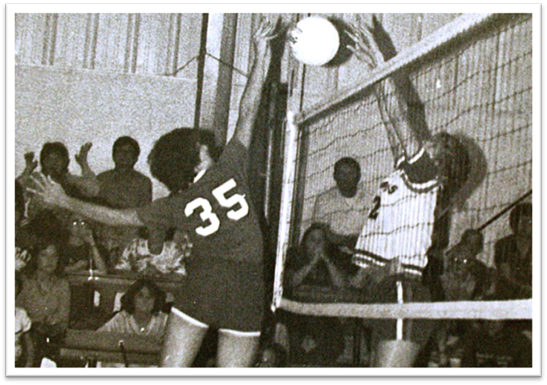 Shirley Smith goes up for a block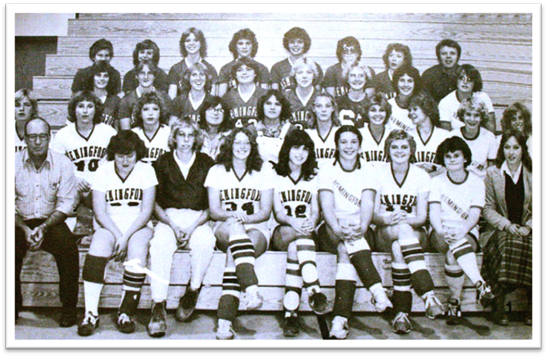 Volleyball – Coach Duane Knaub and the volleyball team finished the season with a 12-6 record. Seniors Kat Smith and Shirley Smith were First Team All-Conference, while Lori Annen was selected for the second team. The girls finished second in the PAC, which was held at St. Agnes, and fell to Morrill in the District Semis, a team they also lost to in the finals of the Hemingford Invite.
Assist Leader Kat Smith looks to pass the ball inside against St. Agnes in the 1980 PAC Championship game.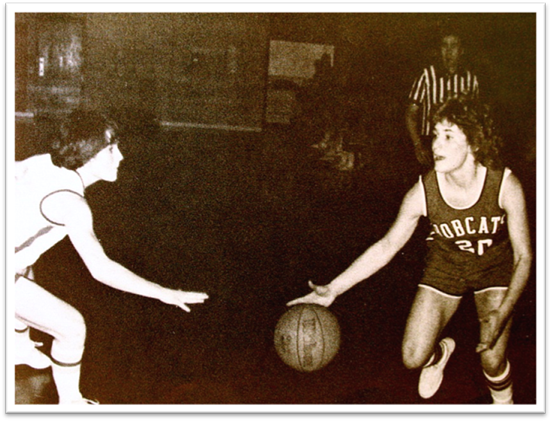 All-Conference Player Dee Campbell drives with the ball.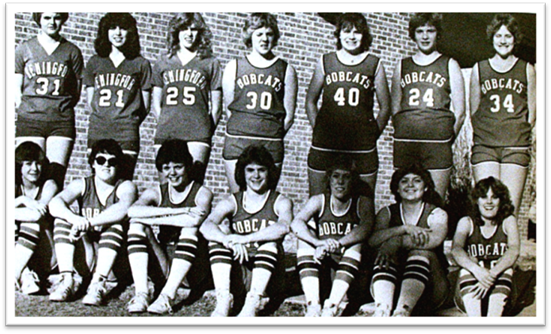 Girls Basketball – Hemingford reigned as the Panhandle Conference Champions, defeating Allinace St. Agnes in the finals. They also were second in the Bridgeport tourney, and in the District, where they lost to a good Leyton team. The Bobcat girls finished the season with a 16-5 record under the leadership of Coach John Stanton, and assistant Mark Bauder. Dee Campbell and Kat Smith were First-team All-Conference, while Billie Elder and and Laurie Gardner were on the second team.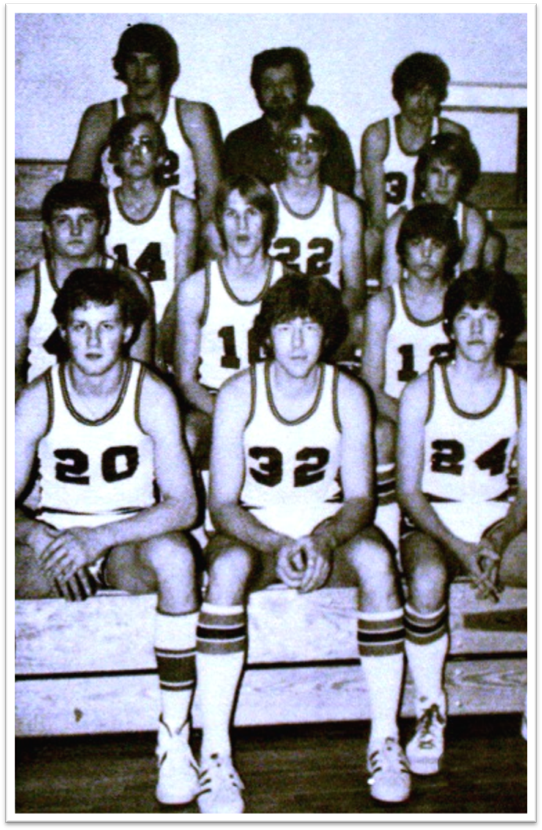 The Cats are pictured in their Conference and District Championship Season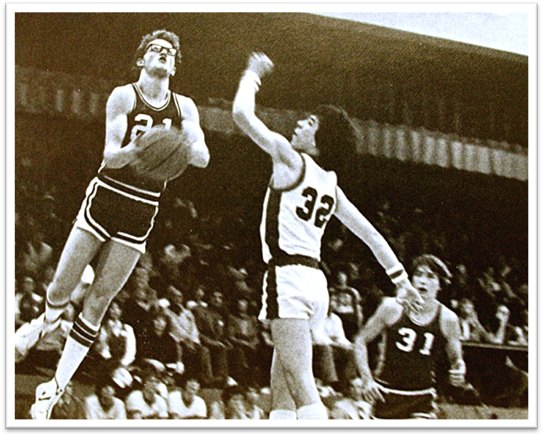 All-Conference Player Jim Manning goes in for two!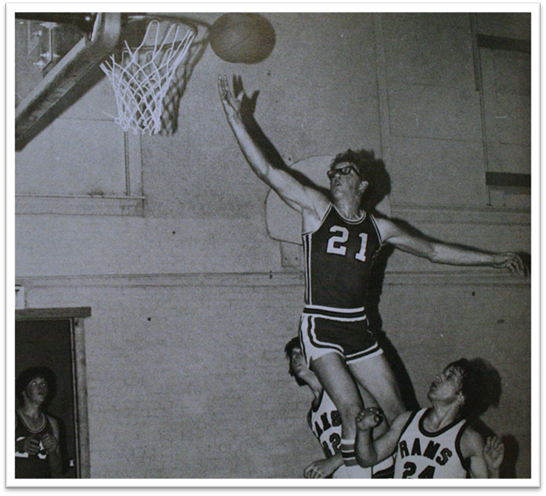 Jim Manning, the Cats leading scorer and rebounder in the 21-2 1981 Season
Boys Basketball – The Cats advanced to the District Tourney finals for the sixth straight year, beating Bayard for the Championship before dropping their final game to State Champion Grant. Coach Larry Jones and his team finished with 21 wins and 2 losses for a final season record. The seniors had a 66-4 won-loss record during their last three years at HHS. Gene Hanks and Jim Manning were first-team all-conference, with Dave Lliteras and Tim Kotchwar earning spots on the second team. The seniors lost only one conference Basketball game in their six years of playing ball in junior and senior high school. The team lost only to Rushville and Grant.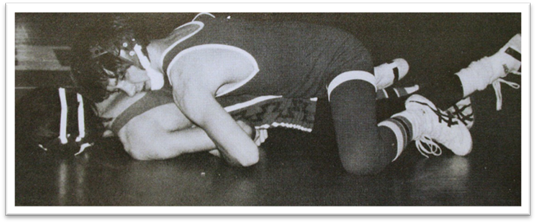 Bill Schock, 1981 HHS State Wrestling Qualifier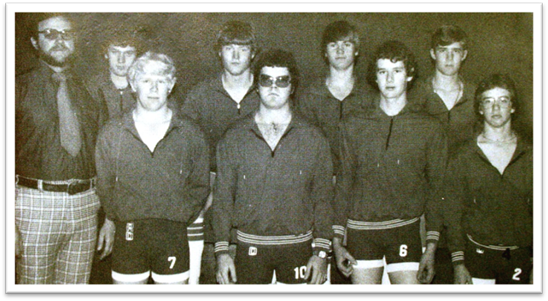 Wrestling – Murph Planansky had a thirteen member squad on the mats, defeating the Chadron JV's and Minatare in dual action. Kenny Kresl had a 21-10 record while state qualifier Bill Schock had a 21-8 record for the Cats. Will Fiscus and Kresl were the only HHS Seniors, and the future looked bright.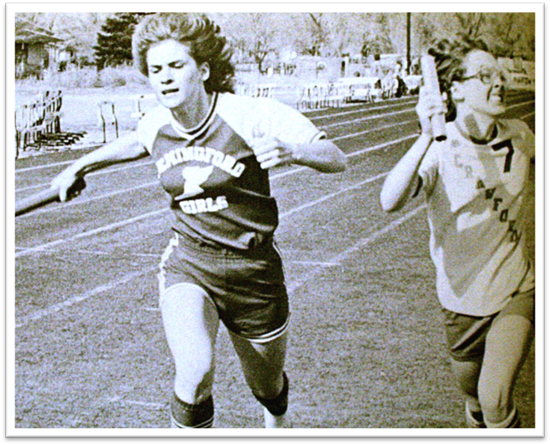 Dee Campbell edges Crawford out in the 1600 Meter Relay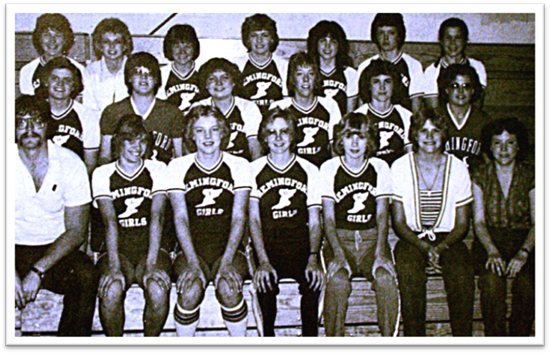 1981 Hay Springs Invite Champions !
Girls Track and Field – New Coach Mark Bauder and the young girl tracksters improved on five school records during the season, with new marks in the high jump by Michelle Chaney at 5' even; a new record in the half mile by Dee Campbell of 2:30.6; a new 3200 record of 14:33.7 by Michelle Delsing, as well as a new High Hurdles record , also by Delsing of 17.5. The 1600 meter realy team , with members Campbell, Delsing, Lynn Hooper and Kathy Vickers, ran a 4:31.4 to set that record as well. The girls won the Hay Springs Invite for the fourth year in a row, and picked up thirds at Morrill and in the PAC meet.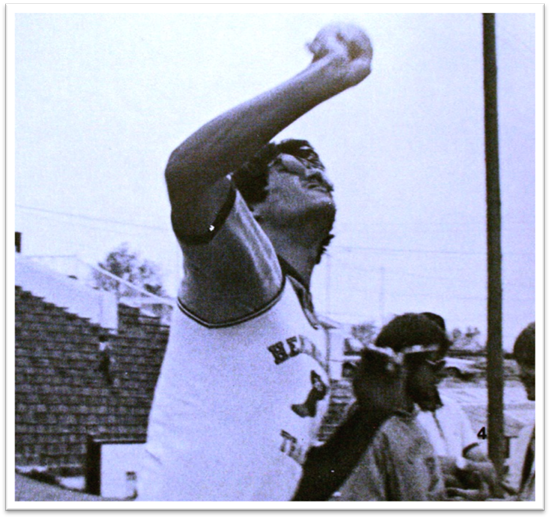 HHS Shot Put Record Holder Gene Hanks – Also a State Meet Qualifier in 1981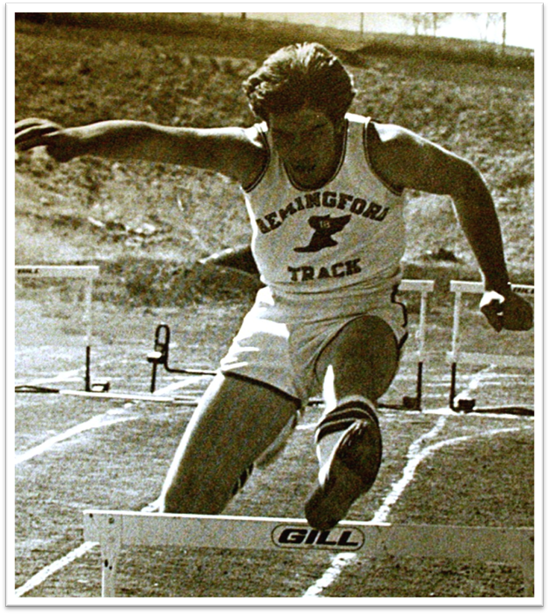 300 Lows Record Holder Tim Kotschwar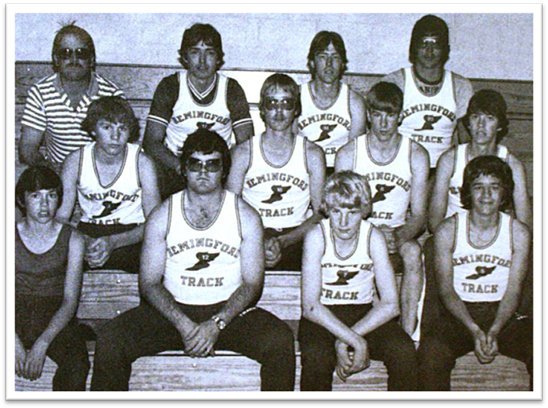 The 1981 HHS Boys Track and Field Team
Boys Track and Field – The Boys also took the Hay Springs Track Invite, but with just 10 members, left Coach Tim Lanik a little short-handed at times. The Cats also finished highly at Scottsbluff and in the Conference, garnering thirds in both meets. Two new records were set, with Tim Kotschwar setting a record in the 300 lows at 43.0, and Gene Hanks lofting the shot put 53'1" for a new school mark. Hanks also made the trip to the State meet for Hemingford. Letterwinners included Will Fiscus, Hanks, Kotschwar, Dave Lliteras, Dana Jespersen, and freshman Jim Zajic.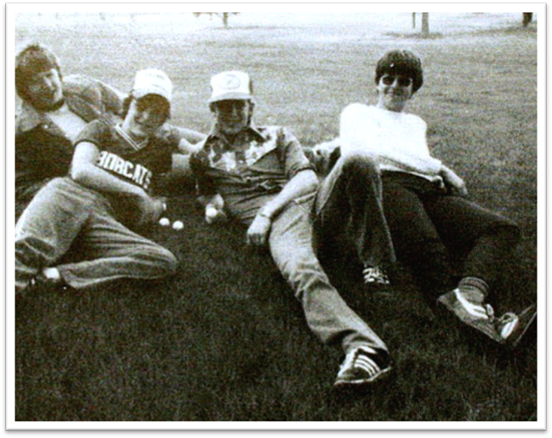 The HHS Golf team takes a breather after a round on the links
Golf –Consisted of Tom Phillips, Dan Forsstrom, Kent Prochazka, and Bill Beam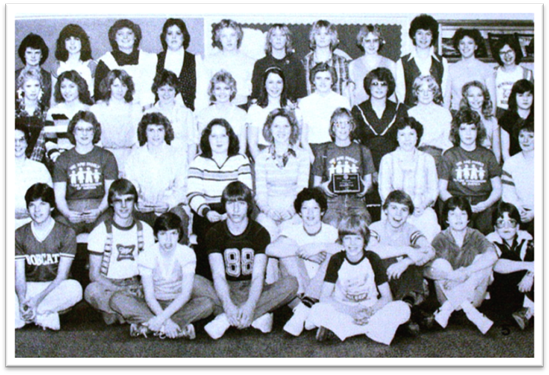 Hemingford had one of the largest FHA Chapters in the state, with 48 members.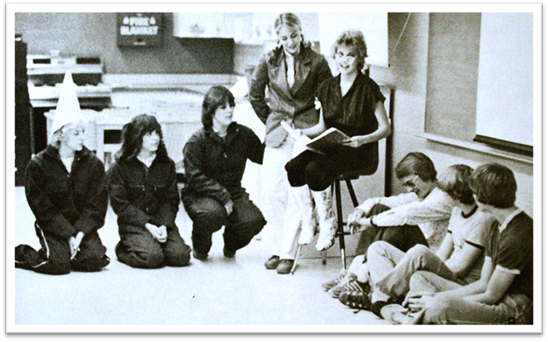 FHA Members entertain the Christmas breakfast-goers with a skit
Future Homemakers had forty-eight members and received several awards at the state conference in Lincoln. The Hemingford Chapter received the State's highest Chapter award, "The Honor Chapter Award". Angie Cullan was the District President, and served in 1982 as a state officer; Dee Campbell served in 1982 as the new District President; and Jenny Herbaugh  served her second term on the Nebraska March of Dimes Pep Squad as well. The organization was involved in many activities including; The Community Alert Program, Co-ed Volleyball, Jack-O'Lantern carving contest, Holiday Bake-off, Family Christmas Breakfast, Heart fund drive, and a father/daughter basketball game. The sponsor was Miss. Helen Walker.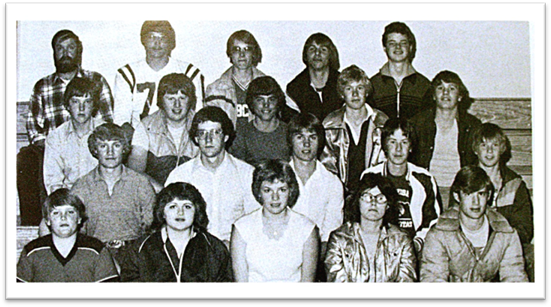 Hemingford High School Science Club – Sponsored by Mr. Bill Stolldorf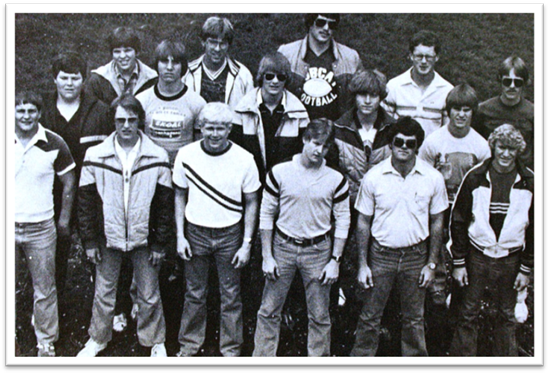 Hemingford High School "H" Club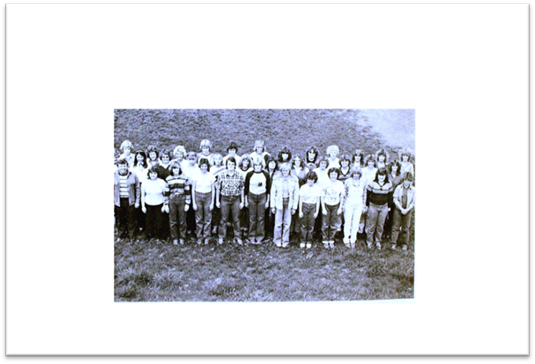 Hemingford High School Girls Athletic Association (GAA)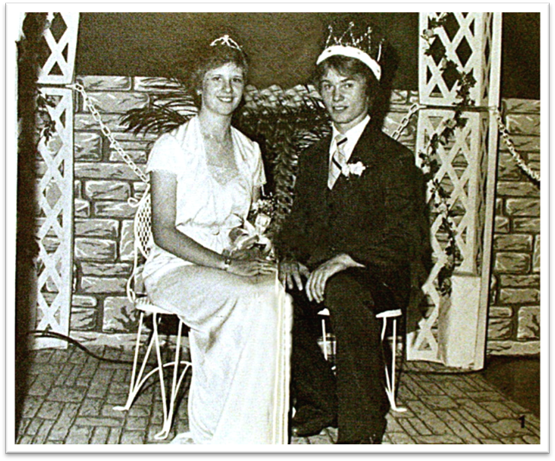 1981 Hemingford Prom Queen Shirley Smith and King Kenny Kresl
Prom – The Banquet was held in the basement of the Methodist Church, with the meal prepared by the Junior parents. Colors were black, silver, and hot pink; with the dance held in the small gym; Entertainment was provided by the Valley's "Brown Sugar" band. A slide show and a skit by the sophomore srevers were also a highlight of the evening.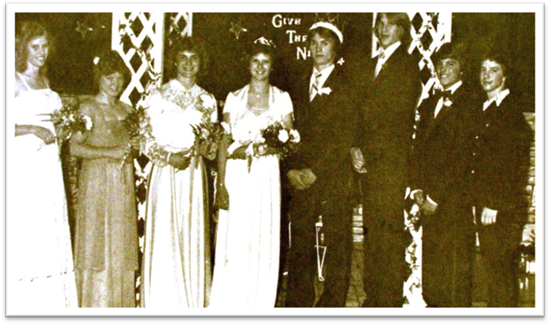 Prom Royalty –  Queen – Shirley Smith; King –Kenny Kresl; – Mark Chaney, Dee Campbell, Rex Horstman, Shannon Cullan, Bill Schock, Karla Kresl; Crown Bearers – Heidi and Holly Zajic
Prom Theme – "Give Me the Night"
Senior Class Motto - "Today is the day that we find ourselves as we cherish those memories of a day gone by."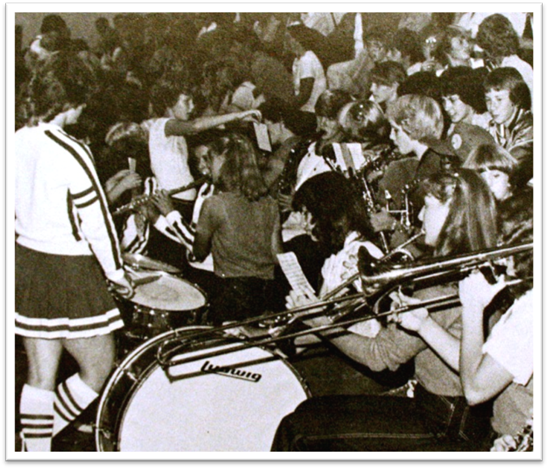 The Cheerleaders and the band worked together to provide lots of spirit!
Class Song – "Cool Change", by The Little River Band
Class Flower – The White Rose
Class Colors – Princess Blue and Royal Blue
Senior Class Officers –President – Greg Powell; VP – Karen Gasseling; Secretary – Molly Wilkins; Treasurer – Kenny Kresl
Junior Class Officers –President – Lisa Jensen; VP – Jim Hack; Secretary – Jenny Herbaugh; Treasurer – Lynn Swanson. There were twelve boys and eight girls; the Juniors also sold concessions at football, volleyball, and basketball games to earn money for Prom. Class sponsors were Mr. Larry Jones, Miss Helen Walker, and Miss Cindy Worth.
Sophomore Class Officers –President – Nick Dannar; VP – Rex Horstman; Secretary – Brady Garner; Treasurer – Shannon Cullan. Eighteen members made up the class, with nine girls and nine boys. Mrs. Sue Shaver was the faculty sponsor.
Freshmen Class Officers –President – Bill Schock; VP – Karla Kresl; Secretary – Lynn Hooper; Treasurer – Lance Kotschwar There were nine girls and nine boys; Mrs. Sue Shaver was the Faculty sponsor. The freshman class had Thirty-Three members, with twelve girls and twenty-one boys. Mrs. Mary Lliteras was the class sponsor.
Special or Unique Happenings – The new hot lunch building (now called the Central Office building) opened after Christmas, and the Kindergarten was divided into two sections for the first time. Mrs. Annette Davies and Mr. David Rojo were the teachers. Mr. Rojo student taught during the first semester, and then was hired in January as the class of twenty-eight was split into two.
Senior Class Enrollment – 23
Kindergarten Class Enrollment – 28
Superintendent – Don Hanks
Principal – Lyle Fodnes – secondary, Glen Kotschwar - elementary
Elementary Teachers –Kindergarten –Mrs. Annette Davies, Mr. David Rojo; First Grade –Mrs. Jaci Stolldorf; Second Grade – Mrs. Sally Engelhaupt; Third Grade – Mrs. Elaine Laeger; Fourth Grade – Miss Cindy Worth; Fifth Grade – Mrs. Irene Christensen; Sixth Grade – Mrs. Donna Engel, Mrs. Guyla Thomas
Secondary Teachers – Mr. Mark Bauder, Mr. Ken Brown, Mr. Lyle Fodnes, Mrs. Judy Gasseling, Mrs. Beverly Hanks, Mrs. Adelyn Headden, Mr. Larry Jones, Mrs. Becky Kenner, Mr. Duane Knaub, Mr. Tim Lanik, Mrs. Mary Lliteras, Mr. Ed Planansky, Mrs. Sue Shaver, Mr. John Stanton, Mr. Bill Stolldorf, Miss Helen Walker
New teachers in the secondary were Mr. Mark Bauder and Mrs. Sue Shaver, who moved from part-time to full-time. New teachers in the elementary included Mrs. Donna Engel, Miss Cindy Worth, and Mr. David Rojo.
Other Staff Members – Mr. Dallas Swanson, Mrs. Dorothy Swanson, Mr. Louis Stumf, Mrs. Kay Planansky, Mrs. Gay Honstein, Mrs. Terri Honstein, Mr. Martin Fenner, Mrs. Sharon Fenner, Miss Pam Yardley, Norma Wood, Mrs. Pat Sherlock, Mrs. Nancy Yardley, Mrs Devonna Price, Mrs. Pat Burri, Leona Wilkins, and Mr. Bernard Caha, a long-time custodian who retired after fourteen years of service to District 10.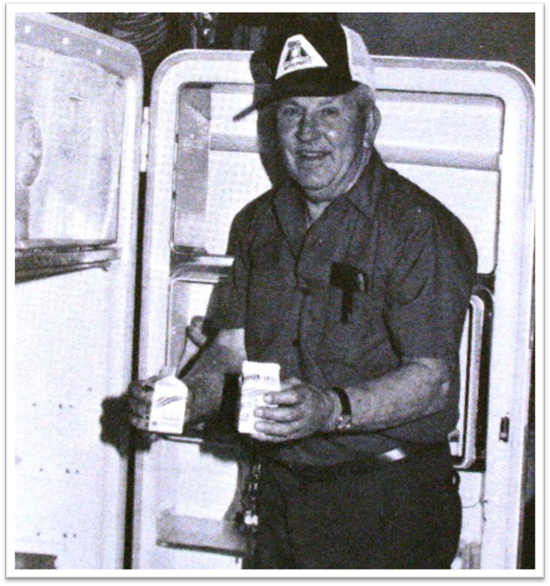 Mr. Bernard Caha, maintenance man at District 10, who retired after working in our school for fourteen years!