Class of 1983
Updated May 2013
The Class Composite of the HHS Graduating Class of 1983 (Click on Pic to enlarge)
19 Hemingford High School 83
Student and Faculty Highlights of the Year
This page features athletic records, officers, themes, important numbers, important happenings, and other educational information from the year in question. It provides a quick and ready resource for Bobcat Grads and families!
Student Council Members – 
Seniors – Michelle Chaney, Nick Dannar; Juniors – Brad Hansen, Karla Kresl; Sophomores – Laurie Hill, Brian Yeager; Frosh – Julie Loomis, Jerry Schock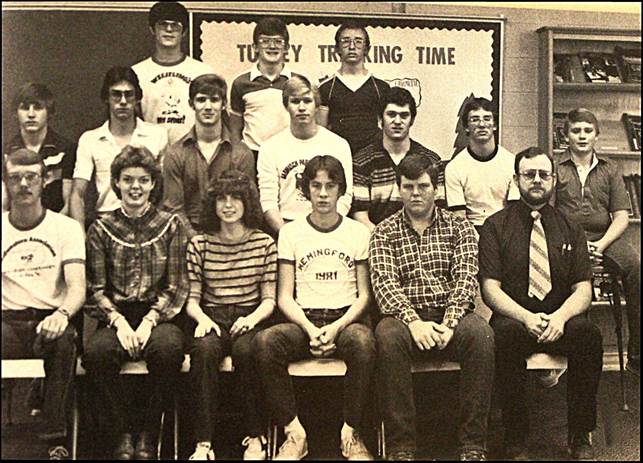 National Honor Society Members –
Michelle Delsing, Karla Kresl, Angela Walter, Bill Schock, Kent Prochazka, Lance Kotschwar, Kim Wiggins, Bill Foley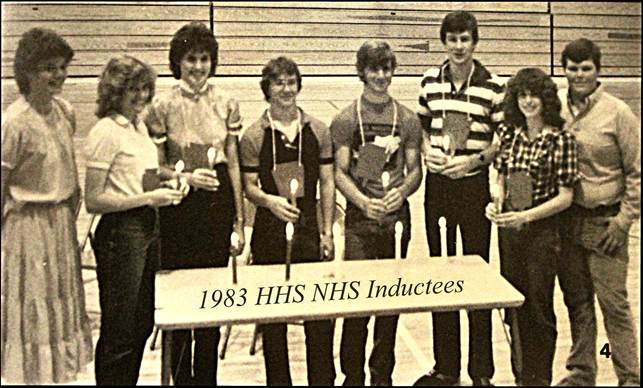 Music Department –
Director Becky Kenner led the vocal music, while Sue Shaver led the concert band and marching band. The band earned a superior rating at the 1983 District Music Contest, and Hemingford hosted the Panhandle Conference Band Clinic.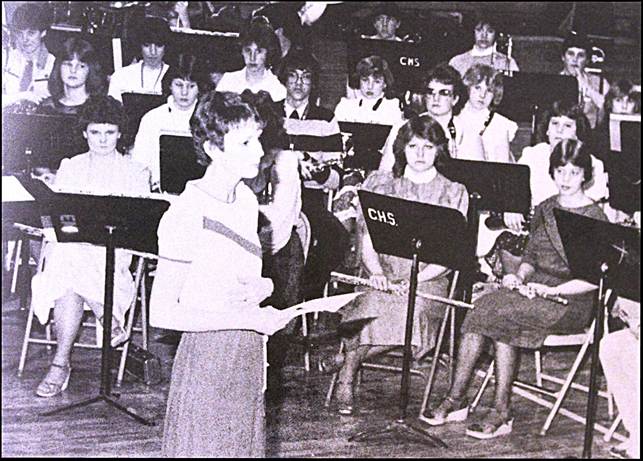 Drama and One Acts –
One-Act – "Impromptu"
Directed by Mr. Fodnes ; starring Micelle Delsing, Wendy Evans, Troy Hunter, and Lance Kotschwar.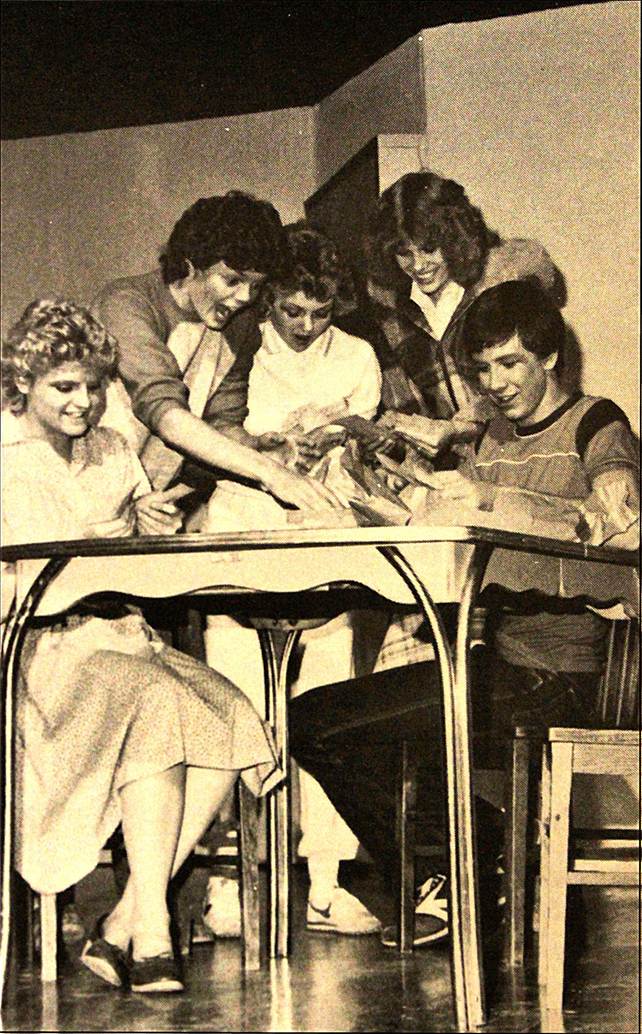 Three-Act – "Jumpin' Jupiter"
Also directed by Mr. Fodnes; starring an all –school cast
Football –
The Bobcats played eight-man football for the second year in a row, finishing with four wins and four losses for Coach John Stanton.  Bobcat victories came over St. Agnes (42-6); Harrisburg (50-14); Lyman (22-8); and Cody-Kilgore (56-14). Losses were to Hay Springs, Minatare, Crawford, and Chappell) All-Conference Honors went to Bill Foley, Nick Dannar, and Brady Garner. Kent Prochazka was named Honorable Mention All-Conference. Other Cat Gridders were Dan Forsstrom, Brad Hansen, Tim Campbell, Randy Wood, Dana Jespersen, Rex Horstman, Trevor Williams, and Paul Hanks. The JV Coach was Mark Bauder, assisted by Grant Campbell.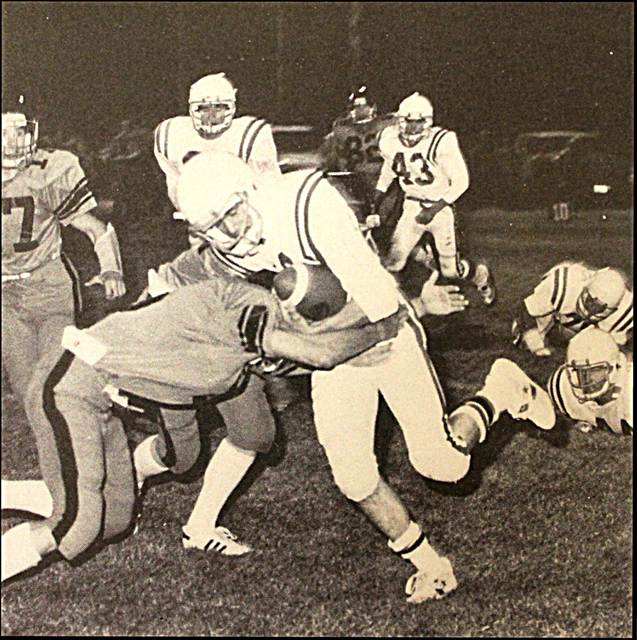 Volleyball –
Coach Ken Brown served as head coach for the first time in Hemingford after many years as an assistant. The Lady Cats had finished (16-3) in 1982, but had graduated several girls.  With many younger players, the Ladies won seven and lost ten in 1983. Senior Michelle Delsing was a first team All-Conference selection and another Senior, Michelle Chaney was named to the second team in the conference. Other players included Kim Wiggens, Robyn Morriss, Shannon Cullan, Karla Kresl, Lori Walters, Loretta Adamson, Lynn Hooper, and Johnna Shepard.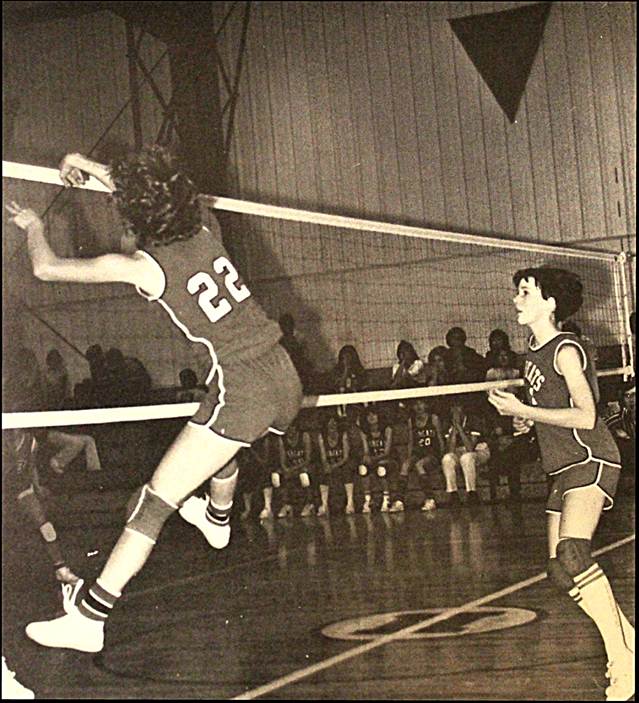 Girls Basketball –
1983 was the fourth year in a row the Lady Cats finished with a winning Girls Basketball won-loss record, at (11-7) The girls and Coach John Stanton also claimed their third consecutive Panhandle Conference championship. Michelle Chaney and Michelle Delsing each earned first team all-conference honors, with a second team honoree Johnna Shepard also from Hemingford.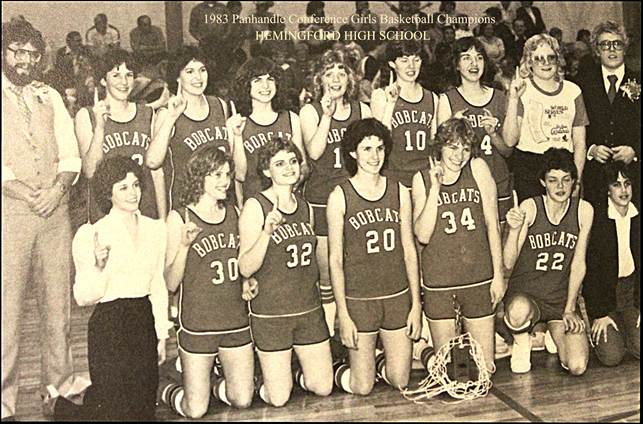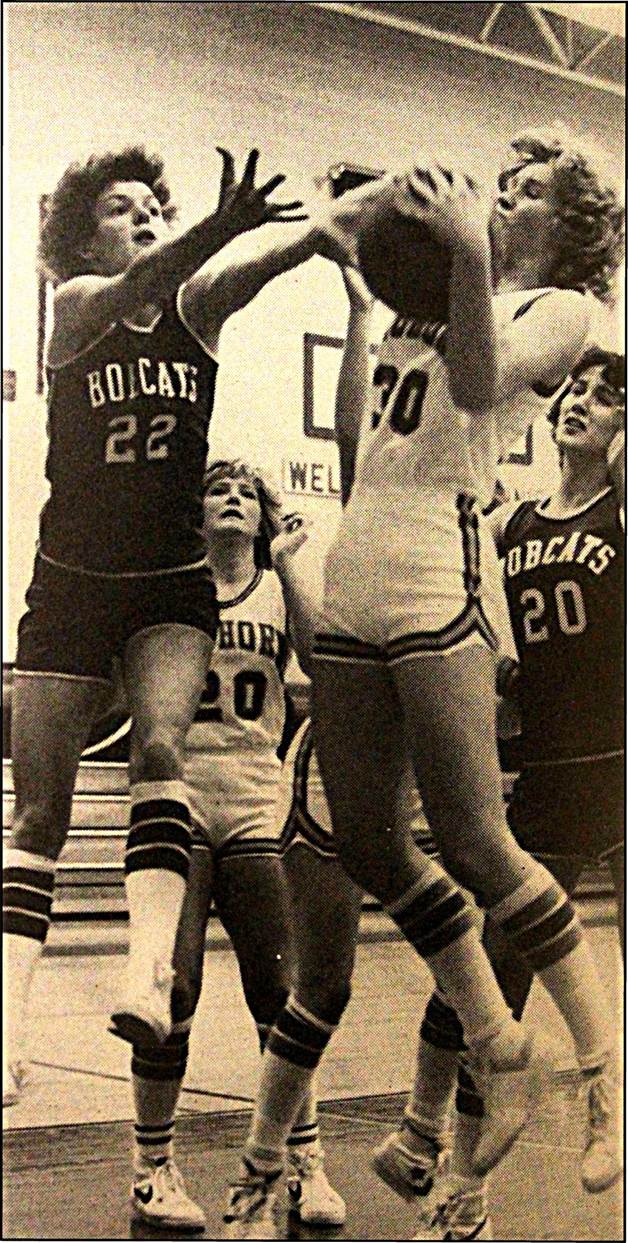 Other team members included Jennifer Delsing, Angela Walters, Lori Walters, Kim Wiggins, Kim Murdock, Diane Conroy Trish Wilkins, and Karla Kresl. Hemingford's JV Girls team was coached by Mark Bauder and had an excellent (10-5) season record.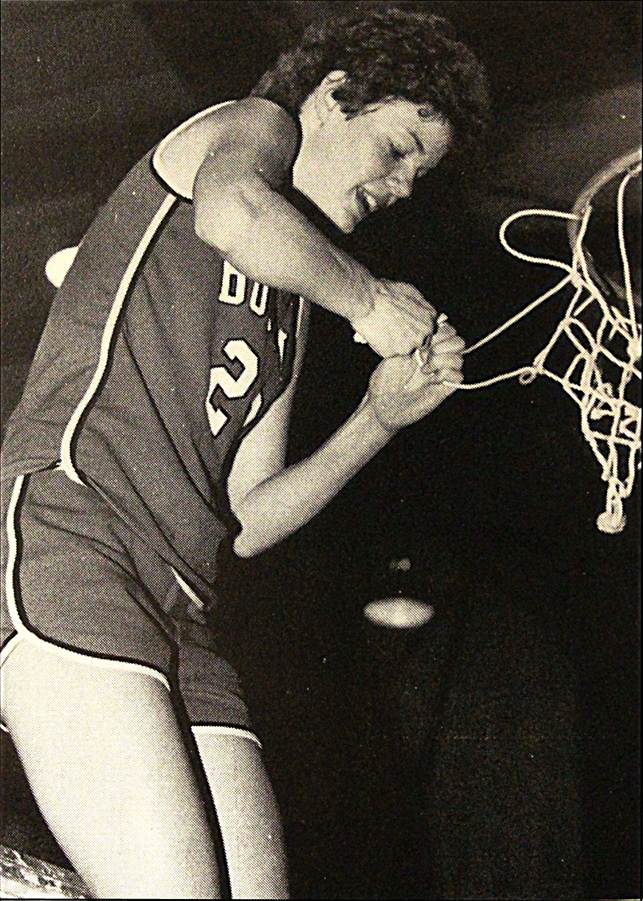 Boys Basketball –
Hemingford had won just two games in the 1982 season, but rebounded to finish with a (9-9) record in '83. Coach Tim Lanik  counted high points from the season with the team's runner-up finish at panhandle Conference, and a nail-biting overtime win over a good Crawford team at season's end. The Cats had lost twice previously to the Rams during the season. All-Conference Honors went to Jim Zajic, first team; Freshman Paul Hanks second team; with juniors Jeff Garber and Randy Wood all-conference Honorable Mention. Other team members included Lance Kotschwar, Rex Horstman, Dave Conroy, Rich Stricker, Theo Hudson, Trevor Williams, Ron Jespersen, and Dan Forsstrom. Hemingford's JV team finished with a (7-9) record, and was coached by local legend Ted White.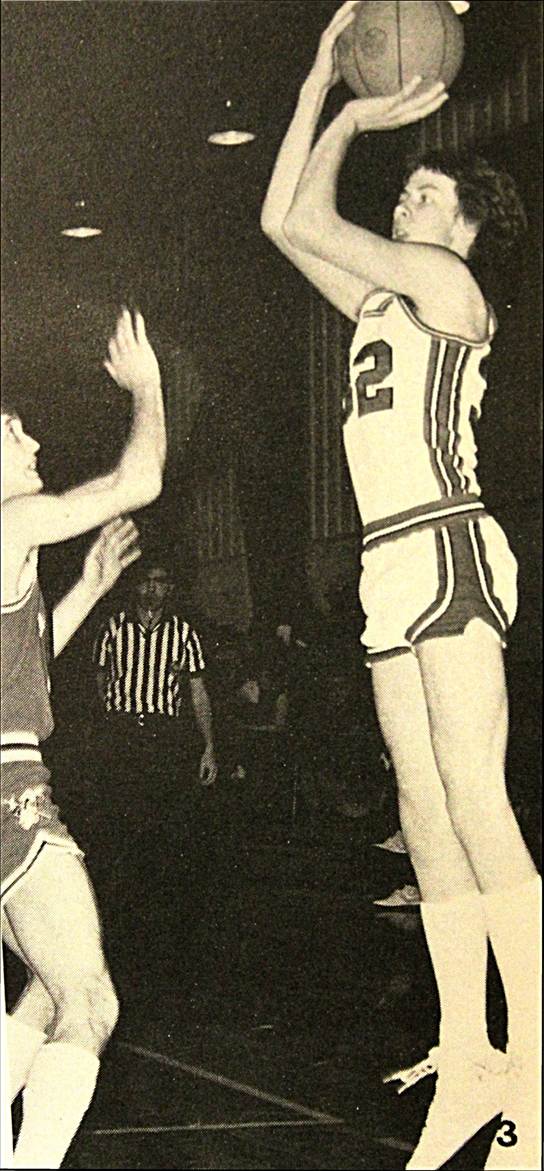 Wrestling –
Hemingford won the Panhandle Conference Wrestling Championship for the first time in school history, and took four other team tourney championships during the season as well. Murph Planansky served as the coach, helping five team-members to the Nebraska State Wrestling Championships, including  Bill Schock (119), Kent Prochazka (132), G.B. Hooper (138), Roger Schledewitz (145) , and Keith Burgin (185).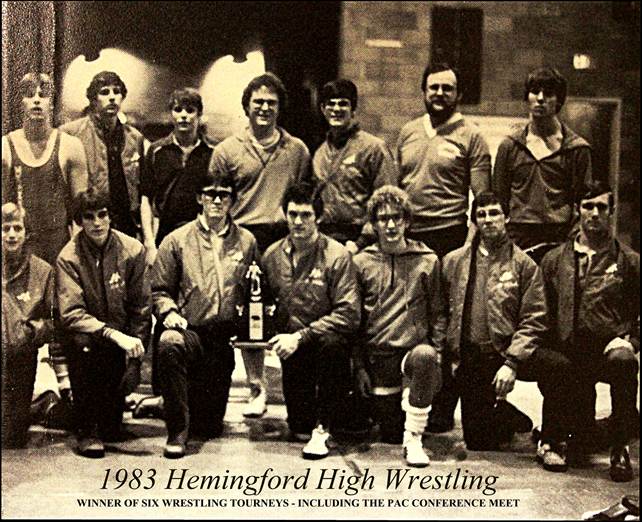 There were twenty-one wrestlers on the team, including the state qualifiers and Jerry Schock, Tony Wilkins, Brady Garner, and freshman Theron Jensen, who scored over 100 team points during the season. Dual victories came over the Job Corp (65-0); Alliance JV (42-17); Chadron JV (57-0); Bayard (43-12) and Crawford (33-31) The Cats tied Rushville (27-27), and dropped just one dual all season long, to Crawford (12-43). Other team Championships came at Chadron, Hay Springs, Bridgeport, and Hyannis.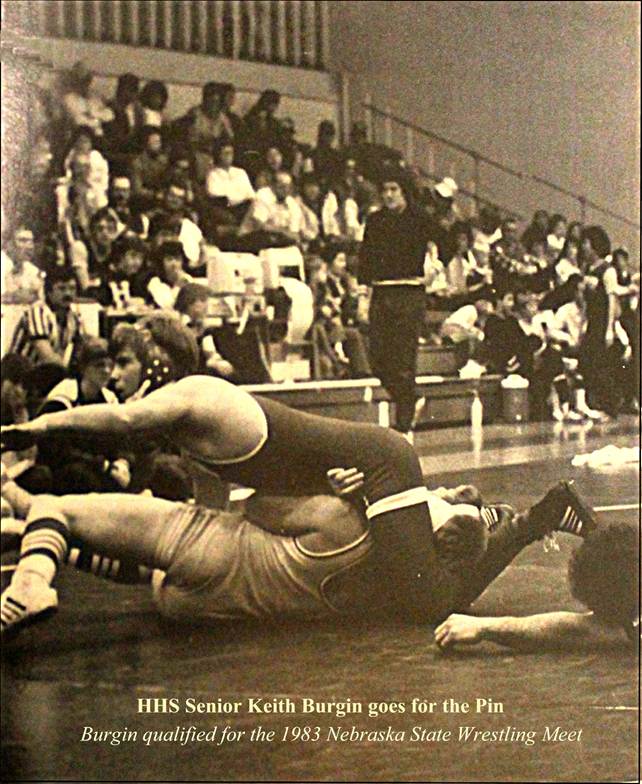 Girls Track and Field –
Two meets were cancelled with Nebraska's unpredictable spring weather, but Coach Mark Bauder and his twelve tracksters worked hard indoors to condition, waiting for the fickle Nebraska sun to shine. Good efforts came from Michelle Delsing in the 400, where she ran a (66.2); Donna Lembke in the shot (32'3"); and Jennifer Delsing in the High Jump, where she cleared (5'1"), good enough for a Hemingford High School record, and a trip to the Nebraska State Track and Field Meet! Other distaff thinclads included Karla Kresl, Sue Gasseling, Mary Long, Loretta Adamson, Michelle Chaney, and Lynn Hooper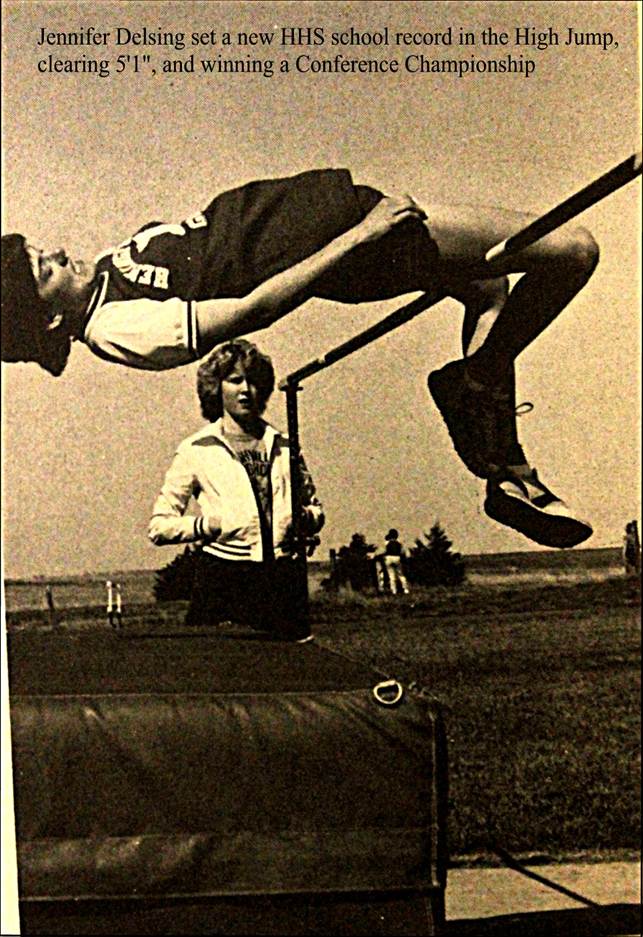 Boys Track and Field –
Weather was not a friend for the Boy's Track team either, as they also lost a meet to the cold, and were also forced to work-out indoors much of the early season for Coach Tim Lanik. There were fourteen team members, with many freshmen, as well as team leader Senior Dana Jespersen, the top point earner for HHS. Other members were Jim Zajic, Dan Forsstrom, Tim Campbell, Keith Jenkins, Trevor Williams, Chris Cullan, Tim Kumpf, Perry Hansen, and Paul Hanks.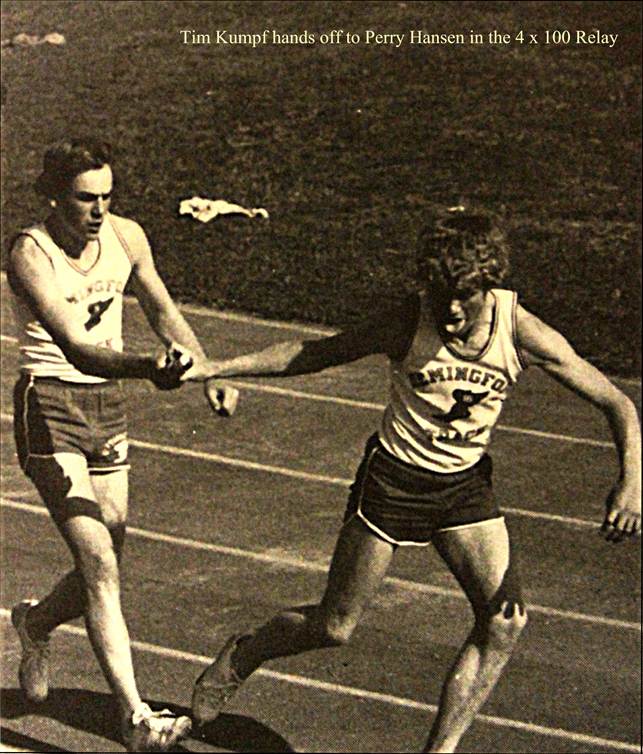 Clubs and Activities –
FHA – Sponsor was Mrs. Goffena; Officers –Johnna Shepard, President; Dan Forsstrom – Vice President; Carol Schekall –Secretary; and Stacy Gaertig, Trasurer. Kim Wiggins served as the district Encounter Chairperson; and SEACH Team members Stephanie Kampbell, Deb Specht, and Tricia Turek won Gold Medals in their illustrated talk. At the State Meet, the girls also won the Gold Medal! Kathy Cullan served as a state PEP Squad member, traveling and speaking on the March of Dimes program to many other Chapters.
FFA – There were twenty-one Chapter members in the Hemingford FFA in 1983 that traveled to the State FFA Contest in Lincoln for competition and instruction. Joe Schekall won a State Championship in Agronomy, while Karla Kresl was a fgourth place winner in Meats. Chapter officers were President – Bill Foley; Vice-President Rex Horstman; Treasurer – Karla Kresl; Treasurer – Kim Wiggins; Reporter – Ron Jespersen; and Sentinel – Roger Schledewitz. The faculty sponsor was Ken Brown.
Cheerleading, H-Club, JETS, and Science Club were also student activities at HHS in 1983.
Homecoming
The HHS Cheerleaders sponsored much of the annual Homecoming festivities, with dress up days, coronation, and a pep rally, while the Student Council sponsored the dance with music provided by KCOW Radio. There was also a soup supper in the cafeteria. In Volleyball action, the Lady Cats bested the visiting Lyman Wildcats, and the boys followed suit, winning their game against Lyman as well.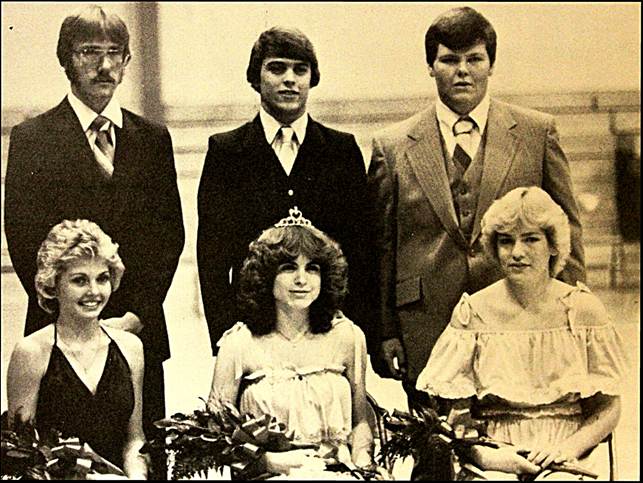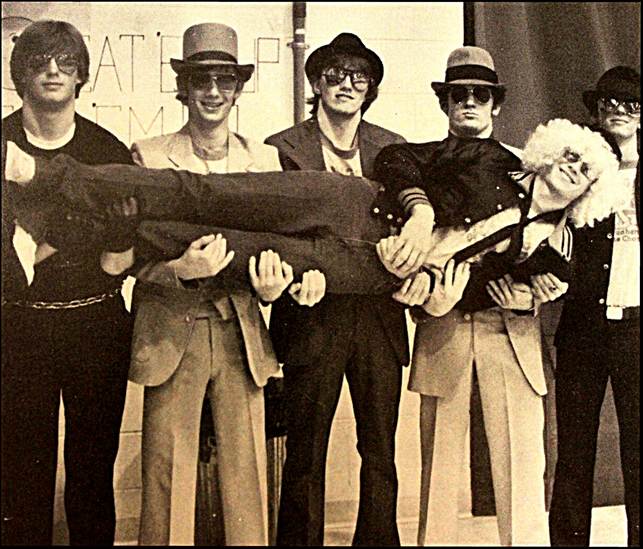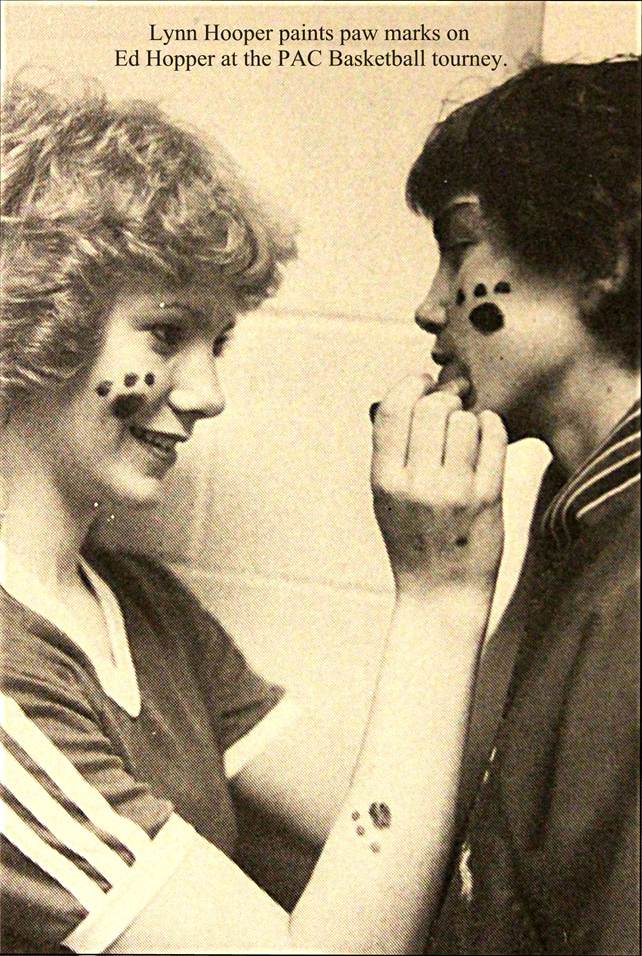 Homecoming Royalty – 
Queen – Kim Wiggins; King – Rex Horstman; Attendants – Robyn Morriss, Michelle Chaney, Dana Jespersen, and Bill Foley
Prom Royalty –  
Queen – Kim Wiggins; King – Brady Garner; Attendants – Brad Hansen, Johnna Shepard, Pete Cullan, Diane Conroy, Ron Wood, Trish Wilkins; Crown bearers – Michaela Stanton, Nathan Lanik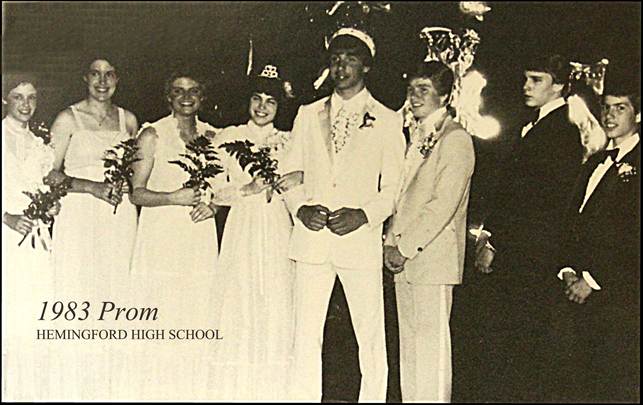 Prom Theme –
 "Fantasy" – the elementary gym was elaborately decorated complete with streamers, strobe lights, a crystal ball, and a water fountain. Music was provided by the band, "Emerald", with the banquet held in the Methodist Church Hall, served by sophomores in butler and maid outfits. A post-prom breakfast was held at the Hemingford American Legion Hall.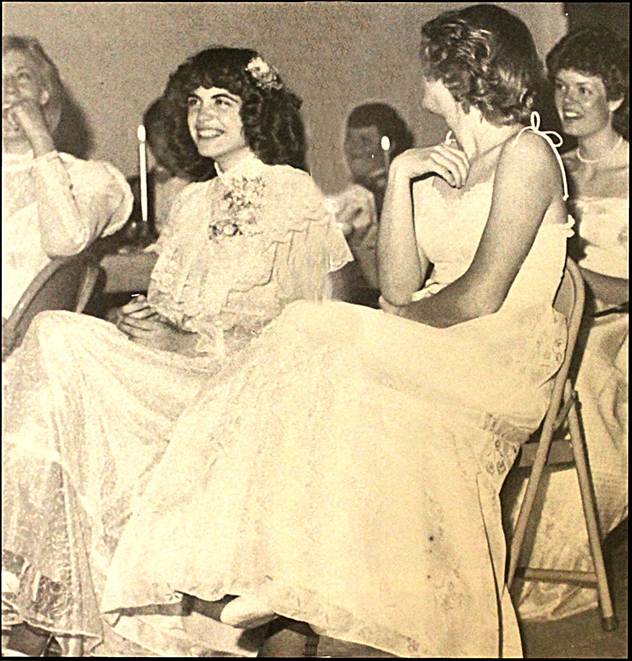 Senior Class Officers – 
President – Jenny Herbaugh; VP – Dee Campbell; Secretary – Pat Anderson; Treasurer – Chris Golka. Mark Chaney and Lisa Jensen were STUCO Reps, and the class was sponsored by Mr. Lyle Fodnes!
Junior Class Officers – 
President – Lance Kotschwar; VP – Kent Prochazka; Secretary – Johnna Shepard; Treasurer – Bill Schock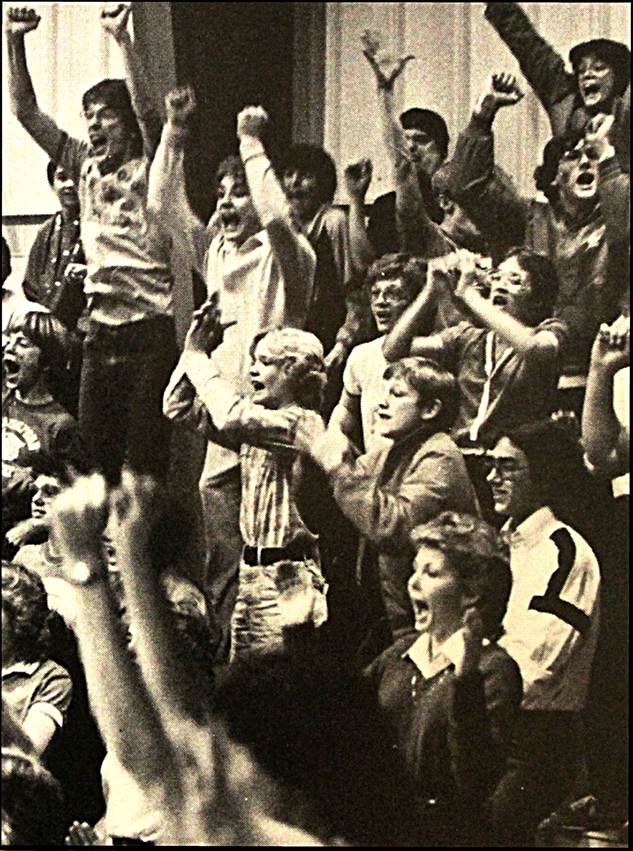 Sophomore Class Officers – 
President – Shelly Prochazka; VP – Diane Conroy; Secretary – Keith Jenkins; Treasurer – Loretta Adamson
Freshmen Class Officers – 
President – Theron Jensen; VP – Troy Hunter; Secretary – Trevor Williams; Treasurer – Carol Schekall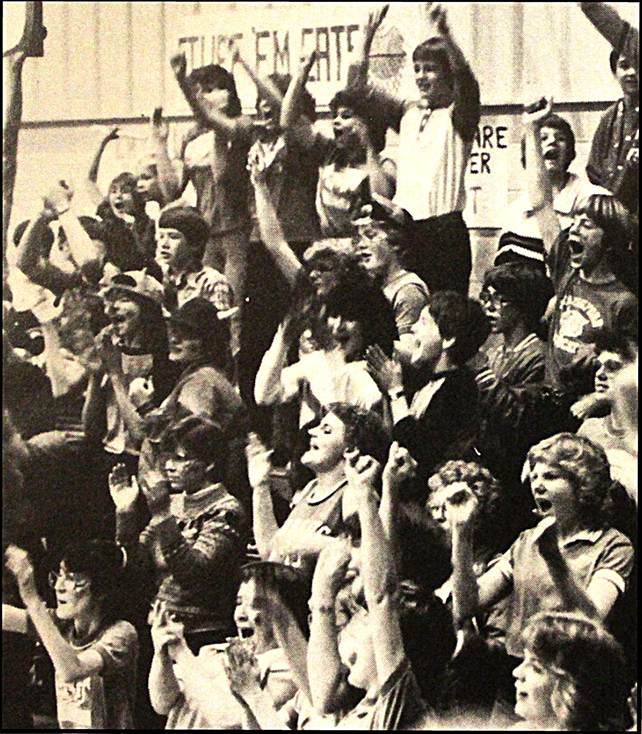 Graduation
Sunday, May 25th at 4 PM. This was the first afternoon graduation in many years at Hemingford, which usually had held evening ceremonies. Dana Jespersen, STUCO President, and Michelle Delsing, STUCO Vice-President spoke during the ceremony as did Counselor Ed Planansky who awarded nineteen scholarships.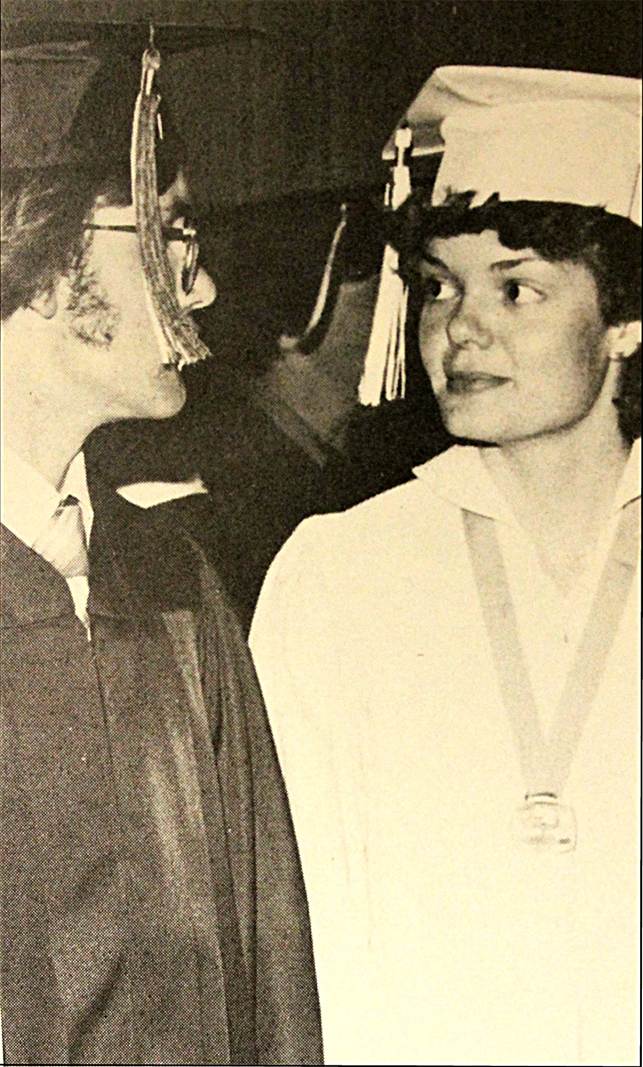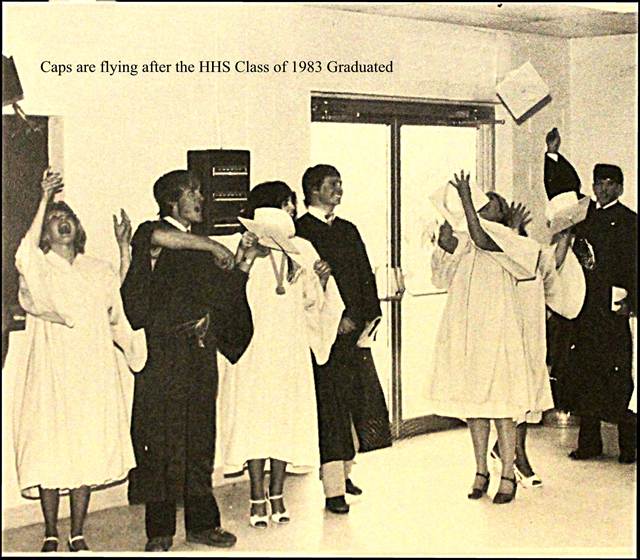 Special or Unique Happenings –
Adelyn Headden retired after dedicating 31 years to Hemingford Public School. Convocations at HHS included The Bernard's Musical Family; Nationally Known Guitarist Buddy Craig; a Magic Act; A wild Animal Showh, and a Marionette Show
CSC Scholastic Contest Results – 
Two individual winners were a highlight for Hemingford
Senior Class Enrollment –
19 – The smallest Senior Class in decades at HHS, but because of the small size, the Class of 1983 was very close-knit according to class members.
Kindergarten Class Enrollment –18
Yearbook Dedication –
Mrs. Headden retired after more than 30 years at HHS!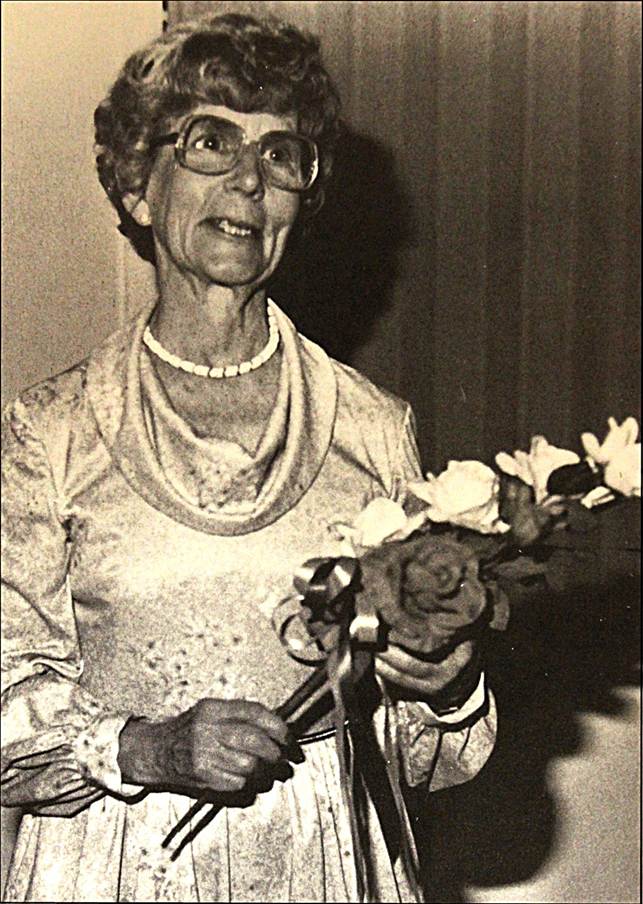 Superintendent –
Don Hanks
Principal –
Lyle Fodnes – secondary; Glen Kotschwar – elementary
Elementary Teachers – 
Kindergarten – Mrs. Annette Davies, Mrs. Sally Engelhaupt; First Grade – Mrs. Jaci Stolldorf, Mrs. Donna Engel; Second Grade – Miss Julie Bieck; Third Grade – Mrs. Elaine Laeger; Third/ Fourth Grade – Mrs. Robyn Prochazka; Fourth Grade – Mrs. Marilyn Hucke;  Fifth Grade – Mrs. Irene Christensen; Sixth Grade – Mrs. Guyla Thomas
Secondary Teachers –
Mark Bauder, Ken Brown, Lyle Fodnes, Judy Gasseling, Jamie Goffena, Bev Hanks, Adelyn Headden, Becky Kenner, Tim Lanik, Mary Lliteras, Ed Planansky, Sue Shaver, John Stanton, Mary Stanton, Bill Stolldorf