Class of 1979
Just Updated!
Class Composite (Click on Thumbnail to enlarge)
19Hemingford High School 79
Student and Faculty Highlights of the Year
This page features athletic records, officers, themes, important numbers, important happenings, and other educational information from the year in question. It provides a quick and ready resource for Bobcat Grads and families!
Student Council Members –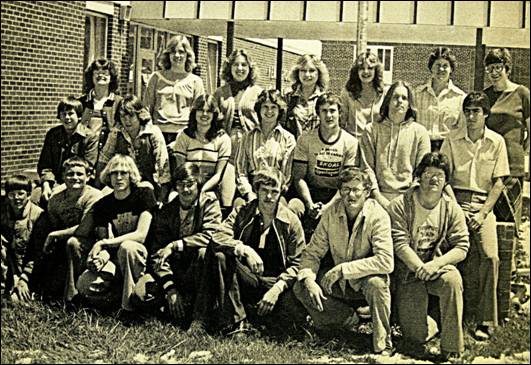 National Honor Society Members –Sophmores – Karen Gasseling, Rocky Grabher, Colleen Heinz, Elzine Hucke, Tim Kotschwar, Kenny Kresl, Greg Powell, Molly Wilkins
Music Department –Vocal musicians earned five superiors at District Music Contest, including the Chorus, the only Class C Chorus to be judged that high. Individuals included: Barb Jones, Gay Kiester, Lori Laeger, and Brad Price. The Chorus was directed by Mrs. Kimbell (Becky) Kenner. The Band also was awarded a Superior rating, its third in a row. Other instrumentalists winning Superiors were: Cindy Cole, Kathy Vickers, Barb Jones, Brad Price, and Jennifer Uhrig. The Band is directed by Mrs. Sue Shaver.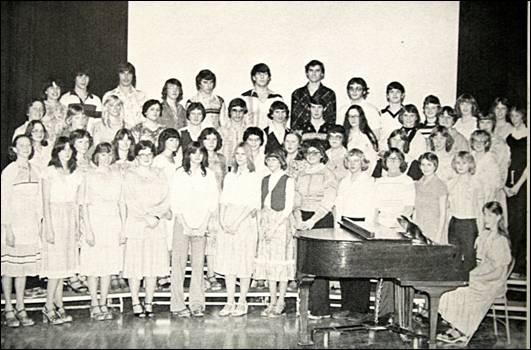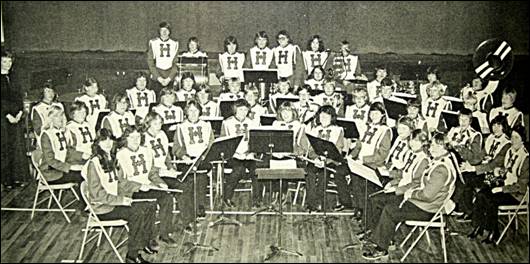 Drama and One Acts –"Death of a Hired Man" was the One Act Play, and "Dinny and the Witches", was the three act play directed by Lyle Fodnes. Speech was sponsored by Norman Hansen and did an "outstanding" job at the Panhandle Conference Meet.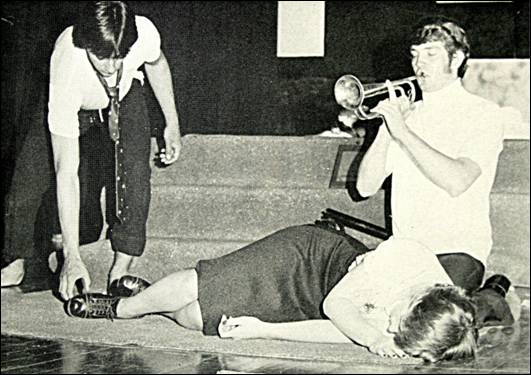 Pep Club /Cheerleading – Kelly Cullan, Leisa Garner, Susan Manning, Tina Nelson, Cindy Smith, Lori Anned,Laurie Garner, Karen Gasseling, Tracy Shepard, and Kat Smith. Ppe Club Officers: Julie Laeger- President, Audrey Davies – Vice President, Jennifer Uhrig – Secretary, and Sandy Chaulk – treasurer.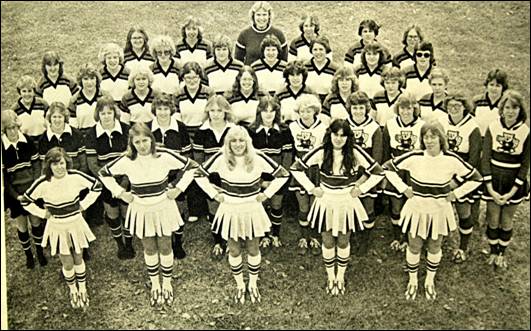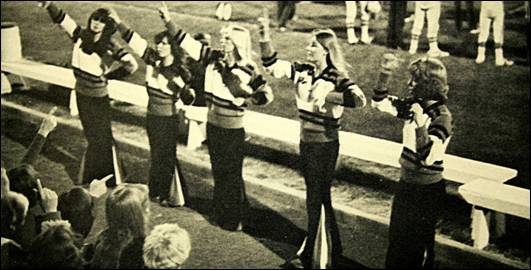 Football – The season ended with a 1-7 record, beating St. Agnes 6-0 for their lone victory coached by Steve Hume. Five of the 18 lettermen were seniors, so next season looked better. All Conference selections included Bob Wood and David Lliteras.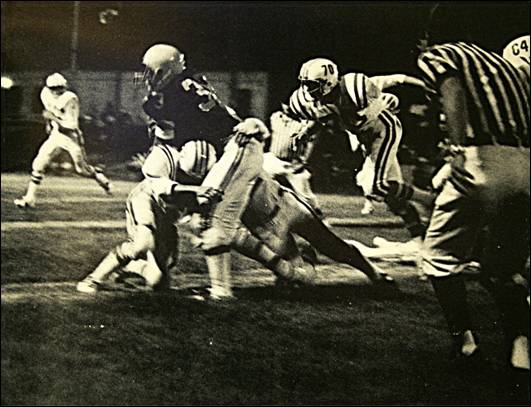 Volleyball – Coach Duane Knaub and the team had the most successful season in four years, with 11 wins and 7 losses. The Ladies won the Hemingford Invitational, and took second in the Panhandle Conference Tourney. All-Conference selections went to Susan Manning, Sue Smith, and Sherri Wood.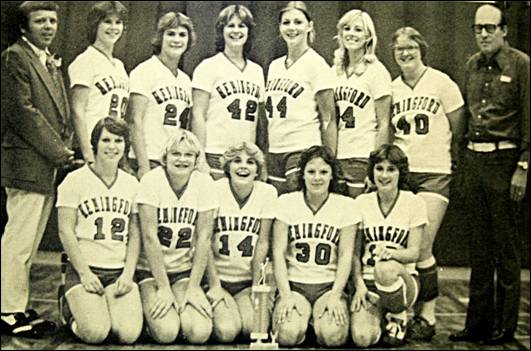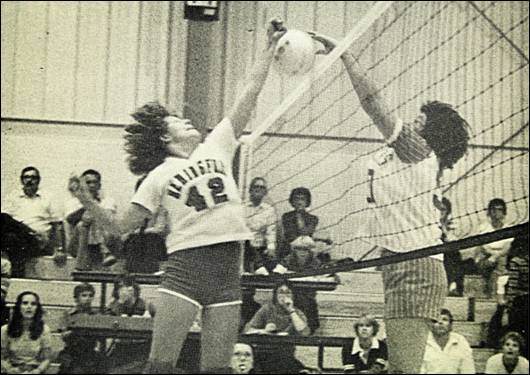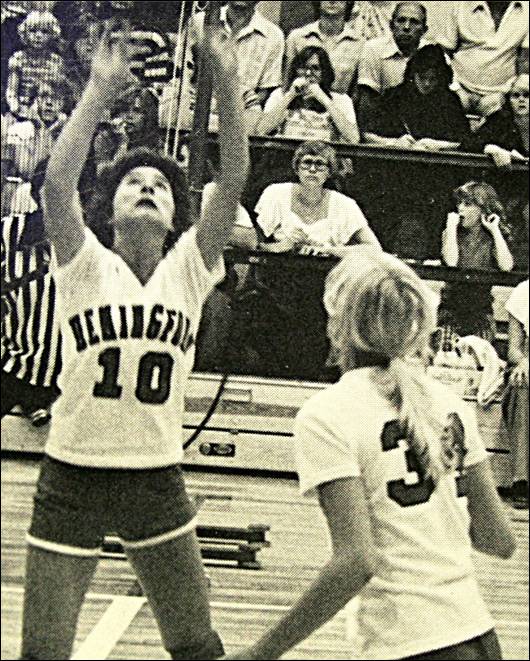 Cross Country –
Girls Basketball – Coach John Stanton and his team of girls compiled a seven win, twelve loss record. All Conference awards went to Susan Manning, Julie Laeger, and Freshman Dee Campbell.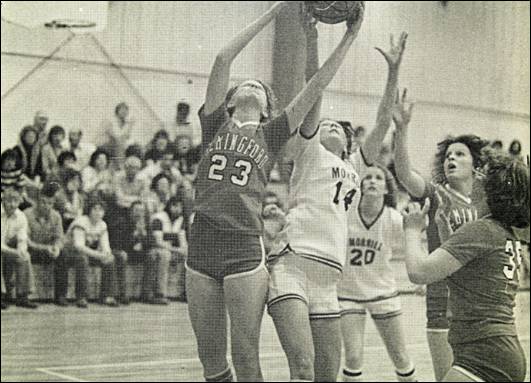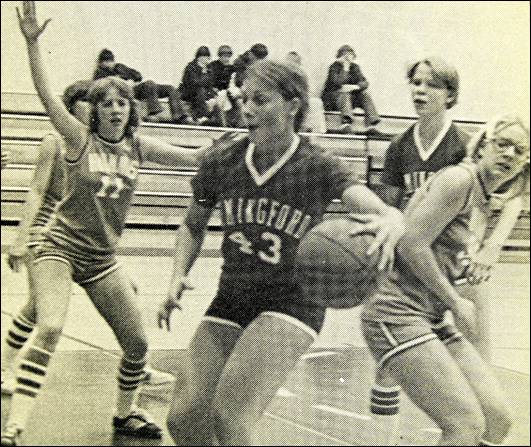 Boys Basketball –An undefeated season with 22 wins for Coach Larry Jones and his team ended against Bayard 38-40 in Districts, but the Cats won The CSC Holiday Tourney and the Panhandle Conference Tourney. The loss to Bayard was in the District Championship game. All-Conference honors went to Joe Lliteras, Brad Delsing, and Jamie Roes. Roes was also an all-state selection. The Cats ended up rated fourth in the state.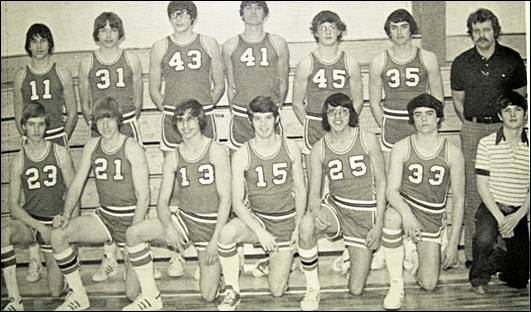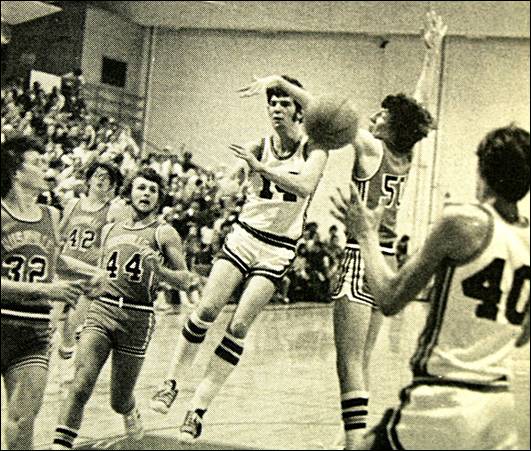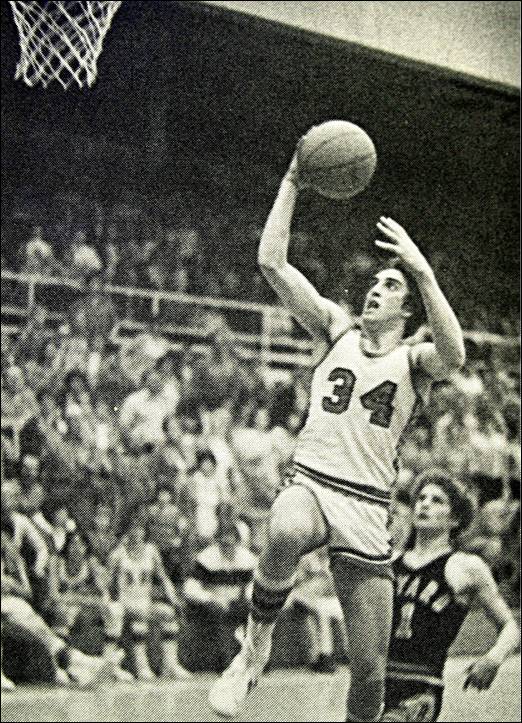 Wrestling – Coach Rex Wilcox had a short number of grapplers with just five finishing the season. Duane Foley placed fifth at Districts. Lettermen included: Brian Cillan, Rodger Elliot, Duane Foley, Kenny Kresl, and LJ Tschacher.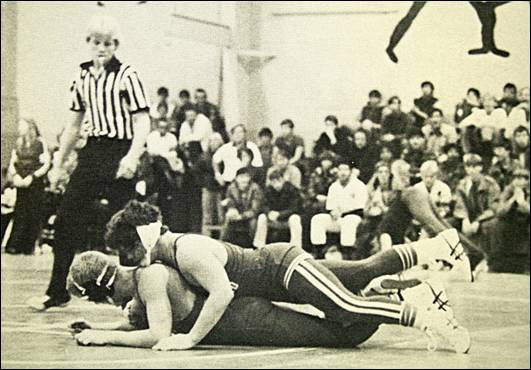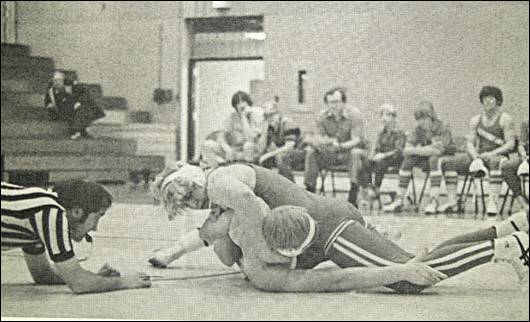 Girls Track and Field –The girls won two meets, including the Hay Springs Invite and the Panhandle Conference meet. Freshman Dee Campbell set a record in the long Jump, going 15'5"; Shirley Smith went 4'8" to set that record, and Sherri Wood blazed to a 11.0 in the 100 yard dash for a third record.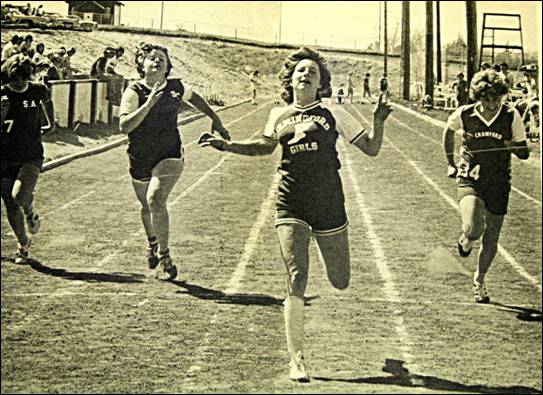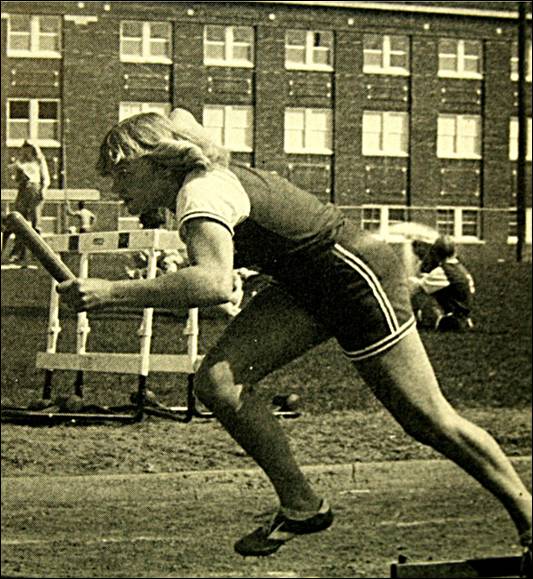 Boys Track and Field –Gene Hanks and Joe Lliteras qualifed for state competition under the coaching of Rex Wilcox. Hanks went in the throws and Lliteras went in the High Jump, where he cleared 6'7", and was the Class "C" Runner-Up! The Boys won the Hay Springs Invite, and finished second at Gordon. Other team members included Terry Messersmith and Jerry Ray, Conference Champs, and Rocky Grabher, Jim Hack, and Tim Kotschwar.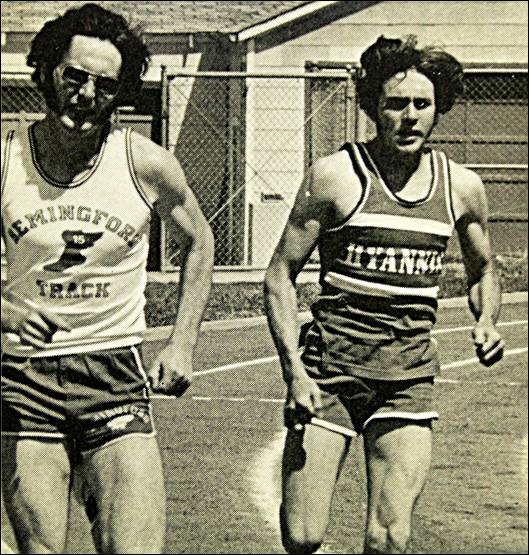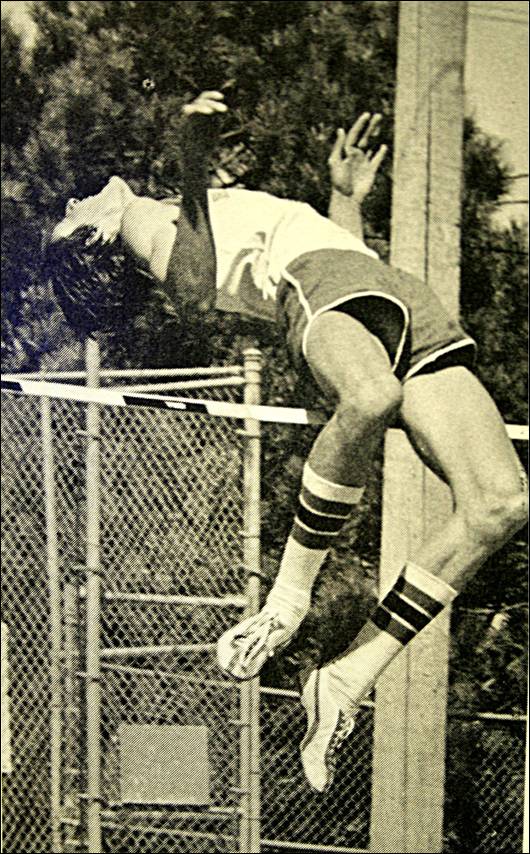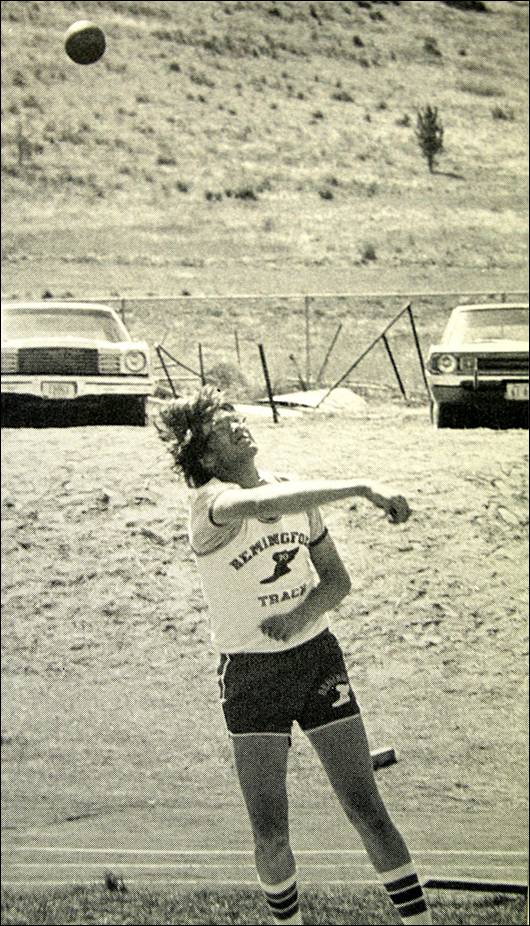 Clubs and Activities – Science Club went to Toadstool Park, The Pine Ridge, and the
Black Hills; The FHA had two bake-off contests and traveled to Terry Peak to ski; and had the second highest number of male members in the entire state;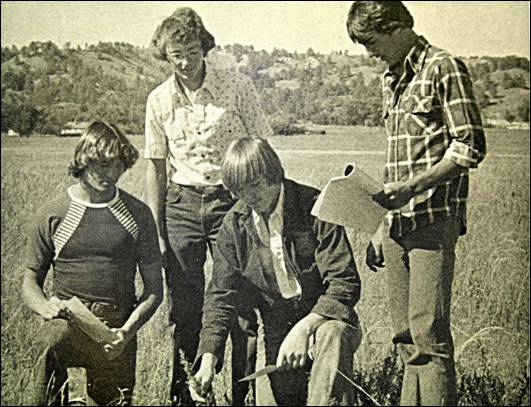 FHA officers included: Barb Jones-president, Stacy Grabher – Vice President, Lori Laeger – secretary, and Sue Sherlock was treasurer. Sherri Wood was the District Vice-President as well for sponsor Helen Walker. Mr. Ken Brown's FFA members won state ribbons by Brain Cullan, Steve Hulshizer, and Terry Messersmith. John Annen was president, Brian Cullan Vice-President, Jennifer Uhrig secretary, and Steve Hulshizer was treasurer.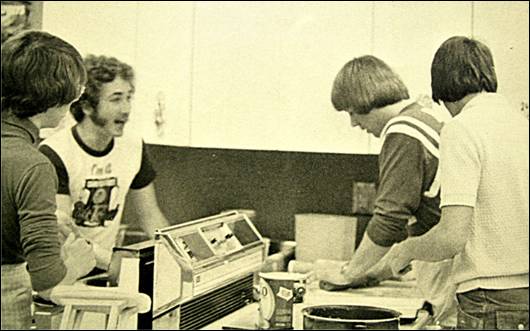 Hemingford "H" Club -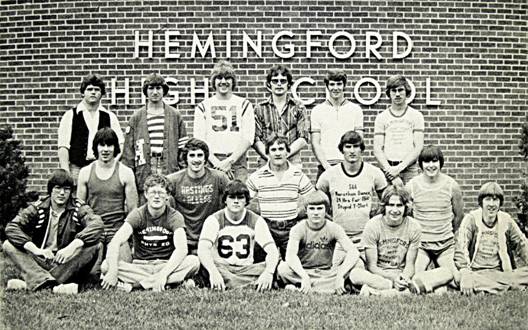 Homecoming Royalty –Queen – Susan Manning; King – Bob Wood; Attendans – John Annen, Brian Cullan, Julie Laeger, Sue Smith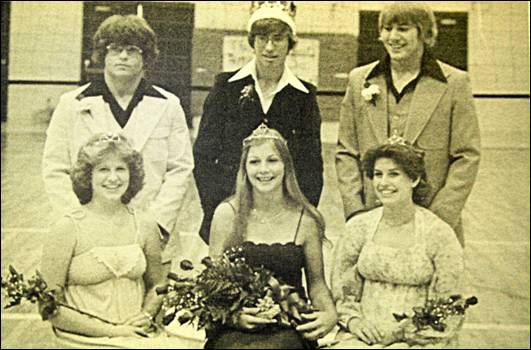 Prom Royalty – Queen – Sue Smith; King – Brad Delsing; Attendants Brenda Jespersen, Gary Hollinrake, Shirley Smith, Tim Kotschwar, Dee Campbell, Karen Kresl, Chris Golka, Wade Wilkins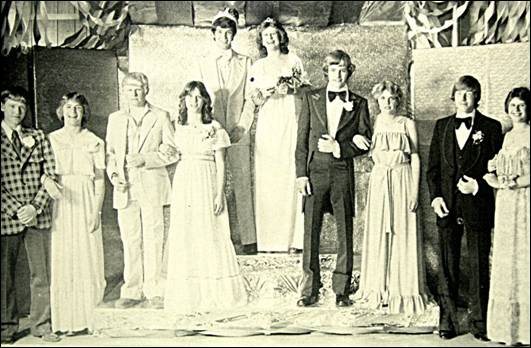 Prom Theme – "I Love the Night Life"
Senior Class Motto – "Not what we gave, but what we shared; not what we forget, but what we remember."
Senior Class Officers President –Steve Hulshizer ; Vice President – John Annen; Secretary – Julie Laeger; Tresurer – Sue Smith
Junior Class Officers –President – Duane Foley; Vice-President – Kelly Cullan; Secretary – Brenda Jespersen; Treasurer – Bruce Delsing
Sophomore Class Officers –President – Shirley Smith; Vice-President – Will Fiscus; Secretary – Greg Powell; Treasurer – Rocky Grabher
Freshmen Class Officers –President – Karen Kresl; Vice-President – Tim Votruba; Secretary – Jenny Herbaugh; Treasurer – Steve Cotant
Graduation Speakers – Julie Laeger and Mike Schekall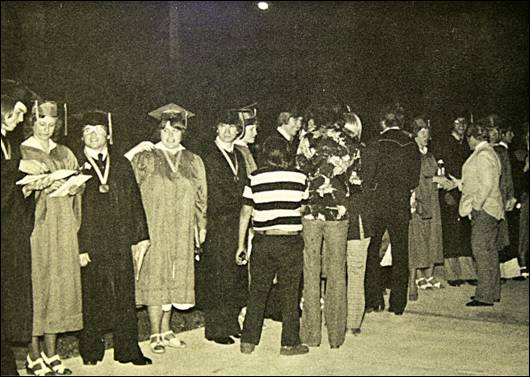 Senior Class Motto – " Not What we Gave, but What we Shared; not What we Forget, but What we Remember"
Senior Class Colors –Red and White
Senior Class Flowers –White Rose
Senior Class Song –"Dust In The Wind" by Kansas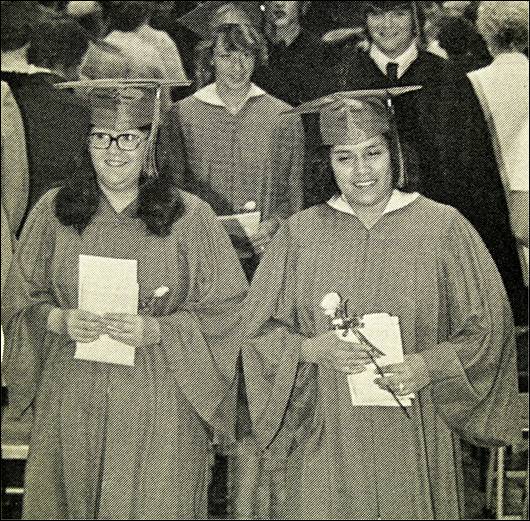 State Competitions – Gene Hanks, Joe Lliteras
Special or Unique Happenings –
CSC Scholastic Contest Results –
Senior Class Enrollment –27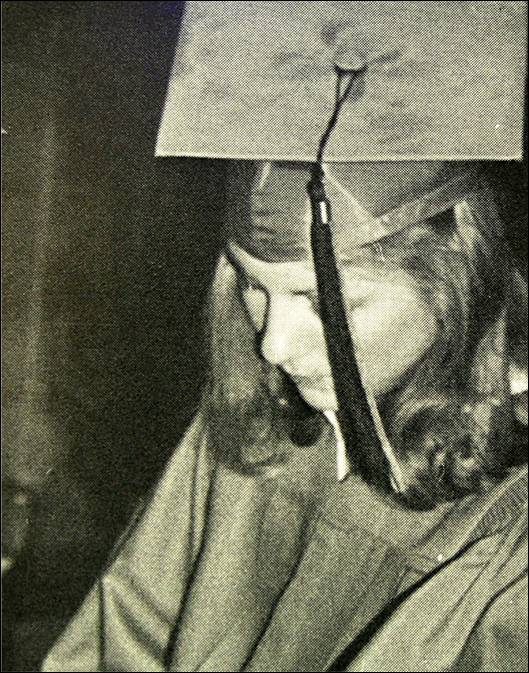 Kindergarten Class Enrollment – 25
Yearbook Dedication –
Superintendent – Don Hanks
Principal – Lyle Fodnes – secondary; Glen Kotschwar - elementary
Secondary Teachers – Becky Kenner, Sue Shaver, Adelyn Headen, Lynda Roland, Steve Hume, Rex Wilcox, Judy Gasseling, Norman Hansen, Mary Lliteras, Larry Jones, Bev Hanks, Bill Stolldorf, Duane Knaub, John Stanton, Ken Brown, Helen Walker,
Elementary Teachers –Guyla Thomas, Irene Christensen, Lena Hebbert, Elaine Laeger, Sally Schadwinkel, Jaci Stolldorf, and Annette Davies
New Teachers– Included Mr. Steve Hume, Guidance, Driver's Ed, and Phys. Ed; He also coached Football, assisted in track, and basketball, and enjoyed being a mechanic in his spare time. Mr. Rex Wilcox taught science and phys ed. He coached Wrestling and Track. He enjoyed hunting and fishing.
Class of 1979
Linda Towne

ladyrock1961@yahoo.com

Hemingford NE

cook

Mar 23, 2008

would like a picture of the class of 1979 on the computer