Class of 1971
Updated May 24, 2011
The HHS Class of 1971 (Click on Thumbnail to enlarge)
19Hemingford High School 71
Student and Faculty Highlights of the Year 
This page features athletic records, officers, themes, important numbers, important happenings, and other educational information from the year in question. It provides a quick and ready resource for Bobcat Grads and families!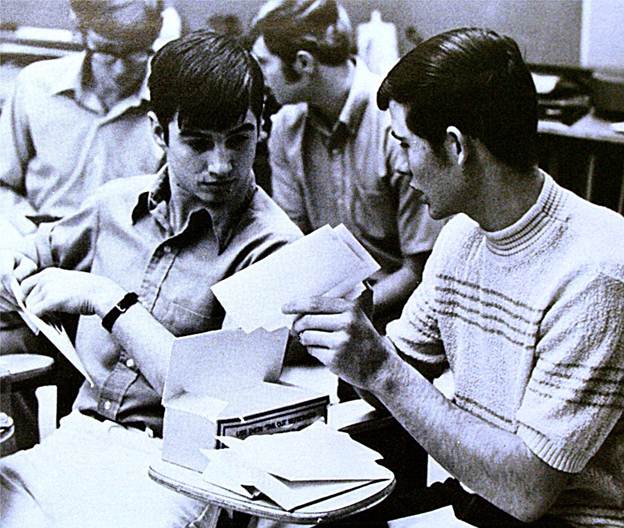 Student Council Highlights- This year, the Student Council cleaned up area farms to raise money for the memorial for Joe Lliteras, sought out a location for a student center, and presented a convocational in the honor of four teachers.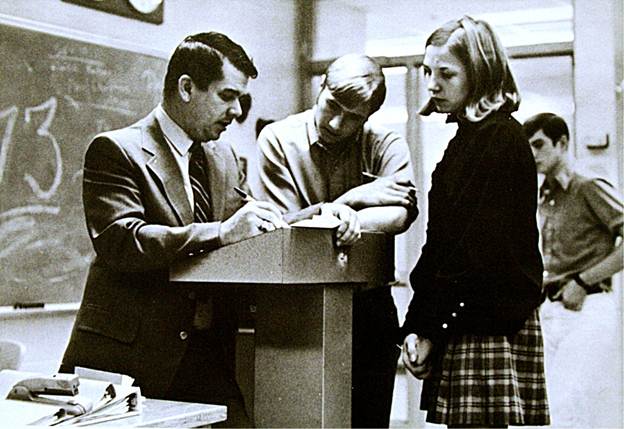 Student Council Members- President- Mike Brost, VP- Karen Prochazka, Secretary- Vicki Hansen, Treasurer- Chuck Messersmith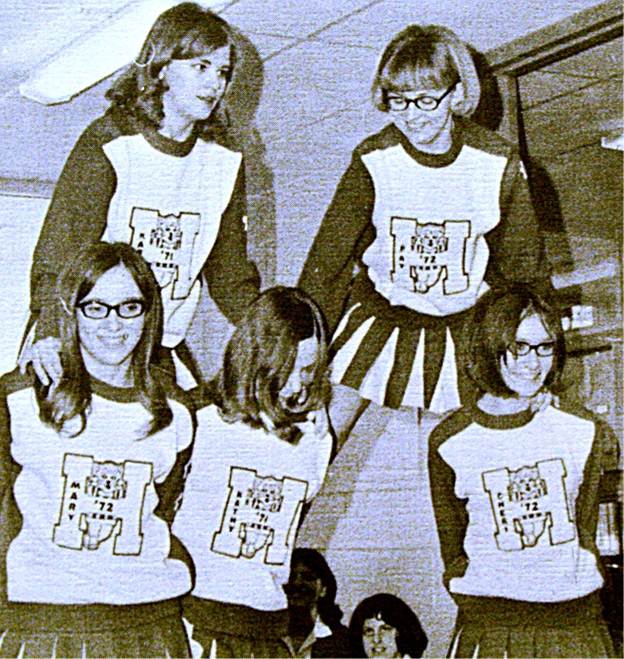 National Honor Society Members- President- Chuck Messersmith, VP- Mike Brost, Secretary- Deborah Wyland, Treasurer- Gary Powell, Sponsor- Lyle Fodnes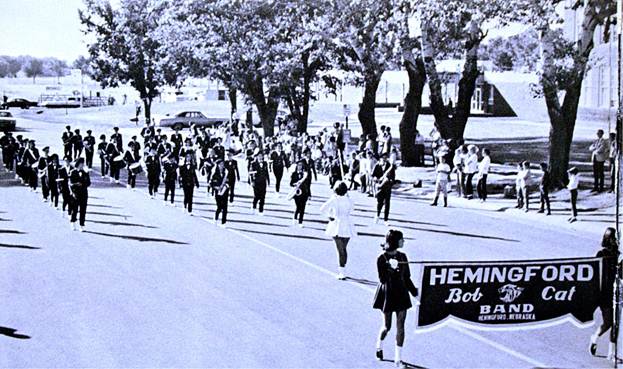 Music Department- This year, the local elementary and high school music programs were led by Mr. Arnold Quinonez. The local band/choir participated in several local parades, two public concerts, a clinic, and the Panhandle "C" contest.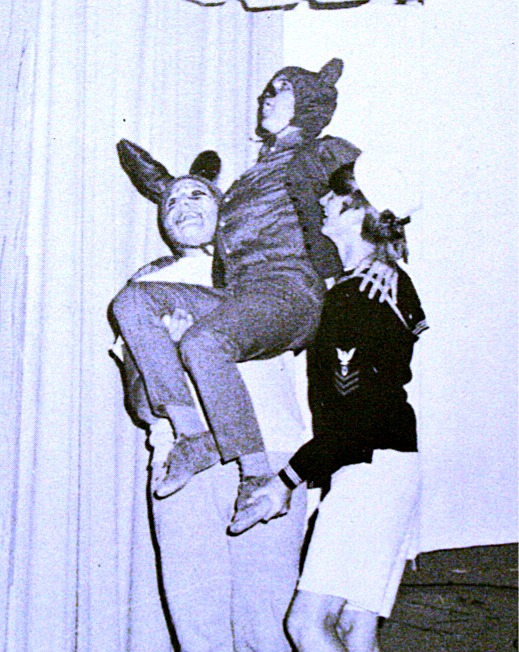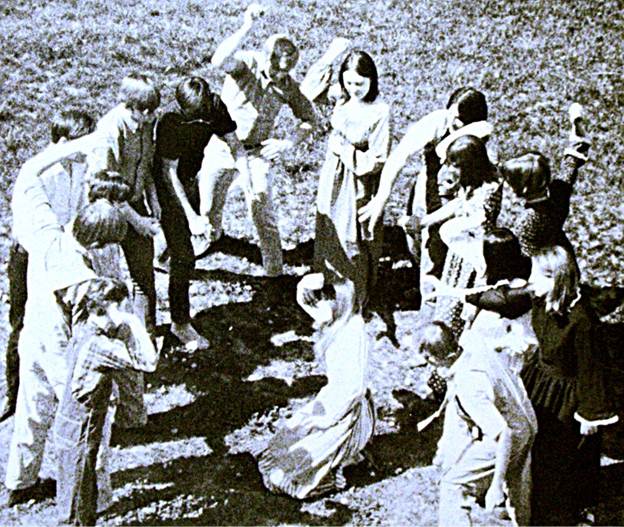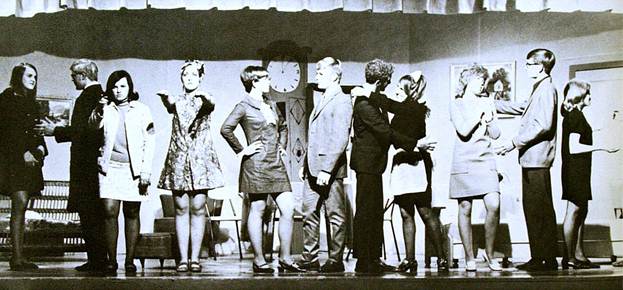 Drama and One Acts- This year, the Dramatics Club presented three plays throughout the school year: Winnie the Pooh, based on a poem by A.A. Milne, Murdered Alive, a murder mystery, and The Lottery, a one act play that brought home a superior from the speech contest.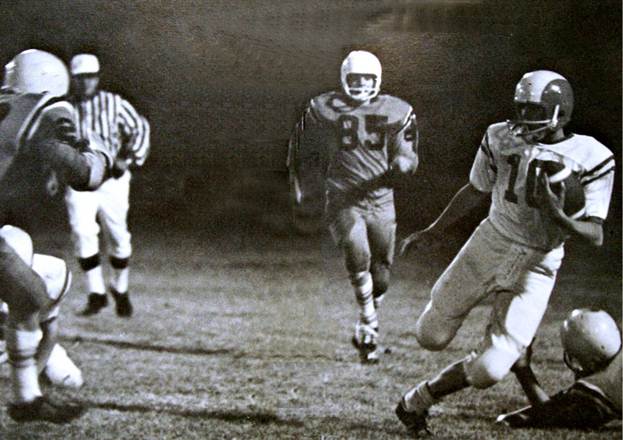 Football- Coached by Larry Sweet, the football team had a record of 4 wins, 3 ties, and 2 losses this year. The ties came against Rushville and Crawford, with three wins to end the season against Morrill, St. Pat's, and Harrison! Players included Dave Engel, Bill Smith, Ted White, Delten Myers, and Rod Planansky. The Cats defeated Southern Panhandle Champion Morrill for their biggest win.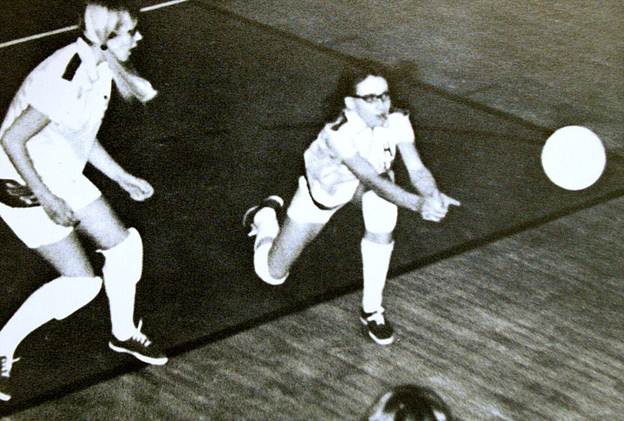 Volleyball – Glen Kotschwar coaches the  Lady Cats, who finished in third place at the Crawford JC's Tourney. The Varsity had a 10-5 record with wins over Hay Springs, Assumption, Oshkosh, Crawford, St. Agnes, Harrison , and Hyannis.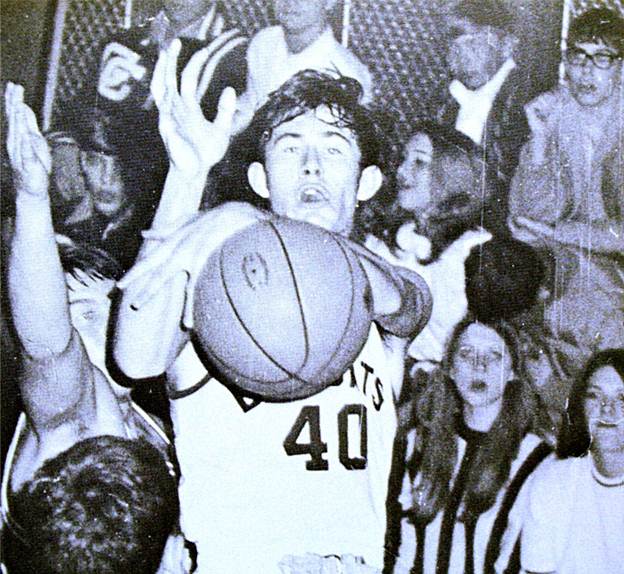 Boys Basketball- Coached by Larry DeWees, the boys' basketball team had a record of 4 wins and 9 losses this year.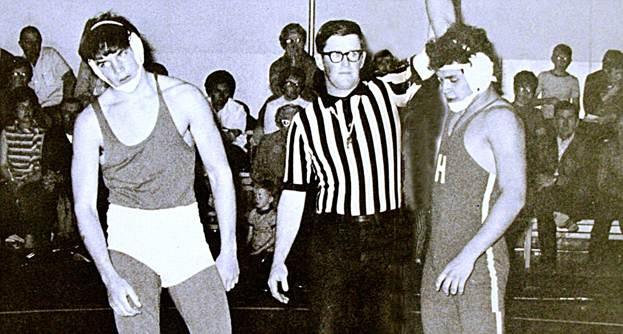 Wrestling- Coached by Glen Kotschwar and assistant Larry Schnell, the varsity wrestling team had a 6-7 record this year. Tim Brost, Mike Brost, John Garcia, David Engel, and David Swanson went to the state meet this year.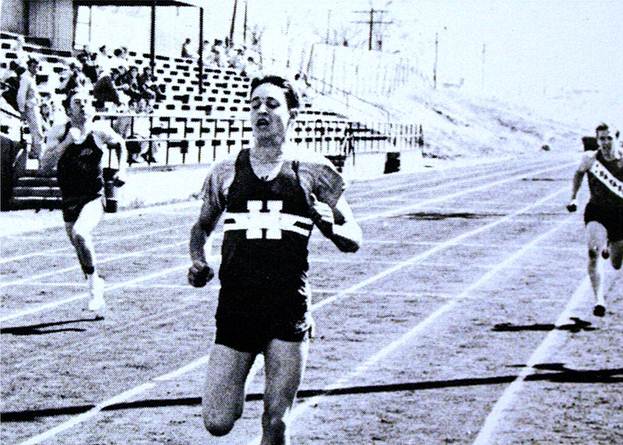 Boys' Track and Field- Coached by Larry Sweet, the boys track team had fourteen participants this year. Delton Myers and Mike Brost received the most points for the year.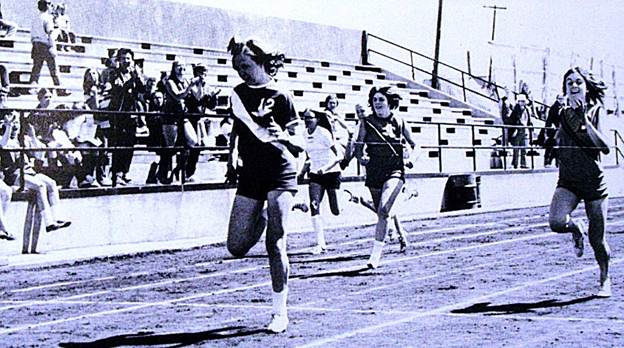 Girls Track and Field – For the first time in state history, there was an NSAA State Track Meet!  Kathy Prochazka was the first female track qualifier in Spud or Bobcat history, tieing for second place at districts in the 50 yard dash! Prochazka set the high jump record as well, leaping 4'6", while team mate Carol Zajic was the new record holder at Hemingford in the 440.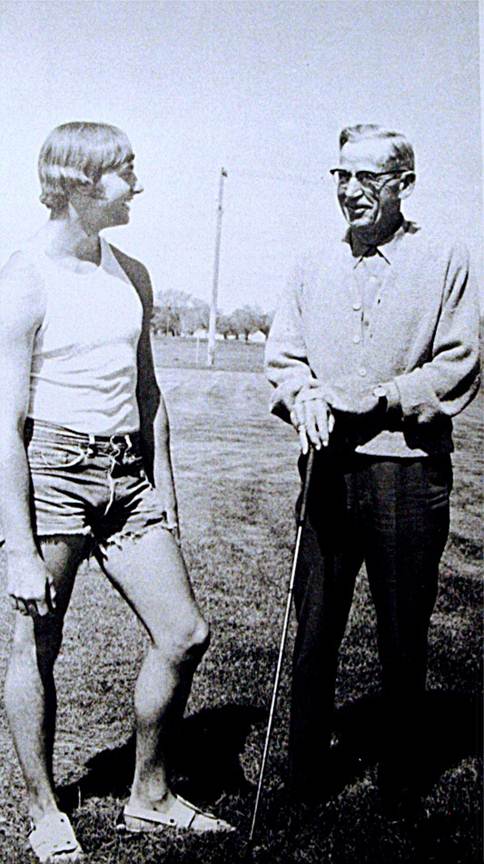 Golf-Coached in George Osbourne, the golf team went to state and placed tenth out of 23 schools.
Clubs and Activities- FHA- Twenty-six young ladies were involved with FHA this year. President- Vicki Hansen, VP- Barb Gausman, Secretary- Cheri Hansen, Treasurer- Karan Danbom. FFA- Seventeen young men were involved with FFA this year. President- Kent Frost, VP- Tony Gonzales, Secretary- Bruce Jensen, Treasurer- Dann Reynolds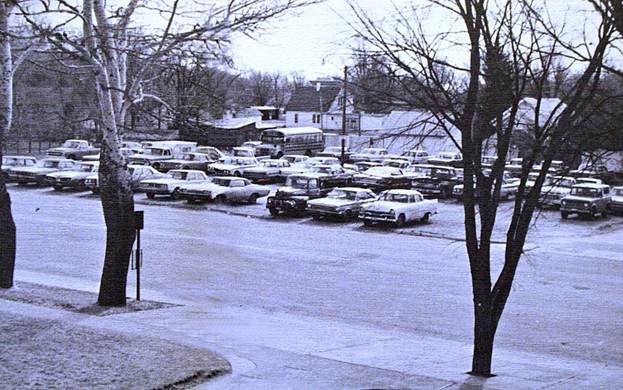 Homecoming Royalty- King- Chuck Messersmith, Queen- Vicki Hansen, Attendants- Mike Brost, Terry Dufek, Kathy Prochazka, and Bill Smith.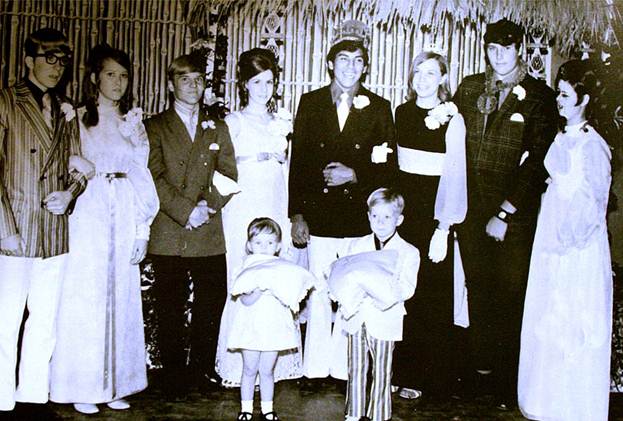 Prom Royalty- King- Tony Gonzales, Queen- Kathy Prochazka, Attendants- Lenni Walters, Donnie Jespersen, Jody Benda, David Engel, Deb Lucas, and Buddy Roes.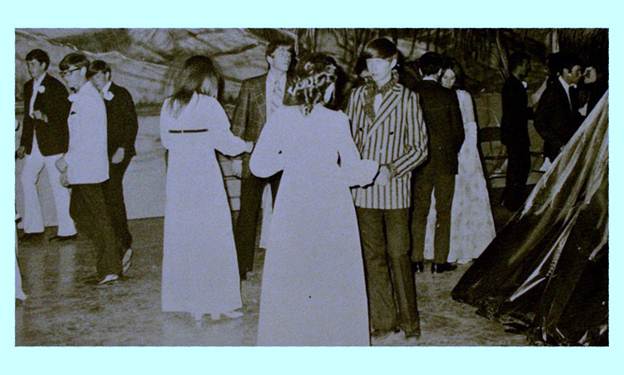 Prom Theme- Hawaii, Island of Love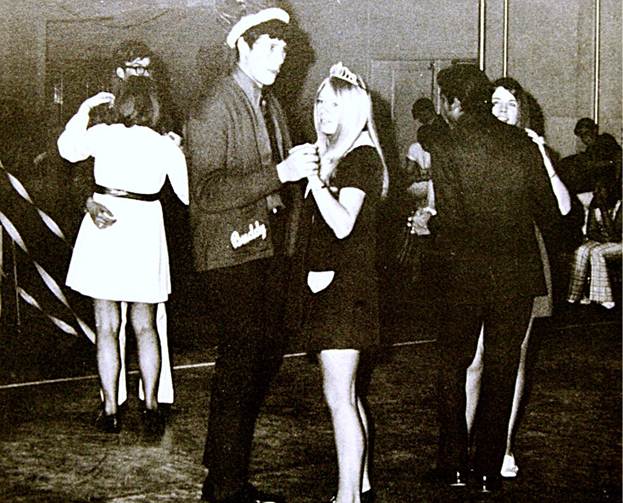 Senior Class Song- "A Time to Dream"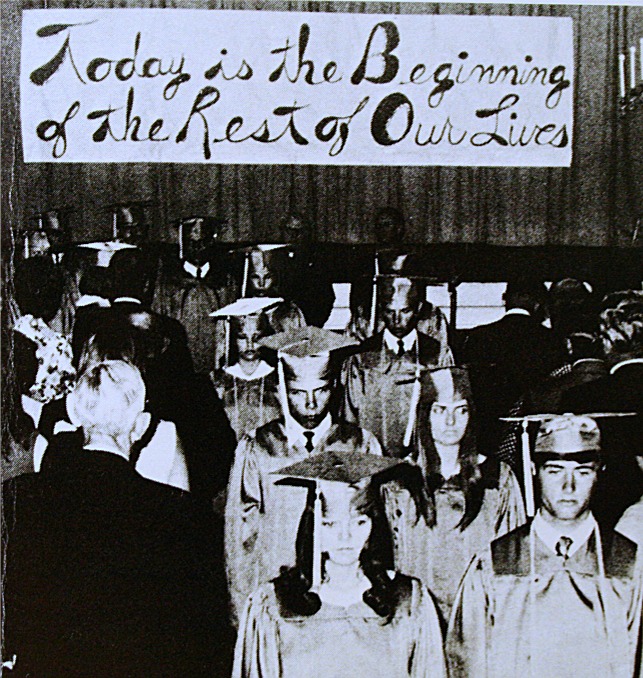 Senior Class Officers- President- Gary Powell, VP- John Garcia, Secretary- Jann Moeller, Treasurer- Kathy Prochazka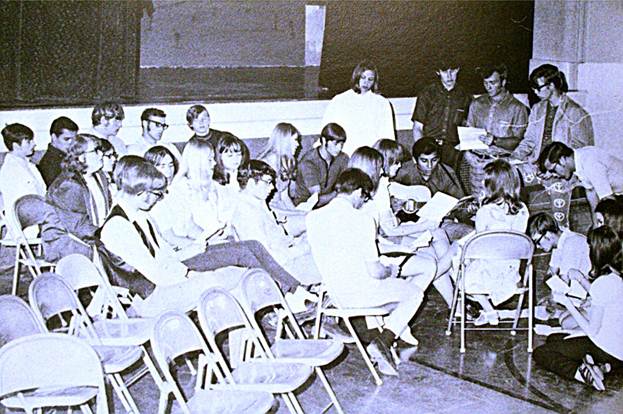 Junior Class Officers- President- Ted White, VP- Cheri Hansen, Secretary- Chris Planansky, Treasurer- Pat Delsing
Sophomore Class Officers- President- Geneice Kiester, VP- Randy Vogel, Secretary- Sandie Smith, Treasurer- Jody Benda
Freshmen Class Officers- President-Pat Brost, VP- Roberta Lliteras, Secretary/Treasurer- Carol Danbom 
Senior Class Enrollment- 30
Kindergarten Class Enrollment- 18
Superintendent- Don Hanks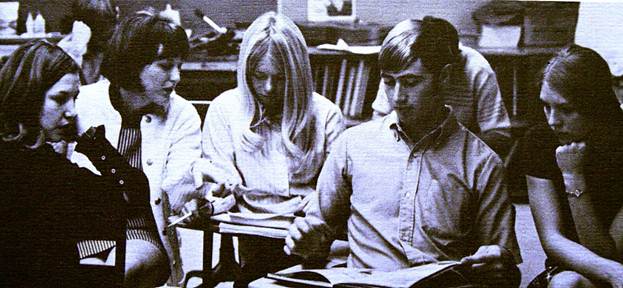 Principal – Lyle Fodnes – secondary, Mrs. Evelyn Fendrich - elementary
Elementary Teachers –Kindergarten – Mrs. Rosemarie Jacobson; First Grade – Mrs. Jaci Stolldorf; Second Grade – Mrs. Agnes Bruns; Third Grade – Mrs. Eliane Laeger; Fourth Grade – Mrs. Lena Hebbert; Fifth Grade – Mrs. LaVerne Fentress; Sixth Grade – Mrs. Guyla Thomas; Special Education – Mrs. Mardra Horse
Secondary Teachers – Mr. Larry Sweet, Mr. Gordon Stibley, Glen Kotschwar, Mrs. Josephine Johnson, Mrs. Beverly Hanks, Mrs. Janet Pickering, Mrs. Adelyn Headden, Mr. William Stolldorf, Mr. Larry DeWees
Other Staff Members – Mr. Bernard Caha, Mrs. Rebecca Yellow Hair, Mrs. Leona Wilkins, Harold Schmitt, Mrs. Norma Wood, Mrs. Carolyn Rexus, Mrs. Jeannie Schmitt, Mrs. Devona Price, Mrs. Marjorie Stull, Mrs. June Hucke