Class of 1972
The 1972 Senior Class of HHS (Click to enlarge)
Class of 1972 
Hemingford High School 
Student and Faculty Highlights of the Year 
This page features athletic records, officers, themes, important numbers, important happenings, and other educational information from the year in question. It provides a quick and ready resource for Bobcat Grads and families!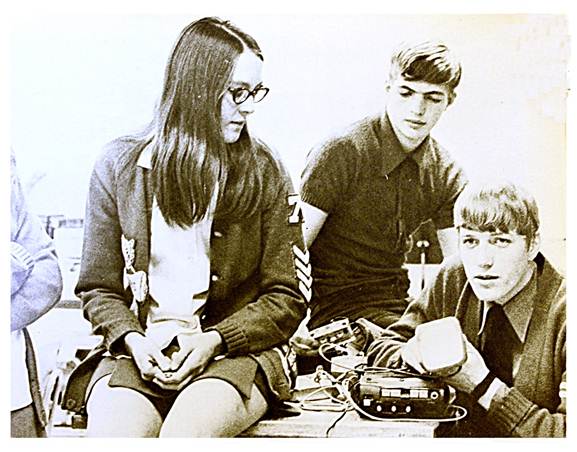 Student Council Highlights – 
As well as sponsoring a dance, they hosted National Assemblies, repaired the school parking lot, assisted at Parent-Teacher Conferences, and created  the Mike Lliteras Memorial. The Faculty Sponsor was Mr. Donald Baruth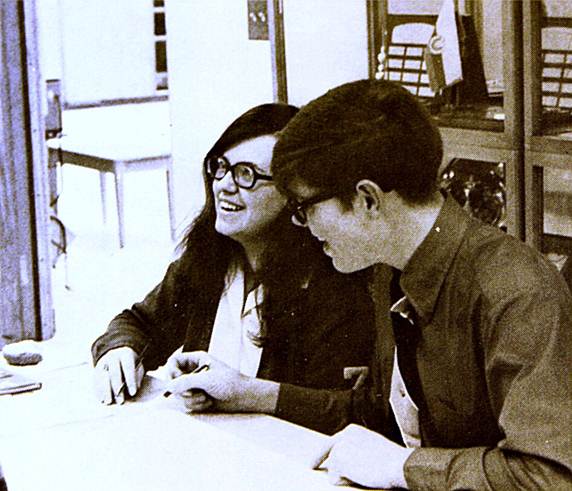 Student Council Members –  
President – Tim Brost, VP – Veronica Walters, Secretary – Pat Delsing, Treasurer – Bud Roes; Seniors -; Juniors – Linda Delsing, Tim Lewis; Sophomores –Kathy Wood, Don Jespersen ; Frosh – Dave Buskirk, Debbie Wood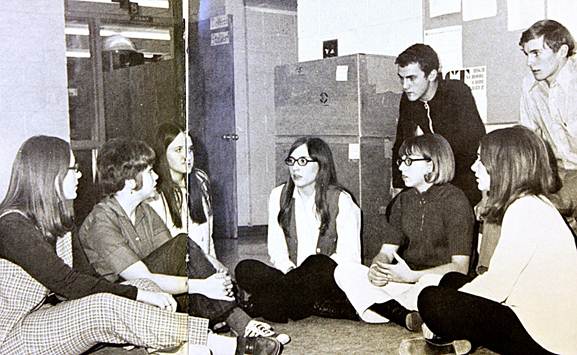 National Honor Society Members –
President – Mike Golka; VP – Mary Ann Wood; Secretary – Rod Uhrig, Treasurer – Christy Planansky; Pat Delsing, Tim Brost, Pat Wacker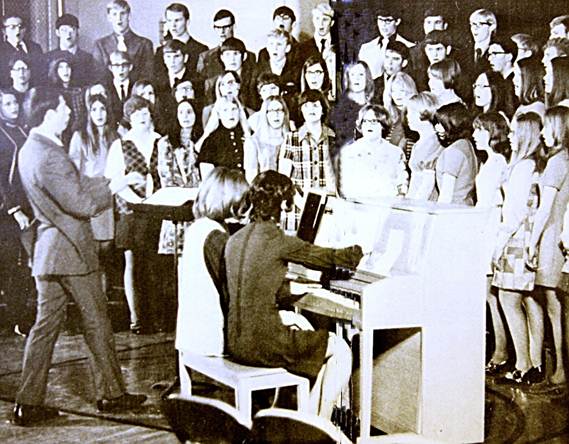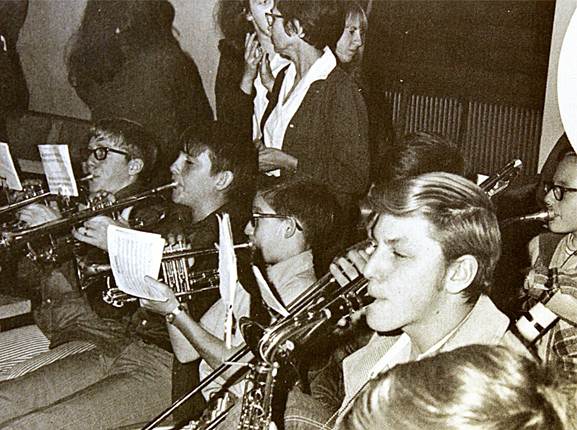 Music Department –
Director Joan Longmore instructed the high school band and the HHS pep band.  . Band Council included officers Erwin Sample, Band Captain; Christy Planansky, Lieutenant; Jody Benda was Secretary. The band earned a Superior Rating at the CSC Band Day. The Mixed chorus, mixed ensemble, the girls' sextet, and Boys octet were directed by Frank Brigham. Soloists included Pat Wacker, Christy Planansky, and Karen Danbom.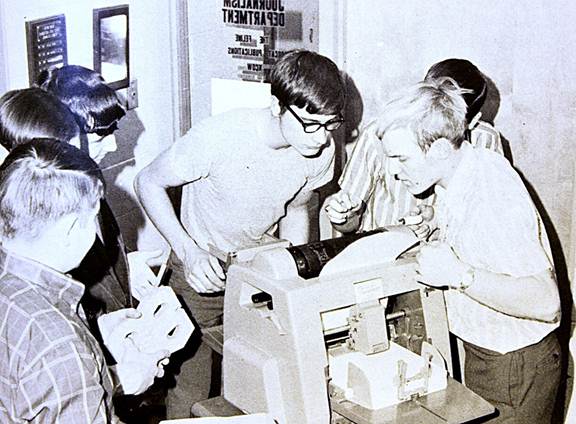 Journalism – 
Veronica Walters and Pat Delsing were Co-Editors, with Craig Price and Ted White manning the sports pages; Karen Danbom was Activities Editor, and Cheri Hansen was the Business Manager. Mr. Fodnes was the faculty sponsor. Other members included: Carol Duncan, Larry Vickers, Kevin Sorensen, Bud Roes, and Rod Uhrig.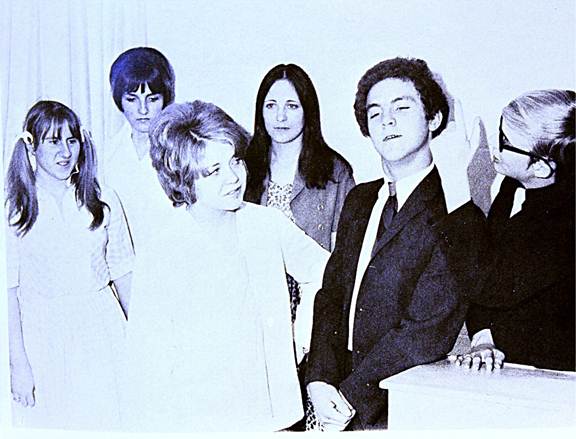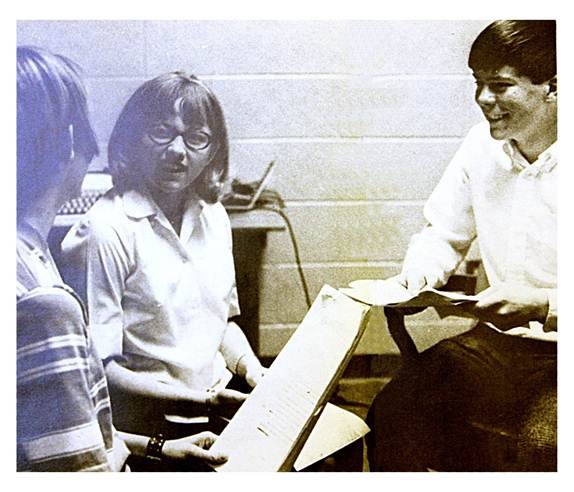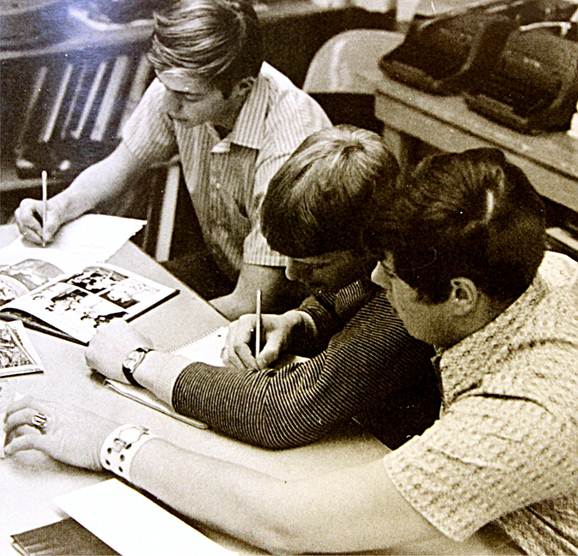 Drama and One Acts –
Dramatics Club – presented "Why I Am A Bachelor", "Impromptu", and  "The Mouse That Roared. All three plays were directed by Mr. Lyle Fodnes. Club members who also acted in the plays included Karen Danbom, Pat Gasseling, Geneice Kiester, Christy Planansky, Dan Powell, and Brian Kuhn. The Panhandle "C" Contest was held at Chadron State College.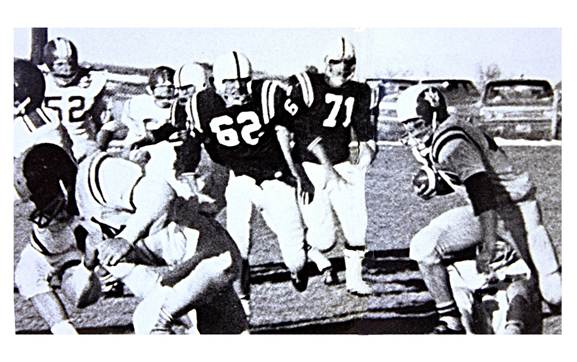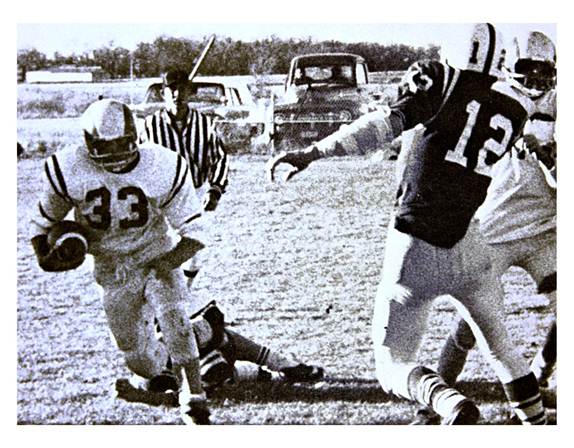 Football –
Coaches Larry DeWees and Paul Zelenka led the Cats through a tough early season where the Red and White lost to Oshkosh (7-27), tied Hay Springs (0-0), lost to Rushville (0-27), lost to Minatare (0-31) and lost to Crawford, also (0-31). Then along came homecoming and the Bobcats responded with their first win, a (15-14) nailbiter. White to Sorensen for a two-point conversion to end the game and take the win!  After the one-point win, the Bobcats next used a safety and a 28 yard field goal from Bud Roes to get by St. Pat's (5-0)! The Box Butte Bombers ended the season against Harrison and came away with a big (33-0) victory, leaving them with a 3-4-1 season – but a splendid finish!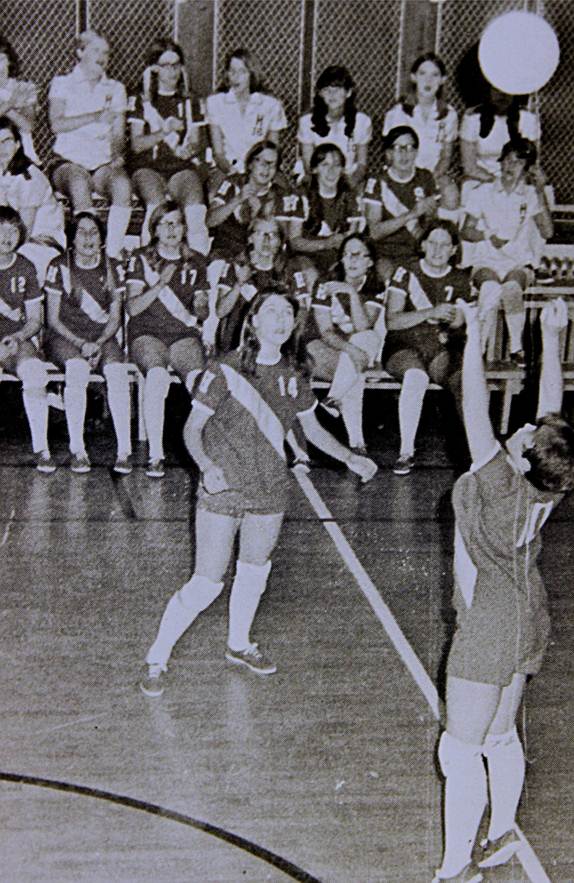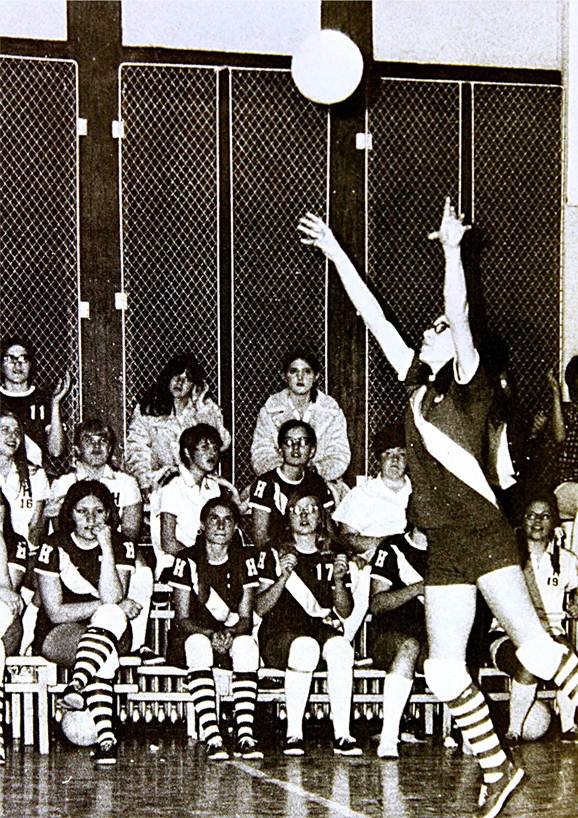 Volleyball –
Coach Duane Knaub and the varsity girls placed Third at the Gordon Tourney and third at the Panhandle C Conference Tourney at Minatare. The girls had wins over St. Agnes (2) , Crawford (2), Chadron, Hay Springs, and Harrison. All-Conference Honors went to two Lady Cat Juniors, Mary Ann Wood and Geneice Kiester.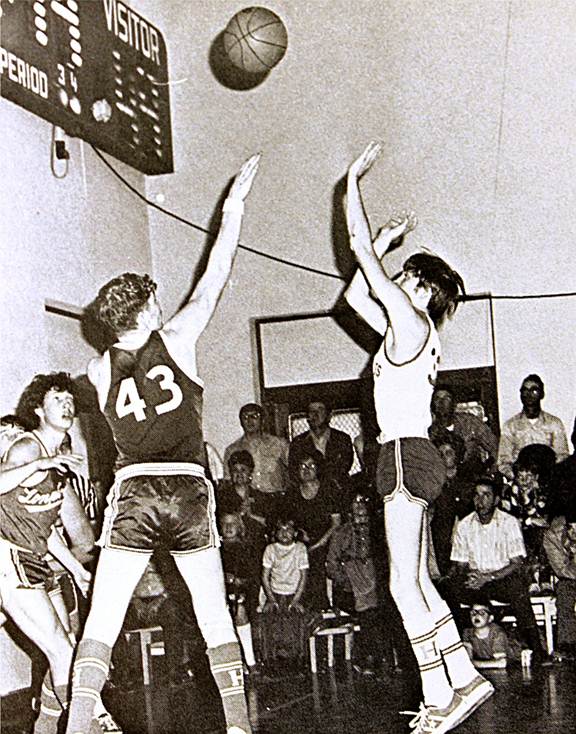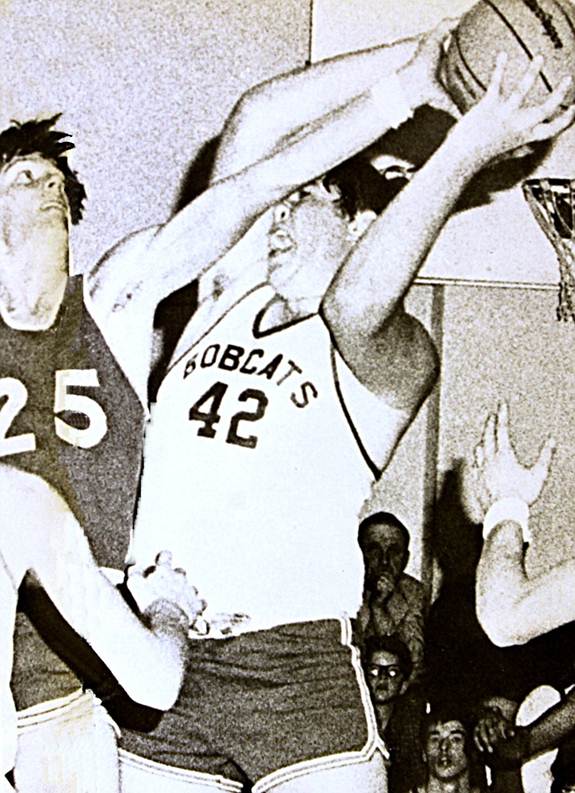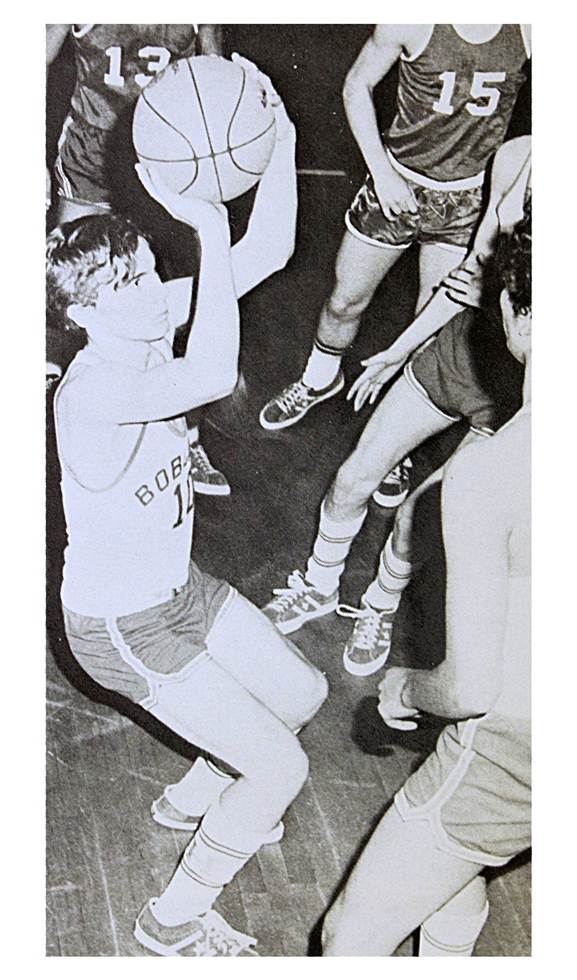 Boys Basketball –
Coaches DeWees and Zelenka led the Bobcats in three Tourneys in 1971-72, with a (1-2) record at Chadron and a fifth place; In the Panhandle "C" Tourney the Cats went (1-2) and finished fourth. In Districts Crawford ended the red and white's season with a (51-60) score. The Cats did register victories over Haigler, Hay Springs, St. Agnes, Sunflower, Morrill, Crawford, and Lyman. Bud Roes led the team with a tremendous 15 rebounds per game, while Ted White paced the offense, averaging over 15 points per game. Other upper class team members included Brian Kuhn, Robert Gonzales, Craig Price, and Bruce Winten. Younger players were Sam Campbell, Jim Yardley, Charlie Lliteras, Brad Haas, and Kevin Manion.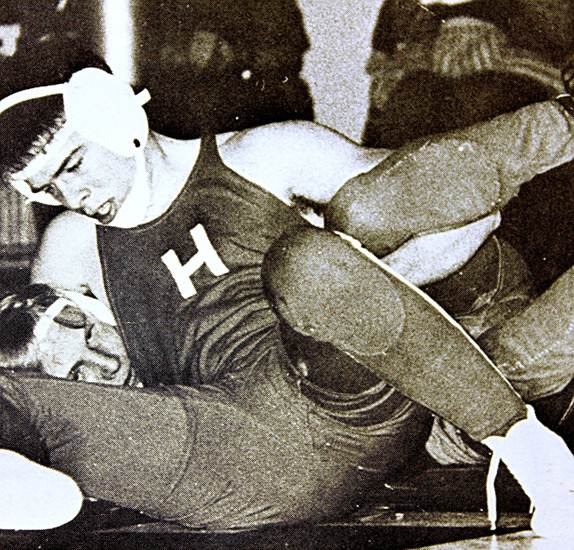 Wrestling –
Coach Larry Schnell and the HHS Grapplers had a winning season with mat victories over Crawford, Harrison, Bayard, Oshkosh, and Hay Springs. Though there were no state qualifiers, Kevin Sorensen (2nd); Pat Brost and Rick Wax each finished (3rd) in the Panhandle "C" Tourney. Tim Brost, at 119, Steve Prochazka 132, and Tim Lewis at 145 each placed fourth at Districts, but missed out on a state trip. The reserve team had an un-blemished (12-0) Dual meet record, while the Varsity had a respectable (7-6) Dual meet record.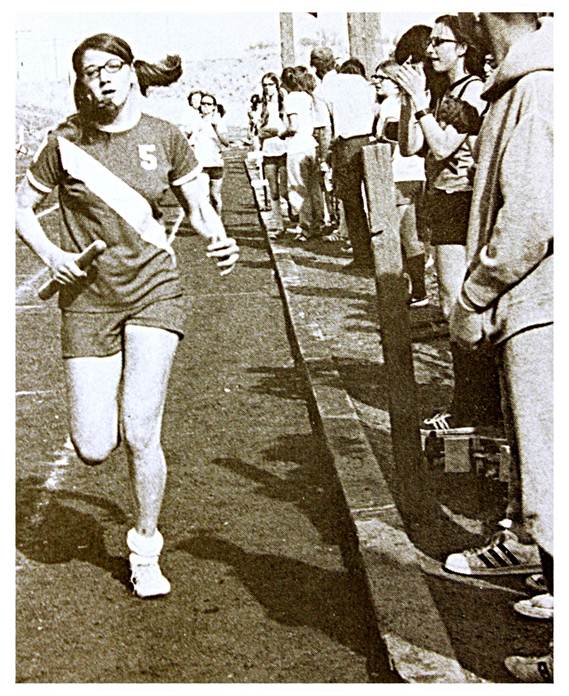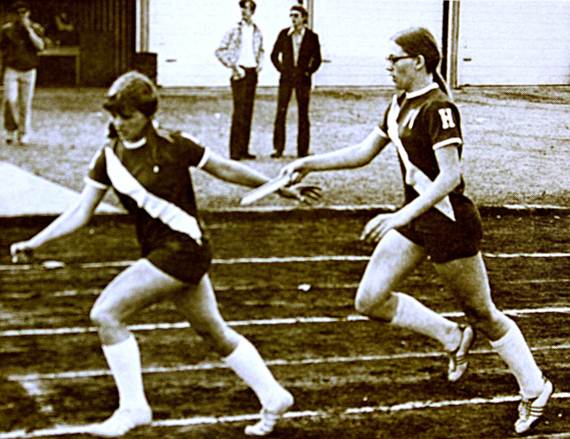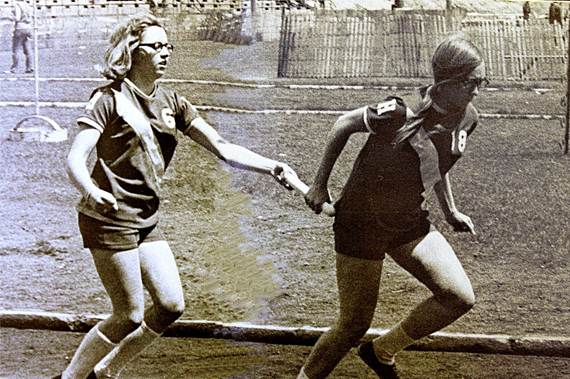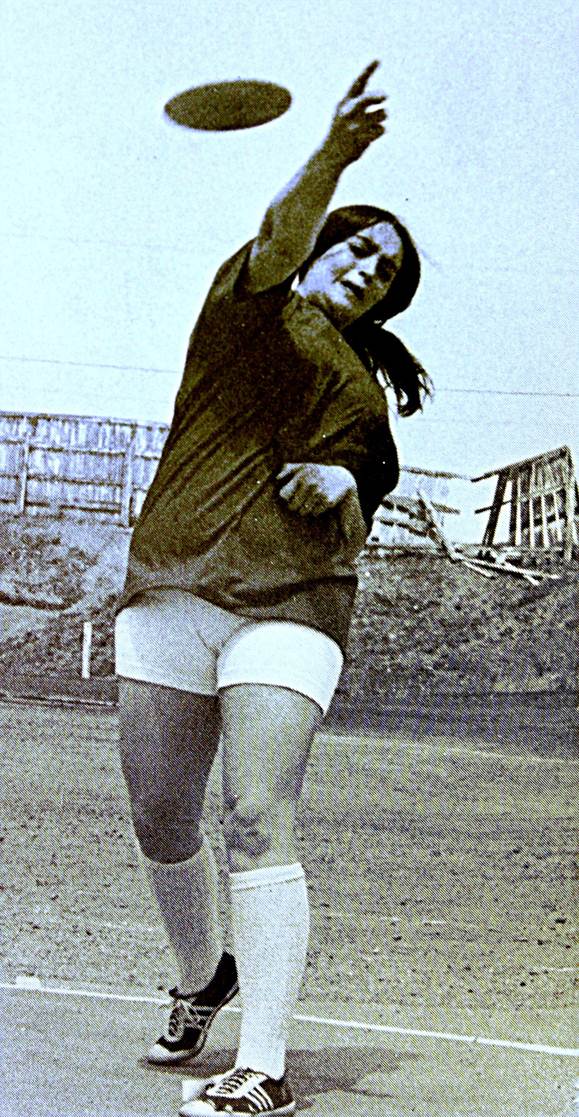 Girls Track and Field –
Joni Roes lead the Girls team in point scoring, tossing the discus a school record 95' during the season. Coach Duane Knaub also had Dee Dee Peters, Pat Gasseling, Pat Delsing, Mary Ann Wood, Carol Zajic, Linda Delsing, Marcella Roes and Ramona Christensen to score points on the cinders.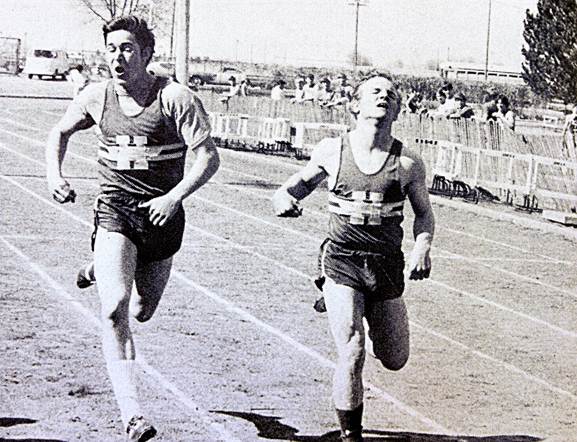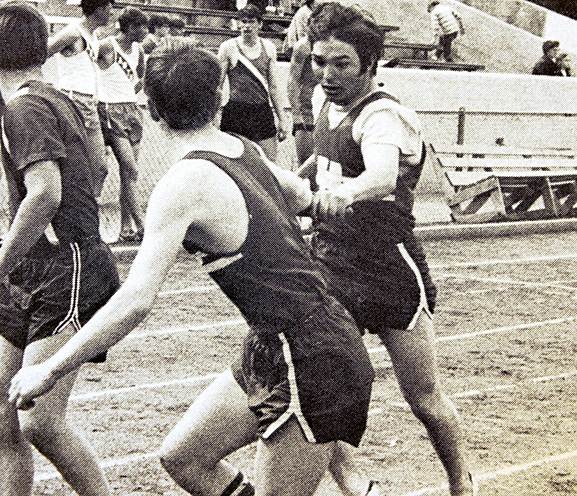 Boys Track and Field –
Sprinters included Dave Engel and Brad Haas; Ted White hurdled; Kevin Manion, Tim Brost, and Don Jespersen were middle and long distance runners; Charlie Lliteras high jumped, Erwin Sample threw the shot, and Craig Price handled the long distances. Coaches were Paul Zelenka and Mike Vahrenkamp. Though the HHS thinclads didn't qualify anyone for the state meet, they won the Rushville Meet! High point man for the season was Charlie Lliteras, and the Two-Mile Relay, made up of Tim Brost, Don Jespersen, Kevin Manion, and Craig Price placed consistently throughout the season.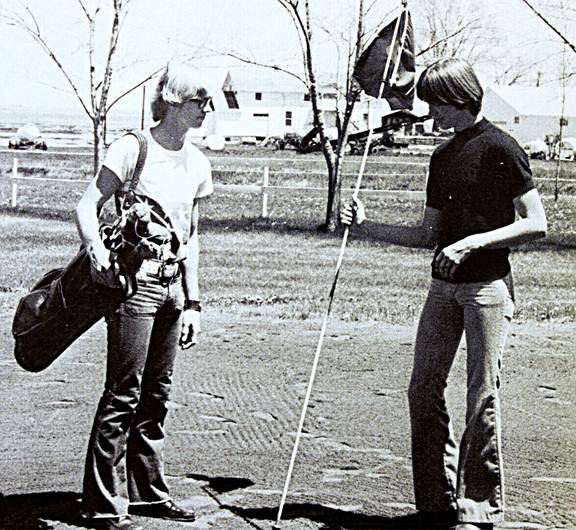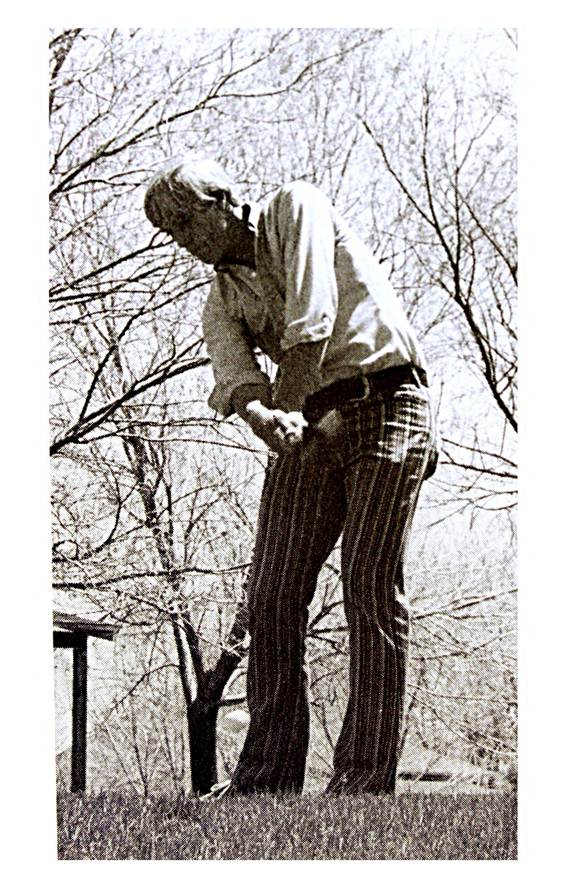 Golf –
Mike Coplen led the linksters, placing 5th at  the Panhandle "C" meet and winning at Hay Springs. Brian Kuhn, Marty Kuhn, Phillip Schmitt, and Jim Yardley were also on the team, coached by Don Hanks.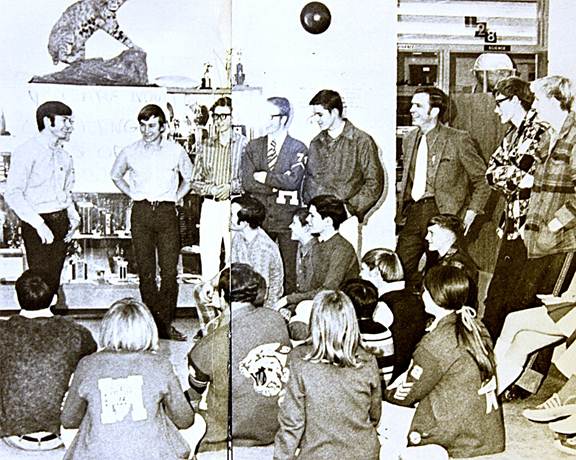 Clubs and Activities –
FHA – sponsored by Mrs. Sue Volkmer; the group sponsored a bazaar where Christmas decorations were sold; Hosted a winter dance, The FHA, "Snowball", where"The Wandering Westerners" performed; Officers included: Cheri Hansen as President; Joni Roes was Vice-President; Debbie Wood was Secretary, and Veronica was treasurer. Chapter Mothers were Mrs. Alice Danbom, Mrs. Bonnie Duncan, and Mrs. Marie Roes. GAA, Science Club, Pep Club, Cheerleading, H-Club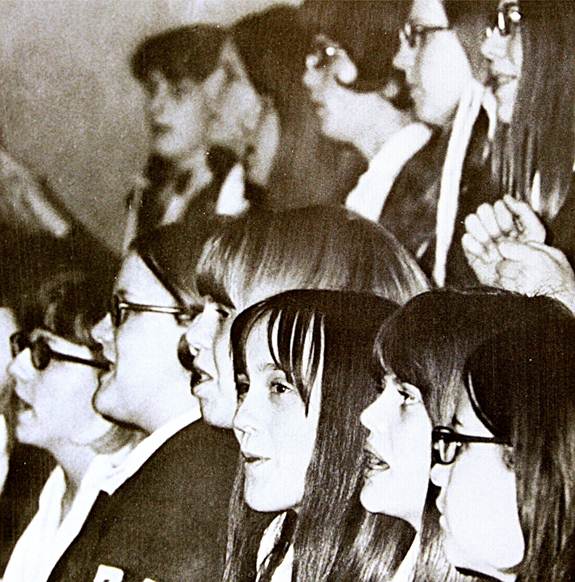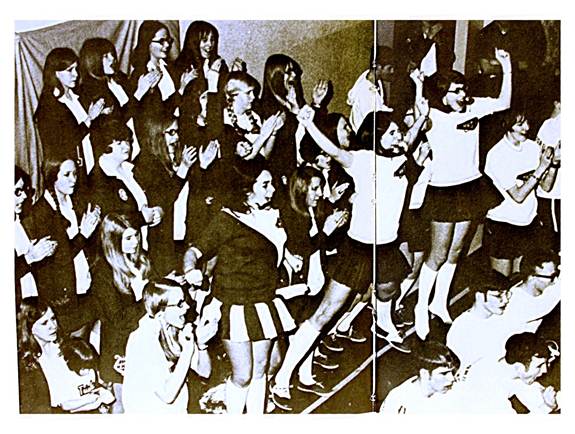 GAA –
Officers for the Girls Athletic Association were Ramona Christensen, President; Christy Planansky, Vice President; Cheri Hansen was Secretary, and Mary Ann Wood was the Treasurer. Mr. Duane Knaub was the Faculty Sponsor. Fundraisers included cake raffles and baked goods sales so the girls could buy new track and field warm-ups. The girls ran off programs for home games and assisted wherever they could.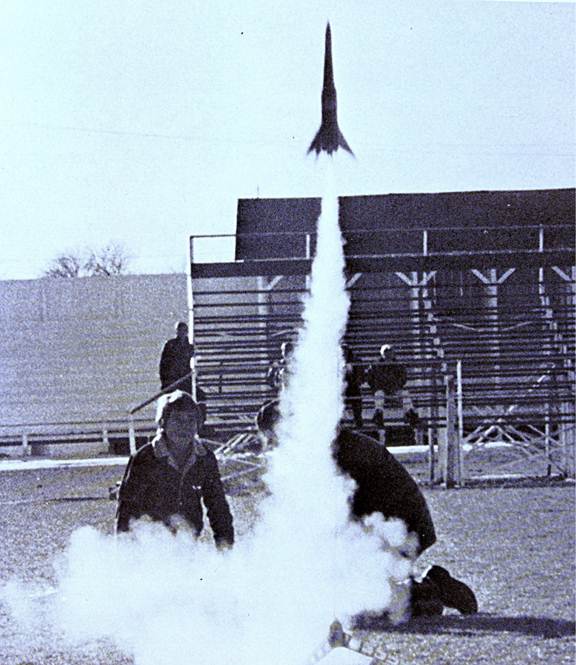 Science Club –
Mike Golka was President; Gail Moravek was Vice-President; Ken Hucke was the Secretary, and Sam Cullan was Treasurer. The Executive Committee included Tim Hudson, Roger Armstrong, Dave Engel, and Tom Golka. Mr. William Stolldorf was the Faculty Sponsor. Club activities included Rocket Day, studying local animals and their bone structure and the science of sound.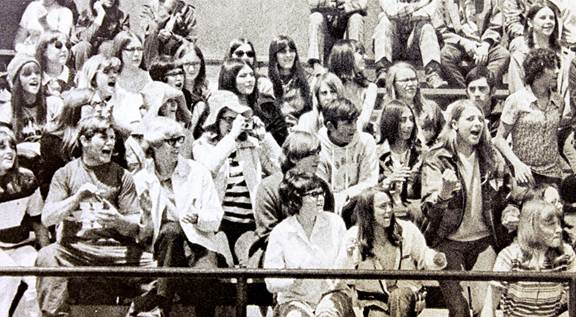 Pep Club –
Mrs. Amy Jensen was the Faculty Sponsor for the Hemingford High School Pep Club. The members worked with the HHS Cheerleaders to provide exciting pep rallys, and to keep the spirit high at ballgames. Veronica Walters was Club President; Christy Planansky was Vice-President; Deb Lucas was Secretary; and Jodine Manion was Treasurer. Activities included selling magazine subscriptions, sponsoring the "Sexy Legs" contest, and the annual Boyfriend-Girlfriend Dance. Bud Roes was crowned King and Deb Lucas was Queen!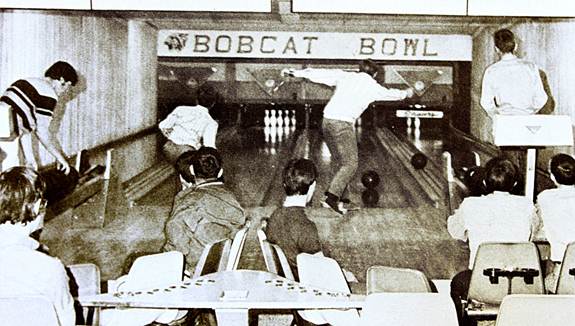 "H" Club –
The honorary letterman's Club at HHS, raised money for weightlifting equipment, had a magazine drive, where they collaborated and competed against the pep club! Ted White was H Club President, while Randy Vogel was Vice President. Ken Hucke was the Secretary-Treasurer, and the group was sponsored by Faculty Member Larry DeWees.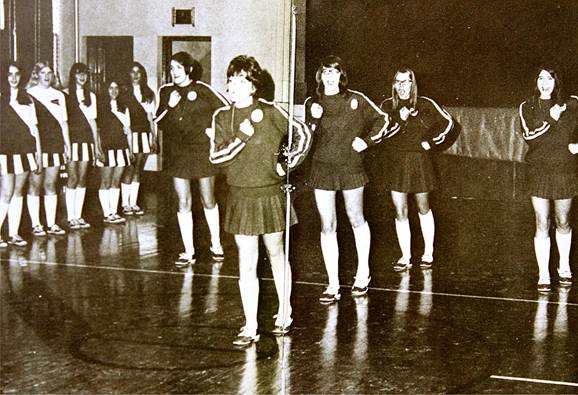 Cheerleaders –
Varsity Included: Ramona Christensen, Karen Danbom, Geneice Gasseling, Sandie Smith, Carol Zajic. Reserves were Donna Hashman, Roberta Lliteras, Joni Roes, Debbie Wood, and Kathy Wood.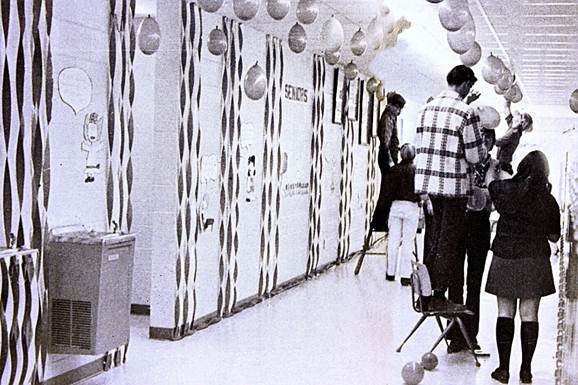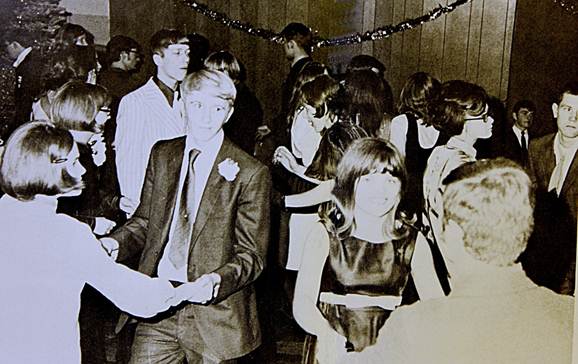 Homecoming Happenings
Seniors placed third with their "Peanuts" float; and then won the hall decorating contest!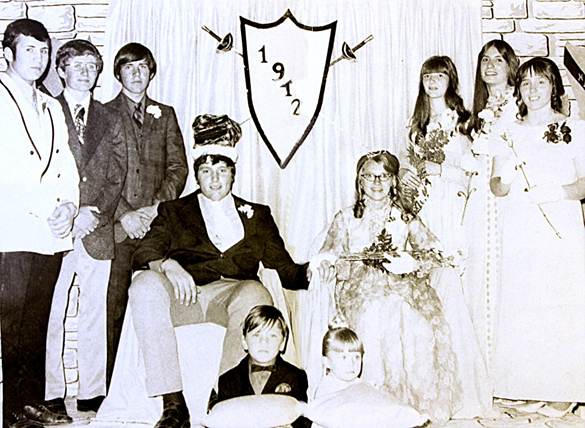 Prom Royalty –  
Queen – Ramona Christensen; King – Buddy Roes; Attendants – Randy Vogel, Virginia Cullan, Greg Hansen, Roberta Lliteras, Greg Moeller, Debbie Wood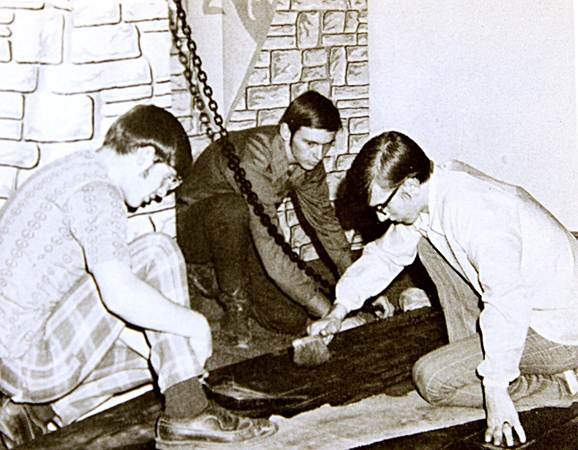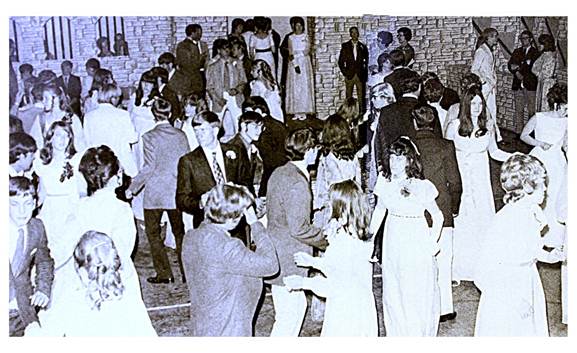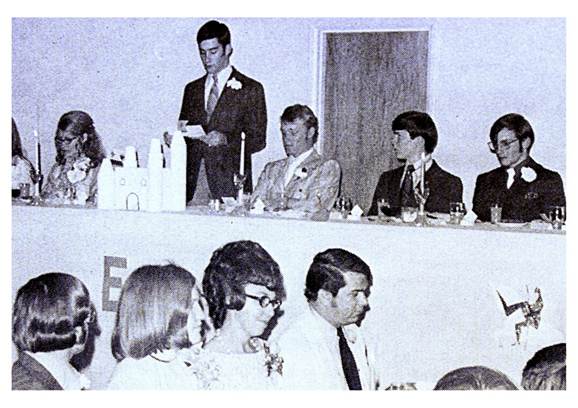 Prom Theme – 
 "Camelot: A Time For Us". The Band was, "Stillwater"; Buddy Roes was Prom King, Ramona Christensen was Prom Queen, Junior Attendants were Randy Vogel and Virginia Cullan; Sophomore attendants were Greg Hansen and Roberta Lliteras; Frosh attendants were Greg Moeller and Debbie Wood. Senior Class Preident Ken Hucke gave a speech at the banquet.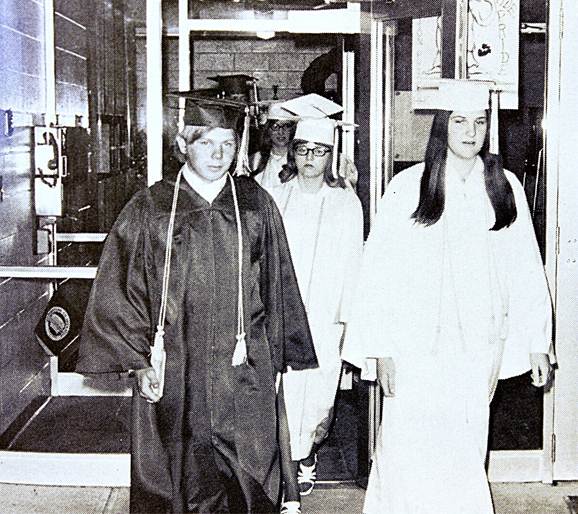 Future Nebraska State Senator Sam Cullan leads his class out the door after graduation
Graduation and Senior Year-
Class Motto - "A New World's Comin"; Class colors – Lavender and Purple;  Class Song, "Friends with You", written by John Denver;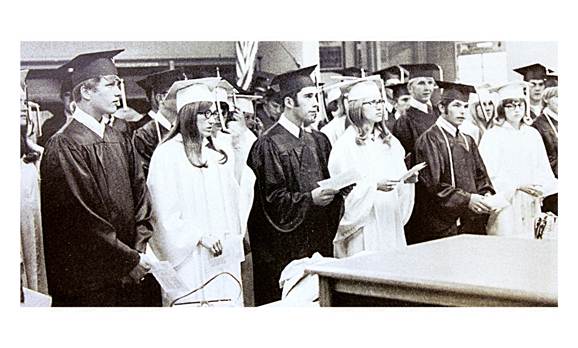 Senior Class Officers – 
President – Ken Hucke; VP – Kevin Sorensen; Secretary – Cheri Hansen; Treasurer – Danette Swanson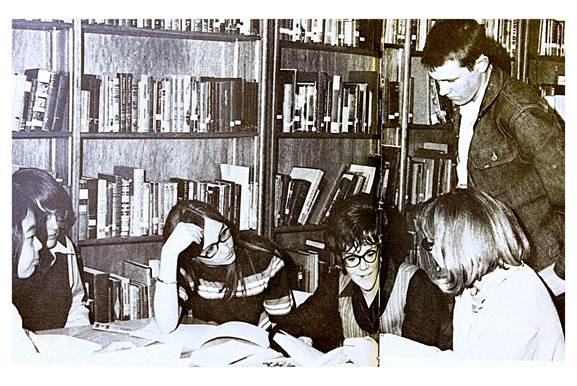 Junior Class Officers – 
President – Tom Golka; VP – Dan Powell; Secretary – Carol Zajic; Treasurer – Geneice Kiester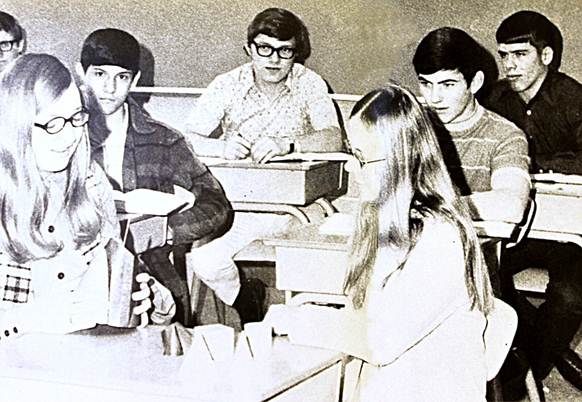 Sophomore Class Officers – 
President – Greg Hansen; VP – Colleen Duncan; Secretary – Lenni Walters; Treasurer – Marcella Roes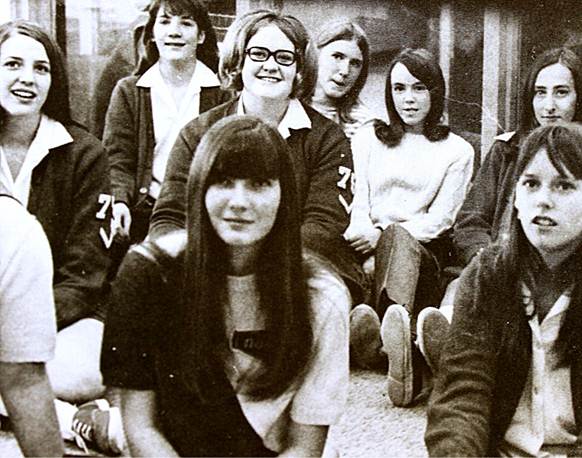 Freshmen Class Officers – 
President – Marty Kuhn; VP - Greg Moeller; Secretary – Joni Roes; Treasurer – Dan Brost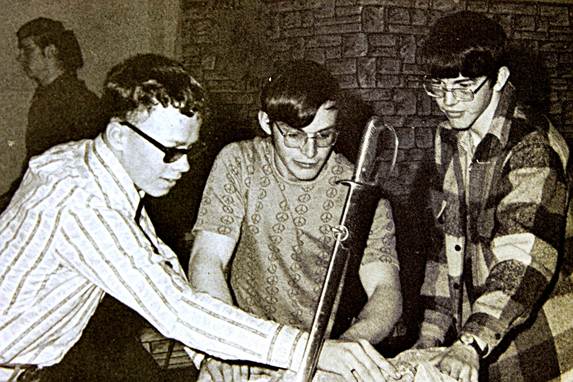 Special or Unique Happenings –
Through Media Techniques students learned the basics of TV-production by taping school activities, classroom lectures, and demonstrations. Radio programs were recorded to play every Tuesday morning.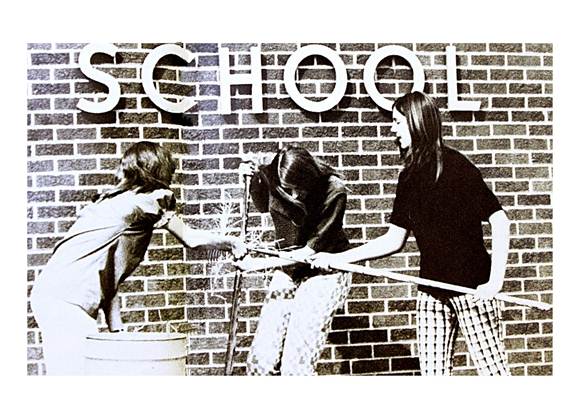 Senior Class Enrollment –42
Kindergarten Class Enrollment –  18
Yearbook Dedication – A memorial was created for Michael D. Lliteras, known as "the little man".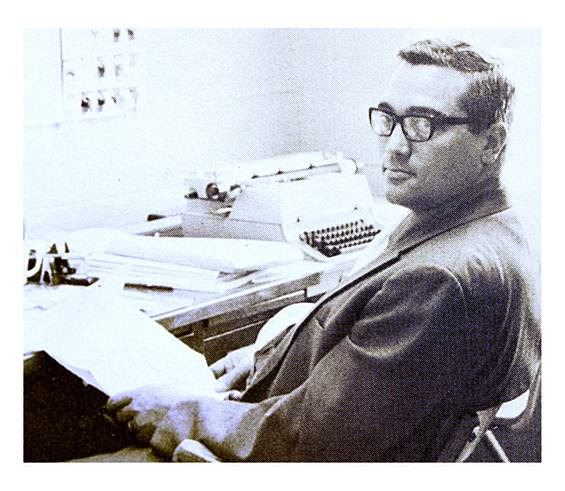 Superintendent –
Donald Hanks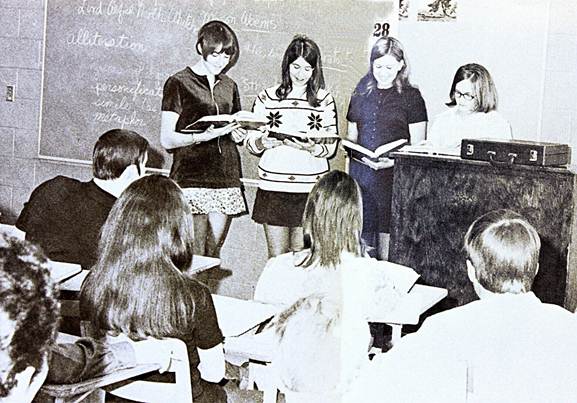 Principal –  
Mr. Glen Kotschwar - elementary
Elementary Teachers – 
Kindergarten – Mrs. Rosemarie Jacobsen; First Grade – Mrs. Jaci Stolldrof; Second Grade – Mrs. Agnes Bruns; Third Grade – Mrs. Elaine Laeger; Fourth, Fifth, Sixth Grades – Mrs. Laverne Fentress, Mrs. Guyla Thomas, Mrs. Lena Hebbert, Mrs. Marian Lee Walters, Mrs. Irene Christensen; Special Education – Mrs. Madra Horse
Secondary Teachers –
Mr. Norman Hansen, Mr. Lyle Fodnes, Mr. William Stolldorf, Mr. Duane Knaub, Mrs. Any Jensen, Mr. Paul Zelenka, Mr. Larry DeWees, Mrs. Frank Brigham, Mrs. Adelyn Headden, Mrs. Don Baruth, Mrs. Sue Volkmere, Mr. Larry Schnell, Miss Sharon Schukei, Mr. Mike Vahrenkamp, Mrs. Janet Pickering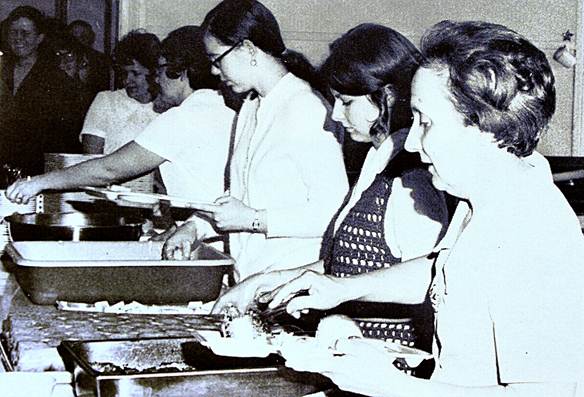 Other Staff Members –
Mrs. Leona Wilkins, Mr. Harold Schmitt, Mr. Bernard Caha