Class of 1970
Just Updated !
The HHS Class of 1970 (Click to Enlarge) (There is a second Picture in a slide show)
19Hemingford High School 70
Student and Faculty Highlights of the Year
This page features athletic records, officers, themes, important numbers, important happenings, and other educational information from the year in question. It provides a quick and ready resource for Bobcat Grads and families!.
Student Council Highlights – The Student Council composed and adopted a constitution, helped to set academic requirements for the Honor Roll, assisted in dealing with discipline problems, and purchased trash cans for the student parking lot.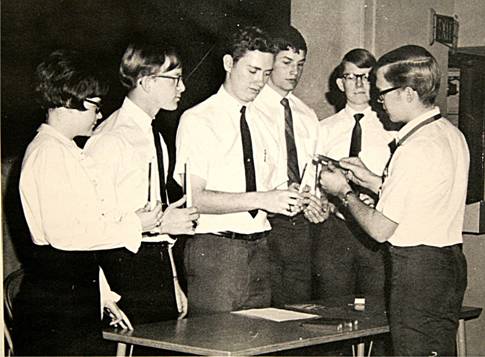 Honor Society Highlights – NHS members acted as guides at Parent-Teacher Conferences, and met to discuss ways to be better leaders in school, be more active in the school and community, and to illustrate character to other students. Eight juniors and eight sophomores were inducted as new members.
Student Council Officers –President – Bill Hebbert; VP – Mike Hudson; Secretary – Jann Moeller; Treasurer – Mike Brost; Seniors -; Juniors –; Sophomores, Pat Delsing, Kevin Sorensen. Advisor was Mr. Eugene Campbell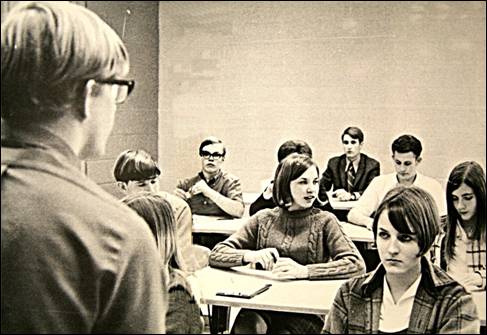 National Honor Society Officers –President – Bruce Coplen; VP – Bill Hebbert; Secretary – Karen Messersmith; Treasurer – Mike Yardley; Parliamentarian – Mike Hudson. Faculty sponsor was Mr. Lyle Fodnes.
Music Department –Arnold Quinonez directed the band and chorus, with the groups performing Winter and Spring concerts. Hemingford students were awarded three Superior Ratings at the Class "C" District Music Contest. The Band also performed at home athletic contests.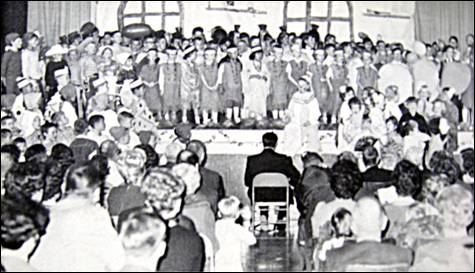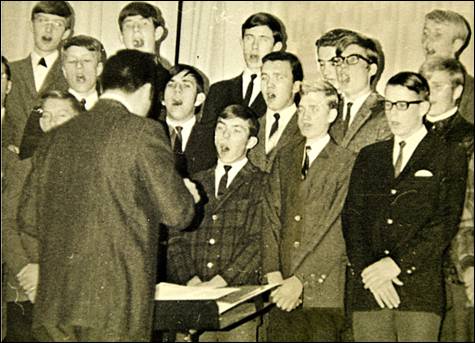 Drama and One Acts – "Lights Out", was this year's Three Act Play, while, "And Never Been Kissed", was also performed. This year's One Act Play, "The Hour Glass", was performed at Districts at Chadron, receiving an Excellent Rating. Cast members included, Ralph Price, Kathy Prochazka, Dennis Zajic, and Mike Hudsen.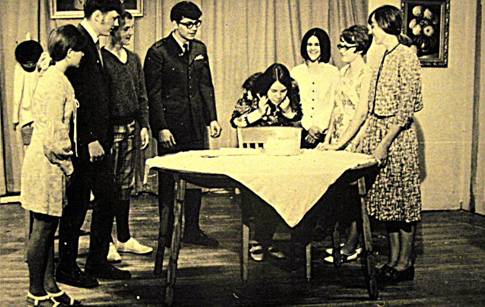 Football –Hemingford won gridiron tilts over Harrisburg 8-6, Rushville 9-0, and another shutout, 15-0 over Hay Springs for a Homecoming win. The Cats also lost close contests to St. Agnes 0-7, and to Minatare 0-12, to finish 3-4 for the season., though they were a respectable 2-2 in the North Division of the Panhandle "C" Conference.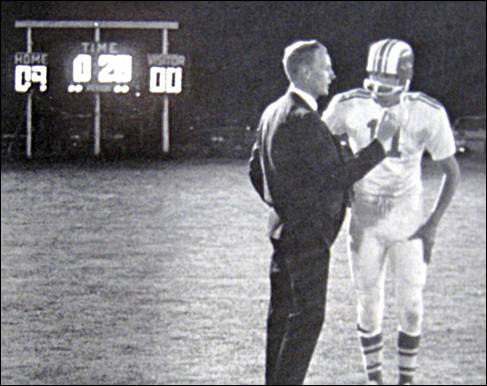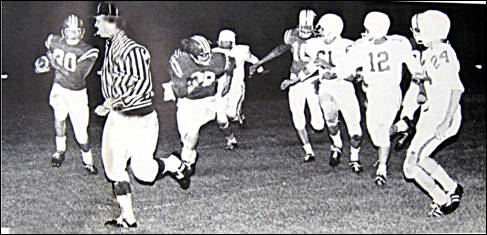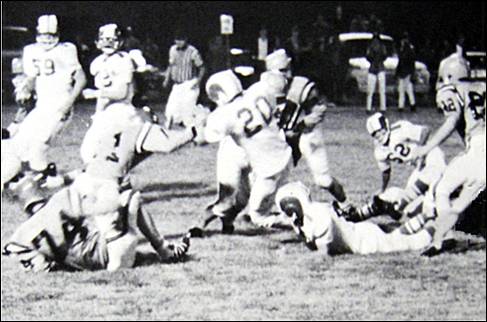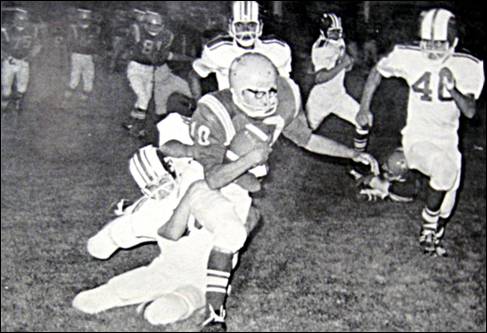 Volleyball –Two seniors, four juniors, two sophomores, and one freshman helped the Lady Cats do their best. Due to little practice, the 2-10 record did not show the teams effort that was exerted by them and the spirit of their coach Glen Kotschwar. The Junior Varsity finished 4-8.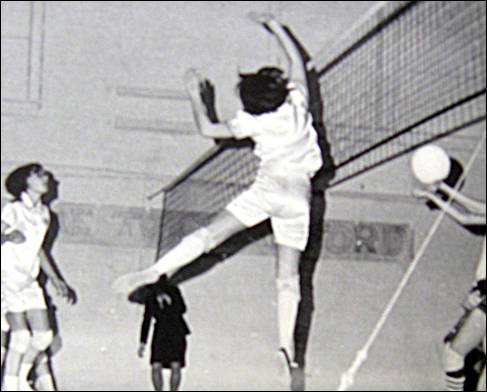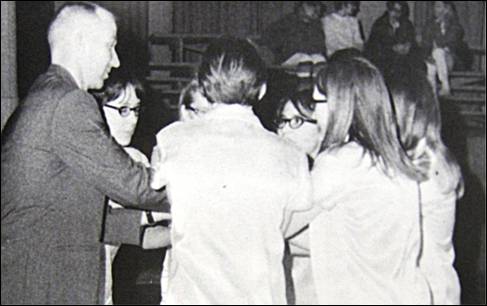 Boys Basketball – The Cats beat Hay Springs and Harrison, but suffered through a 2-14 season. Several games were nail-biters though, with a one point loss and a two point win among the games. The reserves fared a bit better, winning 5 of 11 games. Head Coach was Mr. Don Baruth.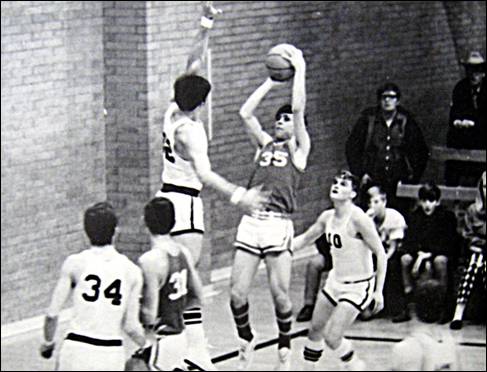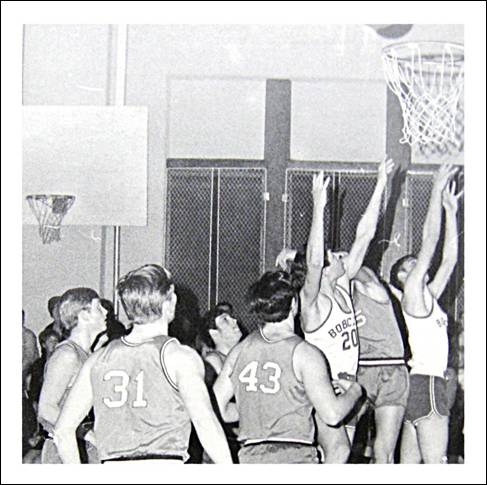 Wrestling – Four first year wrestlers that all qualified for the State Meet helped coaches Tim Morava and Monte Case have a successful wrestling season in Hemingford. The boys began practice two weeks late but ended by sending Tim Brost, Duane Davies, John Garcia, and Jim Burri to state. Burri brought back Hemingford's First ever State Wrestling medal, a fourth at Heavyweight. The team finished with a 3-2 Dual Record, the lone winning record for Varsity Bobcat Teams during the 1969-1970 school year.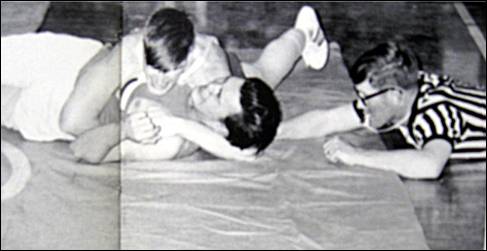 Cheerleaders and Pep Club – Cheerleaders were Denice Pippett, Marcia Price, Jann Moeller, Kathy Prochazka, and Vicki Hansen. The mascot was Tammy Prochazka. Pep Club Officers included: President – Debbie Swanson; Vice President – Janet Gordon; Secretary - Janice Schlediwitz; and Treasure – Karen Messersmith. The members had bake sales, a dance and banquet, and cheered on the players in all the ballgames.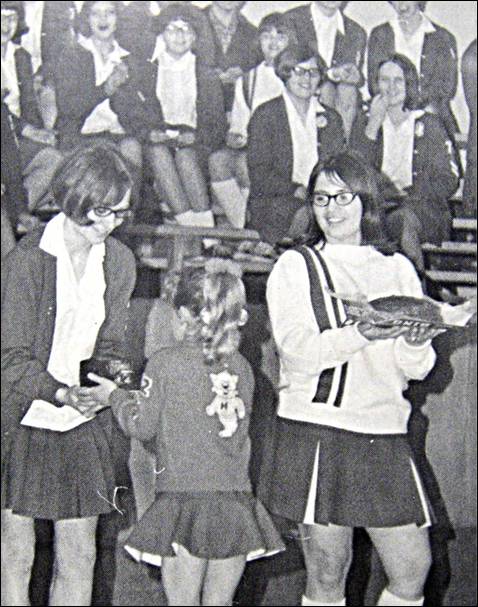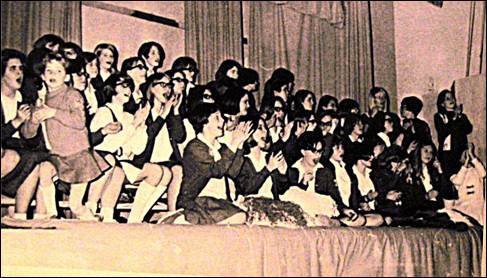 Boys Track and Field –Coach Larry Sweet and his squad of 22 worked hard, setting two individual records in 1970. Charles Danbom set the Shot Put record at 48'2", breaking one set in 1967 by Gary Riggs. In the half mile, Mike Hudsen tied his own mark with a 2:01.2 effort.. Mike Hudson was the District Runner-Up in the quarter and half mile, advancing to state , where he placed in the top ten in Kearney in the 880.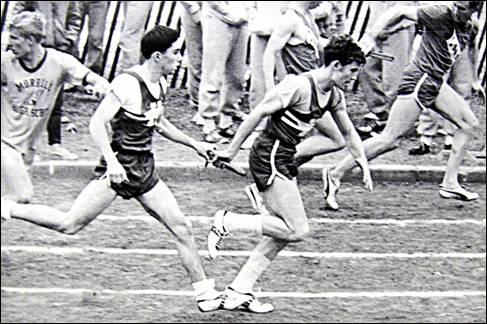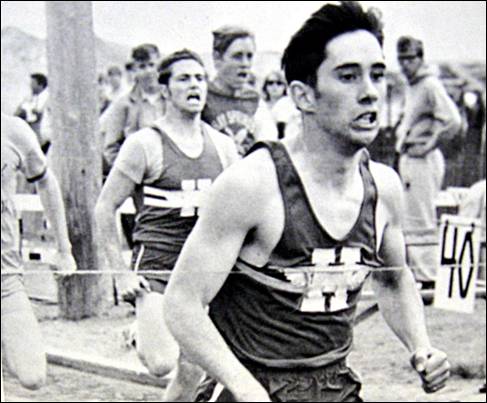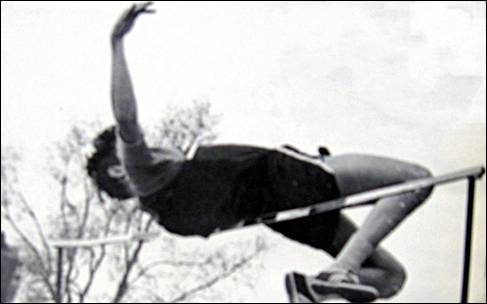 Girls Track and Field – Four new school records were set in Track by the six members: Jan Schledewitz, Karen Prochazka, Pat Delsing and Kathy Prochazka set a record in the 440 relay, with a time of 53.6. Kathy also set a new 220 Dash Record with a time of 27.9. Mary Ann Wood set the Long Jump Record at 15'2", while Vicki Hansen ran a 2:49.6 880 for another record. Jan Schledewitz equaled her 100 record from the year before, running a12 flat. The girls ran in six meets winning one.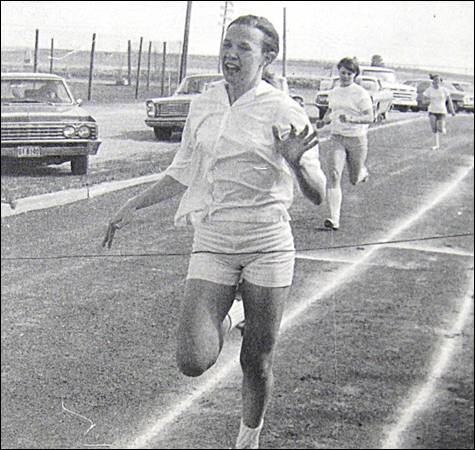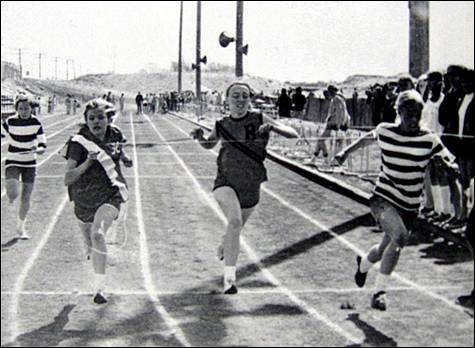 Clubs and Activities – The FHA sponsored an "Emphasis Week", with presentations on Alcohol Awareness, Viet Nam dance, and a Father-Daughter night.. Officers included: Denice Pippett, President; Jann Moeller, Vice-President; Vicki Hansen, Secretary; and Veronica Walters, Treasurer. The girls also decorated a Christmas Tree, and hosted the annual Sweetheart's Ball.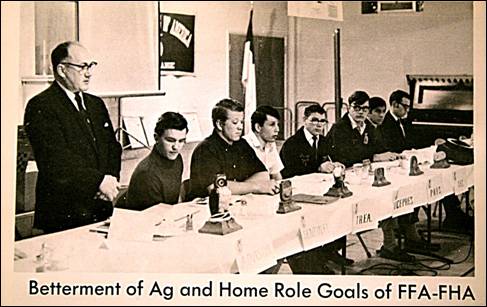 The FFA sponsored a pancake feed to raise funds for the six members that attended State Convention, where Tom Walters won a Blue Ribbon, and the team of Walters, Duane Davies, and David Curtis also won a White Ribbon, with both awards coming in Meat Judging.
"H" Club was sponsored by Coach Larry Sweet, and had as officers, Mike Hudson, President; Bill Hebbert, Vice President; and Ralph Price, Secretary-Treasurer. The boys helped sponsor the Homecoming Dance with the Pep Club.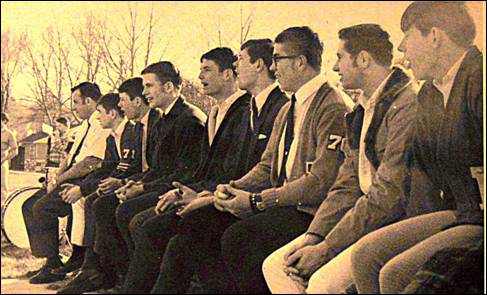 Homecoming Royalty –Queen – Denice Pipitt; King – Bob Smith; Attendants – Ralph Price, Karen Messersmith, Mike Hudson, Janet Gordon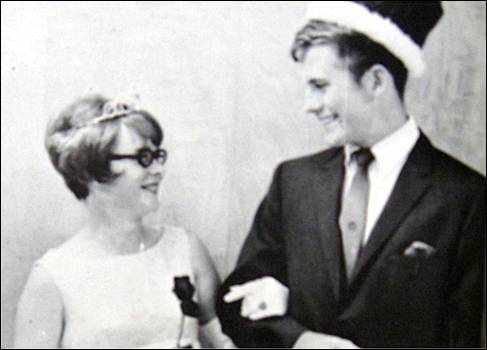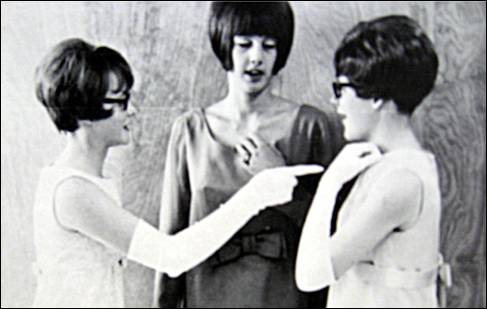 Prom Royalty – Empress – Jan Schledewitz; Emperor – Bob Smith; Attendants – Diane Golka, David Engel, Pat Delsing, Tim Brost, Kathy Prochazka, Mike Brost; Crown bearers – Tim Kotschwar, Brenda Sweet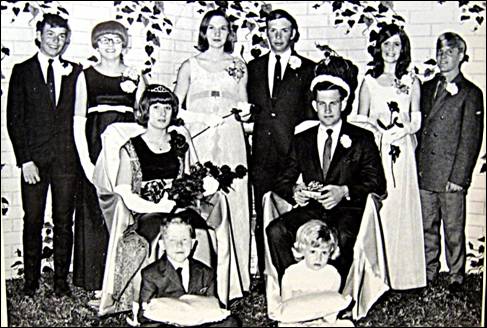 Prom Theme – "To Rome With Love". Servers: Mary Ann Wood, Cheri Hansen, Karen Danbom, Debbie Lucas, Brenda Stumf, Pat Delsing, David Darveau, Craig Price, Mike Coplen, Tim Brost, Ted White, and Brian Kuhn. Presiding over the banquet was Rod Planansky, with Kerry Wood giving a comic rendition of the Caesar will and prophecy. There was a beautiful arch and fountain as part of the decorations by the Junior Class. There were ice blue and French blue streamers, with Roman murals, and yellow flowers surrounding the fountain and gazebo. Traditional words of wisdom from sponsors Adelyn Heading and Donald Buruth set the stage for the evening's musical entertainment, "Cat's Squirrel". (Seriously)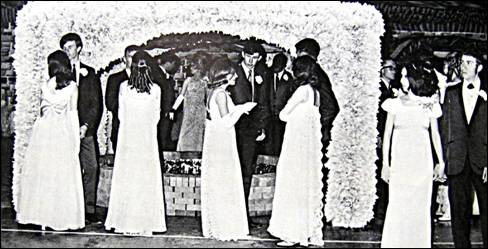 Senior Class Motto - "In ourselves our future lies"
Senior Class Officers –Bob Smith, Janet Gordon, Mike Hudson, and Janice Schledewitz
Junior Class Officers –President – Mike Brost. The juniors constructed a snow man, step by step, in front of the high school,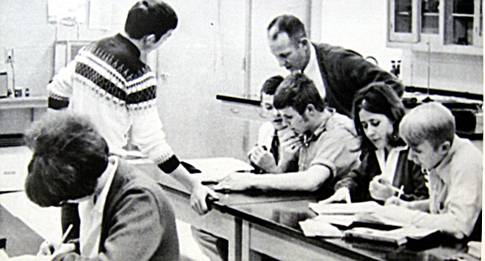 Sophomore Class Officers – Karen Danbom, Mary Ann Wood, Ted White, and Craig Price. The Sophomores sponsored a sock hop after the football soap scrimmage and raked area lawns in the fall.
Freshmen Class Officers – David Engel, Genice Kiester, Alan Curtis, and Linda Delsing. The Frosh sponsored a dance band from the Job Corp named, "Stoned Fox".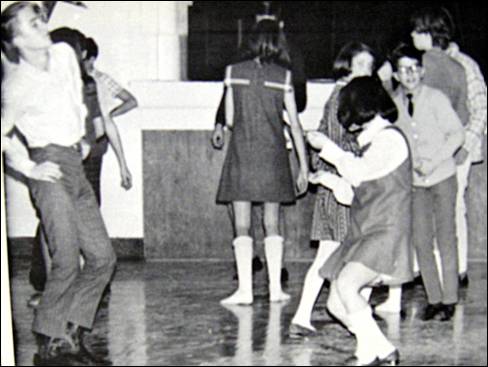 Valedictorian –Bruce Coplen
Salutatorian –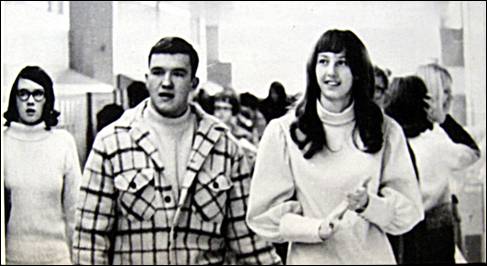 Special or Unique Happenings – Mimi Aragusuku, who hailed from Peru, spent the year in Hemingford as an exchange student.
Senior Class Enrollment –29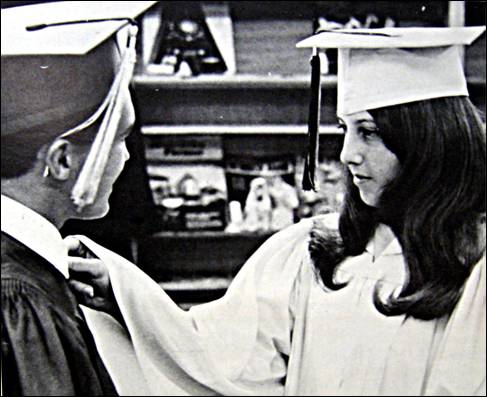 Kindergarten Class Enrollment – 32
Yearbook –Newspaper – Students in Advanced Speech Class were responsible for the publication of "The Feline", Hemingford High School's Student newspaper. The class also broadcasted school news each Tuesday at 4:30 PM from KCOW. Members helping with the newspaper or the yearbook included: Bruce Coplen, Jim Duncan, Mike Yardley, Bill Smith, Bob Smith, Karen Prochazka, Vicki Hansen, Bill Hebbert, Karen Messersmith, Roger Mazanec, Dennis Zajic, Mike Hudsen, and Ralph Price. The Yearbook was named, "Transition 70", and was edited by four students: Bruce Coplen, Bill Hebbert, Karen Messersmith, and Mike Yardley.
Dedication – Michael Lliteras and Mr. William Herbaugh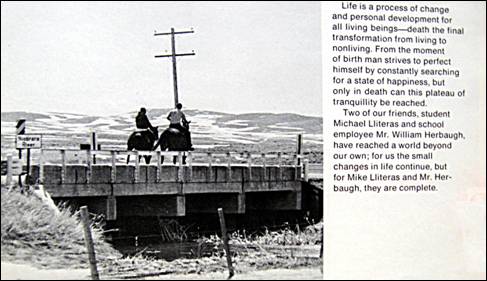 Superintendent –Donald Hanks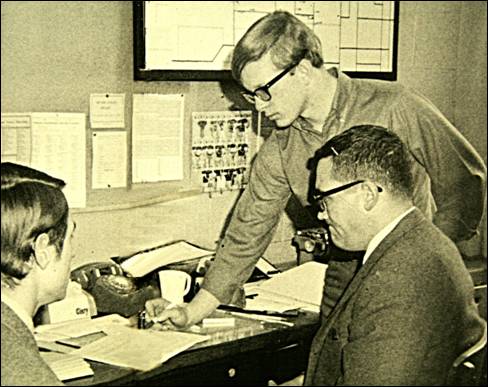 Principal – Lyle Fodnes – secondary; Evelyn Fendrich - elementary
Elementary Teachers –Kindergarten – Joyce Hunter; First Grade – Jacqulyn Stolldorf; Second Grade - Agnes Bruns ; Third Grade – Norma Wilcox; Fourth, Fifth & Sixth Grades – Lena Hebbert, Evelyn Fendrich, Guyla Thomas; Special Education – Mardra Horse; Kindergarten, first, & third grades at Lawn Unit - LaVerne Ditsch; Fourth, fifth, & sixth grades at Lawn Unit – (first semester) Elna Sampy, (second semester) Irene Christensen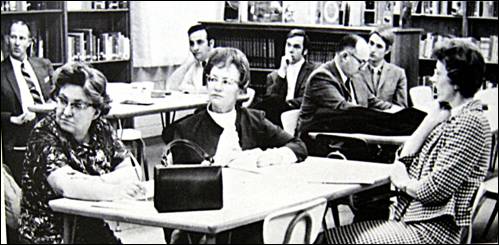 Secondary Teachers –Eugene Campbell, Lee Messersmith, Arnold Quinonez, Lyle Fodnes, Sue Volkner, William Stolldorf, Josephine Johnson, Gaylord Longmore, Adelyn Headden, Donald Baruth, Evelyne Marcink, Glen Kotschwar, Gordon Stribley, Laverne Fentress
Other Staff Members –Carolyn Rexus, June Hucke, Jean Schmitt, Davona Price, Marge Stull, Bertha Powell, Leona Kissler, Bertha Wyland, Bernard Caha, Norma Wood, Eva Burney, Rebecca Yellow Hair, Leona Wilkins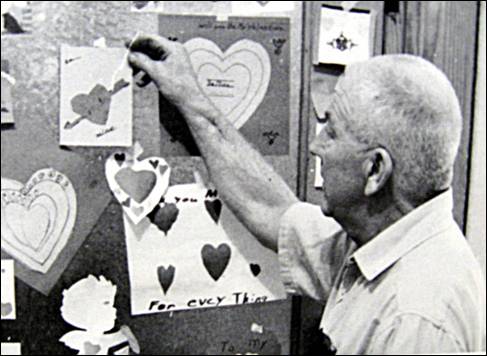 The Class of 1970 at their 30th reunion in Hemingford in 2000. (Click on Photo to enlarge)
Class of 1970
Denice (Pipitt) Yardley

ddyardley@sbcglobal.net

Oklahoma City, OK

Legislative Assistant

Nov 30, 2007

We need to fill in some info on this site. Classmates, we need to get a communication going between us. Please, if you check this post a message and email so we can keep in touch. The Yardley's are doing good. We need to plan a get together.... Denice and Mike Yardley
Roger Gresens

rogergresens@yahoo.com

Aurora, CO

DOT Fleet Compliance manager

Nov 30, 2009

It is strange this came up. Ralph Price and about 6 of us so far are working a reui9non on face book. Come join and let us all get together. Roger Gresens USN Chief Petty Officer Retired