Class of 1978
Updated
The HHS Class of 1978 (PLease click on Thumbnail to enlarge)
19Hemingford High School 78
Student and Faculty Highlights of the Year
This page features athletic records, officers, themes, important numbers, important happenings, and other educational information from the year in question. It provides a quick and ready resource for Bobcat Grads and families!
Please use the response function at the bottom of this page to read other comments, or to add your own bit of history or memory. Be sure and sign with your name and e-mail address so your classmates and friends can write you.
Student Council Members –President – Mary Schekall; VP – Gailene Horstman; Sophmores – Stan Schekall, Sherri Wilson; Freshmen – Tim Kotschwar, Karen Gasseling. The council attended a state convention and raised money by hosting a chili feed. The proceeds went to purchase NHS medallions.
National Honor Society Members –Brian Cullan, Bruce Delsing, Michele Grabher, Brenda Jespersen, Tom Jones, Gay Kiester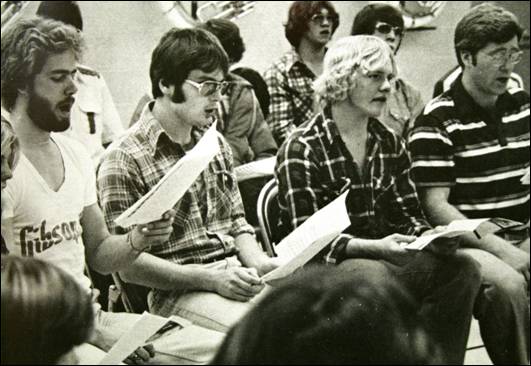 Music Department –Vocal music instructor Becky Kenner overcame the shortage of male singers. Instrumental music director Sue Shaver led the band through clinics, concerts, parades, halftime shows and other special performances. The band marched at a local man's funeral, Bill Meinke, capturing national attention.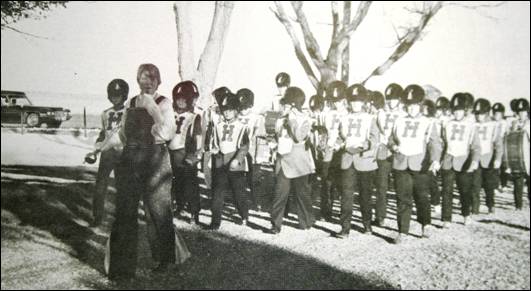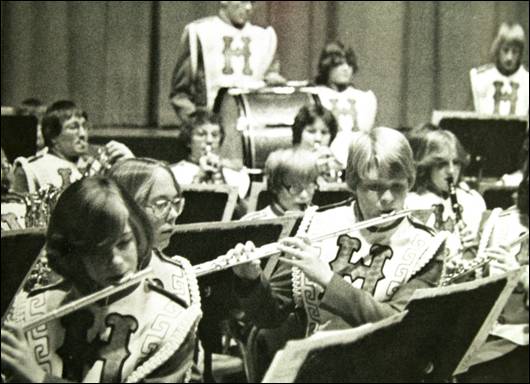 Speech – Mary Pat Wilkens qualified for the state meet in Oratory.
Football – With an 8-2 record earned a class C-2 state playoff berth. The Omaha World-Herald ranked the Cats 8th in the state. They lost in the play-offs to eventual Champion Ansley. Brian Wacker was an all-state center and an all-state nose guard. Leon Bergfield, Grant Campbell, and Bob Phillips were all conference selections.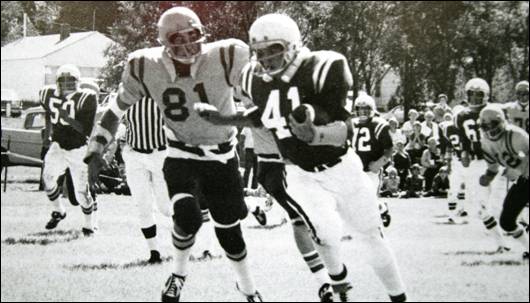 Volleyball – Coach Duane Knaub concluded the season had no real disappointments and ended the season with 10 wins and 9 losses. The girls finished second in the PAC, and won their own invitational.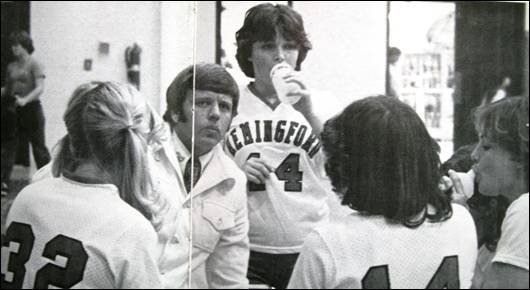 Girls Basketball –The first year team headed by Coach John Stanton showed stead improvement and ended the season with a 3-11 record. Junior Susan Manning was an all conference selection.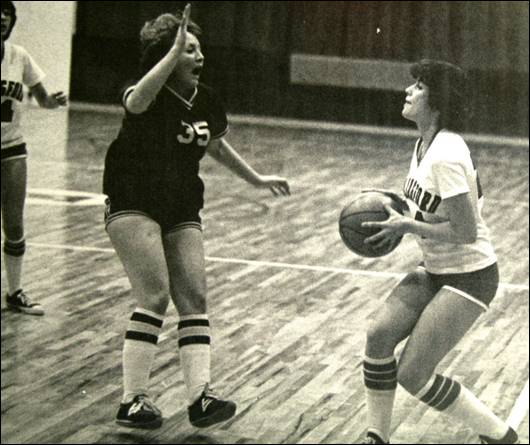 Boys Basketball –Winning three tournament championships , including PAC, the CSC Holiday Tourney, and Districts, followed by a trip to the Nebraska Boys Class C State Basketball Tournament constituted a successful season that ended with a shiny 23-3 record. The Cats beat Utica Centennial, the number one seed in the first round in Lincoln, but were then eliminated by eventual Champion Howells in the Semis. Jamie Roes was an All State Selection, and Joe Lliteras, Tom Manning, and Tom Zajic were all conference.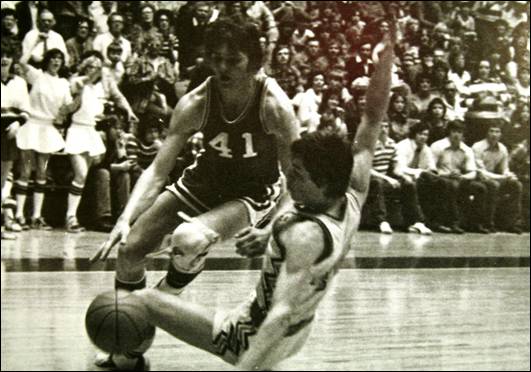 The Cats hand Top-Seeded Utica Centennial a loss in Lincoln in the first round at State.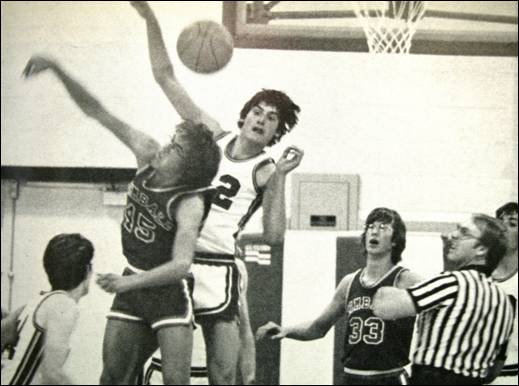 Wrestling – Coach Rick Mellor and a team of six members did very well individually. Kirt Kiester qualified for the state meet, and placed 4th with a 23-2 record. Team members included Kiester, Brian Wacker, John Sherlock, Duane Foley, Kenny Kresl, and Jerry Ray.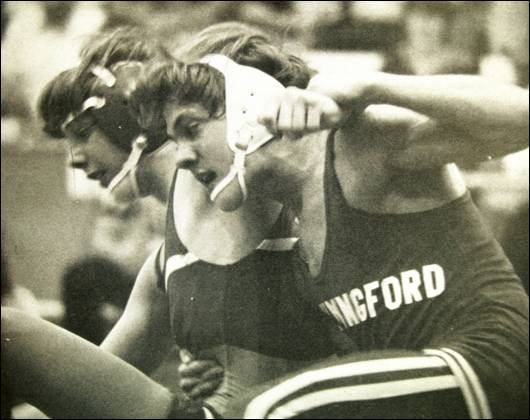 Girls Track and Field –Under the leadership of coach Duane Knaub the girls won the conference track championship, the first for Hemingford since 1967.Audrey Davis, Laurie Gartner, and Nancy Lemke set records during the season.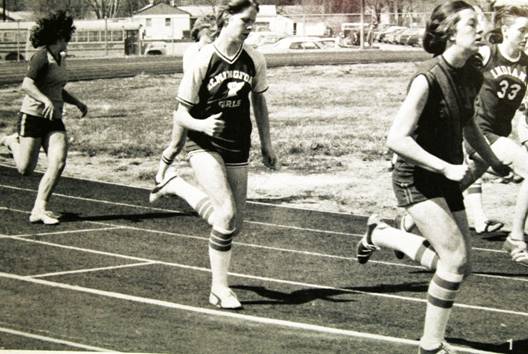 Boys Track and Field –Coach Dale Rien sent three to the state track meet, Tom Zajic, Joe Lliteras, and Tom Manning. Zajic was the State Champion in the mile, (4:31.7) while Lliteras finished second in the high jump (6'4") , and Manning third in the Triple Jump (45'1") . As a team the cats finished 6th at state in Class C.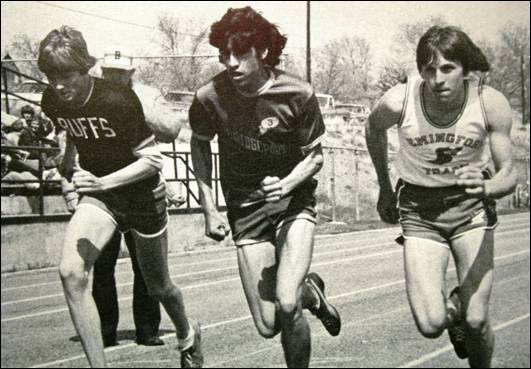 Tom Zajic is shown getting off to an early lead in District action, where he finished as Champion in the mile. Zajic also won the mile at the State Meet, finishing with a school record 4:31.7 as well as a gold medal.
Golf – Sponsor Don Hanks instead of a coach stated "self-discipline helped the boys get as far as they did." Bruce Delsing placed second at PAC. Other team members were Brad Delsing and John Sherlock,.
Homecoming Royalty –King – Grant Campbell; Queen – Colleen Katen; Attendants – Mike Kresl, Gailene Horstman, Mary Schekall, Brian Wacker The Homecoming game also went Hemingford's way, as the Cats beat St. Agnes 22-14.
Prom Royalty – King – Grant Campbell; Queen – Gailene Horstman; Attendants – Jim Manning, Jamie Roes, Dianne Swanson, Shirley Smith, Bob Wood, Julie Laeger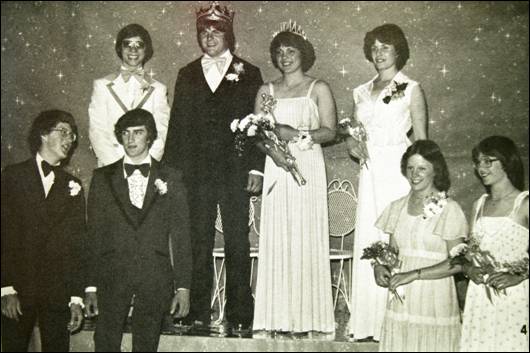 Prom Theme – "Starry Starry Night"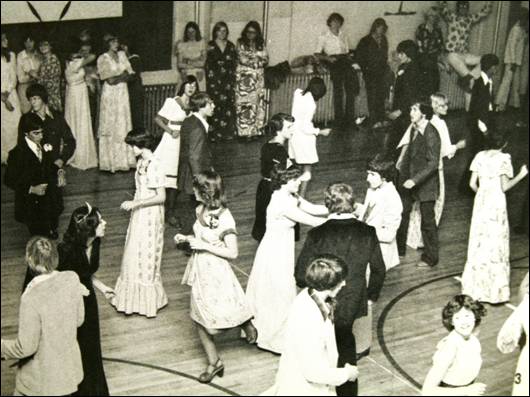 Senior Class Motto - "As we ascend the stairway of life, let us not trip!"
Sophomore Class Officers –President – Duane Foley; VP – Jamie Roes; Secretary – Kelly Cullan; Tresurer – Bruce Delsing
Freshmen Class Officers –President – Bob Zajic; VP – Shirley Smith; Secretary-treasurer – Rae Dee Price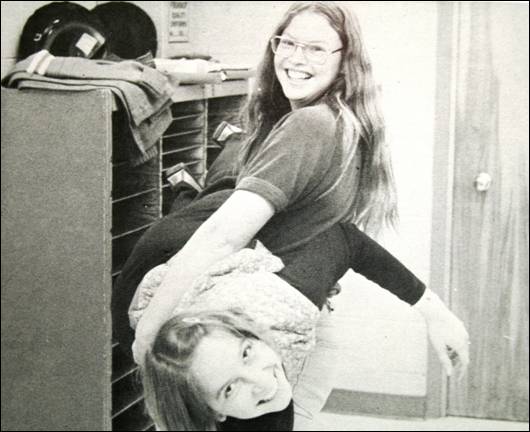 State Competitions –Football, Boys Basketball, Boys Track
Special or Unique Happenings – For the first time, Baccalaureate services were not held as part of graduation activities. Seniors Mary Pat Wilkens and Mike Grabner gave addresses to the crowd.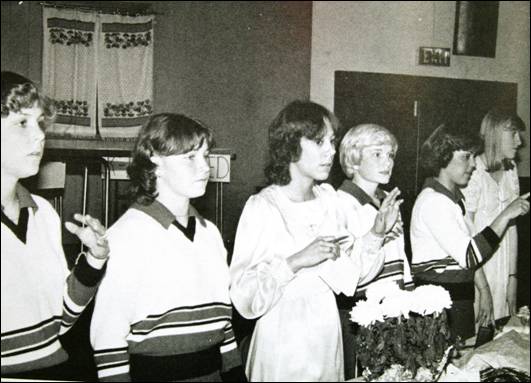 CSC Scholastic Contest Results – Hemingford was the Division Champion at the Chadron State Scholastic Contest! Mary Schekll won an individual championship in Interior Design to lead the way.
Senior Class Enrollment –32
Kindergarten Class Enrollment – 23
Superintendent – Don Hanks
Principal – Lyle Fodnes - secondary, Glen Kotschwar - elementary
Elementary Teachers –Kindergarten – Annette Davies; First – Jaci Stolldorf; Second – Vicki Smith; Third & Fourth – Elaine Laeger; Fifth & Sixth – Lena Hebbert, Irene Christensen, Guyla Thomas
Secondary Teachers –Adelyn Headden, Judy Gasseling, Norman Hansen, Larry Jones, Beverly Hanks, Scott Malcolm, Mary Lliteras, Judy Gasseling, Bill Stolldorf, Dale Rien, Becky Kenner, Sue Shaver, Lynda Roland, Helen Walker, Duane Knaub, Rick Mellor, John Stanton
Other Staff Members – Leona Wilkins, Norma Wood