Class of 1973
Updated May 2013
The Class Composite of the HHS Class of 1973 (Click on pic to enlarge)
19 Hemingford High School 73
Student and Faculty Highlights of the Year
This page features athletic records, officers, themes, important numbers, important happenings, and other educational information from the year in question. It provides a quick and ready resource for Bobcat Grads and families!
Student Council Highlights 
The Stuco headed the school support to raise funds for a scoreboard in memory of Buddy Roes. Members also cleaned up the county fairgrounds, earning a contribution from the Fair Board.  The council also raffled off two crash helmets to help pay for a new school trophy case.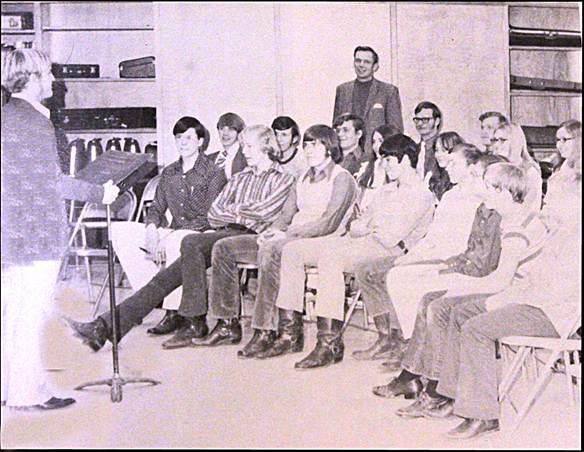 Student Council Members
President – Dave Engel, VP – Virginia Cullan, Secretary – Carol Wood, Treasure – Don Jespersen; Seniors – Tom Golka, Sandy Smith; Juniors - ; Sophomores – Caren Schekall, Marty Kuhn; Frosh – Casey Brost, Sherri Laeger
National Honor Society Members 
President – Linda Delsing; Vice President – Dan Powell; Secretary – Carol Zajic; and Treasurer – Susan Pipitt. Faculty Sponsor was Mr. Fodnes Other members included Dave Engel, David Roes, Marcella Roes, Tom Golka, and Pam Yardley.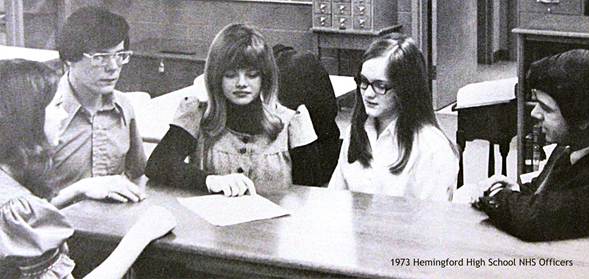 Music Department
Band - The marching band performed at all home football games, the concert band, and the pep band were all directed by Mrs. Joan Longmore.  The band also performed at at the Rapid City Central Sate's Fair parade. Band officers were Steve Hollinrake, President; Jody Benda, Vice President; Kim Hansen, Secretary-Treasurer; with Marty Kuhn and Laura Tschacher as council members.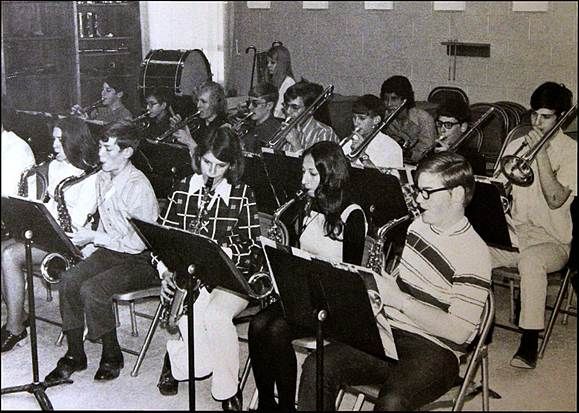 Chorus - Mr.Frank Brigham directed the vocal music, a select choir, and mixed chorus. Student Choral Officers were Laura Tschacher, President; Tim Lewis, Vice-President; and Geneice Kiester, accompanist. Roberta Lliteras, Joni Frahm, and Steve Hollinrake were selected for the Kearney State Music Contest. The HHS Chorus was selected as an all-conference Chorus at the Panhandle C Contest.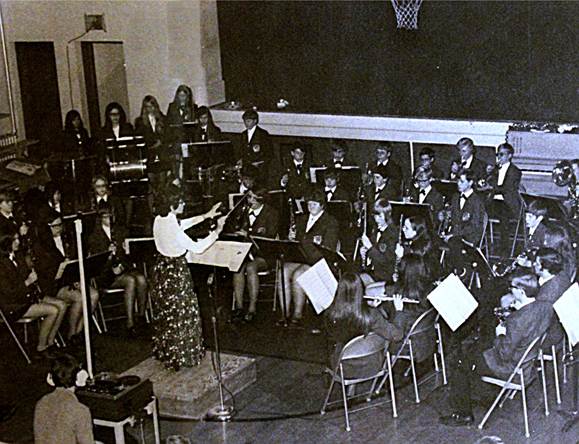 Drama and One Acts
"Oliver Twist" was presented in five acts by the Dramatics Club. Don Jespersen was awarded an Outstanding Character Award for his portrayal of Fagin. One Act play was, "Case of the Crushed Petunias". Actors and actresses included Geneice Kiester, Michael Delsing, Dave Engle, Don Jespersen, Erick Jensen, Carol Danbom, Kevin Manion, Jody Benda, Sherry Dufek, Tom Golka, Dan Powell, and Carolyn Curtis.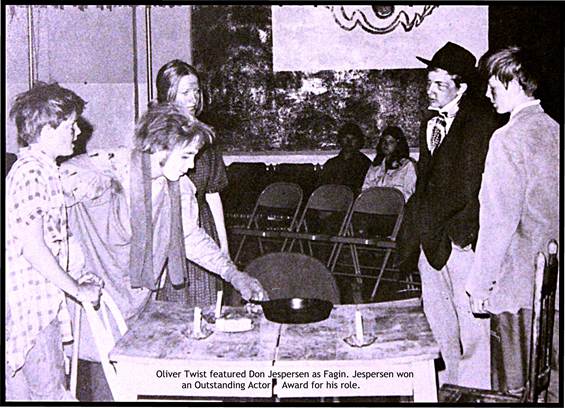 Football 
Injuries hampered the progress of the Hemingford Football team, allowing just a single victory, a win over Harrison in the last game of the season (19-14). Coach Paul Zelenka had twenty-four letter winners, so the future looked bright. Dave Engel, Roger Armstrong, Tom Stull, and Charlie Lliteras were leaders for the Bobcats. Other players included Steve Cullan, Dan Brost, Steve Prochazka, and Tim Lewis. The JV team recorded wins over St. Agnes and The Job Corp. Steve Resig coached the HHS Junior Varsity.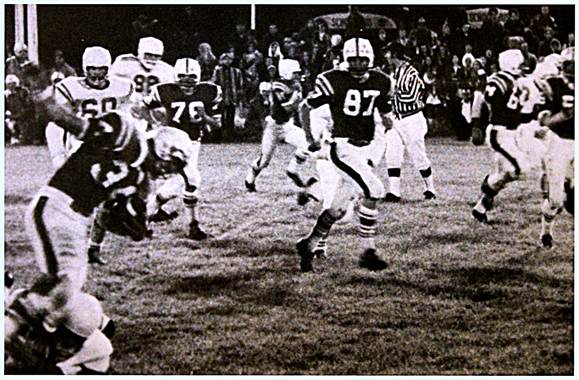 Volleyball
The Lady Cat Netters won 10 matches and dropped just 4 in a solid season for Coach Duane Knaub. Wins came over Hay Springs (2), Rushville, Minatare, Crawford (2) , Chadron, Harrison (2) and Bayard.  St. Agnes bested the HHS Ladies twice, and Morrill won (2-1) in the District Tourney, ending the season for Hemingford. All-Conference Honors went to Geneice Kiester, Sandy Smith, and Virginia Cullan. Other players included Irene Phillips, Marcella Roes, and Bobby Lliteras. The JV team finished (6-4), and the Frosh were undefeated at (5-0).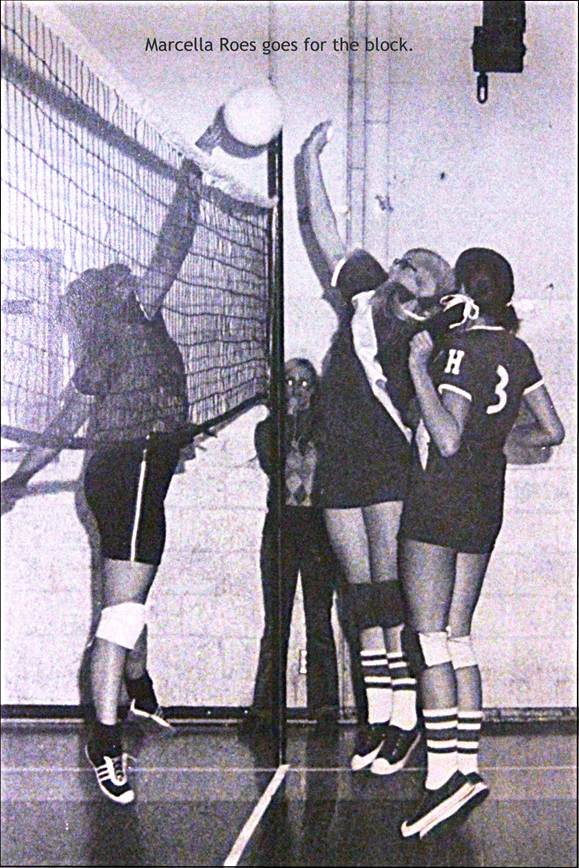 Cross Country
Rough terrain and many hills were the theme for the HHS Harriers. Five runners worked hard for Coach Mike Vahrenkamp, including team leader David Buskirk. The team placed 2nd at the Scottsbluff Invite and the Panhandle "C" meet, and was the team Champion at the Kimball Invite.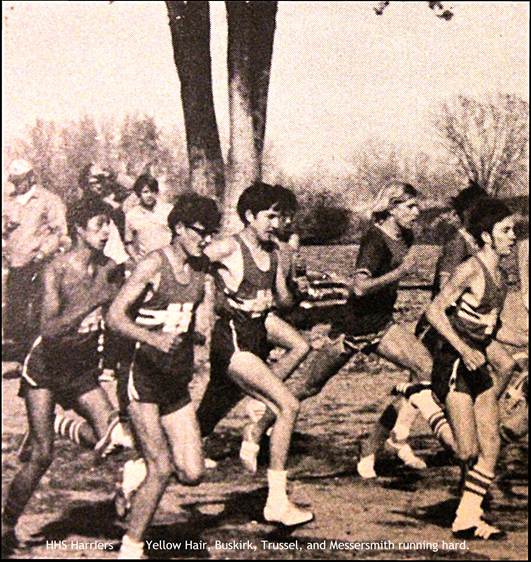 Boys Basketball
Coach Steve Reisig had a young Bobcat team, and though there was hard work a'plenty, the boys tasted victory just once, over Kimball (50-45), and finished (1-14) for the season. Players included Brad Haas, Tom Golka, Jim Yardley, Greg Hansen, Greg Moeller, Kevin Manion, Donnie Jespersen, Max Gonzales, Charlie Lliteras, Steve Cullan, Dave Engel, Phillip Scmidt, Dan Duncan, Tom Yellow Hair, Richard Roes, jay Cowan, and Ed Wernke. Coach Zalenka's  JV team had a respectable (5-7) record with the Frosh going (2-5).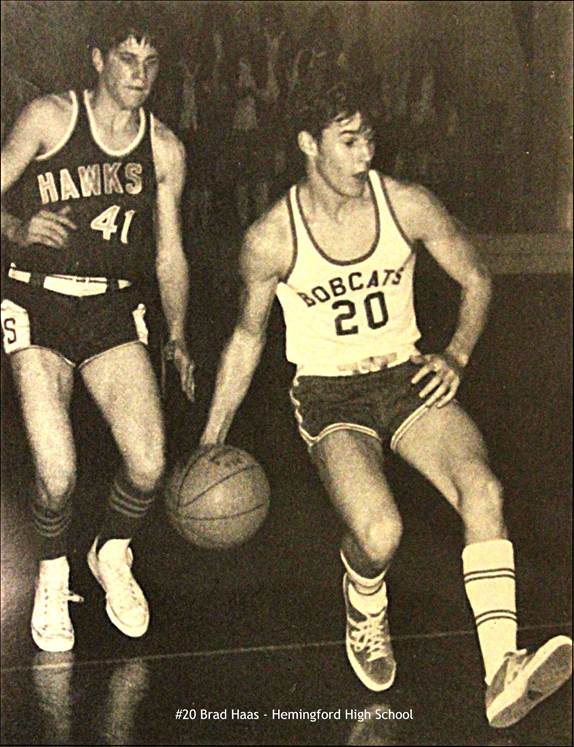 Wrestling
Two Bobcats made it to the State Wrestling Meet, with Pat Brost finishing with a (23-7) record, and Steve Prochazka at (26-3) winning a silver medal in Lincoln, finishing second in the state. Coach Larry Schnell also had a third place winner at Districts in Howard Mazanec, and a fourth Place winner there in Gail Moravek. Other grapplers included Erick Jensen, Aldon Sample, Sam  Johnson, and Dave Horner. Dual victories during the season came over Rushville (46-15), Harrison (48-12), Crawford (51-12) Harrison Part Deau (49-11), Bayard (33-30), and Bridgeport (40-22)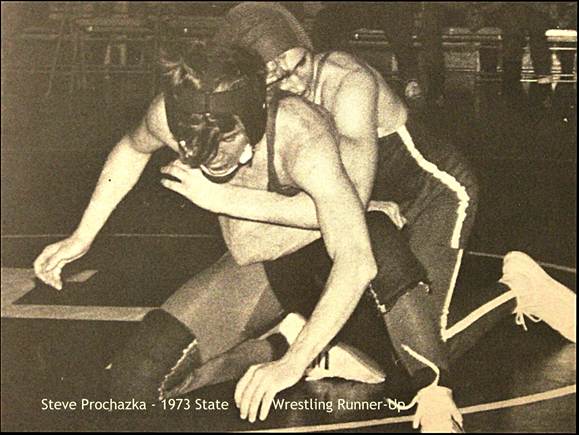 Girls Track and Field 
Coach Duane Knaub had some record setting athletes in Girls Track at HHS, with Marlene Zajic stting new marks in the 440 and 880; while Pam Mundt set the new 80 yard low hurdles record for Hemingford. Kathy Phillips broke the school record in the high jump. The girls had no state qualifiers but won the Rushville Invitational Meet. Other tracksters included Joni Roes, Sandie Smith, Irene Phillips, Kim Hansen, Sue Schekall, and Carol Wood.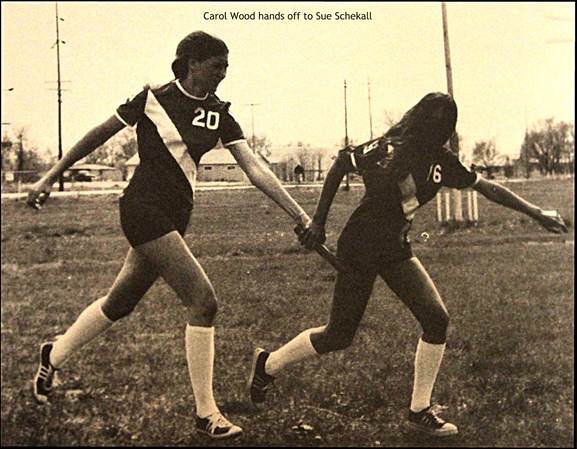 Boys Track and Field
Dave Engel led the way for the HHS thinclads, advancing to the Nebraska State Track and Field meet. He broke the school record in the triple jump as well, leaping 39'2". The 880 Relay team also set a school  record, with members Charles Lliteras, Kevin Manion, Dave Engel, and Brad Haas running a 1:34.5. Dave Buskirk also broke the school's two-mile record, running eight laps in 10:54.5. The team won two meets,  at Rushville  and at Harrison.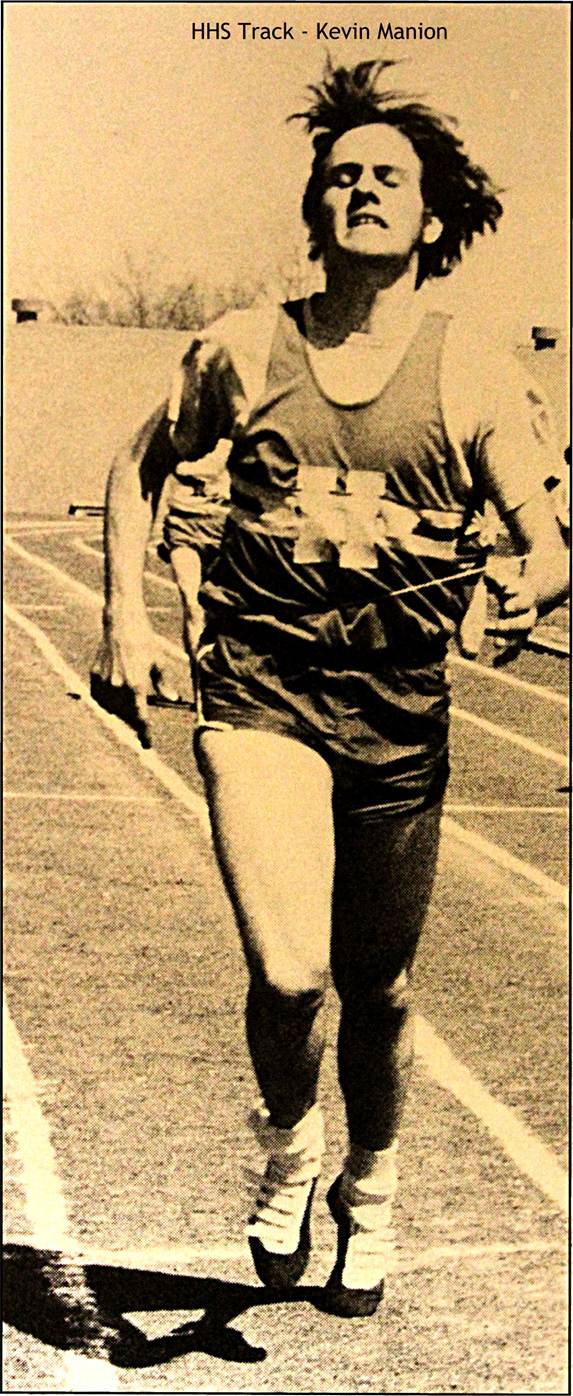 Golf
Two girls and ten boys made up the Golf squad at HHS for Coach Steve Reisig. Leaders were Jim Yardley, Marty Kuhn, and Dave Horner. Other members included Pete Bruning, Caren Schekall, and Robyn Anderson.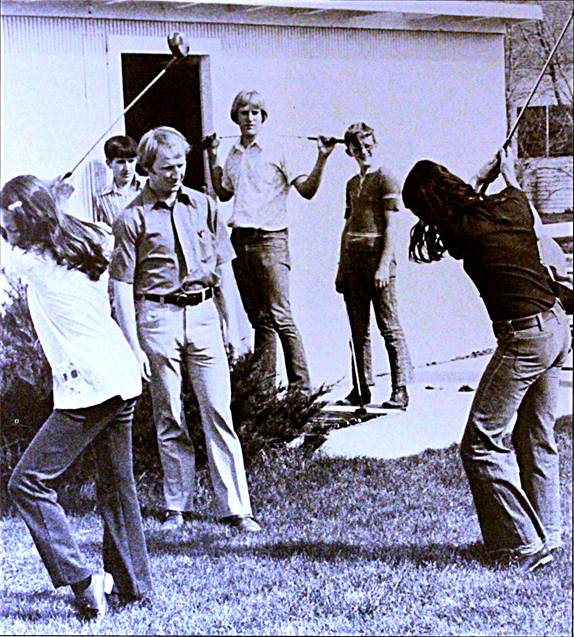 Clubs and Activities
FHA – Members worked at Good Samaritan Village, working to help the elderly; made stuffed animals to send to Oklahoma; had a money-making chili feed and served meals for the Pine Ridge Teachers Dinner and the Hemingford Co-op dinners.
President was Debbie Wood; Vice President was Carol wood; Secretary was Kim Hansen, and Treasurer was Joni Roes. Mrs. Sue Volkmer was the faculty sponsor
Science Club - The club was formed to provide experience and stimulate interest in science and technology. Money that was raised was used to purchase additional science equipment and supplies. Club President was Tim Hudson, Vice President was Tom Golka, Roger Armstrong was Secretary-Treasurer, and faculty sponsor was Mr. Stolldorf. Other members included Gail Moravek, Steve Prochazka, Scot Messersmith, Charlie Lliteras, and Dave Engel.
Other activity clubs included Pep Club, GAA, and H-Club.
Homecoming
The Pep Club sponsored and funded the annual Homecoming dance under the direction of sponsor Sue Volkmer. The music was provided by "Bold Lightening II".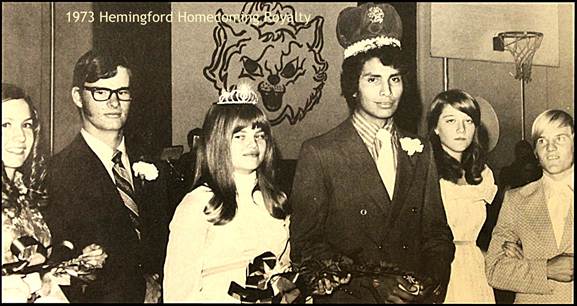 Homecoming Royalty
Queen – Linda Delsing; King – Robert Gonzales; Attendants – Jody Benda, Roger Armstrong, Carol Zajic, and  Dave Engel.
Cheerleaders
Virginia Cullan was the head cheerleader, joined by varsity cheerleaders Sandie Smiht, Jody Benda, Carol Zajic, and Linda Delsing. Reserves were Kim Hansen, Sue Schekall, Caren Schekall, Robyn Anderson, and Colleen Neeley.
Prom Royalty
Queen –Linda Delsing; King – Dave Engel; Attendants – Greg Hansen, Irene Phillips, Greg Moeller, Joni Roes, Darrel Schledewitz, Kim Hansen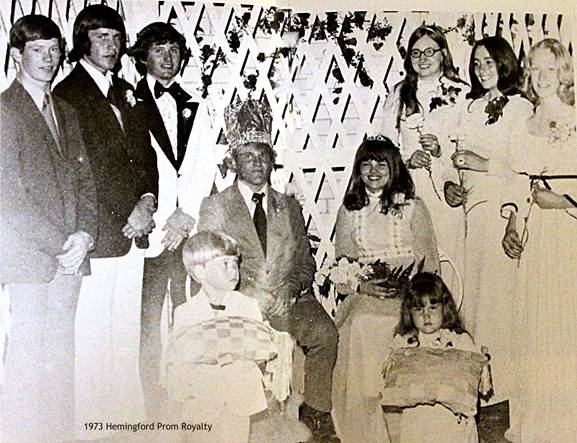 Prom Theme
"Goddess of Love"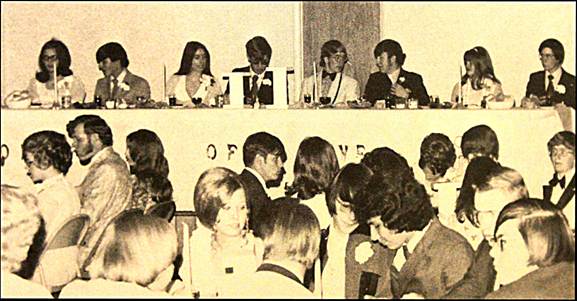 1973 Junior Prom
Don Jespersen was the Master of Ceremonies, with speeches by Dan Powell, Randy Vogel, Steve Hollinrake, and Mr. Don Baruth. A humerous skit was performed by Greg Hansen and Carol Danbom. "Free Flight" performed the music, and decorations included a lighted fountain, surrounded by columns that created a Roman Garden. A trellised wall and a garden hut were also part of the décor.
Senior Class of 1973 Motto
"What We Are To Be, We Are Now Becoming"
Class of 1973 Colors
Blue and Gold
Class of 1973 Flower
Roses
Class of 1973 Graduation
School Board President Vincent Rosenberger presented diplomas to the 42 HHS Seniors at Commencement, with Mr. Jim Hunter of WNCC as well as Senior Orators Dan Powell and Carol Zajic presenting addresses.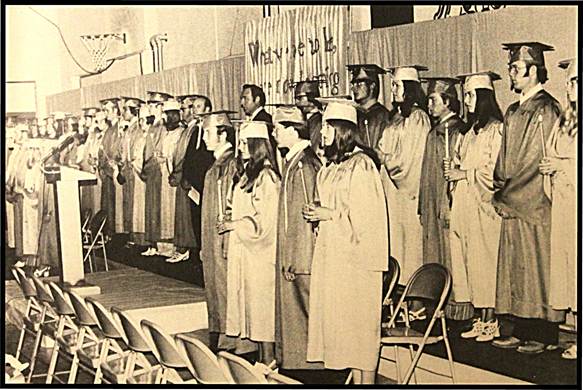 Senior Class Officers
President – Randy Vogel; VP – Linda Delsing; Secretary/ Treasurer – Jody Benda
Junior Class Officers
President – Steve Hollinrake; VP – Richard Barta; Secretary – Janet Price; Treasurer – Lenni Walters
Sophomore Class Officers
President – Greg Moeller; VP – Joni Roes; Secretary – Debbie Wood; Treasurer – Robyn Anderson
Freshmen Class Officers
President – Carol Wood; VP – Sue Schekall; Secretary – Kim Hansen ; Treasurer – Sheri Gordon
Senior Class Enrollment –42
Kindergarten Class Enrollment –16
Superintendent 
Donald Hanks
Principal
Mr. Lyle Fodnes
Elementary Teachers
Kindergarten – Mrs. Rosemarie Jacobsen+-; First Grade – Mrs. Jaci Stolldorf; Second Grade – Mrs. Agnes Bruns; Third Grade –Mrs. Elaine Laeger; Fourth Grade – Mrs. Lena Hebbert; Fifth Grade – Mrs. Irene Christensen; Sixth Grade – Mrs. Guyla Thomas; Mrs. Mardra Horse
Secondary Teachers
Mr. Don Baruth, Mrs. Sue Volkmer, Mr. Bill Stolldorf, Mrs. Joan Longmore, Mr. Duane Knaub, Mr. Frank Brigham, Mr. Mike Vahrenkamp, Mr. Paul Zelenka, Mr. Steve Reisig, Mr. Larry Schnell, Mr. Glen Kotschwar, Mrs. Verona Beguin, Mrs. Bertha Fox, Mrs. Adelyn Headden, Mrs. Janet Pickering, Miss Sharon Schukei, Mrs. Amy Jensen, Mrs. Darien Anderson, Mrs. Marian Lee Walters,
Other Staff Members
Mrs. Norma Wood, Bruce Shaver, Greg Volkmer, Bernard Caha, Leona Wilkins