Class of 1999
(Click on Thumbnail to enlarge)
19Hemingford High School 99
Student and Faculty Highlights of the Year
This page features athletic records, officers, themes, important numbers, important happenings, and other educational information from the year in question. It provides a quick and ready resource for Bobcat Grads and families!
Student Council Highlights – The STUCO purchased planners for the student body, and had as a goal, "to pursue the wants and needs of the students". STUCO also took care of updating the marquee in front of the high school
Student Council Members – Co-President – Nate Lanik, Holly Reed; Seniors – Jeff Schumacher, Katy Dobry; Juniors – April Baer, Scott Krul; Sophomores – Kyle Wade, Kayla Kulas; Frosh – JR Sitorious, Megan Eickhoff
National Honor Society Members – Shantel Earley, Abbey King, Kristen Kulas, Aric Klemke, Lindsey Lanik, Trista Dye, Brison Kuhn, Holly Reed, Adam Wacker, Nate Lanik, Anne Moser. Members went to Denver to see, "Titanic". They also sponsored a " Rock N Roll Risk Night" dance. NHS members also tutored elementary students as a service project.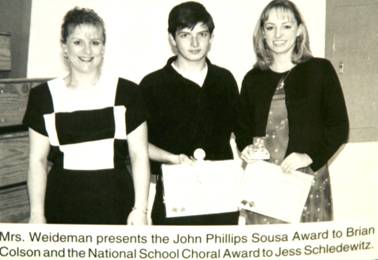 Music Department –Director Kim Wiedeman led a total of 58 members in the band. They won 1st place in the marching competition at Sidney's Octoberfest. In chorus, Rhapsody went to Chicago, performing at Six Flags and the Daley Center.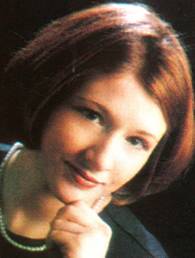 Drama, Speech, and One Acts – Megan Wernke won state championships in speech in Extempt and Persuasive. Lisa Belknap also qualified for state. Led by Karen Fastnacht, the One-Act Cast won Districts and finished fourth at State. Jessica Schledewitz, Katy Dobry, Lisa Belknap, and Tera Smith all won honors at conference, district and the State competitions.
State Speech Champion – Megan Wernke
Football – The best year in a long time, the team makes it to the state playoffs and an impressive season finale of 8 wins and 3 losses, coached by Tim Newman. The team won all but one conference game, with a first round victory over Ainsworth, and a second round win over Gothenburg in the state play-offs.

The Cats lost the , "Ice Bowl" game in the next round to Chase County, but it was an outstanding season. All conference honors went to Nate Lanik, JJ Gonzales, Matt Gasseling, Scott Wright, Austin Engel, and Adam Wacker. All State honors went to Lanik, Wacker, and Engel.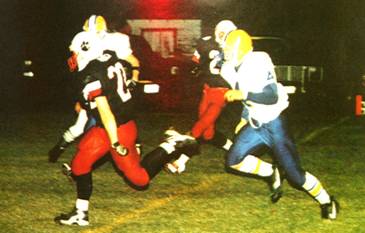 Volleyball – Coach Ramona Hucke and her girls posted a record of 17-9 for the season. The girls were Western Trails Champions. Seniors were Holly Reed, Kristen Kulas, Abbey King, Anne Moser, Deanna Counts, Brook Raschke, and Yu Osuka.
Cross Country – Tim Lanik guided the Cat Thinclads. There were twelve runners.
Cheerleaders – Bridget Cullan, Suny Brown, Ashley Prelle, Desi Hatterman, Jessica Lopez, Stacey Brost, Jenny Morava, Amber Yardley, Amber Fastnacht, and Cortney White. Sponsor were Mrs. Buskirk and Mrs. Mintken. The squad won the Herkie Team award at CSC, and put on a camp for Pee Wee Cheerleaders.
Girls Basketball – Coach Caryn Ziettlow and her young inexperienced Ladycats finished the season 9-12. Deanna Counts, Anne Moser, Amber Yardley, Linsey Lanik, and Trista Dye all were selected to either Panhandle or Western Trails All Conference teams.
Boys Basketball – With only two returning lettermen, the team still ended the season strong with a 14-7 record, coached by Tim Lanik. Nate Lanik set a new school scoring record with 1,374 points. Lanik also led the way in post seson honors, winning first team selection on both PAC and WTC teams. John Haas, JJ Gonzales, and Eric Schmit also earned honors in the PAC and WTC.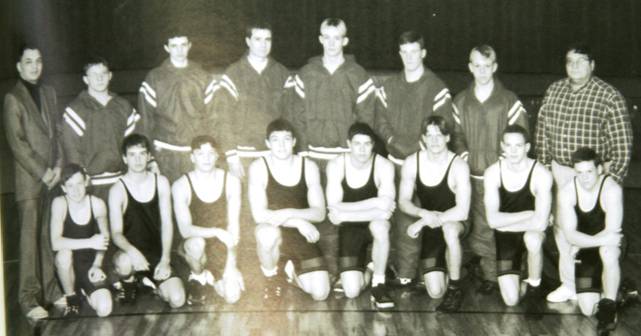 Wrestling – First year Coach Pete Gomez brought new drills and conditioning methods proved helpful as the season went on. Brandon Gibson placed fourth at the State Meet, and Adam Wacker recorded 24 pins on the season.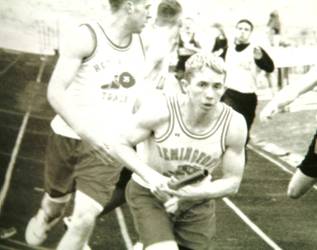 Boys & Girls Track and Field –Coaches Tim and Cindy Lanik along with their team of 11 were in it for the long run, with eight state qualifiers, includingScott Wright, Randi Furman, Melissa Wright, JJ Gonzales, Matt Gasseling, Heath Bremer, and Brison Kuhn. Gasseling placed sixth in the mile in Omaha , and records fell in the mile relay, the 400, girls triple jump, and the 300 lows during the season. The girls were PAC Champions
Golf –Coach Todd Ziettlow had a full squad, with fourteen linksters.
Clubs and Activities – H Club, Quiz Bowl, FFA, FCCLA, and Close Up. Megan Wernke was first team WTC and PAC in Quiz Bowl. Nate Lanik was first team PAC in Quiz Bowl. Close Up had 22 members, sponsored by Ramona and Kenny Hucke. The group survived a snowstorm, and were able to meet Bob Kerry. FCCLA Gold Medal winners were Kristi Gettert and Melinda Wernke.
Homecoming Royalty – Queen – Holly Reed; King – Nate Lanik; Attendants – Dusty Gonzales, Abbey King, Yu Osuka, Jason Trickler. The football team beat Gordon 27-13. The Volleyball team beat Bridgeport and Bayard, but lost to Gordon that week. Though it was cold and wet outside, the spirit for Homecoming burned brightly in the halls! The sophomore class won the hall decorating contest.
Prom Royalty – Queen – Kristen Kulas; King – Dusty Gonzales; Attendants – Austin Engel, April Baer, Brett Sorensen, Randi Furman; Crown bears – Danny Manning, Kelsey Wood
Prom Theme – "A Night Under the Stars". The sophomore servers performed, " Lifestyles of the not so Rich and Famous". Sponsors were Cindy Ahrens and Tim Newman.
Senior Class Motto – Class colors were Grape and Silver; Class flower was the rose; Class song was , "Up Around the Bend" by Creedence Clearwater Revival.
Senior Class Officers – President – Megan Wernke; VP – Anne Moser; Secretary – Kristen Kulas; Treasurer -
Junior Class Officers – President – Adam Wacker; VP – JJ Gonzales; Secretary – Matt Gasseling; Treasurer – Scott Shaver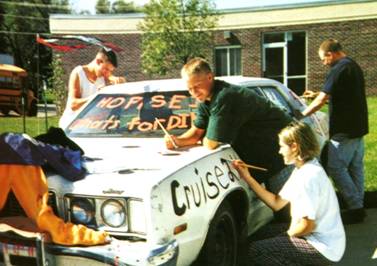 The Juniors Decorate their Float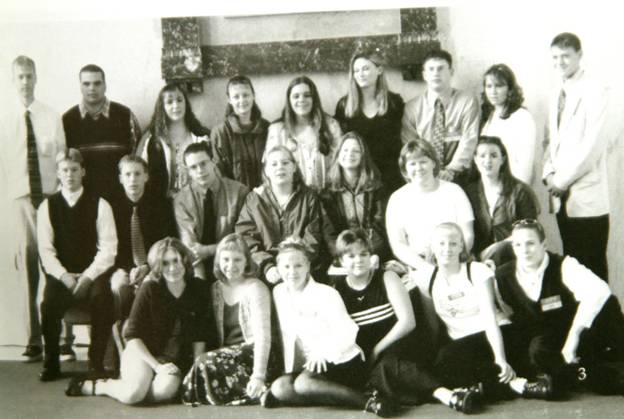 The Junior Class at HHS
Sophomore Class Officers – President – Brison Kuhn; VP – Brett Sorensen; Secretary – Trista Dye; Treasurer – Cortney White
Freshmen Class Officers – President – Melinda Wernke; VP – Megan Eickhoff; Secretary – Joe Trickler; Treasurer – Shaina Giorgi
Valedictorian – Megan Wernke
Salutatorians – Anne Moser and Nate Lanik
State Competitions – Football, Track, One-Act
Special Awards – National School Choral Award – Jessica Schledewitz; John Phillips Sousa Award – Brian Colson. Nate Lamik and Anne Moser won Military Scholar Awards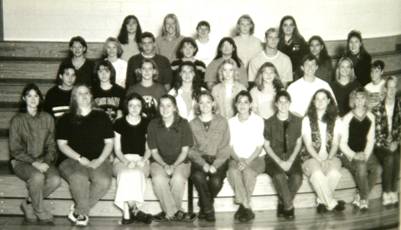 Senior Class Enrollment – 42
Kindergarten Class Enrollment – 20
Yearbook Dedication – Mrs Bev Hanks retired, after 23 years at HHS. Mrs. Marla Wade was the Yearbook sponsor
Superintendent – Edwin Hollinger
Principal – Steve Osborn – secondary; Todd Burns – elementary; Mr. Burns wanted to see more involvement between the community and parents, including the possible creation of a Parent – Teacher organization.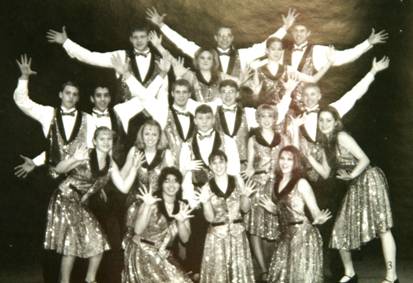 Elementary Teachers – Kindergarten – Mrs. Folkerts, Mrs. Chris Stokton, Robyn Prochazka; First Grade – Mrs. Davies, Mrs. Mills; Second Grade –Mrs. Engelhaupt, Mrs. Benda; Third Grade – Mrs. Engel; Fourth Grade – Mrs. Zajic; Fifth Grade – Mrs. Kotschwar, Mrs. Lanik; Sixth Grade – Miss Farritor, Mrs. Leonard
Secondary Teachers – Todd Ziettlow, Caryn ZiettlowBev. Hanks, Cindy Ahrens, Tim Newman, Tim Lanik, Dennis Zajic, Shelly Smaha, Jim Milne, Ramona Hucke, Pete Gomez, Kathy Bridge, Brenda Buskirk, Sarah Federson, Karen Fastnacht, Nancy Giorgi, Kay Horstman, Mandy Plog, Sue Shaver, Kara Svobda, Marla Wade, Kim Wiedeman,
Other Staff Members – Joyce Klemke, Jane Kuhn