Class of 1993
Updated May 2013
The Composite of the HHS Class of 1993 (Click on Pic to enlarge)
19 Hemingford High School 93
Student and Faculty Highlights of the Year
This page features athletic records, officers, themes, important numbers, important happenings, and other educational information from the year in question. It provides a quick and ready resource for Bobcat Grads and families!
Exchange Student – 
Suzy Szymanski spent a year in Hemingford attending classes and enjoying life in America. She came from Germany.
Student Council Members –
President – Tammy Davies; VP – Brandon Hackett; Seniors – Amy Davies, Mark Klemke; Juniors – Nathan McCune, Alicia Gasseling; Sophomores – Justin Raben, Heather Mundt; Frosh – Heidi Zajic, Travis Schefcik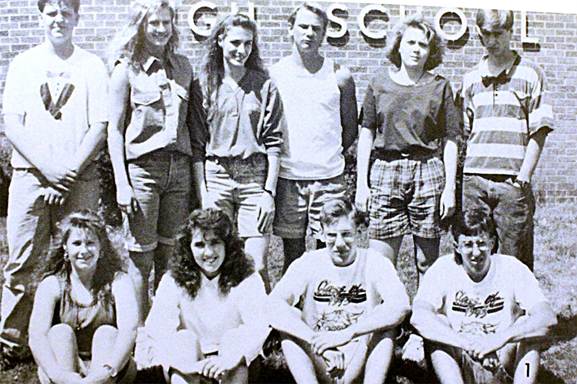 National Honor Society –
An Honorary group that stressed leadership, character, community service, and academics.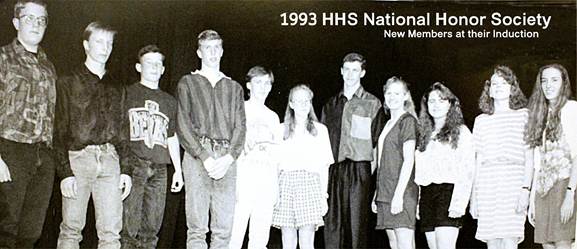 Hemingford inducted nine new members into NHS during the 1992-1993 school year.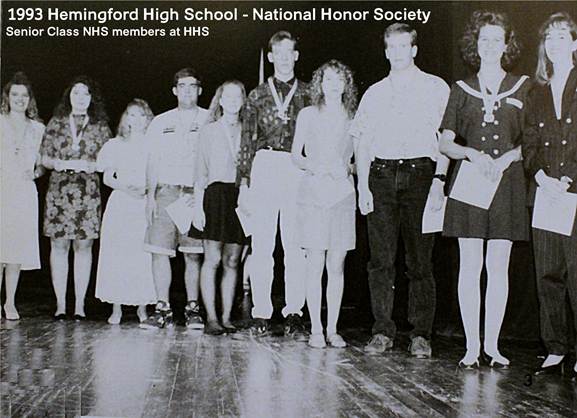 Music Department –
Mrs. Sandi Gulbranson instructed the Swing Choir and Chorus. The chorus attended District Music Contest at Chadron State College as well as two conference clinics.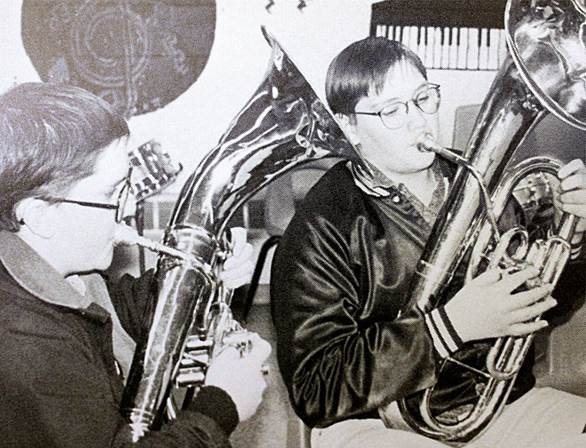 Miss Cynthia Jensen directed the band, which was smaller than in past years.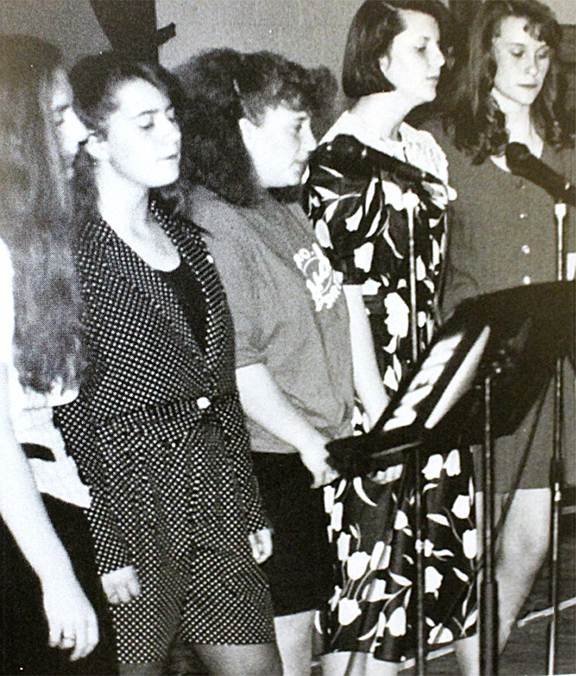 The Panhandle Activities Conference Band Clinic was in Hay S[rings, and the band also traveled to Western Trails Clinic at Kimball.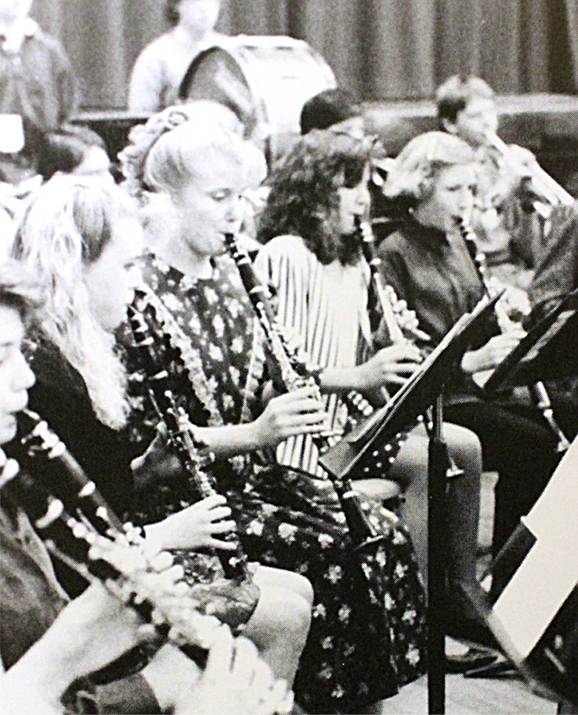 Drama and One Acts –
"Exit Who?" – The HHS Three Act All-School Play
Performers included Josh Engel, Angie Petersen, Dawn Davies, Becky Thomas, Vanessa Graves, Mark Klemke, Tammy Davies, Sean Kelly, and Jason Horn.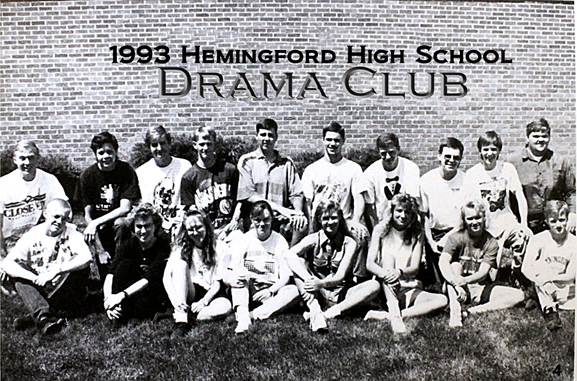 Stage construction for the all-school play was done by Mark Klemke and Chris Mundt. Make-up director was Holly Wade; and lighting and sound were handled by Justin Raben and Jeff Shaver.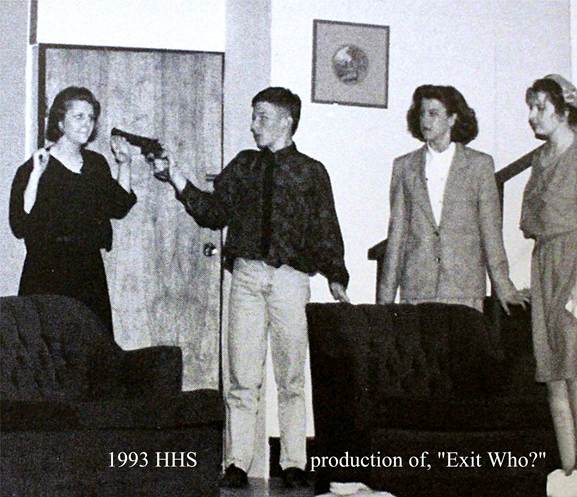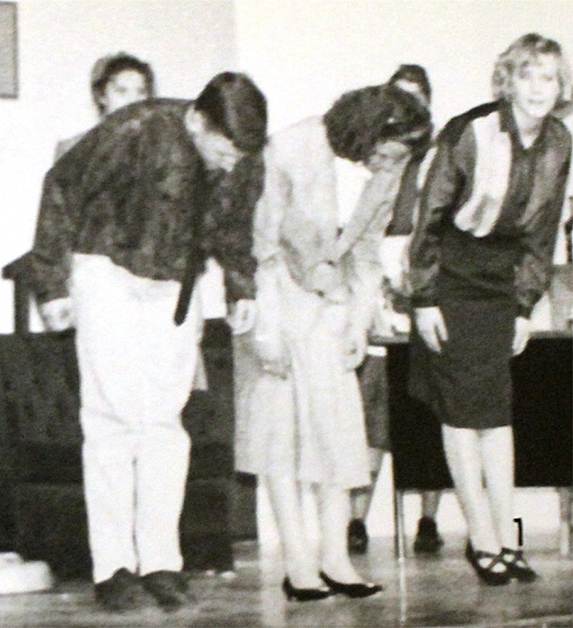 Mr. Lyle Fodnes was the faculty sponsor for the play.
"This is a Test" – The HHS Competitive One-Act Play
Sponsored by Mrs. Jill Finkey and Mrs. Marla Wade, with lighting by Justin Raben, sound effects by Heather Mundt, Jeff Shaver, and Jeff Benda. Make Up was done by Holly Wade and Suzi Szymanski. Performers included Josh Engel, Amy Baer, Dawn Davies, and Amy Delsing, Sean Kelly, Krista Campbell, Kim Ahrens, Jenny McCoy, and Tonya Davies.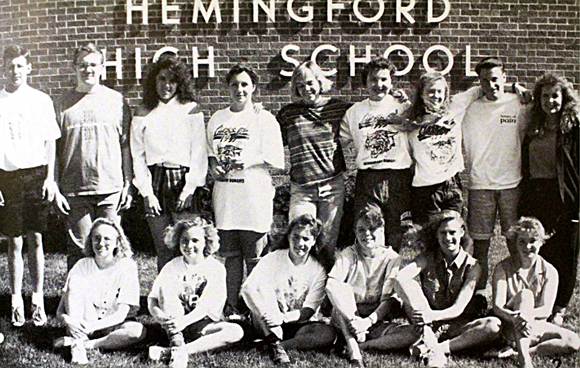 Football –
The Gridiron treated the Bobcats a little rough in 1992, with the Home Team dropping all nine varsity contests, including four shutouts.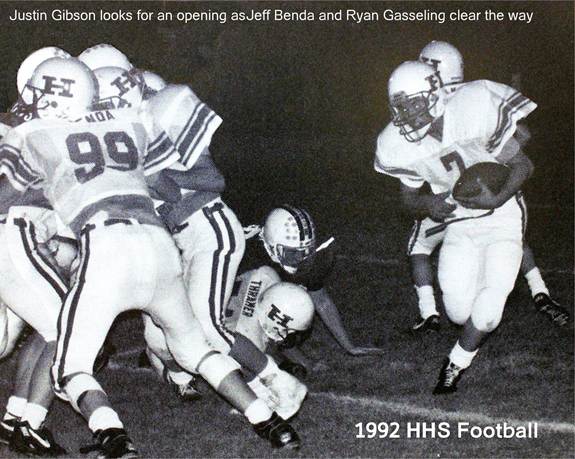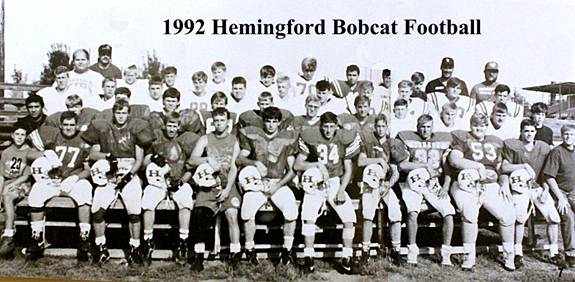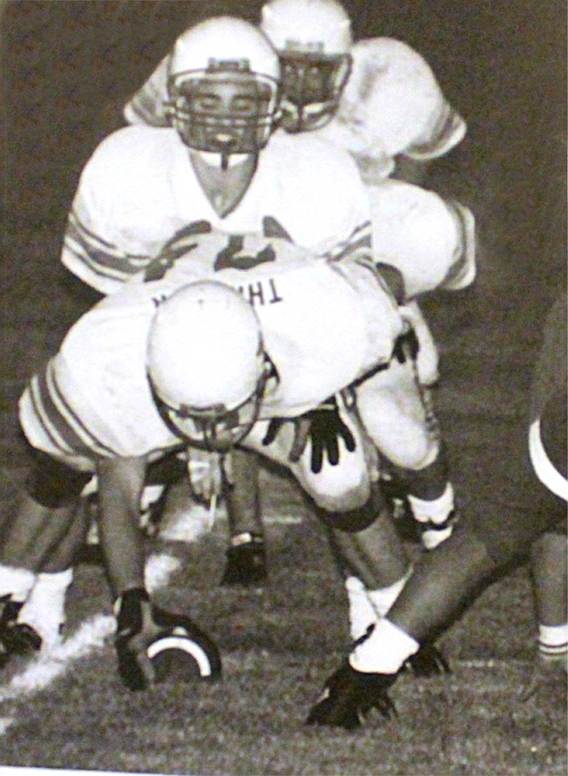 The Cats scored no more than once in any of their nine games, but held Bridgeport to a single score in a (0-7) loss for Coach Ed Planansky. The coach complimented the players for never giving up, and playing with heart.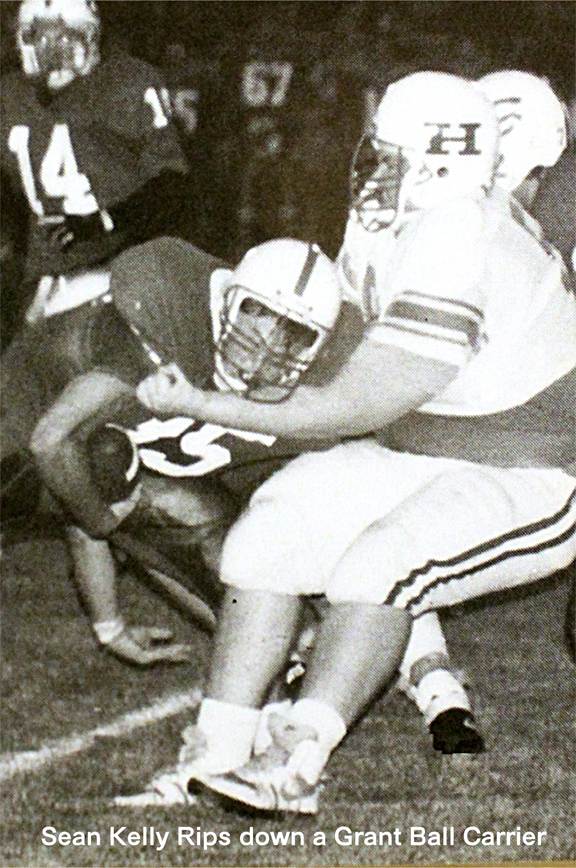 Assistant Coaches were Gene Hanks, Scott Hill, and Brian Iodence. Players included Josh Engel, Derek  Bauersache, Sean Hall, Travis Schefcik, Kory Haas, Corey Winten, Toby Wright, Mark Klemke, Greg Katen, Brian Thramer, Justin Gibson, Jeff Benda, Ryan Gasseling, Riley Baker, Chris Mundt, Adam Sellman, and Sean Kelly.
Volleyball –
Coach Kay Horstman was the head coach and was assisted by Ramona Hucke. The girls won games over Rushville, Harrison, twice, and Hyannis twice for their five season wins against 12 losses.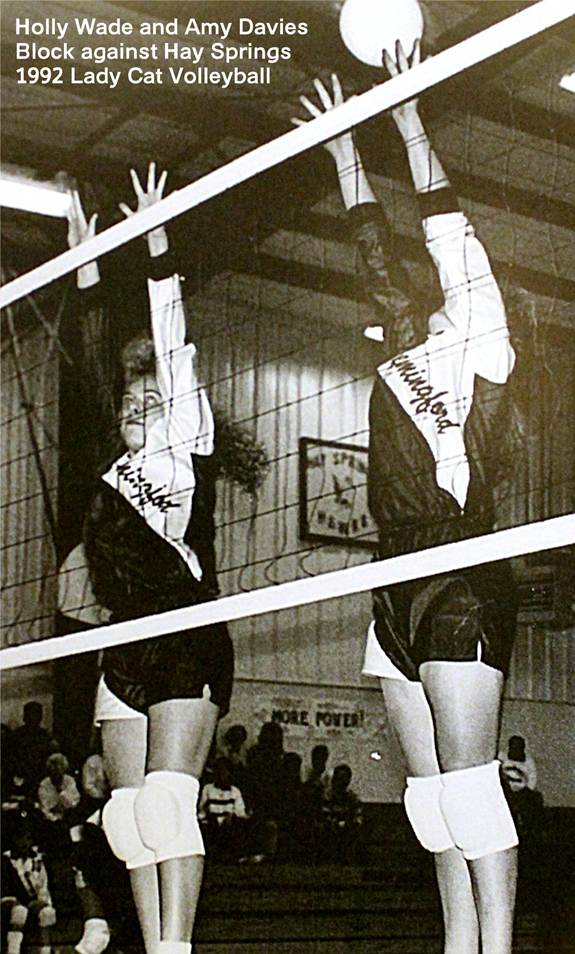 Hemingford strung two of their five wins together in the Hemingford Invitational Tourney, taking second place in a (1-2) loss to Morrill. Members included Tammy Davies, Mary Schafer, Melony Manning, Karleen Becker,Amy Davies, Heather Gasseling, Becky Davies, and Holly Wade
Cross Country –
Carrie Ryan, Abe Garcia, and Mike Adamson all qualified for the State Cross Country meet for Coach Tim Lanik.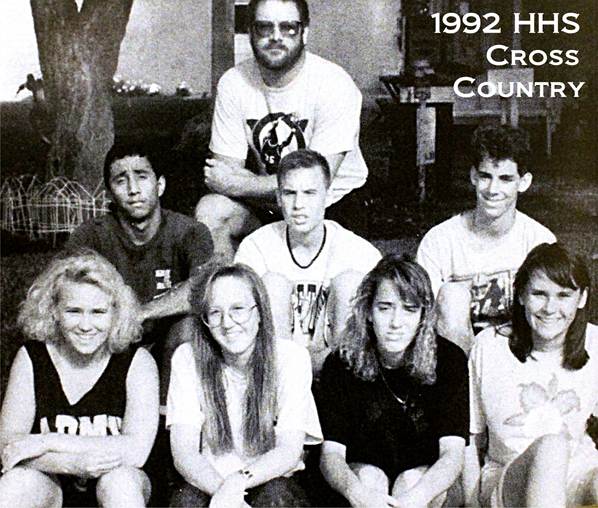 Carrie Ryan won the individual State Championship in the Girls Division for HHS, running a (16:07)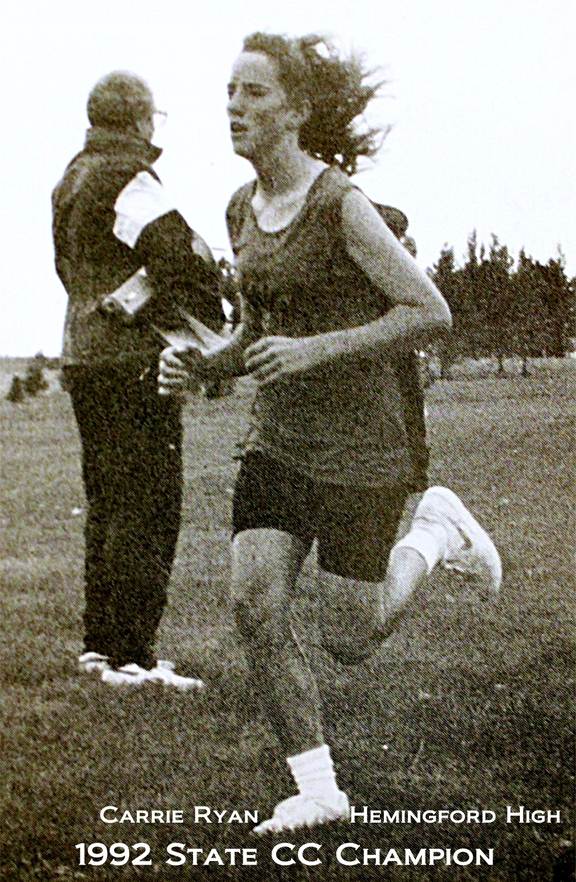 In the Boy's race, Hemingford finished in fourth place as a team, with individual finishes of 6th place by Garcia and 11th place by Adamson.
Girls Basketball –
Coach Finkey and girls won Sub-Districts, beating Rushville and Morrill, before falling in the District Play-Off game to Grant.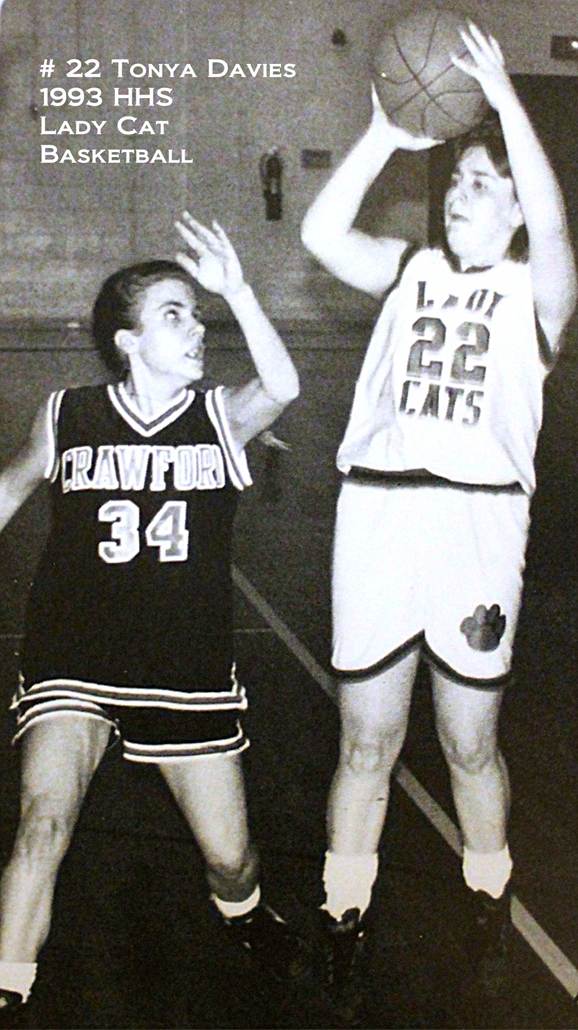 Eleven wins came over Kimball (43-32), Rushville (42-31), Crawford (50-45), Minatare (48-20), Harrison (55-36), Hay Springs (53-34) and Crawford in the PAC Tourney Finals (33-28). In WTC action, they beat Morrill (47-42) and then caught Morrill two more time for season ending wins(43-35) and (49-46).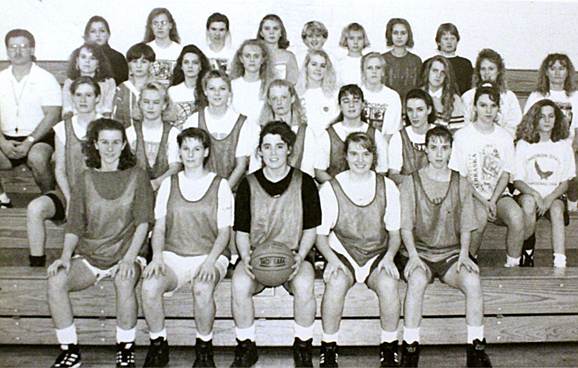 In the Sub-District they also beat Rushville for a second time (50-38) Assistant coaches were Cindy Ahrens and Kay Horstman.
Boys Basketball –
With a (10-11) season, Coach Tim Lanik and his team made it to the second game in the Sub-Districts before coming up short to Morrill. (47-57).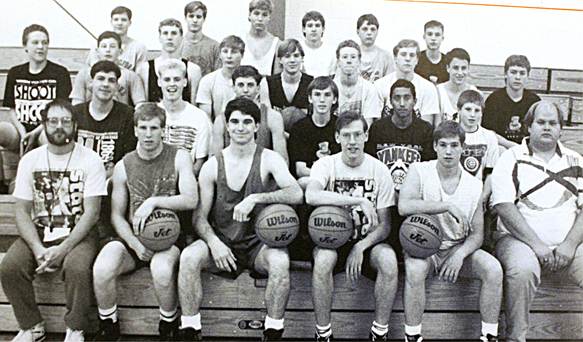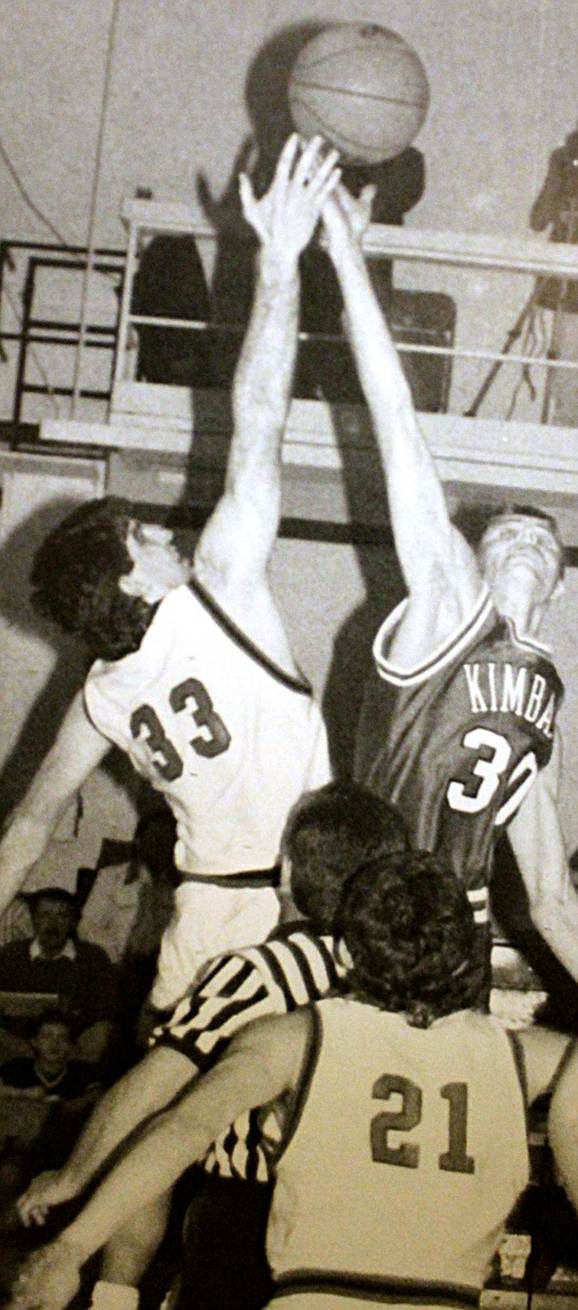 Wins earlier in the season were against Kimball (67-56), Crawford (77-69), Oshkosh (55-53), Minatare (71-29), Harrison (75-38), Rushville (62-53), Rushville (66-65), Hay Springs (88-60), and Rushville one more time (83-59)
Cheerleading –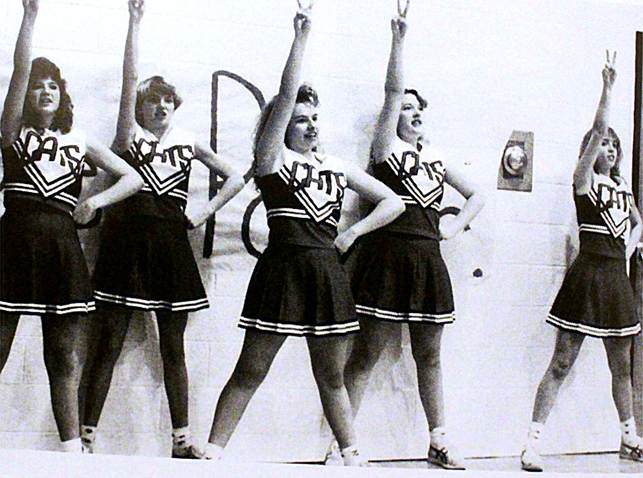 Wrestling –
Hemingford was led by Justin Gibson, who won a district championship as well as a Nebraska State Wrestling Championship!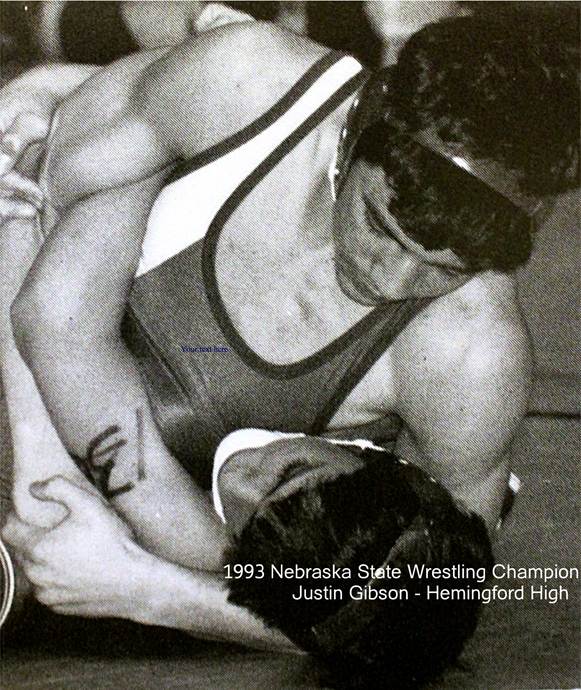 Brian Thramer placed fifth at State after winning  a district championship and Riley Baker added a third District championship and a sixth place finish at the State meet. Mike Adamson was not able to make it to State, but finished with an outstanding (23-6) season record.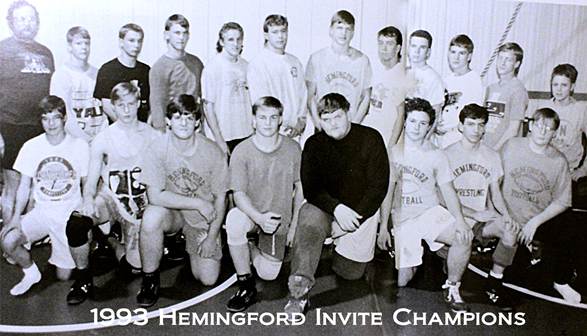 The team finished as Champion of the Hemingford Invite, and was Runner-Up at Rushville and Red Cloud. They also earned dual wins over Bridgeport Alliance JV, Bayard, Burns, Pine Bluffs, and Southeast in a (6-2) dual season.
Girls Track and Field –
The girls were PAC Track Champions , as well as finishing in third at WTC and fourth at the District Meet. Dawn Davies qualified for the Nebraska State Track and Field Meet, running a school record time of (12:27.9) in the 3200 meter run.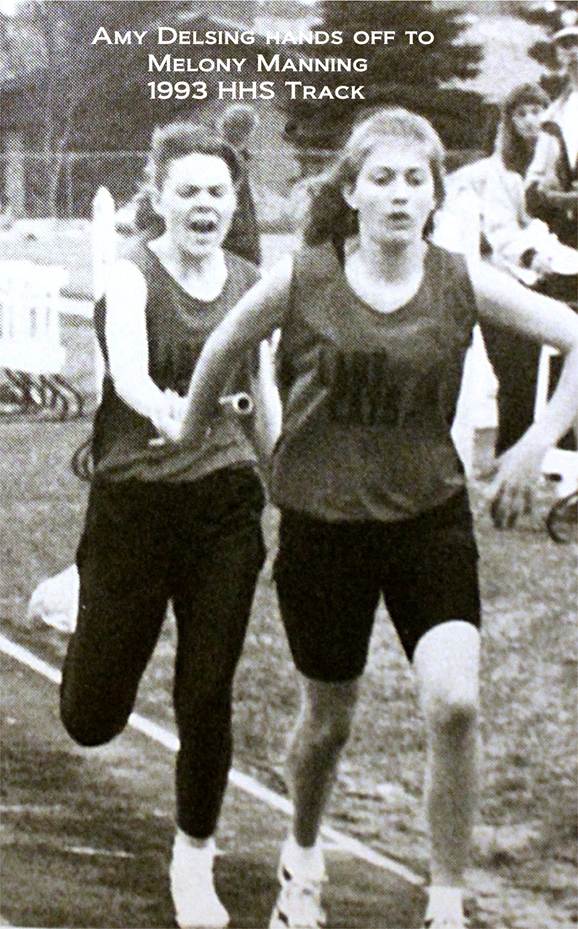 The 4 x 400 Relay also set a school record of (4:23.1), with members Kim Ahrens, Heather Gasseling, Kerri Morrison, and Heather Mundt. Mundt was also a record setter in the 100 at (13.), and the 200 at (26.4). Cindy Ahrens was the Girls Track coach.
Boys Track and Field –
Mark Klemke, Shawn Hunter, Abe Garcia, and Mike Adamson,  coached by Tim Lanik, qualified for the Nebraska State Track and Field Meet in the 4 x 800 Relay, setting a new school record there in (8:21.9)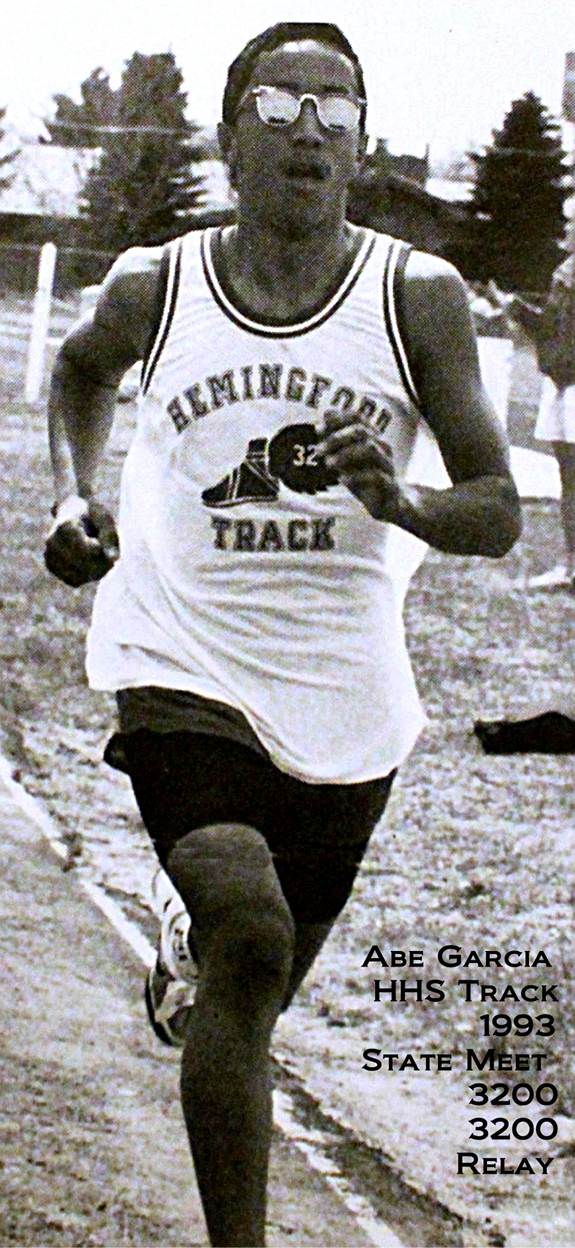 Justin Raben qualified for state in the long Jump, with Abe Garcia running the 3200 meter run at state, and Mike Adamson running the 400, 800, and 1600 meter run at State.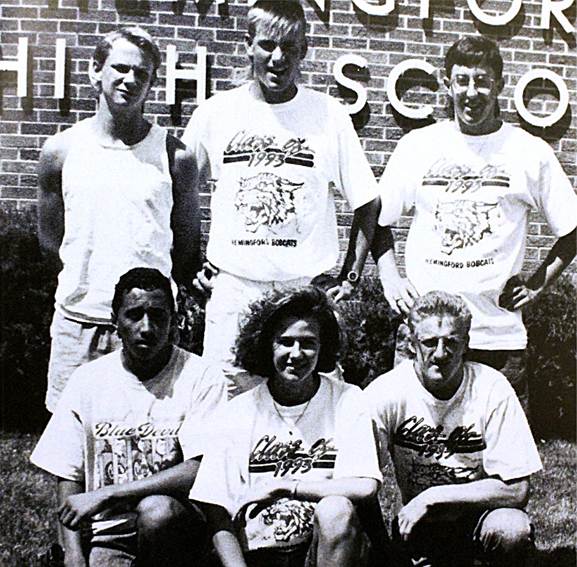 Hemingford State Track and  Field Qualifiers – Justin Raben, Shawn Hunter, Mark Klemke, Abe Garcia, Dawn Davies, and Mike Adamson.
The Cats were PAC Runner-Ups, and finished in third place at the District Meet.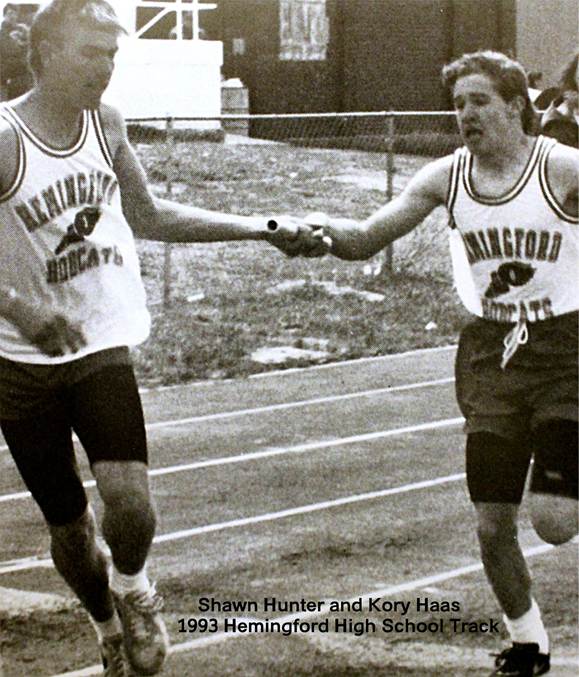 Golf –
Coach Kurt Finkey led the team with only eight matches to compete at due to bad weather. Members included Brian Benda and Waylon Ryan.
Clubs and Activities –
CSC Scholastic Contest Champions –
FFA-
President was Chris Mundt, Vice President was Perry Campbell, Treasurer was Justin Ansley, Secretary was Kenny Brown, Sentinel was Dan Gutierrez, Reporter was Robert Hackett, Parliamentarian was Jeff Shaver for faculty sponsor Ken Brown.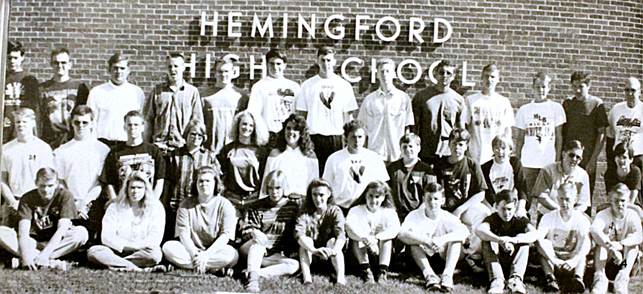 FLA
Officers were Holly Wade, President, Amy Baer, Vice President, Secretary Mary Schafer, Treasurer was Tonya Davies. Sponsor Brenda Buskirk took several members to Lincoln for the annual State Convention.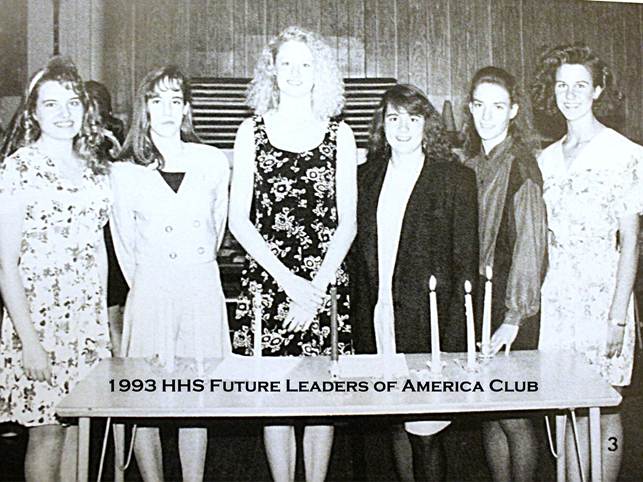 Other student activities included Close-Up, JETS, Cheerleading, Bobcat 12 Club, and H-Club
Homecoming, 1993
Theme for 1993 Homecoming at HHS was, "The Dream Team" Dress up days centered on athletic wear, a skit was performed, and the HHS walls were decorated by classes.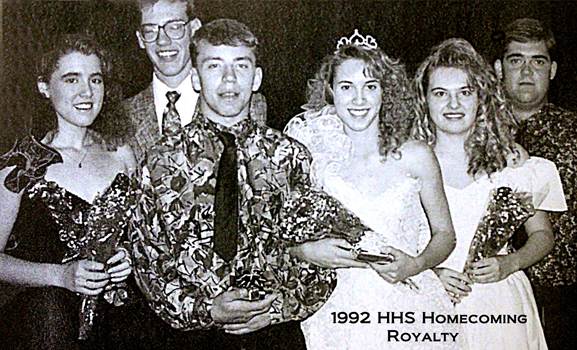 Homecoming Royalty – 
The Queen was Heather Gasseling; The King was Justin Gibson; Attendants were Tammy Davies, Brandon Hackett, Holly Wade, and Chris Mundt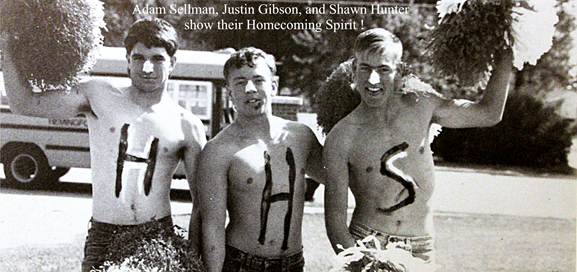 Prom Royalty –  
The prom Queen  was Amy Davies; King was Chris Mundt; Attendants were Jason Horn, Becky Davies, Justin Raben, Heather Mundt, Travis Schefcik, and Kim Ahrens. Crown bearers were Robyn Wright and Kyle Campbell.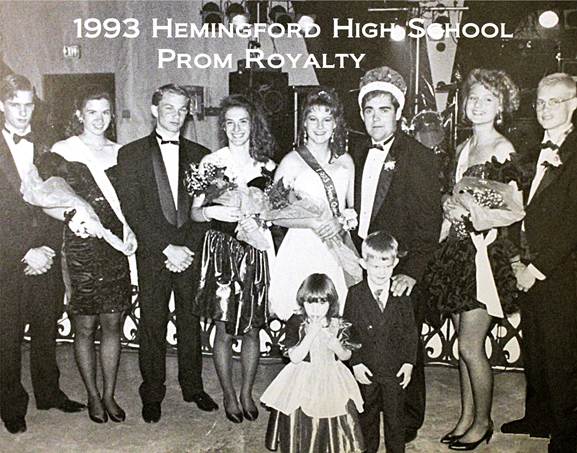 Prom Theme –
 "A Black Tie Affair"
Prom
Tuxes and Formal Dresses were in abundance at the 1993 HHS Prom. The juniors had gone to great lengths to make the decorations and dance memorable ones. The Band,"Major Rager" kept the dance floor busy, and Prom Pictures were taken by the House of photography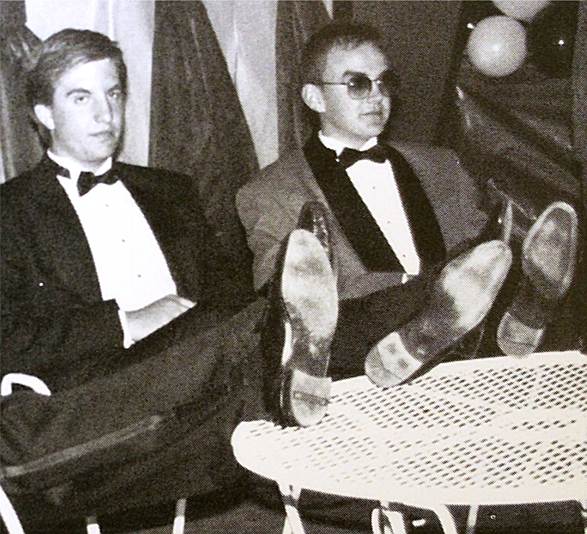 Justin Ansley and Matt Merrill take it easy at the HHS Prom.
Senior Class Motto –
"To achieve all that's possible, we must attempt the impossible; to be as much as we can be, we must dream of being more."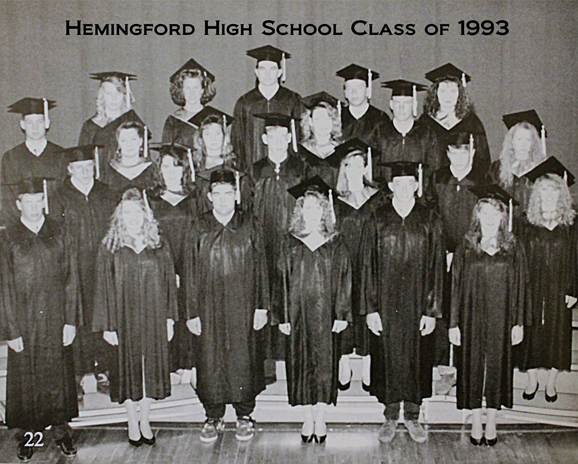 Class Colors – 
Teal and Black
Class Flower-
The Teal Rose
Graduation
Class song, "Nothing Else Matters" by Metallica, was used for the processional, a break from tradition. A small ensemble, featuring Mrs. Sue Shaver and Ms. Cynthia Jensen performed "take these Wings" for the recessional, also a break from tradition.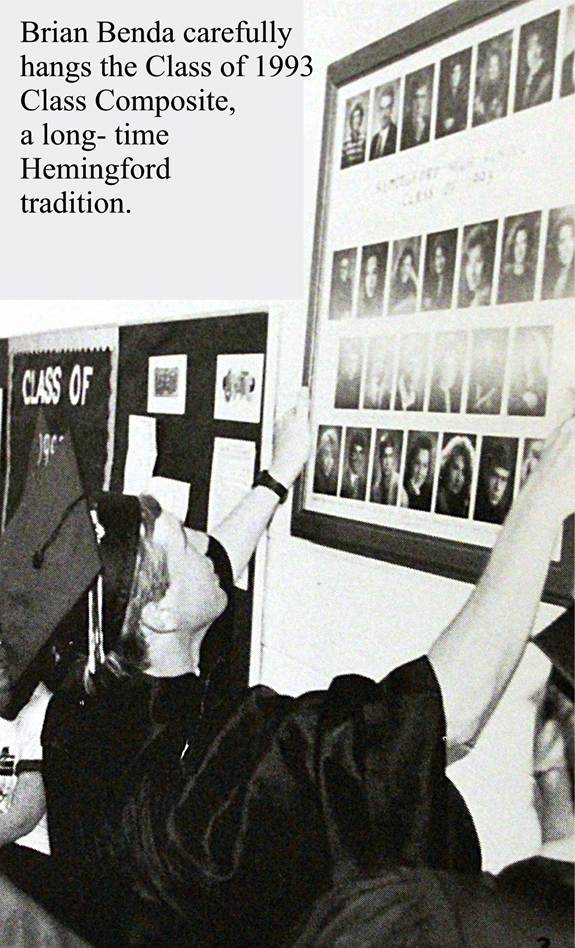 Senior Class Officers – 
President – Brian Benda; VP – Holly Wade; Secretary – Heather Gasseling; Treasurer – Chris Mundt STUCO Reps were Amy davies and Mark Klemke. Faculty Sponsors were Mr. Ken Brown and Mrs. Brenda Buskirk
Junior Class Officers – 
President – Ryan Gasseling; VP – Jason Horn; Secretary /Treasurer – Perry Campbell. STUCO Reps were Nathan McCune and Alicia Gasseling. Faculty Sponsors were Mr. Tim Lanik and Mr. Dennis Zajic.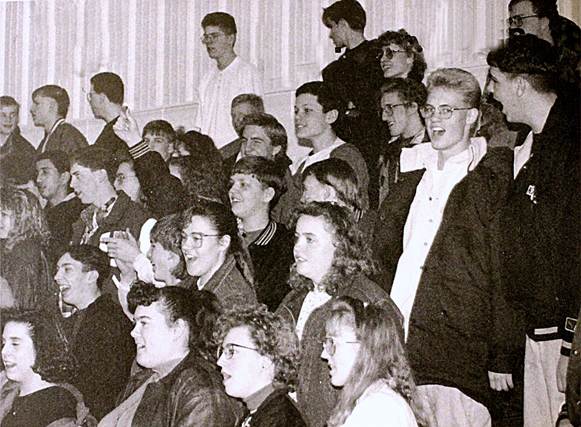 Sophomore Class Officers – 
President – Josh Engel; VP – Greg Katen; Secretary – Amy Delsing; Treasurer – Jeff Shaver. STUCO Reps were Justin Raben and Heather Mundt. Faculty sponsors were Mrs. Sue Shaver and Mr. Scott Hill.
Freshmen Class Officers – 
President – Holly Zajic; VP – Danea Wright; Secretary – Chris McMahon; Treasurer – Jess Mintken. STUCO Reps were Heidi Zajic and Travis Schefcik. Faculty sponsors were Mrs. Marla Wade and Mr. Ed Planansky.
Polls and Numbers
Surveys returned by HHS students in spring, 1993 listed: Students with call waiting-57; Hours of the week on the phone with friends: 0-1 hours, 57 students; 2-4 hours, 38 students; 4-6 hours, 28 students; and more than 10 hours, 25 students.
Students also listed 456 TV remote controls owned, (an average of 3.3 per student); and the thing that made the year most memorable were "Buffy's Biffs and Duff's Doofs"
Senior Class Enrollment – 24
Kindergarten Class Enrollment – 27
Superintendent –
Don Hanks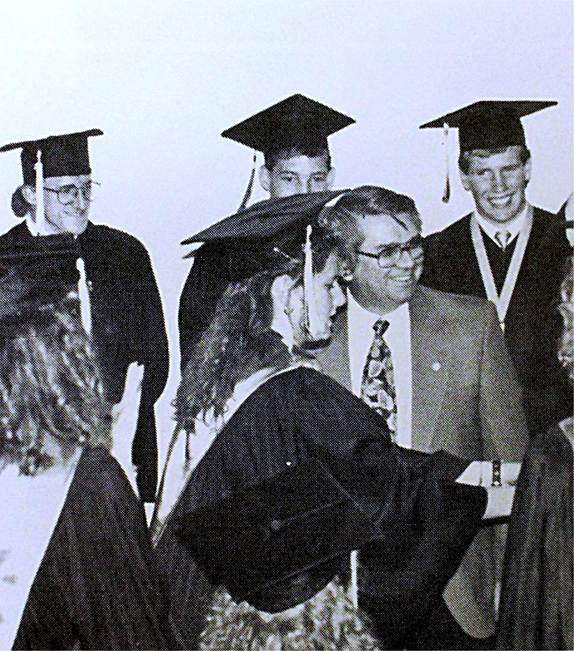 Principal –
Lyle Fodnes – secondary, Glen Kotschwar – elementary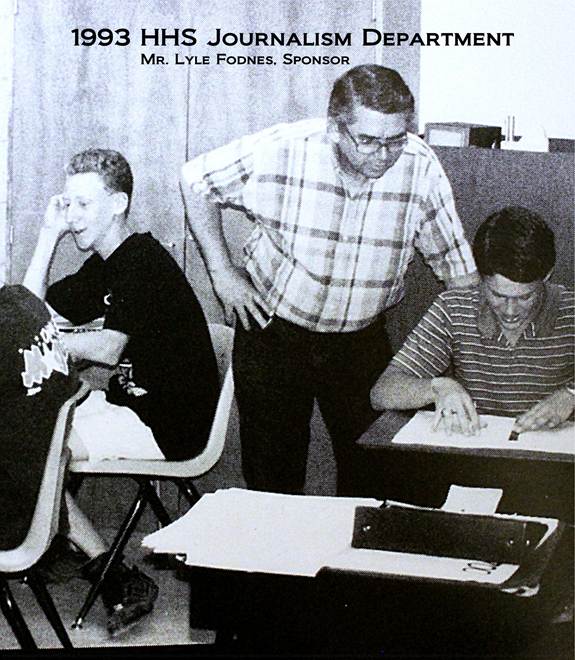 Teachers – 
Mrs. Sestak, Mrs. Benda, Mrs. Jack Stolldorf, Mrs Annette Davies. Mrs. Sally Engelhaupt, Mrs. Annette Davies, Mrs. Donna Engel, Mrs. Elaine Laeger, Mrs. Marilyn Hucke, Mrs. Cindy Lanik, Mrs. Cindy Lanik, Mrs. Vicki Kotschwar, Mrs. Thomas, Cindy Ahrens, Ken Brown, Brenda Buskirk, Kurt Finkey, Jill Finkey, Lyle Fodnes, Nancy Girogi, Bev Hanks, Scott Hill, Kay Horstman, Ramona Hucke, Cynthia Jensen, Jeryce Kelly, Tim Lanik, David Mann, Ed Planansky, Sue Shaver, Shelly Smaha, Marla Wade, and Dennis Zajic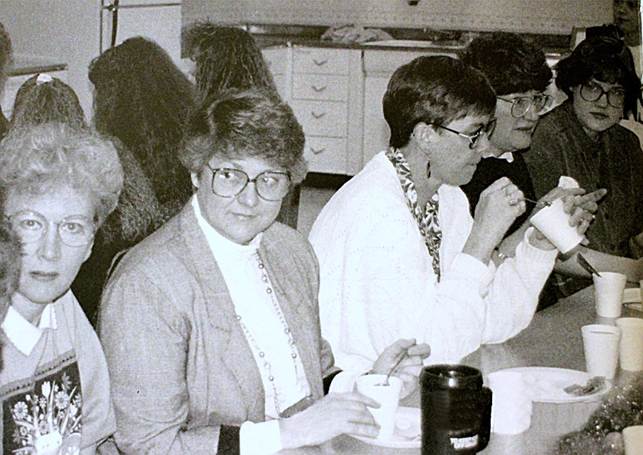 Other Staff Members –
Joyce Klemke, Connie Thomas