Class of 1992
The HHS Graduating Class of 1992 (Please click on pic to enlarge)
1992
 Hemingford High School
Student and Faculty Highlights of the Year
This page features athletic records, officers, themes, important numbers, important happenings, and other educational information from the year in question. It provides a quick and ready resource for Bobcat Grads and families!
Student Council Highlights –
 This year's issue was being able to wear shorts on the warm days. Stuco also sponsored the Homecoming Dance with Sponsors Mrs. Hucke and Mrs. Wade.
Student Council Members –
President – Ed Planansky, Darby Jespersen, Seniors – Jessica Hall, Jeff Bruns; Juniors – Amy Davies, Brandon Hackett; Sophomores – Melissa McCance, Nathan McCune; Frosh – Justin Raben, Rachel Furman
National Honor Society Members –
Kerry McCoy, Brian Benda, Byan Gasseling, Brandon Hackett, Becky Thomas, Chris Mundt, Dawn Davies, Heather Gasseling, Amy Baer, Holly Wade, Slim Planansky, Stephanie Hugart, Adam Hall, Jennifer Petersen, Angie O'Brien, Chris Engel, Krista Campbell. Five new members were inducted in 1992. The members acted as guides during parent-teacher conferences.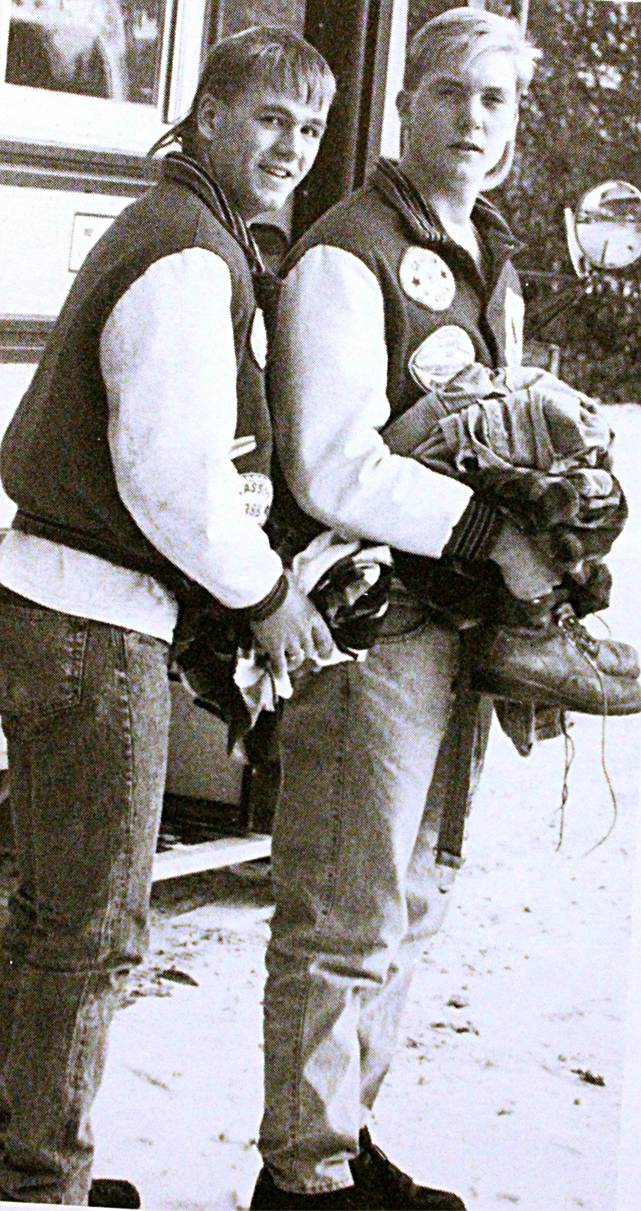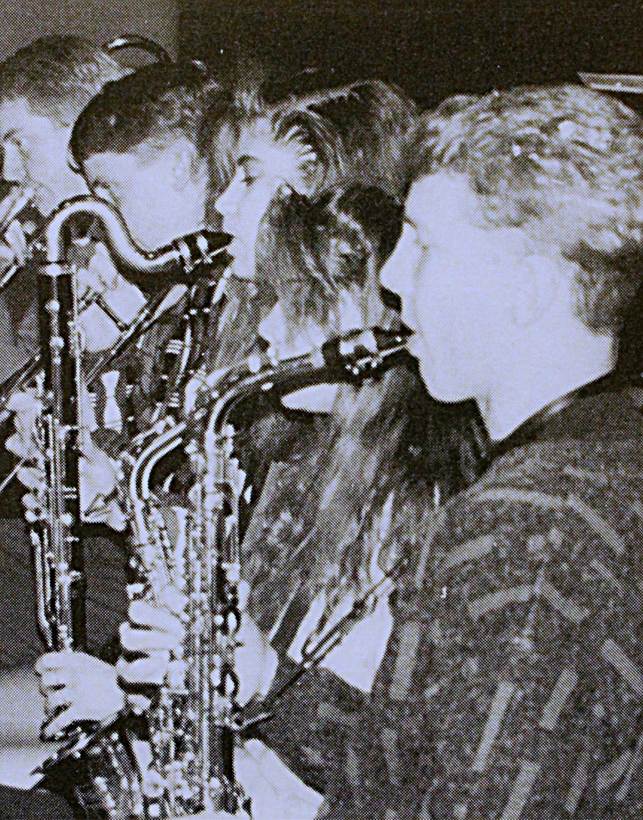 Jeff Shaver , Becky Furman, Lisa McCart, Derrick Jespersen, and Henry Kampbell perform fpr the Winter concert.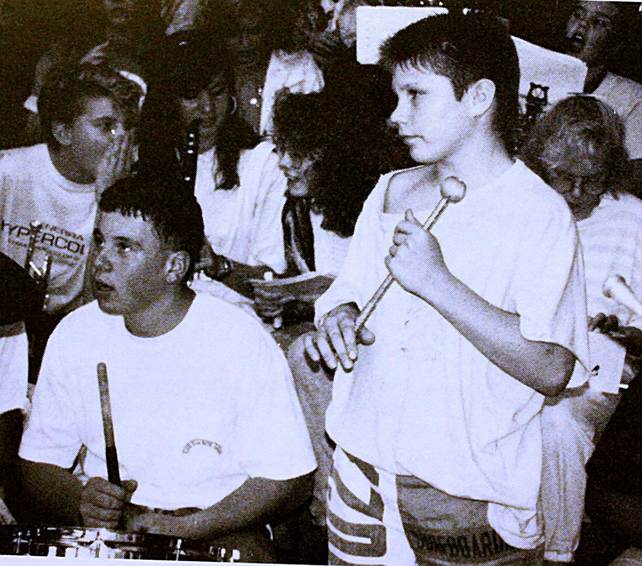 Derrek Bauersachs and Sam Wickham were members of the HHS percussion section.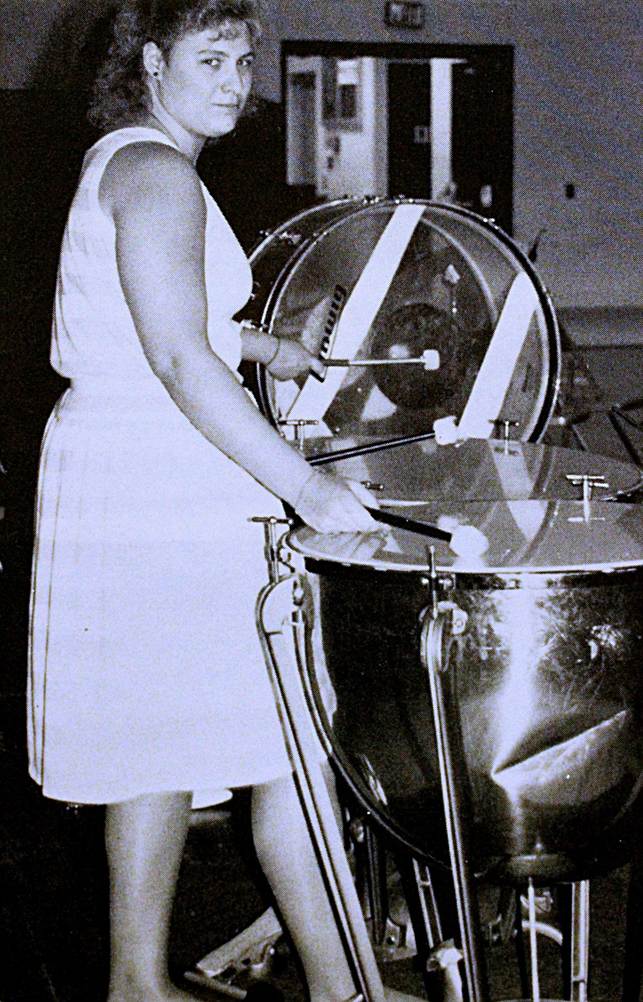 Mary Hennings enjoyed percussion as well.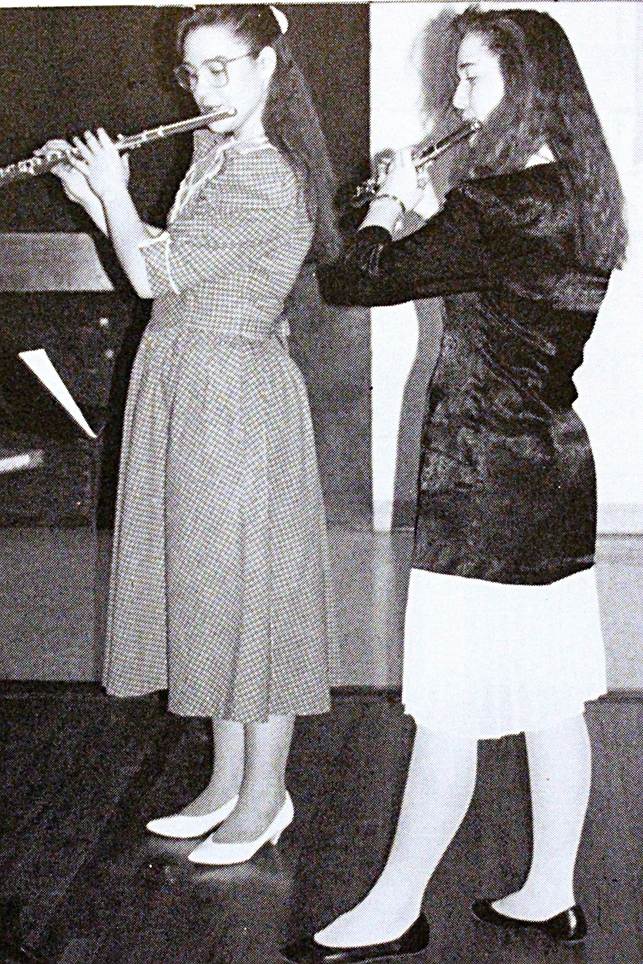 Vanessa Rosenberger and Marla Larson perform a flute duet at the Winter concert.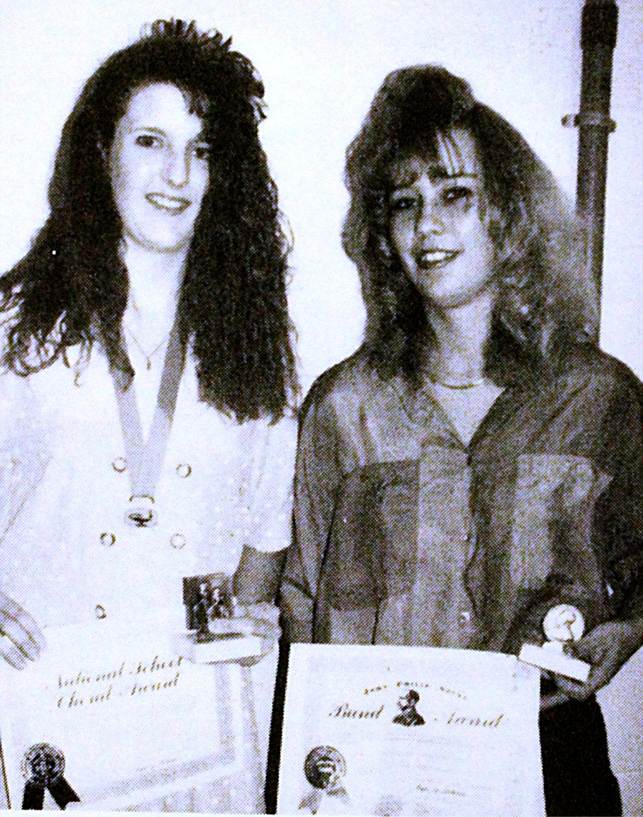 1992 Music Award Winners were Jennifer Petersen, American Chorus Award, and Crystal Tschacher, the John Phillip Sousa award Winner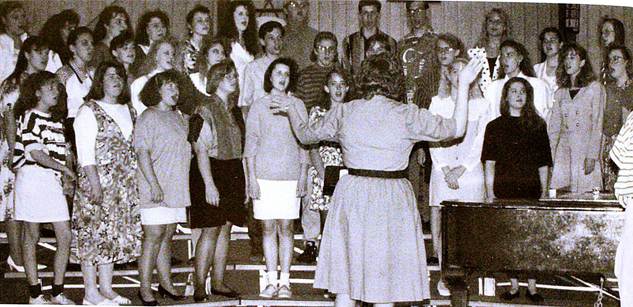 Cynthia Jensen Conducts the Choir at the Spring Concert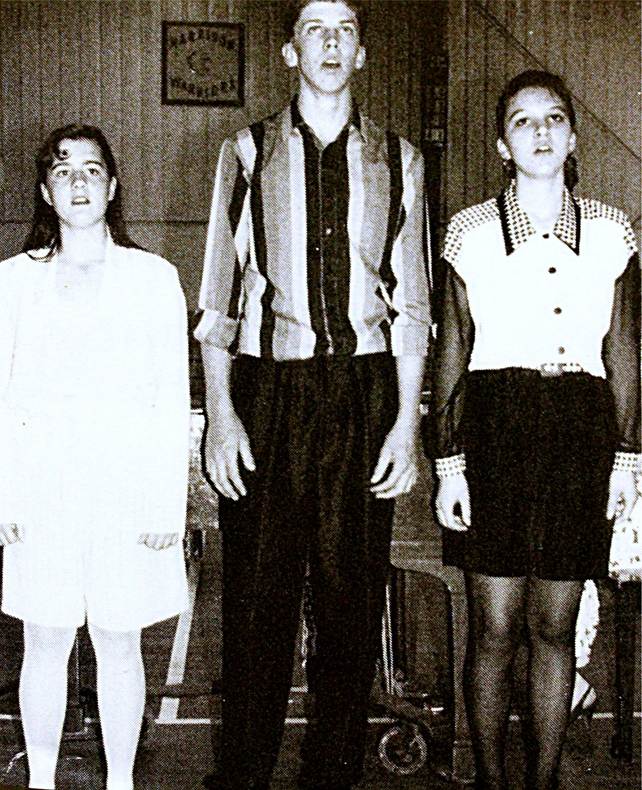 Tonya Davies, Ryan Gasseling, and Carrie Kelly perform as a trio at the Spring Concert.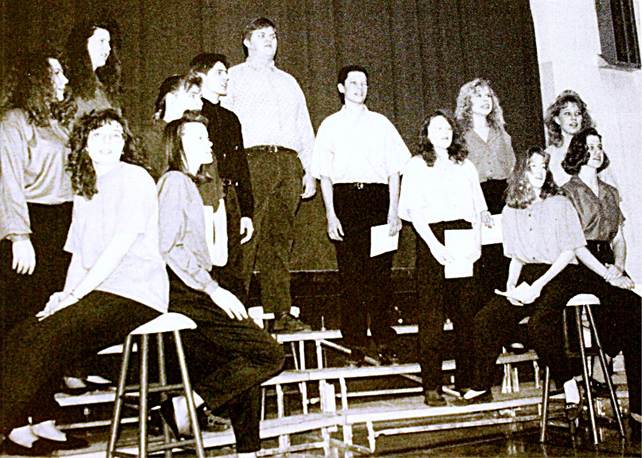 The HHS Select Choir Performs
Music Department –
Miss Cynthia Jensen, the new band instructor, combined the Jr. High and the High School Band to form an ensemble.  Miss Jensen also directed the choir. Hemingford hosted the annual PAC band Clinic. Vanessa Rosenberger, flute, Marla Larson and Alicia Gasseling, Flute Duet, and Kristin Sample and Marla Larson, Clarinet/Flute Duet all performed.
The Choir received an " excellent" at District contest, along with a duet by Sean Kelly and Ryan Gasseling.and a trio of Tonya Davies, Ryan Gasseling, and Carrie Kelly.  Jennifer Petersen won an award for her talent and dependability, and the John Phillip Sousa Award went to Crystal Tschacher.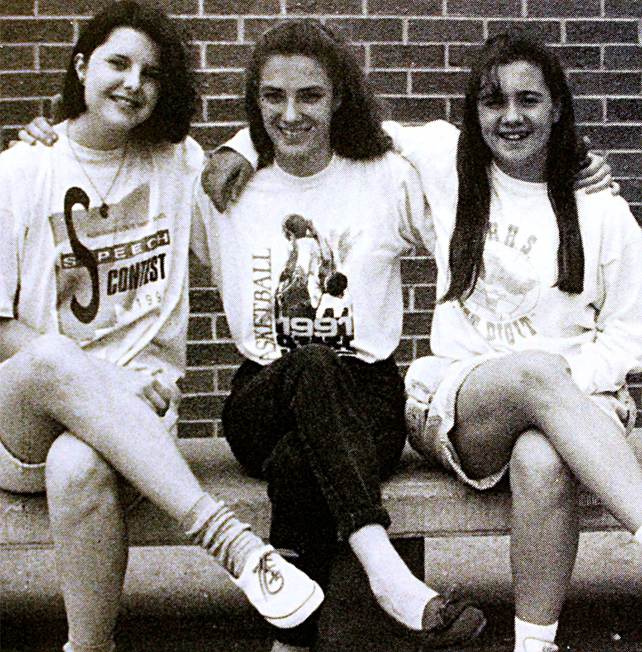 Freshmen Speech Members Angie Petersen, Heather Mundt, and Tonya Davies pose at the end of a very successful season.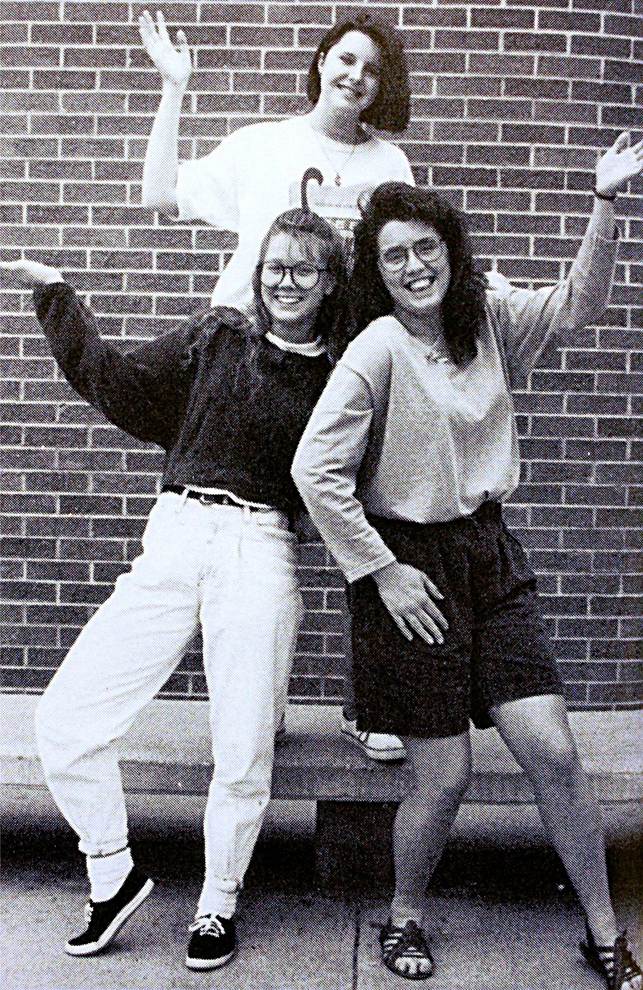 The HHS Oral Interp team of Jenni McCoy, Angie Petersen, and Tonya Davies.
Speech WTC CHAMPIONS! 
In only it's second year of competitive speech, the team placed in the top five of every meet they attended, including winning the Conference Championship in the WTC. State Qualifiers included Tammy Davies, Angie Petersen, and Jenni McCoy in OID, and Heather Gasseling in informative speaking. Faculty Sponsor Jill Finkey awarded Jeff Shaver the "Outstanding Speaker" Award.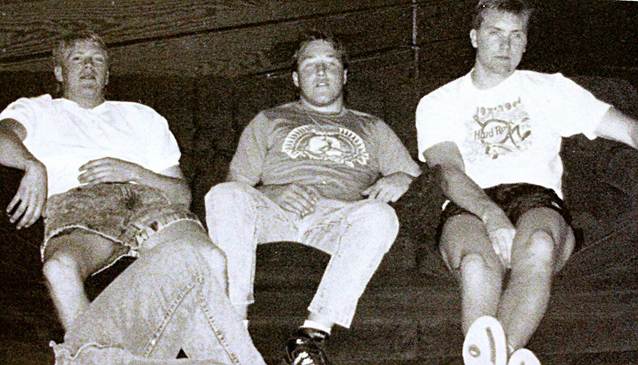 Troy Turek, Chris Engel, and and Dary Jespersen take a break from Play Practice.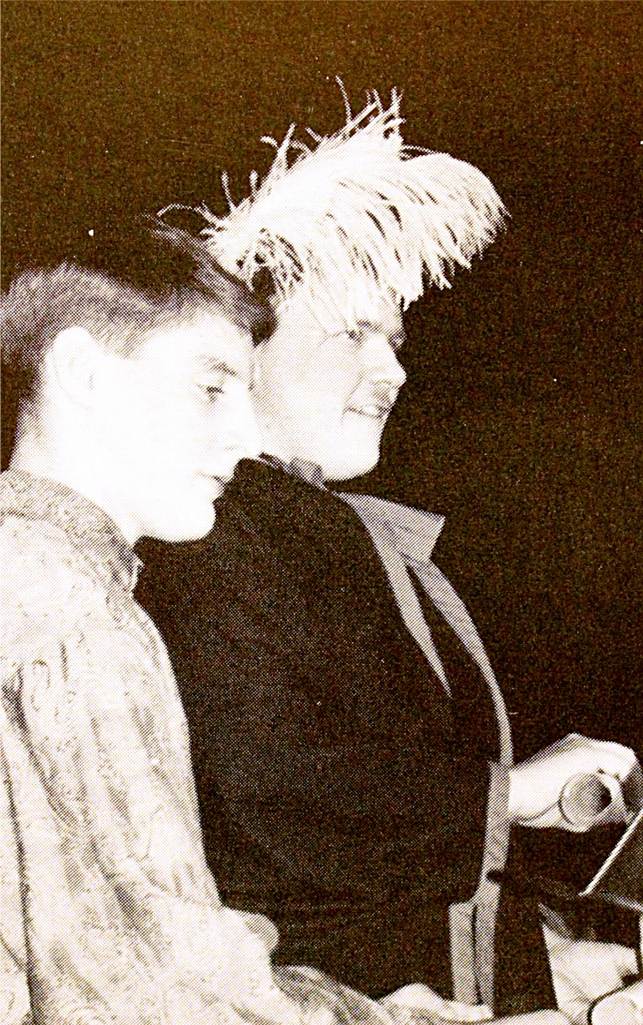 Brett Cullan and Terry Kelly perform in "Cinderella"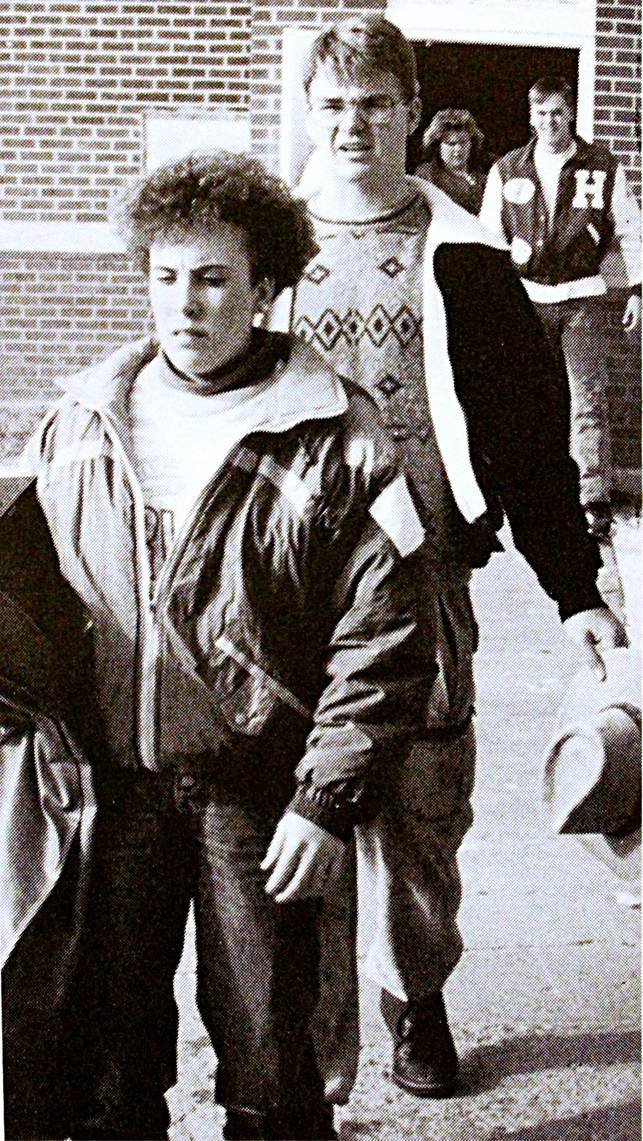 Tera Gasseling, Jeff Bruns, Craig Kumpf, and Sherri magnuson board the bus for Distrcit Contest.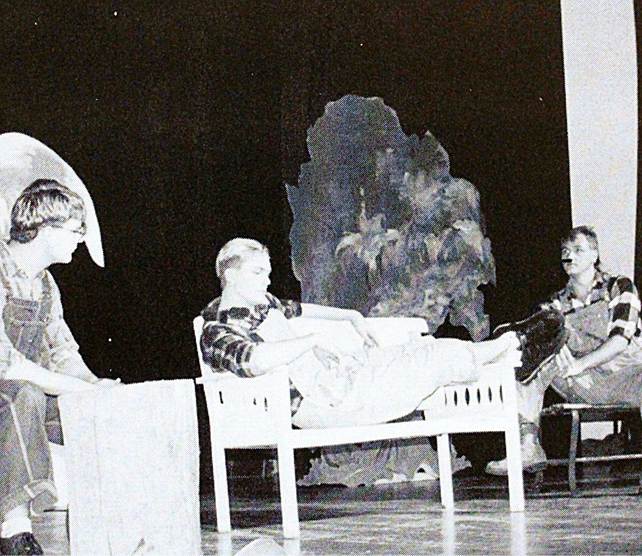 The "Spit and Whittle Club"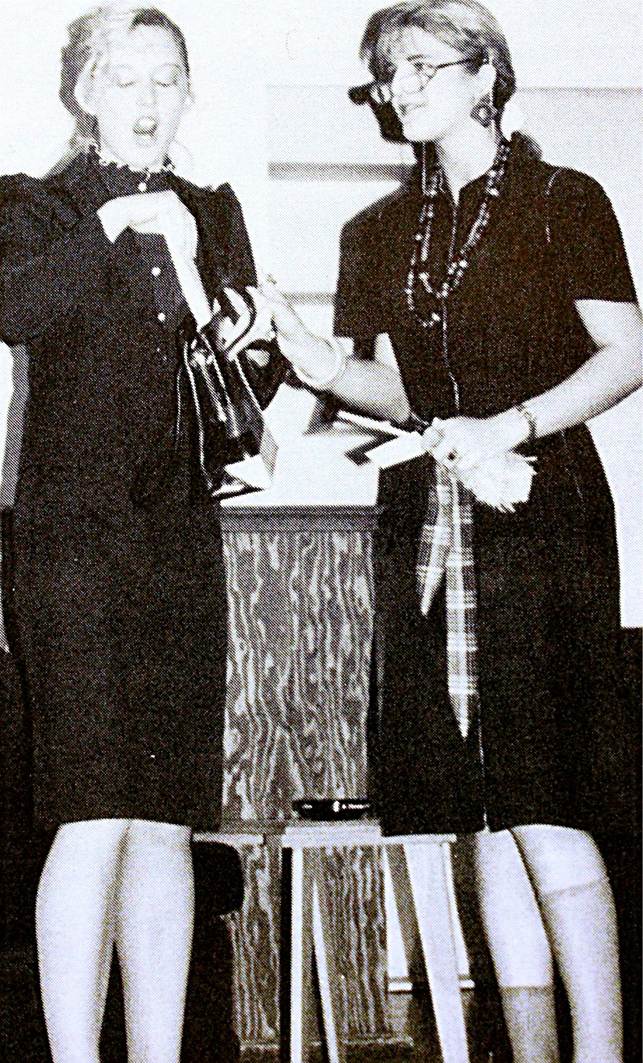 Samantha Horn and Angela O'Brien in , A Ghost of a Chance"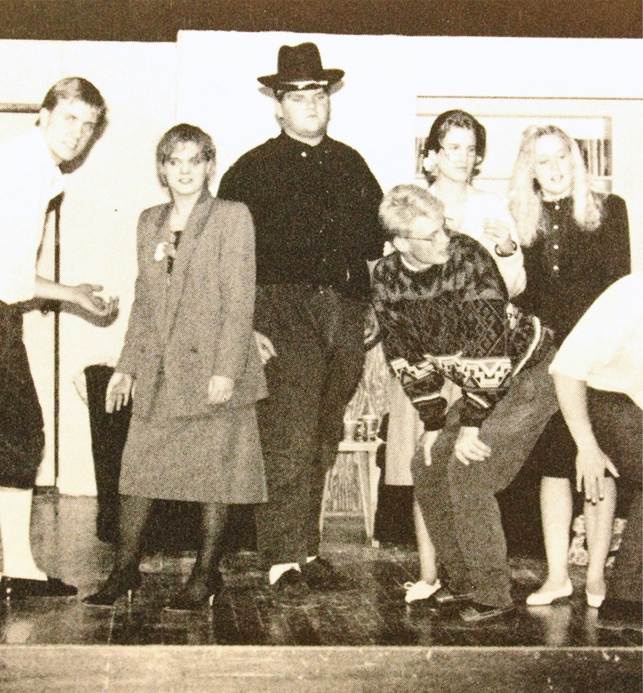 "a Ghost of a Chance"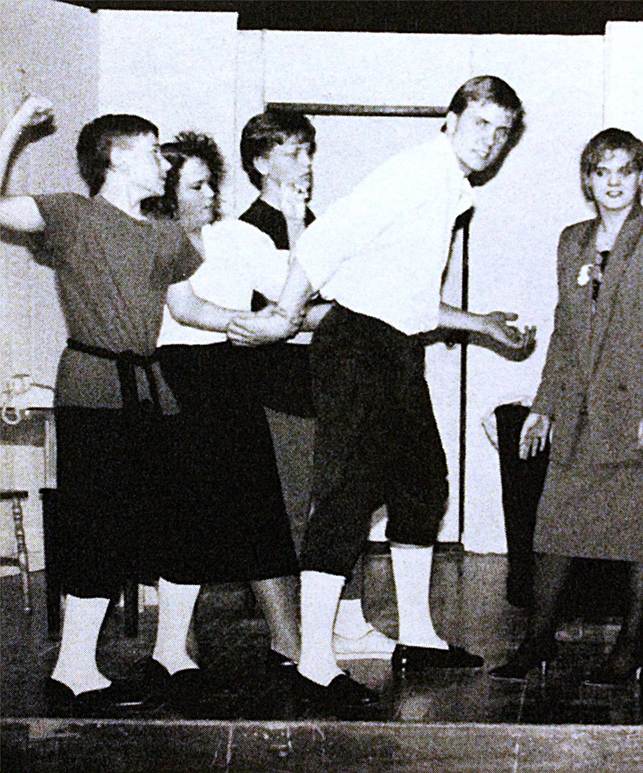 More action from the Cast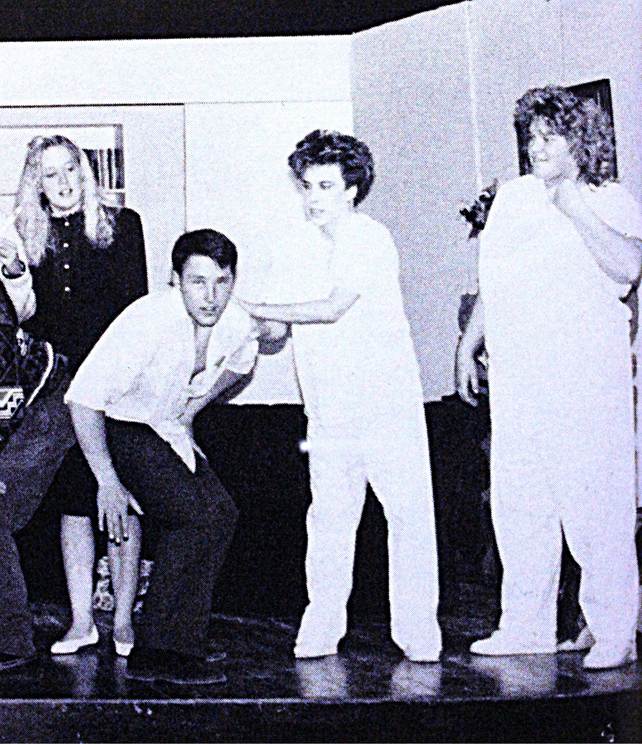 "Ghost" Cast from HHS
Drama and One Acts –
 "How Does a Thing Like That Get Started?", a one-act play competition; "Cinderella Wore Combat Boots", an audience participation play; and "Gramercy Ghost", the all-school play, were performed. Performers included Nicci Montague, Mark Klemke, Troy Turek, Brad Bolek, Slim Planansky, Natalie Young, Jessica Hall, Brett Cullan, Terry Kelly, Tera Gasseling, Jeff Bruns, Craig Kumpf, Sherri Magnuson, Archie Shipp, Darby Jespersen, Adam Hall, Pam Wood, Stephanie Hughart, Samantha horn, Jessica Hall, Aaron Sorensen, and  Ryan Hunter. Others included Jason Horn, Marla Pianalto, Chris Engel, Sean Kelly, Angela O'Brien, Josh Engel, Nathan McCune, and Julie Hunter.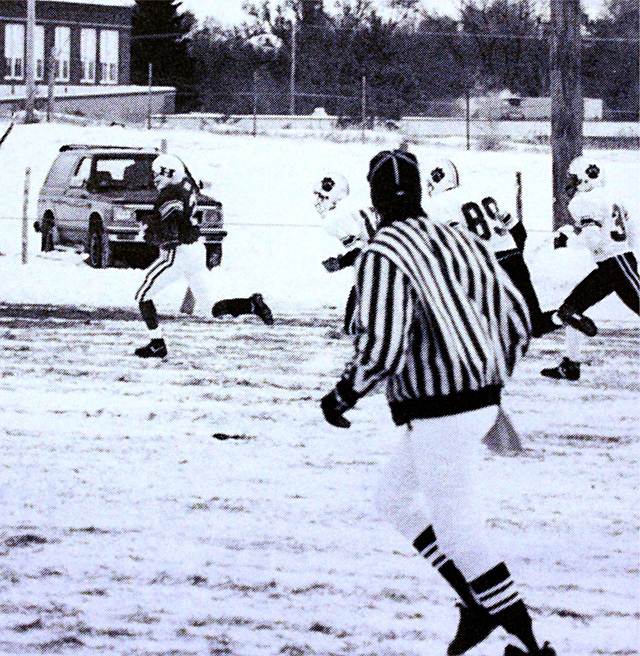 Yes, it was the inaugural "Ice Bowl" against Bayard. The Cats won the game before heading home to some warmer surroundings.
Football –
Hemingford played a nine game schedule, winning contests against Rushville and Bayard (The Ice Bowl). A one-point loss to Morrill in OT was another good effort, though the offense was shut out four times. Coach Planansky was aided in his coaching efforts by All Stater Ed (Slim) Planansky, and All conference players Planansky, Darby Jespersen, and Craig Kumpf. All Three Cats played in the East- West Game as well.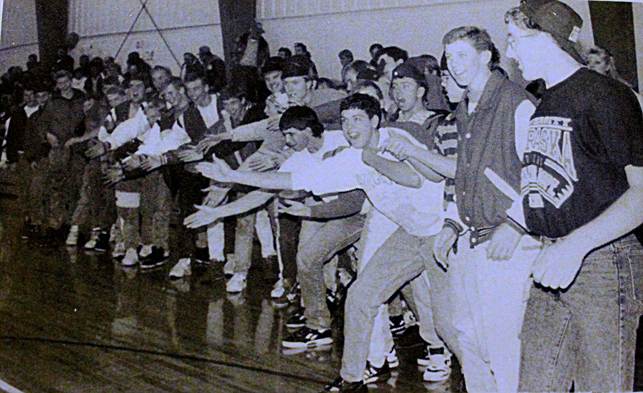 The Boys cheer on the Volleyball team on Parent's Night.
Volleyball –
The Lady Cats played well at times, winning matches over Crawford, hay Springs twice, Sioux County, and Class "B" Gordon! Of their 17 matches, the Girls played 10 three set matches, a sign that they were in most of their matches. Kay Davis Horstman, as the netters new coach, led the team to a 5-12 record, including two wins at the Panhandle Tourney. Though the match record was only (5-12), the set record was (18-26).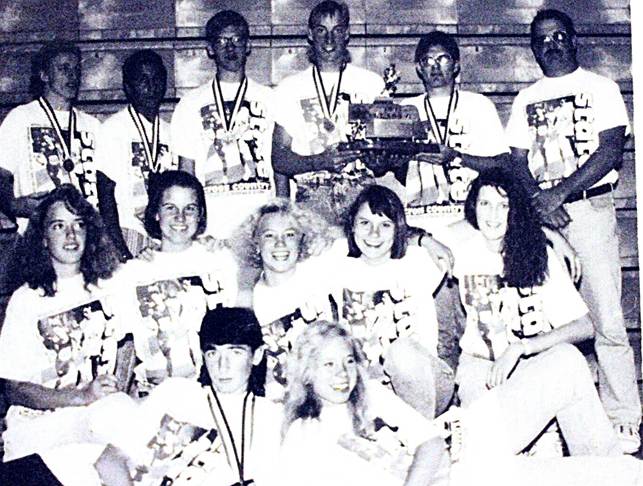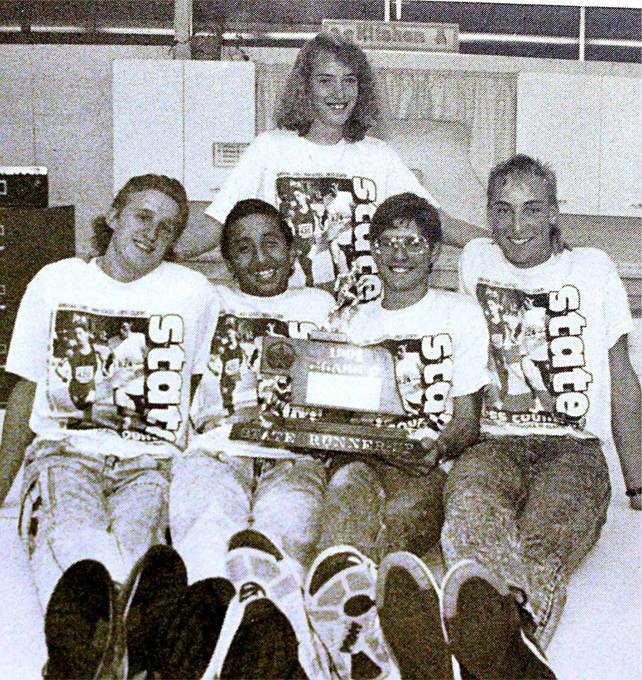 Mike Adamson, Abe Garcia, Archie Shipp, Ryan Hunter and Carrie Ryan pose with the 1992 State Runner-Up Cross Country Trophy.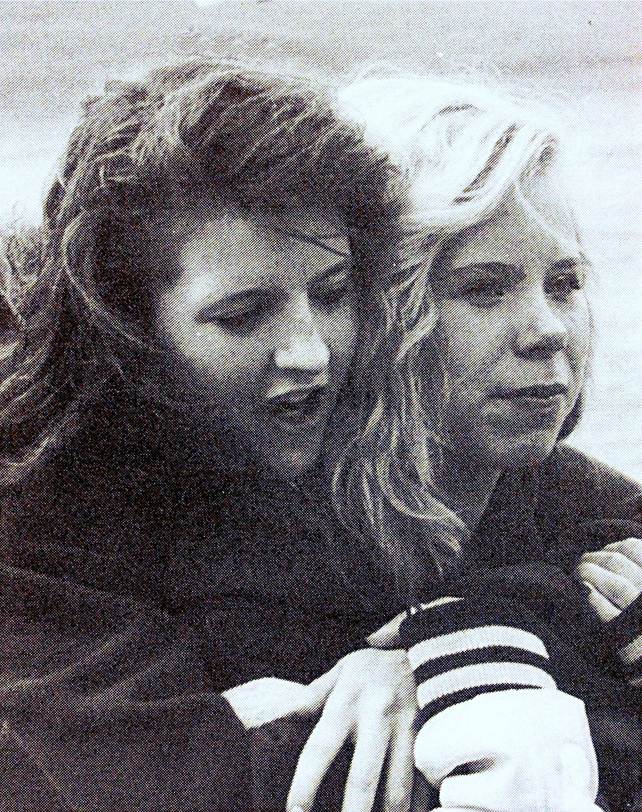 Jennifer Peterson and Jessica Hall try to stay warm during the meet at Bayard.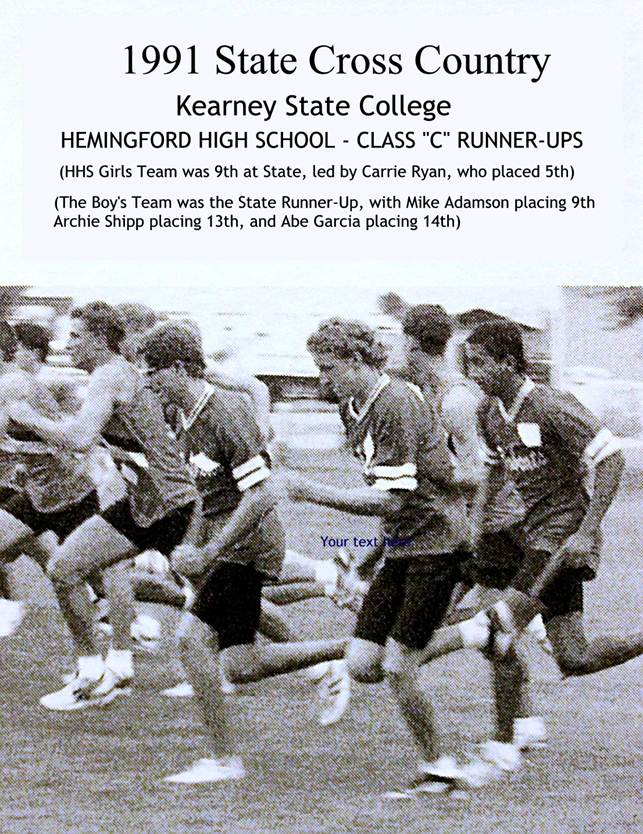 Cross Country –State Runner-Ups (1991-92)
Cross Country was a fairly new sport at HHS, but had some great success under Coach Tim Lanik. The Girls Team finished in Ninth Place at State, and the Boys were State Runner-Ups! Individually Abe Garcia was Fourteenth at State, Archie Shipp was Thirteenth, Mike Adamson was Ninth, and Carrie Ryan was Fifth! Other members included Linden Goodwin, Dawn Davies, Autumn Olson, Kristen Sample, Jennifer Petersen, Brandon Hackett, and Shawn Hunter.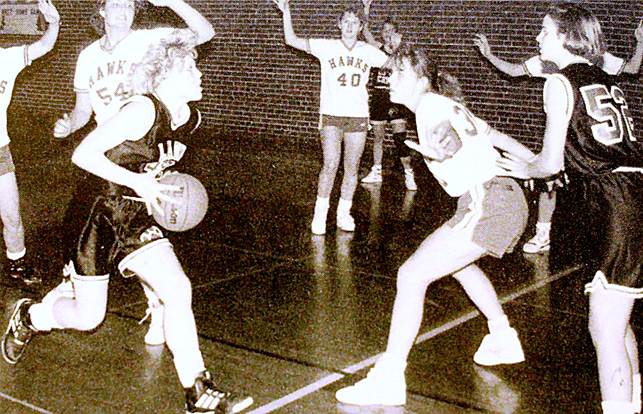 Kelli Koozer gets ready to let fly with a jumper while Dawn Davies sets the pick against Hay Springs. The Lady Cats won the game (54-24), one of Three victories over the Lady Hawks in 1991-92.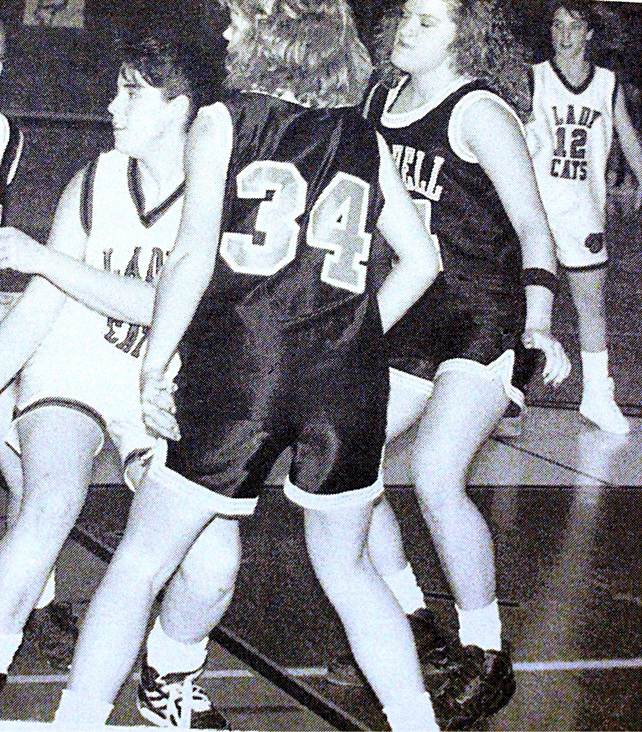 Tammy Davies gets ready to post up against Mitchell. In the background is Samantha Horn. HHS lost a nail-biter to The Tigers (40-41)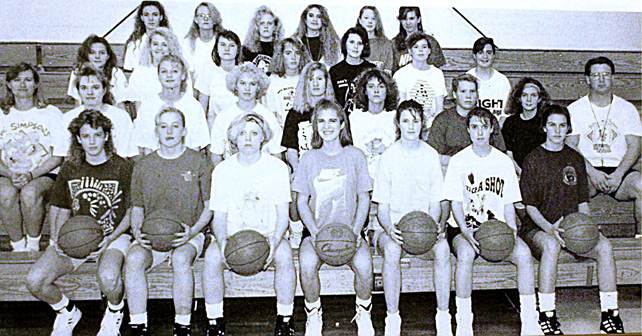 The 1991-1992 Hemingford Lady Cat Basketball Team (13-8) Coached by Kurt Finkey
Girls Basketball –WTC and PAC Runner-Ups
Coach Kurt Finkey and the team ended the season with a (13-8) record, including wins over Hay Springs (3); Hyannis, Rushville (2); Bridgeport (2); Minatare; Bayard (2); and Morrill (2). Close losses of three points or less came against Chadron, Crawford, Mitchell, and Gordon. The Girls were Conference Runner-Ups in both the WTC and the PAC. The nucleus of the team included Sam Horn, Kelli Koozer, Angela O'Brien, Jennifer Peterson, Pam Wood, Dawn Davies, Tammy Davies, Heather Gasseling, and Holly Wade. Cindy Ahrens was the assistant Coach.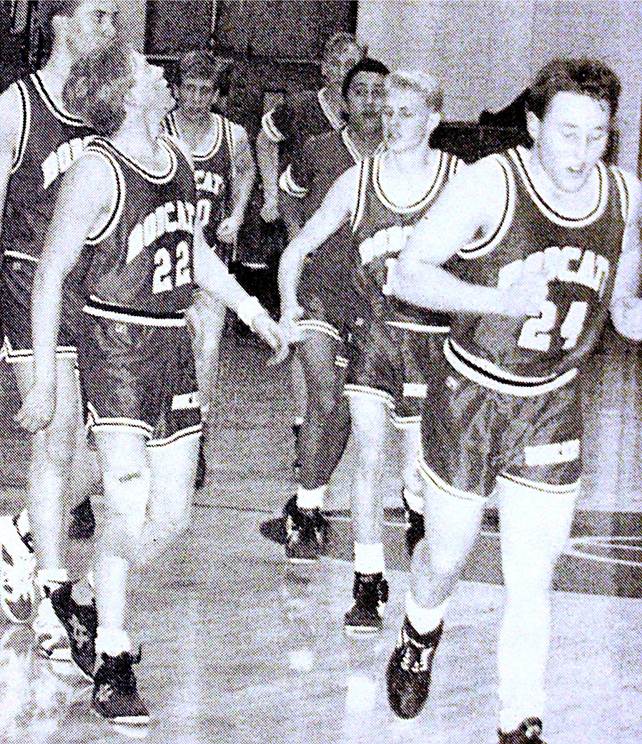 The Cats take the floor in the finals of the Western Trails Championship game. Mitchell defeated the Cats (56-73)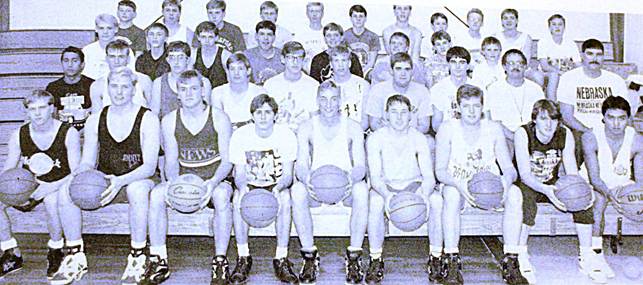 The 1991-1992 Hemingford Boys Basketball Team (13-8) Coached by Tim Lanik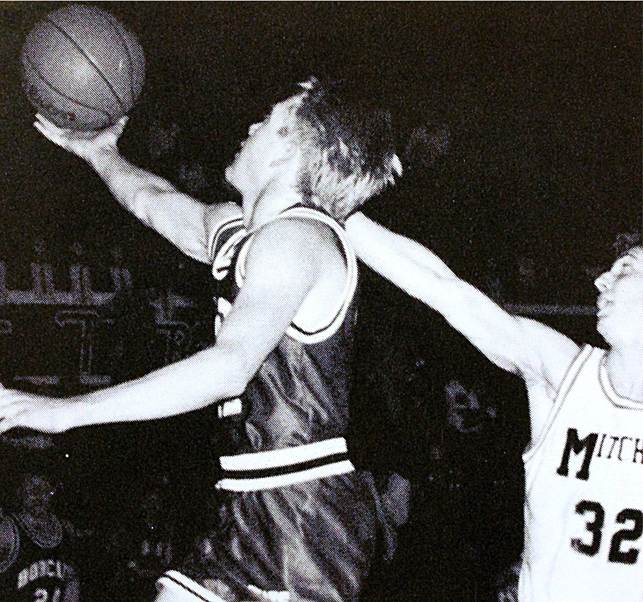 Troy Turek puts the ball in for the Cats against Mitchell in the WTC Championship.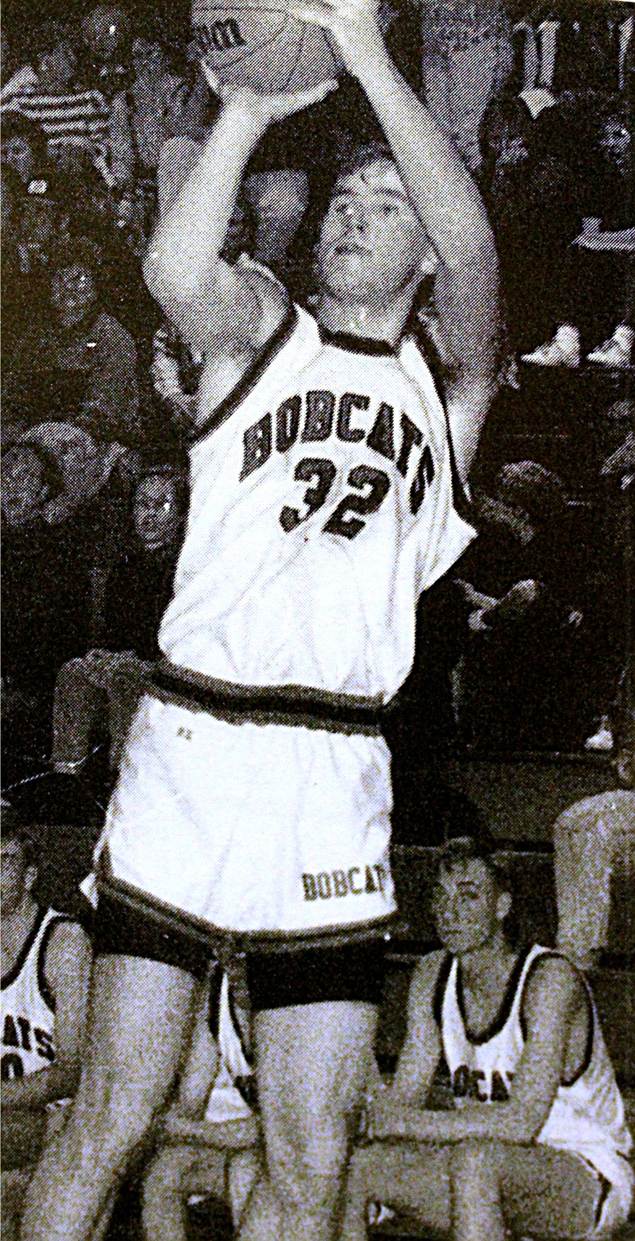 Craig Kumpf pops in a three-pointer from the corner
Boys Basketball –WTC and PAC Runner-Ups
The Boys team also enjoyed 13 wins, with just 8 losses. Wins came over Crawford, Bridgeport, Bayard (2), Minatare, Harrison, Rushville (2), Hay Springs (2), and Morrill (2). The second game against Morrill was a (53-57) Loss, but the Cats would come back for an OT win in Sub-Districts, by a (58-55) score! The Cats were Conference Runner-Ups in the PAC and the WTC, and had several hard-playing letter winners for Coach Tim Lanik and Asst. Gene Hanks. They included Darby Jespersen, Troy Turek, Chris Engel, Craig Kumpf, Archie Shipp, Ryan Hunter, Mark Klemke, Brian Benda, Brandon Hackett, Adam Sellman, Abe Garcia, Jason Horn, and Ryan Gasseling.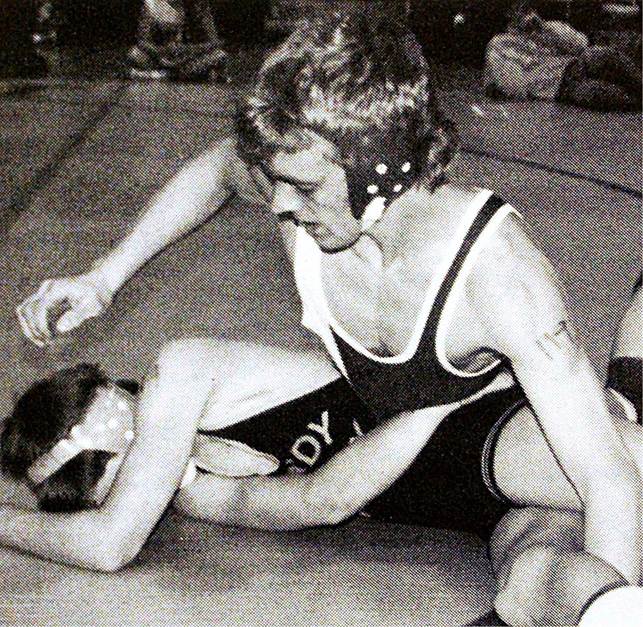 Donni Cler on his way to another win.  Cler qualified for the state meet at 119 lbs.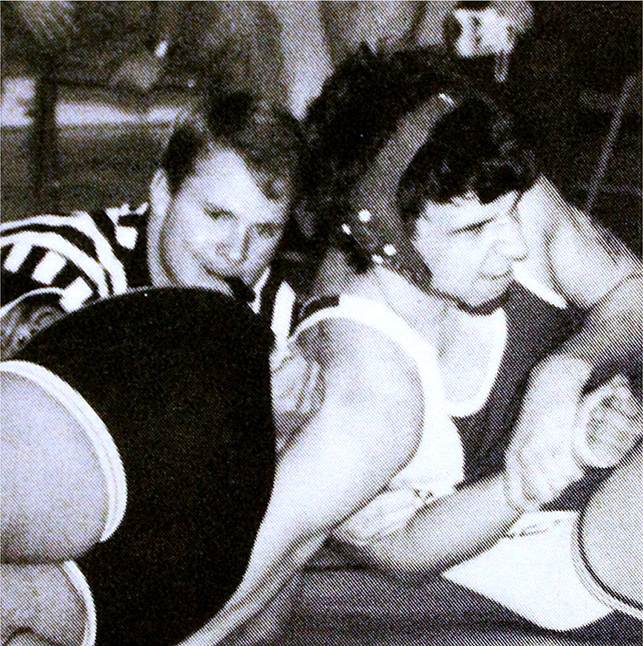 Ed "Slim" Planansky won a district championship at 189 lbs, and followed that with a 4th place finish at the state championships in 1992.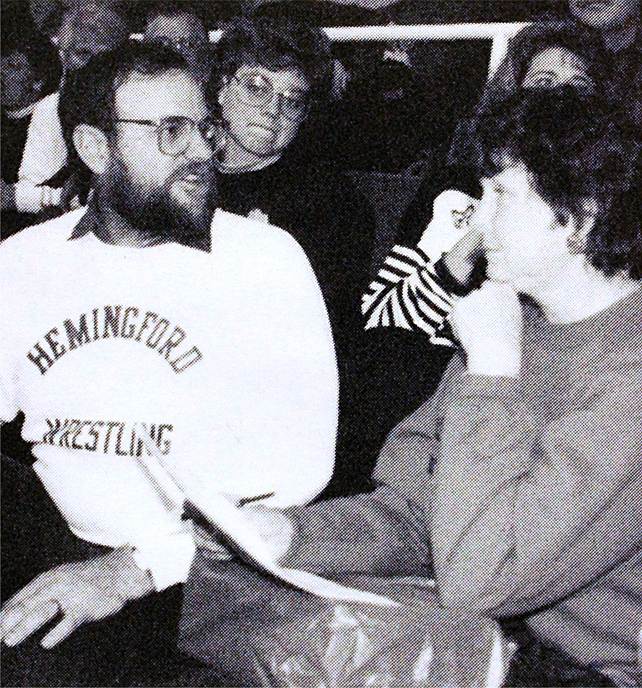 Coach Planansky and his wife Kay at the 1992 State Wrestling Meet.
Wrestling –          C-4 NSAA District Champions !
Hemingford reigned as C-4 District Champ in 1991-92, scoring 176 points at St. Pat's in North Platte. Nine wrestlers qualified for the State Meet, with Kyle Walker, Donni Cler, Adam Hall, Riley Baker, Chuck Tollman, Brian Thramer, Justin Gibson, and Jeff Bruns all making the special trip East. State Placers included Planansky in Fourth and Gibson and Hall in sixth place.
Swedish Exchange Student Jessica Hall was the team manager for Coach Ed Planansky.  The Cats won their own Invite as well as the Yoder Duals. They were WTC Conference Runner-Ups, and also finished second at Bridgeport, Rushville, and Red Cloud. Planansky was assisted by Dennis Zajic.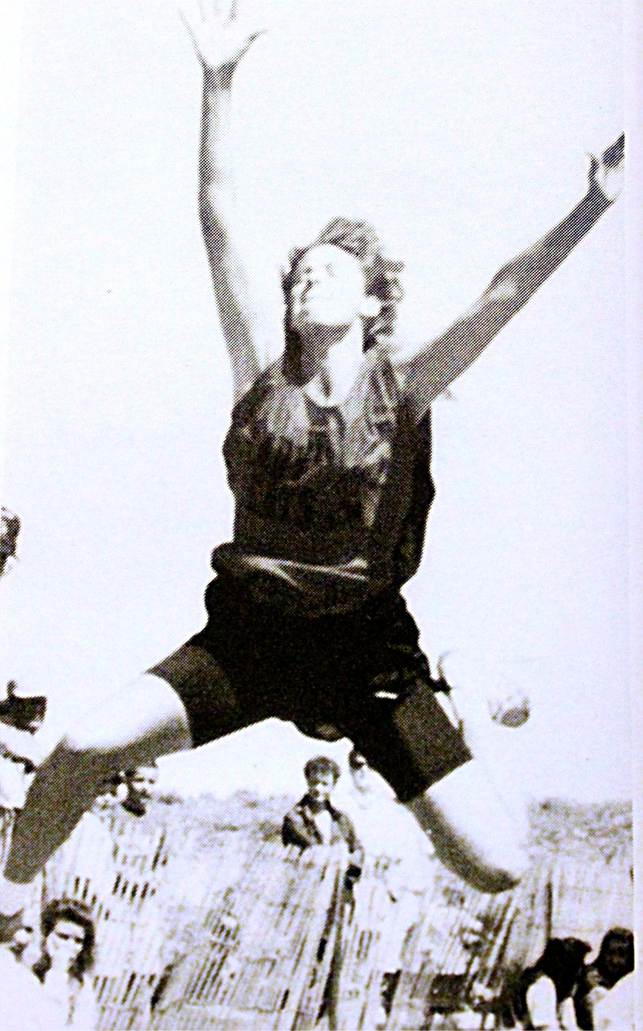 Pam Wood shows her winning form in the long Jump at CSC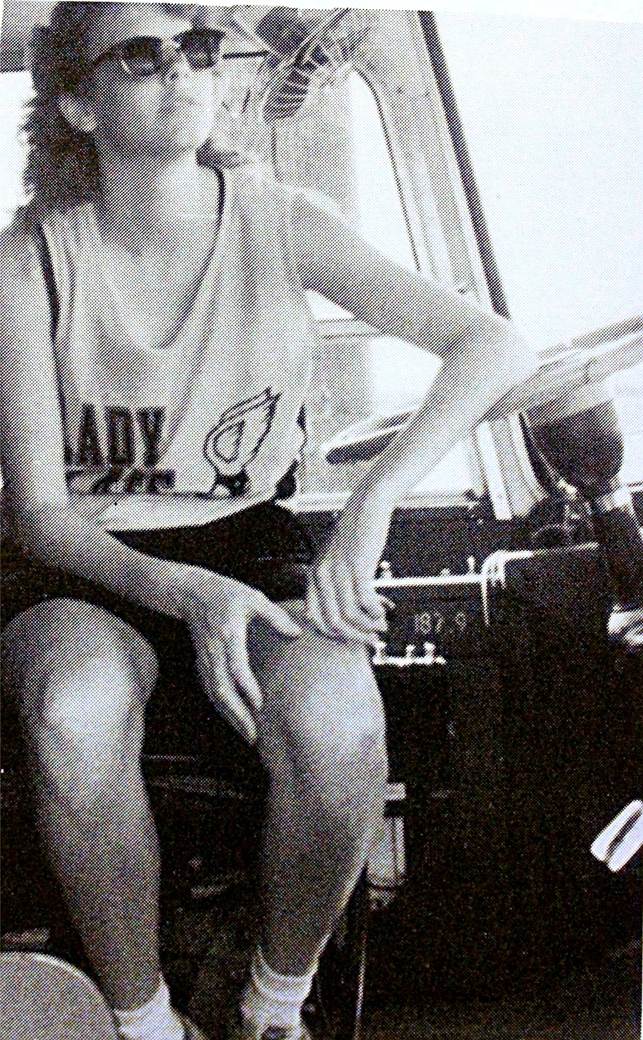 Senior State Long Jumper Pam Wood sits on the bus between events at a meet.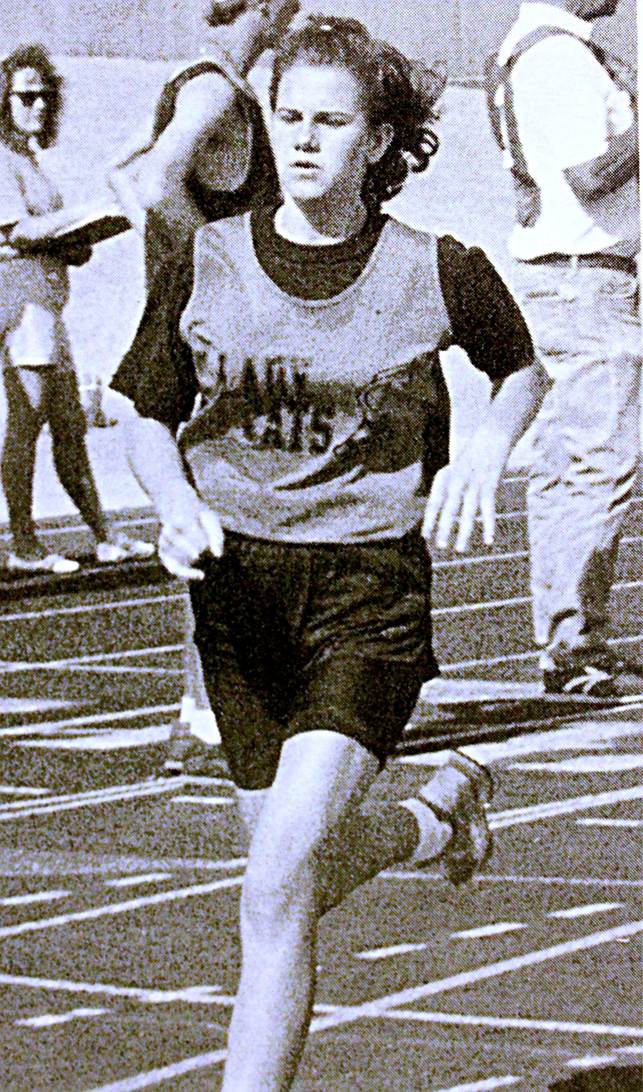 Dawn Davies runs the mile at Bayard.
Girls Track and Field –
Pam Wood had a GREAT season in the long jump, and Carrie Ryan continued her success in Cross Country into the Spring. Both girls capped their season with a great district meet and qualified for the Nebraska State Track and Field Meet! Girls Track Coach was Cindy Ahrens.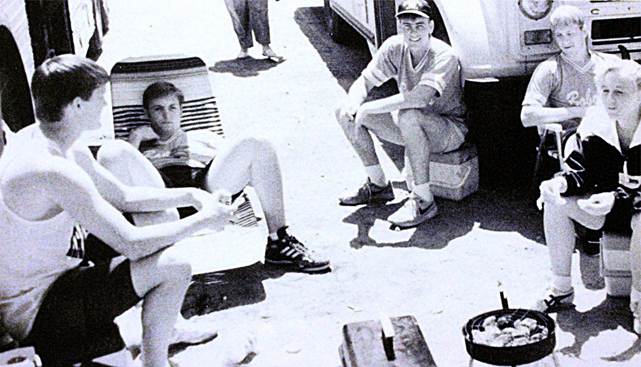 Tracksters grilling/chilling out.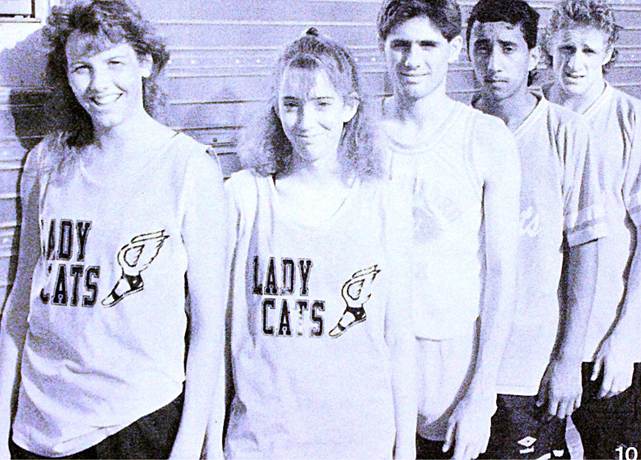 Headed to the Nebraska State Track and Field Meet in 1992 (Pam Wood Long Jump; Carrie Ryan in the 3200; Archie Shipp in the 3200; Abe Garcia in the 3200; and Mike Adamson in the 800)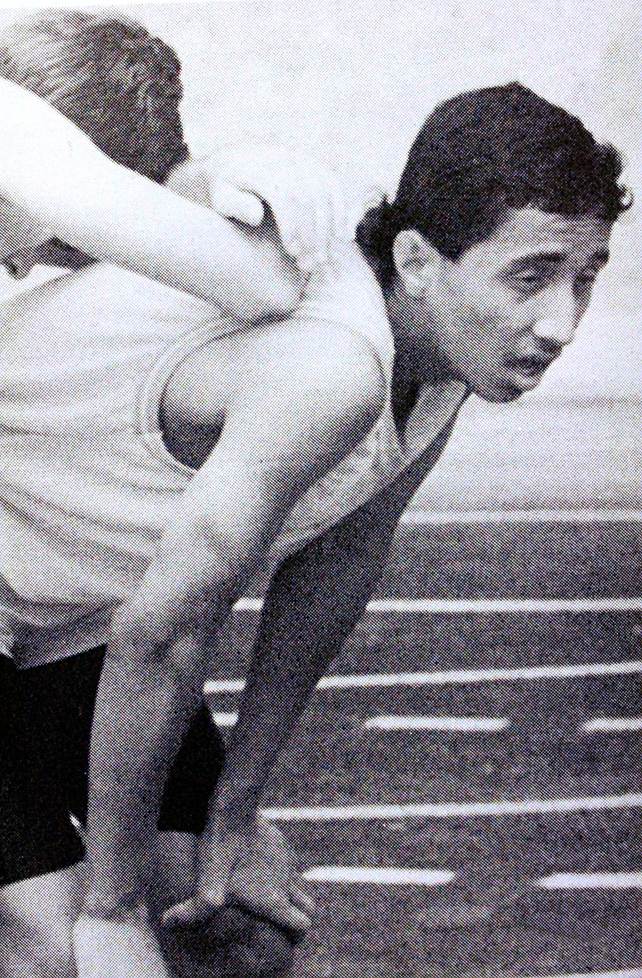 Just a Freshman, Abe Garcia was one of several outstanding distance runners for Coach Tim Lanik.
Boys Track and Field –
Coach Tim Lanik had Season ending success when his distance runners excelled in Omaha. Mike Adamson Placed Fourth in the Mile for a medal, and Abe Garcia finished in seventh place in the 3200, barely missing out on hardware. Archie Shipp also qualified in the 3200. All three qualifiers were part of the 1991 State Runner-Up Cross Country team for the Bobcats in the Fall of 1991, paving their way for a successful Spring season in Track.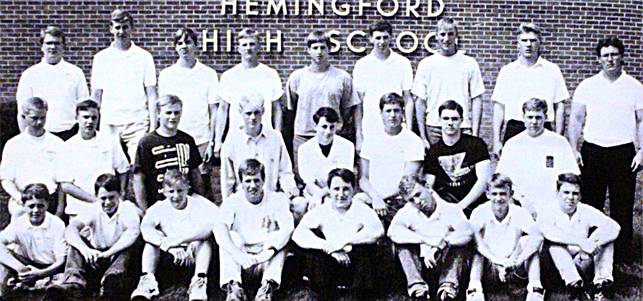 Golf –
26 was the magic number for Coach Craig Finkey, as he had that number of golf-team members! The Varsity placed in the Top Ten of every meet they entered. The Varsity members included Chris Engel, Justin Gibson, Chuck Tollman, Casey Spath, and Perry Campbell.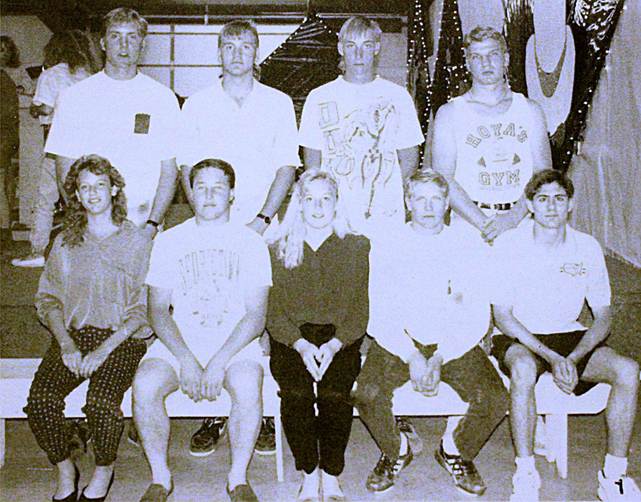 The "Bobcat 12" pose. Front Row: Pam Wood, Chris Engel, Sam Horn, Troy Turek, and Archie Shipp. Back Row: Darby Jespersen, Craig Kumpf, Ryan Hunter and Jon Katen. Not Pictured were Ed Planansky and Adam Hall.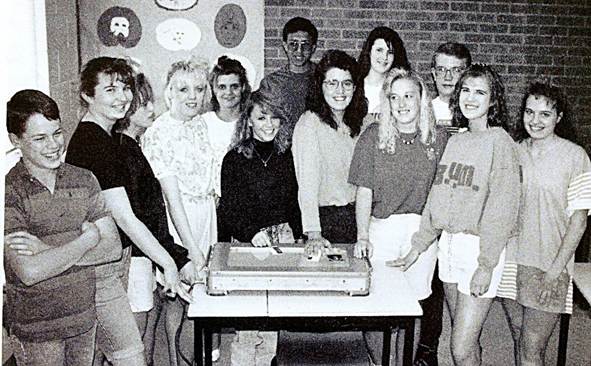 Yearbook Staff at HHS
Clubs and Activities –
FLA, FFA, Speech, Close-up, JETS, SALSA, Cheerleading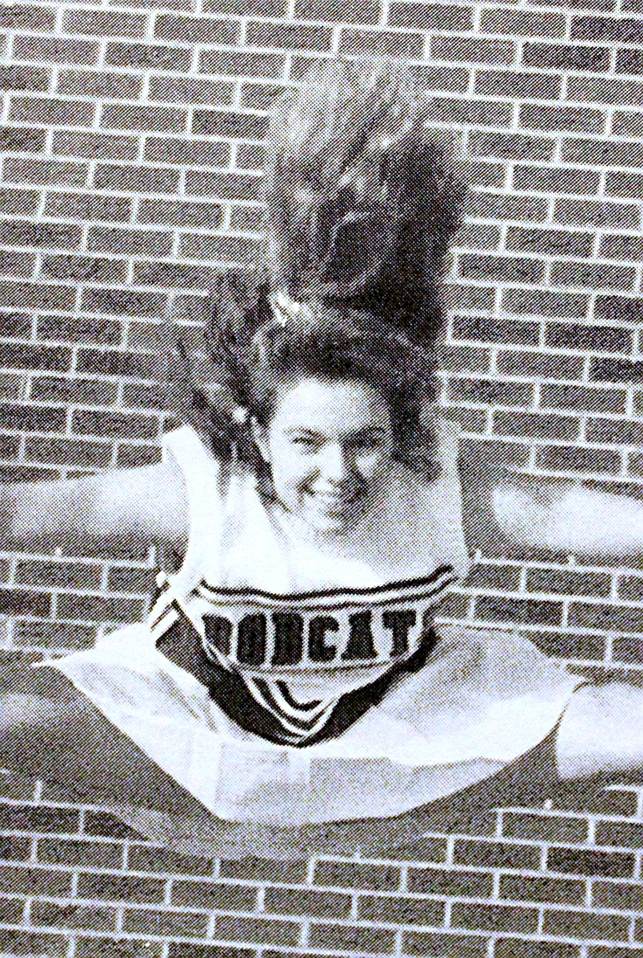 Holly Wade does a Toe-Touch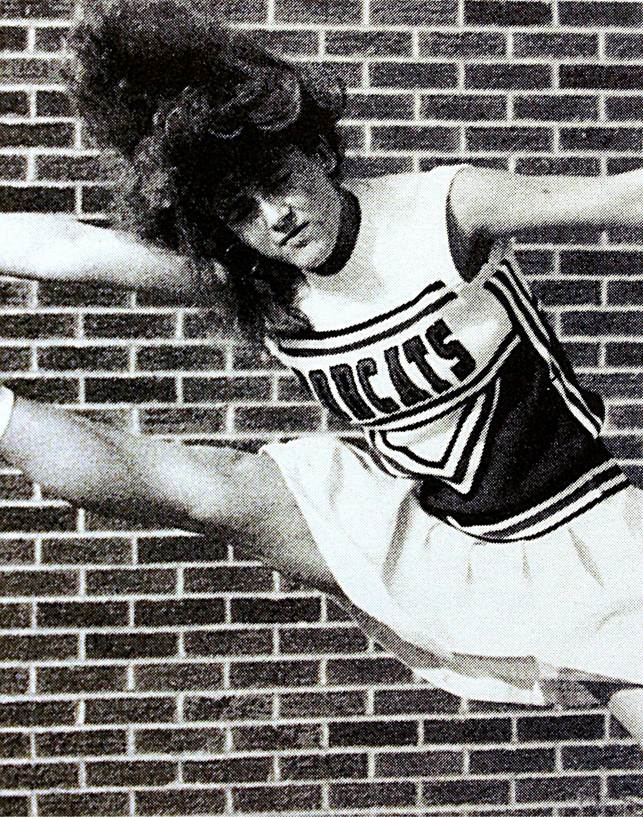 Shannon Dudley gets up in the air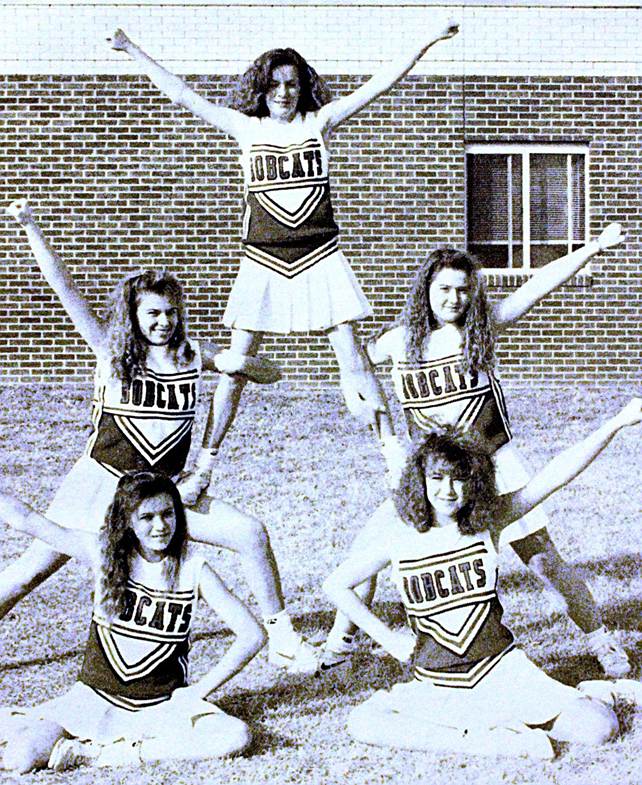 Bobcat Cheerleaders for 1991-1992 were Becky Furman, Holly Wade, Rachel Furman, Vanessa Rosenberger, and Shannon Dudley.
Cheerleading- and School Spirit – 
Holly Wade was an All-American and a UCA All-Star!
Cheerleaders were Holly Wade, Shannon Dudley, Becky Furman, and Vanessa Rosenberger. The girls received a blue ribbon at camp and received the "most improved award" at Chadron. Wade was an NCA "All American" and a UCA All – Star. She traveled to London to train and perform at The Lord Mayor's Westminster's New Year's Day Parade !
FLA – FFA
Heather Gasseling was president; Tammy Davies was Vice-President; Crystal Tschacher was Secretary; Holly Wade was Treasurer. Amy Baer was Historian; Becky Thomas was the Recreational Officer. Members participated in the Lock-In, The State SEARCH Contest, Magazine Sales, Banana Split Party, and the annual Teacher Breakfast. Amy Baer Dawn Davies, Jenni McCoy, and Holly Wade won the "Top Gold" at District Search Contest, Qualifying them for the State Contest.
For FFA, members took part in a hamburger feed at Box Butte Dam, a Leadership Conference at Hyannis, District Judging Contests, and Community Service around Hemingford, and at the Hemingford Community Care Center. President was Slim Planansky, Adam Hall was Vice-President, Brad Bolek was Sentinel, Jeff Bruns was Treasurer, Aaron Sorensen was Reporter, Jackie Schwaderer was Secretary, and Chris Mundt was Parliamentarian. Mr. Brown was the Faculty Sponsor.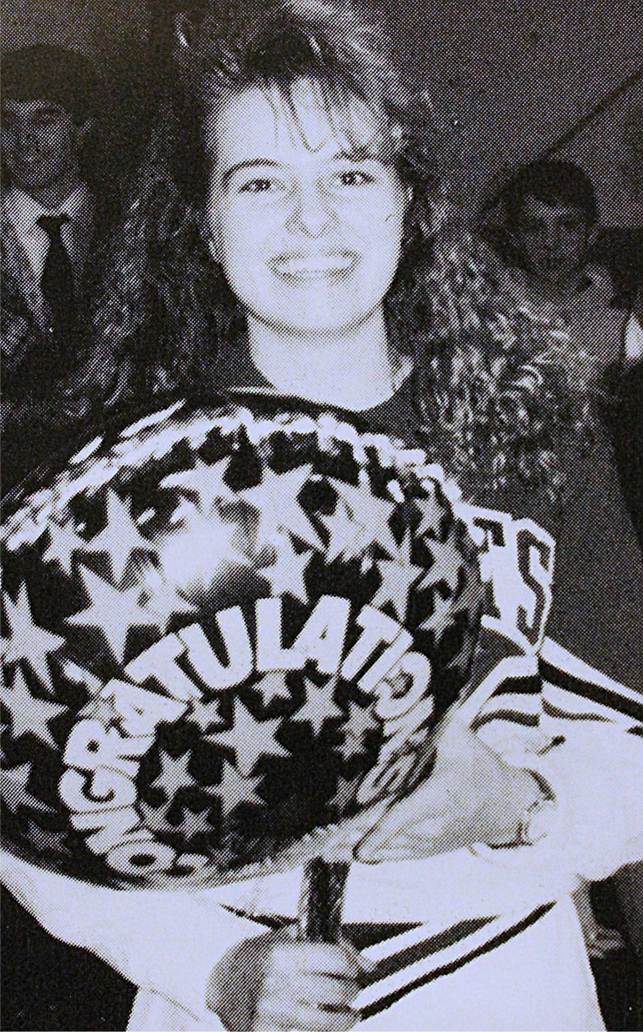 Hemingford Native and Junior Holly Wade smiles at the balloon from her classmates, just before she left for London.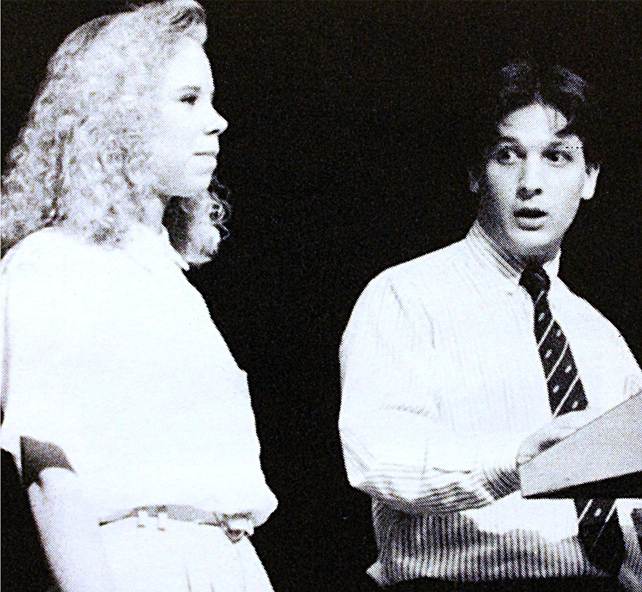 Exchange Students –
Jessica Hall from Sweden, and Tony Marinetto from Spain
Close Up -
23 HHS students mad the trip to our Nation's Capital after raising funds for the year before. The group was escorted by Mr. and Mrs. Don Hanks. Members taking the trip visited the supreme court, Williamsburg, pa, and many other Washington D.C. monuments.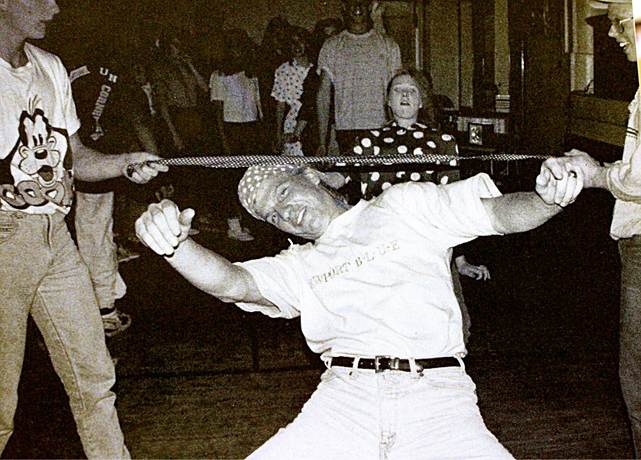 Jon Katen limbos at the Dance-a-Thon
Salsa and Jets
Salsa was a Drug Free group (Students against Lack-Witted Substance Abuse) and members attended a Drug-Free youth retreat, winning a talent contest with a par they wrote and performed. President was Sean Kelly, Vice President was Dawn Davies, Secretary was Amy Bare, and Treasurer was Jackie Schwaderer. Jets President Ed Planansky and eight members attended activities in Colorado before taking in a Football game and placed fourth in a TEAMS competition in Kearney.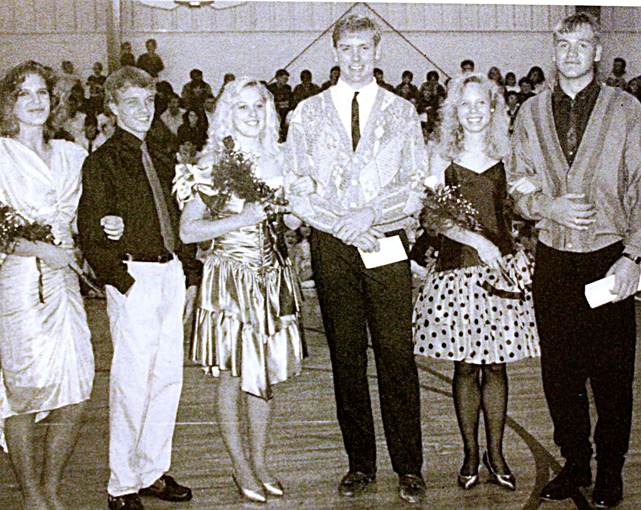 Homecoming Royalty – 
Queen – Samantha Horn; King – Darby Jespersen; Attendants – Angela O'Brien, Donni Cler, Jessica Hall, Craig Kumpf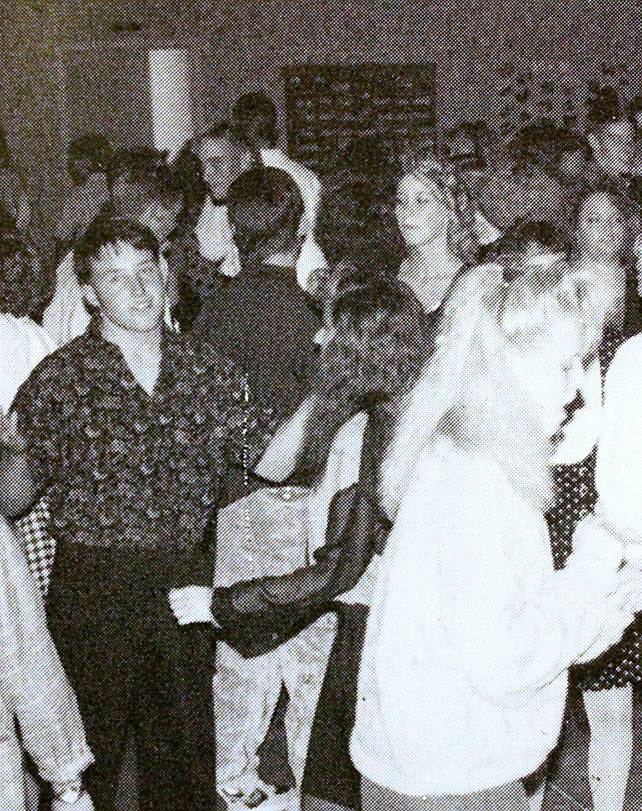 Tripping the light fantastic at the dance.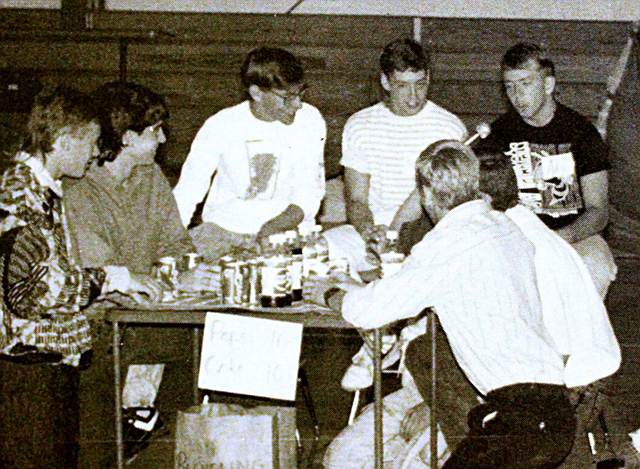 The Juniors conduct their homecoming pep rally
Homecoming 1991
The class of 1992 received an honorable mention for the senior class hall decorations! At the pep rally, their theme changed from coke to pepsi.The Theme for homecoming was "you're the Right One Baby", allowing the Cats to beat Rushville (14-6) in the big game. Dress up days included wild hair day, king/queen day, steve urkle day, tourist day, and show your spirit day. The dance was held in the multi-purpose hall.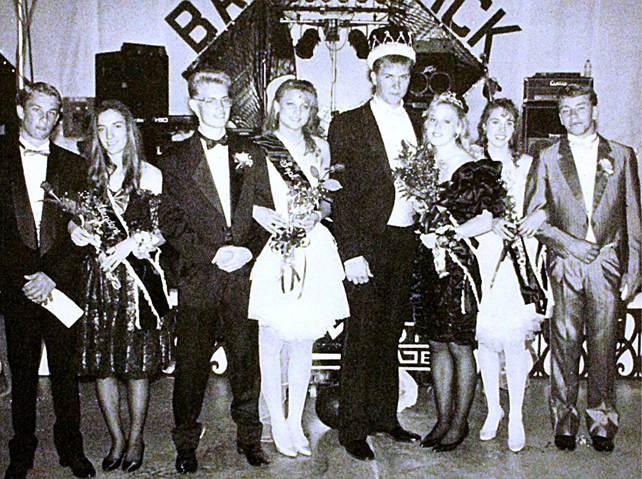 Prom Royalty –  
Queen – Samantha Horn; King – Darby Jespersen; Attendants – Justin Gibson, Heather Gasseling, Jason Horn, Becky Davies, Justin Raben, Heather Mundt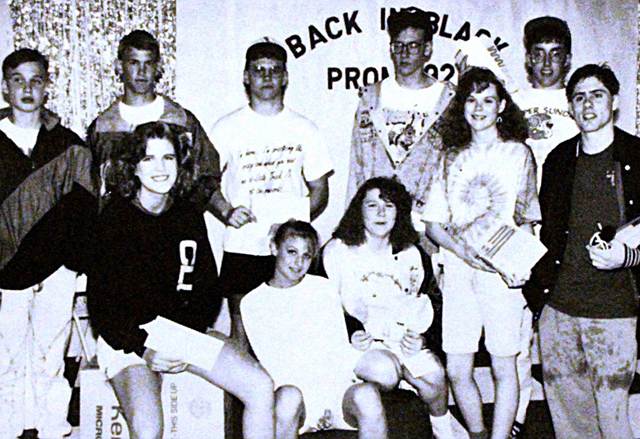 After Prom Party Winners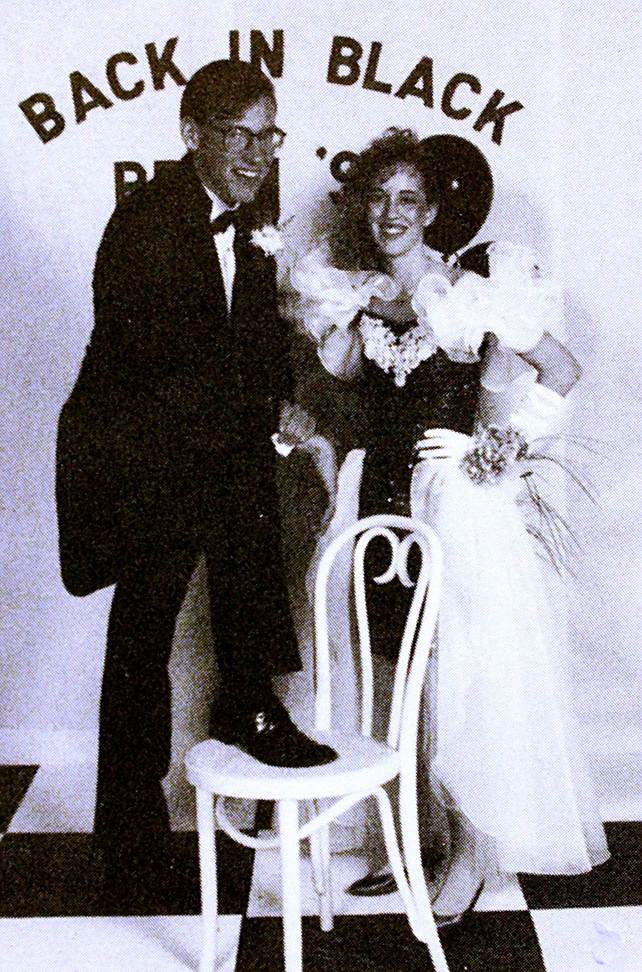 Brandon Hackett and Amy Baer pose for a photo at prom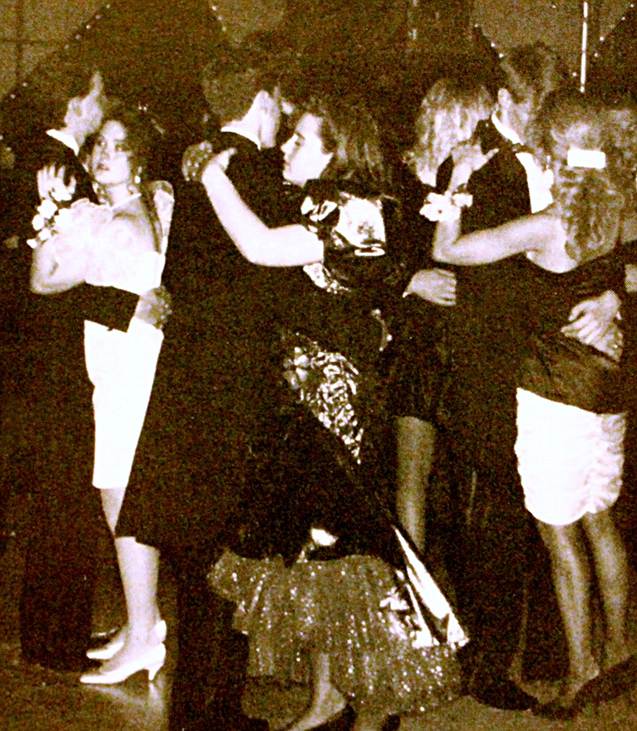 "Major Ranger" kept the students on the dance floor all night long.
Prom Theme –
"Black in Black" "Major Ranger" played at the dance. The post-prom party included plenty of prizes, plinko, and a hot tub!
Senior Class Motto –
"You can't change the direction of the wind but you can adjust your sail to always meet your destination"
Senior Class Officers – 
President – Ed Planansky; VP – Brad Bolek; Secretary – Samantha Horn; Treasurer – Lisa Merrill. Class sponsors were Shelly smaha, kay horstman, and lyle fodnes.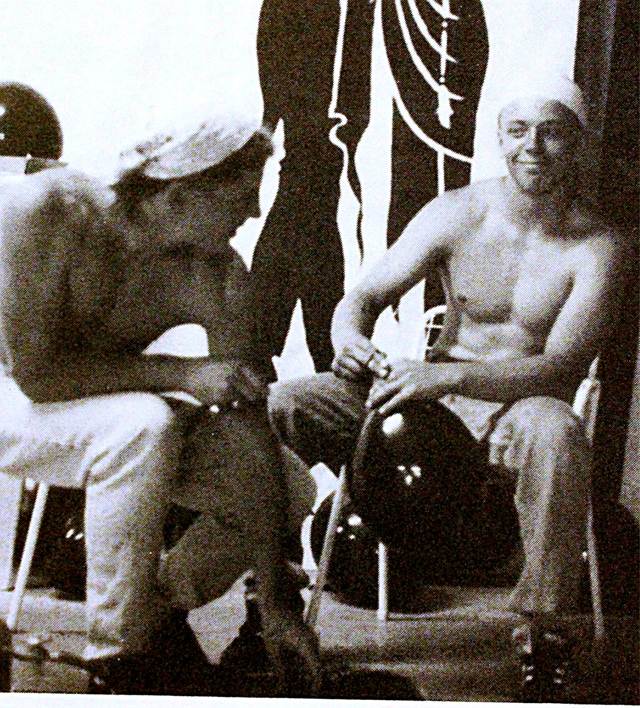 Juniors Chuck Tollman and Justin Gibson blow up balloons for prom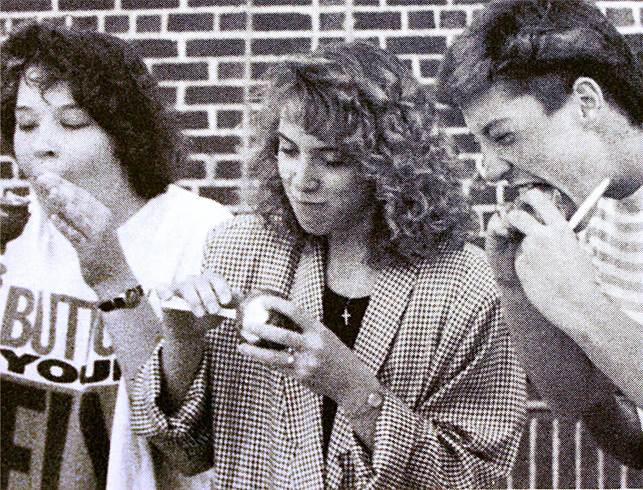 Ummmmmmmmmmmmmmmmmmmmmmmmmm……………………………………..Caramel Apples – no wait a minute - these are Caromel Onions (Those Seniors tricked Juniors Krista Campbell, Heather Gasseling, and Chuck Tollman !
Junior Class Officers – 
President – Heather Gasseling; VP – Brian Benda; Secretary – Holly Wade; Treasurer – Chris Mundt class sponsors were Mrs. Buskirk, Mr. Brown, and Mrs. Ahrens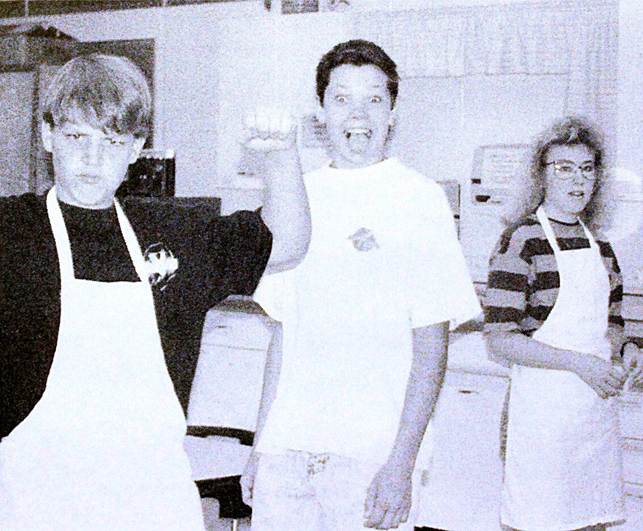 Sophomores Nathan McCune, Travis Sorensen, and Kim Hucke get ready to bake something in Home Ec Class,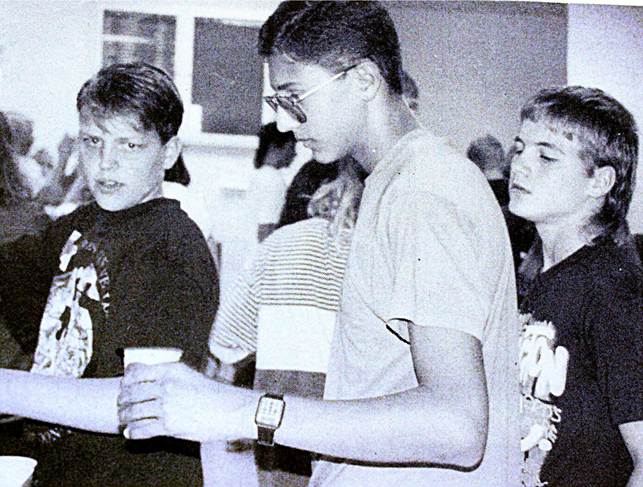 Nathan McCune, Dan Gutierrez, and Sean Hall enjoy a free pepsi at Homecoming.
Sophomore Class Officers – 
President – Riley Baker; VP – Jason Horn; Secretary/Treasurer – Perry Campbell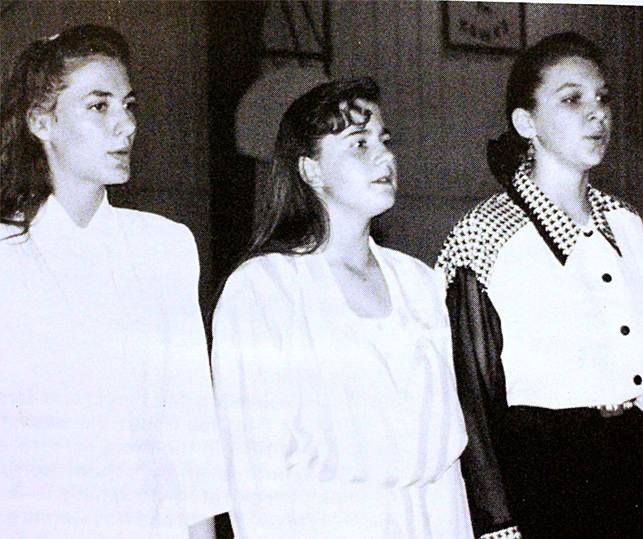 Freshmen Heather Mundt, Tonya Davies, and Carrie Kelly perform a vocal trio at the Spring Concert
Freshmen Class Officers –
 President – Tonya Davies; VP – Vanessa Rosenberger; Secretary – Amy Delsing; Treasurer – Josh Engel
Graduation-
Class colors – electric blue and black; Class motto: " you can't change the direction of the wind, but you can adjust your sail to always meet your destination" by jimmy dean; class flower was a white rose dipped in blue; class song was "winners take all" by quiet riot.
State Competitions –
 Cross Country, Girls Track, Boys Track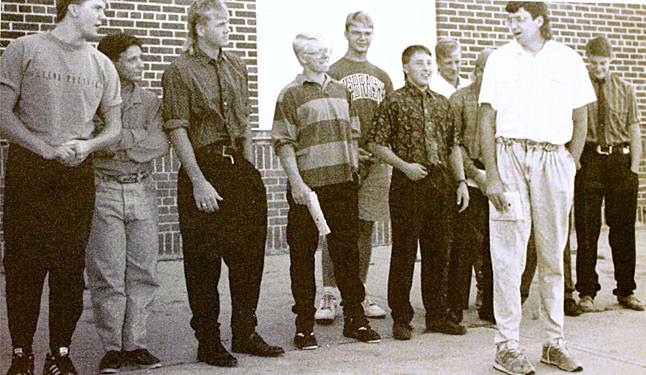 The HHS Senior Football Players get ready to share their thoughts, such as, "we been working really hard in practice this week", at a pep Rally.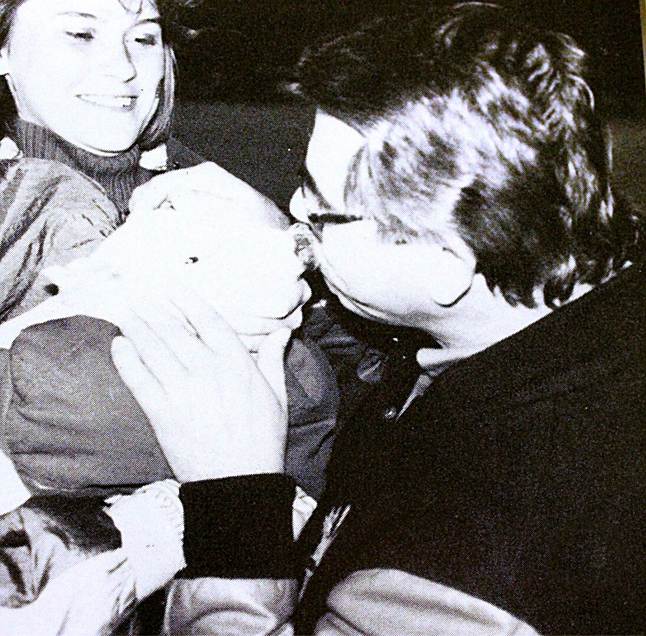 Mr. Fodnes was a good sport as the "Kiss the Pig" contest winner!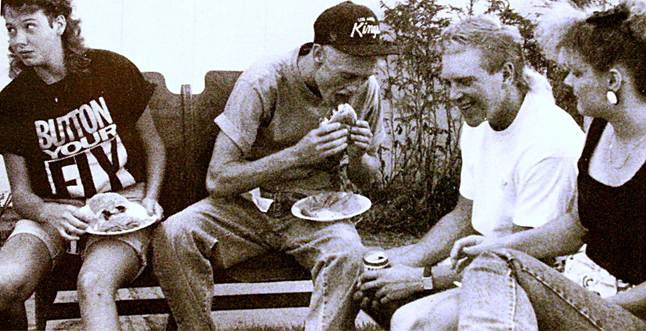 Pam Wood, Jason  Horth, Troy Turek, and Maria Pianalto enjoy the Fall Sports picnic at Murphs.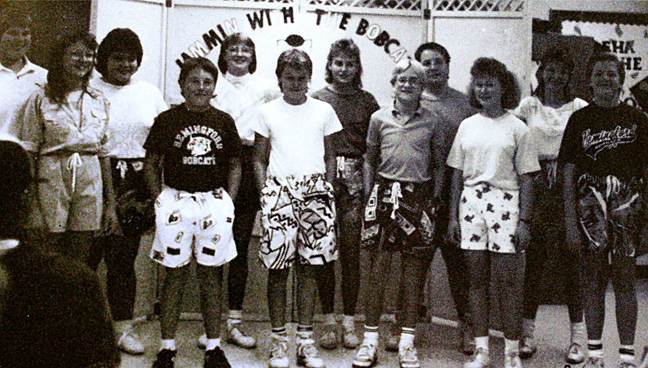 The Class of 1992 model the shorts they made in Home-Ec in eighth grade
Special or Unique Happenings –
The seniors hosted a Halloween pep rally – featuring caramel covered onions! Holly wade traveled to London. The faculty, with new rules again, won the Faculty vs. Seniors Basketball Game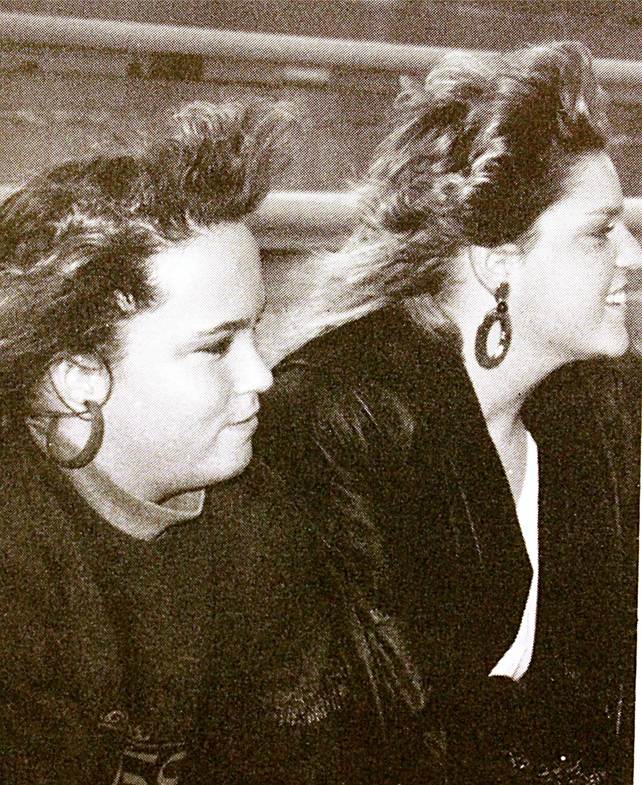 Julie Hunter and Nicci Montague take in a home game at Hemingford.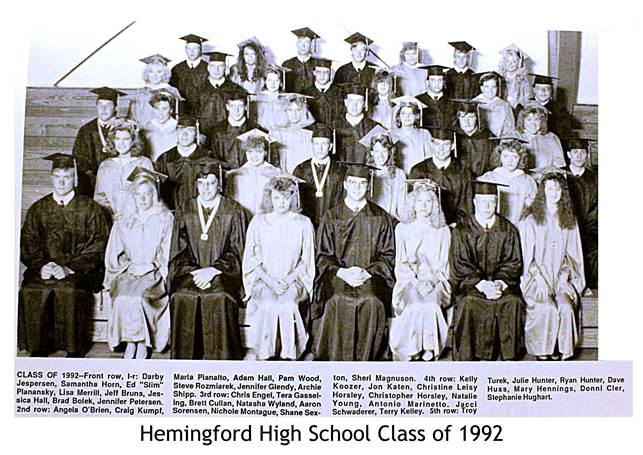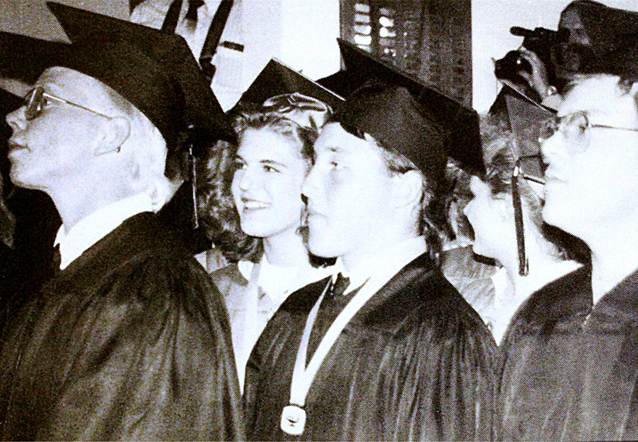 Brad Bolek, Angela O'Brien, Chris Engel, Maria Pianalto, Terry Kelly, and Tera Gasseling get ready to march out into the graduation crowd.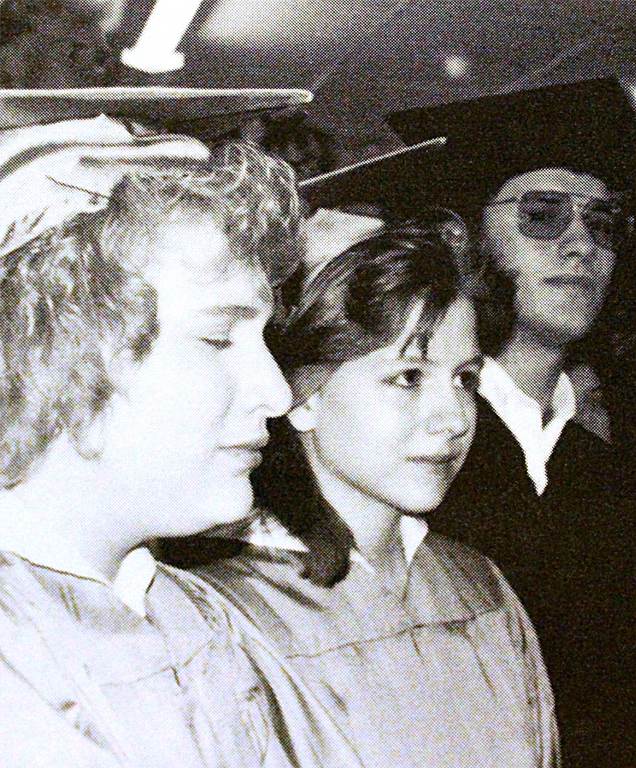 Mary Hennings, Christine Horsley and Chris Horsley stand by as the Class of 1992 Class Composite is hung.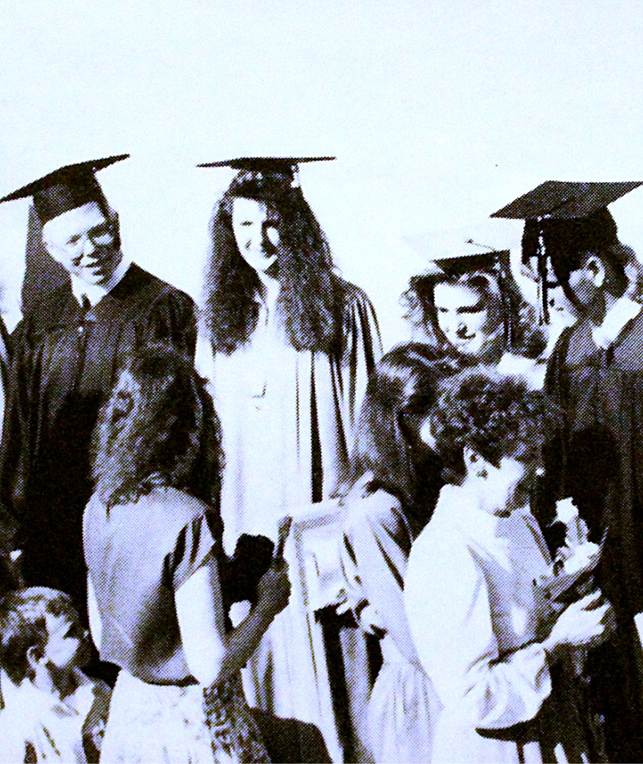 The  line forms for the well – wishers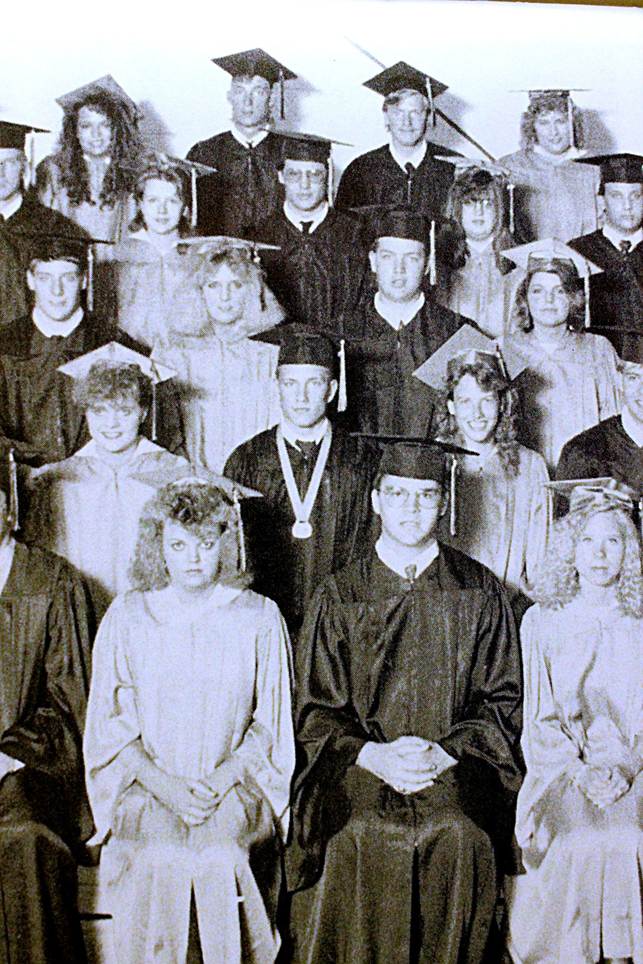 Part of the Class of 1992
Senior Class Enrollment –
39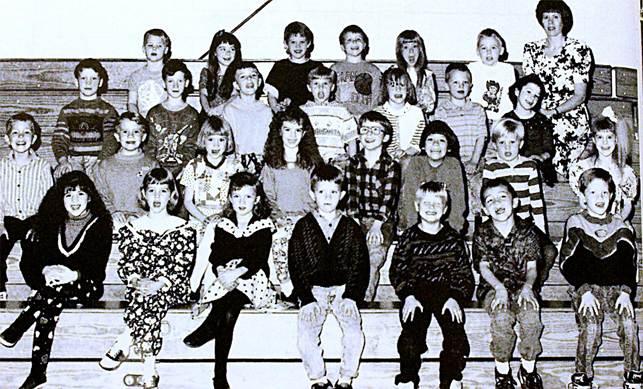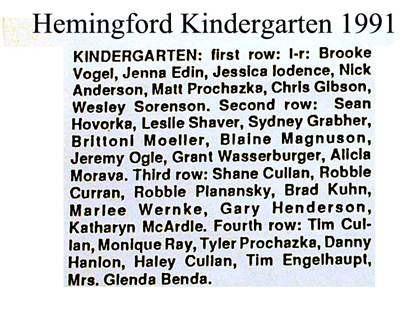 Kindergarten Class Enrollment –
28
Yearbook Dedication –
Classmates matt bremer and layla bradis – both lost to car accidents.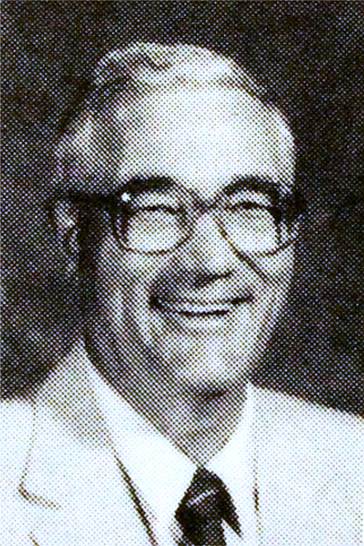 Superintendent –
Mr. Don Hanks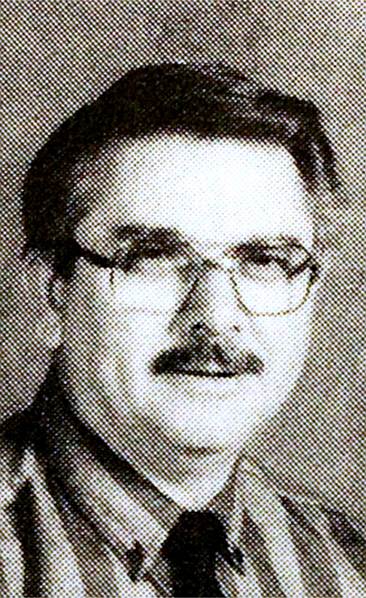 High School Principal – 
Mr. Lyle Fodnes was the secondary principal at hhs, also winning the homecoming' "kiss the pig" contest!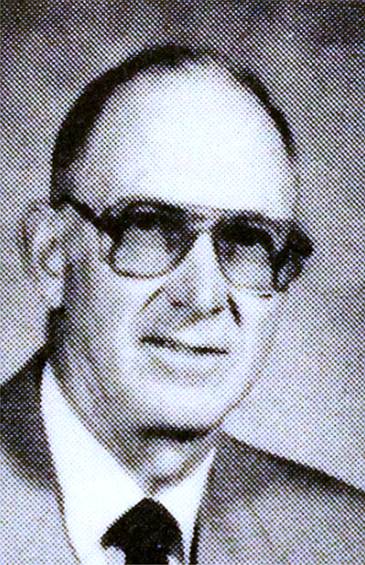 High School Principal – 
Mr. Glen Kotschwar, also known as that guy that plays lots of jokes on people
Elementary Teachers – 
Kindergarten – Mrs. Glenda Benda; First Grade – Mrs. Homrighausen, Mrs. Jacci Stolldorf; Second Grade – Mrs. Donna Engel, Mrs. Sally Engelhaupt; Third Grade – Mrs. Elaine Laeger; Third/Fourth Grade – Mrs. Annette Davies; Fourth Grade – Marilyn Hucke; Fifth Grade – Mrs. Vickie Kotschwar, Mrs. Cindy Lanik; Sixth Grade – Mrs. Guyla Thomas, Mrs. Nancy Zajic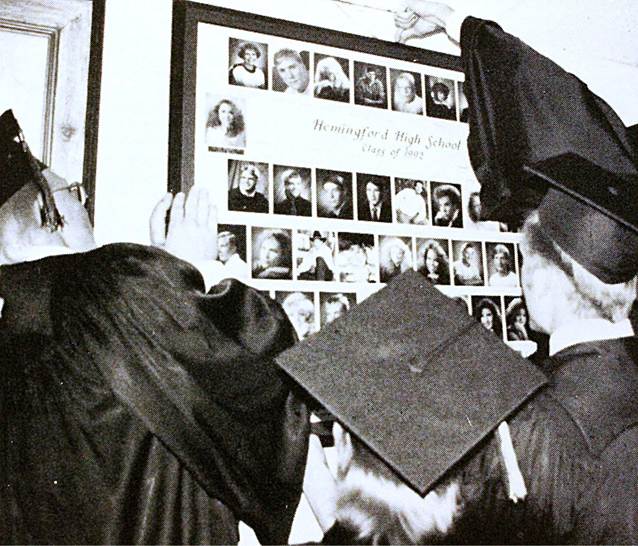 The traditional Picture Hanging in the High School Office hallway took place once again at HHS.
New teachers
included: Kay Horstman, computers; Cynthia Jensen, Music; and Nancy Nixon, Science. Mr. Kotschwar took over as the district's driver's education teacher.  Educator of the year award went to jill finkey.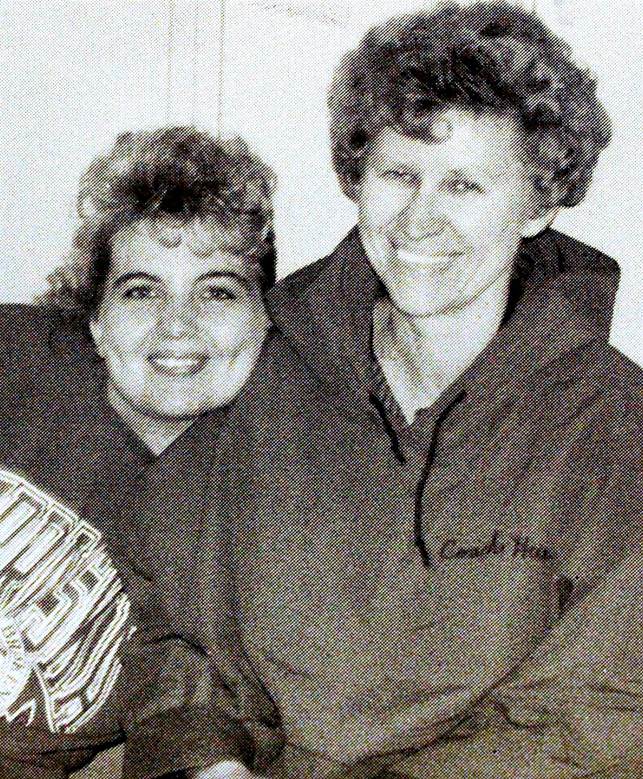 Mrs. Finkey and Mrs. Hucke ham it up for a picture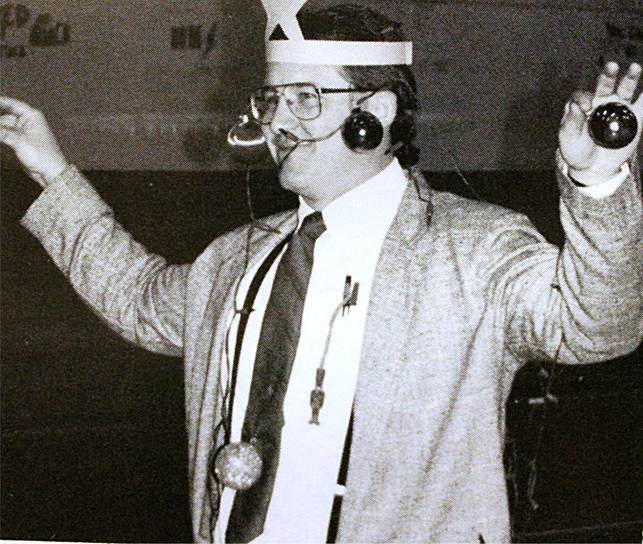 Mr. Finkey is dressed for Christmas (as a tree)
Secondary Teachers –
 Mrs. Cindy Ahrens, Mr. Kenneth Brown, Mrs. Brenda Buskirk, Mrs. Jill Finkey, Mrs. Kurt Finkey, Mrs. Lyle Fodnes, Mrs. Nancy Giorgi, Mrs. Bev Hanks, Mrs. Kay Horstman, Mrs. Ramona Hucke, Ms. Cynthia Jensen, Mrs. Jeryce Kelley, Mr. Tim Lanik, Mr. Ed Planansky, Mrs. Janice Rosenberger, Mrs. Susan Shaver, Mr. Bill Stolldorf, Mrs. Connie Thomas, and Mrs. Marla Wade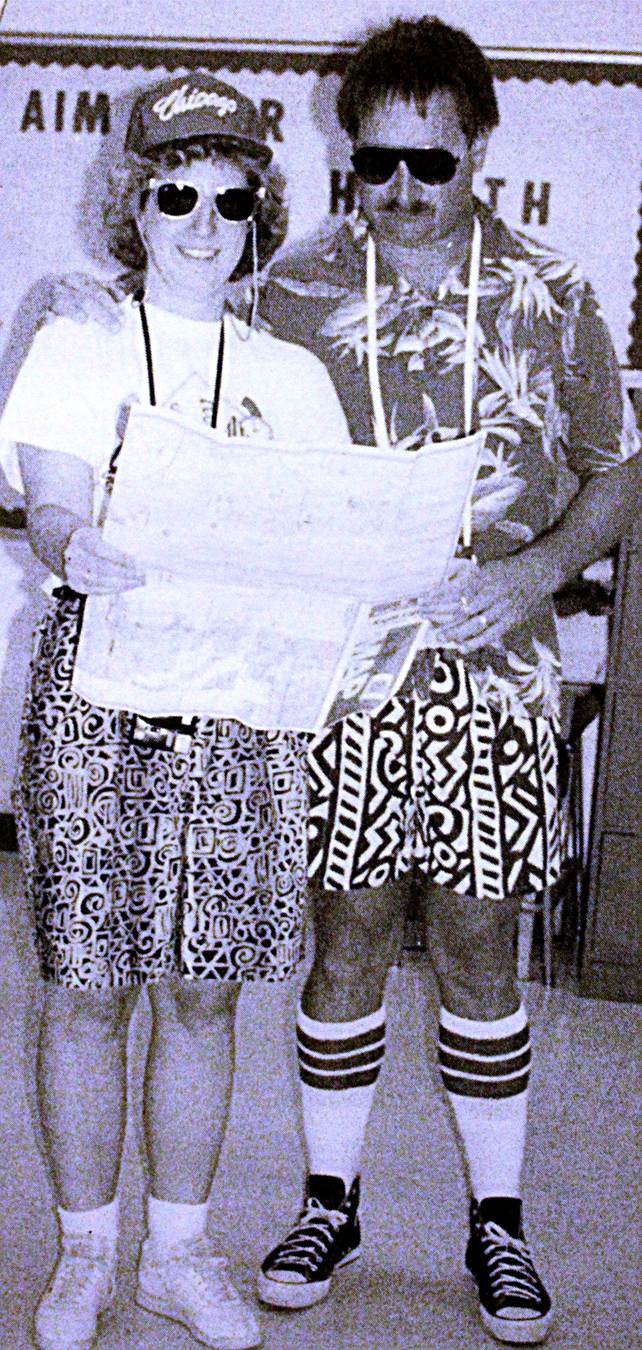 Those Crazy Teachers………………………………………………………..or was this a "normal" day?
What a year of accomplishments for the
HHS Class of 1992 !