Class Of 2007
The HHS Class of 2007 (Click on Thumbnail to enlarge)
20Hemingford High School 07
Student and Faculty Highlights of the Year
This page features athletic records, officers, themes, important numbers, important happenings, and other educational information from the year in question. It provides a quick and ready resource for Bobcat Grads and families!
Student Council Highlights – President Blake Fastnacht guided the STUCO to sponsorship of a pep rally for the first day of school. They also sponsored the Disney inspired Homecoming week, and painted a bobcat mural in the entrance hall. Mrs. Harris was the sponsor.
Student Council Members – Robyn Wright, Taylor Jespersen, Joe Bob Haas, Trey Ramos, Libby Wright, Michaela Fastnacht, Brooke Foster, Brandon Roland, Alanna Wacker, Kassie Boone, Matt Faber, Secretary Treasurer – Katrina Mundt; President – Blake Fastnacht; Vice-President – Melissa Cervantes, and Taylor Yardley.
National Honor Society Members – Three new members, Katie Hughart, Ashley Yardley, and Trace Armstrong joined the chapter's existing membership of Kyle Campbell, Gina Jespersen, Taylor Jespersen, LaRee McCoy, Melissa Cervantes, Katrina Mundt, Todd Prochazka, Megan Roland, Alanna Wacker, Kate Kraenow, Patrick Jespersen, and Emily Kuhn. Mrs. Sue Shaver was the NHS sponsor.
Music Department –
Concerts at Christmas and in the Spring were highlights, as well as District Music Contest.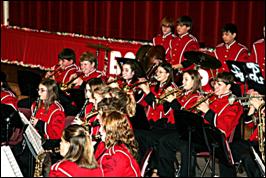 A full house applauded loudly and often as junior and senior high students taught by Mrs. Ann Chesley, Hemingford Music Teacher performed at the annual Christmas Concert Tuesday evening.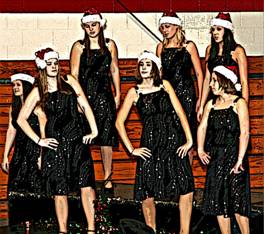 The Swing Choir, decked out in shimmering charcoal dresses topped with sequined Santa hats, performed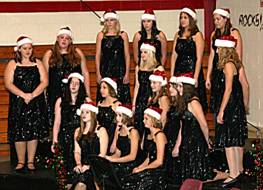 Perfect Christmas Night, Carol of the Bells, and We Wish You. All three numbers involved choreographed movements for the seventeen performers.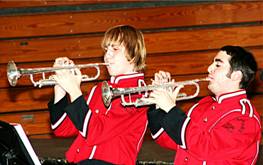 A trumpet duet featuring Taylor Jesperson and Jordan Petersen followed with the traditional, Hark the Herald Angels Sing.
A woodwind duet came next with Britt Anderson and Megan Roland performing Patapan.
The massed junior - senior high band performed Angels we Have Heard on High,
followed by a flute duet featuring Melissa Cervantes and Gina Jesperson, Babe in Bethlehem The band then performed Christmas at the Movies.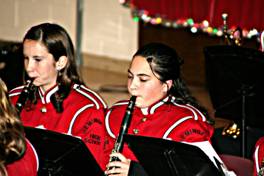 Next was a saxophone duet with Kate Kraenow and Brooke Hannaford performing Oh Come All Ye Faithful.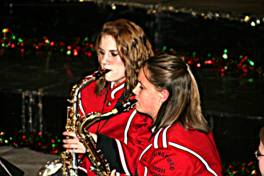 The band then finished the evening off with their rendition of Parade of the Bumbling Wooden Soldiers.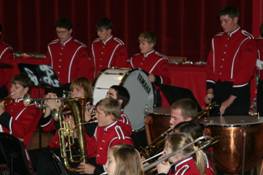 Mrs. Peggy Thayer, secondary principal at HHS, thanked the audience for attending, and thanked Mrs. Chesley for her leadership in bringing along the program's resurgence.
The Program and Student's Involved
Swing Choir
Perfect Christmas Night By Paul O'Neil, Robert Kinkel and Jon Oliva
Carol of the Bells By Peter J. Wilhousky arranged by Mykola Leontovich
We Wish You By Ruth Morris Gray and Andy Beck
Trumpet Duet Tayor Jespersen and Jordan Petersen
Hark the Hearld Angels Sing Traditional Woodwind Duet Britt Anderson and Megan Roland
Patapan Traditional Band
Angels We Have Heard on High Traditional arranged by Elliot Del Borgo
Flute Duet Melissa Cervantes and Gina Jespersen
Babe in Bethlehem Traditional
Christmas at the Movies Arranged by John Moss
Saxaphone Duet Kate Kraenow and Brooke Hannaford
Oh Come All Ye Faithful Traditional
O Holy Night By Adolphe Charles Adam arranged by Calvin Custer
Parade of the Bumbling Wooden Soldiers By David Shaffer
High School Swing Choir
Shaylea Hinojosa, Rachel Fletcher, Katherine Hughart, Allison Ludlow, Kelly Marie
Kaylee Shrewsbury, LyAnn Stites, Robyn Wright, Ashley Yardley, Katie Frahm
Tamara Goldstedt, Amanda Long, Ashley McCoy, Tasha Moss, Kelly Overshiner
Kassie Boone, Melissa Cervantes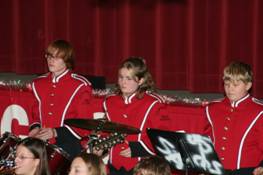 High School Band
Kendal Colson-Baritone, NaKaya Fester-Trumpet, Brooke Hannaford-Alto Saxophone
Sha-Nae Orr-Percussion, Katoya Rosentrater-Trumpet, Shawney Wright-Flute
Michael Bergfield-Trumpet, Rachel Fletcher-Trumpet, Adam Jensen-Percussion, Jordan Petersen-Trumpet
Robyn Wright-Trumpet, Britt Anderson-Clarinet, Tamara Goldstedt-Percussion, Beau Hartman-Percussion
Gina Jespersen-Flute, Todd Prochazaka-Alto Saxophone, Marissa Riggs-Flute
Megan Roland-Alto Saxophone, Melissa Cervantes-Flute, Kate Kraenow-Alto/Tenor Saxophone
Thomas Linegar-Trombone, Tanner Sorensen-Percussion
Junior High School Band
Kayleen Boone-Flute, Tanner Lembke-Percussion, Hans Hansen-Trumpet, Kaitlyn Heitz-Trombone
Richard Heule-Trumpet, Rachel Kaman –Flute, Travis Kettelmann-Percussion
Cody Minich-Percussion, Felicia Vela-Flute, Libby Wright-French Horn
Tayor Yardley-Percussion. Mindra Gibbons-Trombone, Meranda Keane-Clarinet
Emily Sample-Clarinet, Luchia Sicari-Clarinet, Bethany Wacker-Clarinet
Stephanie Whipple-Percussion, Jacob Yardley-Percussion
We would like to thank everyone who helped put this event together. A special thanks to Parents for allowing your children to be involved in Music, Michael for running the sound system, Mr. Hank's P.E. class for setting up and thanks to Carla for all of her help and advice.
Hundreds of parents and family members were treated to holiday music, vocal and instrumental, as well as Christmas plays, put on by Hemingford Elementary students during this week before the storm and Christmas break arrived.
The pictures below help to tell a tale of anticipation, exuberance, and working together! Mrs. Ann Chesley, Music Instructor at Hemingford Public School, and her students, grades Pre-School – sixth, helped to entertain young and old alike with music from Tchaikovsky to Calypso Morning.
The 5th and 6th grade band performed, as did the 3rd and 4th grade, presenting The Toyland Christmas Train; The 1st and 2nd grade performed Christmas Cookies and Holiday Heart; The Pre-School performed Sounds of Christmas, and the Kindergarten performed pieces from The Nutcracker. The older students, in addition to instrumental music, performed A December to Remember.
Program Information and Students Performing:
Sounds of Christmas
Carter Buchheit, Makenzy Chancellor, Beau Hanks, Ashley Jenkins, Laura Kolle
Alex Plog, Caleb Robb, Xavier Robb, Winter Walker, Elijah Walters
The Nutcraker: Overture
(Peter Tchaikovsky) Performed by Kindergarten
KobeCoryell, Clara Eck, Laren Gasseling, Emily Kriz, Shaylynn McConville
Cade Payne, Xavier Picket Pin, Josh Stemple, Kalub Wilson, Luke Cullan
Ivan Gibbons, Mackenzie Glendy, Claira Jenkins, Ephroen Lovato
Kaitlyn Messersmith, Jacob Olson, Mark Plog, Brett Prelle, Darren Swanson
Christmas Cookies and Holiday HeartPerformed by 1st and 2nd grades
Elves: Jon Mayer, Carli Cullan, Cassie Salazar, Mackenzie Kolle, Conner Swanson, Dorriann Johnson, Peyton Sutphen, Raycee Vogel,
Bakers: Kayden Lovato, Beau Edwards, Faith Rohrbouck, Ezra Ray, Kaleb Walker, Kelsey Wilson,
Brandon Chancellor, Madison Glendy, Brianna Grumbles
Elf #1: Natalie Gasseling, Elf #2: Austin Huddle, Elf #3: Justin Schekall
Elf #4: Brooke Tturek, Baker #1: Kortney Frazee, Baker #2: Kaitlyn Kumpf
Baker #3: Denton Payne, Baker #4: Austin Wobig, Cookie Star: Hadley Elder
Snowflake Cookie: Emily Hansen,Santa Cookie: Jamey Wood
Drum Cookie: Riley Wobig, Snowman Cookie: Kelli Horstman, Gingerbread Cookie: Lian Johnson
Christmas Tree Cookie: Paul Raben
S: Baily Irish
A: Sheyenne Weaver
T: Taylee Neefe
N: Tristen Yardley
A: Kally Boone
C: Korby Cambell
L: Macee Buchheit
A: Taylor Vogel
U: Keaton Morgan
S: Tyler LeClear
The Toyland Christmas Train Performed by 3rd and 4th grades
Christopher Clown: Travis Eck, Clara Crayon: Devin Green, Teddy Bear: Tierra Vogel
Kitty Kite: Brittnay Thomas, Pancho Ping Pong: Tyrell Fiegen, Sarah Sleigh: Bethany Moss
Belvidere Boat: Cooper Weber, Juan Whiffle Ball: Brady Turek, Patti Princess: Hannah Fessler
Tee Toy Piano: Taylor Keegan, Roger Robot: Cole Walters, Vera Video Game: Hanna Swanson
Dispatcher #1: Aubrey Picket Pin, Dispatcher #2: Shelby Schleicher, Becky Bike: Sami Minich
Engine #1: Jessica Hanks, Engine #2: Colt Foster, Engine #3: Makayla Grumbles
Engine #4: Matthew Wood, Engine #5: Christian Rozmiarek, Peggity Puzzle: Breana Prochazka
Frankie Football: Layne Huss, Yul Yo Yo: Boone Johnson, Don Dreidle: Jacob Hosrtman
Angel Annie: Lauren Jensen, Cy Clay: Robert Heule, Billy Bat: Joseph Rozmiarek
Santa Claus: James Robb, Hani Hula Hoop: Amelia Ludlow, Won Water Ski: Alex Colson
Hanabella Handbell: Keelie Campbell, Cars-Engine #1:, Rebecca Stone & Zach Grumbles
Cars-Engine #2:, Brianna Harvey & MaKayla Grumbles, Cars-Engine #3:
Anthony Husa & Kelsey Klaes, Cars-Engine #4:, Lee Jespersen & Toby Phillips
Cars-Engine #5:, Tina Siefke, Devan Hanson & Ana Rodriguez
A December to RememberPerformed by 5th and 6th grades
In order of appearance:
Paige Phillips, Kaitlyn Bergfield, Brady Horstman. Tyler Huddle. Cash Weber, Cole Conner
Jordan Glendy, Jacob Flesher, Tegan Yardley, Sarah Mracek, Daniel Manning
Brittany Keane, Kaitlyn Jespersen, Taylor Michael, Sammy Huss, Kyle Kaman
Jameson Forgey, Alexis Olson, Blake Hansen, Kayla Hanson, Dani Cambell, Ana Gibbons
Cameron Green, Matthew Mayer, Hayden Walker, Kerstyn Green, Miguel Rodriguez
Yesenia Salazar, Cassie Elder, Whisper Conner, A.J. Jesus
Chorus:
Isabella Irish, Christian Jensen, Alexis Phillips, Jayleen Forgey, Briley Hannaford
Annie Hughart, Kipp Irene, Polly LeClear, Logan Minich, Vance Orr, Nicole Schekall
Ashley Adamson, Charles Holman. Kelli Frahm. Kyle Kumpf, Trae Vogel
Precious Campbell, Cali Rohrbouck, Kohl Boone, Colby Johnson, Jesse Savala
Kelsey Wood
5th and 6th Grade BandJamaican Holiday Traditional
Calypso Morning By Bruce Pearson
Sammy Huss-Flute, Kelli Frahm-Flute, Brittany Keane-Clarinet, Alexis Phillips-Clarinet
Ana Gibons-Clarinet, Sarah Mracek-Clarinet, Kaitlyn Berfield-Clarinet
Kaitlyn Jespersen-Alto Saxophone, Briley Hannaford-Trumpet, Jayleen Forgey-Trumpet
Cash Weber-Trumpet, Jordan Glendy-Trumpet, Charles Holman-Trumpet
Tyler Huddle-Trombone, Paige Phillips-Tenor Saxophone, Brady Horstman-Percussion
Kyle Kumpf-Percussion, Kohle Boone-Percussion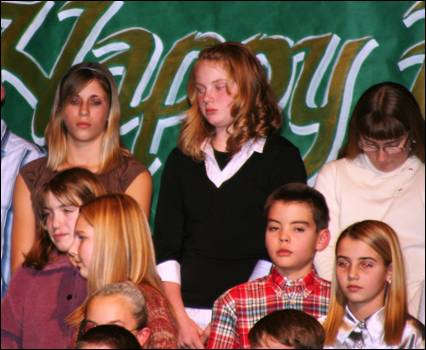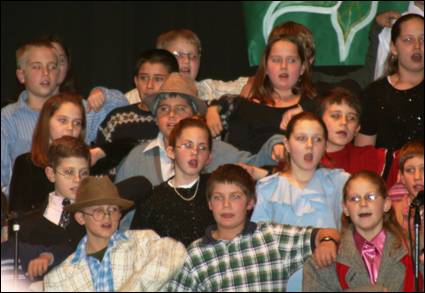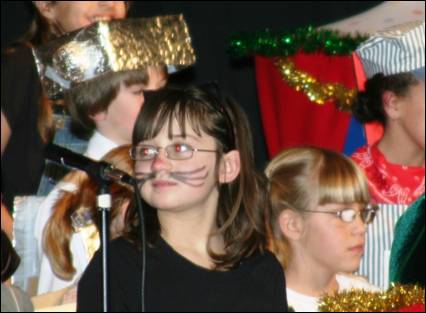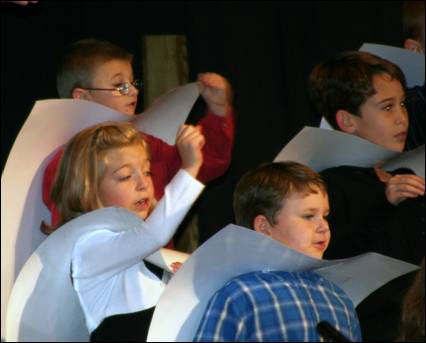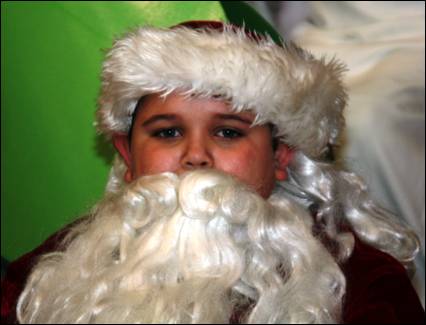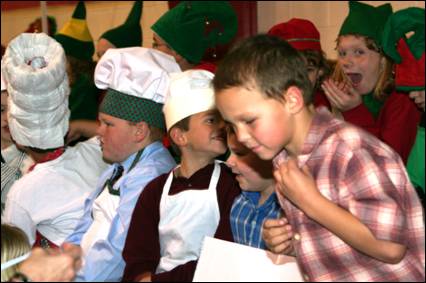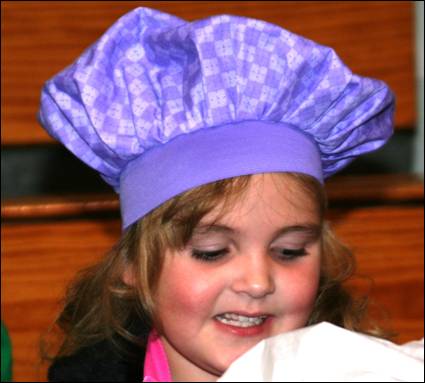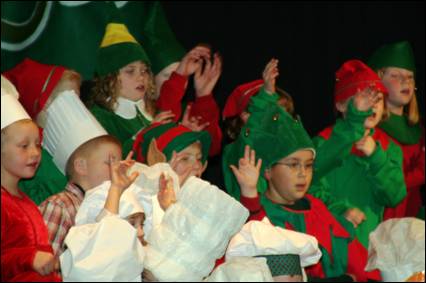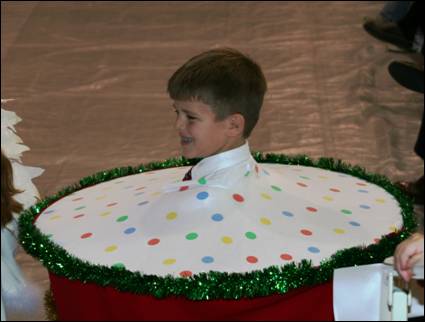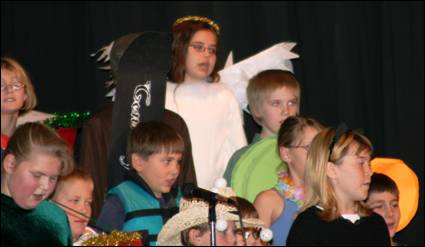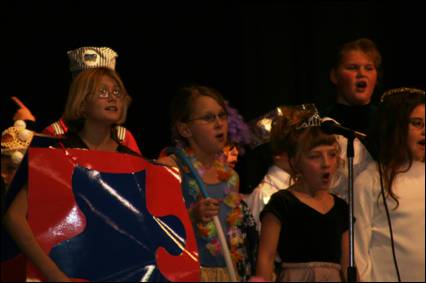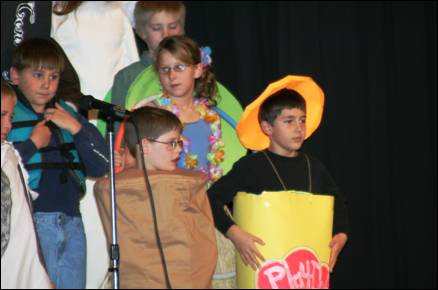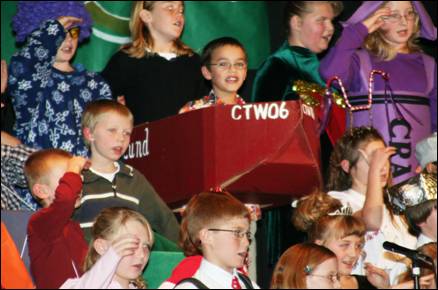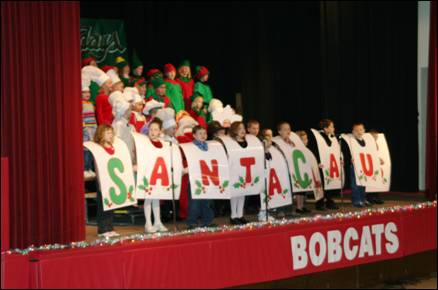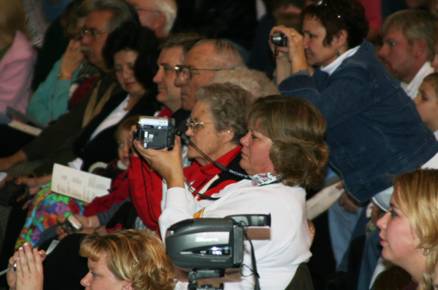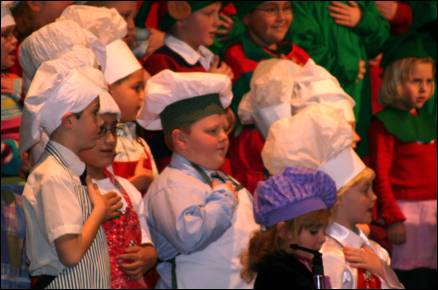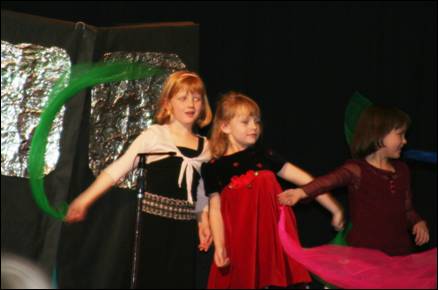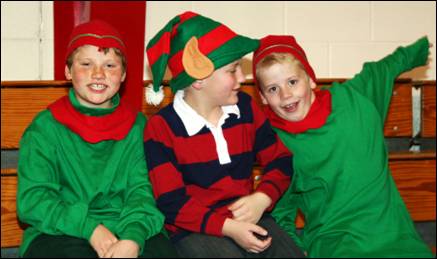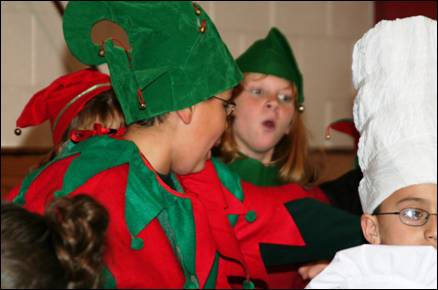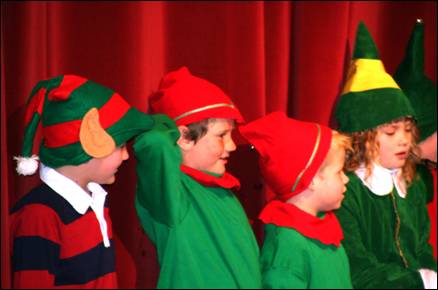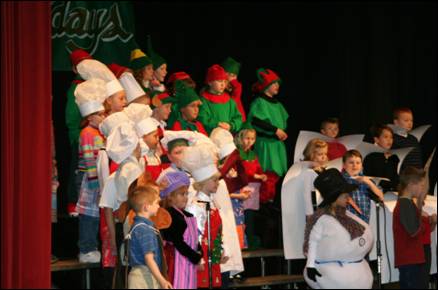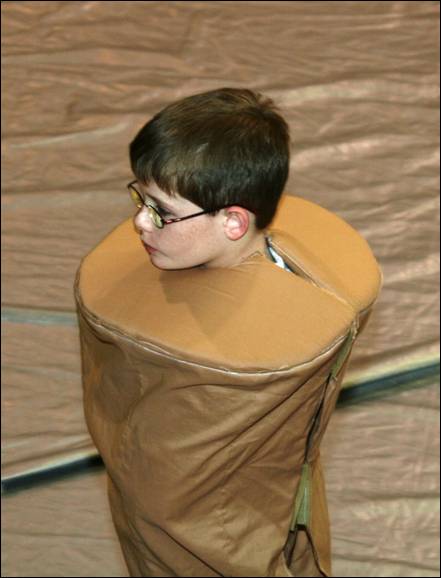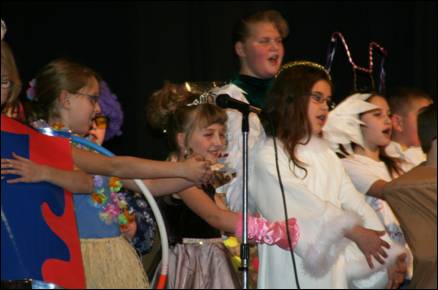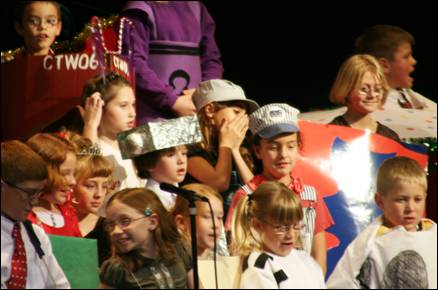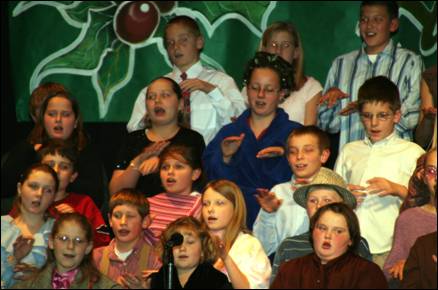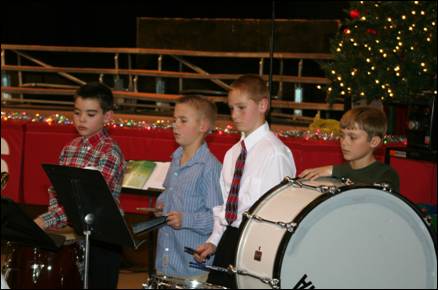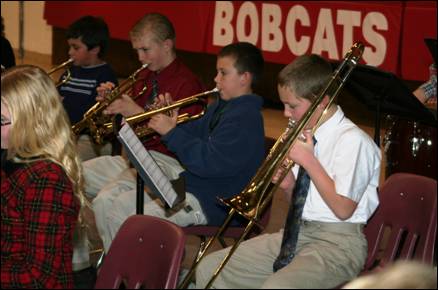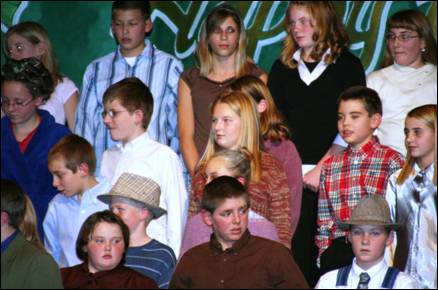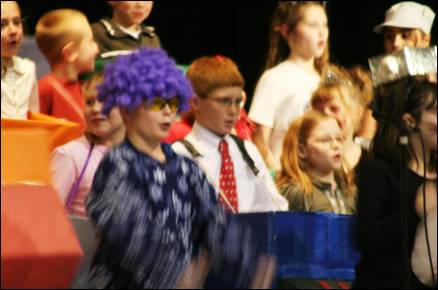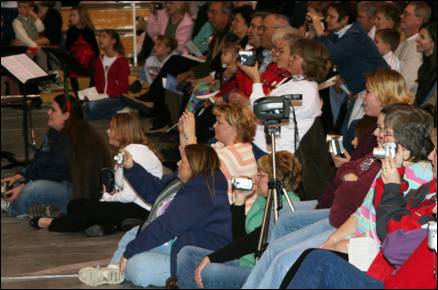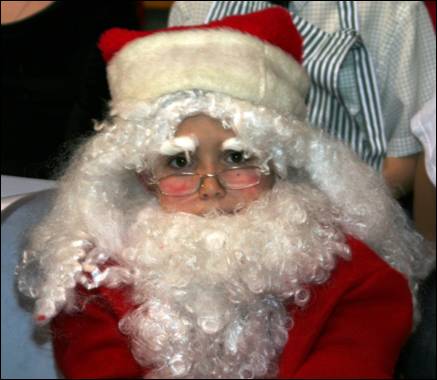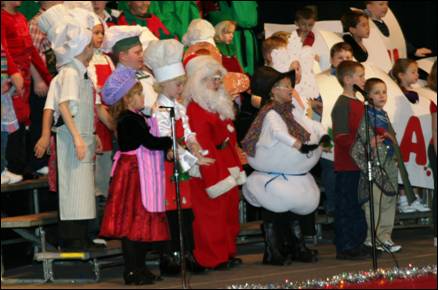 Merry Christmas to all !!!
Drama and One Acts –
The Drama Department played to full houses on all three nights of their performance of "Grease". Blake Fastnacht and Britt Anderson played the leads, and were supported by Kyle Campbell, Kelsey Forgey, and Bryce McVicker. The T-Birds even had a ferris Wheel and a real car in the gym for the show.
In One-acts, the cast and crew of "Antigone, 1865" placed 5th at WTC, 4th at PAC, and a great performance elevated them to a district runner-up trophy! Cast members included Gina Jespersen, Katrina Mundt, Blake Fastnacht, Michaela Fastnacht, Megan Roland, Taylor Forgey, Britt Anderson and Melissa Cervantes. Gina, Taylor, and Britt were honored as outstanding actresses and actor at the three performances, directed by Karen Fastnacht and Kim Haas.
Speech – Shawney Wright, Michaela Fastnacht, Nakaya Fester, Britt Anderson, Megan Roland, and manager Luchia Sicari helped make Mrs. Stewart's first year as speech coach a successful one. The duet of Michaela Fastnacht and Britt Anderson performed the Frog Prince, placing them in most meets. Britt was also successful in poetry for the team.
Football –The record was only 1-7, but the 2006 Bobcats played hard in every game, losing two other games by a single touchdown. Players gave up some Saturdays to put on football camps for younger players, and earned post season honors with four individuals, Kyle Campbell, James Overshiner, Colt Frahm, and Blake Fastnacht. For Head Coach Mo Hanks, it marked his last season, with assistant coach Robinson taking over the helm in 2007.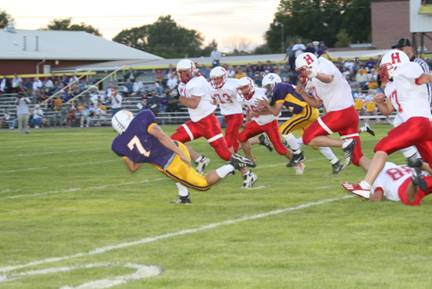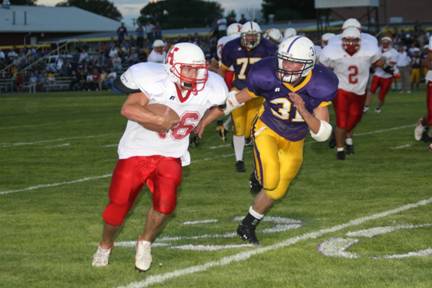 Volleyball –Coach Lisa Janssen and her netters won eight game sin the fall of 2006, including the championship of the Hemingford Invitational. Katrina Mundt, Shelby Campbell, Emily Kuhn, Katie Frahm, and Alana Wacker all earned all-conference honors at the season's end.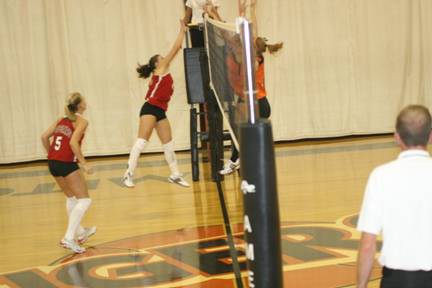 Cross Country –Junior Beau Hartman qualified for the state meet, marking a small bit of success for a team that had team championships in sight when the season began. The boys did win the Rushville-Gordon Invite, but faltered late in the season, not fielding a full team.
Members included Hartman, Mick Casey, Kelsey Forgey, Tom Linegar, Amanda Winten, Todd Prochazka, Taylor Jespersen, Jason Rasmussen, Katoya Rosentrator, Josie Fletcher, Kayla Golka, and Kory Rasmussen. The Harriers were coached by Cindy and Tim Lanik.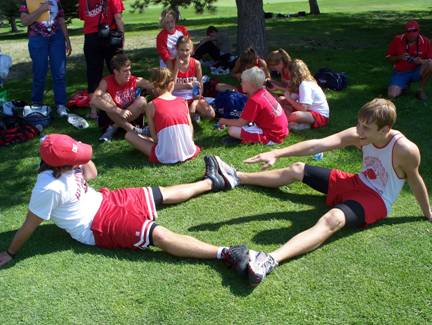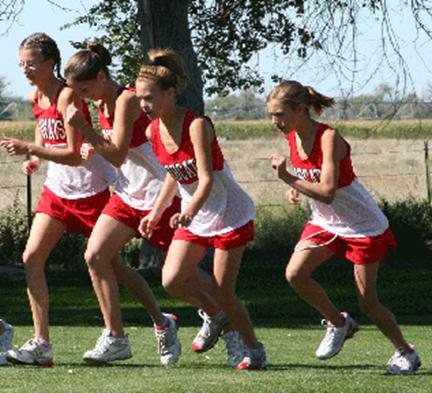 Girls Basketball –First year Head Coach Dave Chatelain had some success with what was a young Lady Cats squad, finishing 5-15 on the year. Shelby Campbell, Katrina Mundt, and Amanda Winten all earned post-season honors.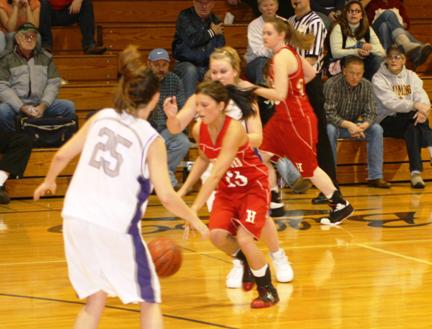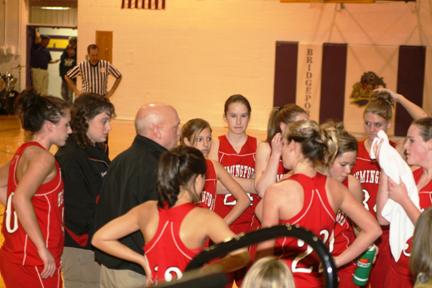 Boys Basketball –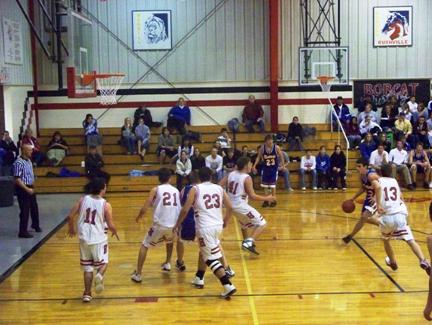 Hemingford Boys Win Panhandle Conference Championship!
The Hemingford Bobcat Boys Basketball team put in a series of solid performances this past week, winning three games in five days to claim the 2007 Panhandle Activities Conference crown in basketball.
Coach Tim Lanik and his team won a first round game against Crawford 58-26, advancing to second round action at Sioux County, the site of this year's PAC semi-final and final rounds.
In the second round, Hemingford took on the home town Warriors, a 6-4 team that was missing their team leader due to injury. With Brody Roes and Kevin Bradt leading the way in scoring with 16 and 13 points respectively, the Cats prevailed in the hard-fought contest 45-41, and advanced to play 10-4 Hay Springs in the Championship finals on Saturday night. Coach Tim Lanik thought that the Cats had an excellent defensive effort, controlling the tempo of the game, and wearing down the Warriors with a hard press.
In a game that went back and forth, and in one where the Cats trailed after the first quarter 16-11, at half 24-22, and after the third quarter 40-37, the fourth quarter turned into the one that mattered, as the Cats outscored the Hawks by nine, 19-10, to win the ballgame 56-50. Perimeter shooting and good free-throw shooting at the end of the game enabled the Cats to seal the victory.
Brody Roes led the Cats in scoring with 17 points, followed by Ryan Dannar with 14 and Patrick Jesperson with 11. Colt Frahm had 9 and Kevin Bradt had 5 to round out the scoring. Frahm had 11 rebounds and Jesperson had 10 to help the Cats control the boards. Issac Hughs had 17 for the Hawks in a losing effort, followed by Jake Pond with 11.
With the three victories, the Cats are 6-9 on the season, and look to finish strong with the Western Trails Conference Tourney on the horizon and games with Sioux County, Minatare, Morrill, Hay Springs, and Crawford as well. Sub-Districts will be on the 19th and 20th in Gering, featuring Bayard, Creek Valley, Garden County, and Morrill, in addition to Hemingford.
A winning season record is in sight for the Cats if they keep up the hard work and never say die attitude!
The team finished with a season record of 10-12. Brody Roes, Colt Frahm, and Ryan Dannar all garnered post-season conference honors for Coach Tim Lanik.
Wrestling –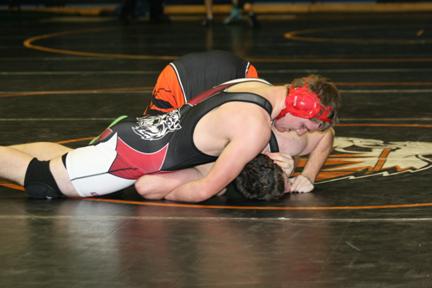 The wrestlers, Coached by Gordon Karney and Chris Weber had a very successful season. Results from several of the meets follow.
Bobcats Place Second at the Crawford Wrestling Invite.
On Saturday December 2nd the Hemingford High School Wrestling Team traveled to Crawford for the Crawford Wrestling Invite. There were eleven teams competing from Nebraska, Wyoming and South Dakota.
Results are as follows.
112 Adam Jensen won all of his matches for the championship.
130 Matt Faber lost his first match, won his second and was beat out in the third round. 145 Steven Overshiner won all of his matches up to the finals for a second place finish. 140 Blake Vela won all of his matches for the championship.
152 Blake Fastnacht won three and lost one match for a third place finish.
189 Kyle Campbell won all of his matches for the championship.
215 Joe Bob Haas won all of his early matches and lost in the finals for a second place finish.
As a team the Bobcats placed second behind Lusk. We did real good considering we only filled seven of the thirteen weight brackets and Lusk filled twelve. The next competition for the wrestlers will be the Banner County Invite at Harrisburg, NE on Saturday Dec 9th starting at 9:00 am.
Junior High Wrestlers Finish up Season with Winning Records.
The Hemingford Junior High Wrestling Squad had a great season this year with all but one wrestler posting a winning record.
At 94 lb Aaron Jesperson ended the year with a 16-5 record.
At 103 Jose Campos ended the year 19-1.
At 121 Jane Jaramillo ended the year 9-5.
At 130 Chance Campbell ended the year 11-4.
At 133 Brandon Roland ended the year 11-6.
At 146 Tanner Lembke ended the year 5-3.
At 144 Travis Kettlemann, who only made one tournament, ended the year 2-0.
At 155 Kyle Olson, who only made one tournament, ended the year 0-2.
With a team record of 73-26 these wrestlers did a fine job this year and the 8th graders will make a welcome contribution to our high school wrestling squad next year.
Chadron Invitational
Hemingford High School represented itself well Friday and Saturday at the annual Chadron Invitational Wrestling Tourney. In the tough field of 16 teams, the Cats brought home five individual medals (of seven Hemingford wrestlers that competed), and finished in the middle of the pack as a team, in 8th place in the 16 team field, defeating conference foes Gordon-Rushville, Crawford, Bridgeport, and Mitchell, as well as finishing ahead of non-conference teams Scottsbluff, Chadron, Spearfish, and Bennett County. Large schools from Wyoming dominated the meet, with Gillette winning and Natrona County of Casper finishing as runner-up.
Leading the way for Hemingford was Senior Kyle Campbell, who finished second at 189 pounds, beating wrestlers from Cheyenne East, Ogallala, and Scottsbluff, before falling 11-4 in the finals to Cody Lawson of Natrona. Campbell also won his 100th match in his career at the tourney. He is 20-6 on the season.
At 215 pounds, Sophomore Joe Bob Haas finished with a 3-2 record in placing 5th, for a 20-5 season mark. Senior 145 pounder Blake Fastnacht also finished 3-2, placing 4th, for a 22-9 season record, while Senior 140 pounder Blake Vela finished 1-3, but finished in 6th place. He is 8-4 on the season.
Junior Steven Overshiner, wrestling at 135 pounds, earned a 5th place finish with four wins and two losses, and now has a 23-7 season record. Sophomore 112 pounder Adam Jensen lost to wrestlers from Casper Kelly Walsh and Chadron and was 0-2 in the tourney for a season mark of 9-8. Freshman Cole Vela, wrestling at 152 pounds, lost to wrestlers from Scottsbluff and Gillette for a 0-2 mark, and an 0-11 season mark.
The wrestlers are in action again this Saturday, January 27th at the Mitchell Invitational, and then travel to Chadron for a dual next week, on February 2nd, before traveling to their last regular season action in Yoder, WY for a tourney the next day, Saturday, January 28th.
District action will again be in North Platte, NE at St. Patrick's Catholic School, on Friday and Saturday, February 9th and 10th. Finishers in the top four in each weight class at St. Pat's will qualify for this year's State Wrestling Tourney, held February 15th-17th in the Omaha Quest Center.
Complete Team Standings from Chadron:
272.5 - Gillette, WY
174.0 - Natrona High School - Casper WY
164.5 - Gering
130.0 - Alliance
125.5 - Kelly-Walsh High School -Casper, WY
115.0 - Cheyenne East - WY
96.00 - Ogallala
67.00 - Hemingford
66.00 - Gordon-Rushville
61.50 - Bennett County,SD
56.00 - Spearfish, SD
52.00 - Crawford
50.00 - Scottsbluff
42.00 - Bridgeport
36.00 - Chadron
35.00 - Mitchell
Bobcats Crown Three District Champions
The Hemingford Bobcat Wrestling team took third at the D-4 District in North Platte Saturday, crowning three individual Champions and three other wrestlers that placed in the top four, to send all six Hemingford wrestlers entered in the meet to State.
Champions included Steven Overshiner, a Junior, Blake Vela, a Senior, and Joe Bob Haas, a sophomore. Placing second was Senior Blake Fastnacht; earning third was Senior Kyle Campbell, and getting fourth was Sophomore Adam Jensen.
The Cats, coached by Gordon Karney and Chris Weber lost only four matches in the two day tourney, finishing just one point out of second, and 3.5 point out of first. Morrill was the team champion with 106.5 points, followed by Banner County with 103 points, and Hemingford third with 102 points in the 18 team field. Last year's district Champion North Platte St. Pat's, also the tourney's host, finished fourth with 94.5 points.
Individual Breakdowns for Hemingford:
------------------------------------------------------------------------------
112- Adam Jensen (Sophomore, 13-13) First round bye; 2nd round winner by decision over Zach Lee of St. Pats by a score of 6-0; Lost in the semis to Feeney of Maxwell by fall in :41; Defeated Milanuk of Garden County 3-2 in the consolation semis; lost to Rundel of Hitchcock County 7-5 in the consolation finals to finish fourth and qualify for state.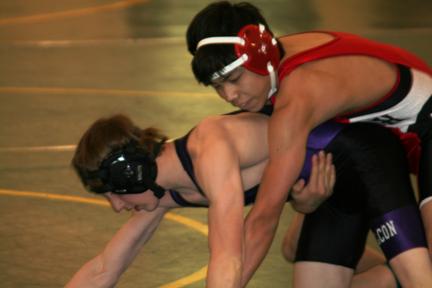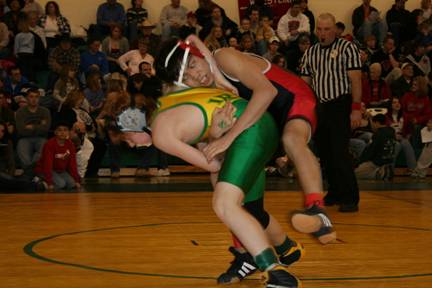 ---------------------------------------------------------------------------------
135-Steven Overshiner (Junior, 28-12) First round bye; 2nd round bye. Defeated Smith of Hyannis with a pin in 2:35 in the semi-finals; defeated Sander of Dundy County by a 10-4 score in the finals to win a district championship.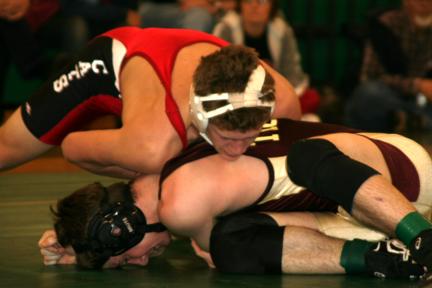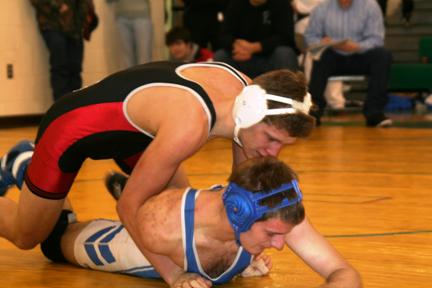 ---------------------------------------------------------------------------------
140-Blake Vela(Senior, 18-7) Won by Fall over Zane Rinehart of Sioux County in :42; Won by fall over Ethan Budke, St. Pats; defeated Waltman of Garden County 9-7 in the semis; defeated Will Brown of Crawford in the finals 10-3 to win a district championship.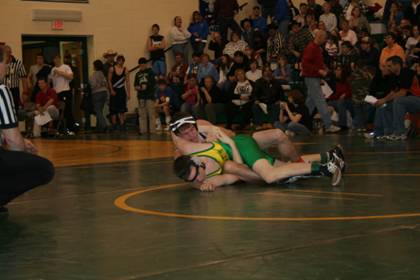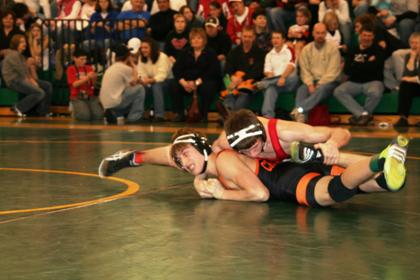 --------------------------------------------------------------------------------
152-Blake Fastnacht (27-12 Senior); First round bye; winner by major decision 14-4 over Jake Nekuda of Maxwell. Defeated Welsh of Sutherland 2-1 in the semis; lost 0-13 to Jordan Gonzales of Morrill to finish as district runner-up.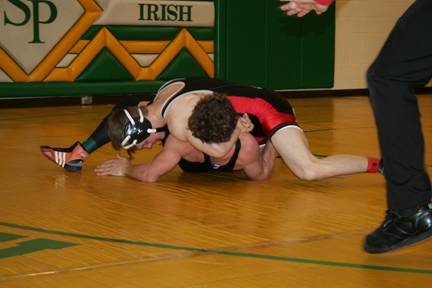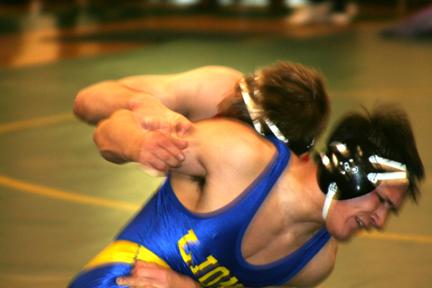 ---------------------------------------------------------------------------------
189-Kyle Campbell (30-8 Senior), First round bye; winner by fall over Chris Rude of Minatare. Lost in the semis to Bundy of Dundy County 5-3; Beat Campbell of Cambridge with a pin in :24 in the consolation semis; Defeated Norman of Crawford 5-2 in the consolation finals to finish third.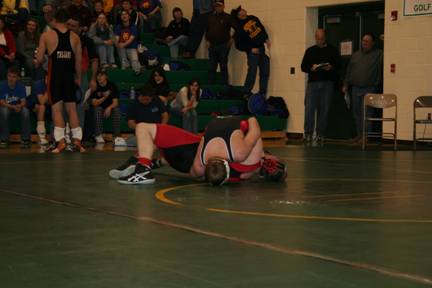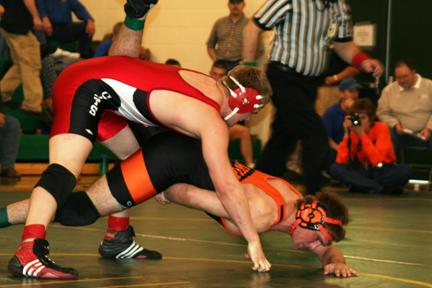 ---------------------------------------------------------------------------------
215-Joe Bob Haas(29-6 Sophomore), First round bye, winner by fall over Nick Schultz of Morrill. Defeated Kolling of Crawford with a fall in 3:59 in the semis; Defeated Milanuk of Garden County by a 5-0 decision to win a district championship.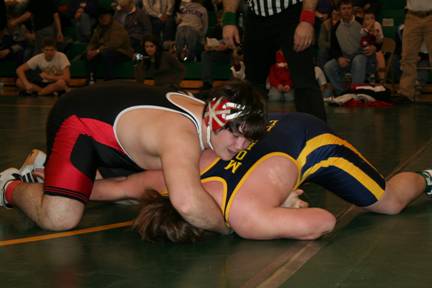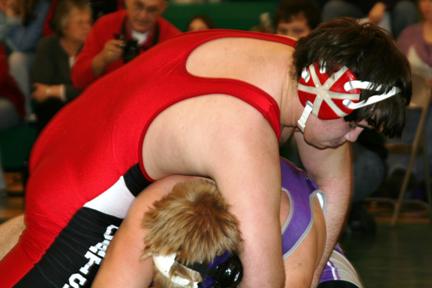 The Cats will next travel to Omahas Quest Center this Thursday, Friday, and Saturday to test their mettle against the best in the state. Complete brackets (match-ups for Hemingford) can be found on the web at http://www.nsaahome.org/textfile/wrest/dpair.htm
The names are listed in order from top to bottom in a list of sixteen for each weight class, with the first two wrestlers paired, then the second pair, etc. winner of each pair would wrestle in the second round, etc. Losers in the first pair would then wrestle the loser in the next pair, etc.
Congratulations to parents and family members of our wrestlers, as well as to the coaches Gordon Karney and Chris Weber. Finally, congratulations to all the members of the wrestling team at Hemingford! Great job and good luck at STATE!!!
Girls Track and Field –
Coach Cindy Ahrens welcomed seventeen competitors out for track. Members that placed throughout the year included state qualifier Shelby Cambell in the hurdles, Morgan Jurgens in the quarter, and Ashley Yardley in the jumps. Katrina Mundt was a senior leader for the team. Other team members included Shawney Wright, Jessica Van Coppenolle, Taylor Forgey, Alysha Kittleman, Jo Duncan, Missy Riggs, Alanna Wacker, Katoya Rosentrator, Ammie Minich, Brooke Hannaford, Michaela Fastnacht, and Teonna Schleicher.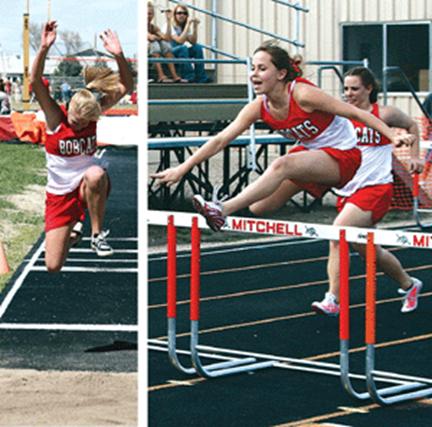 Boys Track and Field –
There were a number of highlights during the Track and Field season, with Patrick Jespersen qualifying for state in the high jump and the 100 towards the top of the list. The boys also finished as Panhandle Conference Runner-up with seniors Jespersen, Blake Vela, Blake Fastnacht, James Overshiner, and Mick Casey leading the rest of the team. Brody Roes scored well in the throws and Beau Hartman placed often in the distances.
Elementary Field Day –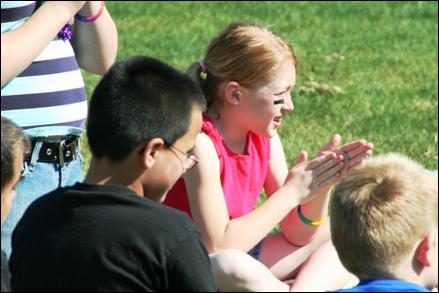 2007 Field Day at Hemingford Elementary was a great success!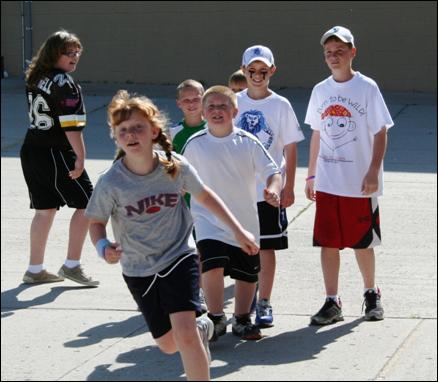 There were games of every kind, including jump roping.
Family and friends were there to soak up the sun, and cheer brothers and sisters on!
The weather cooperated as usual, with plenty of sun!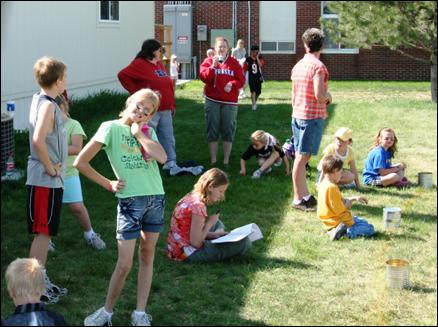 There was also some shade to cool off in.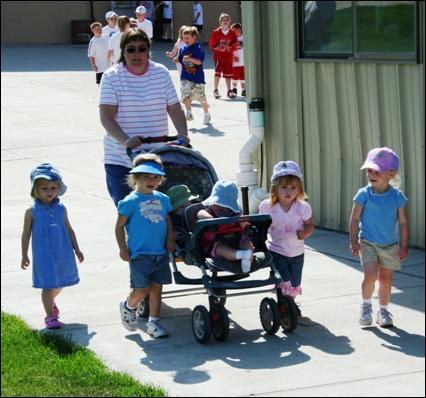 Some future students came to check out the games too.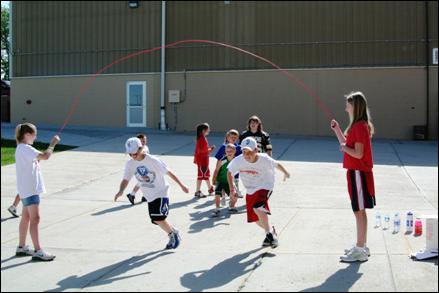 There is a great spirit of cooperation in our school!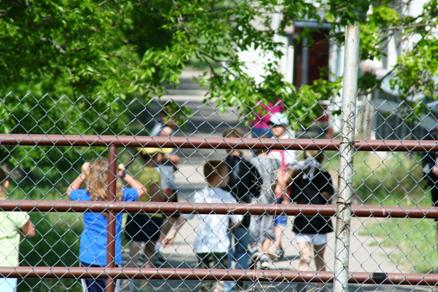 Students have helped each other out all year long.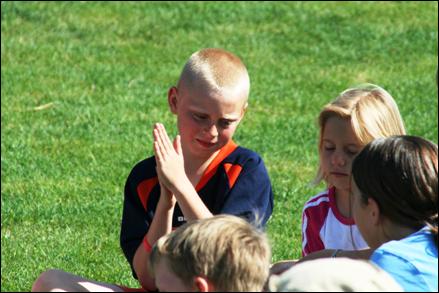 They all seem to enjoy being together.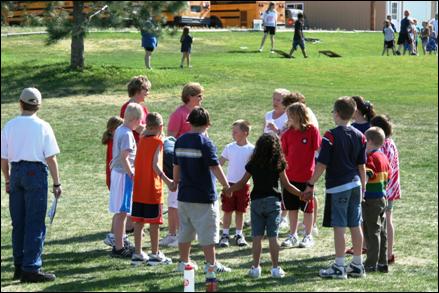 At the end of the day, and the end of another school year, we want to say thanks to our parents, our staff, and our students! Working together has enhanced all that we do in Hemingford! Have a GREAT summer, and keep reading.
Golf – Coaches Robinson and Olson had ten linksters out for golf this season, including, Rachel Fletcher, Kelly Overshiner, Josie Fletcher, Dalton Hunger, Joe Bob Haas, Jordan Petersen, Dustin Johannes, Kyle Campbell, Bryce McVicker, and August Darveau.
Bryce McVicker led the team with a championship in the Panhandle Conference, a district runner-up finish, and an appearance in the "Best of the West" tourney.
Clubs and Activities – FFA – Michaela Fastnacht won the district Creed Speaking Championship; the club put on their annual farm safety day and a petting zoo for the younger students. Mr. Karney was the sponsor.
FCCLA – Hemingford's own Taylor Jespersen was elected as District President! Three FCCLA members also qualified for state: Tasha Moss, Ashley McCoy, and Gina Jespersen. The Big Brother/Big Sister program was doing well, and the sponsor was Mrs. Neefe.
Homecoming Royalty – Queen – Carri Long, King – Matt Faber. Attendants – Blake Fastnacht, Kelsey Forgey, Emily Kuhn, and Blake Vela. Coronation took place downtown on Box Butte Ave following a parade and pep rally – all sponsored by the Student Council.
Prom Royalty – Queen – Kassie Boone , King – Patrick Jespersen, Attendantes were Taylor and Gina Jespersen, Joe Bob Haas, and Shelby Campbell. They were crowned by Olivia Raben.
Prom Theme – "007" was the theme for prom. The hall was decorated beautifully with most students dressed formally.
Senior Class Motto - "Be who you are and say what you feel because those that mind don't matter, and those that matter don't mind", by Dr. Suess. Class colors were Black, Red, and White; Class Flowers were assorted, and the Class of 2007 song was, "My Wish", by Rascal Flats.
Senior Class Officers – President – Emily Kuhn, Vice President – Bobby Henderson, Treasurer – Amanda Winten, and Secretary – Kate Karenow.
Valedictorian – Melissa Cervantes
Salutatorians– Amanda Winten and Emily Kuhn
Graduation –
The HemingfordHigh SchoolClass of 2007 graduated on Sunday, May 13th in the school gymnasium, with 29 members receiving their diploma. Class colors this year were red, black, and white.
District School Board Member Bob Haas greeted the over-flowing Mother's Day crowd that hung in there during a very warm ceremony. Trish Schumacher, also a board member, and April Casey, Board president congratulated the members of the class, and handed out the diplomas as Secondary Principal Peggy Thayer read off names. School Superintendent Casper Ningen helped to introduce the Valedictory address and the Spirit of HHS awards.
Co-salutatorians this year were Amanda Winten, daughter of Bruce and Susan Winten, and Emily Kuhn, daughter of Marty and Jane Kuhn. 2007 Valedictorian was Melissa Cervantes, daughter of Joe and Marie Cervantes. All three shared their memories and hopes for the future in addresses to their class and the crowd.
Special "Spirit of Hemingford High" awards were conferred upon Joyce Klemke, longtime district business manager, and Sue Shaver, present media specialist at HHS, who also has taught music for many years before that.
Hemingford's band and girls chorus also performed. They were directed by music teacher Ann Chesley. Ramona Hucke, District Guidance Counselor, announced many scholarships for the class of 2007, as well as paying tribute to those seniors planning to join branches of the military.
A large crowd passed through a receiving line at the ceremony's conclusion.
Special or Unique Happenings – Mrs. Cindy Lanik was selected as the 2006 Nebraska "Star of Teaching". She was the single Nebraska recipient. The Governor of Nebraska, Dave Heineman came to Hemingford to present the award in person.
Mrs. Sue Shaver was selected as the 2006 Hemingford Chamber of Commerce Educator of the Year. She has taught for 32 years, and is appreciated by everyone here!
CSC Scholastic Contest Results – The snow and Ice kept the HHS team from attending, where they would have been favorites to finish in the top five of their class.
Senior Class Enrollment – 29
Kindergarten Class Enrollment – 18
Superintendent – Mr. Casper Ningen, 3rd year at Hemingford
Secondary Principal – Mrs. Peggy Thayer, 2nd Year at Hemingford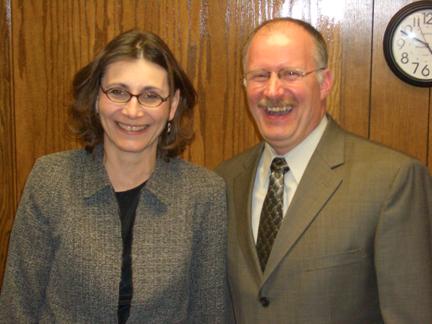 Elementary Principal – Mr. Ron Foster, 2nd year at Hemingford
Director of Special Education – Mrs. Mandy Plog
Elementary Teachers – Pre- School – Mrs. Moudry,Kindergarten – Mrs.J. Lanik and Mrs. Folkerts ; First Grade – Mrs. Gasseling and Mrs. Benda ; Second Grade – Mrs. Engelhaupt and Mrs. Zajic; Third Grade – Mrs. Huddle ; Fourth Grade – Mrs. Osmotherly ; Fifth Grade – Mrs. Prochazka ; Sixth Grade - Mrs. C. Lanik. Mrs. Plog was our SPED supervisor, assisted by Mrs. Buchheit, Mrs. Ningen, Mrs. Surbeck, Mrs. Holman, Mrs. Wilson, Mrs. Vogel, Mrs. L. Haas, Mrs. S. Haas, and Mrs. Phillips. Mrs. Messersmith was our Title teacher. Mrs. Davies was our elementary media para, Mr. M. Olson was our speech therapist, and Mrs. Benda was our elementary computer teacher.
Secondary Teachers – Mrs. Ahrens, Mrs. Bridge, Mrs. Fastnacht, Mrs. Georgi, Mr. Hanks, Mrs. Harris, Mrs. Horstman, Mrs. Hucke, Ms. Janssen, Mrs. Chesley, Mr. Karney, Mr. Lanik, Mrs. Neefe, Mr. B. Olson, Mrs. Shaver, Mrs. Stewart, Mrs. Thompson, Mr. Robinson, Mrs. Wade, Mr. Chatelain, Ms. White, and Mr. Zajic.
Other Staff Members – Mrs. Klemke, Business Manager, Mrs. Kuhn, secondary secretary, Mrs. Campbell, elementary secretary; Mr. Spath, maintenance and transportation, Mrs. Jones, elementary custodian, Mrs. Weldon, secondary custodian, Mrs. Mapes, activity/gym custodian, Cooks were, Mrs. McCoy, Mrs. Simmons, Mrs. C. Wright, Mrs. N. Yardley, Mrs. Rowe, and Mrs. N. Yardley.