Class of 2013
Updated May, 2013
The 2013 Graduating Class of Hemingford High School (Please Click to enlarge)
20 Hemingford High School 13
Student and Faculty Highlights of the Year
This page features athletic records, officers, themes, important numbers, important happenings, and other educational information from the year in question. It provides a quick and ready resource for Bobcat Grads and families!
Student Council members and highlights
The student Council was very active, beginning with their duties for organizing homecoming. Sponsor Kay Horstman had the following officers for 2012-2013: Co-Presidents – Kelsy Wood and Kyle Kumpf; Vice President – Brady Horstmans; Treasurer – Cash Weber; and Secretary – Cassie Elder.
National Honor Society Members
Kyle Kumpf, Kelsy Wood, Brady Horstman, Kaitlyn Jespersen, and Annie Hughart  were all Senior members of the NHS that graduated in 2013.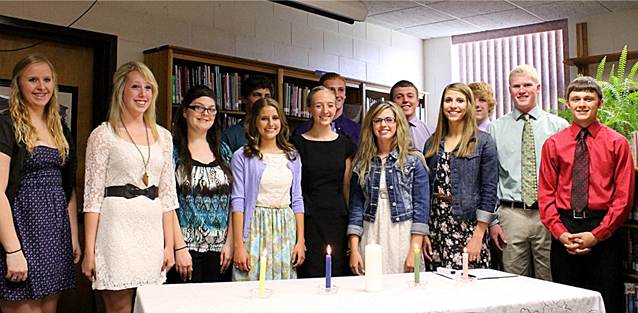 Officers, standing members, and new members pose in the library.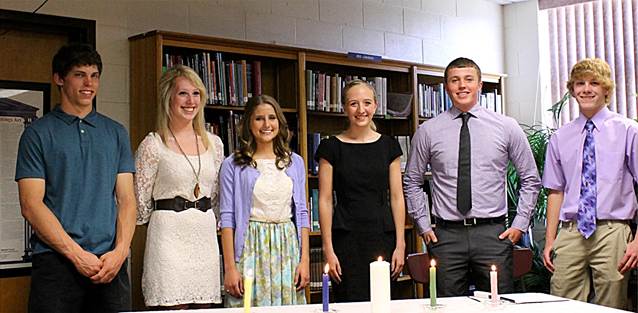 New Inductees in the Hemingford Chapter of the National Honor Society.
Ethan Skinner, Ashleigh Galles, Kaelia Nelson, Hannah Fessler, Kyle Kaman, and Tyler Huddle.
Music Department
Music Instructor Sara Schmidt, a graduate of CSC welcomed large numbers in Choir, and hoped that the band would grow. The band marched in the Box Butte County parade to kick their year off.
The music department also had outstanding Christmas and Spring concerts, along with District Music Contest, at Alliance High School. Ratings earned in Alliance were: Joseph Rozmiarek – Trumpet solo – I ; Chase Lucas – Guitar solo – I ; Jason Randolph – Guitar solo – II ; Abigail Bright – Piano – II ; Mixed vocal – II ; Show Choir – II ; Trumpet Trio – I ; Woodwind – III ; Jazz Band – II ; Mixed Chorus – II ; and Band – II :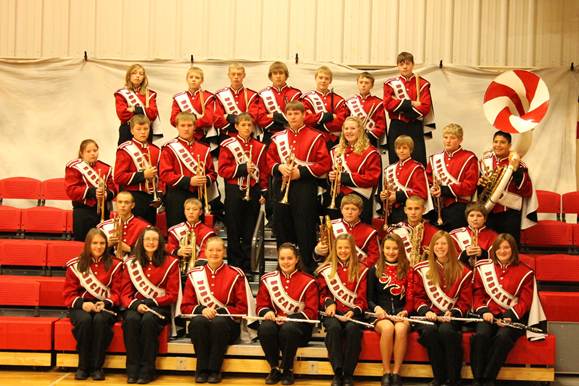 2012-2013 Hemingford High School Music Honors:
Doane College Oregon Trail Honor Band: Kohl Boone, Joseph Rozmiarek, and Brady Weber
Western Trails Conference Honor Band: Joseph Rozmiarek
John Phillip Sousa Band Award: Kohl Boone
Western Trails Conference Honor Choir: Jayleen Forgey, Cash Weber, and Kelsy Wood
National School Choral Award: Jayleen Forgey
Drama and One Acts
Participation and enjoyment was the primary focus for the plays presented this year at HHS. One Acts garnered a runner-up finish at Panhandle Activities Conference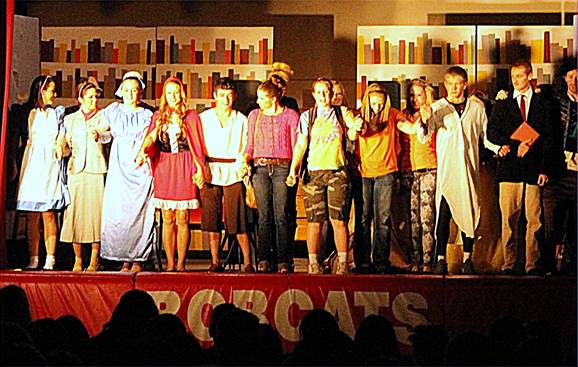 Speech
Team Sponsor Judy Stewart and Assistant Cathy Herstead looked forward to another successful HHS Speech season, led by four Senior members.
Davina Berg, Anna Hughart, Kayla Christianson, and Nicole Schekall anchor a large team at HHS. Five Juniors and nine Freshmen are also part of the eighteen member team.

The season includes meets at Kimball for WTC, at Scottsbluff, Gordon, Gering, Chadron, North Platte, and Ogallala with Hemingford playing host to the Panhandle Conference meet, before Districts and Speech

Freshmen
Danika Adam - Poetry and Informative
Taeller Ansley- Duet and OID
Abigail Bright- Informative
Robert Heule- Duet and OID
Devan Christianson- Duet and OID
Ana Rodriguez- Duet and OID
Rebecca Stone- OID
Brittany Thomas- Informative and Extemp
Makenna Wortham- Informative
Juniors
Isabella Irish- Poetry and OID
Sarah Mracek- Poetry and OID
Alexis Olson- Duet and OID
Miguel Rodriguez- Duet and OID
Tegan Yardley- Duet and OID
Seniors
Davina Berg- Duet and OID
Kayla Christianson- Duet
Anna Hughart- Informative and Extemp
Nicole Schekall- Duet
Football (9-1)
Hemingford had a record-setting Football Season that saw the Bobcats Reign as Panhandle Activities Conference Champions as well as NSAA District D1-10 Champions! The Cats qualified for the NSAA State Football Play-offs as well, winning their first round game vs. Clearwater-Orchard, before dropping their second-round game in the play-offs to a good Loup City Team.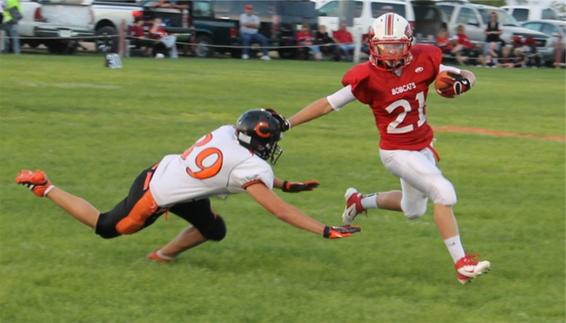 The Cats won nine games for the first time in history, over Crawford (60-0) , Banner County (70-0) , Hay Springs (83-8), Sutherland (64-8), SMC (52-8), Paxton (48-18), Morrill (67-22), Maxwell (48-17) and Clearwater-Orchard (38-12), before the season-ending loss to Loup City (20-55) in the State Quarter-Finals.
They finished with a great (9-1) won-loss record for 2012-2013. Co-Head Coaches Randy Hiemstra and Jordan Haas along with Assistant Coaches Joe Collins and Taryn Wood  directed the team that had six seniors: Cash Weber, Kohl Boone, Kyle Kumpf, A.J. Jesus, Vance Orr, and Caleb Milne.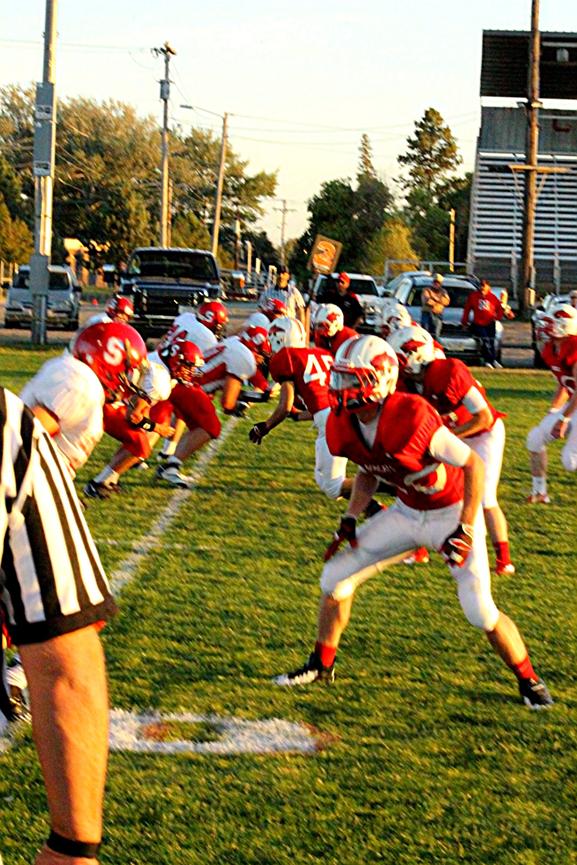 All-Conference and All-District Honors went to Weber, Kumpf, Orr, Matthew Wood, Kyle Kaman, Brady Turek, Blake Hansen, and Ethan Skinner.
Volleyball
Kerri Heusman and Heather Steggs guided the Lady Cat Volleyball team in the Fall of 2012, earning wins over Sioux County, Crawford, Hay Springs, Edgemont, Banner County, Minatare, and Bennett County on the way to a (14-14) Won-Loss record. The Lady Cats earned third place in the Hemingford Invite and the PAC Tourney for season highlights.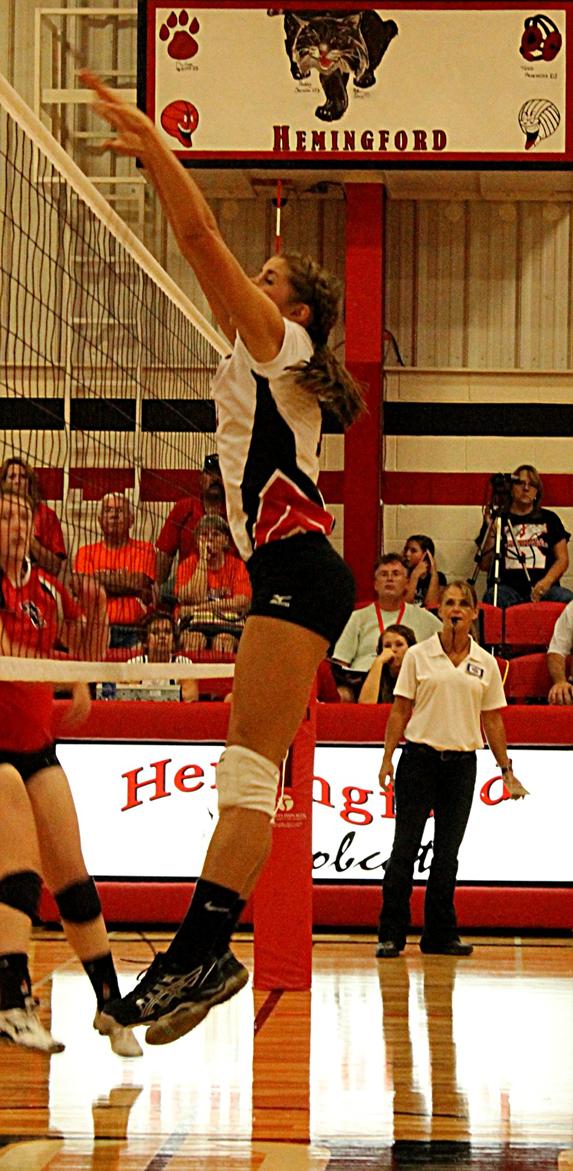 Senior Kelsy Wood gets up high for a block.
All-Conference Honors went to Kelsy Wood, Kaitlyn Jespersen, Kristina Kramer, Jayleen Forgey, and Kaitlyn Bergfield.
Senior Lady Cat Netters were Wood, Jespersen, Kramer, Forgey, Cassie Elder, and Caralina Carlson.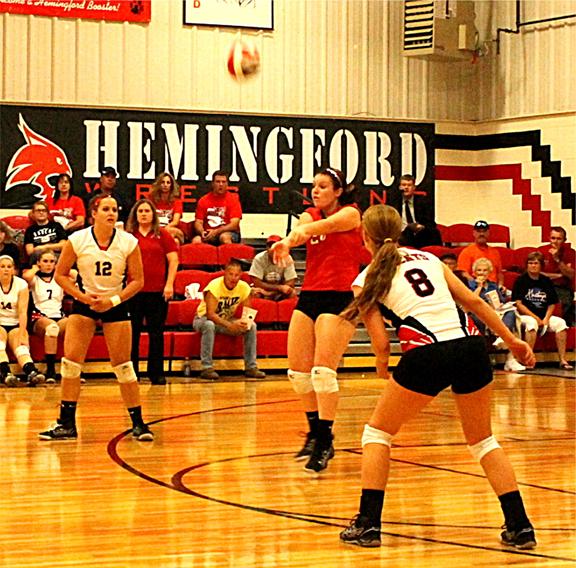 Senior Kristina Kramer ( in red), bumps the ball while #12 Junior Alexis Phillips and #8 Senior Davina Berg stay ready.
Cross Country
Coach Cindy Lanik and Assistant Tim Lanik had hardworking high school runners, led by Jesse Savala and Brady Horstman, and some solid up and coming junior high runners, with Faith Rohrbouck, Carli Cullan, Jason Randolph, and Miles Davis leading the pack.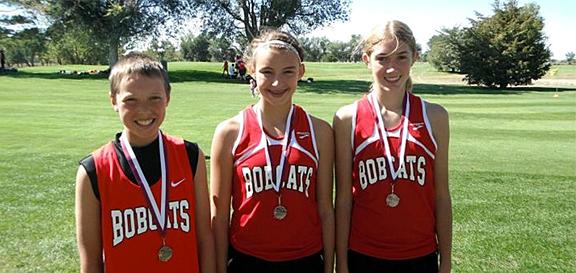 Senior Jesse Savala looks to overtake a runner from Morrill during one of our chillier meets.
Girls Basketball
The Girls BB team worked very hard, earning several wins against teams in the PAC and WTC. Coach Dave Chatelain led the Ladies to a (14-8) Win-Loss record in 2012-2013. They earned runner-up honors in the PAC and in the Sub-District Tourey. All-Conference Honors went to Kelsy Wood Cali Rohrbouck, Kaitlyn Bergfield, and Kaitlyn Jespersen.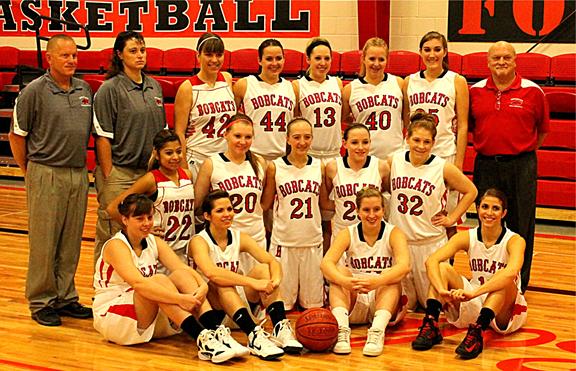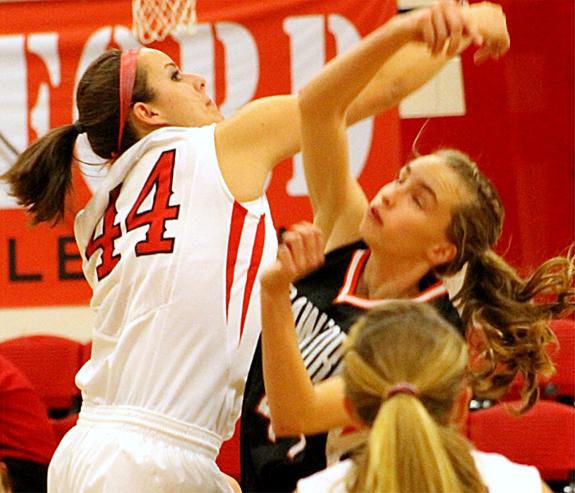 Alexis Phillips, Number 44, scraps for a rebound.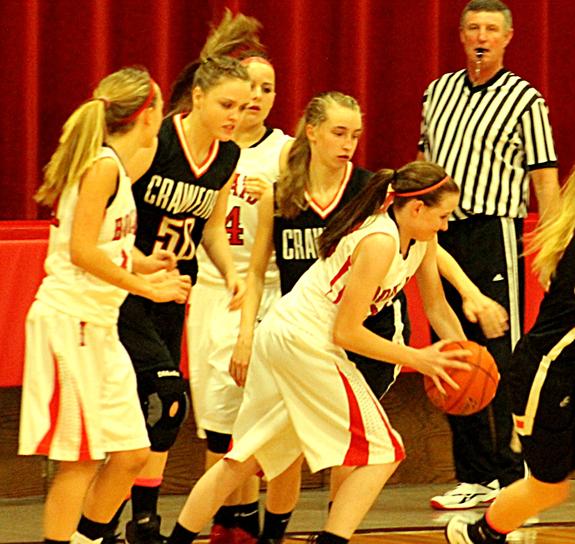 Hannah Fessler screens "Most Improved" team member Christian Rozmiarek against Crawford.
Boys Basketball 
Conference Champions in the PAC, Sub-District winners, and District Runner-Ups for the first time in over 20 years were some of the most memorable highlights for the Bobcat Basketball team, Coached by Randy Hiemstra. The Cats had a great season, finishing with a (19-6) won-loss record.
On a team blessed with underclassmen, Seniors Kyle Kumpf and Brady Horstman were solid leaders for the Cats. All Conference Honors went to Kyle Kumpf, Kyle Kaman, Blake Hansen, Brady Turek, and Colt Foster.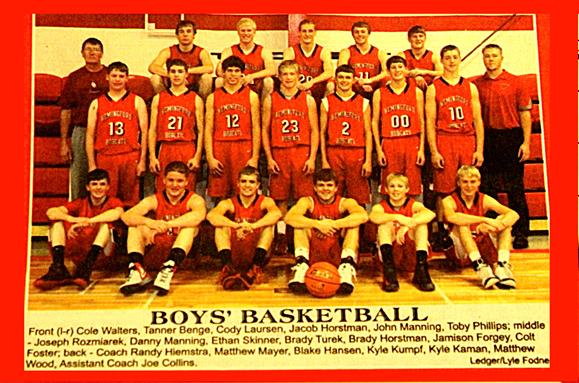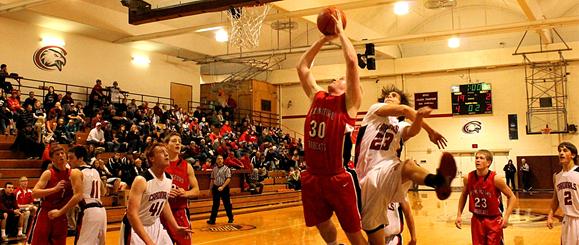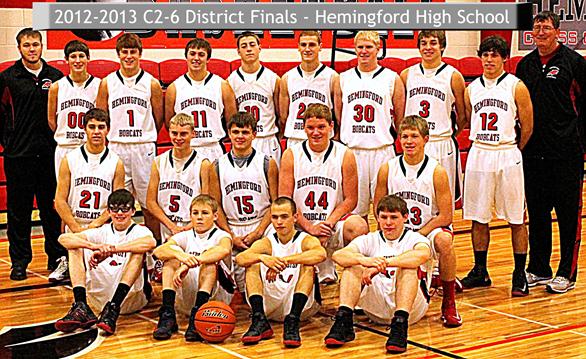 Wrestling
The Cats had a resurgence in team numbers, with ten mat men out this year. Several highlights included good showings at Conference and Districts, where three Cats qualified for the State Wrestling meet for Coach Kyle Walker.
Senior Cash Weber, little brother Cooper Weber (a freshman), and freshman Lee Jespersen all made it to Omaha. Cooper and Cash were both able to win a match in the always tough State Tourney.
Injuries slowed the elder Weber, Trevor Benge, Matthew Sorensen, and Tyler Huddle, who except for Weber look to return in great shape for 2013-2014. Other promising team members included Moses Ash and Wyatt Stricker.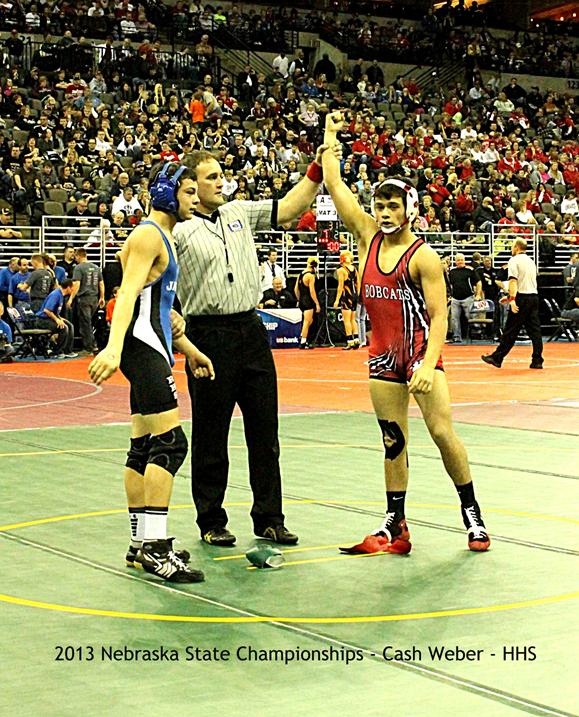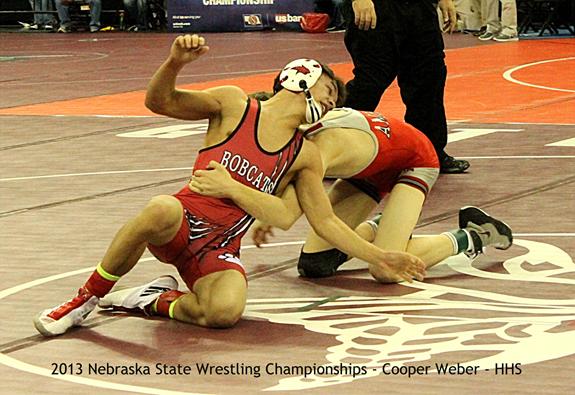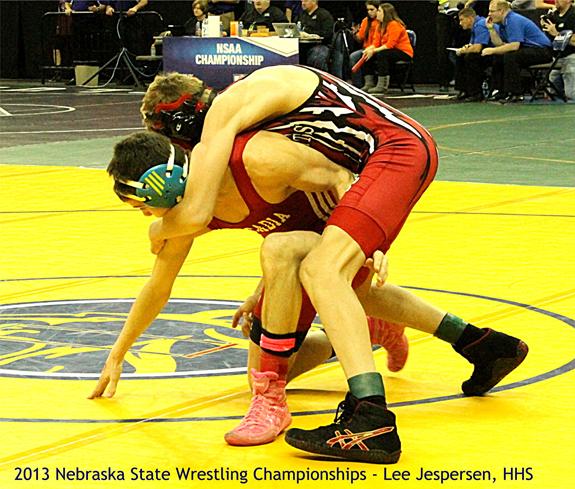 Girls Track and Field  Ninth in Class "C" State
At the 2013 State Track and Field meet in Omaha,  the Hemingford Lady Cats scored 24 points and tied for ninth in Class "C" Team standings. Senior Kelsy Wood took home four state medals, with the places detailed below. Senior Kaitlyn Jespersen also took home a state track medal.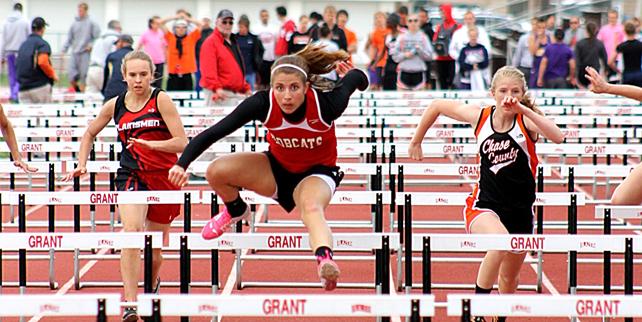 Kelsy Wood (Senior)Long Jump - 16'6" - Placed Seventh in Class C; 100 Dash - 12.7 - Placed Fourth in Class C; 100H - 14.9 - State Class C Runner-Up (New School Record) ; 300H - 44.8 - State Class C Runner Up (New School Record)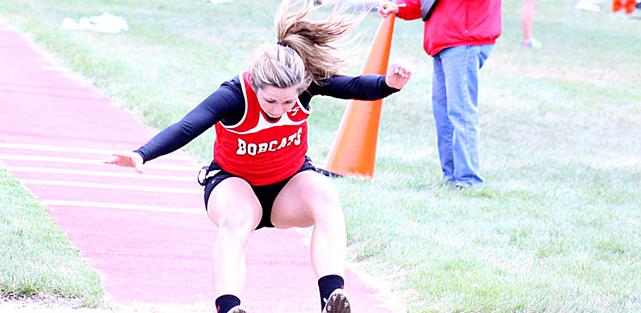 Kaitlyn Jespersen (Senior)Triple Jump - 34' 4" - Placed Eighth in Class C (New School Record)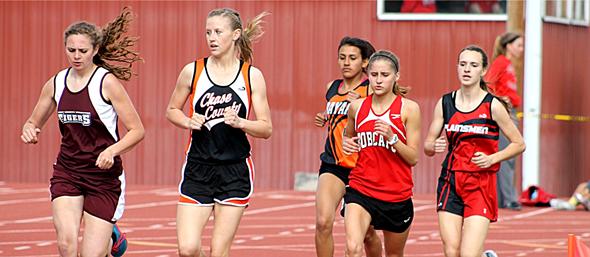 Kaelia Nelson (Sophomore)3200 Meter Run - 13:16.6 - 22nd Place Overall Coach Cindy Ahren's girls team also did well in the PAC Conference meet in 2013. Other team members that contributed at a high level included Davina Berg, Cassie Elder, and Ashleigh Galles.
Boys Track and Field   PAC Champions !

The Boys Track and Field Team had just one State Meet Qualifier Ethan Skinner (Sophomore) 400 Meter Run - 52.7 - 18th Place Overall; but had an outstanding season, winning the Panhandle Activities Conference Meet, and had several outstanding athletes including Skinner, Kyle Kumpf, Kyle Kaman, Brady Turek, Blake Hansen, Cash Weber, Wyatt Stricker, Moses Ash, Cody Laursen, and Jason Randolph.

Golf District "D-5" Champions!
The boy's golf team had weather problems that kept them off the links two or three meets, but managed to trample the field at the PAC conference meet in Alliance, winning by nearly forty strokes. Medalist for the PAC meet was HHS freshman Jacob Horstman, followed by big brother Brady, who finished in fifth place.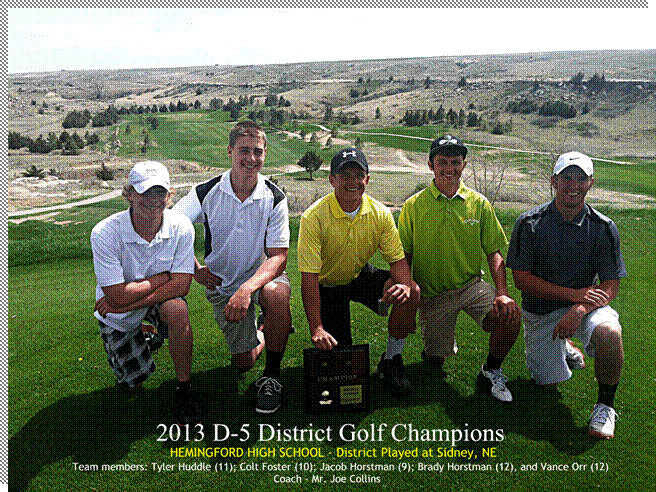 Another significant highlight was at the District meet in Sidney, where the Bobcats won the school's First Ever District Golf Championship, also qualifying for the State Golf meet in Kearney!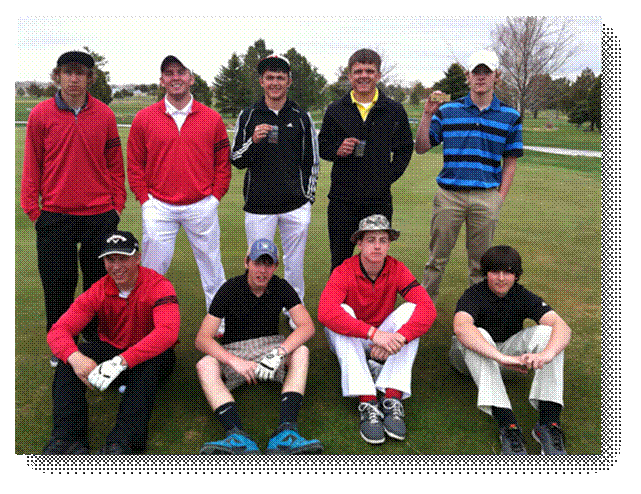 TEAM PICTURE: Front (l/r): Caleb Milne (JV), Chase Lucas (JV), Colt Foster (JV), Robert Heule (JV)Back (l/r): Kohl Boone, Vance Orr, Brady Horstman, Jacob Horstman, Tyler Huddle
Mr. Joe Collins was the Golf Coach for HHS.
Cheerleaders
A great group of hard-working girls led the cheers and the spirit for Hemingford in 2012-2013.  Delaney Adam and Davina Berg were the Senior Leaders for HHS; Underclassmen were Tegan Yardley, Kaelia Nelson, McKayla Grumbles, Hannah Fessler, Becca Stone, Taeller Ansley, and Danika Adam. Sponsors were Laura Weber and Amy Yardley 
FFA
The Hemingford Chapter of the FFA conducted many activities throughout the school year, including area, district, and State contests, as well as Farm Safety Day and the Annual FFA Appreciation Banquet.
On April third sixteen Hemingford FFA members traveled to Lincoln to compete at the 85th Nebraska State FFA annual convention.
The welding team placed 4th out of 51 teams with Brady Horstman placing 3rd individually in MIG welding and Kipp Irene placing 5th individually in Arc welding.
In the Junior Livestock selection competition the team took 9th place out of 59 teams with Ethan Skinner Tying for 10th high individual. Other members of the Junior Livestock selection team were Toby Phillips, Tyrell Cotant and Lee Jespersen.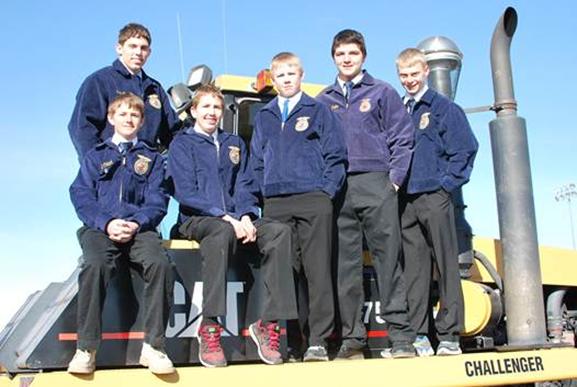 The Agronomy team consisting of Caleb Milne, Brady Turek, Vance Orr and Cole Walters placed 13th out of 77 teams.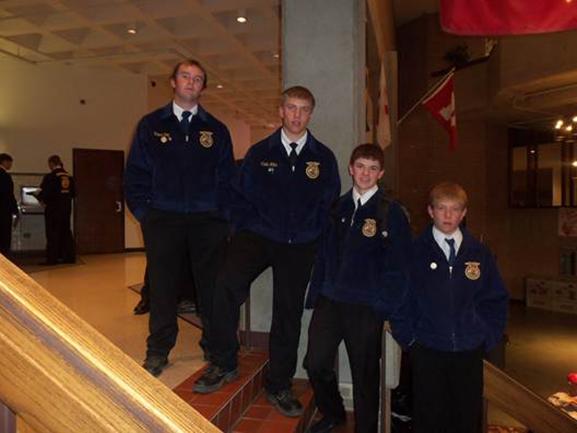 The Farm and ranch Management team consisting of Cash Weber, Brady Horstman, Kyle Kumpf and Jesse Savala placed 18th out of 64 teams.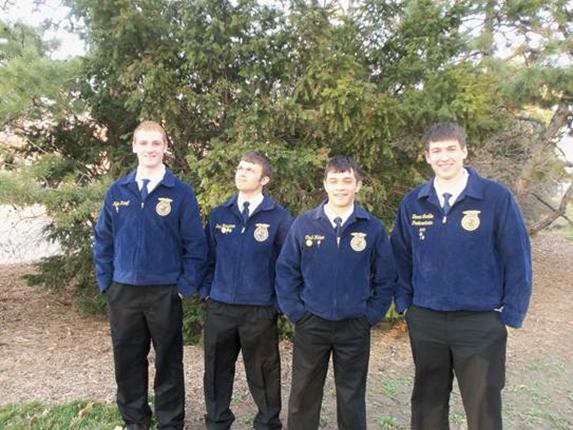 The Veterinary Science team consisting of Danny Manning, Caleb Milne, Ethan Skinner and Matt Davis placed 10th out of 24 teams.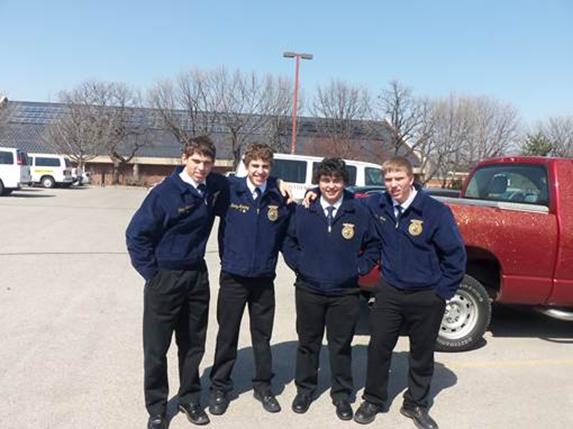 Along with competing at the convention members had the opportunity to attend leadership training sessions and act as delegates for the chapter at business meetings.
FCCLA
  2013 Hemingford Medal Winners at State FCCLA Conference
State FCCLA Conference in Lincoln will not only be remembered for the extra days spent in Lincoln waiting for bad weather and roads to improve, but for the awards earned by Hemingford High School students.
Winning a silver in Culinary Arts were Kaitlyn Jespersen, Kelsy Wood, and Matthew Mayer; A gold went to Jesse Savala in Food Art;  and a gold went to Mikayla Randolph and Madi Glendy in Family Challenges and Issues, including a rating of Second Place in State!
For perhaps the first time in history, Hemingford students also won the "Top Gold" award in National Programs in Action. Taylee Neefe and Allie Mekolon qualified for the National FCCLA Conference with this win.
Congratulations to all of the Hemingford High School FCCLA students and to Chapter Sponsor Suzanne Neefe. Fundraising activities are slated to help offset the cost of attending the National Conference for Taylee and Allie and their sponsor.
Homecoming Royalty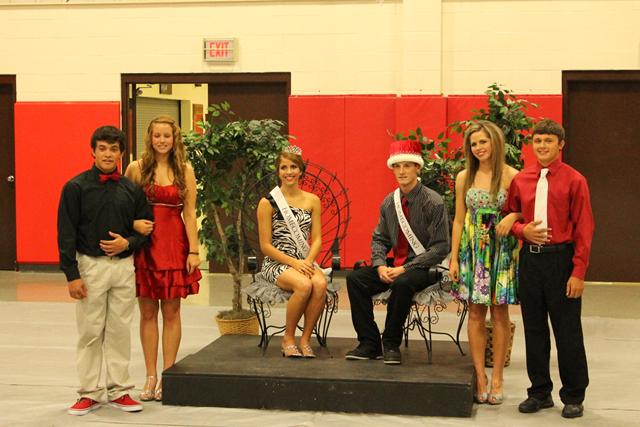 Queen – Kelsy Wood ; King- Kyle Kumpf; Attendants – Cash Weber and Davina Berg; Kaitlyn Jespersen and Brady Horstman. Homecoming was held at a most unusual time this year, as the Bobcats hosted Banner County  in football on September 3rd and Mitchell in Volleyball on September 2nd.
This resulted in having  Homecoming festivities, including the  parade, dress up days, and the annual Homecoming dance during the second week of classes!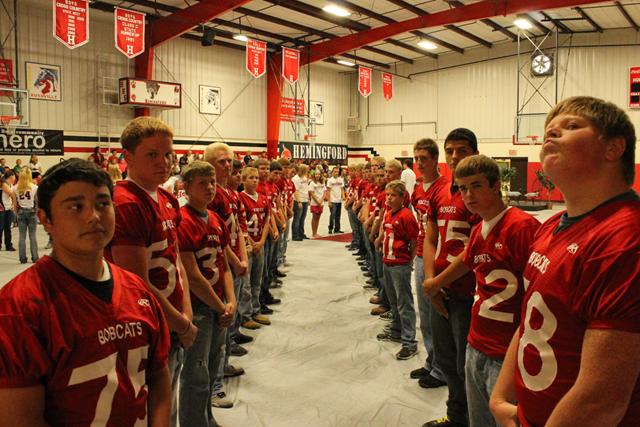 The combination of away games in the middle and end of the season, and the dearth of weeks where both the Volleyball and Football teams had home games the same week resulted in this strange occurance.
Prom Royalty 
Queen –Kaitlyn Jespersen; King – Brady Horstman; Attendants – Ethan Skinner and Hannah Fessler; Tegan Yardley and Trevor Benge.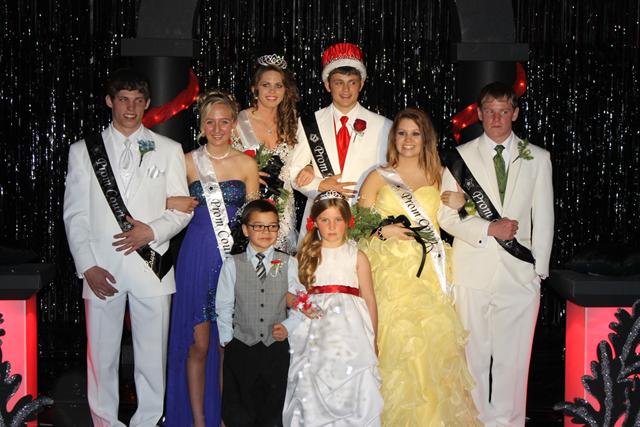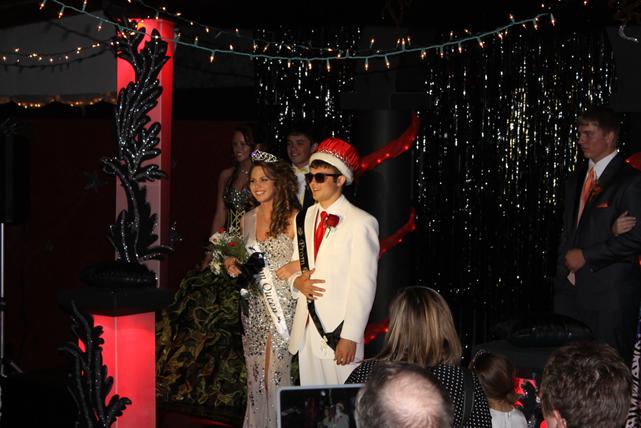 Queen Kaitlyn Jespersen and King Brady Horstman step forward to be recognized.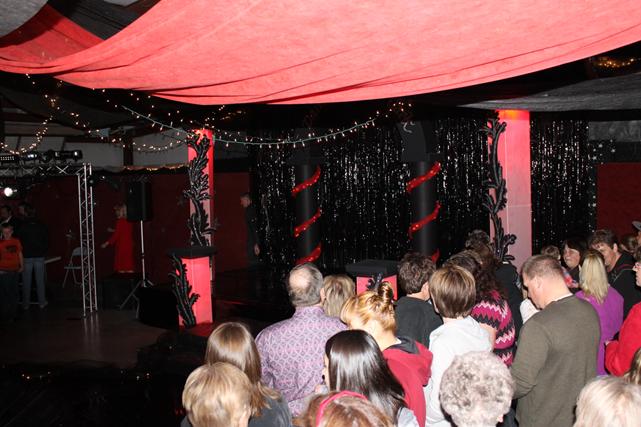 The 2013 Prom Décor was outstanding.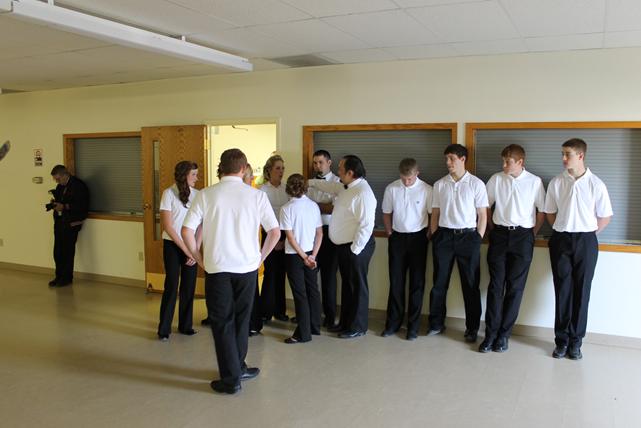 The Sophomore Servers await their call to duty.
Prom Theme 
Senior Class Motto 
"You have brains in your head. You have feet in your shoes. You can steer yourself in any direction you choose. You're on your own, and you know what you know. You are the guy who'll decide where to go." Dr. Suess
Senior Class Colors
Red and White 
Senior Class Flower 
White Rose tipped in red.
Senior Class Song 
"You're Gonna Miss This", by Trace Atkins
Senior Class Officers 
President – Caleb Milne; VP – Jesse Savala ; Secretary – Jordan Glendy; Treasurer – Kipp Irene. Student Council Representatives:  Kaitlyn Jespersen, Jayleen Forgey, Davina Berg, and Delaney Adam. Class Sponsors were: Mrs. Horstman and Mrs. Shaver. There were Twenty-Six Seniors in 2012-2013.
Junior Class Officers
Co-Presidents – Trevor Benge and Tyler Huddle; Secretary – Kaitlyn Bergfield; Treasurer -  Alexis Phillips. Student Council Representatives: Kyle Kaman, Matthew Mayer, and Cali Rohrbouck. Class Sponsors were: Mrs. R. Hucke and Mr. Collins. There were Twenty-Two Juniors in 2012-2013.
Sophomore Class Officers
President – Asa Carlson; VP – Christian Rozmiarek;  Secretary – Nolan Ran ; Treasurer Brady Turek - Student Council Representatives: Matt Wood, Brady Turek, Joseph Rozmiarek, and Sally Greene. Class Sponsors were: Mrs. Stark and Mrs. Herstead. There were Twenty-Four Sophomores in 2012-2013.
Freshmen Class Officers
President –Cody Laursen ; VP – Lee Jespersen ; Secretary –Tim Finnell ; Treasurer – Johnny Manning; Student Council Representatives: Jacob Horstman, Cooper Weber, Becca Stone, and Taeller Ansley. Class Sponsors were: Mr. Karney and Mrs. Horn. There were Thirty-Two Freshmen in 2012-2013.
Valedictorian
Senior Kelsy Wood, daughter of Ron Wood and Trish Olson.
Salutatorian
Senior Brady Horstman, son of Kay and Rex Horstman.
Special or Unique Happenings
Dawes, Box Butte, and Sheridan Counties all suffered from lack of rain and snowfall (until May, 2013), and as a result there were wide-spread fires that took thousands of acres of crop land, grazing land, and forested areas.
Senior Class Enrollment
There were Twenty-Six HHS Seniors in the Spring of 2013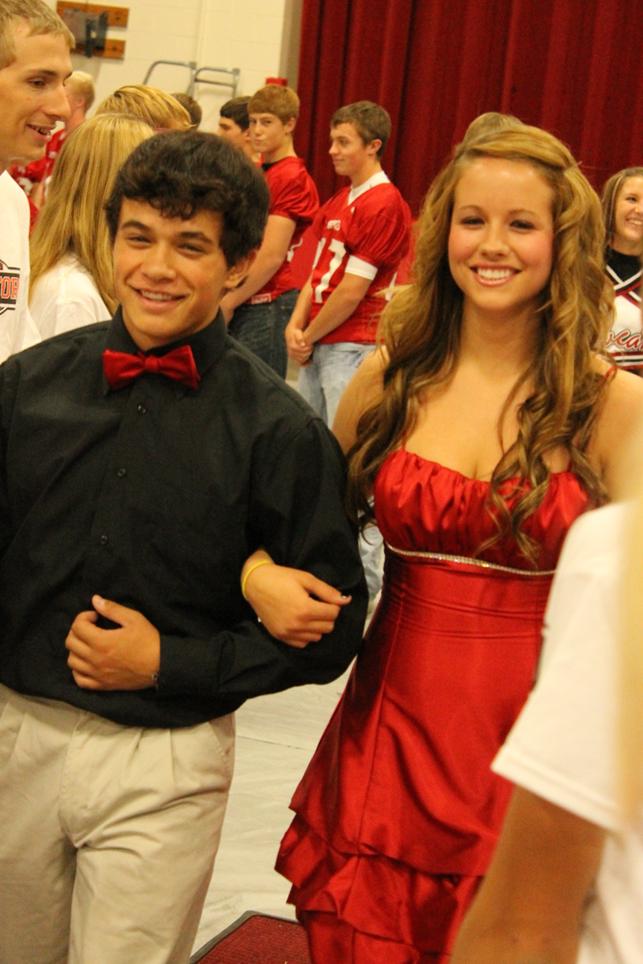 Kindergarten Class Enrollment 
Hemingford had twenty-one Kindergarteners in 2012-2013
Yearbook Dedication
Superintendent 
Mr. Casper Ningen, serving District 10 for his tenth year.
Principals
Elementary, Mr. Ron Foster, with Nine years here at District 10; Secondary – Mrs. Peggy Foster, also here for Nine years.
SPED Director 
Mrs. Mandy Plog, here at District 10 for seventeen years!
Elementary Teachers
Gina Benda, Sue Benzel, Jeanette Chasek, Joei Cullan, Linda Folkerts, Ammie Frost, Shari Frost, Jennifer Gasseling, Nancy Giorgi, Dee Hannaford, Kerri Heusmann, Pamela Huddle, Samantha Kresl, Cindy Lanik, Sarah McCabe, Michelle Osmotherly, Robyn Prochazka, and Sara Schmidt.
Secondary Teachers
Cindy Ahrens, David Chatelain, Joseph Collins, Cathy Herstead, Randy Hiemstra, Kelly Horn, Kay Horstman, Ramona Hucke, Lisa Janssen, Kate Jungck, Gordon Karney, Tim Lanik, Suzanne Neefe, Brad Olson, Terry Rotherham, Sue Shaver, Brandy Stark, and Marla Wade.
Other Staff Members 
Reyna Ansley, Kassy Broadway, Tonie Buchheit, Deb Campbell, Brenda Davies, Lori Glendy, Lisa Haas, Sandy Haas, April Hanson, Jeanette Hucke, Phyllis Jesse, Joyce Klemke, Jennifer Lashley, Jim Miles, Megan Miles, Christy Ningen, Rachelle Poyzer, Brenda Robb, Dorothy Rowe, Tre Surbeck, Pat Vogel, Lynn Weldon, Kim Wills, Kim Yardley, and Nancy Yardley.
Retiring Teachers
Tim Lanik, Secondary Science and Activities Director, and Gina Benda, Elementary Computers and Tech Coordinator retired at the end of the year after decades of high value service to the Hemingford Community and it's students.