Class of 2011
Congratulations Graduates !
The HHS Class of 2011. (Click on thumbnail to enlarge)
20 Hemingford High School 11
Student and Faculty Highlights of the Year 
This page features athletic records, officers, themes, important numbers, important happenings, and other educational information from the year in question. It provides a quick and ready resource for Bobcat Grads and families!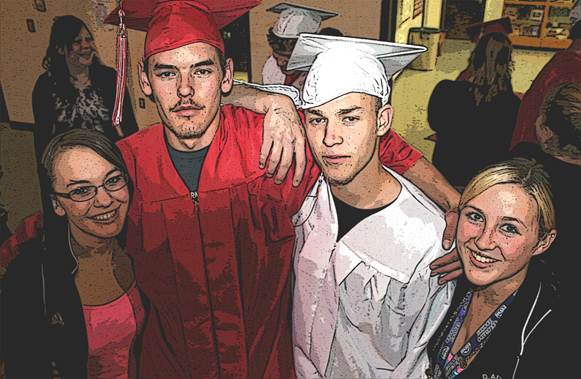 Student Council Highlights – The student Council was very active, beginning with their duties for organizing homecoming. Cathy Fingar was the STUCO sponsor
Student Council Members – Seniors -; Juniors - ; Sophomores –; Frosh –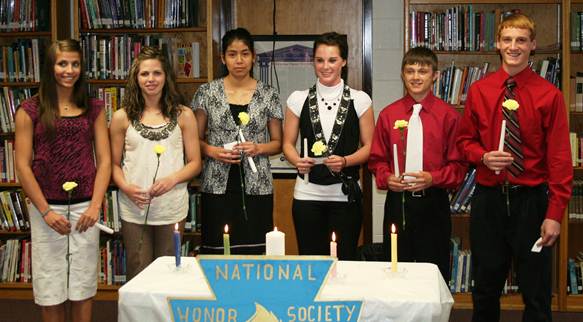 National Honor Society Members –  Cathy Fingar was the sponsor, with the annual induction in the spring in April. New members included Kelsy Wood, Kaitlyn Jespersen, Sandra Mendiola, Briley Hannaford, Brady Horstman, and Kyle Kumpf. Parents and teachers were guests for cake and punch. The NHS provided tutoring services for undergraduates, and members were active in community service activities.
The students were chosen on the basis of Character, Scholarship, Leadership, and Service.
Music Department – First year Music Instructor Sara Schmidt, a graduate of CSC welcomed large numbers in Choir, and hoped that the band would grow. The band marched in the Box Butte County parade to kick their year off, as well as in the Octoberfest Parade in Sidney. In Choir, there were six students selected for the Western Trails Conference Honor Choir: Mindy Gibbos, Baily Wood, Felicia Vela, Katee Folkerts, and Bethany Wacker.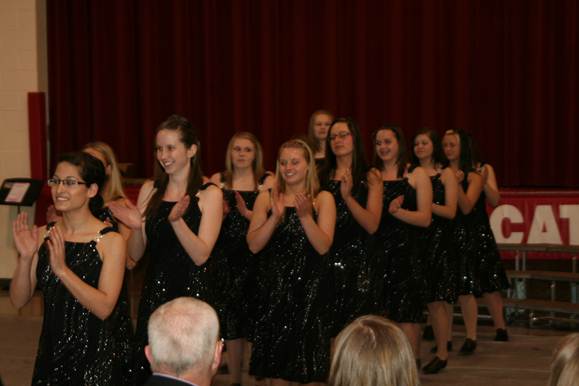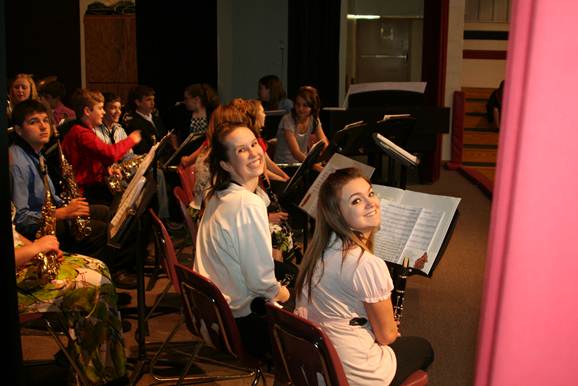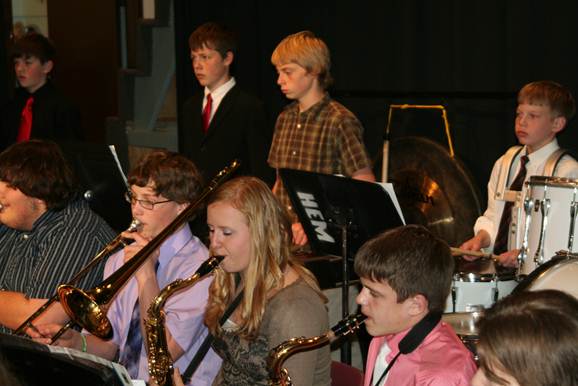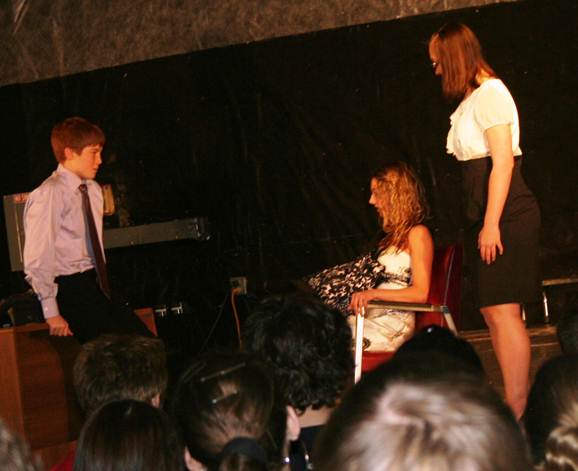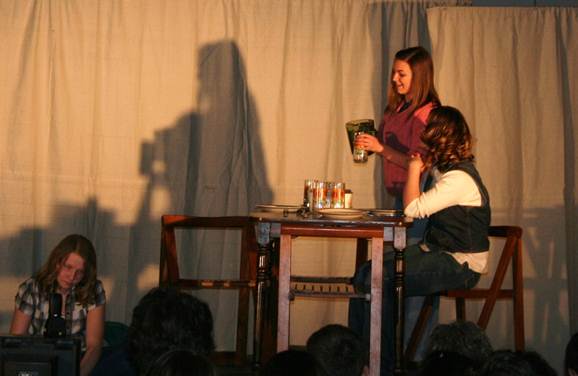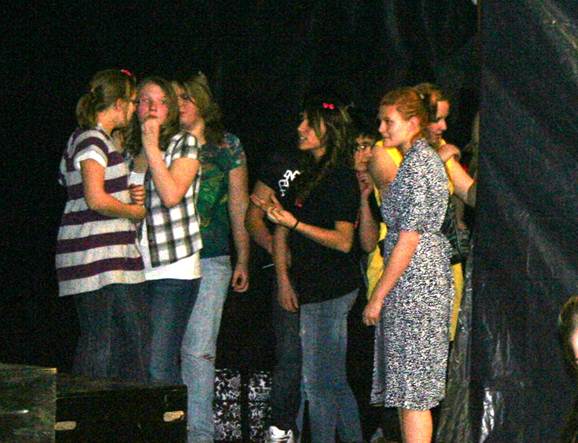 Drama - One Acts and Three Acts – Tabi Bryner was the sponsor, assisted by Ms. Herstead and Mrs. Irene Prochazka.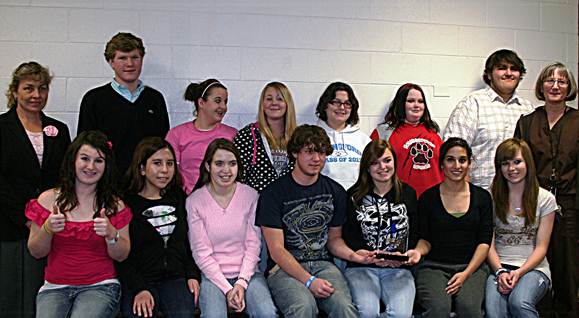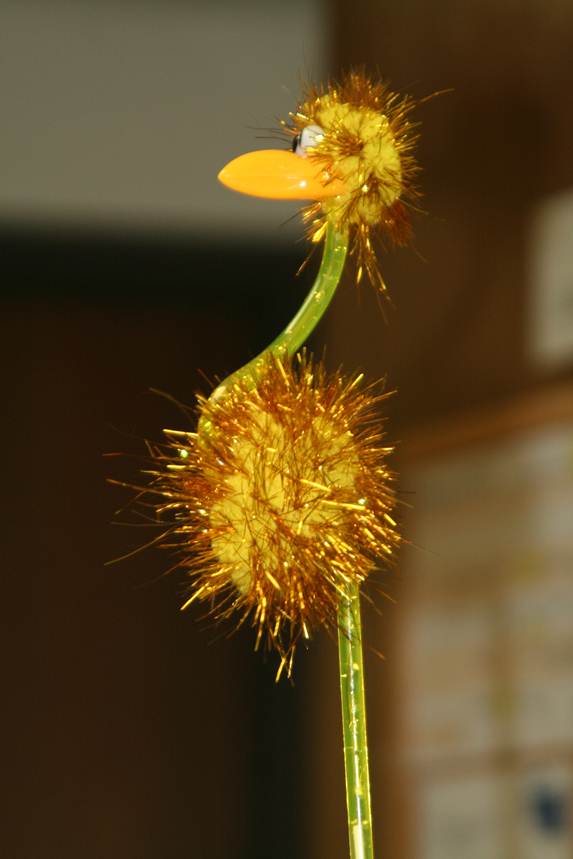 Speech – Judy Stewart was the sponsor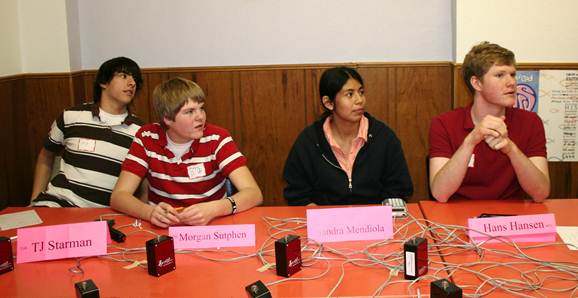 Quiz Bowl –Marla Wade was the High School sponsor, with Cindy Ahrens the Junior High sponsor The team of TJ Starman, Morgan Sutphen, Sandra Mendiola, and Hans Hansen won Conference Championships in the Panhandle Conference and in the Western Trails Conference!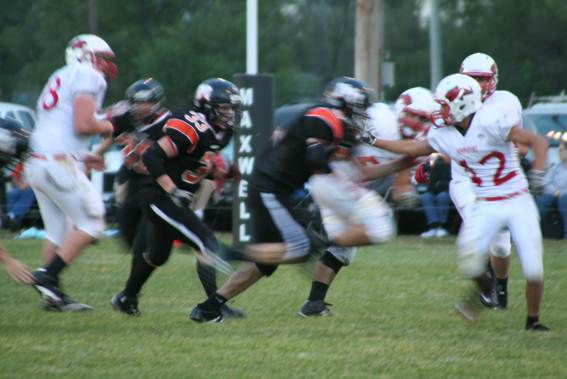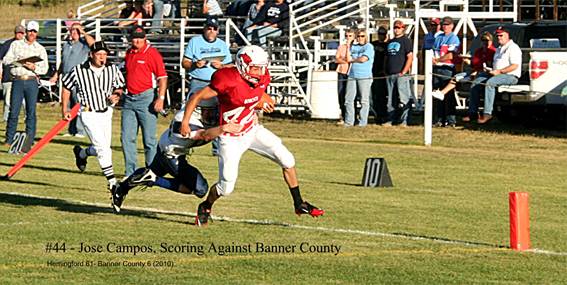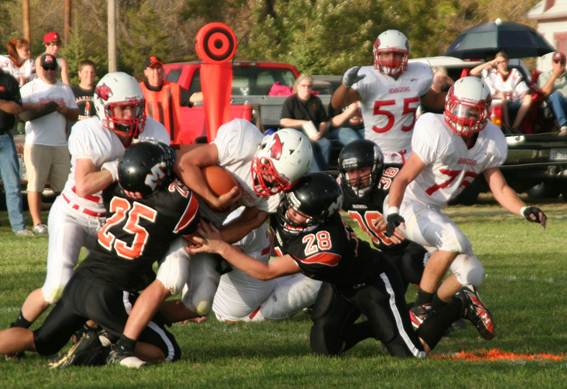 Football – Co-Head Coaches Randy Hiemstra and Jordan Haas along with Assistant Coach Joe Collins led the Bobcats in their 2010 fall season. There were over thirty squad members out. The schedule of the eight-man Bobcats had undergone a change or two with some former opponents no longer around, and some new ones added. Teams included Maxwell, east of North Platte, Arnold-Callaway, Sandhills- Thedford, and Leyton. Repeat opponents were Crawford, Banner County, and Garden County. The team ended the season at 5-3, finishing as the second best team in the D1-10 District, and the 16th highest point total in the State!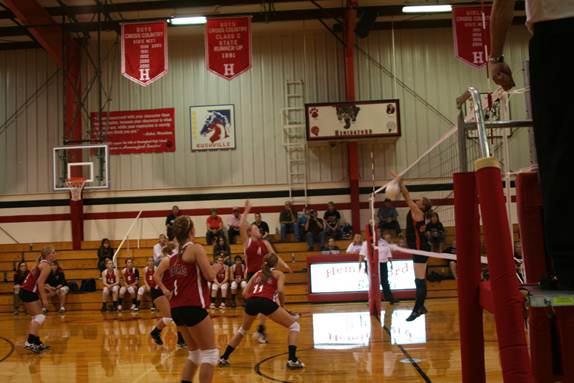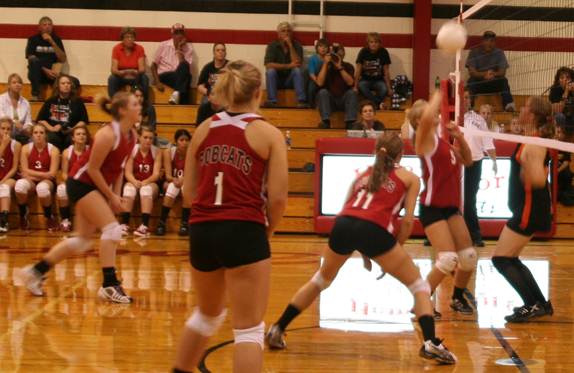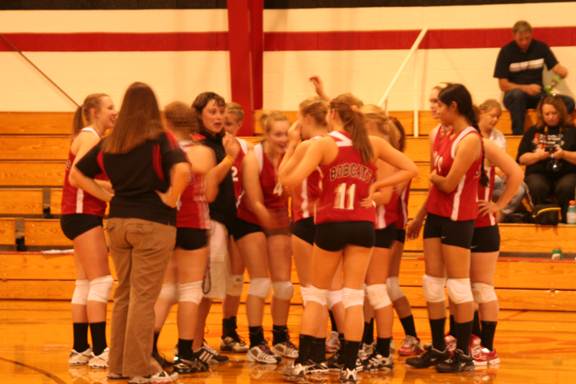 Volleyball – Twenty-Nine girls made up the team this year, coached by Lisa Janssen, and assisted by her sister, Kendra Bixby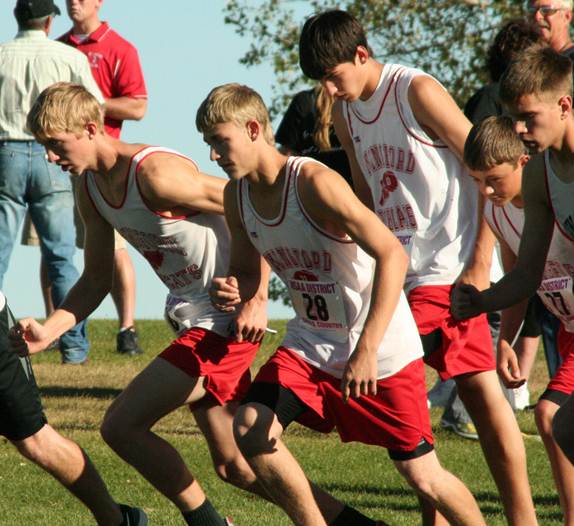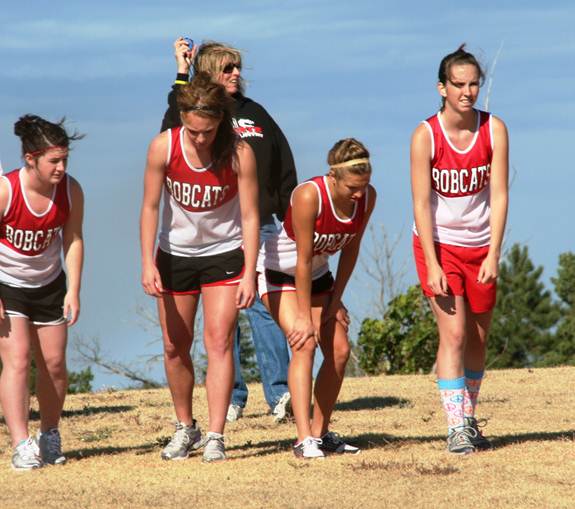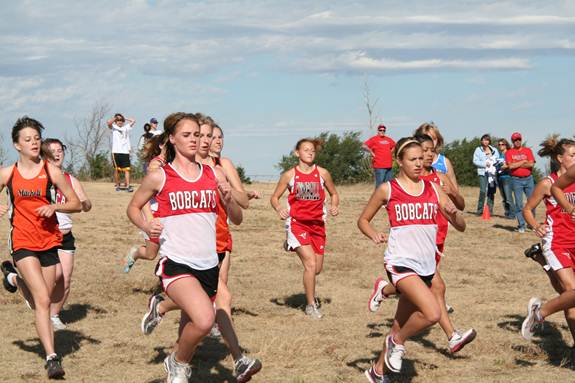 Cross Country – Coach Cindy Lanik and Assistant Tim Lanik had enough runners out to field complete boys and girls teams for the first time in years, including the return of three-time state Qualifier Baily Wood. Newcomer Briley Hannaford, a sophomore, placed in every meet, including a fourth place at Districts. She finished in 20th place at the State meet. Wood also qualified for state, the first Hemingford cross country runner to accomplish that, by placing 9th at Districts, and then 44th at State.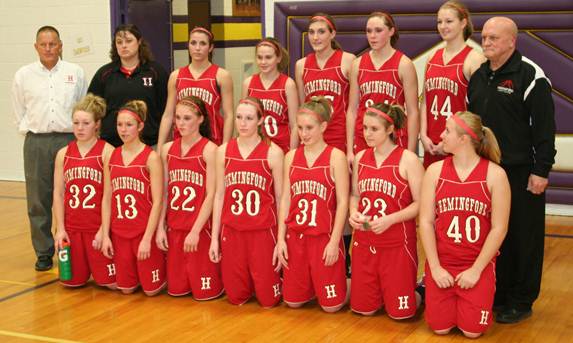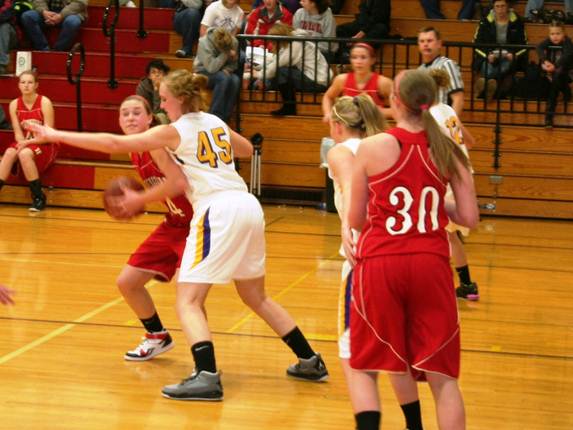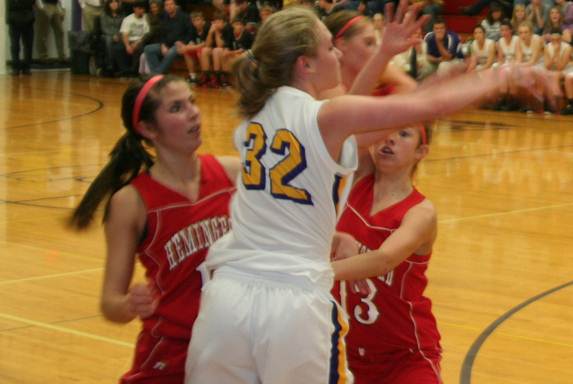 Girls Basketball – The Lady Cats were coached by Dave Chatelain and assisted by Lisa Janssen and Steve Morava
Lady Cats Complete Successful Basketball Season
Hemingford's Lady Cat Basketball team wrapped up a very successful (14-10)  2010-2011 Basketball season with a Runner-Up finish in Sub-Districts, dropping a hard-fought 52-66 game to (22-1) District and WTC Conference Champion Morrill, who also represented Western Nebraska at the State Tourney.
The Lady Cats were Panhandle Activities Conference Runner-ups to Hay Springs, losing by just two points , 47-49 to the State Runner-up Lady Hawks of Hay Springs.
They also finished in third place at the Mitchell Invitational, beating host Mitchell 65-36, and second place in the Bridgeport Post-Holiday Tourney, as well as a fourth place finish in the tough Western Trails Conference Tourney.
2010-2011 marked the first time in several years that the Lady Cats finished with a winning record, and the future looks bright with just a few seniors on this year's team.
Individually, scoring honors went to Briley Hannaford, with 329 points and a 13.7 per game average. Brooke Foster scored 310 points, with a 12.9 per game average, followed by Kelsy Wood with 205 points and a 8.5 points per game average. Sammi Huss scored 130 points, while Katie Heitz scored 93.
Rebounding honors went to Kelsy Wood with 157 boards, followed by Katie Heitz with 157, and Hannaford with 132. Sammi Huss had 131 boards, while Brooke Foster had 108.
The 2010-2011 assist leader was Briley Hannaford with 77, followed by Brooke Foster with 57. Kelsy Wood had 32, while Baily Wood and Jayleen Forgey each had 21.
Hannaford also led the team in steals with 95 on the season, followed by Kelsy Wood with 84, and Brooke Foster with 60. Baily Wood had 38 steals, and Jayleen Forgey had 23.
In the Blocked shots arena, Katie Heitz was the leader with a massive 27 blocks. Kelsy Wood was next with 8.
Brooke Foster had 21 Three-point baskets, while Briley Hannaford had 20.
In minutes played, Hannaford also led the way with 592, followed by Kelsy Wood with 512, and Brooke Foster with 480. Also playing for more than 400  minutes were Jayleen Forgey with 448, Katie Heitz with 440, Sammi Huss with 408, and Baily Wood with an even 400.
Coaches for the 2010-2011 team were Head – Dave Chatelain, and Assistants Lisa Janssen and Steve Morava.
GREAT SEASON GIRLS !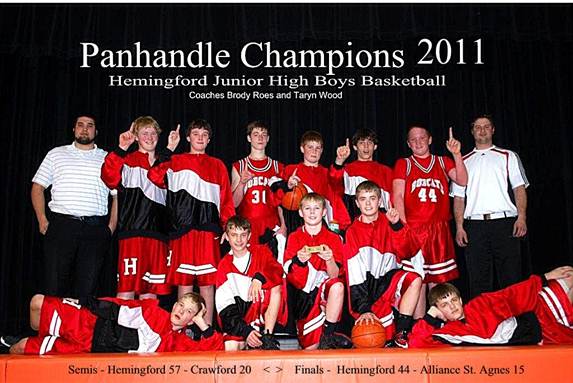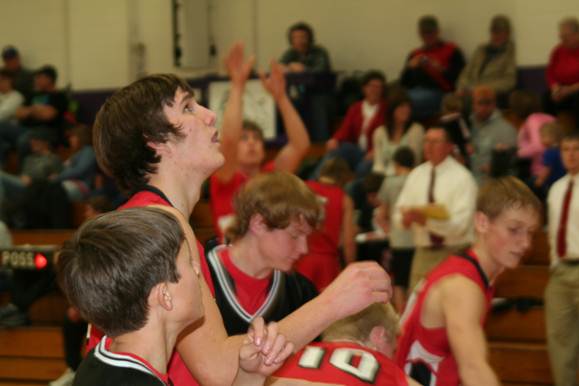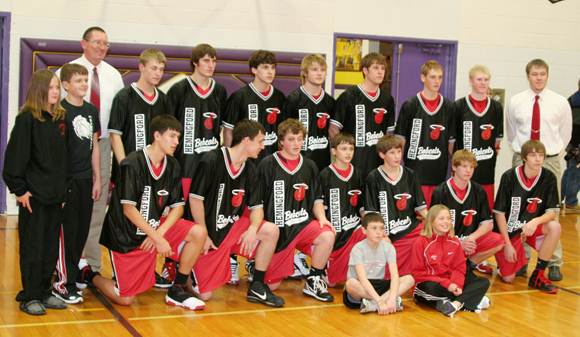 Boys Basketball –The Big Cats were coached by Randy Hiemstra and assisted by Joe Collins, winning several tourneys this season , including the Panhandle Conference. The Junior High Boys also were Champions!
Highly Successful 2010-2011 Boys Basketball Season completed.
Following a .500 season in 2009-2010, expectations were high for this years Hemingford Bobcat Basketball team. The team struggled in the early season, winning just two games in December, while dropping five. The boys finished the month with a win in the semis at the Mitchell Holiday Tourney though, and finished in second place, losing to a Mitchell team by eight points that they would later beat by eight in February.
January was a turn-around month for Coach Randy Hiemstra's Bobcats though, as they went on a winning spree, capturing eleven of their next twelve games, including Tourney Championships at the Bridgeport Post-Holiday and in Hemingford at the Panhandle Activities Conference Tourney.
The Bobcats had wins against several good teams, allowing them to reach the finals for the first time in many years of the Western Trails Conference Tourney at WNCC in Scottsbluff, where they dropped the final to C1 District Champion Kimball 43-68.
The Cats then lost in a re-match with Kimball at home in regular season play, before having an off night against a 6-13 Morrill Lions team.
With some additional effort in practice and on the playing floor, the Cats rebounded with wins over Crawford 39-36 and Bridgeport 49-37 before falling just a little short in their last game. A three point loss to Bayard 48-51 in the Sub-District Final.
2010 – 2011 will always be remembered as a great team success, but many individual players helped to make it a success.
Scoring honors went to Tyler Swanson, who hit for 386 points and a 15.4 per game average. Nick Wood scored 207 points and averaged 9.4 points, while Freshman Blake Hansen scored 209 points while averaging 8.4 points. Chance Campbell scored 191 points, and Kyle Kumpf scored 162.
Rebounding leader was Swanson with 207, followed by Nick Wood with 136, Chance Campbell with 122, and Blake Hansen with 109.
Wood was the leading shot-blocker for the Cats with 23, followed by Campbell with 13, Casey Stangle with 11, and Swanson with 9.
Swanson, a senior, also lead the team in steals with 80, followed by fellow senior Chance Campbell with 75. Wood had 55 take-aways, and Hansen had 52.
The assist leader was Chance Campbell with a pile of them at 129. Swanson had 90 assists, and both Hansen and Kyle Kumpf had 29 each.
Swanson lead the team with 60 three-point goals, while Nick Wood had eleven.
The seniors will be missed after their four hard years of work, but several first and second year men also stepped up. With some important off-season shooting practice, and weight-training, 2011-2012 could be a very good year too!
The Cats were Coached by Head Coach Randy Hiemstra and assisted by Joe Collins and Taryn Wood.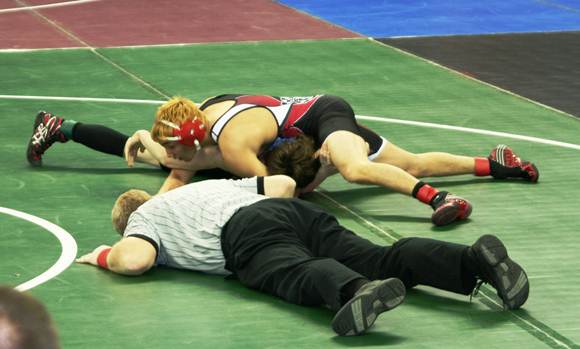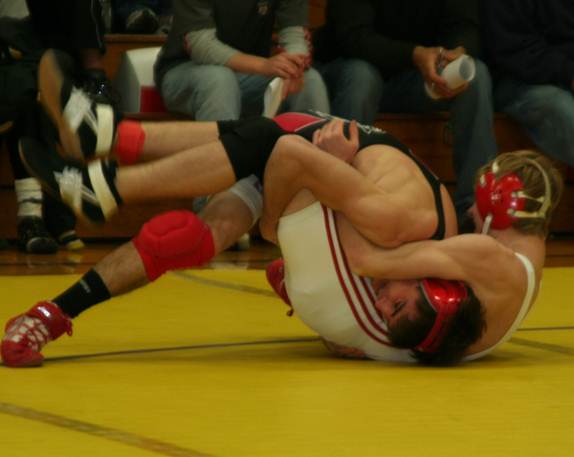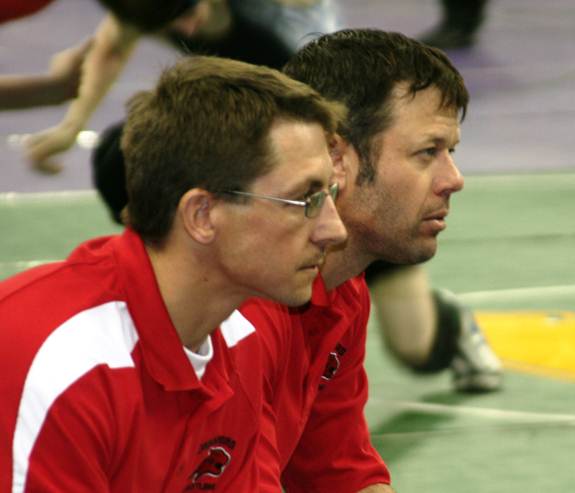 Wrestling –The Grapplin' Cats were coached by Head Chris Weber and assistant Matt Honstein. Team leaders included Four-time state qualifiers Aaron Jespersen and Jose Campos. Both wrestlers earned over 100 wins in their four years, and completed successful seasons by winning District Championships and placing at the State Meet! Campos also placed as a junior. Campos was also given an area Sportsmanship award by the West Nebraska Wrestling Referee Association!
Track and Field – Head Boys coach was Tim Lanik, Head Girls coach was Cindy Ahrens. They were assisted by Kay Horstman, and Lisa Janssen
Cheerleading – Shelly McConville was the sponsor. Members included Kaitlyn Jespersen, Cassie Elder, Kayla Hansen, Delaney Adam, Davina Berg, and Makenzy Fernandes. The girls cheered on the crowd during the Box Butte County Fair parade and again at the Big Red Booster Barbeque in addition to the many home games they performed at.
World Strides –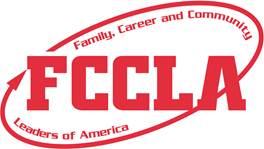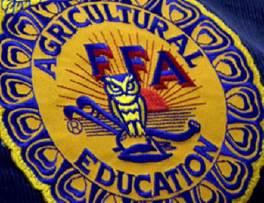 Clubs and Activities – FFA – Gordon Karney was the sponsor, and the members started the year with fair activities as well as a staff breakfast in August in the Ag Shop; FCCLA- Suzanne Neefe was the sponsor; Yearbook – Mrs. Horstman was the sponsor;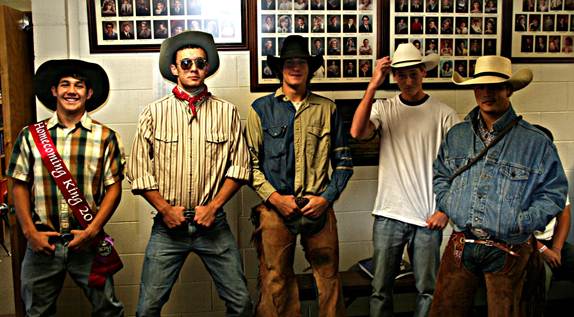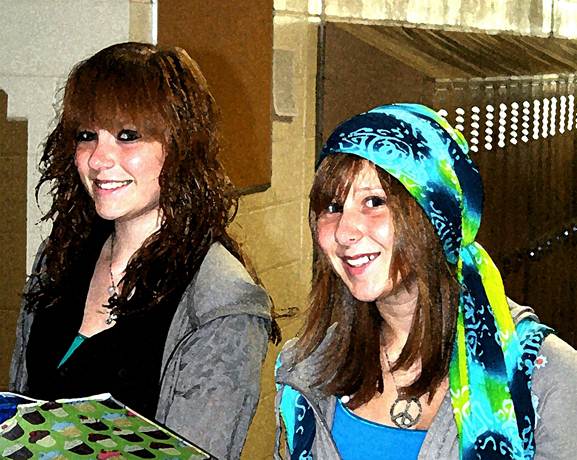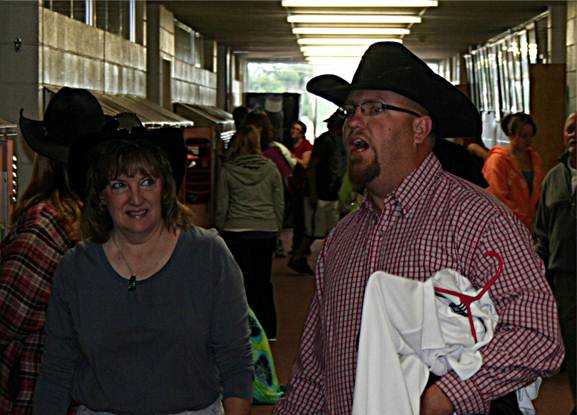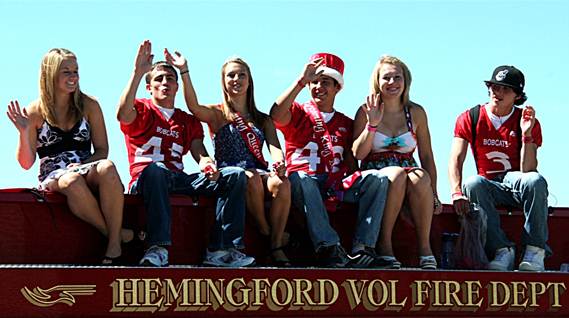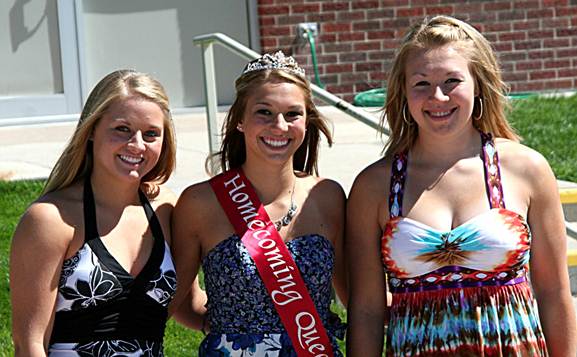 Homecoming Royalty – Queen – Baily Wood; King Jose Campos; Attendants – Katee Folkerts, Brooke Foster, Chance Campbell, and Aaron Jespersen. Homecoming was held at a most unusual time this year, as the Bobcats hosted Banner County in football on September 3rd and Mitchell in Volleyball on September 2nd. This resulted in having Homecoming festivities, including the parade, dress up days, and the annual Homecoming dance during the second week of classes! The combination of away games in the middle and end of the season, and the dearth of weeks where both the Volleyball and Football teams had home games the same week resulted in this strange occurrence.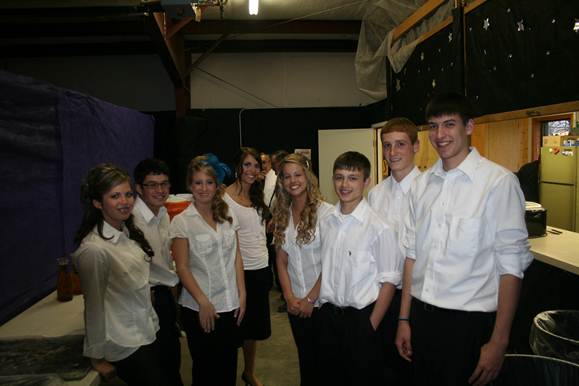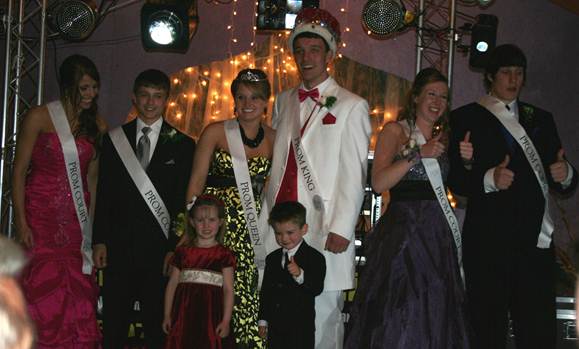 Prom Royalty – Queen– Katee Folkerts; King; Brandon Roland .Attendants – Sophomores Kelsy Wood and Brady Horstman; Junior Attendants were Katie Heitz and Casey Stengle. Crown bearers were Carlye Kresl and Hunter Poyser.
Prom Theme – Moroccan Marquee
Senior Class Motto – "It always gets rougher before it gets smooth".
Senior Class Colors were Cardinal and White; Class Flower was the Tulip, and the Class Song was "American Pie", by Don McLean.
Senior Class Officers – President – Chance Campbell; VP – Baily Wood; Secretary - ; Treasurer – Class sponsors were Mr. Zajic and Mrs. Neefe
Junior Class Officers – President -; VP - ; Secretary - ; Treasurer – Class sponsors were Mr. B. Olson and Mr. Chatelain
Sophomore Class Officers – President -; VP - ; Secretary - ; Treasurer – Class sponsors were Mrs. Horstman and Mrs. Shaver
Freshmen Class Officers – President -; VP - ; Secretary - ; Treasurer – Class sponsors were Mrs. R. Hucke and Mr. Collins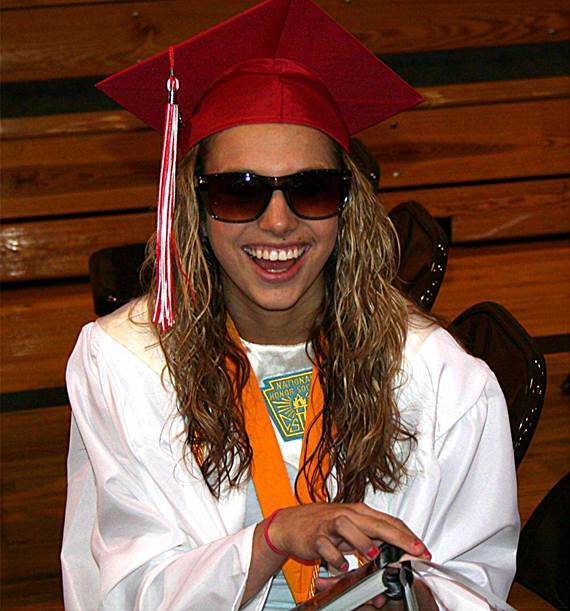 Valedictorian – Baily Wood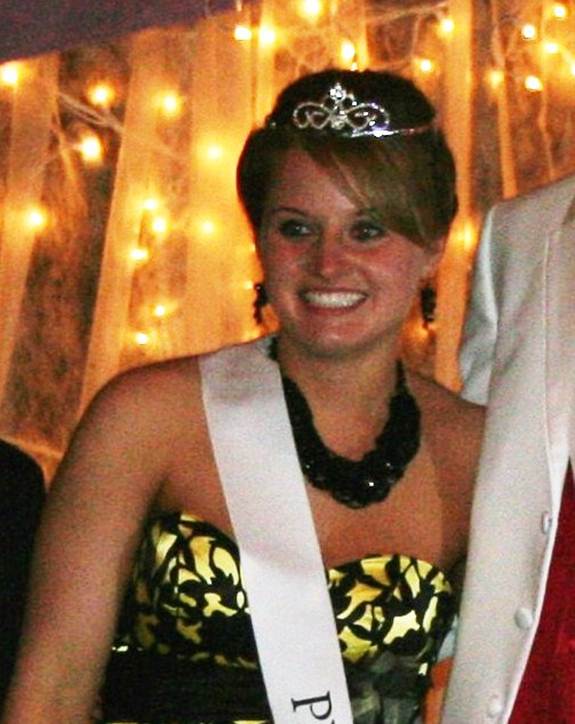 Salutatorian – Katee Folkerts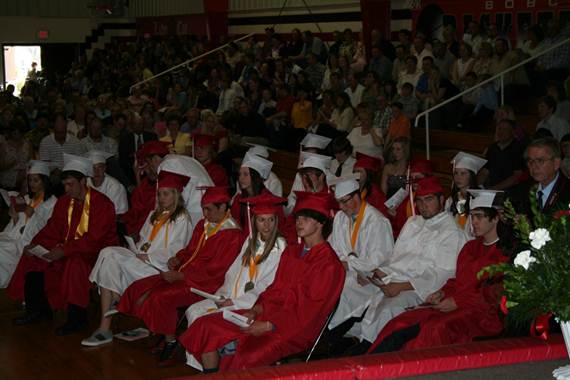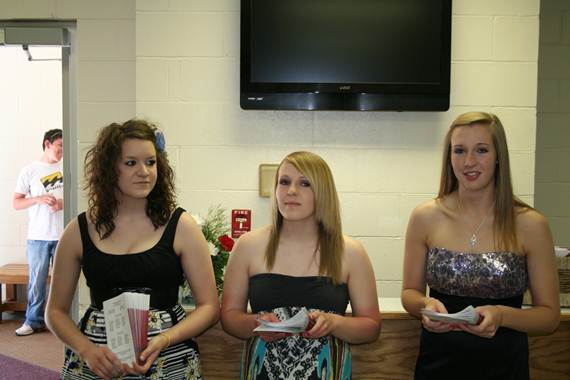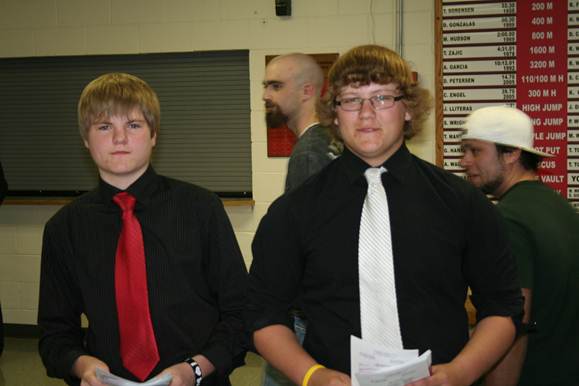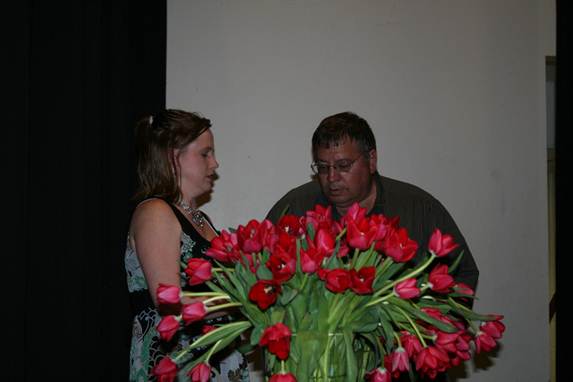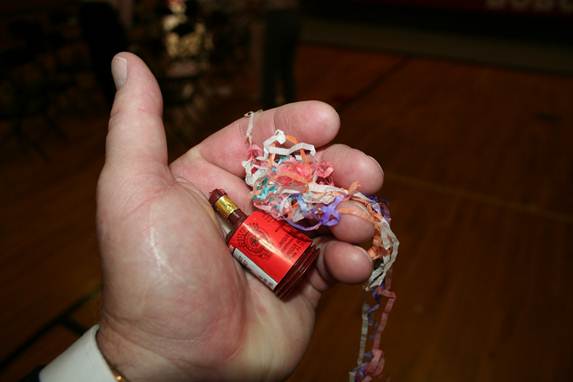 Graduation Ceremonies : 
Board member Alan Roland gave the Graduation greeting; Mrs. Hucke announced scholarship winners; Brandon Roland and Aaron Jespersen gave an invocation; Katee Folkerts and Kelsey Towne gave the Class of 2011 Class History; and Bethany Wacker gave the invocation. The graduates marched out to the tune of "American Pie" after shooting off noise-makers and streamers. The gymnasium was a little warm with outside temps near 90 degrees, and guests and friends went through the receiving line in front of the gym.
State Competitions – 
Special or Unique Happenings –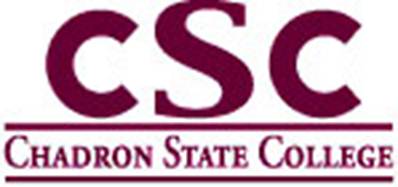 CSC Scholastic Contest Results –
HEMINGFORD HIGH SCHOOL FINISHES WELL AT CSC
2011 CSC Scholastic Contest Results
Hemingford High School had ten placers in the top twenty percent of their respective tests at the 2011 Chadron State Scholastic Contest held April 1st in Chadron.
Students from three states gathered to compete against one another in the annual contest that pits students from small, medium, and large schools on the same scale.
Leading the way for Hemingford was Sandra Mendiola, who placed in all three tests she took, with a third place in Literature, a fourth in Accounting, and a fourth in English Usage.
Baily Wood finished in second place in Business Communications and seventh in Psychology, while Hans Hansen finished in fourth place in Business Management. Caralina Carlson finished fifth in World History, and Kelsey Towne finished sixth in Art Drawing.
Rounding out Hemingford's top twenty percent  finishers were Nick Wood with a twelfth place finish in Physical Education Sports Knowledge and Katie Heitz with a fifteenth place finish in Vocabulary.
Congratulations to all of the students participating, their faculty members that worked with them, and Mrs. Ramona Hucke, Sponsor!
Senior Class Enrollment – 27
Kindergarten Class Enrollment – 31
Yearbook Dedication –
Board of Education Members – April Casey, Bob Haas, Randy Wood, Trish Schumacher, Alan Roland, and J.D. Sutphen.
Superintendent – Mr. Ningen
Principals – Elementary, Mr. Foster; Secondary – Mrs. Thayer
SPED Director – Mrs. Plog
Elementary Teachers – Pre-School – Mrs. Moudry, Kindergarten – Mrs. Folkerts and Ms. Morrison,  First Grade – Mrs. Gasseling and Mrs. Benzel; Second Grade  Mrs. Cullan and Mrs. Hannaford-; Third Grade – Mrs. Huddle and Ms. Duncan, Middle School – Mrs. Osmotherly , Mrs. Lanik , Mrs. Prochazka, and Ms. Andreasen. Computers – Mrs. Benda, P.E. – Mrs. Giorgi ; SPED – Mrs. Plog and Mrs. Chasek; Title I – Mrs. Engelhaupt; Speech – Mr. M. Olson
Secondary Teachers – Mrs. Ahrens, Mrs. R. Hucke, Mrs. Wade, Mrs. Shaver, Mrs. Fingar, Mr. Chatelain, Mr. Collins, Ms. Janssen, Mr. Zajic, Mr. B. Olson, Mrs. Horstman, Mr. Hiemstra, Ms. Herstead, Mrs. Neefe, Mr. Karney, Mrs. Stark, Ms. Schmidt,Mrs. Thompson,  and Mr. Ningen
Other Staff Members – School Nurse – Mrs. Stewart, Paras – Mrs. Ningen, Mrs. Buchheit, Mrs. Phillips,  Mrs. Klaes, Mrs. Broadway, Mrs. Vogel, Mrs. Chancellor,  and Mrs. J. Hucke; Office personnel – Mrs. Klemke, Mrs.L. Haas, Mrs. Campbell, Mrs. S. Haas, and Mrs. Davies. Custodians and Maintenance – Mrs. Mapes, Mrs. Weldon, Mrs. Wax, and Mr. Broadway; Kitchen Staff – Mrs. N. Yardley, Mrs. Rowe, Mrs. Robb, and Mrs. K. Yardley