Class of 2012
The Hemingford High School Class of 2012 (Click Pic to enlarge)
Class of 2012 
Hemingford High School
Student and Faculty Highlights of the Year
This page features athletic records, officers, themes, important numbers, important happenings, and other educational information from the year in question. It provides a quick and ready resource for Bobcat Grads and families!
Student Council Members –
National Honor Society Members –
Quiz Bowl – Hemingford High School's Quiz Bowl team showed everyone that last year's success was no fluke as they repeated as Panhandle Conference Champions, and repeated as Western Trails Conference Champions! The team, coached by Mrs. Marla Wade also won a meet at Mitchell, and competed at the State Quiz Bowl meet in Holdrege. Members included Sandra Mendiola, Hans Hansen, Morgan Sutphen, TJ Starman, and Cash Weber.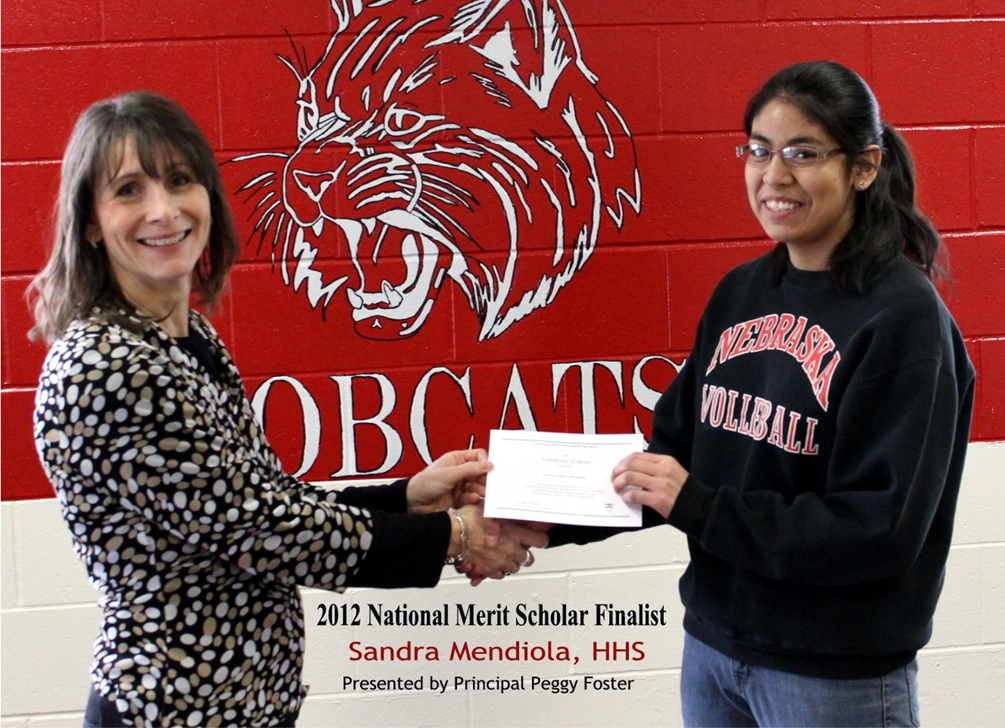 Academic Honors -  Senior Sandra Mendiola has won many academic honors this year at HHS, but none bigger than being awarded a prestigious National Merit Scholarship. Her high test scores at the local, regional and national level earned her this unique honor!
Exchange Students – 
Hemingford was blessed with not just one, but two young adults from Germany that attended classes this year and lived with area families. Lena Koerbl has spent the past year involved in Chorus and in our academic classes. She lived with the Justin and Reyna Ansley family.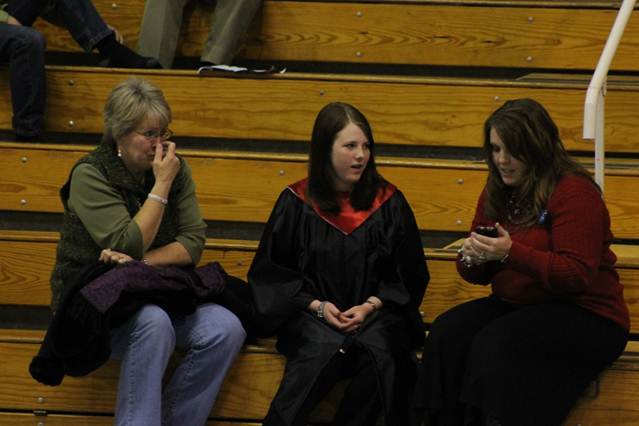 She is pictured here visiting with her American "Mom" after a Christmas Concert.
Christian Brakensiek, who lived with the Terry and Pam Huddle family, brought a great sense of humor with him across the ocean, and took part in Chorus, Speech and Golf this year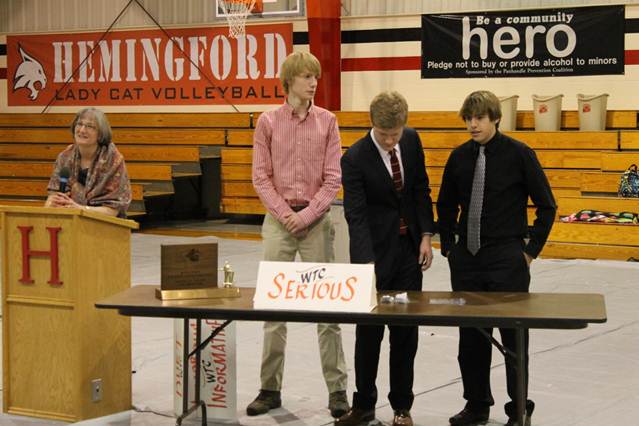 Christian is pictured at the WTC Speech meet with teammates Hans Hansen and TJ Starman, where he competed and helped in passing out awards.
Music Department –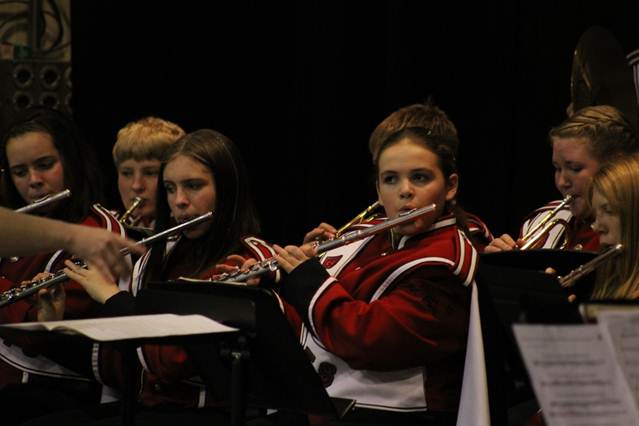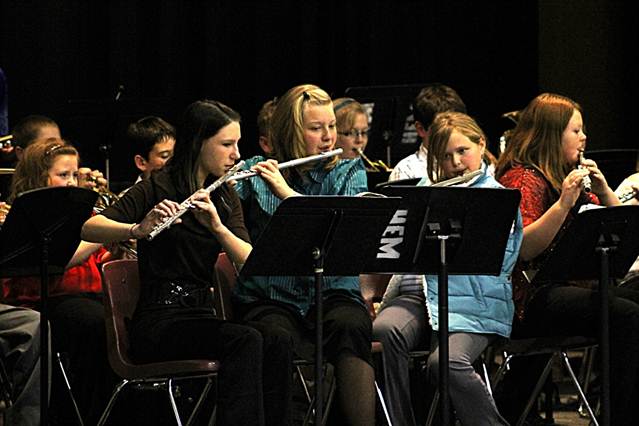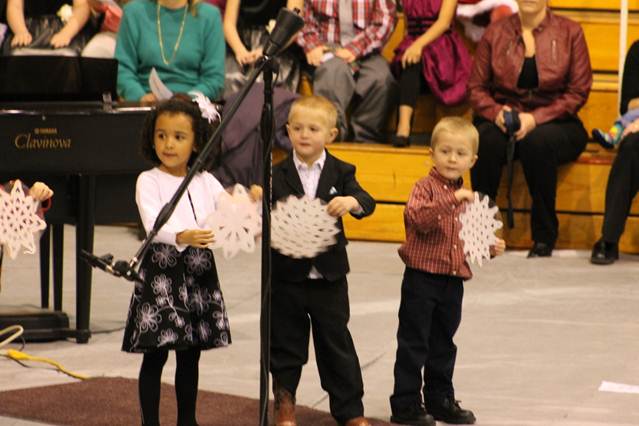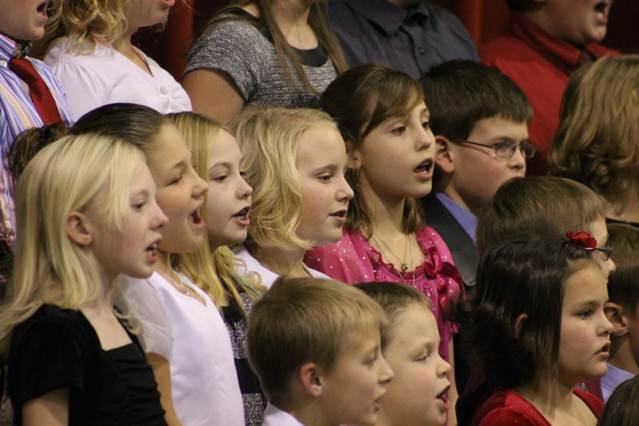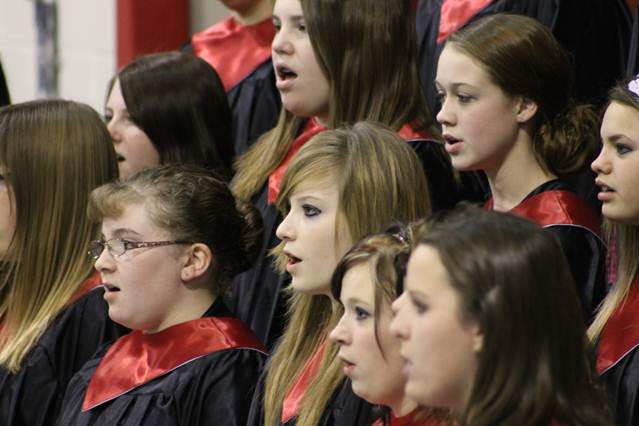 Drama and One Acts –
The Hemingford High School Drama Department, led by Directors Tabi Bryner and Irene Prochazka has once again put together a great cast and supporting crew for the 2011 One-Act production of, "Deus Ex Machina".
Hemingford won top honors in this year's Panhandle Activities Conference Contest, held in Hemingford. The cast and crew have a few more tour dates open, including Western Trails Conference at the Rushville Players Theatre on November 22nd, Districts at North Platte on November 30th, at 7:30 PM with a potential NSAA State Championship appearance that would follow a district Championship.
The play is a mixture of different plays, movies, and perceptions that actively involve the large cast and crew. As the Latin title, coined by the Greek philosopher Homer implies, machines should not be used to promote drama, yet the centerpiece of the satirical play is a pop machine!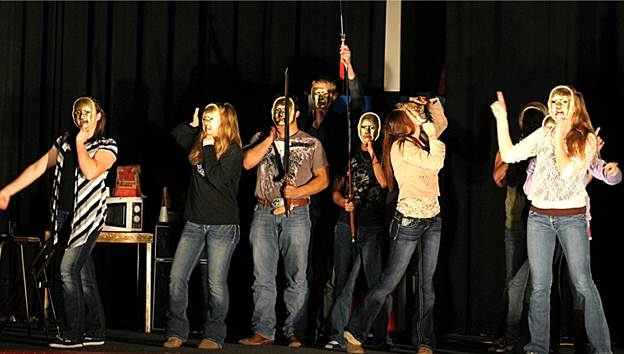 The Teacher/Director and the students initially play a group of thespians trying to do a play that features overtones of "2001, A Space Odyssey".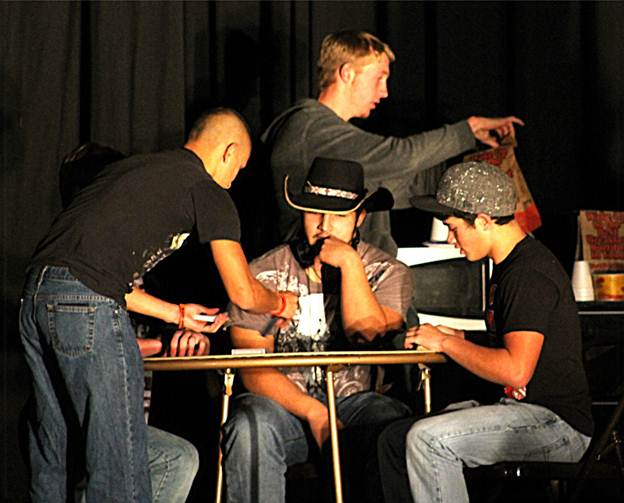 The cast and crew includes: The Director – Paige Phillips; Mrs. Blunt – Ashleigh Galles; Player 1 – Makayla Grumbles; Player 2 – Katie Heitz; Player 3 – Kaitlyn Jespersen; Player 4 – Kelsy Wood; Player 5 – Jordan Glendy; Player 6 – Alexis Phillips, Player 9 – Tanner Lembke; Juliet – Jayleen Forgey; Romeo – A.J. Jesus; Nurse – Makayla Grumbles; Jacasata – Kayla Hanson; Ismene – Kaitlyn Bergfield; Antigone – Hannah Fessler; Oedipus – Cash Weber and Chorus members: Lembke, Jesus, Wood, Jespersen, Phillips, Forgey, Bethany Fortner, Glendy, and Grumbles.
Lembke also plays Charlie Chaplin, with Weber and Forgey as Keystone Cops; Wood also plays "Dorky", while Jespersen and Forgey are Strange 1 and 2; Trevor Benge is a super hero that pops out of the machine, with Weber also playing Pita, and Jesus playing Brother. Sister 1 and 2 are played by Fessler and Fortner, and Bergfield also plays the Good Witch as the play travels to stormy Kansas.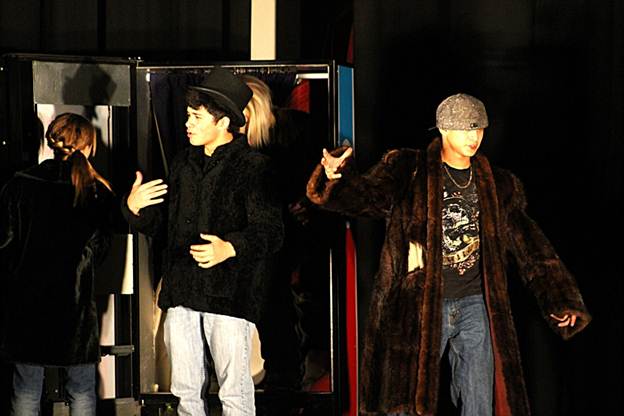 Heitz portrays Mrs. Smith, with Mr. Smith played by Tanner Lembke. Hansen is Pozzo, Fortner is Lucky, and Grumbles is Bedelia. The Chorus in this part of the play includes Heitz, Wood, Fortner, Phillips, Fessler, and Forgey. Trevor Benge is Spam, Glendy is Edward, and Jesus is Numbers Prime in a portion of the play that mimicks the movie, "Transformers"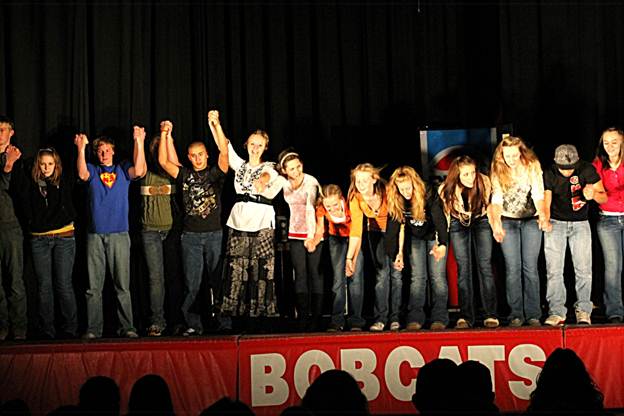 Tech Crew members were Jesse Savala, Lexi Olson, Tiffany Adamson, Cali Rohrbouck, Davina Berg, Precious Campbell, Morgan Sutphen, Kohl Boone, Brandon Stites, Kaelia Nelson, and Kip Irene.
The good-sized crowd enjoyed the public performance in Hemingford on the 21st, and the cast will also perform for the K-12 students at HHS in addition to the other contest performances.
Speech –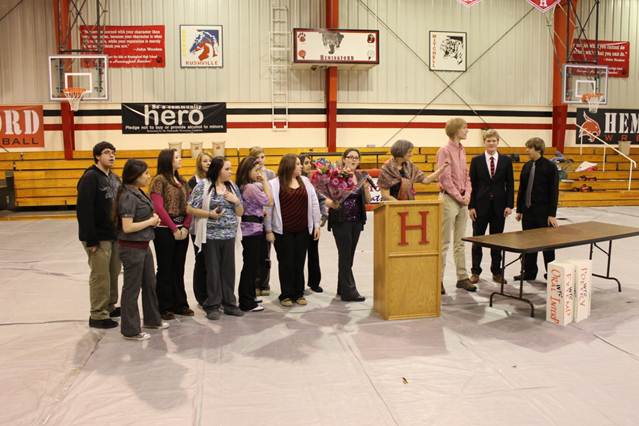 Gering Speech Invite (Novices Only) (December 10th, 2011) 
Gering Invitational Novice Speech Results -  for Hemingford Included a third place Duet Acting finish for Tegan Yardley and Lexi Olson; and a fifth place in Poetry for Belle Irish!
Morrill Invitational Speech (January 7th, 2012) 
Senior Hans Hansen led the Hemingford High School Speech Team to a third place finish in Morrill this past week, finishing as a Champion in Extemporaneous Speaking as well as earning Third in Persuasive Speaking. Annie Hughart placed Fourth in Informative Speaking, and T.J. Starman placed 5th in Informative Speaking.
Scottsbluff Invite (January 14, 2012) 
TJ Starman placed 6th in Informative Speaking at the Scottsbluff meet. Great Job T.J.!
Gering Invitational (January 21, 2012) 
Hans Hansen placed 4th in Extemporaneous Speaking. Great Job Hans!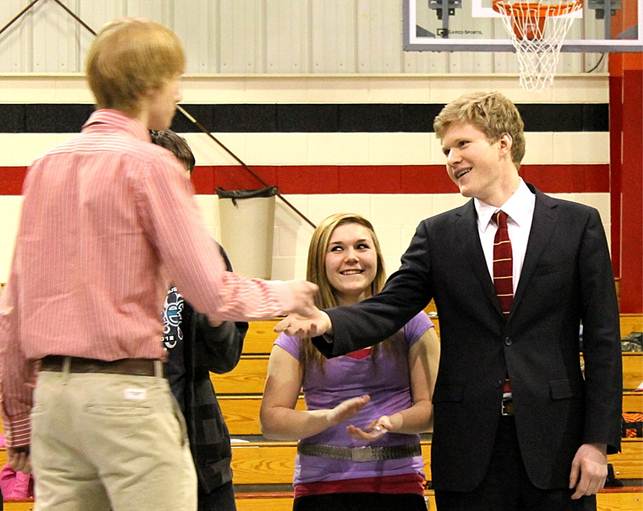 Gordon-Rushville Invite (January 28, 2012) 
Lexi Olson and Tegan Yardley (Duet Acting), placed 6th ! Great job girls!
Chadron Invite (February 4th, 2012)  
Senior Hans Hansen picked up a 3rd place finish in Extemporaneous for Hemingford. Great Job Hans!
WTC at Hemingford (Wed. Feb. 8th, 2012) (Snow Date will be Wed. Feb. 15th, 2012)
Hemingford played host to the WTC Tourney, with several placers! TJ Starman received a 6th in Informative; The Oral Interp team also received a 6th place finish; Tegan Yardley and Lexi Olson earned All-Conference Honors by finishing as Conference Runner-Up in Duet Acting, and Senior Hans Hansen won two medals, a 6th in Persuasive, and a conference Championship in Extemp! He is also All Conference. Thanks to Mrs. Stewart and Mrs. Herstead and the entire speech team for working so hard to set the meet up and make it such a success!
Alliance Invite (February 18th, 2012)
Hans Hansen placed third in Persuasive Speaking, while T.J. Starman placed sixth in Informative Speaking for Hemingford. Great Job Guys!
Minatare Invite - ( February 25th, 2012) 
Hans Hansen led the way for the Speech Team as their solid season continued by winning in Extemp and placing fourth in Persuasive; Tegan Yardley and Lexi Olson placed second in Duet Acting, and Annie Hughart placed fifth in Informative. Great Job Speech Team!!
Mitchell Invite (March 3rd, 2012) 
Hans Hansen placed 2nd in Extemporaneous, while Tegan Yardley and Lexi Olson placed 6th in Duet. Good luck to all of the team members at Districts!!!
District Speech at Grant (Perkins County) (March 12th, 2012)
Hans Hansen and TJ Starman qualified for the STATE Speech meet! Hans finished in 2nd place in Extemp, while TJ placed 3rd in Informative! The rest of the team also did a fantastic job! Annie Hughart placed 4th in Informative: Tegan Yardley and Lexi Olson placed 4th in Duet Acting; and the OID team of Belle Irish, Lexi Olson, Sarah Mracek, TJ Starman, and Christain Brackensiek placed 6th. All of the placers won a well deserved medal. TJ and Hans will perform early Friday morning at UNK in Kearney on Friday, March 23rd.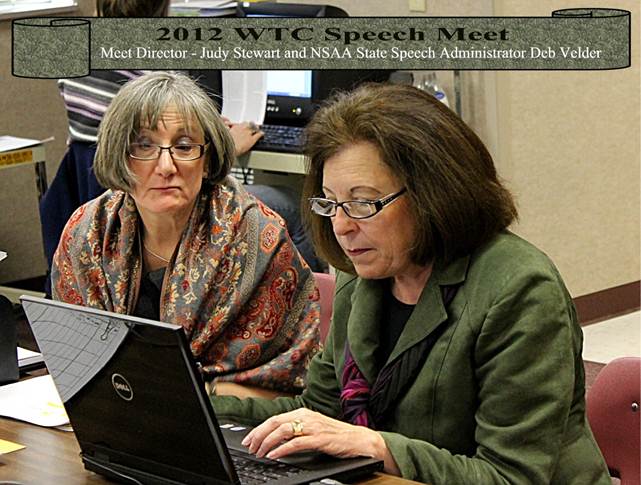 State Speech at UNK - Kearney (March 23rd, 2012)
Hans Hansen – Extemp
TJ Starman - Informative
2011-2012 Speech Season – Hemingford Public Schools
Members this year include:
Hans Hansen                                      Extemporaneous Speaking and Persuasive Speaking
T.J Starman                                         Informative Speaking
Christian Brackensiek                     Informative Speaking
Belle Irish                                            Poetry and OID
Tegan Yardley                                    Duet Acting and OID
Lexi Olson                                           Duet Acting and OID
Annie Hughart                                   Informative Speaking and Duet Acting
Aubrey Picket Pin                            Poetry
Sarah Mracek                                    Poetry and OID
Miguel Rodriguez                             OID
Nicole Schekall                                  Duet Acting
Managers are Ana Rodriguez and Becca Stone                          
Sponsors for the 2011-2012 Hemingford Speech Team Head Coach- Judy Stewart and Assistant Coach Cathy Herstead.
Football – Hemingford High School had another fine football season in 2011-12 for Coaches Hiemstra, Haas, and Collins, finishing with a (5-3) won –loss record. Though the school enrollment once again kept the Cats from the State Play-offs, 2012-13 will be a different story, as Hemingford becomes eligible once again!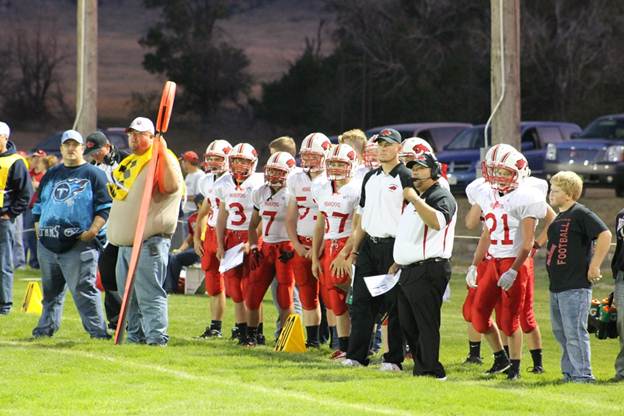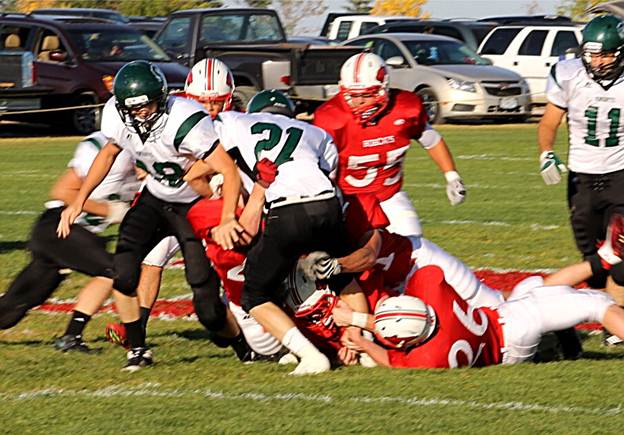 The (5-3) Bobcats dropped a close one to Mullen (30-32) earlier this season; did not really show up in a (0-54) loss to a good South Loup team, but did have victories over Banner County (50-0); Leyton (62-0); Sandhills-Thedford (44-18) (the 28th rated team in D-1 point standings); Maxwell (52-24) (the 18th rated team in the state point standings); and Crawford (62-28). The last game of the season was a hard-fought loss to Garden County,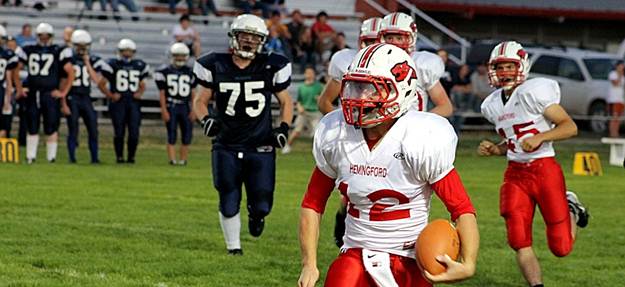 and was also be the last football game for three senior Cats, Tanner Lembke, Morgan Sutphen, and Casey Stangle. In addition to being PAC Co-Champs, Hemingford All Conference Honors went to First Team Individual Honors: Colt Foster (9); Kyle Kumpf (11); Tanner Lemke (12); Vance Orr (11); and Casey Stangle (12) Honorable Mention Individual Honors : Trevor Benge (10); and Cash Weber (11) HHS FB Coaches are : Randy Hiemstra, Jordan Haas, and Joe Collins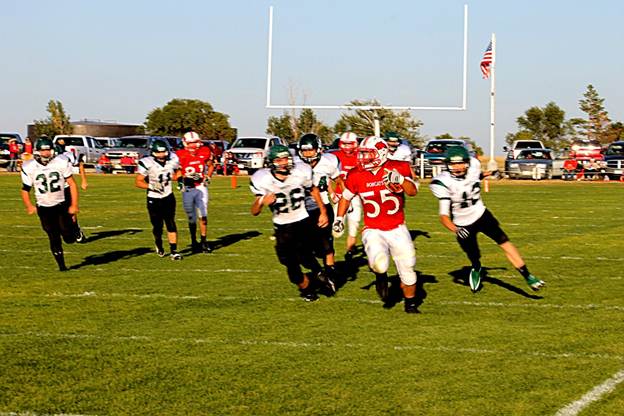 Volleyball – ( 9-21) PAC Team Third Place ; First Team Individual Honors: Katie Heitz (12) and Kelsy Wood (11) Honorable Mention Individual Honors: Kristina Kramer (11) HHS VB Coaches are: Kerri Heusman and Laura Klemke
Homecoming – 
Boys Basketball –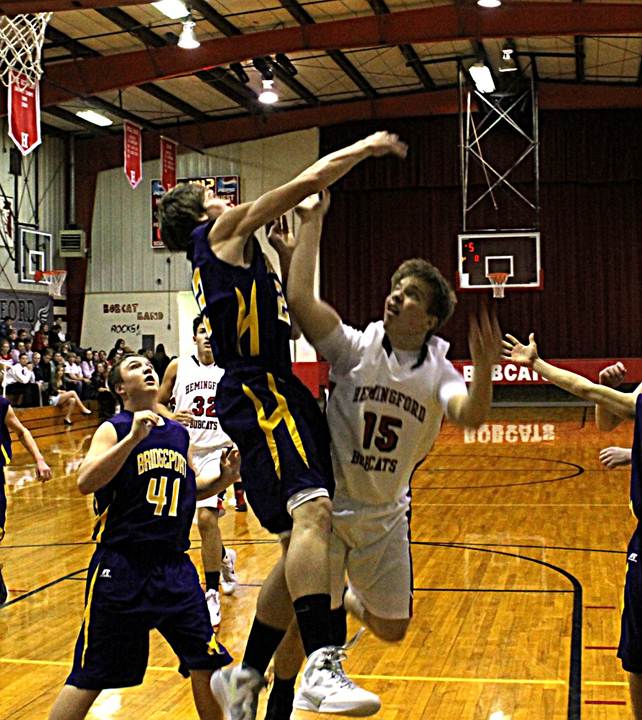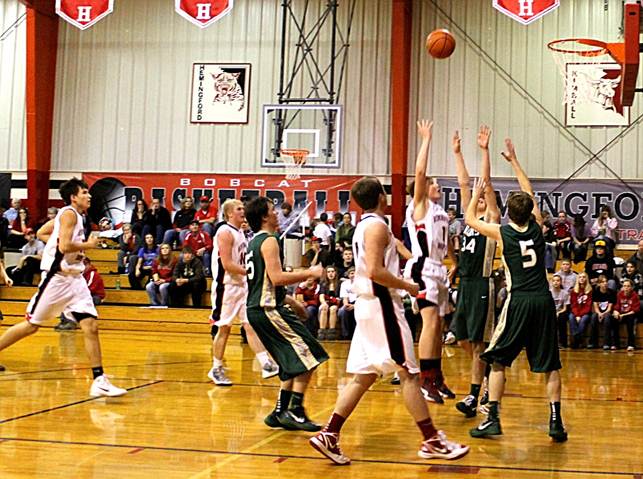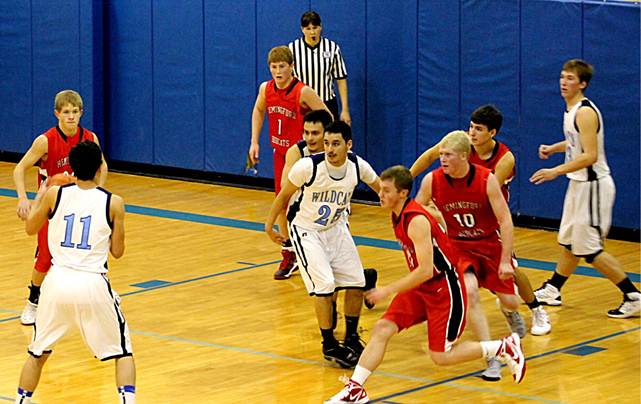 Girls Basketball –
Girls Basketball –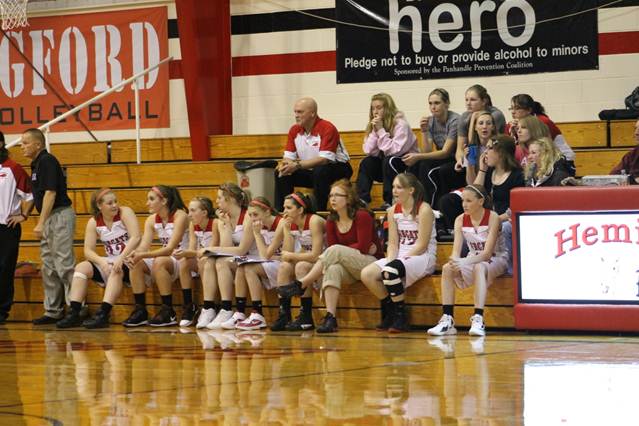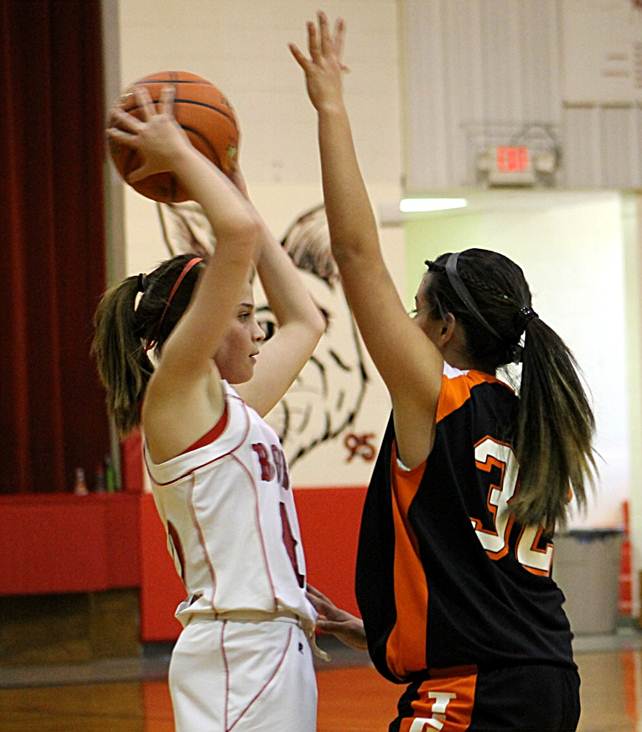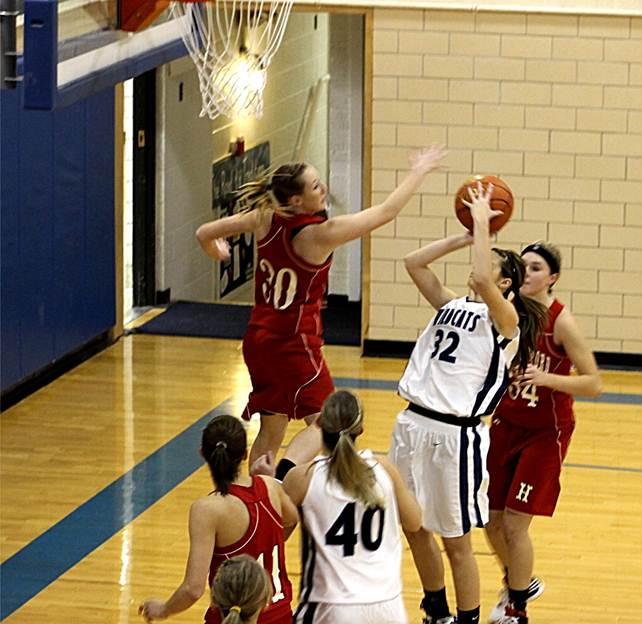 Wrestling -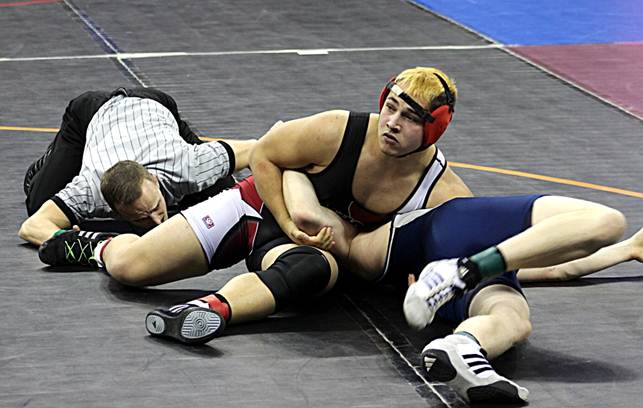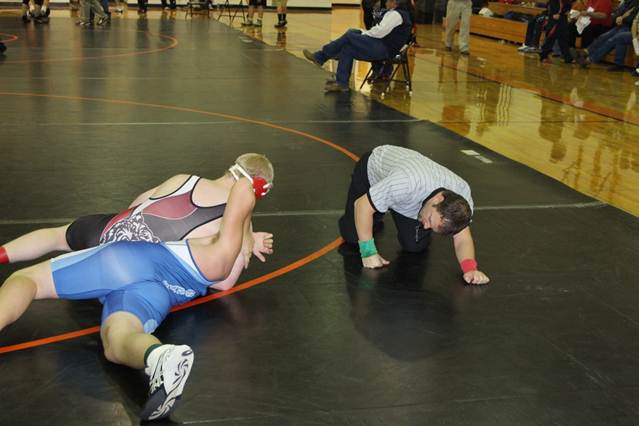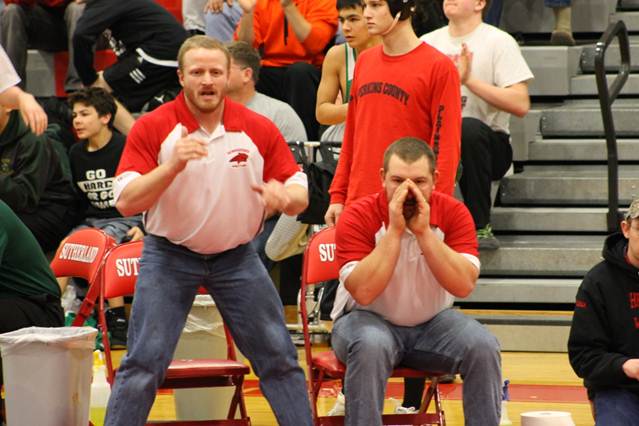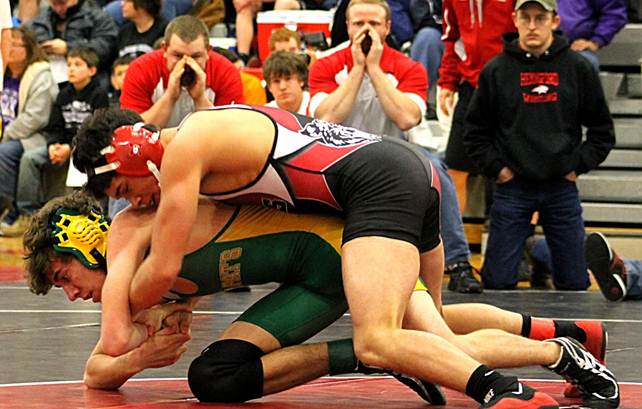 Boys Track and Field –
Girls Track and Field -
More news will be updated later, but two Juniors were District Champions for Coach Cindy Ahrens and qualified for the State Meet in Omaha. Kaitlyn Jespersen now holds the school record in the triple Jump and will jump one more time this year at Burke Stadium. Kelsy Wood had an outstanding season, and won four individual District events, the 100, the 100 Highs, the 300 Lows, and the Long Jump. Wood holds three school records. Both girls will have many fans cheering them on at STATE!
Clubs and Activities –.
Homecoming Activities –
Prom Royalty – 
Prom Theme –
Senior Class Motto – 
Senior Wills: 
Senior Class Officers –
Junior Class Officers –
Sophomore Class Officers –
Freshmen Class Officers –
Senior Awards – 
State Competitions –
Special or Unique Happenings –
Senior Class Enrollment –
Kindergarten Class Enrollment –
Yearbook Dedication –
Yearbook Staff: -
Superintendent – Mr. Casper Ningen
Principals – Mr. Peggy Foster, Secondary; Mr. Ron Foster, Elementary
Elementary Teachers –
Secondary Teachers –
Other Staff Members –
Yearbook Advertisers –