Class of 1963
Updated May 2013
Class Composite of the HHS Class of 1963 (Click on Pic to enlarge)
19 Hemingford High School 63
Student and Faculty Highlights of the Year
This page features athletic records, officers, themes, important numbers, important happenings, and other educational information from the year in question. It provides a quick and ready resource for Bobcat Grads and families!
Student Council Members –
Seniors –Don Parkin, Eddie Kriz, Sheryl Keane; Juniors – Larry Morrison, Gloria Tlamka, Nancy Carrell; Sophomores – Shirley Wood, Jim Olson, Ron Hucke; Frosh – Greg Rosenberger, Donna Fickel, R Nagelschneider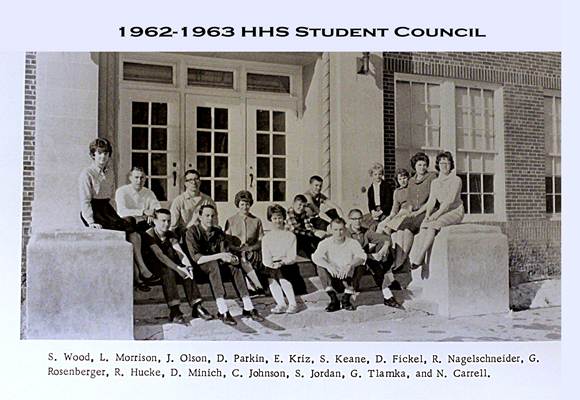 National Honor Society Members –
Sally Minich, Arden Rosenberger, Tom Manion, Margaret Gasseling, Sharon Headden, Dennis Tinsley, Sheila Headden, David Danbom, Phyllis Leetch, Kathy Caha, Rondo Rosenberger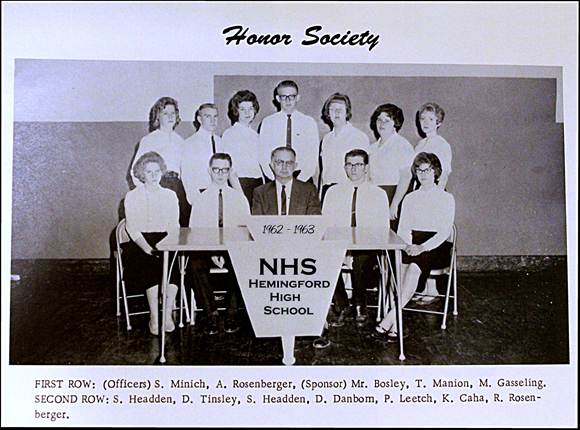 Music Department –
Band and Chorus were directed by Mr. Marker, and accompanied by Carol Price. The Majorette was Patty Overstreet. Over 70 students participated in mixed chorus, with eleven Pom-Pom girls, and 32 band members.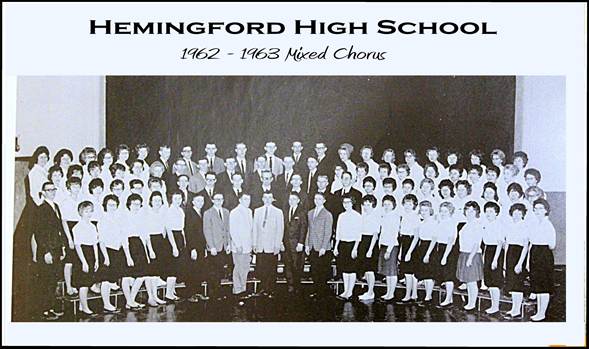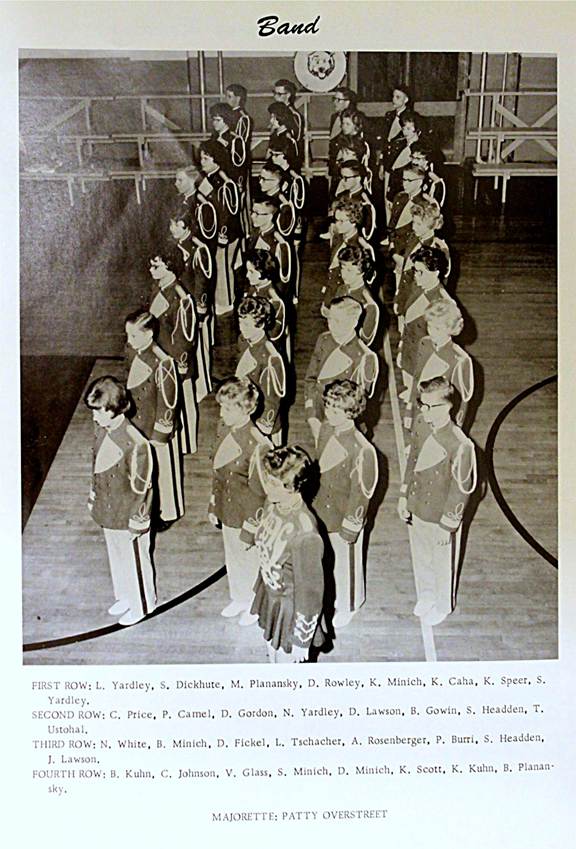 Drama and One Acts –
Dramatics Club Officers – Ed Dyer, Sheryl Keane, Ed Kriz, Margaret Gasseling, and Betty Wood. Sponsor was Mr. Lyle Fodnes.  There were over 65 members in the Dramatics Club.
Performances included: 
"Mrs. Caruthers Returns" – starring Sharon Headden, Gloris Tlamka, Patty Masat, Carol Price, Sharon Rogowski, Patty Overstreet, Bonnie Gowin, Eloise Forrstrum, Donna Fickel, Diane Rowley, Rhondo Rosenberger, Mary Planansky, Kathy Kuhn, and Sheila Headen.
"French Toast" – starring Nancy Carrell, Kathy Kuhn, Dennis Tinsley, Jerry Lawson, Sheila Headden, and Ronnie Rosenberger.
"The Youngest" – starring Steve Yardley, Betty Parkin, Kathy Caha, Dave Danbom, Donna Clark, and Milton Moravek.
 "Eh" – starring Sandy Grabher, Bob Planansky, Mary Planansky, C.J. Osborn, and Ed Dyer
"Seven Sisters" – The Junior Class Play, starred Kathy Caha, Patty Masat, Sheila Headden, Kathryn Kuhn, Rhondo Rosenberger, Betty Parkin, Nancy Carrell, Donna Clark, Davis Shimek, C.J. Osborn, Dennis Tinsley, Larry Morrison, Noel Yardley, and Ken Minich.
"Our Girls" – The Senior Class Play starred Margaret Gasseling, Dave Danbom, Ella Dickey, Joe Planansky, Sheryl Keane, Juanita Ray, Ed Dyer, Jerry Lawson, Tony Ustohol, Arden Rosenberger, and Sally Minich.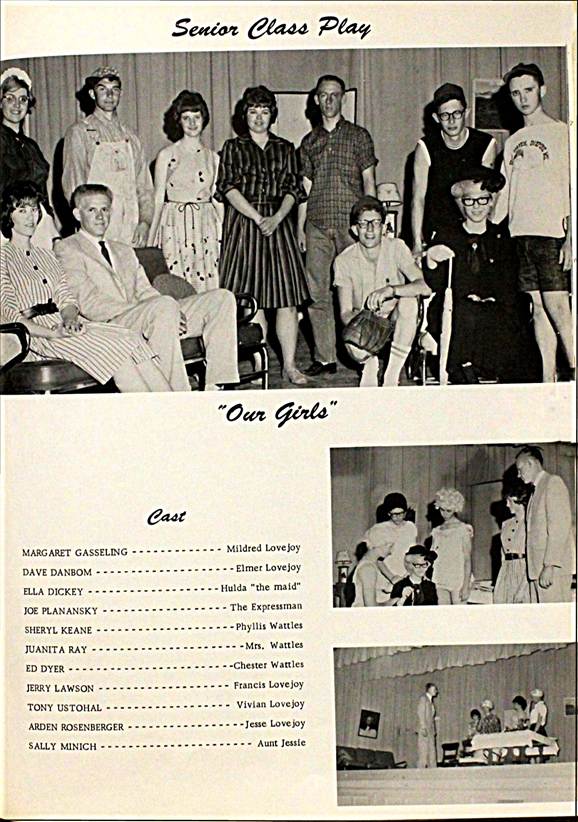 Football –
Coach Ecklund coached the Bobcats to a 5-3-1 record.
Wins came over Rushville (13-6); Minatare (34-7); St, Agnes (14-7); Crawford (21-7); and Morrill (13-6);  Losses were against Hay Springs (6-33); Sidney St. Pat's (13-26), and Mitchell (13-42) The tie was against Mullen (13-13)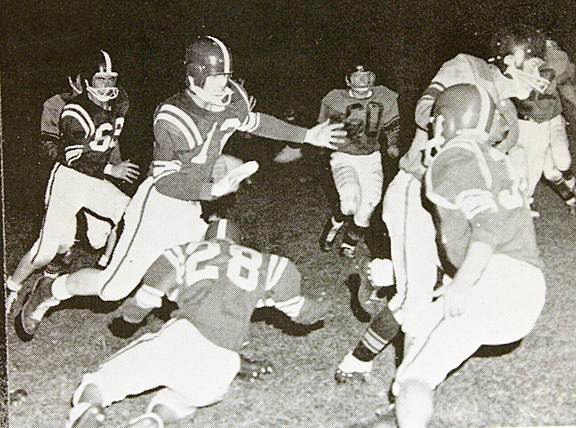 Players included, Eddie Dyer, QB; Don Parkin, C; Ronald Burney, C; Robert Kampbell E; Eddie Kriz, E; Tony Ustohol, E; Dave Danbom, T; Roger Davies, T; Arden Rosenberger  G; Jerry Lawson, G; Joey Planansky, FB; Eddie Planansky, T; Steve Yardley, HB; Ron Hucke, HB; Dennis Tinsley, HB; and Kenny Minich, FB
Boys Basketball –
The Season record was (12-5) (according to school Athletic Director Records) Coach Jerry Ecklund and Co-Captains Robert Kampbell and Ed Kriz led the Bobcats. Players included Steve Yardley, Ed Dyer, Ed Planansky, Don Parkin, Tony Ustohol, Joey Planansky, Dennt Tinsley, Paul Kampbell, Eddie Kriz, Robert Kampbell, and Arden Rosenberger. Managers were Larry Morrison and Dave Danbom.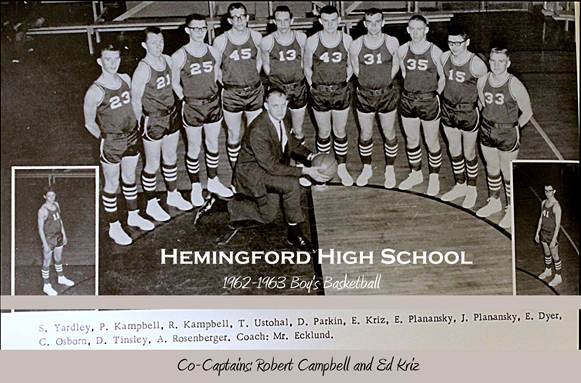 Boys Track and Field –
Current HHS Track and Field records are set to be assaulted by Coach Jerry Ecklund's group of thirty-one thinclads.
Joe Planansky qualified for the Nebraska State Track meet.
100-10.0 by Conn Fickel in 1960; 220 – 22.6 by Earl Lliteras in 1959; 440 – 52.0 by Delbert Wyland in 1959; 880 – 2:03.8 by Walt Dyer in 1962; Mile – 4:58.8 by Robert Kampbell in 1962; 120 High Hurdles – 15.2 by Joey Planansky in 1962; 180 Lows – 20.5 by Planansky, also in 1962;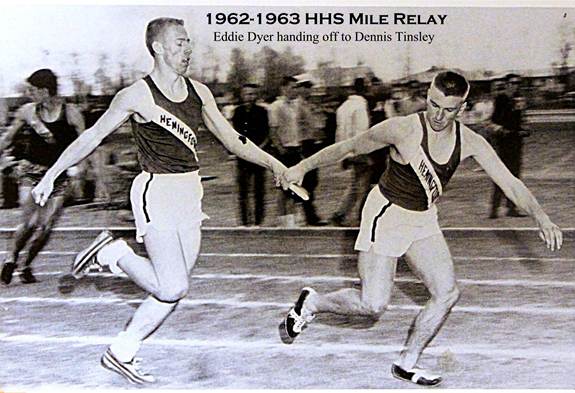 880 Relay – 1:35.6 by Jim Wood, Earl Lliteras, Del Wyland, and Conn Fickel in 1959; Mile Relay – 3:37.3 by Walt Dyer, Bill Engel, Don Turek, and Joey Planansky in 1962; High Jump – tie at 5'7" by Joey Planansky and Rick Sper in 1962; Broad Jump – 19'3" by Earl Lliteras in 1959; Pole Vault – 10'0" by Joey Planansky in 1962; Shot Put – 43'2" by Gene Fosket in 1955; Discus – 120'6" by Larry Masat in 1960.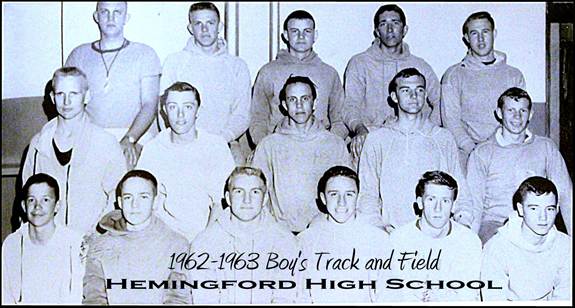 Clubs and Activities –
Spanish Club, Dramatics Club, Pep Club, Pom Pom, Twirler, Cheerleading, H-Club, FHA
Cheerleading and Pep Club
Betty Wood, Margaret Gasseling, Betty Parkin, and Rhondo Rosenberger. The mascot was Cathy Clark. Reserve Cheerleaders were Florence Jaramillo, Eloise Forrstrum, Bernadene Sample, and Sharon Rogowski.
The Pep Club had 52 members and was sponsored by Mrs. Johnson. Officers were Juanita Ray, Sheryl Keane, Marcia Hennings, P Thomas, and Delvene Mracek.
Football Royalty –
Queen – Sheryl Keane; King – Robert Kampbell; Attendants – Billie Carmody, Arden Rosenberger, Patty Thomas, Tony Ustohal
Basketball Royalty -  
Marcia Hennings, Margaret Gasseling, Betty Wood
Prom Royalty –  
Queen – Betty Wood; King – Roger Davies; Attendants –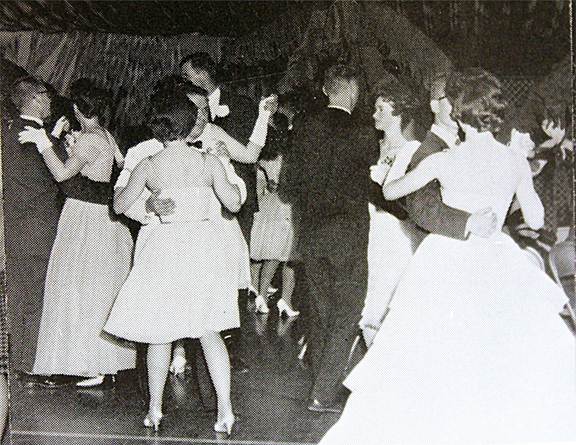 Prom Theme – Jungle Paradise, "Dancing, dining, and entertainment"
Senior Class Motto –
Senior Class Officers –
President – Don Parkin; VP – Sally Minich; Secretary –Marci Hennings; Treasurer – Roger Davies. Faculty Sponsor was Leonard H. Schult.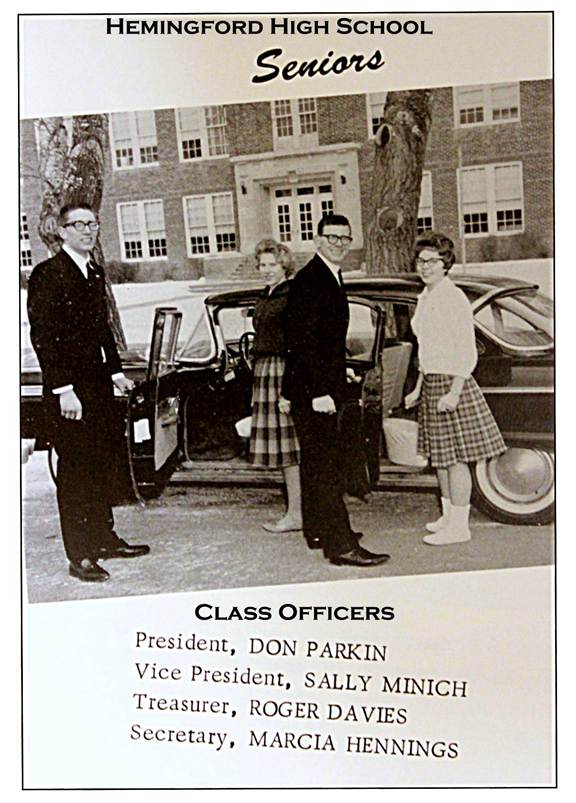 Junior Class Officers –
President –Gloria Tlamka; VP – Noel Yardley; Secretary – Phyllis Leetch; Treasurer –Betty Parkin
Sophomore Class Officers –
President – Ron Hucke; VP – Sharyn Rogowski; Secretary – Philip Gasseling; Treasurer – Margaret Meyer
Freshmen Class Officers –
President – Donna Fickel; VP – Diane Yardley; Secretary – Bonnie Gowin; Treasurer – Donnie Lawson
Bobcat Tales Staff
Ken Minich, Sports Editor; Nancy Carrell, Assistant Editor;  Betty Parkin, Subscription Editor; Sharon Headden, Editor In Chief; Ronnie Rosenberger, Class News Editor; and Kathryn Kuhn, Feature Editor.
Annual Staff
Jerry Lawson, Milton Moravek, Tony Ustohal, Joey Planansky, Wayne Rosenberger, Sally Minich, Margaret Gasseling, and Betty Wood. 
Special Awards –
Best Looking – Betty Wood, Tony Ustohal; Most Athletic – Joey Planansky, Margaret Gasseling; Best Personality – Sheryl Keane, Eddie Kriz; Most Likely to Succeed – Sally Minich, Arden Rosenberger; Best Sense of Humor – Wayne Rosenberger, Patty Thomas; Most Friendly – Dave Danbom, Junanita Ray
H – Club Co-Captains
Jerry Lawson, Robert Kampbell, Joey Planansky, and Eddie Kriz.
Senior Class Enrollment – 31
Bill Bartels, Larry Burney, Billie Carmody, David Danbom, Roger Davies, Margaret Gasseling, Robert Kampbell, Lloyd Ditsch, Don Duncan, Ella Dickey, Marcia Hennings, Eddie Dyer, Sheryl Keane, Douglas Krejci, Eddie Kriz, Jerry Lawson, Sally Minich, Tom Manion, Milton Moravek, Delvene Mracek, Keith Messersmith, Joey Planansky, Don Parkin, Juanita Ray, Arden Rosenberger, Tony Ustohol, Wayne Rosenberger, Gareth Rees, Wayne West, Patty Thomas, and Betty Wood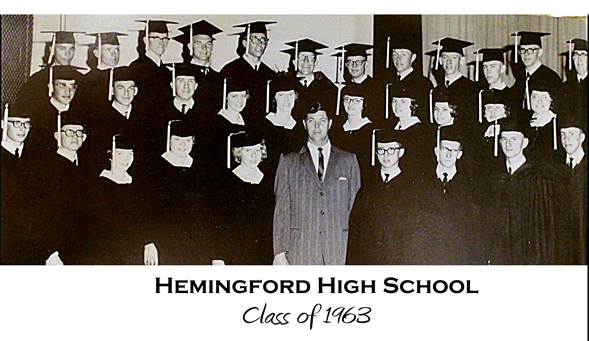 Senior Class Wills
Bill Bartels–Wills his lost points to Mr. Shinker.
Larry Burney–Wills his size 10 ½" shoes and his 7 3/8"  cowboy hat size to Floyd Roebuck.
Billie Carmody– Wills all the waste paper in her desk to Steve Yardley
David Danbom– Wills his ability to talk all of the time to Jim Olson
Roger Davies– Wills his good looks and handsome hair to Paul Kampbell
Lloyd Ditsch–Wills his car to anyone who wants it, his stock car to Carey Davies, and his ability to miss school to Paul Kampbell
Eddie Dyer–Wills his ability to lose 40 yards on one play to next year's quarterback
Ella Dickey–Wills her ability to outtalk anyone and everybody, and then keep talking to silence Sharon Headden.
Don Duncan–Wills all of his car and all of his school books to anyone who likes Fords and school books. All of his English school books will go to his little brother , he will need them.
Margaret Gasseling– Wills her ability to stop talking part of the time to Mary Planansky
Marcia Hennings– Wills her brown eyes and height to Mr. Ecklund.
Robert Kampbell– Wills his ability to stay in speech class to Davis Dufek.
Sheryl Keane– Wills her iron to the second string cheerleaders.
Douglas Krejci–Wills his bookkeeping book to his little brother because it won't do him any good.
Eddie Kriz–Wills Floyd Roebuck his height.
Jerry Lawson– Wills his safe driving abilities to Dennis Gasseling and his wig to Peggy Masat.
Tom Manion– Wills his tallness to John hennings.
Sally Minich– Wills her pep band music to Sharon Headden.
Milton Moravek–Wills his hair to Bob Ray including all his used Brylcreme.
Delvene Mracek–Wills all the gum under her desk in the English room to Dennis Herbaugh.
Keith Messersmith– Wills his athletic ability to Gary Meradith.
Don Parkin–Wills his used toothpicks to Mr. Miller.
Joey Planansky– Wills his ability to play the fullback position in football to Floyd Roebuck.
Juanita Ray– Wills Betty Parkin and Linda Kampbell "The Bouncer" to use next year (if it still runs), and her walking papers to Kenny Minich.
Gareth Rees-
Arden Rosenberger– Wills his ability to give a forearm lift to Coach Trew.
Wayne Rosenberger–Wills his ability to play hooky to Boyd Krejci.
Patty Thomas –Wills the ability to keep the natural color of her hair to Cathy Maiefski.
Tony Ustohol– Wills his sweet little cousin Greg to any good looking girl that will have him.
Wayne West–Wills his car to anyone that wants it.
Betty Wood–Wills her natural curly short hair to Betty Parkin.
Kindergarten Class Enrollment – 13
Yearbook Dedication –
"Our Town"
Superintendent –
Glenn E. Bosley
Principal –
George J Shinker
Elementary Teachers –
Kindergarten – Mrs. Trew; First Grade – Mrs. Ball; Second Grade – Mrs. Bruns; Third Grade – Mrs. Furman; Fourth Grade – Mrs. Hebbert; Fifth Grade – Mrs. Fendrick; Sixth Grade – Mrs. Jezek
Secondary Teachers –
Leonard H. Schult, Mr. Miller, Mr. Trew, Mr. Marker, Mr. Ecklund, Mr. Fodnes, Mrs. Headden, Miss Clark, Mrs. Johnson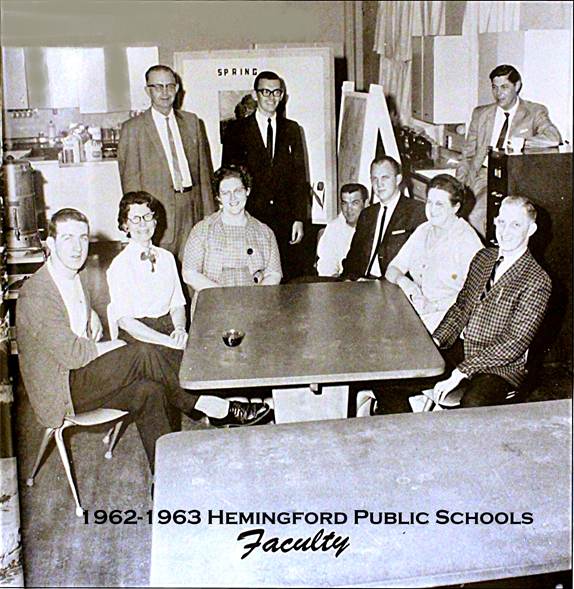 Departing Staff
Six teachers left District 10 at the end of 1963, including Math Instructor John Miller, science Teacher and Coach Jerry Ecklund, Commercial Instructor Leonard Schult, Music Teacher Richard Marker, Sixth Grade teacher Mable Jezek, and Kindergarten teacher Pat Clark. Superintendent Glenn Bosley had several applications for all but the music position.
Other Staff Members –
Custodians - Mr. Herbaugh, and Mrs. Dyer, Secretary - Mrs. Edna Reindl
Class of 1963
Tony Ustohal

ajmeu2817ne@msn.com

Pueblo, Colorado

Retired

Aug 05, 2013

Although it looks good, our basketball record for the year was definitely not 12-5. It was more like 6-13 as I recall. Best game we played was at home against a ranked Sidney St. Pats team where we lost by 3 or 4 points on a cold, snowy night. But, no wonder we didn't have a very good team because, judging from the picture, we were all very portly with short legs.