Class of 1960
The HHS Graduating Class of 1960 (Click on pic to enlarge)
19 Hemingford High School 60
Student and Faculty Highlights of the Year
This page features athletic records, officers, themes, important numbers, important happenings, and other educational information from the year in question. It provides a quick and ready resource for Bobcat Grads and families!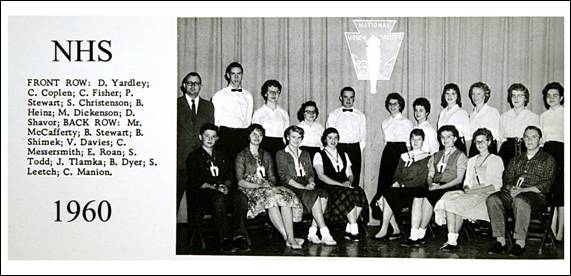 National Honor Society Members –Members included: D. Yardley, C. Coplen, C. Fisher, P. Stewart, S. Christenson, B. Heinz, M. Dickenson, D. Shaver, B. Stewart, B. Shimek, V. Davies, C. Messersmith, E. Roan, S. Todd, J. Tlamka, B. Dyer, S. Letch, and C. Manion. Sponsor was James McCafferty.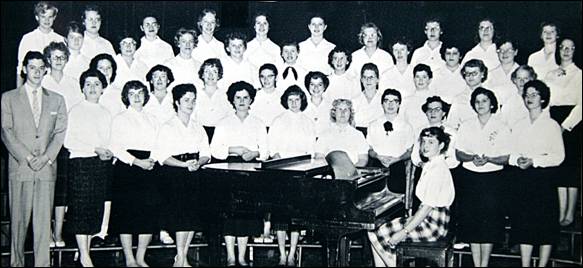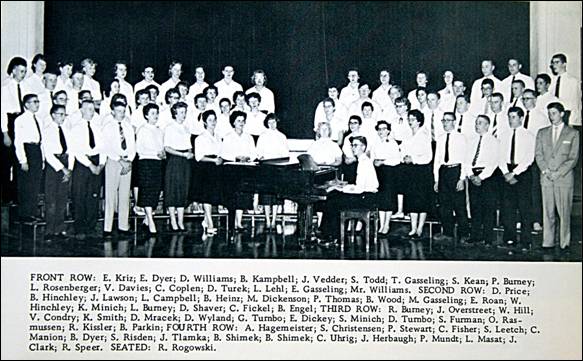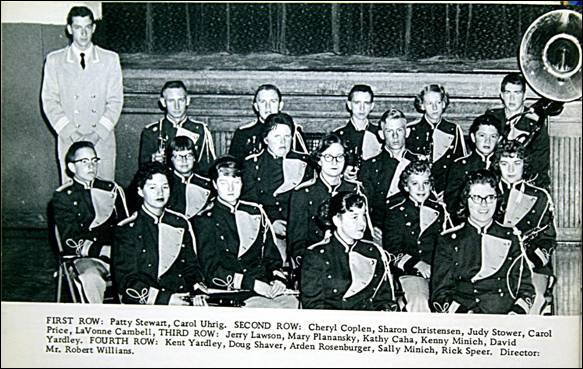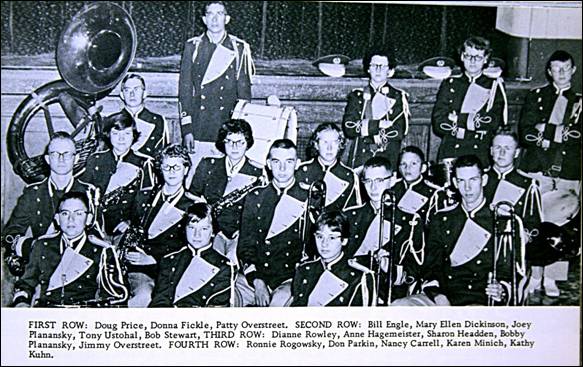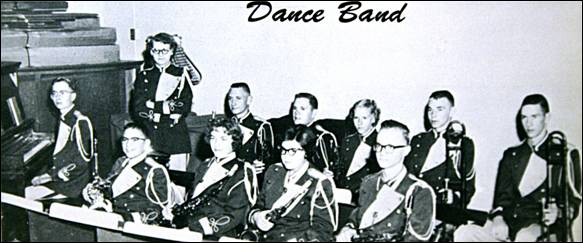 Music Department – The girls Chorus had 41 members; the mixed Chorus had 65 members, the Dance Band had 11 members, the Pep Band 16, and the High School Band had 34 members. All the groups were lead by Mr. Robert Williams.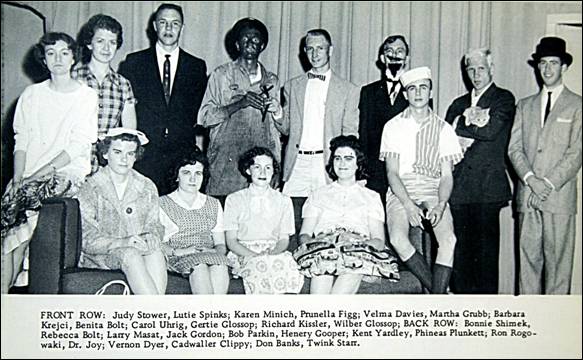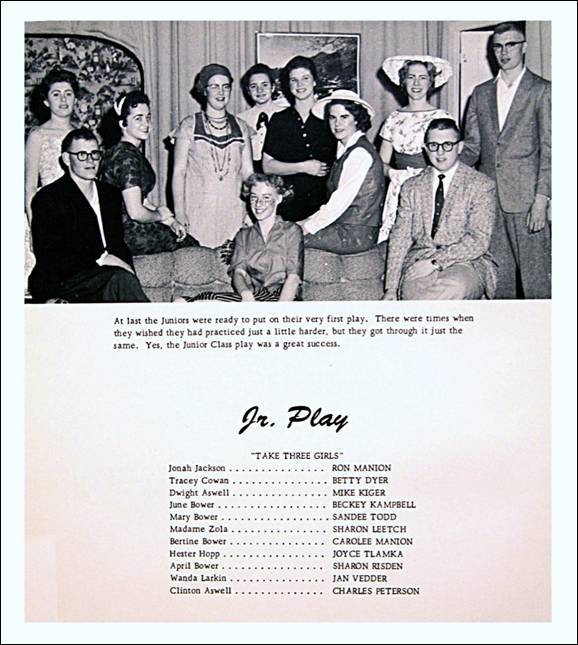 Drama and One Acts –After changing their minds several times, the Seniors chose "Nuts and Bolts" as their class play. Cast and crew included: Judy Stower, playing Lusie Spinks, Karen Minich, playing Prunella Figg, Velma Davies, playing Martha Grubb, Barbara Krejci, playing Benita Bolt, Carol Uhrig, playing Gertie Glossup, Richard Kissler, playing Wilber Glossup, Bonnie Shimek, playing Rebecca Bolt, Larry Masat playing Jack Gordon, Bob Parkin playing Henery Gooper, Kent Yardley playing Phineas Plunkett, Ron Rogowski playing Dr. Joy, Vernon Dyer playing Cadwaller Clippy, and Don Banks played Twink Star.
The Junior Play was "Take Three Girls", and The One Act Play that won a Superior at District Contest was, "High Window". Cast members included, Betty Heitz, Patty Stewrat, SanDee Todd, Don Banks, and Kent Yardley. Two other plays were also presented, including, "The Running Tide", and "Home to Mother".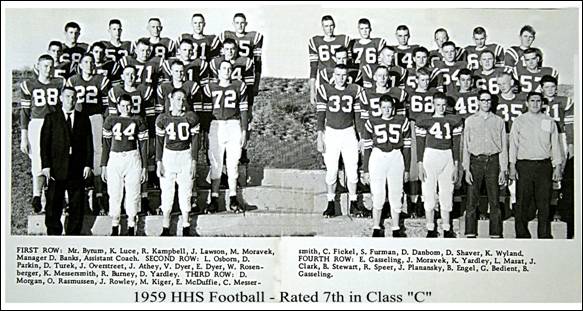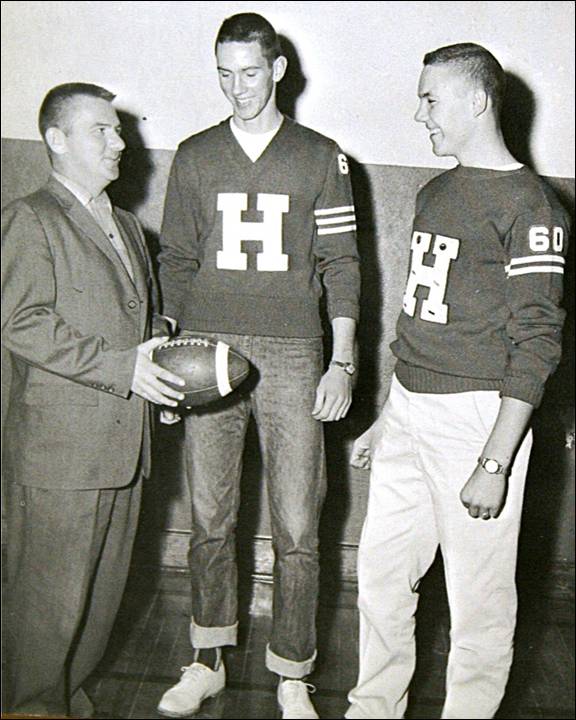 Football – Coach J.J. Byrum and his team had a successful season with a 5-2-1 record. The Bobcats tied Bridgeport and had wins over Hay Springs, Chadron Prep, Alliance Reserves, Morrill, and Crawford.. One of their losses was 19-20 to Rushville, with the other loss coming against Chadron High. Co-Captains were Bob Stewart and Larry Masat. Asistant Coach was Pete Mirelez. Larry Masat was selected All Conference Tackle, Bob Stewart was selected All Conference Quarterback, with Jim Moravek selected as All Conference End.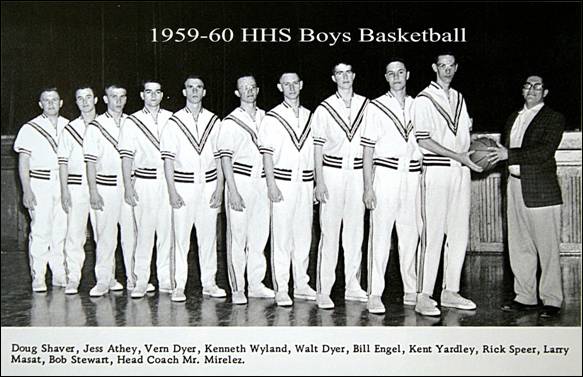 Boys Basketball –Coach Pete Mirelez and his Bobcat team won nine games and lost ten. Team Captain was Kent Yardley. Bob Stewart led the team with 247 points, with Larry Masat scoring 151. Varsity team members included: Doug Shaver, Jess Athey, Vern Dyer, Kenneth Wyland, Walt Dyer, Bill Engel, Kent Yardley, Rick Speer, Larry Masat, and Bob Stewart. Assistant Coach was J.J. Byrum.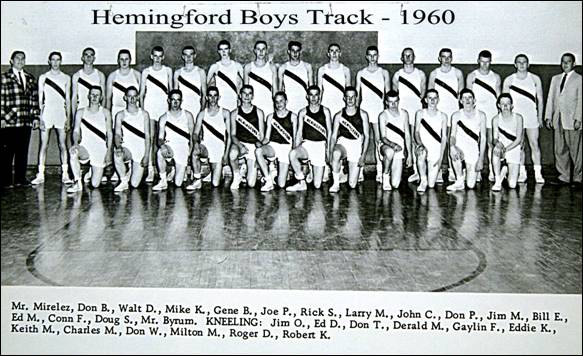 Boys Track and Field – Coach Pete Mirelez had 26 thinclads out for track and field. He was assited by J.J. Byrum. Rick Speer High Junped, Larry Masat threw the Discus, and Don Banks ran the mile.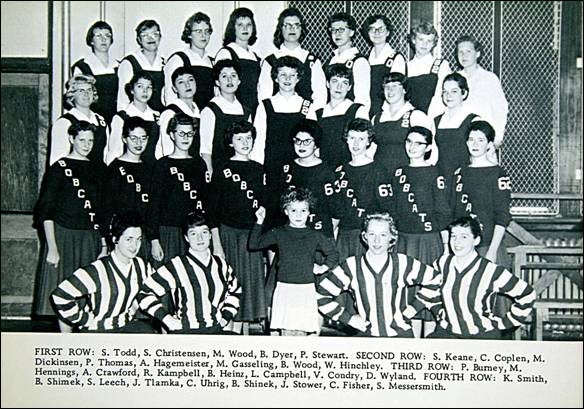 Pep Club –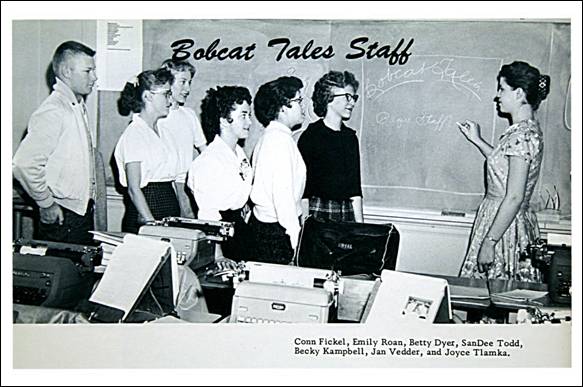 Clubs and Activities – The Bobcat Tales Staff included; Conn
Fickel, Emily Roan, Betty Dyer, SanDee Todd, Becky Kampbell, Jan Vedder, and Joyce Tlamka.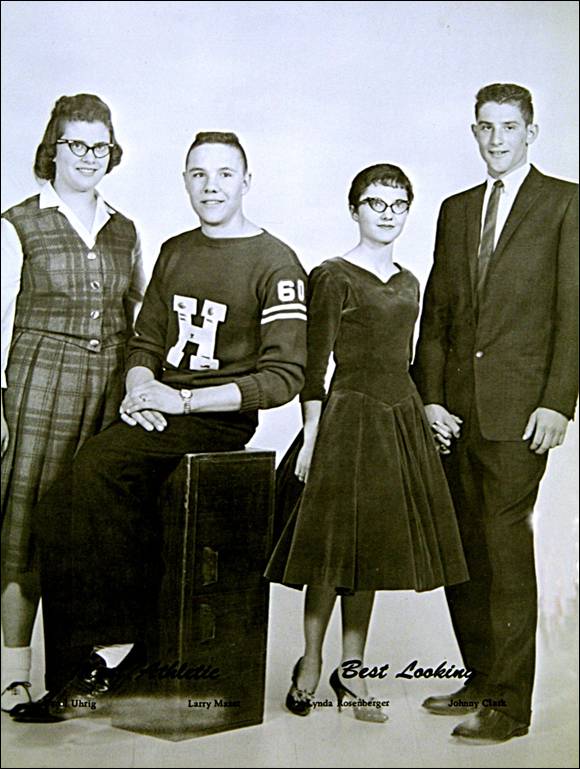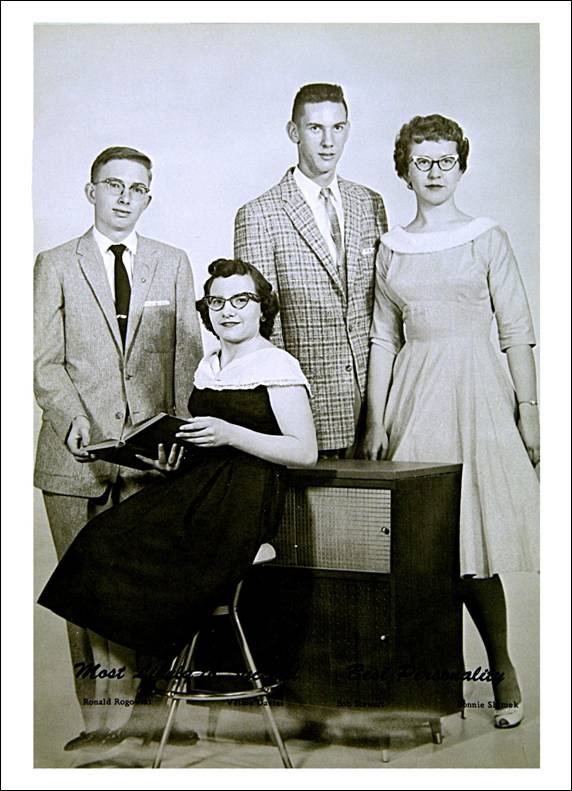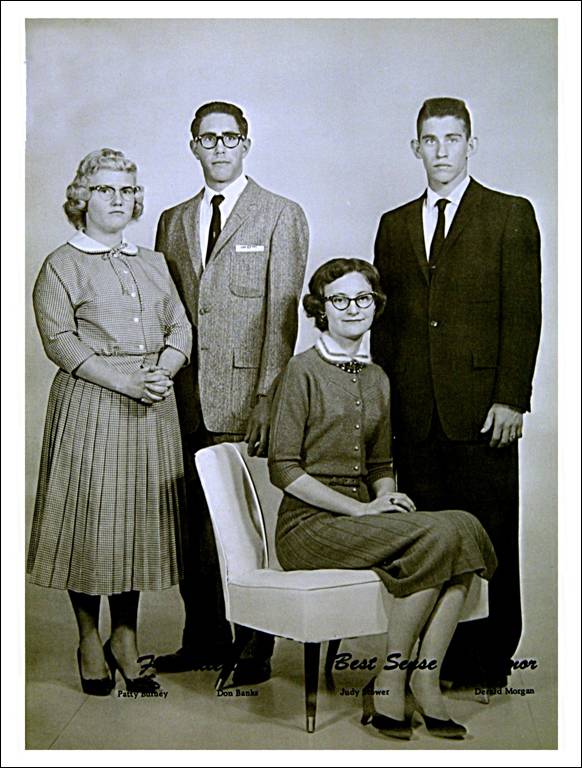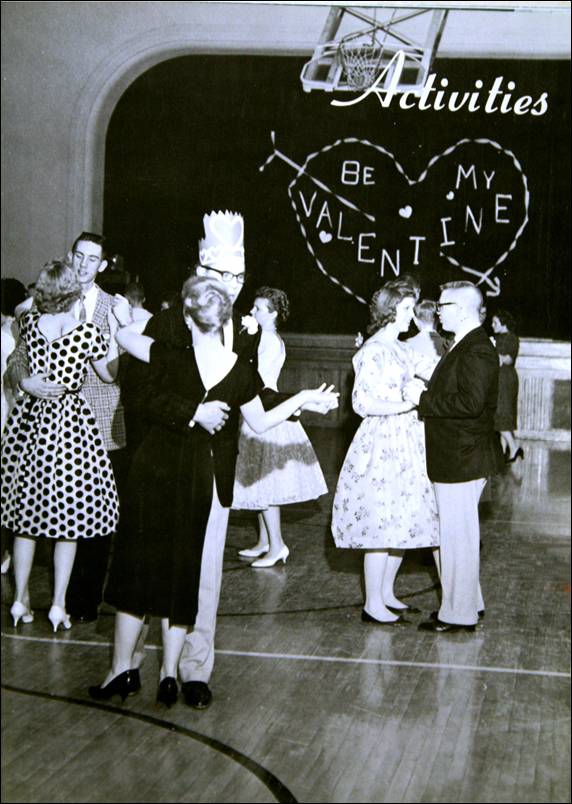 Homecoming Royalty – Queen – Bonnie Shimek; Attendants – Lynda Rosenberger, P. Mundt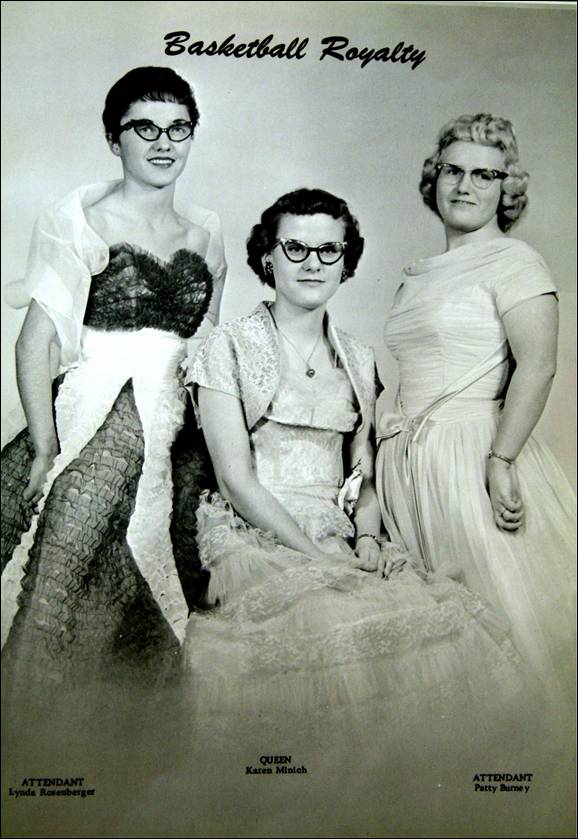 Basketball Royalty - Queen – Karen Minich; Attendants – Lynda Rosenberger, Patty Burney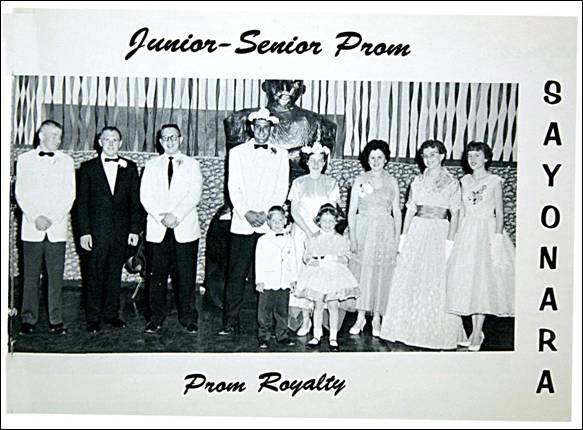 Prom Royalty – Queen – Barbara Krejci; King – John Clark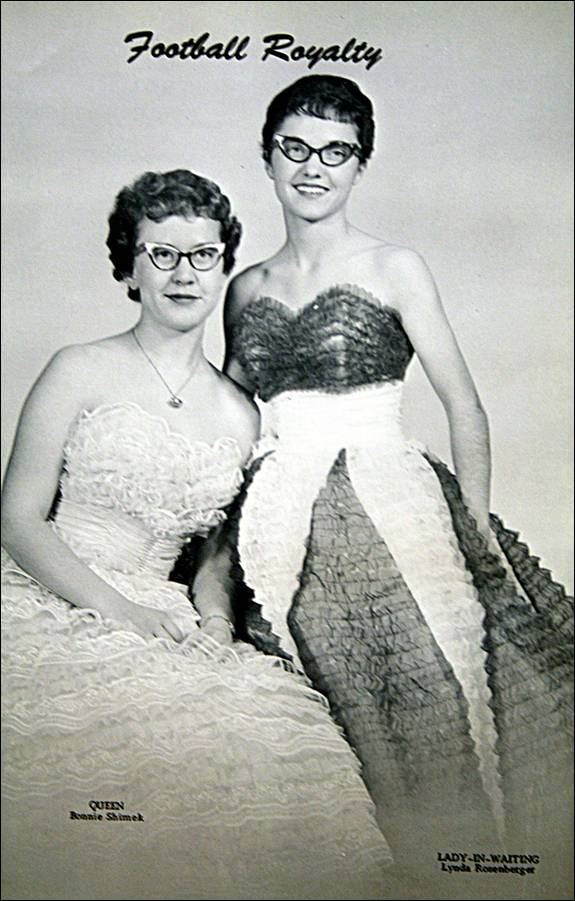 Football Royalty –Queen, Bonnie Shimek; Lady in Waiting , Lynda Rosenberger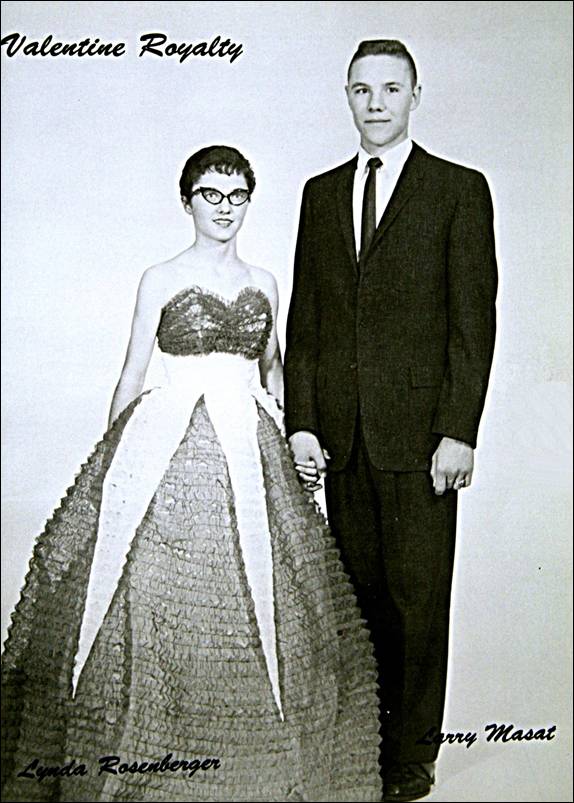 Valentines Royalty –Lynda Rosenberger and Larry Masat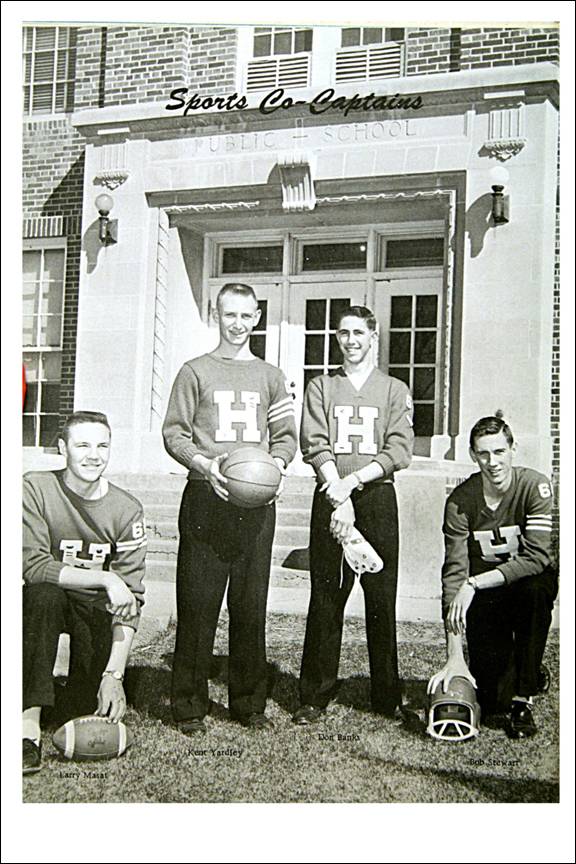 Sports Captains – Football, Bob Stewart and Larry Masat; Basketball – Kent Yardley; Track and Field, Don Banks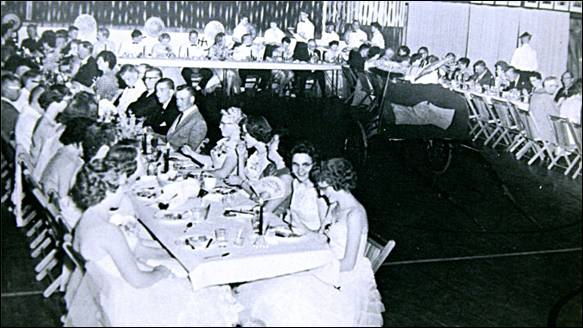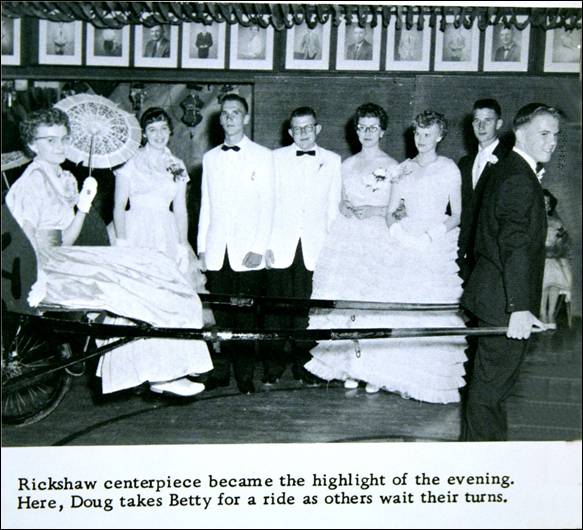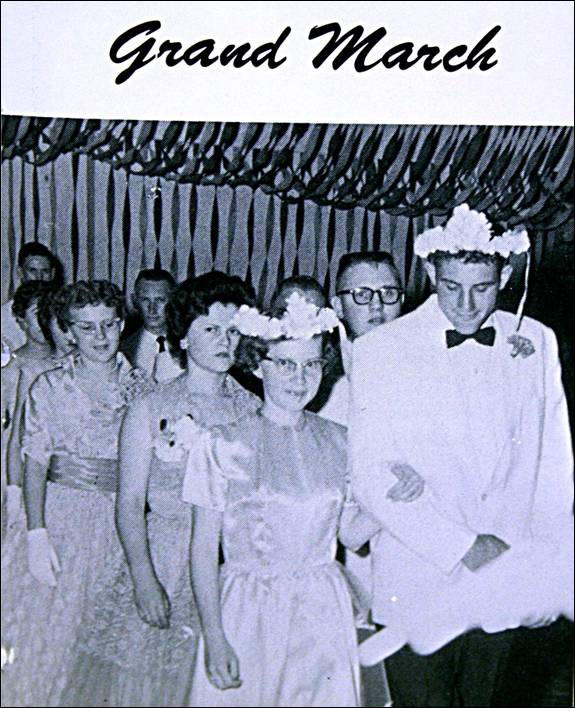 Prom Theme – "Sayonara", with a rickshaw as part of the décor. Attendees gave rides to one another as the evening went on.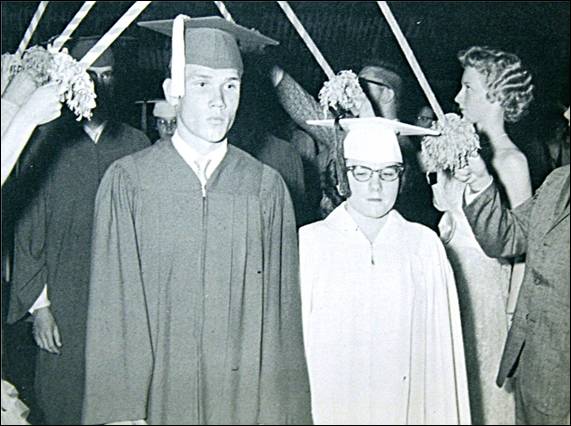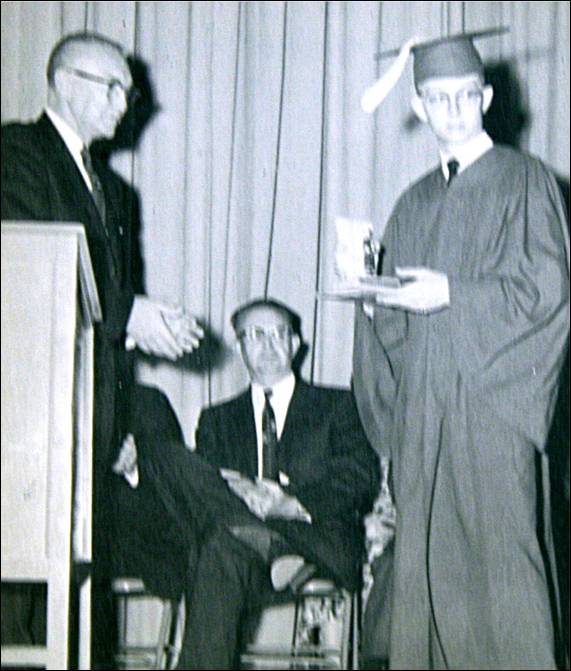 Senior Class Motto – "At the Foothills, Climbing Onward"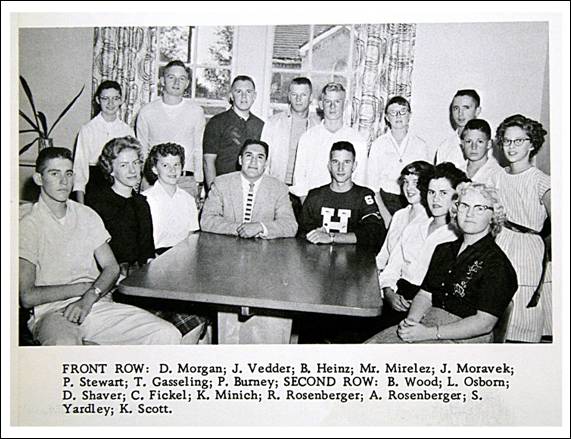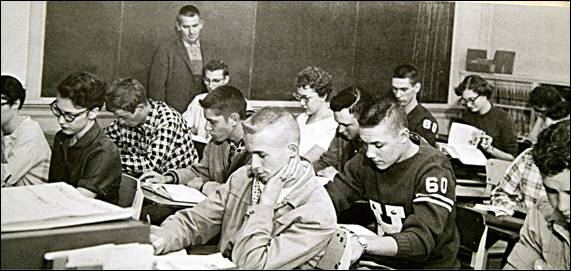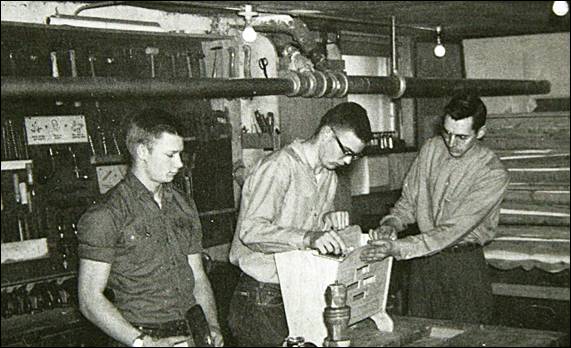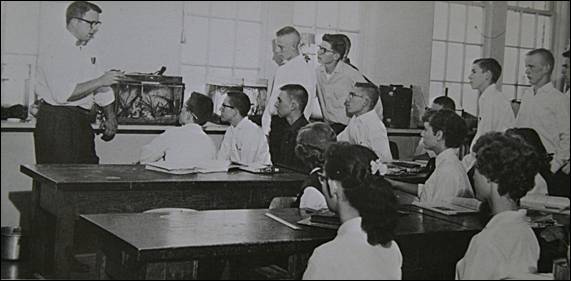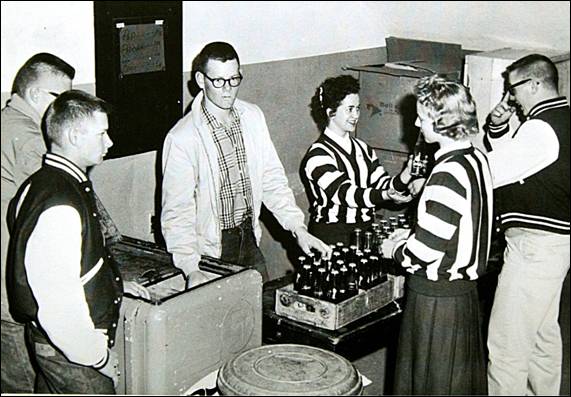 Classes – Academics –
Special Awards – "Most Likely to Succeed"-Velma Davies and Ronald Rogowski; "Best Personality" – Bonnie Shimek and Bob Stewart; "Most Athletic" – Carol Uhrig and Larry Masat; "Best Looking" – Lynda Rosenberger and Johnny Clark; "Friendliest" – Patty Burney and Don Banks; "Best Sense of Humor" – Judy Stower and Derald Morgan.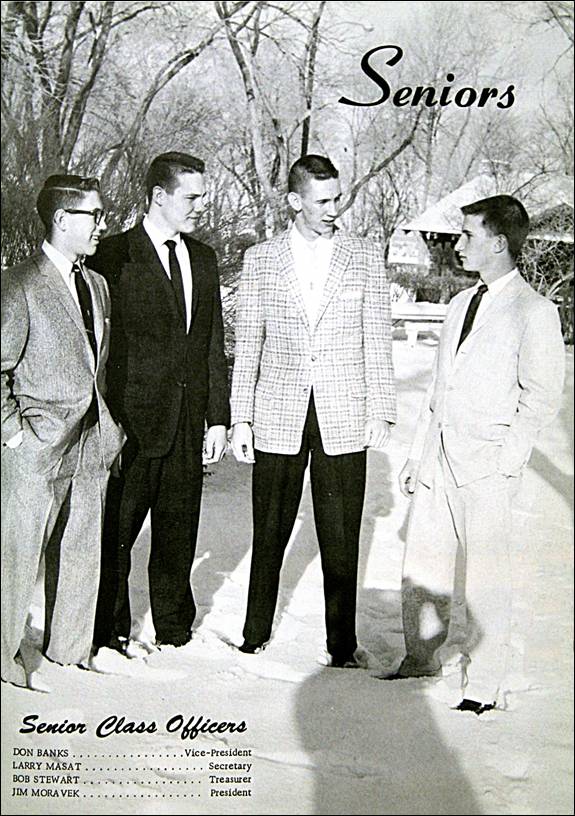 Senior Class Officers – President – Jim Moravek; VP – Don Banks; Secretary – Larry Masat; Treasurer – Bob Stewart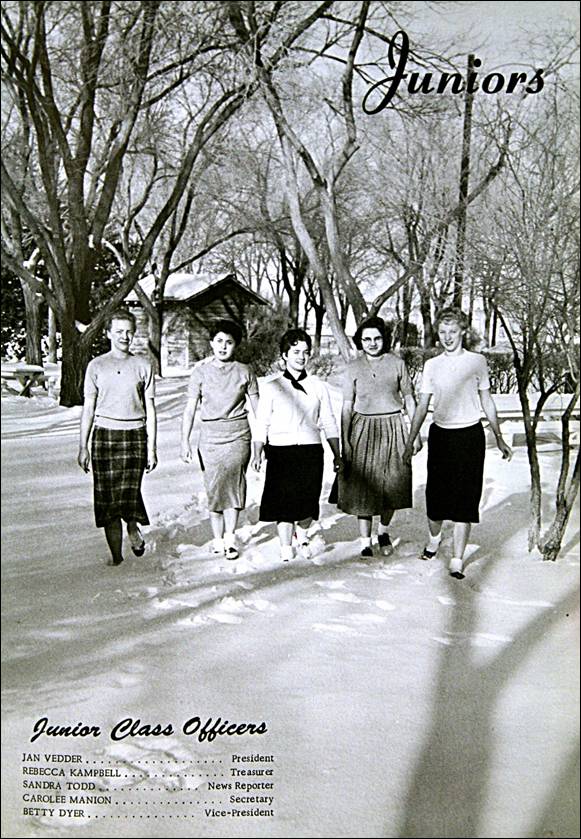 Junior Class Officers – President – Jan Vedder; VP – Betty Dyer; Secretary – Carolee Manion; Treasurer – Rebecca Kampbell; News Reporter – Sandra Todd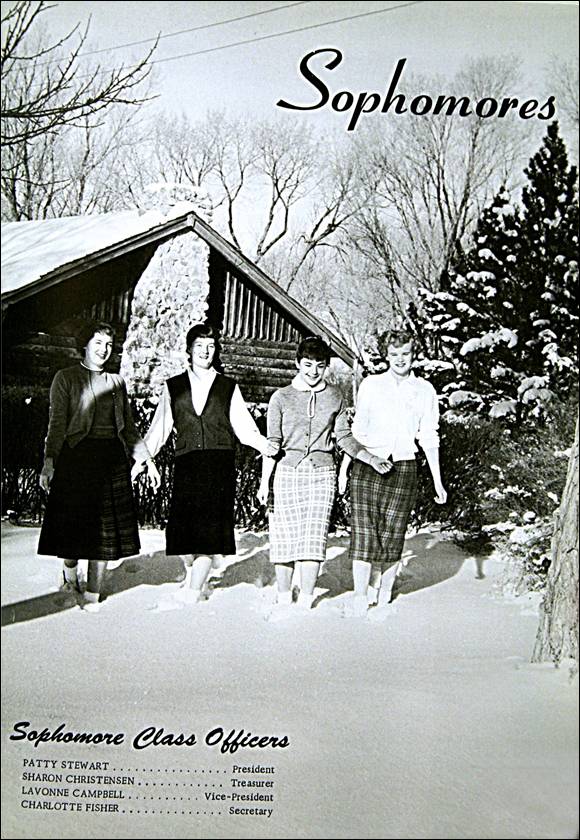 Sophomore Class Officers – President – Patty Stewart; VP – Lavonne Campbell; Secretary – Charlotte Fisher; Treasurer – Sharon Christensen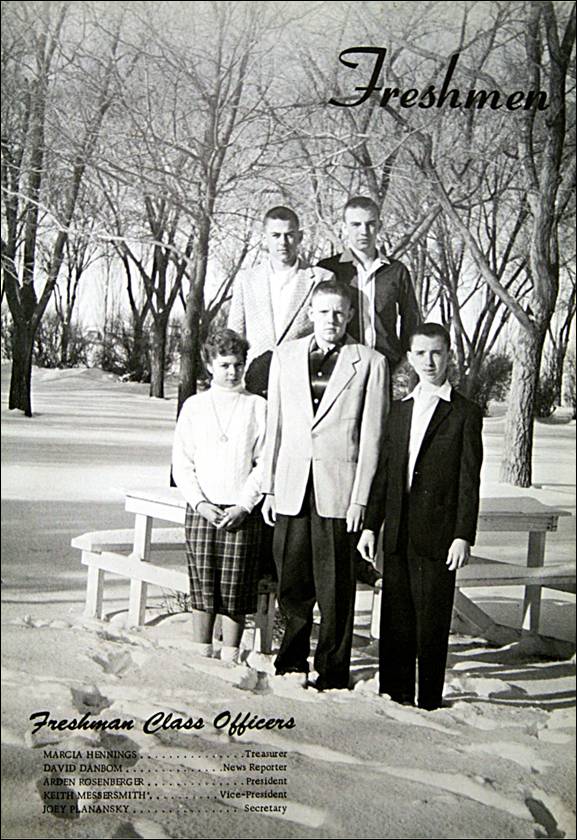 Freshmen Class Officers – President – Arden Rosenberger; VP – Keith Messersmith; Secretary – Joey Planansky; Treasurer – Marcia Hennings; News Reporter – David Danbom
Senior Class Enrollment –28
Kindergarten Class Enrollment – 21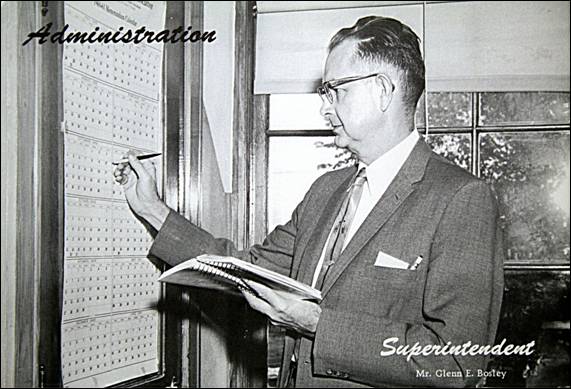 Superintendent – Glenn E Bosley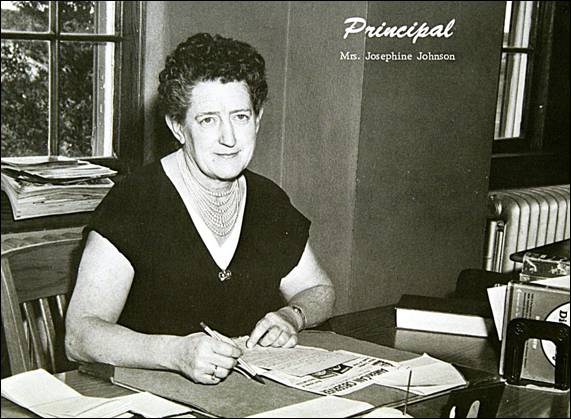 Principal – Josephine Johnson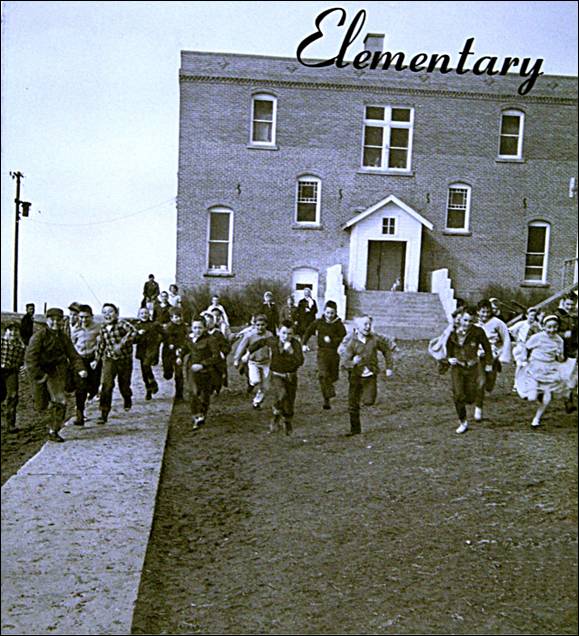 Elementary Teachers – Kindergarten – Patricia Clark; First Grade – Mrs. F. Ball; Second Grade – Mrs. F. Vedder; Third Grade – Agnus Furman; Fourth Grade – Lena Hebbert; Fifth Grade – Evelyn Fendrick; Sixth Grade – Mable Jezek; Seventh Grade – Mrs. Headden; Eighth Grade – Mrs. Fentress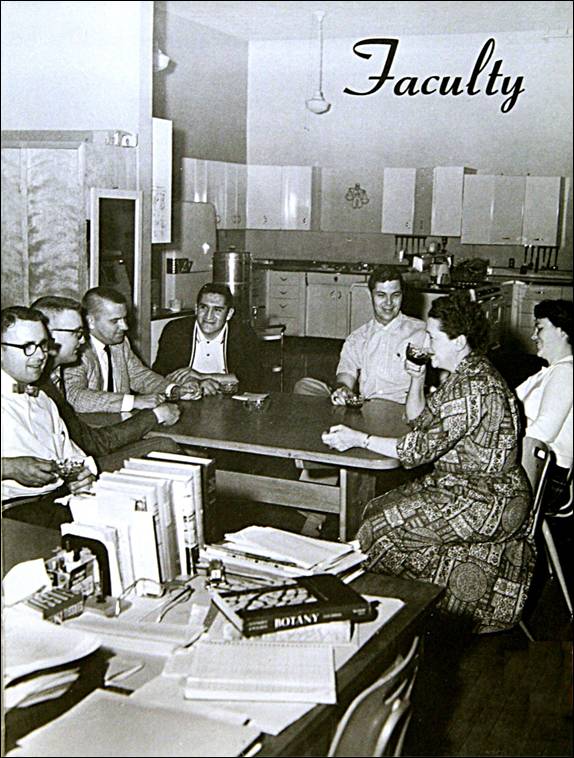 Secondary Teachers –Lyle Fodnes, Lee Beem, Dorothy Burns, James, McCafferty, Adelyn Headden, Pete Mirelez, Robert Williams, Leonard Schult, JJ Byrum, Ray Scott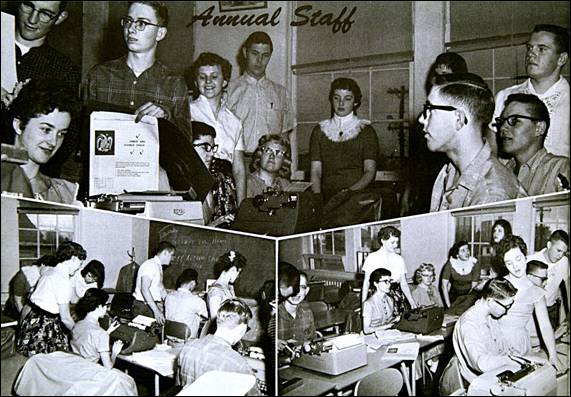 Other Staff Members –Edna Reidl, Mr. Herbough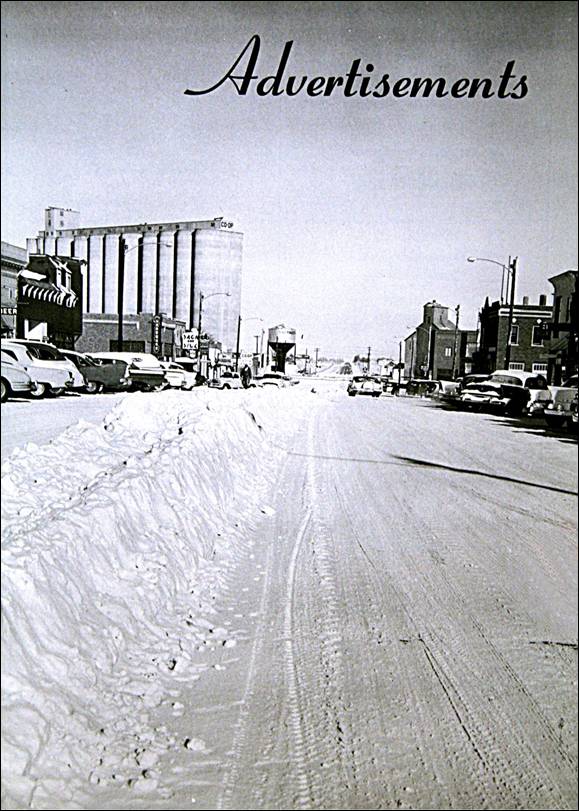 Advertisers –
Chadron
Haskell's Mobile Station
Chadron Tire Shop
Darlington Electric
Chuck Wagon Café
The Little Shop
Dr. and Mrs. Keith C. Thomas
Sioux Skillet – Red and Juanita
Chadron Livestock Sales Service
Tom Ormesher
Prey Chevrolet
Henkin's Implement
Frock Shop
Chadron Mobile Service
Red and Ray's Barber Shop
OK Barber Shop
Byerly's Bakery
Blundell's Standard Service
Dr. Vern D. Holmes, DDS
Midwest Furniture
Piggly Wiggly
F & M Bootery
Chadron Milling – Lily White Flour
Calclon's Supper Club
Frontier Drive Inn
The Style Shop
Mac's "66" service
Down's Paint and Wallpaper
Blundell Plumbing and Heating
Bank of Chadron
Alliance
Sta-Nu Cleaners
Alliance Consumers
First National Bank
Famous Clothing
Ideal Frozen Food
A & W Drive In
Newswangers
Elmer R. Kissack Company
Alliance Steam Laundry
Cover-Jones Motor Co.
Box Butte Equipment Co.
Keep You Neat Cleaners
Dr. B.G. Bauman, Optometrist
Reynold's Auto Parts
Basketeria
Neil's Truck Service
Meder-Smith Well Service
Worely's Studio
Candy Shop
Buchfinch Grain Inc.
Leonard's Barber Shop
Rex Hamburger Factory
Coast to Coast
G & L Dairy King
Proper Pontiac
Dick's Café
Alliance Cleaners
Borror's Chevrolet
Texaco Sales and Service
Richard Lyman
Harris Sales
Steam Laundry
Alliance Tractor
Jack and Jill
Box Butte County Med Assoc.
Alliance Ready Mix
A.H. Jones Co. Plymouth
Pepsi-Cola Bottling Co.
Guardian State Bank
Pete's Clothing & Army Store
Alliance Livestock Comm. Co.
Montgomery Ward
Mike's Barber Shop
Sidles & Chambers Auto Supply
Thieles
Optometrist
Sunset Motel
Mode "O" Day
Newberry's Store – Hardware
J.C. Penney's
Lenla's Style Shop
F & M Bootery
Missouri Market
Howard's Shoe Shop
Dr. Donald Kennedy, DDS
Kenneth Wildt – State Farm
Reynold's Salvage
Deluxe Radiator
Northern Plains Land & Cattle
Alliance Trailer Sales
Hemingford
Shindler's Hardware
Lee's Texaco Service
Bate's Fountain Store
Clark Radio and TV Service
Hemingford Equipment –
John Deere
Lamar Johnson –
Watkin's Products
Glass Brothers Conoco Service
Cecil's Mobile
Gross Drug
Furman's Oil Co.
Ray & Uhrig – International
Hewitt's Blacksmith & Welding
City Cleaners
Don's Conoco
Gambles – Hugh and Jean
McAuthur
Farmer's Co-op and Oil
Bank of Hemingford
Hemingford Veterinary Clinic
Hemingford Dairy King
S & S LP gas
Nebraska Certified Potato Growers
Roxy Theatre
Cut and Curl
Rosenberger's Farm Equipment
Hagemeister's Grain Elevator
Purd's Liquor – E.W. Purdum
Triangle Motel
Home Bakery
E.W. Anderson Garage
Chas. R. Fentress – Irrigation
Wayne Shaver – Conoco
Drake Hotel and Coffee Shop
Hemingford Furniture –
Dee McCune
Standard Oil – Lee Overstreet
Russell C. Miller –
Neb. Certified Seed
Clarence Reindl – Banking
Heinz Electric – Louis Heinz
Hemingford Lumber Co.
–G.L. Osborne
Engels Powell-Meyers
Milk Products
Joe Zak Mobil Service
Gloria's Beauty Shop
Home Lumber and Coal Co.
Western Implement Co.
Manion's Conoco Service
Farmer's Union Co-op Oil
Scottsbluff
Vic Asmus Real Estate
Berea
Deaver Grain