Girls Basketball Season Won - Loss Records
From the Beginning in 1977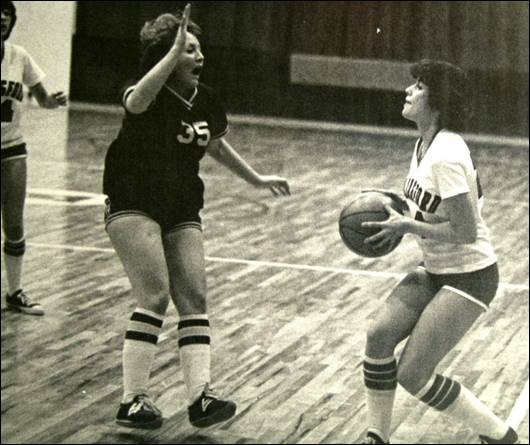 The First of many successful years in Girls Basketball under Coach John Stanton begins at HHS (Click to Enlarge)
Hemingford Girls began playing basketball in 1977 as far as the NSAA records say. Coach John Stanton guided the Lady Cats from the start for twelve years, winning 157 games, and taking the Lady Cats to the State Tourney for the first (and only) time in 1985-86. Coach Stanton and his teams had many great seasons, including five seasons with over 16 wins, and two seasons that reached the 20 victory mark.
The school record for wins in a season belongs to the 2014-2015 Lady Cats, Coached by Dave Chatelain (22-3)
State Tourney - HEMINGFORD QUALIFIED FOR ONLY THE SECOND TIME IN SCHOOL HISTORY in 2015-16 (21-3)
Though some might have been disappointed in not returning to the State Tourney in 2016-2017, our seniors had more than 20 wins each of their four years in High School, amassing an (83-16) Won - loss record! Our school has had just six 20 win seasons - Including the past four in a row !
Special thanks to Coach Dave Chatelain (2013-2014) and (2014-2015) and to Coach Steve Morava for (2015-2016) and (2016-2017). Those two gentlemen and the ladies of 2013-1017 are at the top of the History List at HHS !
Three Lady Cats reached the 1,000 point mark in the last four years - (unheard of !) Faith Rohrbouck, Natalie Gasseling, and Brooke Turek - all four played together all four years - ALL reached over 1,000 points - Wow, Truely amazing job Ladies!
Click the link below for the actual years and win-loss totals. (UPDATED IN 2017)