Bobcats Take PAC Golf Crown in Alliance
Horstman Boys are Conference Medalists
Jacob Horstman, Hemingford Freshman is this year's PAC Golf Champion after shooting an 81 in Alliance. Brother Brady placed fifth as the Cats won the Tourney for the first time in five years. (Click to enlarge)
The Hemingford Bobcat Golf team, led by overall medalist Jacob Horstman, who finished with an 81, shot a team score of 385 at Sky View Golf Course in Alliance on the way to a team Championship for Hemingford. Fifth place went to brother Brady Horstman, who finished with a 96.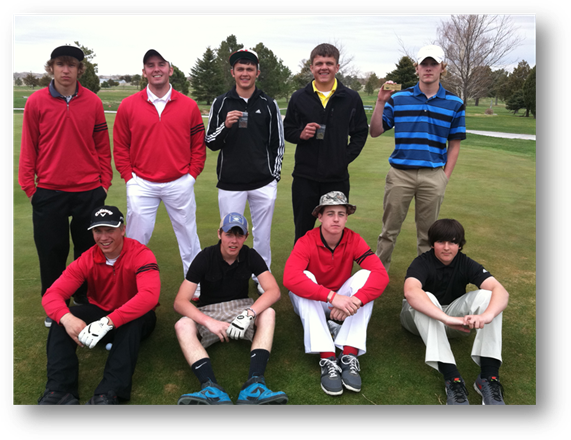 TEAM PICTURE: Front (l/r): Caleb Milne (JV), Chase Lucas (JV), Colt Foster (JV), Robert Heule (JV)
Back (l/r): Kohl Boone, Vance Orr, Brady Horstman, Jacob Horstman, Tyler Huddle
VARSITY JUNIOR VARSITY
Jacob Horstman*: 81 Colt Foster: 95
Brady Horstman*: 96 Caleb Milne: 106
Kohl Boone: 100 Chase Lucas: 118
Vance Orr: 108 Robert Heule: 147
Tyler Huddle: 114
TEAM SCORE: 385
*Jacob won the individual championship and Brady took 5th place.
Comments from HHS Coach Joe Collins:
"I am so very proud of all of Hemingford's golfers today. As a varsity team, we won the conference championship for the first time in the past five years. We also broke the 400 team score mark that we set out to beat this year as well. Jacob Horstman won the tournament individually and Brady Horstman was able to medal as well, taking 5th place. This tournament should give us a huge boost of confidence going into the last few weeks before districts".