Lady Cats Volleyball 2008
Hemingford Debuts against Mitchell at Home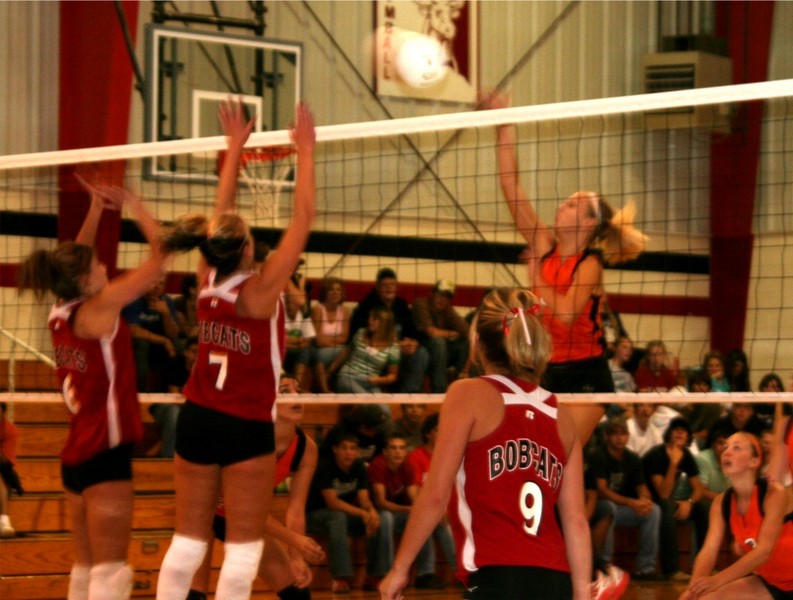 The 2008 version of the Lady Cat Volleyball team was in action on September 4th at home against Mitchell. Always a tough opening opponent for the Lady Cats, Mitchell emerged as the winner in C, B, and A matches, by 2-0, 2-1, and 3-0 set margins.
The B team won a set and attacked the net well, led by Jo Duncan. Ammie Minich also had some good attacks for the Lady Cats.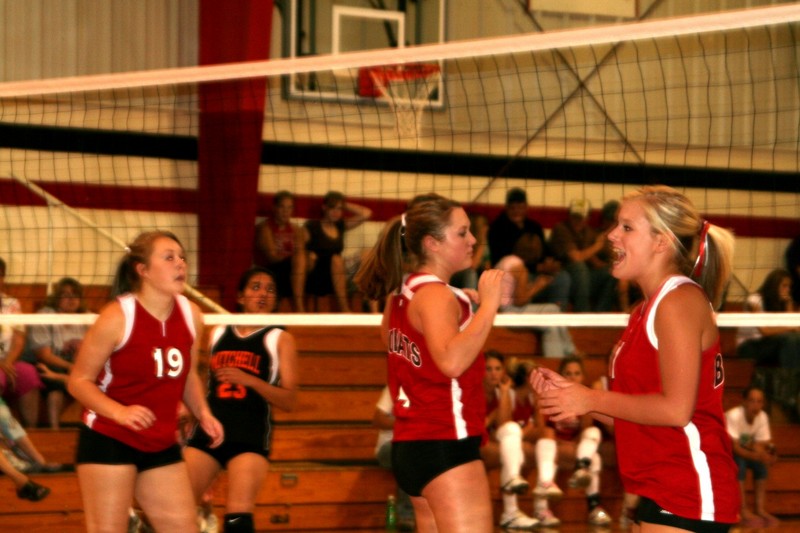 In the A match, Hemingford challenged Mitchell in the first set, and lost a thrilling 23-25 third set. The second set featured a Mitchell attack that continually had the home team under pressure.
Some new faces graced the starting line-up for the Ladies, including Jodi Stangle, who did a great job digging, and Tannis Reif, who really grew in confidence as the night unfolded. Her presence at the net helped spread the Hemingford attack between her, Brooke Hannaford, Ashley Yardley, and Shelby Campbell. A sparkplug for the Ladies this season will be Taylor Forgey, who hustled all over the court.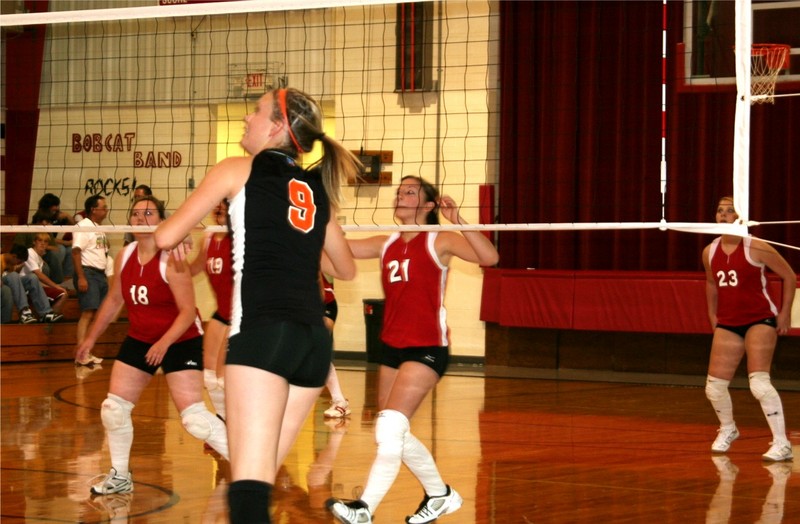 Campbell provided a steady diet of hits from mid-court, and Yardley had some very nice ace attacks. Hannaford, a junior, was strong at the net and in the back row, taking on some powerful spikes from the tigers, and keeping them in play.
The team members for 2008 include Forgey, Hannaford, Stangle, Reif, Yardley, Campbell, Duncan, Minich, Katee Folkerts, Kelsey Towne, Alysha Kittelmann, Katie Heitz, Andee Michael, Jessica Van Coppenelle, Brooke Foster, Sandra Mendiola, Kaytlyn Mapes, Rachel Kaman, Brittany Shaver, Felicia Vela, Millie Oetken, Violet Carlson, Kayleen Boone, and Mandie Oetken.
The ladies are coached by Lisa Janssen and assisted by Dave Chatelain. Managers include Sha-Nae Orr and Sammie Minich.
Next action for the Lady Cats will be a home triangular on Tuesday, September 9th, when Hemingford will host Sioux County and Banner County, beginning at 5PM.