Class of 1932
The HHS Graduating Class of 1932 (Please click on pic to enlarge)
1932
Hemingford High School 
Student and Faculty Highlights of the Year 
This page features athletic records, officers, themes, important numbers, important happenings, and other educational information from the year in question. It provides a quick and ready resource for Bobcat Grads and families!
Class of 1932 - Hemingford High School
John L. Appleyard, Iola Ellen Langston, Albert Marion Bacon, Helen M. Mart, Clifford Bertram Bailey, Dorothy Nina Miller, Pauline Mardell Brown, Lela V. Myers, W. Lorene Burney, Geneice Nagelschneider, Marzhdon W. Buess, John Alvin Nicholson, Harry T. Cullan, Lorene C. Osborn, Dorothy B. Drury, Loren W. Osborn, Frank J. Duhon, Alice A. Planansky, Erma W. Estes, Clara H. Planansky, Ella I. Gibson, Charlene A. Rosenberger, Irene Gilbert, Henry J. Sedlak, Leon M. Hansen, Evelyn Elizabeth Steffen, Fawn James Hill, Elsie Mae Stephens, Beulah M. Jaeckel, Margaret J. Stephens, Stanley L. Janky, Floyd Leroy Suddith, Myrtle Mae Jenny, Dallas E. Wax, Jane E. Kloppel, Howard A. Whelan, Russell William Langford, Wilma Leona Winslow, and Merrill H. Wyland
1932 Graduation Program Cover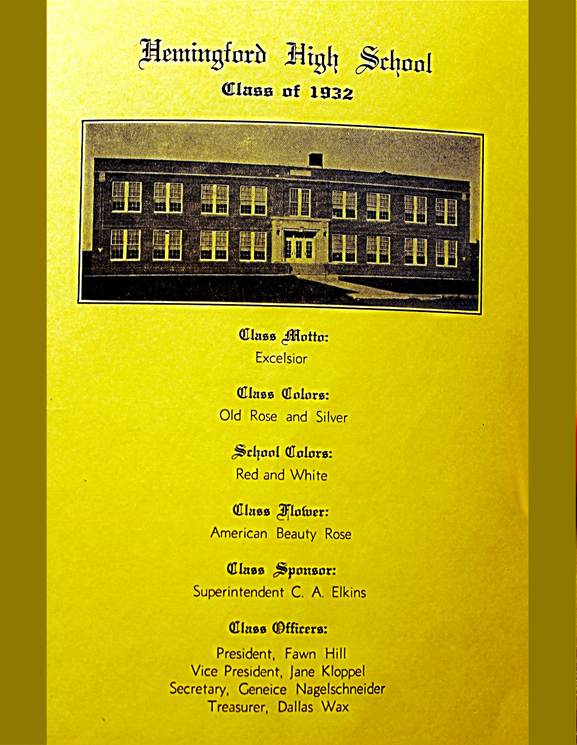 Diploma – HHS Class of 1932
Thanks to the family of graduate Floyd l. suddith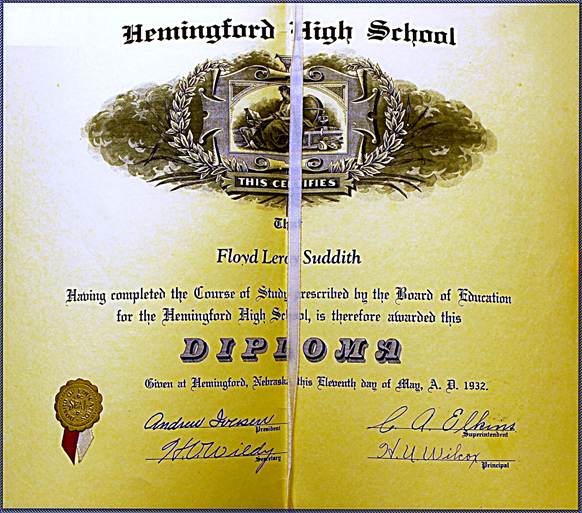 Music Department –
High School Orchestra, Mixed Chorus, Boys Chorus, Girls Chorus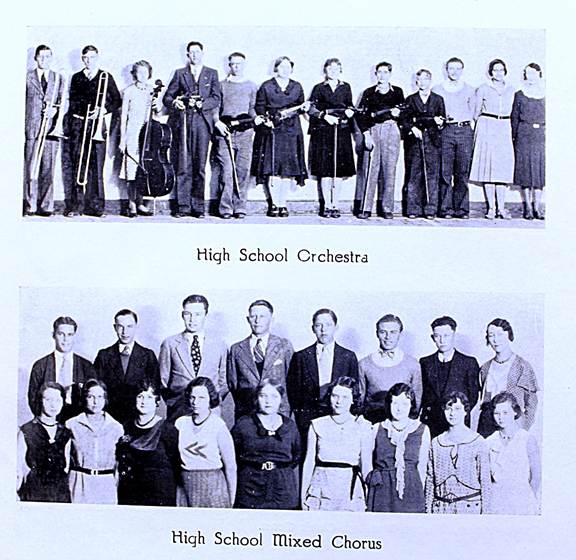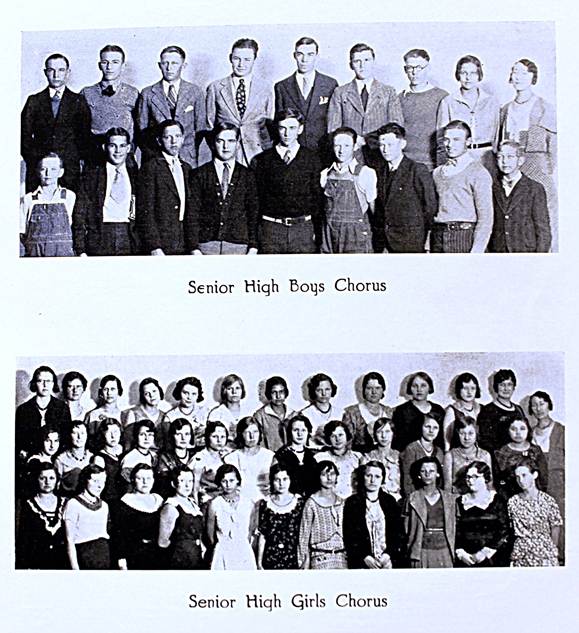 Drama and One Acts –
Senior class play, "Kicked Out of College"; Junior class play, "Daddy Long Legs"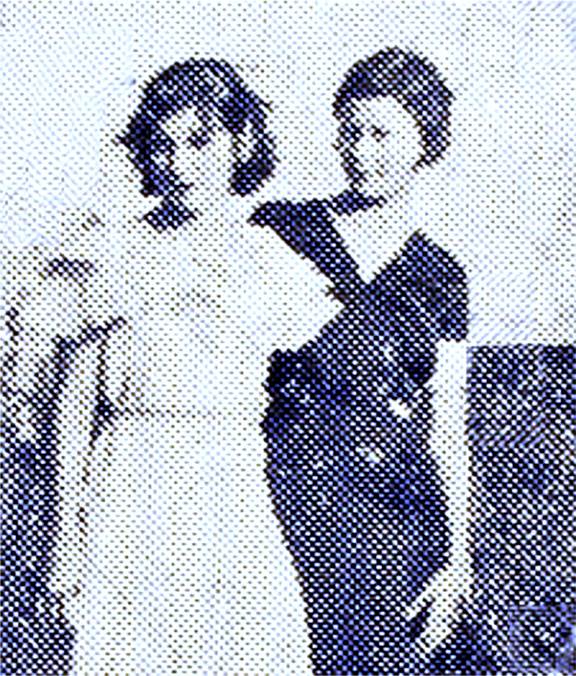 Football –
Coach Smith started with a group of inexperienced men and taught them the rules of the game. Games were played against Crawford, minatare, Gordon, Harrison, hay springs, Rushville, chadron, and Bridgeport. Though the spudpickers did not win a game, they scored against Harrison and chadron!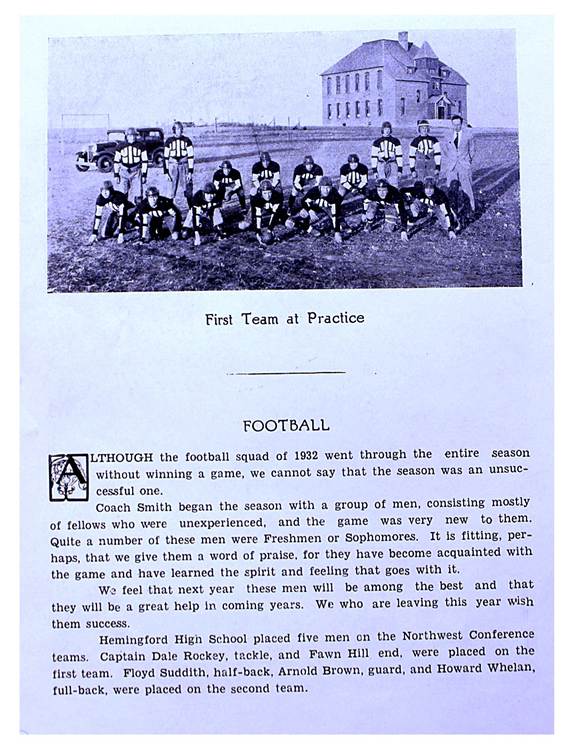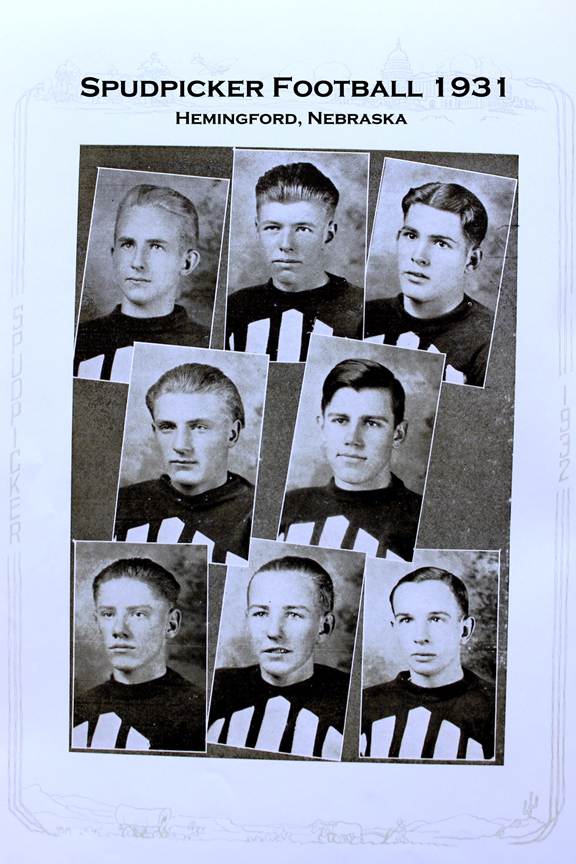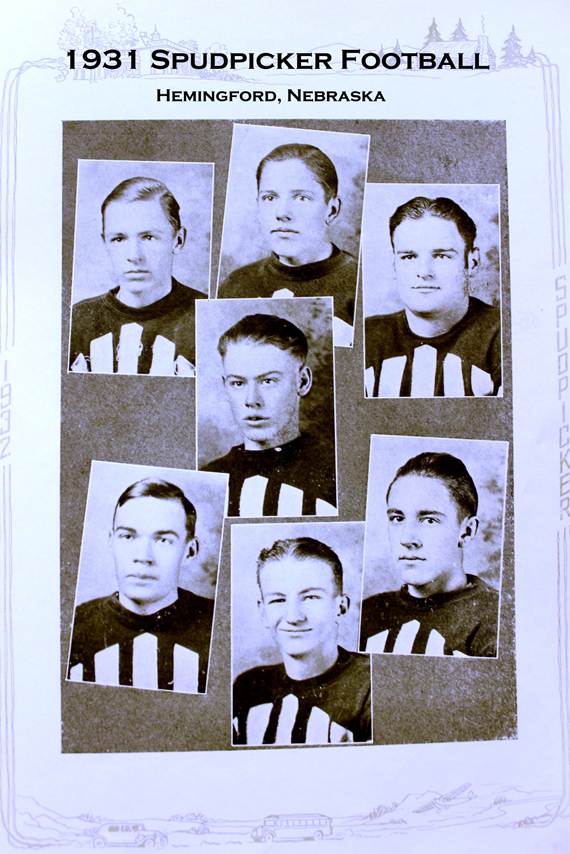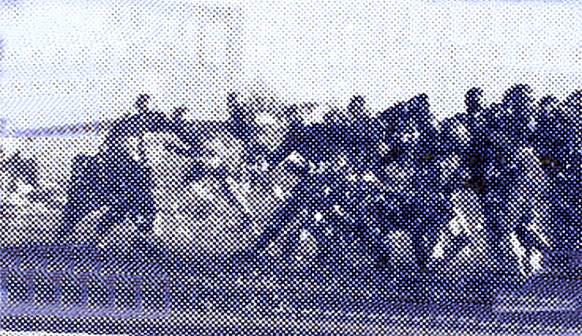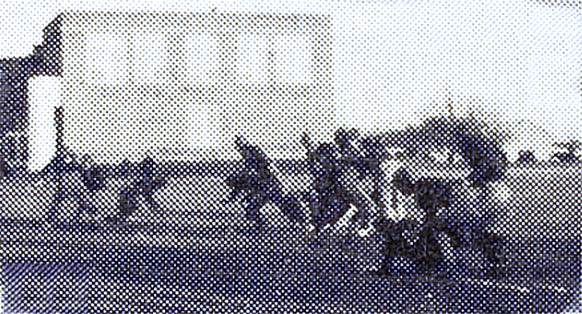 Pep Club –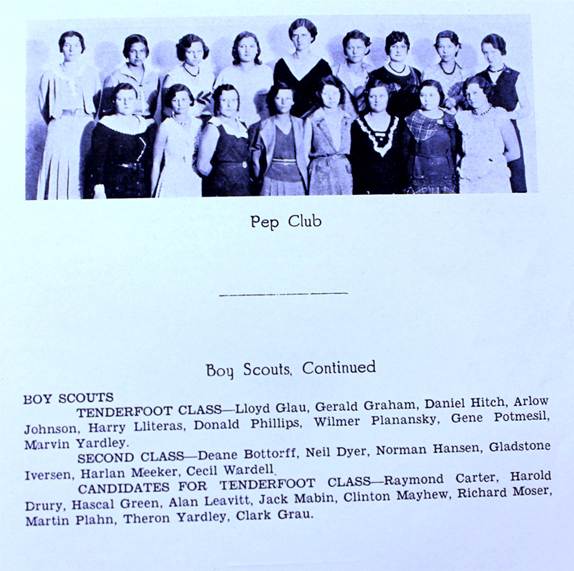 Girls Gym Class –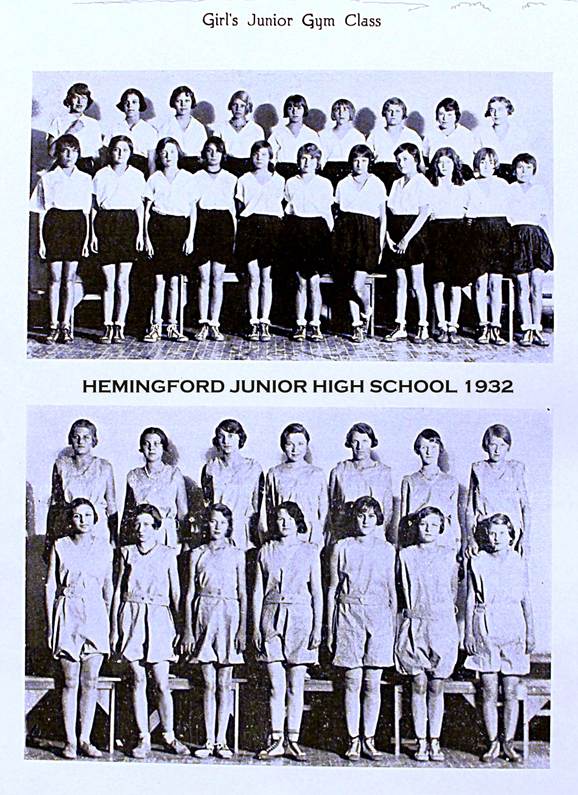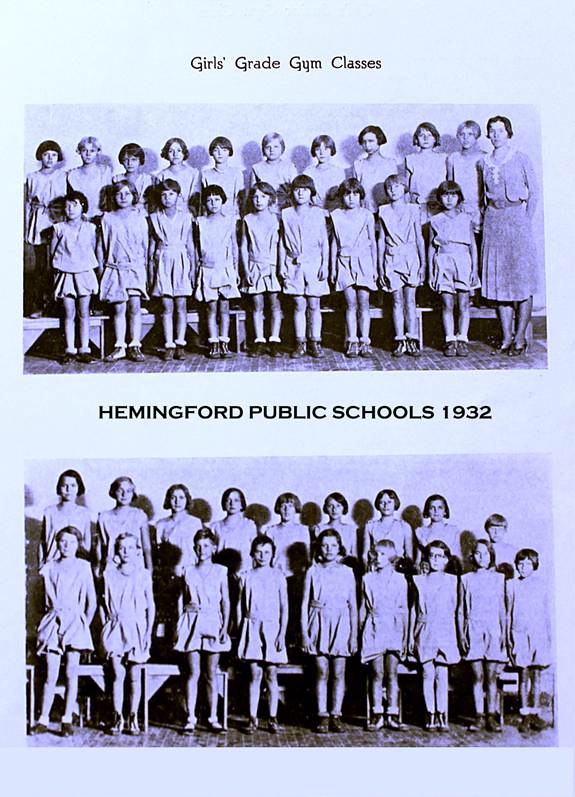 Boys Basketball –
This squad of 15 boys was unfortunate in winning victories but gained experience under the leadership of Coach Smith. Victories in the (4-13) season came over Crawford, whitney, Clinton, and st. agnes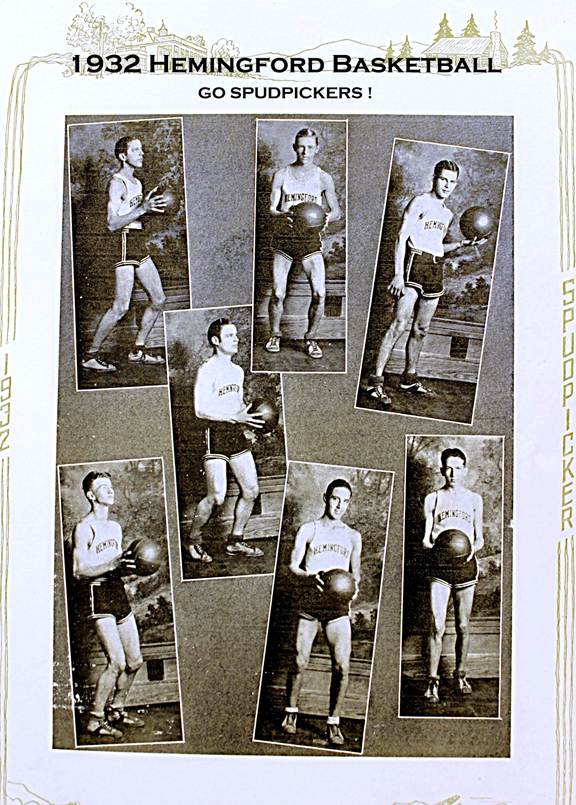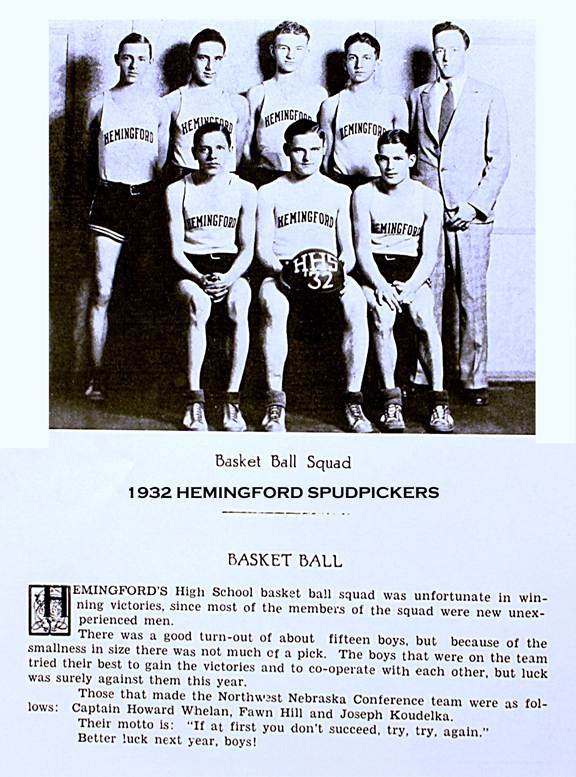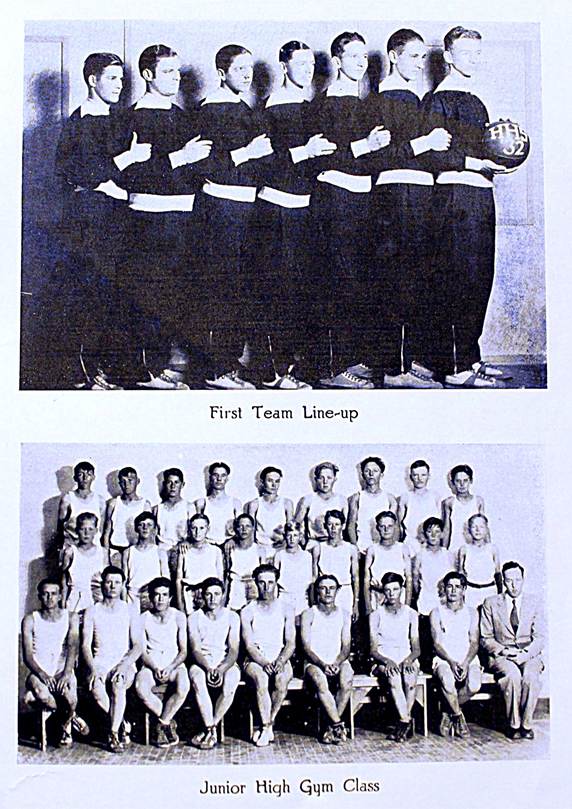 Boys Track and Field –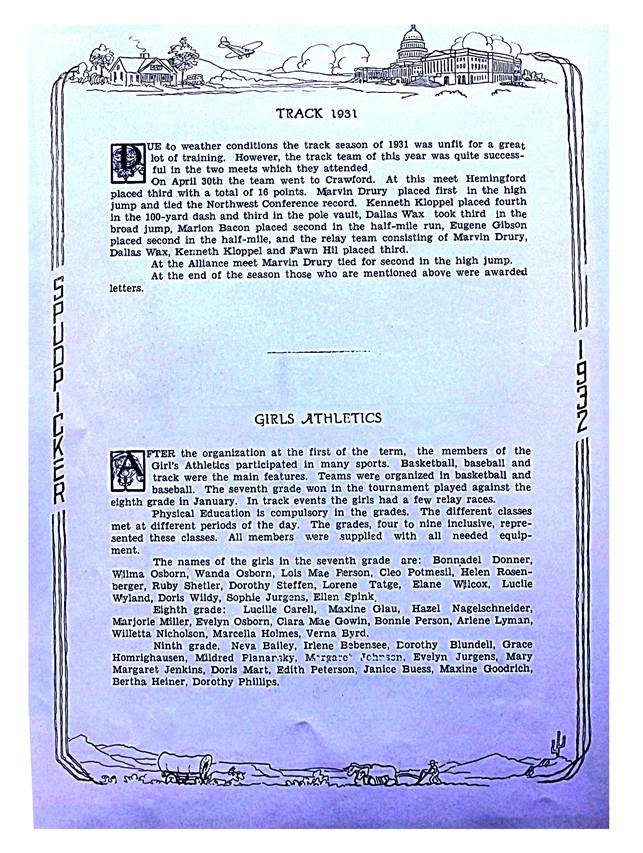 Due to unfit weather conditions, only two meets were competed at, Crawford and Alliance.
Clubs and Activities –
Hi-Y, Girl Reserves, Camp Fire Girls, Boy Scouts of America, Pep Club
Camp Fire Girls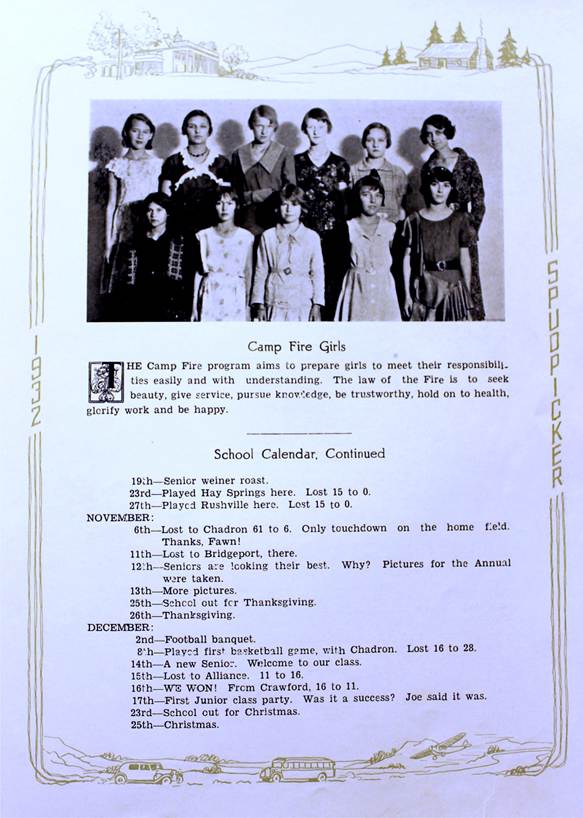 Journalism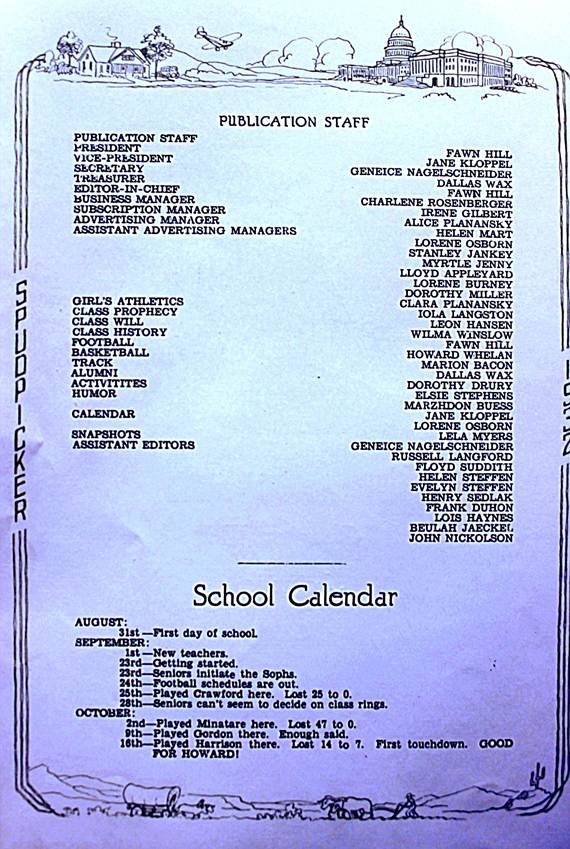 Boy Scouts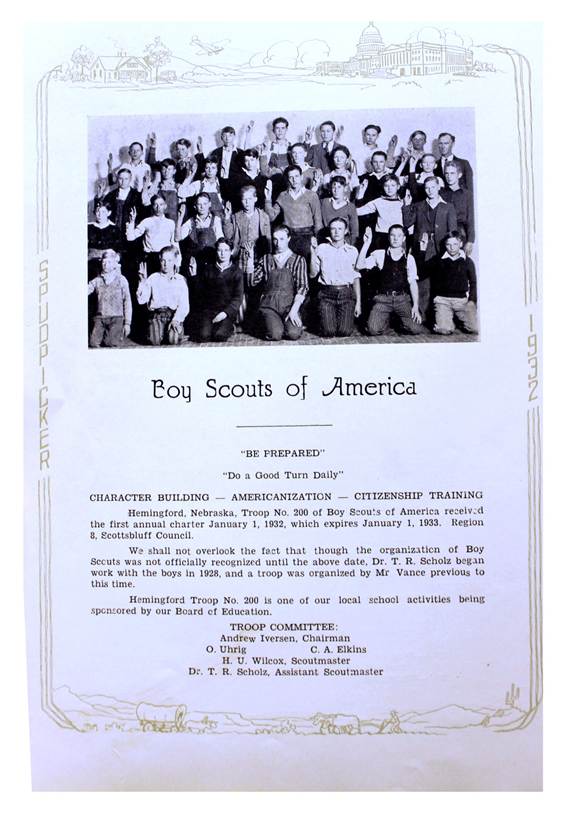 Camp Fire Girls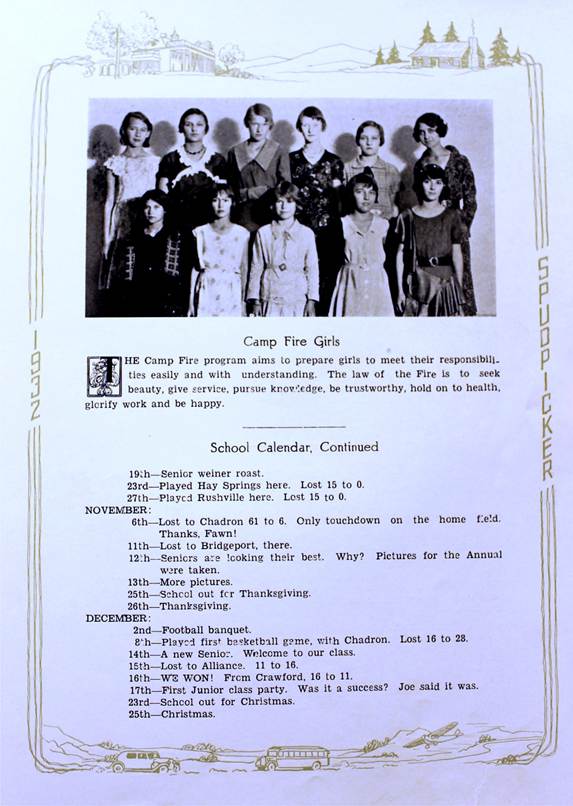 Hi - Y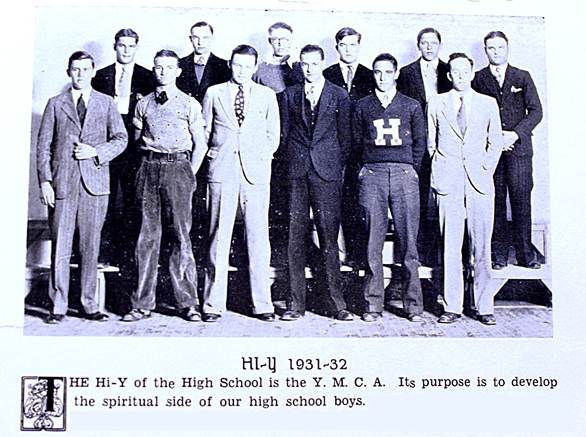 Senior Class Will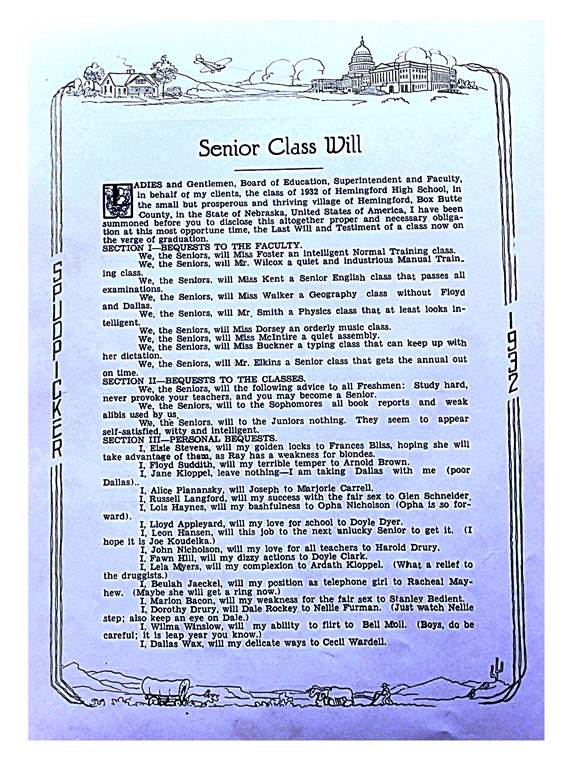 Senior Class Motto -  
"Excelsior"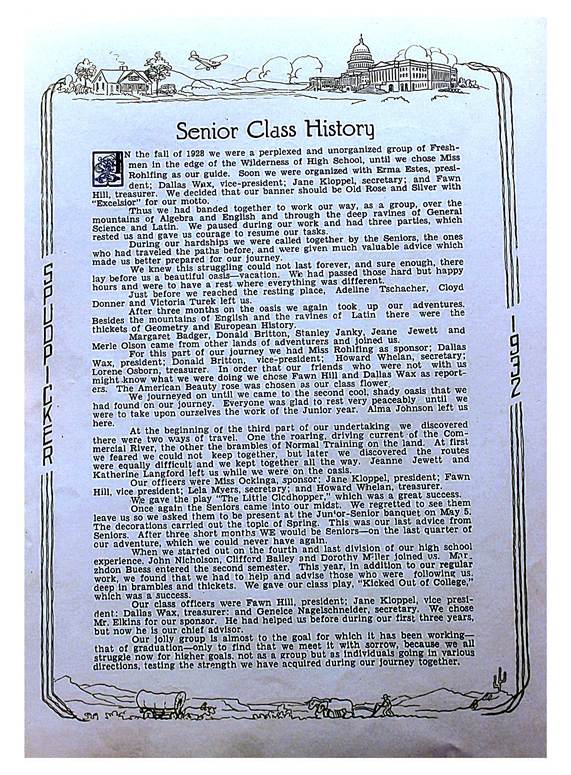 Senior Class Officers – 
President – Fawn Hill; VP – Jane Kloppel; Secretary – Geneice Nagelschneider; Treasurer – Dallas Wax
Junior Class Officers – 
President – Lola Plahn; VP – Bernice Nicholson; Secretary – Francis Bliss; Treasurer – Harriet Greene; Reporter – Melvin Hitch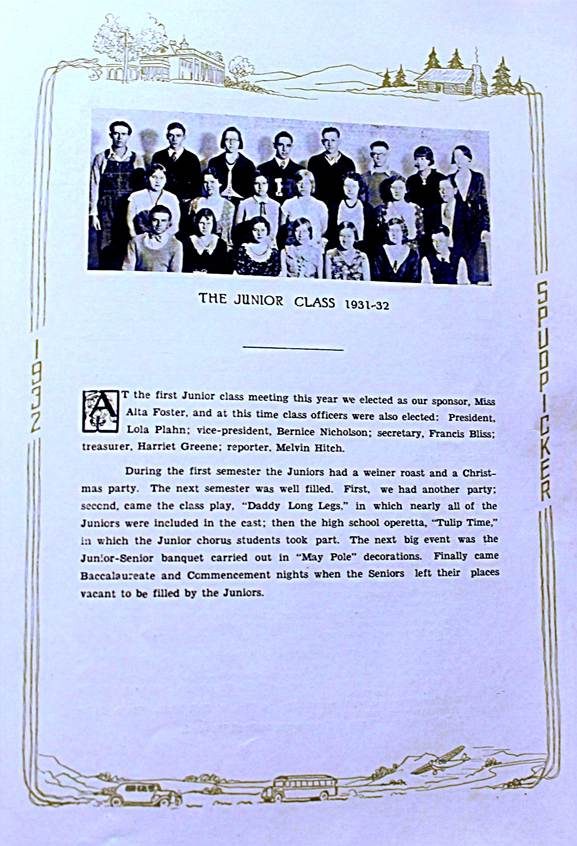 Sophomore Class  –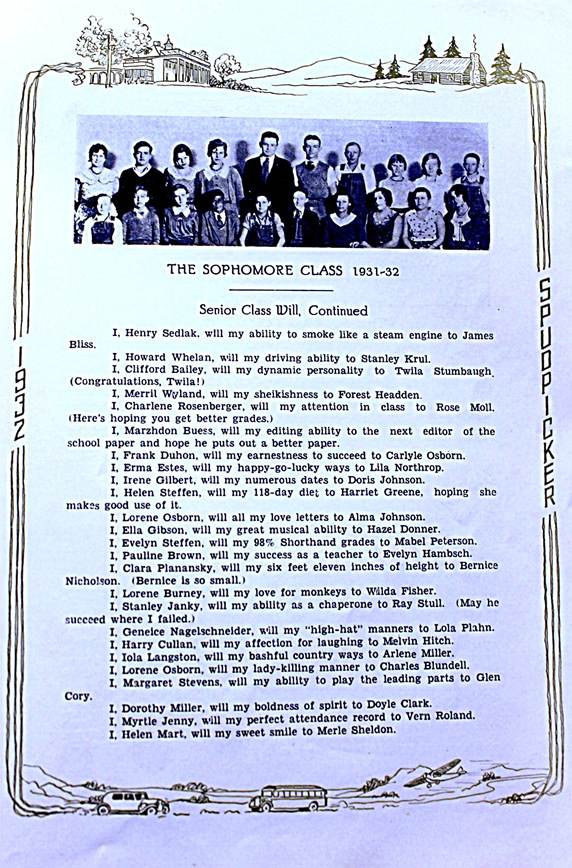 Freshmen Class  – and junior prophecy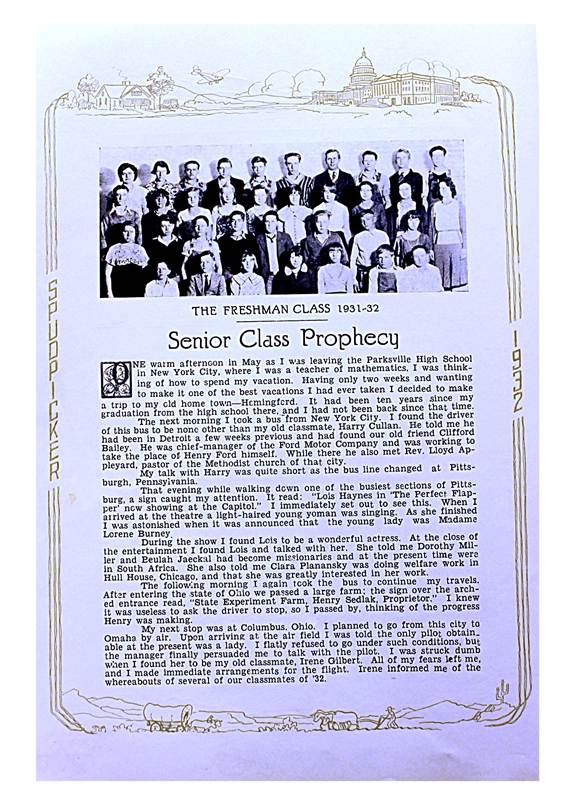 Eighth grade – and continued prophecy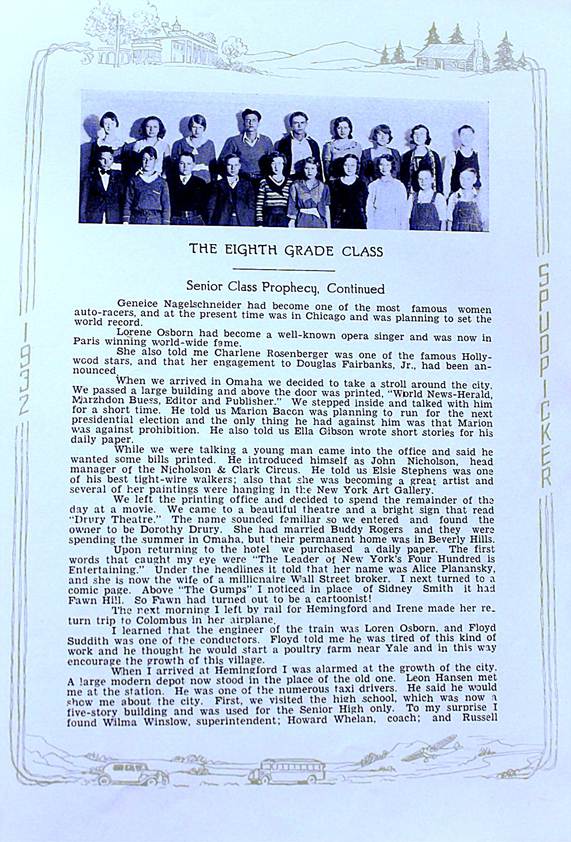 Seventh grade – and still more prophecy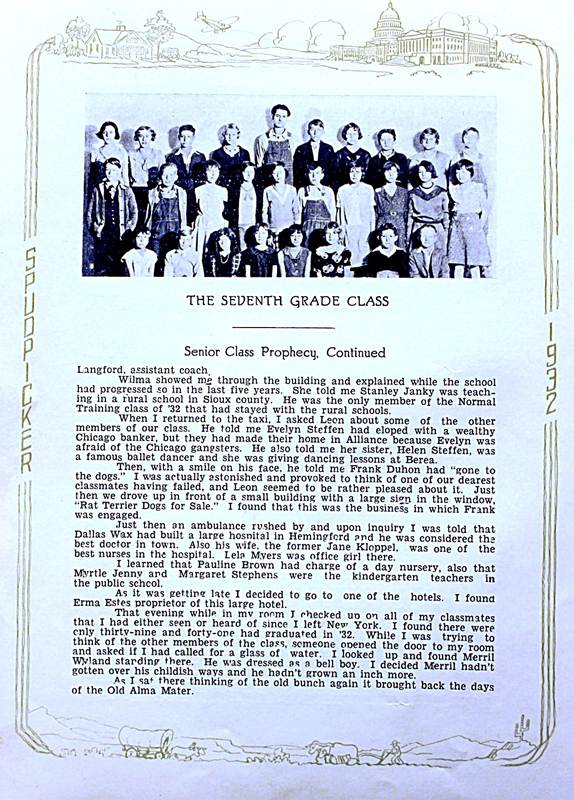 Special or Unique Happenings –
Girls participated in basketball, baseball, and track as their physical education but not as competition.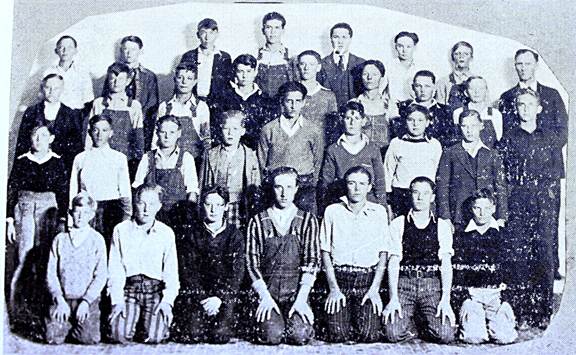 Senior Class Enrollment –
40
Kindergarten Class Enrollment – 
(no Kindergarten class) First Grade Class Enrollment - 23
Yearbook Dedication –
Alumnus from 1928 – Bernice Osborn who attended hastings college and studied music passed away
Alumnus from 1931 – Eugene Gibson who attended chadron state college studying to teach also passed on.
Superintendent –
C. A. Elkins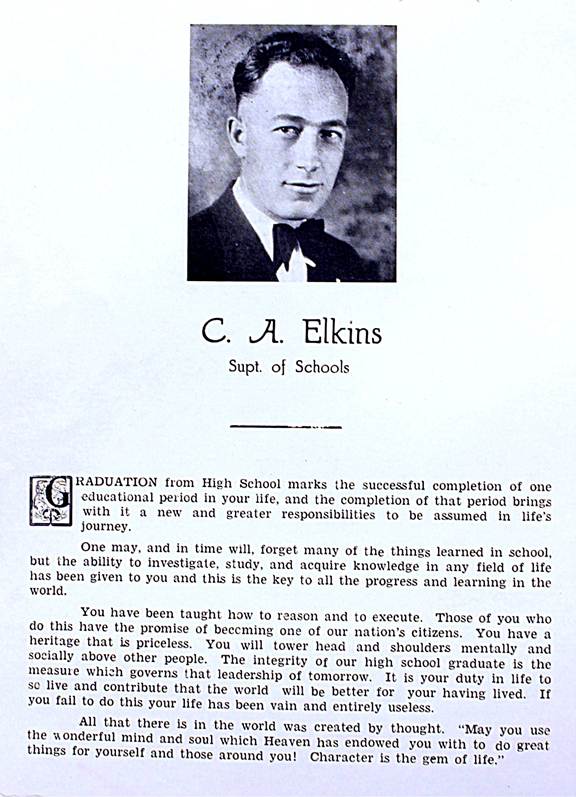 Principal –  
H. U. Wilcox – senior high, Miss Mildred E. Kent – junior high, Miss Nettie Uhrig – North Ward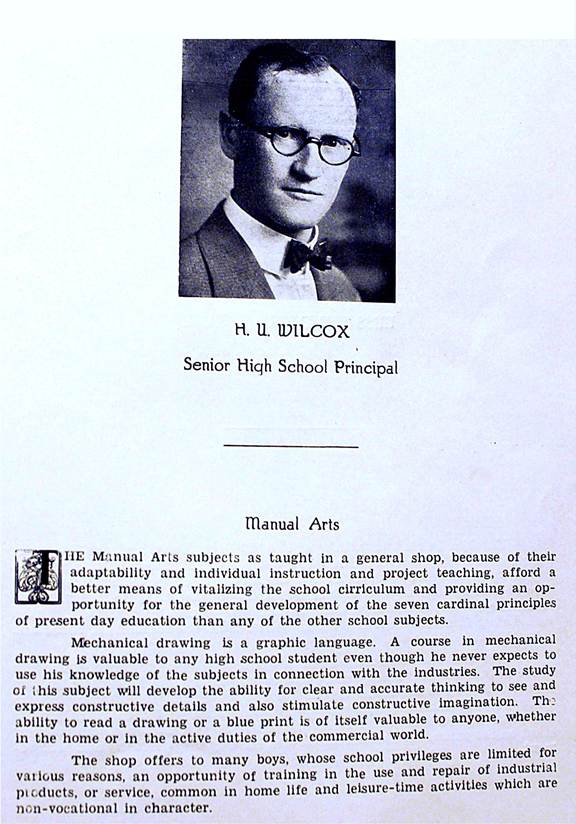 Secondary Teachers –
Miss Mildred I. Buckner, Roger C. Smith, Miss Ivy E. Walker, Miss Ruth E. McIntyre, Miss Alta L. Foster, Miss Leah A. Dorsey, Mrs. Pauline Rasmusen-Haile, Miss Ghita May Boge, Miss Nettie Uhrig, Miss Mamie Acker, Miss Hazel V. Hackett, Miss Hazel Dorsey, Miss Helen Plum, Mrs. Elsie Vanhorn-Sweetland
Advertising From Hemingford and the Area