---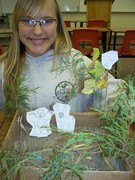 Mandie Oetken shows off her forest biome.
---
Sophomores Show Their Creative Side
World Geography
The sophomores have been busy creating biome models for their World Geography class this past week. They put a lot of hard work into their masterpieces. They had a lot of fun with this project and would like to share their work with you! Enjoy!
Please click on the picture to see a slide show