District 10 Faculty Evaluate Writing Progress
Fall Break Involves Six Trait Scoring
Teachers and principals at District 10 were busy today assessing pieces of writing that our K-12 students have completed. Conducted twice each year, during student breaks, the process known as Six-Trait Writing is utilized to help students prepare for Nebraska State Writing tests, offered in the Spring.
The specific parts that are part of a successful paper are as follows:
Ideas: The ideas are the heart of the message, the content of the piece, the main theme, together with the details that enrich and develop that theme.
Organization: Organization is the internal structure of a piece of writing, the thread of central meaning, the logical and sometimes intriguing pattern of the ideas.
Voice: The voice is the heart and soul, the magic, the will, along with the feeling and conviction of the individual writer coming out through the words.
Word Choice: Word choice is the use of rich, colorful, precise language that moves and enlightens the reader.
Fluency: Sentence fluency is the rhythm and flow of the language, the sound of work patterns, the way in which the writing plays to the ear - not just to the eye.
Conventions:Conventions are the mechanical correctness of the piece - spelling, grammar and usage, paragraphing, use of capitals, and punctuation.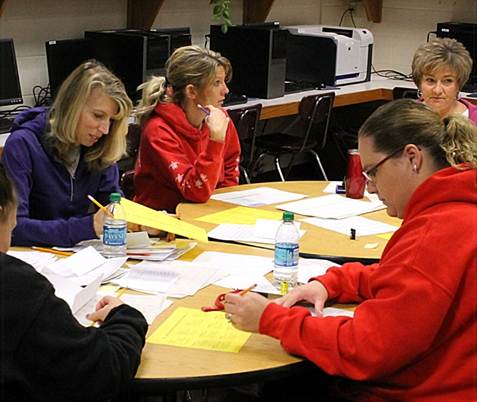 The six trait evaluation process, which involves teams that every elementary and secondary teacher are part of, results in scores that our principals record and compare with earlier results.
District Continuous Improvement chairs, Joe Collins and Jeanette Chasek, also spent time sharing strategies in English and Math that will help our students. Vocabulary terms and Mad Minutes in Math are two of the strategies that will be utilized.
Hemingford Public Schools continue to be a leader in the region and state in academic preparation and test scores, and continual efforts are required to keep that edge.