---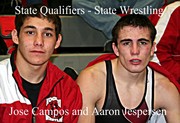 Jose Campos at 130 pounds, and Aaron jespersen at 125 Pounds, both qualified for the 2010 Nebraska State Wrestling Championships
---
Campos and Jespersen Back at State!
Three Time Bobcat Qualifiers!
Jose Campos at 130 and Aaron Jespersen at 125 both had a successful District tournament in Sutherland on Friday and Saturday, each qualifying for the third year in a row for the Nebraska Championships to be held at the Qwest Center in Omaha on February 18-20th.
(Click on the second and third pictures for slideshows)
---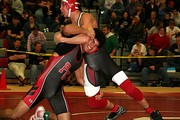 Campos in a tough final, where he finished second in Districts, losing 2-1.
---
Campos won his first two matches before dropping a tough one in the finals to Kyle Schulze of Perkins County 2-1. He is now (34-9), and will take on Nathan Anderson of Elgin/Elgin Pope John (29-13) in the first round at state. Dillon Glause of Palmer (30-1) would probably be his second match in Omaha.
Jespersen won two matches before losing in the semi-finals. He then won two more to finish third in the tough D-4 District. Aaron is now (28-7) and will wrestle Brandon Schwisow (25-8) of Dorchester in the first round, before likely meeting up with Caleb Franklin of Oakland Craig (25-2) in the quarter-finals.
---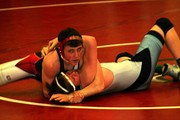 Zane Jaramillo with a district win
---
The Cats finished in the middle of the pack in Sutherland as a team, with three other wrestlers wrestling hard, but not placing. Senior Tylor King finished off the season with some great efforts but fell a little short, while Junior Zane Jaramillo won a consolation match, then fell in a later round. Brandon Fritzler-Stites also gave a good effort in his two matches.
Jespersen and Campos, both Juniors for Coach Chris Weber, will take to the mats Thursday afternoon and evening in the Class "D" and "A" program. Classes "B" and "C" will get underway at the Qwest in the morning on Thursday.
Area radio stations and newspapers will keep fans updated, as will the NSAA on the web, at
http://www.nsaahome.org/textfile/wrest/classd.htm
(just cut and paste the address in your browser)
Good Luck Cats!