Cats, Lady Cats Take Third
Girls over Bayard, Boys beat Morrill
Hemingford traveled south to Mitchell to complete the 2009 Mitchell Invitational Holiday Basketball tourney December 29th, winning both games, with the girls besting Bayard by a 56-43 score, and the boys taking a 45-30 victory over Morrill.
The girls were led in scoring by Brooke Hannaford with 18, Kelsey Wood with 14, and Briley Hannaford with 9. Baily Wood had 4, while Katie Folkerts, Ammie Minich, and Kristine Kramer each scored two. Sammy Huss hit a free throw to end the game and the Lady Cat scoring. The girls did a great job attacking the basket and improved on their free-throw shooting, hitting 17 of 27 tries.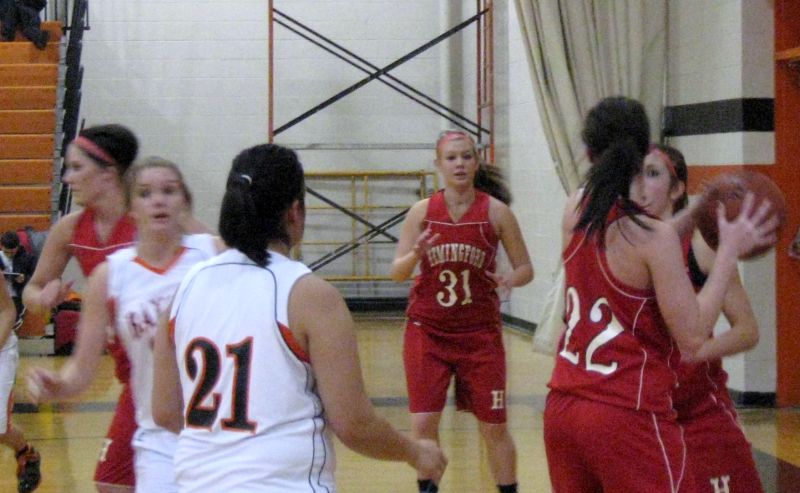 Brooke Hannaford, Taylor Forgey, Briley Hannaford, and Kelsey Wood start the fast break against Bayard
The boys were down by one at half to Morrill, but clamped the "D" on in the second half, limiting Morrill to a total of five second half points.
Trey Ramos led the way with 20 points, while Chance Campbell hit for 10 and Casey Stangle for 8. Nick Wood had 5 points, and Tyler Swanson had 2.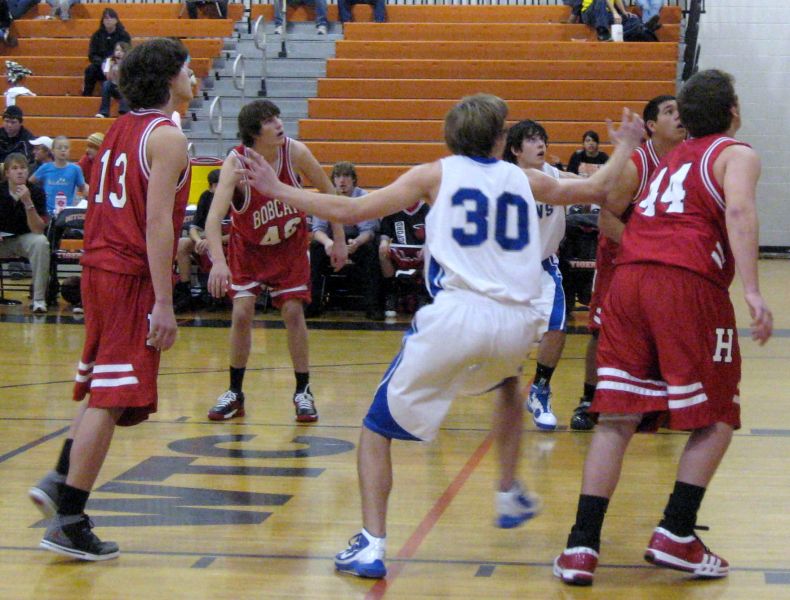 Chance Campbell, Casey Stangle, Trey Ramos,and Tyler Swanson get ready to scrap for a rebound versus Morrill
For the Boys, the second win of the season came on the heels of three close losses before Christmas, while the girls won their fourth game, a night after losing by just one to Mitchell.
Both teams will next be in action at Bridgeport for a tourney there on January 8th and 9th.