See You at the Qwest!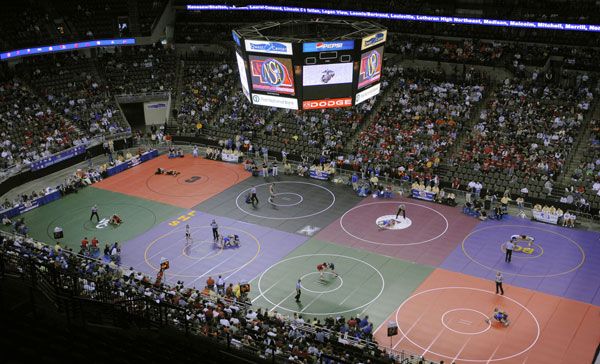 The Qwest Center in Omaha annually welcomes thousands of fans to the Nebraska State Wrestling Tourney
Hemingford Wrestlers have 2 District Champions, 4State Qualifiers
The Hemingford wrestling squad has qualified four wrestlers for the state tournament this year. On Friday February 19th the squad traveled to North Platte to compete in the D-4 district tournament. Results are as follows.
At 119, sophomore Aaron Jespersen went 3-1 to receive third place. Aaron had a strong finish; he was battling an elbow injury when he came back with a reversal in the last 8 seconds of the third period to win third by 1 point.
At 125, sophomore Jose Campos had a strong tournament losing only one match to Timmons of Medicine Valley by a 4-8 decision. He came back to win third place with a sound 6-1 victory over Henderson of Sutherland.
At 130, senior Adam Jensen had a tough tournament; he went 2-2 and didn't place.
At 140, sophomore Zane Jaramallo went 0-2 and didn't place.
At 152, sophomore Brandon Roland went 0-2 and didn't place.
At 189, senior Michael Bergfield went 3-0 and won the championship in his weight class with a hard fought 8-7 victory over Mortensen of Medicine Valley.
At 215 senior Joe Bob Haas pinned his way through the tournament and won the championship in his weight class with a 3-0 record. Joe Bob placed fourth at state last year and has a strong desire to win the state championship this year.
The wrestlers will travel to Omaha on Wednesday February 18th to compete at the Nebraska State Wrestling Tournament.