---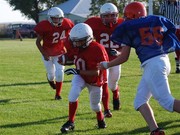 Brady Fights off the "Small Defenders"
---
Hemingford Jr. High Football Tames the Mustangs  
The Hemingford Junior High Football started their season off right Sept. 18th when they headed to Rushville to face off with the Gordon Rushville Mustangs. The Cats which are composed of seven seventh graders and eleven eighth graders started off the evening by receiving the kick off and then running down the field and scoring just seconds into the game. The rest of the game just seemed to fall into place allowing the seventh grade players ample playtime and experience as the Bobcats shredded the Stangs 48-0.
---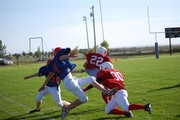 Kyle Makes a Great Block
---
Some of the keys to the success of the Cats were their ability to fire off the line and listen to the snap count to avoid penalties. Some but not all of the stats are listed below:
Jameson Forgey -33yds Rushing and 1 TD
Kohl Boone- 3yds Rushing and 2 pt Conversion 9yds Return, and 2 Tackles
Kyle Kumpf – 32 yard Receiving and a 2pt Conversion 1 Tackle
Danny Manning - 11 yds. Rushing and 2 pt Conversion
Brady Horstman – 5 yds. Rushing and 1 TD 2 Fumbles
Caleb Milne – 5 yd Kick Return
Vance Orr – 159 yds. Rushing 3 TD's 10, 23, 33, 30 yds. Kicks
AJ Jesus – 46 yds. Rushing 1 TD and 1 2pt. Conversion, 3 Tackles and 1 Sack
Blake Hansen 2 Tackles
Kyle Kaman – 27 yds. Rushing 1 TD, 17 yd Kickoff, 2 Tackles
Trevor Benge 2 Tackles
Kipp Irene 2 Tackles
Jordan Glendy - 55, 29,26 yd Kickoff 3 Tackles and 3 Sacks
Jesse Savala – 1 Tackle
Trae Vogel – 1 Tackle
---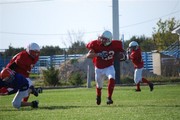 Room to Run Compliments of a good Line
---
Stats courtesy of Mrs. Horstman and her crew
Thanks Mrs. H and Jacob
JHFB
Date
Subject
Posted by:
09/29/2008
Wow what a game!! Jr. Football rocks!! Keep up the great job and enjoy yourselves.

Lori

03/31/2009
Hey guys nice job this year in football keep up the good work and don't ever give up
Colby Johnson

www.hooverhellfighter@yahoo.com

Pampa, TX

fire fighter