---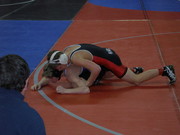 Steven Overshiner, 140 pound Champion in the 2008 Best of the West Meet (Click on thumbnail to enlarge)
---
Cats Impressive at Best of West Wrestling
Haas and Overshiner are Champions!
Hemingford Has Two Best of the West Champions
On Tuesday January, 16 the Hemingford wrestling squad had four wrestlers who were selected for and competed at the Best of the West tournament at Scottsbluff, NE. Tournament champions were Steven Overshiner and Joe Bob Haas. Results are as follows.
Only wrestlers in the top four or five of their respective weight class in the western Nebraska and Eastern Wyoming area were invited. A few good Hemingford wrestlers were not part of this meet because of the toughness of their weight division.
At 112 Aaron Jesperson lost by falls to Carr of Torrington and Lovesee of Gering to place third.
At 119 Jose Campos lost by a fall to Haun of Sidney and defeated Hall of Bridgeport with a 4-1 decision to place second.
---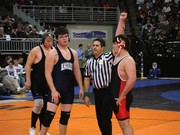 Joe Bob Haas, 215 pound Champion at the 2008 Best of the West Meet (Click on Thumbnail to enlarge)
---
At 140
Steven Overshiner
defeated Richter of Scottsbluff by a 5-3 decision and Essay of Bayard by a 4-1 decision
to receive the championship.
At 215 Joe Bob Haas defeated Ford of Perkins County by a 1-0 decision and Hochstein of Ogallala by a 5-2 decision to receive the championship.
---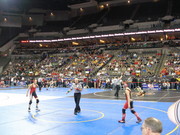 In less than one month, the Bobcats will be back at the Quest Center in Omaha for State Wrestling. Be sure to cheer them on in their remaining matches that lead up to district qualifying at Sutherland on the 8th and 9th of February! State is set for February 14-16. (Click on Thumbnail to enlarge)
---
The next tournament competition for the wrestling squad will be the Mitchell invite on Saturday, January 26.