Wrestlers Back in Action
Haas is a Champion, Four other Placers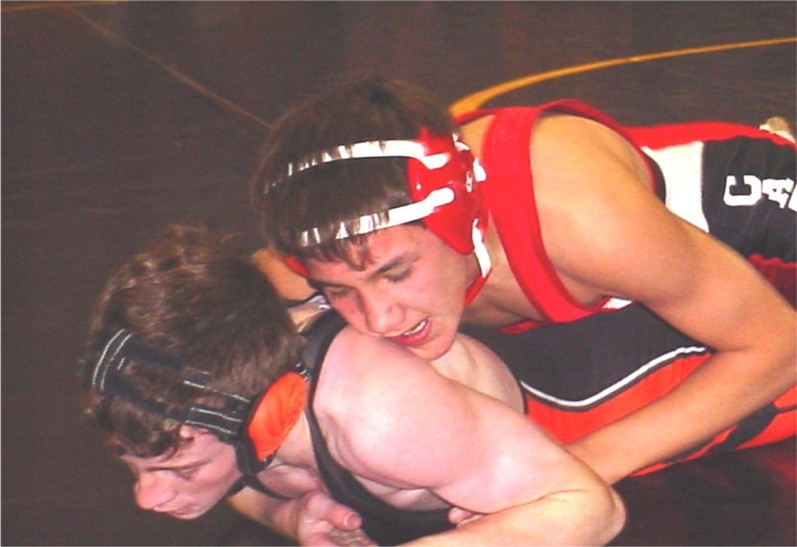 Jose Campos, Hemingford Freshman, closes in on a victory. (Click to Enlarge) Hemingford Wrestling Photo
Hemingford Wrestlers Defeat Bridgeport in Dual and Place Five at Bridgeport Invite
On Thursday Dec 13 the Hemingford wrestling squad traveled to Bridgeport for a team dual. Results are as follows. Aaron Jesperson (112) won by a forfeit. Jose Campos (119) won with a 2-1 decision over Hall. Adam Jensen (125) won by a fall over Lapasotes. Zane Jaramillo (130) won by forfeit.
Brandon Roland (140) won by fall over Eichtaler. Steven Overshiner (145) won by forfeit. Bryan Rathburn (152) lost by a fall to Laux. Michael Bergfield (189) lost by a fall to Cunningham. Joe Bob Haas (215) won by forfeit. Dustin Johannes (HWT) lost by a fall to Luce. The overall score for the dual was Hemingford 39 Bridgeport 24.
On Saturday Dec, 15 the squad returned to Bridgeport to wrestle in their invitational tournament. At 112 pounds freshman Aaron Jesperson lost by a fall to Lowery of Morrill, won by a fall over Spurlan of Mullen and lost by a fall in the finals to Lowery of Morrill for a fourth place finish. At 119 pounds freshman Jose Campos lost by a 4-5 decision to Powell of Mitchell, won by a 11-8 decision over Culek of Kimball and lost by a 3-5 decision in the finals to Hall of Bridgeport for a fourth place finish.
At 125 pounds junior Adam Jensen lost by a fall to Zimmerman from Mullen and by a technical fall to Manley of Morrill. At 130 freshmen Zane Jaramillo lost by a fall to Snygg of Morrill and by a 3-9 decision to Grubbs of Kimball. At 140 senior Steven Overshiner defeated Prelle of Chadron by a fall, beat essay of Bayard by a 6-4 decision and lost to Noah of Kimball in the championship round by a 1-7 decision. Steven finished second. At 145 freshmen Brandon Roland lost by falls to Gregory of Kimball and Clifford of red Cloud. At 152 junior Bryan Rathburn lost by a technical fall to Debus of Mitchell and lost by a fall to Benner of Hyannis.
At 189 junior Michael Bergfield pinned Piffer of Mullen and Rude of Minatare, lost by a 0-2 decision in overtime to Rudloff of Mitchell and Defeated Twist of Redcloud by a 2-0 decision for third place in the finals round. At 215 Joe Bob Haas pinned Oseinger of Mitchell and Sandstorm of Chadron for the championship. As a team we finished 5th with 66 team points.
There was a tie between Jose Campos and Joe Bob Haas for Iron Man wrestlers of the week. Both wrestlers averaged six points per match.
The next competition the squad will participate in will be this Friday at Harrisburg at the Banner County Invite. Wrestling will start at 9:30 am.