---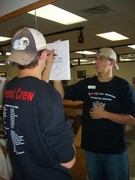 Beau Hartman draws a linear self-portrait to make into a wire sculpture.
---
Art Day
---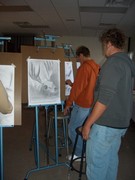 Kevin Bradt stands back to assess his artwork in instructor Kit Watson's drawing workshop.
---
Twelve select high school students attended Art Day hosted by Chadron State College on Monday, November 5. Each student participated in three workshops instructed by college professors. The workshops involved a glass blowing demonstration, clay-throwing on a potter's wheel, drawing, sculpture, print-making and photography developing techniques.
Featured instructors included Richard Bird whose glass work is in demand nationally, Kit Watson known for her pastel and charcoal drawing, and Don Ruleaux, one of the foremost Native American artists in the U.S. It is a great opportunity for the high school students to observe classes on the college level and also for the college, a time to showcase their art department and recruit future students.
---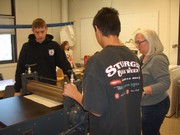 Senior Todd Prochazka studies the process as his work passes through the printing press.
---