Blasting Off Into Another Year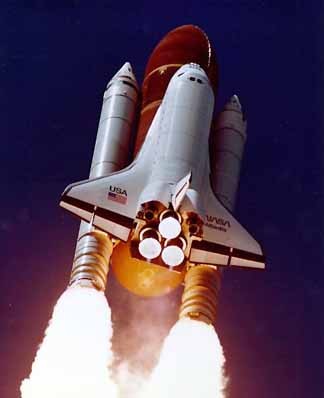 As we are all aware the fair has came and went and with that we are all getting ready to start another exiting year here at HHS. With the changes that have happened around the school the first couple of weeks should be an adventure. New for me this year is the change in classes that I will be teaching. Unfortunately I don't have any physics students but instead I will have the pleasure of teaching the 7th grade Integrated 1 students as well as 9th grade Integrated 3 students. This opportunity should be a lot of fun for both the students and I.
On a side note the is also a variety of interesting things happening in our night sky. The meteor shower last weekend was very showy and provided a nice back drop for viewing the space station that is crossing our night sky. For those that are interested I placed a viewing table below for both the station and the shuttle.
***** Scottsbluff *****
---
THE FOLLOWING ISS SIGHTINGS ARE POSSIBLE FROM MON AUG 13 TO SAT AUG 25
| | | | | | |
| --- | --- | --- | --- | --- | --- |
| SATELLITE | LOCAL | DURATION | MAX ELEV | APPROACH | DEPARTURE |
| | DATE/TIME | (MIN) | (DEG) | (DEG-DIR) | (DEG-DIR) |
| | | | | | |
| | | | | | |
| --- | --- | --- | --- | --- | --- |
| ISS | Mon Aug 13/09:32 PM | 3 | 15 | 13 above NNW | 11 above NE |
| ISS | Tue Aug 14/09:54 PM | 1 | 25 | 19 above NNW | 25 above NNE |
| ISS | Wed Aug 15/08:41 PM | 3 | 15 | 11 above NNW | 10 above NE |
| ISS | Wed Aug 15/10:17 PM | < 1 | 25 | 25 above NW | 25 above NW |
| ISS | Thu Aug 16/09:04 PM | 3 | 25 | 16 above NNW | 16 above ENE |
| ISS | Thu Aug 16/10:38 PM | < 1 | 12 | 10 above WNW | 12 above WNW |
| ISS | Fri Aug 17/09:27 PM | 1 | 58 | 31 above NW | 56 above NE |
| ISS | Sat Aug 18/08:16 PM | 2 | 24 | 24 above NNE | 11 above ENE |
| ISS | Sat Aug 18/09:49 PM | 1 | 33 | 19 above WNW | 33 above W |
| ISS | Sun Aug 19/08:37 PM | 3 | 56 | 30 above NNW | 15 above ESE |
| ISS | Sun Aug 19/10:12 PM | < 1 | 10 | 10 above WSW | 10 above WSW |
| ISS | Mon Aug 20/08:59 PM | 2 | 43 | 28 above W | 25 above SSE |
| ISS | Tue Aug 21/09:21 PM | 2 | 14 | 11 above WSW | 13 above SSW |
| ISS | Wed Aug 22/08:10 PM | 3 | 46 | 35 above W | 11 above SE |
| ISS | Thu Aug 23/08:31 PM | 3 | 15 | 12 above WSW | 10 above SSW |
| | | | | | |
ONLY DAYS WITH SIGHTING OPPORTUNITIES ARE LISTED
THE FOLLOWING SHUTTLE SIGHTINGS ARE POSSIBLE FROM MON AUG 13 TO FRI AUG 24
| | | | | | |
| --- | --- | --- | --- | --- | --- |
| SATELLITE | LOCAL | DURATION | MAX ELEV | APPROACH | DEPARTURE |
| | DATE/TIME | (MIN) | (DEG) | (DEG-DIR) | (DEG-DIR) |
| | | | | | |
| | | | | | |
| --- | --- | --- | --- | --- | --- |
| SHUTTLE | Mon Aug 13/09:32 PM | 3 | 15 | 13 above NNW | 11 above NE |
| SHUTTLE | Tue Aug 14/09:54 PM | 1 | 25 | 19 above NNW | 25 above NNE |
| SHUTTLE | Wed Aug 15/08:41 PM | 3 | 15 | 11 above NNW | 10 above NE |
| SHUTTLE | Wed Aug 15/10:17 PM | < 1 | 25 | 25 above NW | 25 above NW |
| SHUTTLE | Thu Aug 16/09:04 PM | 3 | 25 | 16 above NNW | 16 above ENE |
| SHUTTLE | Thu Aug 16/10:38 PM | < 1 | 12 | 10 above WNW | 12 above WNW |
| SHUTTLE | Fri Aug 17/09:27 PM | 1 | 58 | 31 above NW | 56 above NE |
| SHUTTLE | Sat Aug 18/08:16 PM | 2 | 23 | 23 above NE | 11 above ENE |
| SHUTTLE | Sat Aug 18/09:49 PM | 1 | 33 | 19 above WNW | 33 above W |
| SHUTTLE | Sun Aug 19/08:37 PM | 3 | 55 | 30 above NNW | 15 above ESE |
| SHUTTLE | Sun Aug 19/10:11 PM | < 1 | 11 | 11 above WSW | 11 above WSW |
| SHUTTLE | Mon Aug 20/08:59 PM | 2 | 43 | 28 above W | 25 above SSE |
| SHUTTLE | Tue Aug 21/09:21 PM | 2 | 14 | 11 above WSW | 13 above SSW |
| SHUTTLE | Wed Aug 22/08:10 PM | 3 | 46 | 35 above W | 11 above SE |
| SHUTTLE | Thu Aug 23/08:32 PM | 3 | 15 | 12 above WSW | 10 above SSW |
| | | | | | |
ONLY DAYS WITH SIGHTING OPPORTUNITIES ARE LISTED
Once again I am very excited about getting this year started off on a good note and can't wait to see my students