K-6 Curriculum

K-6 PHYSICAL EDUCATION CURRICULUM
The physical education curriculum includes a balance of skills, concepts, games, educational gymnastics, rhythms and dance experiences designed to enhance the cognitive, motor, affective and physical fitness development of every child.
My goal is to provide each child with frequent and meaningful age appropriate practice opportunities that enable him/her to develop an understanding of movement concepts (body awareness, space awareness, effort and relationships) and build competence and confidence in his/her ability to perform a variety of motor skills (locomotor, non-locomotor and manipulative).
Personal physical fitness is emphasized with regard to the components of good health. The Cooper Institute Fitnessgram is used as a health related physical fitness assessment tool. Each of the test items are selected to assess important aspects of a student's health related fitness, not skill or agility. Instead of being compared to each other, students are compared to health fitness standards, carefully established for each age and gender, that indicate good health.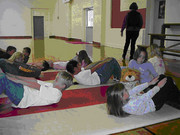 K-2nd -- Movement exploration and body awareness are the emphasis in the K-2nd curriculum. Getting along with others, following directions, and working together along with accepting individual differences are the social skills emphasized.
3rd-4th -- Sports and the team concept are introduced in the 3rd -- 4th curriculum. Learning to cooperate with a partner or a team is also stressed. Rules and fair play, and the reason for both, are emphasized along with social customs and courtesy.
5th--6th -- Team sports with an emphasis on lead-up games are taught in the 5th-6th curriculum. Rules, regulations, and traditions are stressed and strategy is introduced. Correct form is emphasized. Group cooperation in play and among teams is stressed along with an explanation of the need for rules and cooperation if games are to exist.