---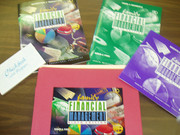 Family Financial Management 8th grade business packet.
---
8th Grade Business
In this 8th grade business class the students will be learning how to balance a checkbook, figure out net worth, plan budgets, and record transactions. They will do these things in 3 different phases with different types of people: a single man, a divorcee with a little girl, and a married couple. The students will create budgets and maintain paper records as well as keeping a spreadsheet that keeps a running balance. Each section concludes with a test in which the students use all their files, records, checkbook, and spreadsheet to answer 20 questions.
The students of business take a break from the books this week and bring out LIFE. They might think theyr just playing for fun but they are actually still learning how to pay bills and budget they're money. In the game of LIFE they also learn how to pick the right job so they can support themselves and they're family.