---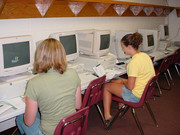 Students working diligently on increasing speed and accuracy on the ten-key adding machines.
---
Professional Development
A course for all students
Brigit Harris
August 30, 2005
Not required but can be used to fulfill business requirement
10 credits 5 each semester
This class is set up for students who would like to learn more about the business world. We have many different units we explore. They are: telephone techniques, ten key calculator, filing, resumes, job interviews, business and dining etiquette, advanced applications using the Microsoft Office Suite, basic computer troubleshooting and maintenance training.