---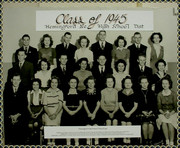 Hemingford Class of 1945 Composite (Please click on thumbnail to enlarge)
---
Class of 1945
 19Hemingford High School 45
Student and Faculty Highlights of the Year
This page features athletic records, officers, themes, important numbers, important happenings, and other educational information from the year in question. It provides a quick and ready resource for Bobcat Grads and families.
Class Members – Barbara Phillips, Farren Hucke, Marcine Peltz, Stanley Fry, Barbara Styvar, Frank Moeller, and Lucille Reeves, John Fester, Betty E. Anderson, Robert Moore, Shirley Haas, Marion McKeag, Berry Haas, Loren Zajic, and Eileen Kriz. Herman Roes, Amy Shetler, Shirley Roland, Ella Mae Powell, Delma Bunce, Madelyn Christensen, Beverly Swanson, Betty F. Anderson, and Helga Hansen.
Senior Class Motto -  "Mind not the breakers,  but straight ahead"; 
Class colors – Royal Blue and Silver; Class Flower – Talisman Rose; Commencement was held in the high school auditorium.
Valedictorian – Stanley Fry
Special or Unique Happenings – Senior skip day was taken to Hot Springs, then back to Chadron and Alliance on May 25th, 1945
Senior Class Enrollment – 24
Superintendent – Mr. A.E. Nimtz
Principal –  Mrs. Josephine Johnson
Our school is always ready to update our web alumni pages of we get additional information.
Web Editor: cningen@panesu.org 
Class of 1945
Date
Subject
Posted by:
05/03/2005
A special thanks to Beverly Swanson Delsing, Class of 1945, for the information she sent with her daughter, Mrs. Linda Folkerts, one of our kindergarten teachers at Hemingford! Information as well as photographs are very important since yearbooks are scarce for many of our school's early years, in particular between 1933 -1952, inclusive. Donations of yearbooks in those years would be greatly appreciated, as well as the loan temporarily of pictures and stories that could be scanned and added permanently to our website, with loaned articles returned quickly to the alumnus or family that has shared them. This project, started this year, will continue to grow, thanks to all of those students, past and present, that wish to preserve Hemingford's rich history! Thank you again!
C. Ningen

cningen@panesu.org

Hemingford

Present Superintendent