SANTA SOUP SUPPER PLANNED
Friday, December 15th, 5-7 PM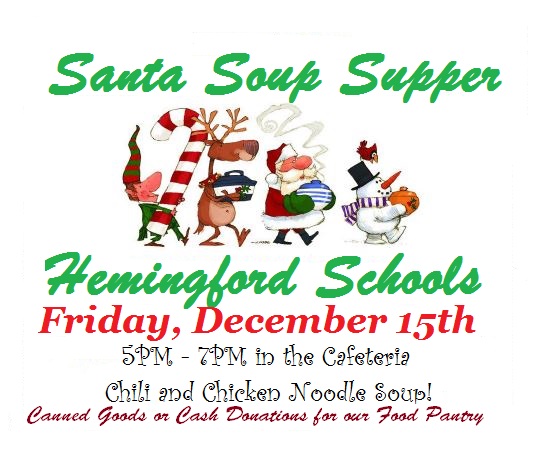 2017 Annual Holiday Soup Supper Planned
Santa and his helpers have been busy planning our annual Community Soup Supper, scheduled for Friday, December 15th from 5PM – 7PM in the School Cafeteria and Redzone.
Our special guests will be District 10 Patrons as well as Basketball fans from Hemingford and Bridgeport. Please plan on joining us before and during the high school ballgames.
Admission to the games as well as the soup supper will be through the donation of canned goods for our Hemingford Food Pantry. Cash donations are also welcome.
Our menu includes both Chili and Chicken Noodle Soup. There will also be assorted bars for dessert. Thank you to our District 10 Kitchen Staff, Jim and Megan Miles, Table Top Meats, and Thomson's Seed Potatoes.
Santa will be present at 5PM for pictures with the little ones. Photos will also be available.