DRUG DOGS VISIT HIGH SCHOOL
Preventative Visit Part of District Safety Protocol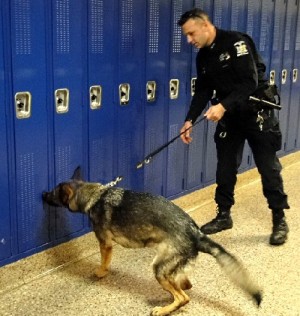 THANKS TO LOCAL LAW ENFORCEMENT
=======================
No "Hits" With Periodic Drug Search April 27th
--------------------------------------------
Authorities from Hemingford, Gordon, and Alliance Police Departments worked together with Drug Dogs to stage a lockdown and drug search at Hemingford High School this afternoon.
The spontaneous drills are not announced in advance.
Students and staff remained in classrooms while the dogs searched in the hallways and the outside of lockers. The officers also took the dogs through the school owned parking lot located south of the school.
The periodic drill has been held in the past as well, with the last search last spring.
No "Hits" from either of the specially trained dogs occurred. The searches are a cooperative effort between our local schools and Law Enforcement.
This live drill also helped lockdown awareness for students and staff, and is part of the District 10 Safety Protocol.