Christmas Music with a Meal Friday
Come for the FREE Gathering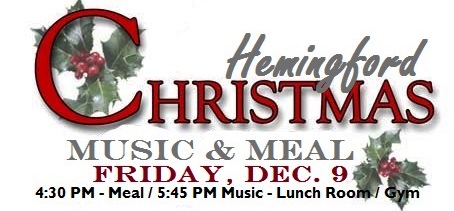 Christmas Concert with a Meal!
Parents and patrons are invited to enjoy Chili and Cinnamon Rolls in our School Cafeteria, followed by our K-12 Christmas Music Concert in our Gym on Friday, December 9th. The meal starts at 4:30 PM, followed by the Skippin' Cats and then Music at 5:45 PM.
Though the meal and the music are FREE, our guests are asked to bring non-perishable goods for the Hemingford Food Pantry, or a donation of cash, also to the Food Pantry.
Merry Christmas!