---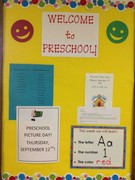 Preschool Open House
---
Hemingford Preschool Open House!
On Monday, September 16, 2013, approximately thirteen families joined preschool teacher, Mrs. Shari McClure, in an open house at the Hemingford Preschool. The children had a great time showing their parents and other loved ones the preschool room and their favorite activities to do during the preschool day!
---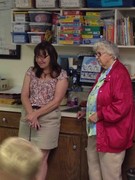 Preschool Teacher, Mrs. Shari McClure
---
Hemingford offers two sessions of preschool, four days a week, Monday through Thursday. Morning session goes from 8:00AM-11:30AM and the Afternoon session goes from 11:50AM-3:20PM, including a full lunch meal and snack for both classes. All students, morning and afternoon, are invited to eat at the school breakfast program that opens at 7:45AM. (A small fee is required for lunch and breakfast. Free and reduced lunch forms are available for those that wish to apply.)
All four year old, resident children of Hemingford's school district are invited to attend the preschool, free of charge. Please contact the Mandy Plog (Preschool and Special Education Director) or Shari McClure (Preschool Teacher) with any questions, 487-3330.
---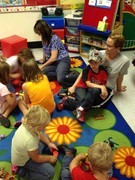 Preschool families
---
 Preschool Open House 9/9/13