---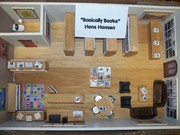 Hans Hansen created a life like bookstore/library with his intricate details. So real, you feel like you are sipping coffee and reading a book near the window! (Click on thumbnail to see larger photo)
---
8th Grade Entrepreneurs!
---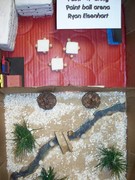 Ryan Eisenhart would like to open up a paint ball arena. Equipped with lockers, pinball, and tables, enthusiasts can get ready to venture outdoors to the arena. (Click on thumbnail to see larger photo)
---
Computer business class has been brainstorming ideas for potential businesses in Hemingford. The 12 eighth graders have come up with great ideas ranging from bookstores, dance studios, theaters, to horse arenas. The possibilities are endless! Since January they have created business ideas, logos, slogans, floorplans, scale models, and most recently newspaper ads and radio advertisements. They will now venture into more advertising by creating a website for their potential business. The scale models shown are currently on display in the school lobby and worth a peek from all visitors. This class put forth great effort and designed some unique businesses.
---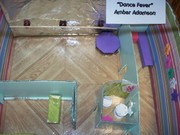 Amber Adamson's dance studio even has the mirrored wall with dance bar along with extra dance rooms and a restroom. (Click on thumbnail to see larger photo)
---