---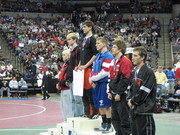 Steve Overshiner, at 140 pounds, medaled in 4th Place in 2007 and 2008. He is a senior, and his leadership will be missed.
---
State Wrestling Tourney a Success!
Overshiner and Haas place 4th at state
---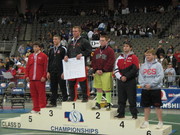 Junior Joe Bob Haas, at 215 Lbs, also placed fourth at the State tourney.
---
Senior 140 pounder Steven Overshiner and Junior 215 pounder Joe Bob Haas led a good group of four state wrestling qualifiers at the Omaha Quest Center at the 2008 state meet.
Overshiner placed 4th for the second year in a row, finishing with a 3-2 won-loss record at 140. He lost a tough 3-1 overtime decision in the semi-finals that cost him a chance to wrestle in the finals. Steve has been a great senior leader this season, and has spent many extra hours with underclassmen, helping them to become better wrestlers.
Haas also wrestled well, winning two matches to get to the semis, where he lost to an undefeated wrestler from Howells who went on to win the championship at 215. Joe Bob leads a talented group of wrestlers that will return next season for the Bobcats, including Freshmen Aaron Jespersen and Jose Campos, who also qualified this year for state. Though the two newcomers did not win a match in Omaha, both had solid second round matches that were closely contested.
Michael Bergfield and Adam Jensen will also return as Bobcats with previous state experience, giving the Bobcats five wrestlers that have made it to the big meet.
The Wrestling team and coaches would like to thank parents and fans that supported the team throughout the year, and expect even better things in 2008-09!
2008 State Wrestling Tourney
Date
Subject
Posted by:
02/19/2008
Congratulations to our wrestling team! Though our numbers were small, the efforts of the wrestlers were great. I especially want to compliment our wrestlers for their respectful behavior, in victory or defeat. Their parents and Grandparents have raised them well!

Mr. Ningen

Supporter

02/21/2008
We're proud of you boys! Steven, Joe Bob, Jose and Aaron...you did a great job of representing HHS at state! We couldn't go, but it was fun to check the web site for the standings. I'm very proud of our boys and of all the boys from this end of the state! Be proud of yourselves! You did good ^_^ Peace!
Nancy Stricker

RODEONan@bbc.net

Berea

Mom

02/25/2008
Congratulations on a great season from the Fastnacht's!!!!!!!!!!
Mike Fastnacht

mikef@bbc.net

Wessington Springs