Bobcat Wrestlers Head to State!
Two District Champions and two 3rd Place Finishers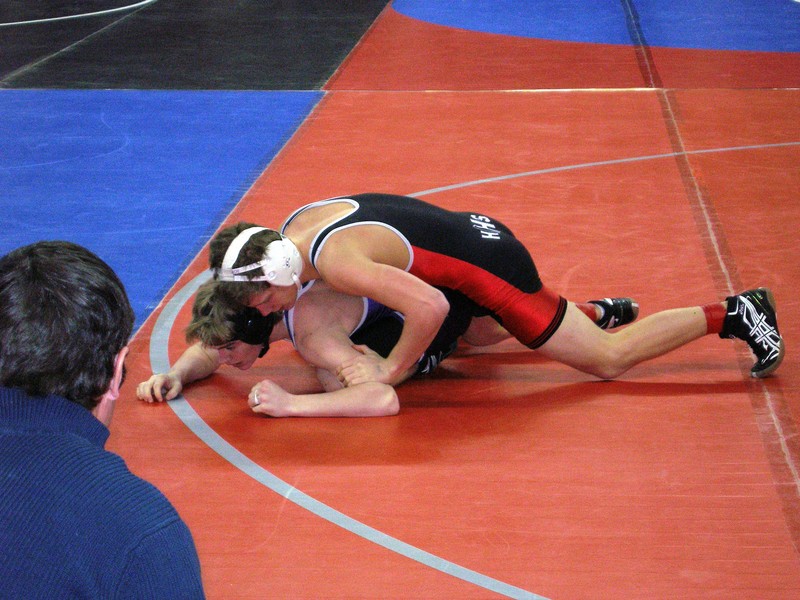 Steven Overshiner is shown at the State Wrestling Meet in 2007. He won three matches and placed fourth. He returns this year as a District Champion.
The Hemingford Bobcats are headed back to the Quest Center in Omaha Thursday - Saturday, February 14th-16th. After District D-4 action was completed at Sutherland, Coach Gordon Karney will be taking District Champion Joe Bob Haas with a 39-0 record at 215 pounds; District Champion Steven Overshiner with a 34-7 record at 140 pounds; and two third place district finishers, Jose Campos at 119 pounds, with a 25-13 record, and at 112 pounds, Aaron Jespersen, with a 17-18 record.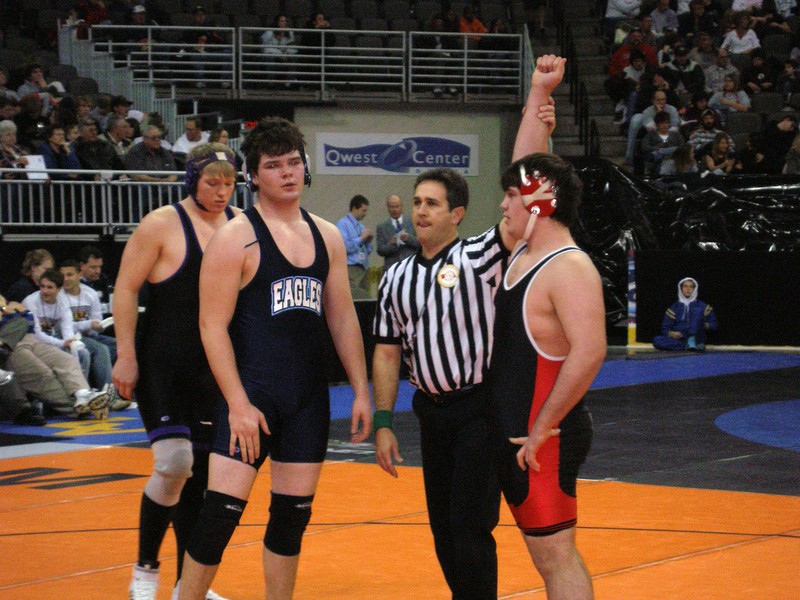 Joe Bob Haas is shown after winning a match last year at State Wrestling in Omaha. Haas is currently 39-0 and heads to state again, this time as a District Champion
The meet is divided into four classes, with Classes C and B starting action Thursday morning, with Classes A and D wrestling in the second session.
The bracket assignments are listed below for Class D. Hemingford Wrestlers are in bold type.
2008 State Wrestling First Round Pairings--Class D
Names are listed in order for a 16-man bracket--#1 meets #2, #3 vs. #4, etc. Information in parentheses: Wins-Losses-Grade in school.

103
1. Jordan Fowlkes, Newman Grove (39-0-11)
2. Jonathan Wright, Maxwell (17-13-9)
3. Evan Carlson, Sutton (28-7-10)
4. Mason Araujo, Elwood (27-5-11)
5. Jeremy Inderlied, Dorchester (13-8-9)
6. Brady Masters, Ansley/Arcadia (15-7-9)
7. Craig Dennis, Osmond (31-8-11)
8. Drew Curtis, Perkins County (24-7-9)
9. Justin Taubenheim, Amherst (33-2-10)
10. Scott Parrott, Tri County (17-20-12)
11. Tyler Darnall, Banner County (24-12-9)
12. Scott Kester, Neligh-Oakdale (32-6-10)
13. Marcos Ramirez, Wauneta-Palisade (21-15-9)
14. Carter Tegeler, Elkhorn Valley (29-14-9)
15. Trevor Popple, Axtell (7-13-9)
16. Brian McGrath, East Butler (17-1-12)

112
1. Trenton Nekoliczak, Greeley-Wolbach/Cedar Rapids (36-3-11)
2. Tell Deatrich, Medicine Valley (25-7-10)
3. Dillon Glause, Palmer (33-6-9)
4. Dalton Bourke, Elm Creek (26-3-10)
5. Benjamin Kranda, Aquinas Catholic (18-14-11)
6. Carson Farr, Cambridge (21-14-10)
7. Tyler Mathison, Archbishop Bergan (30-10-10)
8. Seth Crane, Maxwell (29-2-9)
9. Lane Barry, Amherst (26-11-10)
10. Michael Wohlgemuth, High Plains Community (21-11-12)
11. Aaron Jesperson, Hemingford (17-18-9)
12. Robbie Johnson, Stanton (28-3-11)
13. Taylor Hoeft, North Platte St. Patrick's (28-10-9)
14. Sheldon Boschen, Newman Grove (37-6-9)
15. Alec Ibach, Sumner-Eddyville-Miller (23-16-10)
16. Devin Zitek, East Butler (29-0-12)

119
1. Seth Kucera, Friend (30-3-11)
2. Grant Nordby, Stanton (22-11-9)
3. Jose Campos, Hemingford (25-13-9)
4. David Ripp, Elm Creek (21-8-12)
5. Josh Holmes, Sutherland (21-13-11)
6. Andrew Olney, Anselmo-Merna (26-12-11)
7. Billy Schreiner, Weeping Water (19-13-11)
8. Michael Frickel, West Holt (34-4-12)
9. Alex Feeney, Maxwell (22-9-12)
10. Travis Stithem, Callaway (29-9-12)
11. Taylor Siebrandt, Tri County (30-9-11)
12. Chris Bartling, Howells (32-5-12)
13. Aaron Carlson, Sutton (38-1-12)
14. Jeffrey O'Brien, West Point Central Catholic (27-10-10)
15. Jared Simonson, Mullen (17-16-9)
16. Mitch Lundstrom, Amherst (33-3-12)

125
1. Trevor Wid, North Platte St. Patrick's (33-3-10)
2. B J Hasse, Tri County (26-13-11)
3. Steven Dvorak, Pope John (19-16-12)
4. Travis Araujo, Elwood (28-5-12)
5. Garret Robinson, Randolph (25-7-12)
6. Caleb Roberts, Alma (27-11-12)
7. Ryan Craghead, Maxwell (20-12-10)
8. Douglas Daro, Aquinas Catholic (34-2-11)
9. Austin Coufal, Howells (34-1-11)
10. Michael Stapleton, Arapahoe (24-19-10)
11. Kyle Schulze, Perkins County (20-6-9)
12. Morgan Glause, Palmer (36-5-12)
13. Mike Olsen, Banner County (33-7-12)
14. Drew Niemann, East Butler (29-12-12)
15. Levi Pofahl, Neligh-Oakdale (24-19-9)
16. Jess Wells, Anselmo-Merna (20-0-12)

130
1. Corbey Grause, High Plains Community (36-5-11)
2. Trenton Brichacek, West Point Central Catholic (25-10-12)
3. Brady Chancellor, Medicine Valley (21-14-11)
4. Brian Mills, Ansley/Arcadia (28-8-12)
5. Zack Richards, North Platte St. Patrick's (33-3-12)
6. Stephan Rush, Anselmo-Merna (29-5-11)
7. Joshua Inderlied, Dorchester (23-9-12)
8. Austin Stamp, Clearwater/Elgin (39-1-11)
9. Tyler Gifford, Banner County (40-0-11)
10. Garrett Rubendall, Franklin (23-8-12)
11. Taylor Cieslik, East Butler (23-8-10)
12. Joshua Ritterbush, Greeley-Wolbach/Cedar Rapids (19-5-10)
13. Tom Eickmeier, Aquinas Catholic (17-14-12)
14. Kalin Koch, Winside (27-8-10)
15. Taylor Dietlein, Garden County (20-13-12)
16. Beau Sheen, Amherst (33-5-11)

135
1. Brandon Timm, Neligh-Oakdale (37-3-12)
2. Dylan Sullivan, Garden County (24-13-10)
3. David Holland, Aquinas Catholic (19-10-11)
4. Bryce Dibbern, Amherst (17-7-9)
5. Nate Hoffman, High Plains Community (33-13-12)
6. Jon Frerichs, Sumner-Eddyville-Miller (28-11-9)
7. Paul Cheyney, Stanton (31-10-10)
8. George Lapaseotes, Banner County (31-6-12)
9. Cory Stabenow, Elm Creek (32-2-11)
10. Adam Kahle, Dorchester (28-5-10)
11. Tanner Dodson, North Platte St. Patrick's (25-3-11)
12. Derek Coufal, Howells (33-7-10)
13. Nick Romeo, Medicine Valley (24-11-10)
14. Nicholas Schrunk, West Holt (34-8-10)
15. Travis Pieper, Eustis-Farnam (24-16-10)
16. Dustin Payne, East Butler (28-2-11)

140
1. Steven Overshiner, Hemingford (34-7-12)
2. Alex Comte, Aquinas Catholic (21-18-10)
3. Heath Hammond, Randolph (23-6-12)
4. Brett Roberts, Axtell (25-11-11)
5. Kyle Hilpipre, Osmond (27-6-11)
6. Kade Lehmkuhler, Arnold (27-14-10)
7. Riley Kosmicki, Perkins County (25-17-9)
8. Tanner Kuhn, High Plains Community (33-9-11)
9. Bryan Mejstrik, Howells (37-0-11)
10. Logan Loeffelholz, Amherst (20-23-9)
11. Ethan Budke, North Platte St. Patrick's (18-19-11)
12. Casey Beahm, Sutton (32-7-12)
13. Tyler Taylor, Medicine Valley (30-9-12)
14. Caden Huenefeld, Nebraska Christian (27-6-12)
15. Luke Gasper, Newman Grove (34-12-11)
16. Ethan Kahrs, Franklin (33-0-12)

145
1. Erik Payne, East Butler (22-0-12)
2. Cory Brester, Howells (34-12-9)
3. Garrett Patten, Perkins County (22-17-10)
4. Kurt Berg, Callaway (27-4-12)
5. Dan Smith, Hyannis (19-12-12)
6. Jordan James, Franklin (21-14-11)
7. John Oliver, High Plains Community (18-19-10)
8. Jerad Gubbels, Randolph (34-0-11)
9. Vincent Chancellor, Medicine Valley (30-8-11)
10. Mark Florom, Alma (25-10-12)
11. Jake Shonka, Aquinas Catholic (10-11-10)
12. Jordan Brummels, Winside (34-4-12)
13. Steven Carlson, Sutton (33-4-12)
14. Ryan Freeman, Greeley-Wolbach/Cedar Rapids (35-12-12)
15. Tyler Blake, Maxwell (27-11-12)
16. Foster Meier, Elm Creek (31-1-11)

152
1. Nate Moore, Friend (32-3-12)
2. Dalton Fletcher, Scribner-Snyder (31-11-10)
3. Zack Cox, Mullen (23-16-12)
4. Cody Barnes, Elwood (30-7-11)
5. McCabe Johnson, Garden County (27-8-11)
6. Eric Kohl, Eustis-Farnam (32-10-11)
7. Kale Hintz, Thayer Central (24-19-9)
8. Robert Dunn, Pender (35-2-12)
9. Jared Beam, Sutherland (33-3-12)
10. Aaron Davis, Franklin (31-10-10)
11. Brian Pflanz, Tri County (33-7-12)
12. Nicholas Rohde, Randolph (27-9-12)
13. Tyler Wichmann, Palmer (29-2-10)
14. William Markworth, Ponca (18-9-12)
15. Wyatt Clark, Medicine Valley (18-11-11)
16. Carson Hemmann, Amherst (36-1-12)

160
1. Anthony Chancellor, Medicine Valley (30-5-12)
2. Jordan Jisa, East Butler (27-11-11)
3. Jacob Korth, Randolph (29-9-11)
4. Joe Meier, Elm Creek (30-4-12)
5. Greg Brandl, Stanton (23-10-10)
6. Denton Bradley, Ansley/Arcadia (33-6-12)
7. Jake Nekuda, Maxwell (25-11-12)
8. Destry Kenning, Thayer Central (18-2-12)
9. Tucker Bowers, Winside (36-2-12)
10. Chet Kirkpatrick, Anselmo-Merna (24-10-11)
11. Steve Hisel, Sandhills (24-18-12)
12. Sydney Shepler, Tri County (33-5-12)
13. Trevor Welsh, Sutherland (24-8-12)
14. Caleb Church, High Plains Community (33-7-12)
15. Brandon Watchorn, Ponca (26-7-12)
16. Chase Klingelhoefer, Amherst (38-0-12)

171
1. Kendall O'Neal, Sutherland (31-3-12)
2. Sam Lindley, Tri County (25-15-10)
3. Spencer Heying, Pope John (26-9-12)
4. Billy Stover, Elm Creek (29-9-12)
5. Colby Legate, Neligh-Oakdale (23-3-11)
6. Ethan Kenney, Amherst (32-11-12)
7. Josh Emhovick, Maxwell (28-15-11)
8. Riley Santin, Palmer (37-0-10)
9. Nicholas Thies, Randolph (30-2-12)
10. Eric Kuszak, Loup City (21-16-12)
11. Scott Pfeiffer, Mullen (24-15-10)
12. T J Bickford, Weeping Water (26-6-12)
13. Max Pollman, Hitchcock County (19-12-12)
14. Dusty Pond, East Butler (27-7-11)
15. Teddy Frizzell, Scribner-Snyder (28-9-12)
16. Russell Walton, Franklin (24-7-11)

189
1. Ryan Dirkschneider, Howells (33-4-12)
2. Nick Licking, Mullen (12-13-9)
3. A J Peters, Tri County (28-11-12)
4. Lance Shifflet, Cambridge (28-1-12)
5. Clete Vrbka, High Plains Community (34-11-12)
6. Zachariah Schiley, Ansley/Arcadia (22-10-12)
7. Ethan Taylor, Winside (22-13-12)
8. Adam Simpson, Wauneta-Palisade (18-1-10)
9. Justin Swedburg, Axtell (27-3-12)
10. Dustin McGee, East Butler (29-14-12)
11. Dillon Mortensen, Medicine Valley (27-7-11)
12. Dylan Heitoff, Pope John (28-8-10)
13. Juan Bazan, Perkins County (23-9-12)
14. Wyatt Wallin, Newman Grove (24-12-12)
15. Bret Spanel, Anselmo-Merna (29-9-12)
16. Michael Swanson, Nebraska Christian (27-1-12)

215
1. Eric Burenheide, Howells (35-0-12)
2. Matt Helms, Maxwell (28-10-11)
3. Thomas Rogers, Superior (27-7-12)
4. Davin Doyle, Cambridge (29-10-12)
5. Seth Lindley, Tri County (30-9-12)
6. Tyler Krings, Axtell (11-4-12)
7. Paul Schlecht, Scribner-Snyder (30-11-11)
8. Joe Bob Haas, Hemingford (39-0-11)
9. Ethan Jenkins, Arapahoe (25-6-11)
10. Mitch Kobza, High Plains Community (25-19-11)
11. Marshall Milanuk, Garden County (24-10-12)
12. Ricky Lewis, Neligh-Oakdale (40-1-12)
13. Todd Ford, Perkins County (29-9-12)
14. Joshua Watchorn, Ponca (27-7-10)
15. Adam Crouch, Anselmo-Merna (30-7-10)
16. Chuck Parks, Dorchester (34-1-12)

285
1. Dustin Bundy, Dundy County-Stratton (22-0-12)
2. Traygan Mumford, Thayer Central (26-17-10)
3. Jared Brockmann, Winside (30-10-11)
4. Jacob Langley, Cambridge (29-11-12)
5. Brent Hegemann, Howells (23-8-12)
6. Derek Helms, Arapahoe (30-10-10)
7. Trevor Junge, Crawford (12-8-11)
8. Jack Wardyn, Palmer (35-1-10)
9. Tanner Timperley, Stanton (30-0-12)
10. Derek Fouts, Franklin (14-23-10)
11. Charles Kramer, Hyannis (21-12-9)
12. Zac Smith, East Butler (28-5-12)
13. Walker Aufdenkamp, Maxwell (17-7-11)
14. Lucas Apfelbeck, Dorchester (33-3-12)
15. Preston Smith, Neligh-Oakdale (15-14-9)
16. Brent Evans, Anselmo-Merna (34-2-1
1)