---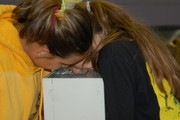 Talk about getting your nose into your work!
---
Computer Application Students Disassemble
Students in computer application class are learning about how computers work. What a better way to learn this then to take apart a computer! The students are disassembling non working computers to identify the parts and how they work.
---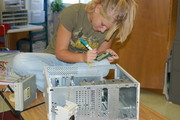 Taking notes to fit the parts to the pieces.
---
The goal is to be able to identify with basic computer terms, actually see what the inside of a computer looks like, and to be able to actually add more RAM or other devices to your own home computer. This should always be done with parental consent and perhaps some adult supervision. Although these students will learn how to do this, ultimately it will be up to the parents or guardians. It is a fun project and one that is enjoyed by all. Please look over the slide show to see more pictures of this event.
---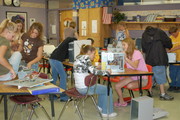 Future computer repair personnel hard at work.
---
Click here to view slide show.