---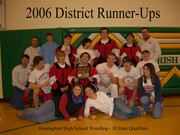 The Hemingford Bobcats finish second in the D-4 District at North Platte St. Pats, qualifying 10 wrestlers for the 2006 state meet to be held in the Omaha Quest Center.
---
Wrestling Cats are Second at Districts
Wrestlers District Runner Up - Qualify Ten For State
On Feb, 16 the Hemingford High School wrestling team traveled to North Platte for the D4 district competition. In the first round of competition the Hemingford boys wrestled up real well with only three losses in the round and a first place lead, closely followed by North Platte St. Pats. We carried this narrow lead all the way to the championship rounds where we fell a little short on wins. We went into the championship rounds with 10 wrestlers, North Platte only had seven. I would have liked to have seen our boys turn it up a little more in that final round and hope they realize that state competition will feature wrestlers of this quality from the beginning. We should be able to do fair at state if we keep this idea in mind. It has been a great season so far and I feel that we have been building our intensity at the proper rate to be able to give our peak performance at state.
---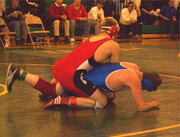 Kyle Campbell, a Bobcat Junior, is shown winning in the semis at Districts, and will carry a 32-4 record to his second state meet.
---
The team has really come together and I would like to thank the seniors and team captains for the stand up job they did throughout the year to keep up team moral and maintain team discipline. Placing second at districts was a great coup and we owe a lot to these individuals for their part in accomplishing this task.
A little bit about Bridger Chytka is in order. Bridger went into this year with a very poor record from last year. He told me that he was going to skip wrestling and concentrate on his roping. I worked it out with him to be able to skip Wednesday practices and make them up in the weight room. True to his word Bridger hit the weights on a regular basis and became a very valuable member of our team. Clint McCrea, Blake Vela, Blake Fastnacht and Steven Overshiner can all thank Bridger for making them better wrestlers and helping them qualify for state. The 145 lb weight class was one of the toughest at the districts and Bridger lost his bid for a state qualifying match by a 0-2 decision in overtime.
---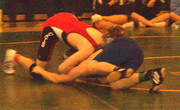 Clint McCrea, Hemingford Senior, wins his third place match at North Platte, to take a 26-13 record to state.
---
Well, I guess I have rambled on enough so I'll give you how the wrestlers placed individually.
103 Adam Jensen 4th place, 130 Blake Vela 4th place, 135 Steven Overshiner 4th place, 140 Clint McCrea 3rd place, 152 Blake Fastnacht 4th place, 160 Michael Bergfield 4th place, 171 Jordan Haas 2nd place, 189 Kyle Campbell 2nd place, 215 Derek Harris 3rd place, 275 Joe Bob Haas 3rd place.
Bobcat Wrestling
Date
Subject
Posted by:
02/16/2006
Congratulations Bobcat Wrestlers!!!! Keep up the momentum at State......
Deb Kraenow

kraenow@bbc.net

Box Butte County Extension

4-H Coordinator