---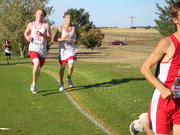 Medalists Mick Casey and Kory Rasmussen stayed together for the entire District D-4 meet on Thursday at Grant, placing in the top ten, and led Hemingford to a District Championship!
---
Cross Country is Number One!!
Hemingford's Harriers traveled to Grant for D-4 District Championship action Thursday, and returned with some solid girl's performances, as well as a Boy's District Championship! Led by medalists Kory Rasmussen, 8th place, Mick Casey, 9th place, and Gabe Darveau's 13th place finish, the boy's team, which also included Beau Hartman and Tom Linegar finished first in the 18 team field, and qualified for next week's State Championships held in Kearney on Friday.
---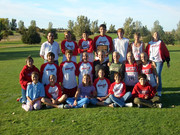 The success of this year's Boy's team was shared by the entire program Thursday, when the JV members, the girls team, some of the junior high members, as well as supporter/scorekeeper Mel White, and Coaches Cindy Lanik and Tim Lanik posed for this picture. The District Championship was not only a team victory, but was a program victory!!
---
The girls team also ran well and finished in 7th place, paced by K
elsy Forgey, Briana Paris, Tori Towne
, and
Jen Ruzicka
Congratulations to the entire team, including the junior varsity and the junior high members, who all worked together this season, pushing each other in practice.
---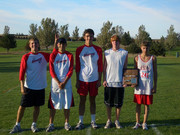 The 2005 District Championship Team (we were Number One - not Number two, Tom)
---
Coaches for the Hemingford Cross Country Team are Cindy Lanik, Head Coach, and Tim Lanik, Assistant Coach.
GREAT JOB!!!!
CC Number One!
Date
Subject
Posted by:
10/15/2005
Great job Boys!! We knew you could do it! See all of you at state and best of luck there. Shane has enjoyed helping out this year.
Becky Goldstedt

goldstedts@yahoo.com

10/15/2005
Way to go guys!!! Way to set a goal and strive for it. You're hard work has paid off. Good Luck at State!
Mrs. Haas

khaas@panesu.org

Hemingford

Teacher