---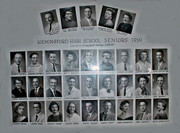 Hemingford Class of 1959 (Click on thumbnail to enlarge)
---
Class of 1959
Just Updated!
19Hemingford High School 59
Student and Faculty Highlights of the Year
This page features athletic records, officers, themes, important numbers, important happenings,
and other educational information from the year in question. It provides a quick and ready resource for Bobcat Grads and families! Spelling and results are taken from the yearbook
Student Council Highlights – Selling memory books and stickers, endeavoring to create better citizenship.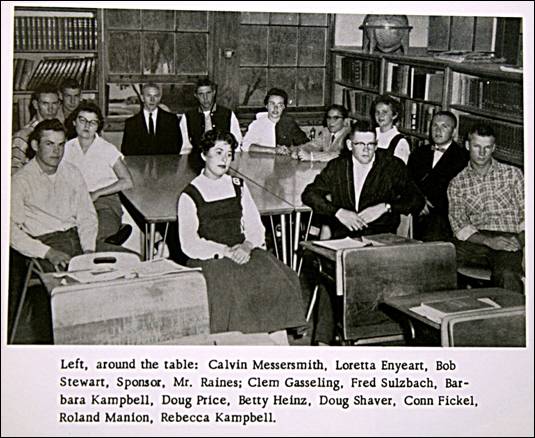 Student Council Officers – President – Fred Sulzbach, Vice President – Clem Gasseling, Secretary-Treasurer – Barbara Kampbell
National Honor Society Members – Myrtle Morgan, Connie Rosenberger, Louise Prochazka, Betty Dyer, Sandra Todd, Carolee Manion, Emily Roan, Betty Bergfield, Sara Fentress, Betty Gordon, Calvin Messersmith, Bonnie Shimek, Velma Davies, Ronald Rogowski, Carol Uhrig, Bob Stewart, and Sponsor Mr. McCafferty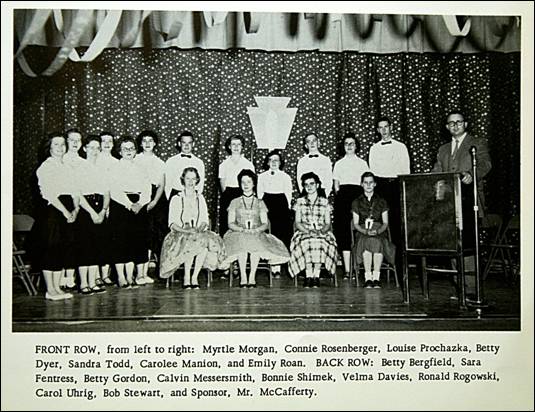 Music Department – The band "Played peppy marches", and marched in Boulder at the University of Colorado Band Day. The Girls Glee, Mixed Chorus and Band performed at a choral clinic, winter and spring concerts, for Mr. Williams, Director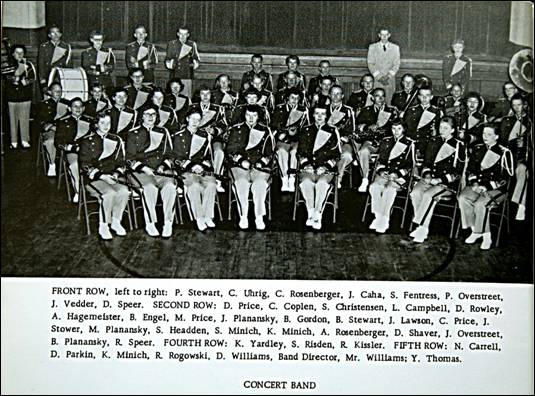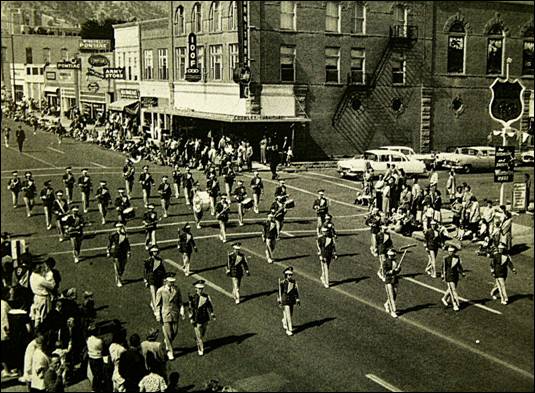 Drama and One Acts – A junior class play, "Scared Stiff", a senior class play, "Boarding House Reach", and three one act plays, including "Balcony Scene", which received a superior at District Dramatics Contest were performed.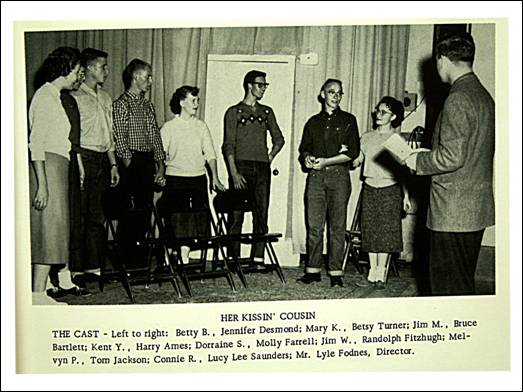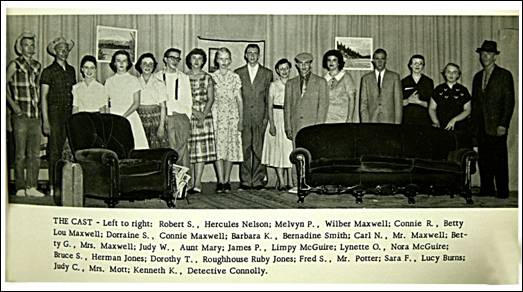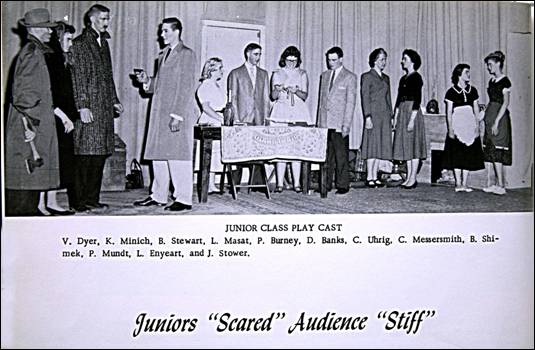 "Elmers" (Oscars) went to Carl Nyquist, Best Actor, Betty Bergfield, Best Actress, Bruce Shaver, Best supporting actor, Dorothy Turnbo, best supporting actress, and Connie Rosenberger received the best all-around acting award for Director Lyle Fodnes.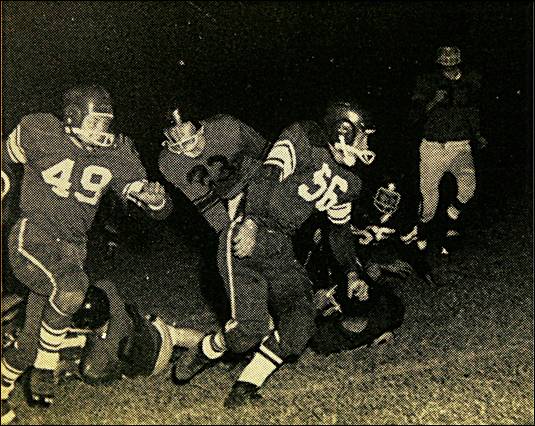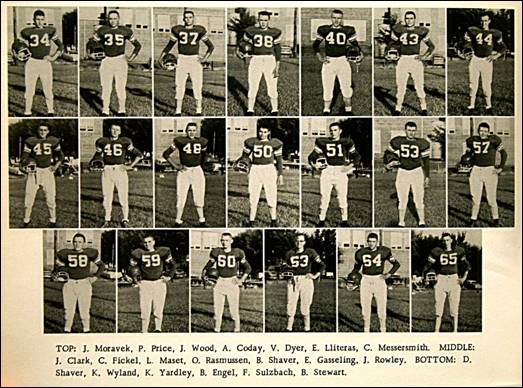 Football – Record of 4-5, beat Crawford at Homecoming. All Conf– Delbert Wyland, James Gasseling, and Paul Burney.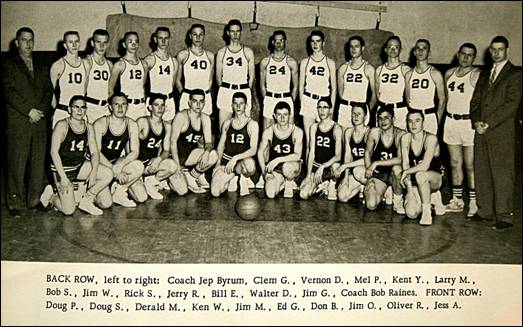 Boys Basketball – Record of 4-14, Bob Stewart and Jim Wood were leading scorers. They were both all conference as well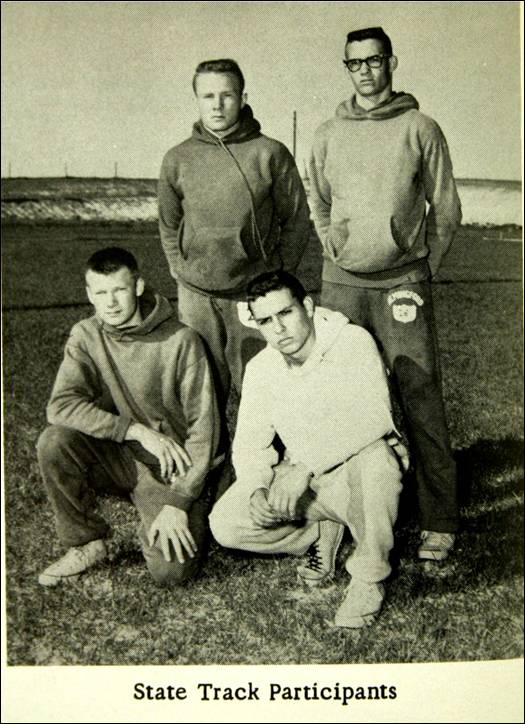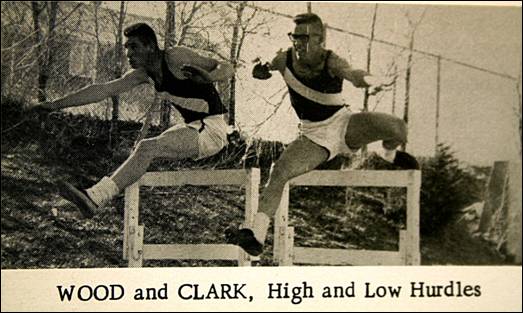 Boys Track and Field – Conference Champions (First NWC Championship for Hemingford)
Yearbook Staff - 1959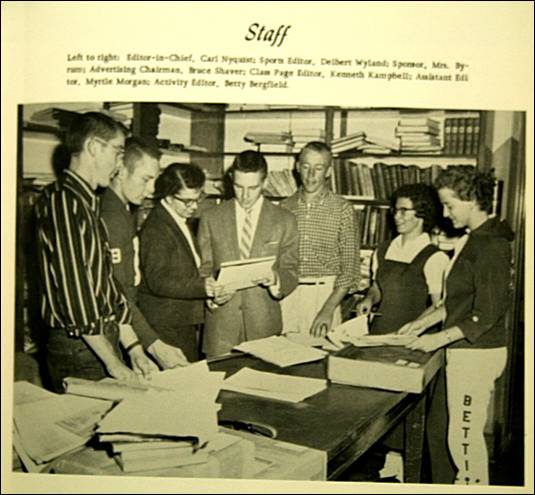 Clubs and Activities – National Honor Society, Student Council, Pep Club, Annual Staff, Band, Chorus, Home Economics Club, and Agriculture
Pep Club –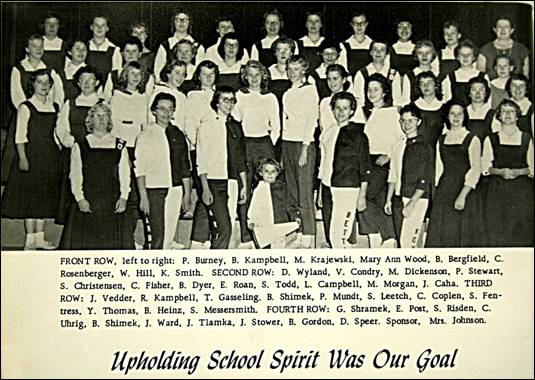 Home Economics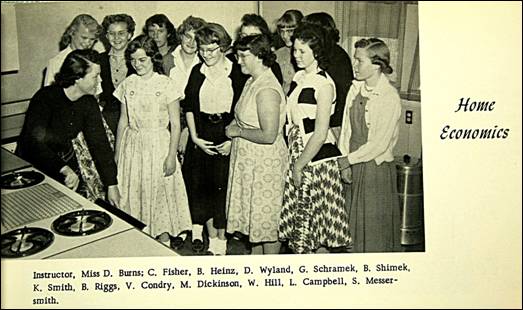 FFA – Ag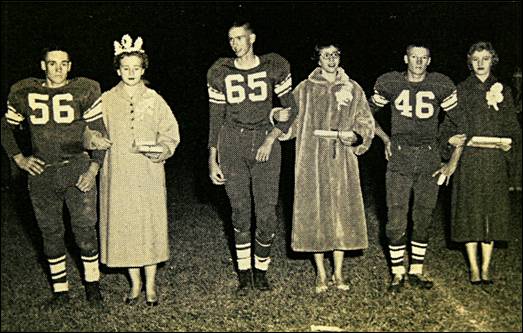 Homecoming Royalty – Queen – Betty Bergfield, attendants – Mary Krajewski and Yvonne Thomas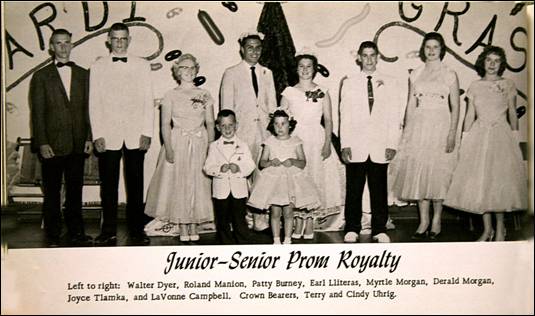 Prom Royalty – King – Earl Lliteras, Queen – Myrtle Morgan, attendants – Walter Dyer, Roland Manion, Patty Burney, Derald Morgan, Joyce Tlamka, and LaVonne Campbell. Crown bearers – Terry and Cindy Uhrig.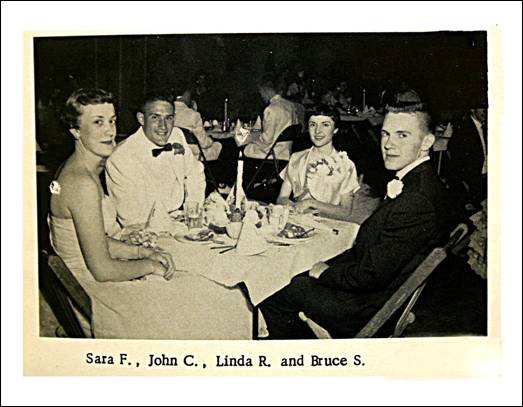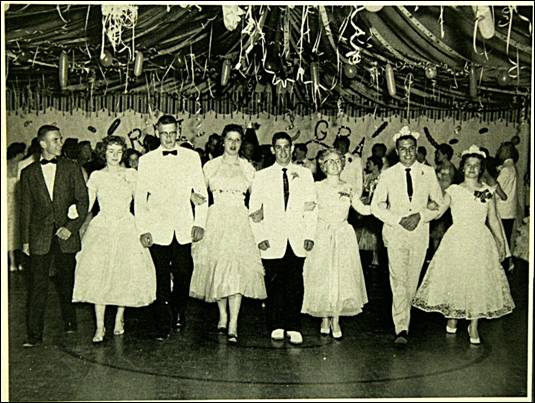 Prom Theme - "Mardi Gras"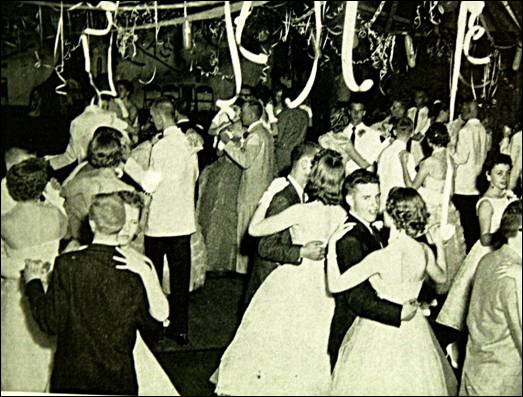 Other Royalty for 1959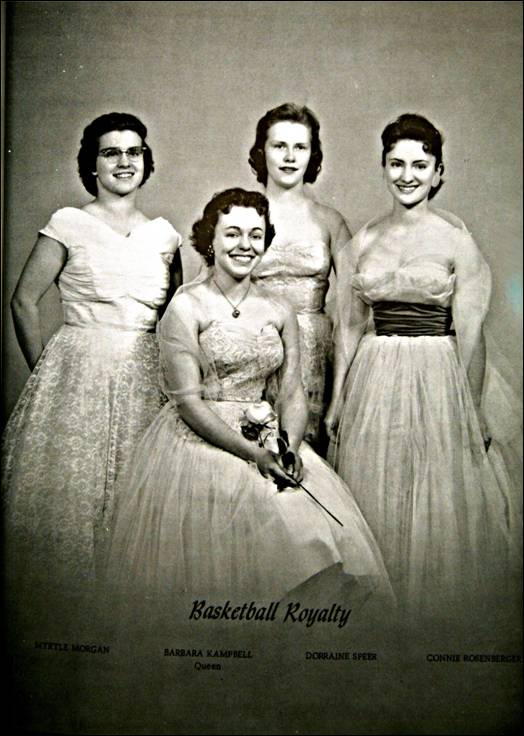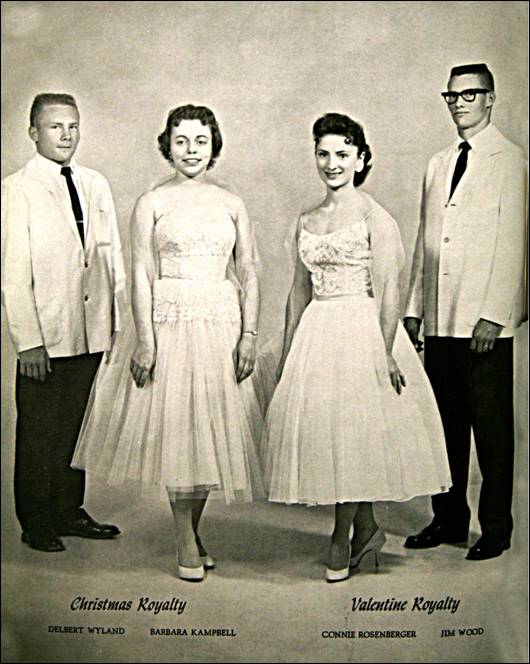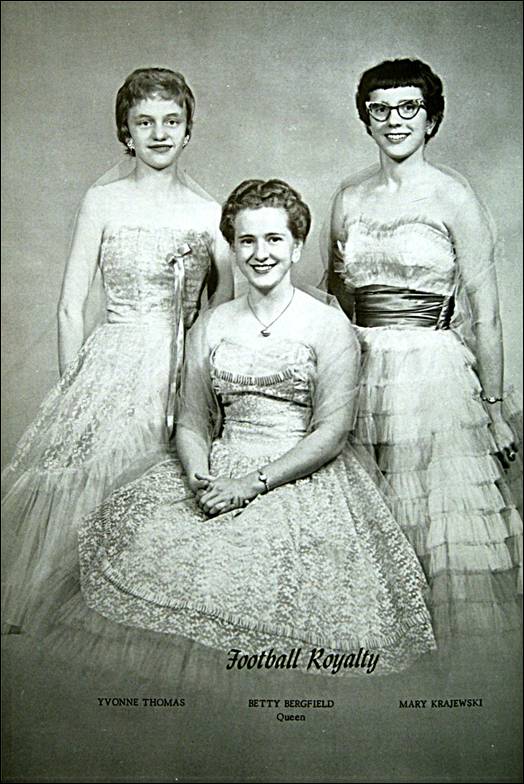 Senior Class Motto – "He who findeth knowledge, findeth life"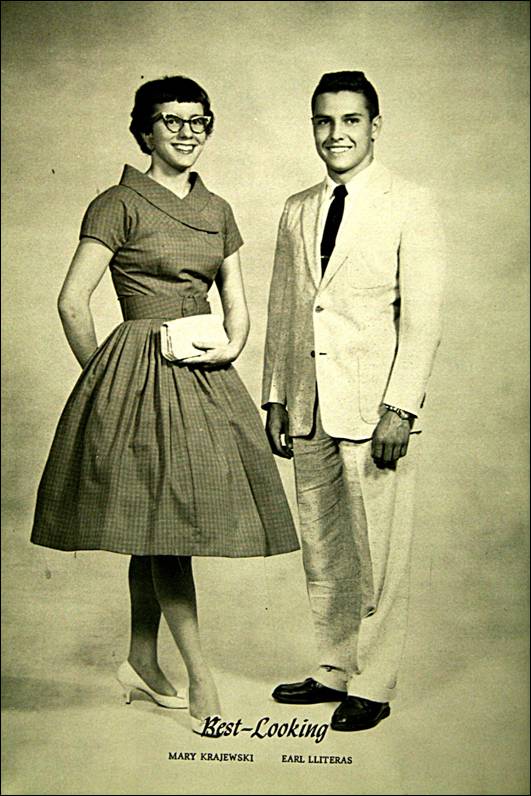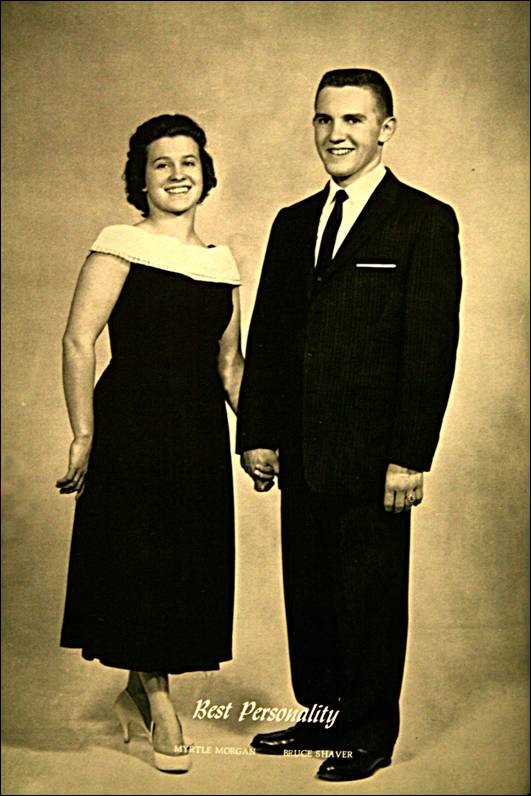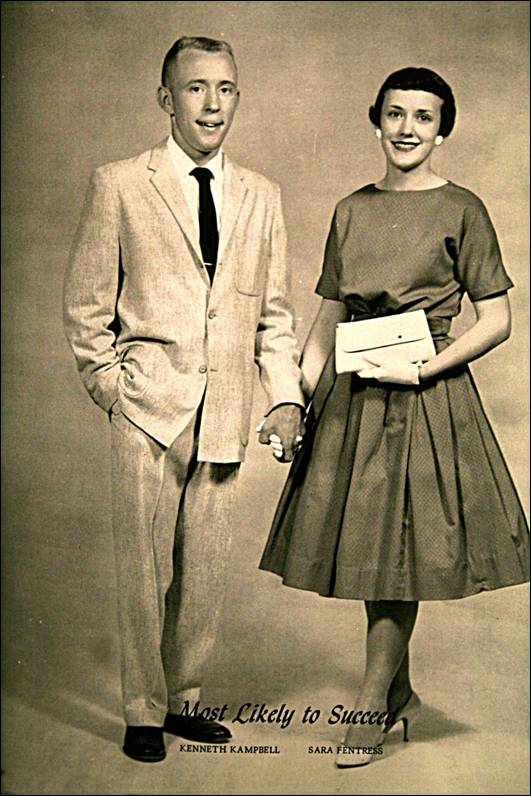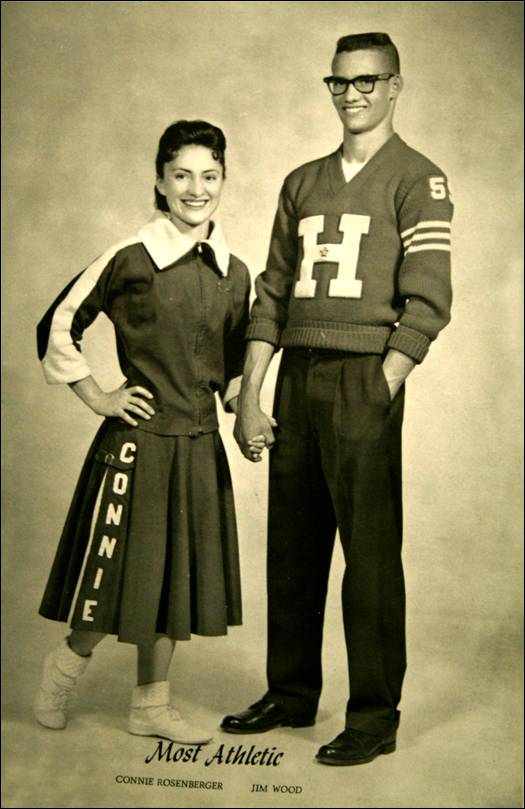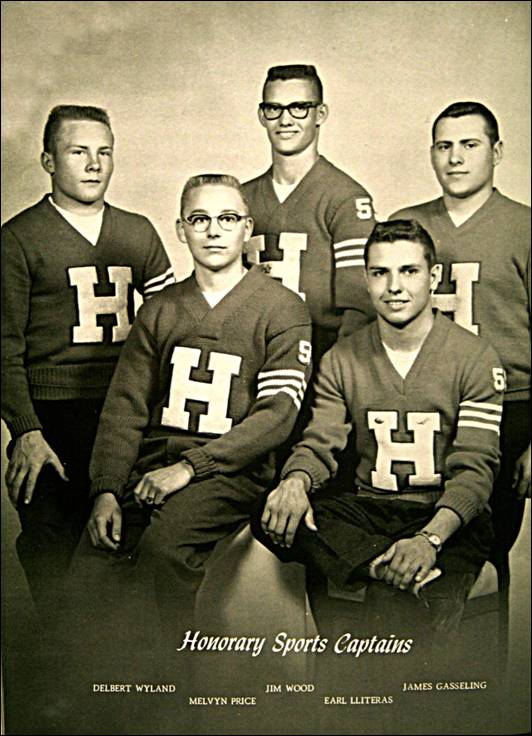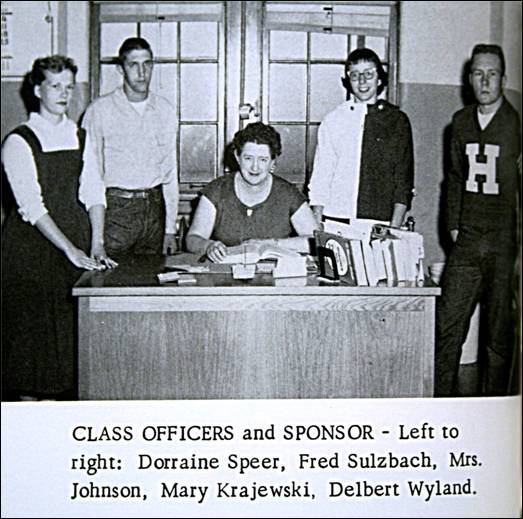 Senior Class Officers – Dorrine Speer, Fred Sulzbach, Mary Krajewski, and Delbert Wyland
Junior Class Officers – Pr. – Calvin Messersmith, VP.- James Moravek, Sec. – Bobbie Shimek, Treas.-Carol Uhrig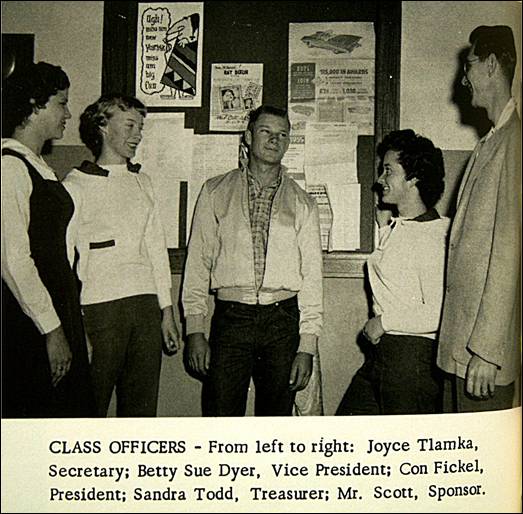 Sophomore Class Officers – Pr. – Con Fickel, VP. – Betty Sue Dyer, Sec. – Joyce Tlamka, Treas. – Sandra Todd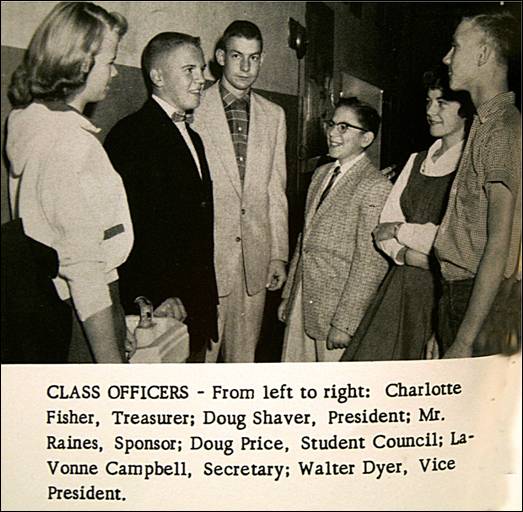 Freshmen Class Officers – Pr. – Doug Shaver, VP.– Walter Dyer, Sec. – LaVonne Campbell, Treas. -Charlotte Fisher
Graduation – Hemingford High School Class of 1959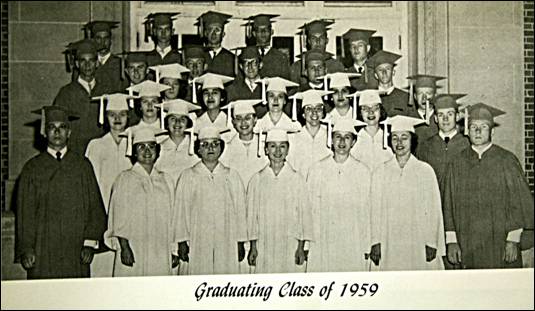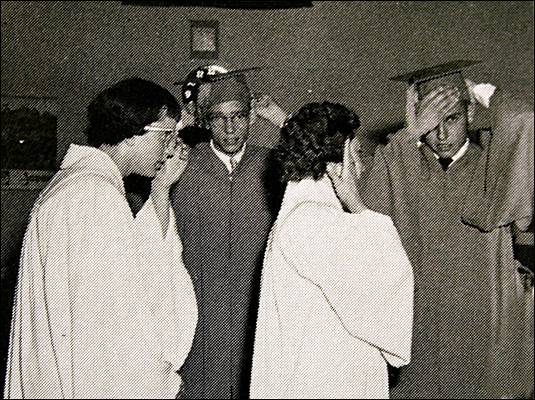 Valedictorian – Connie Rosenberger
Salutatorian – Betty Bergfield
Special or Unique Happenings – The "Bobcat Scratch", a weekly radio show written and broadcast by students, was done at KCOW Radio. The school paper, "The Bobcat Tales" was produced each month. Senior sneak was in the Black Hills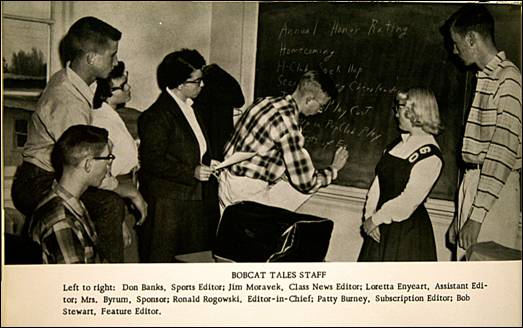 Senior Class Enrollment – 31
Kindergarten Class Enrollment – 21
Kindergarten Class -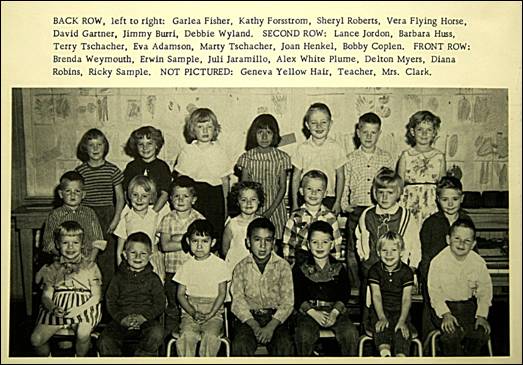 First Grade Class –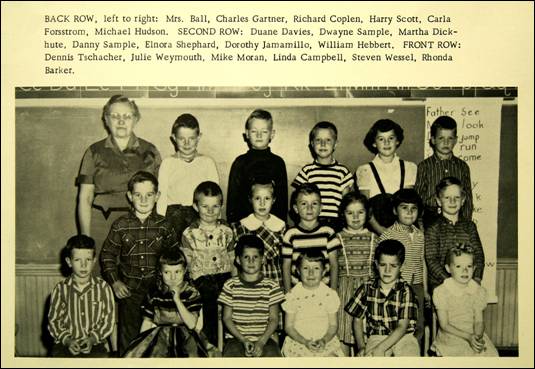 Second Grade Class –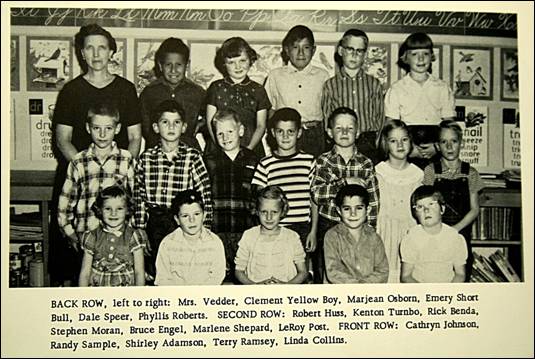 Third Grade Class-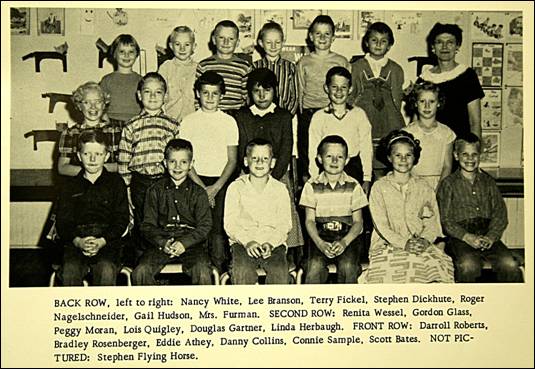 Fourth Grade Class-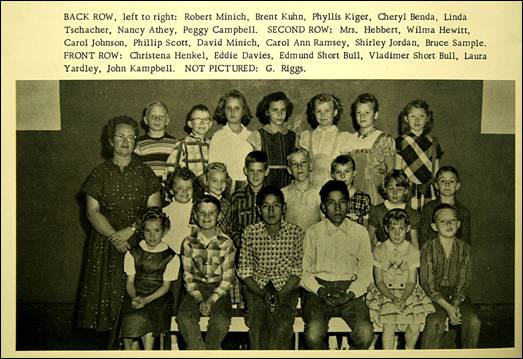 Fifth Grade Class-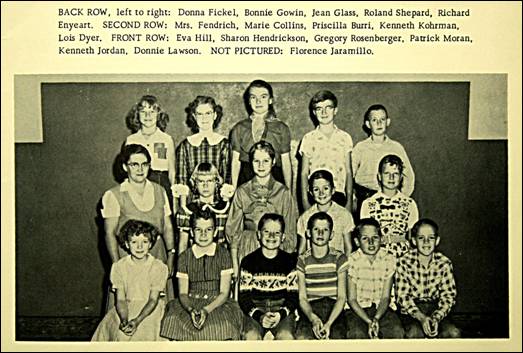 Sixth Grade Class –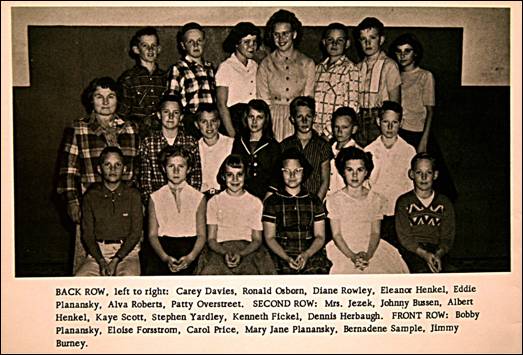 Seventh Grade Class –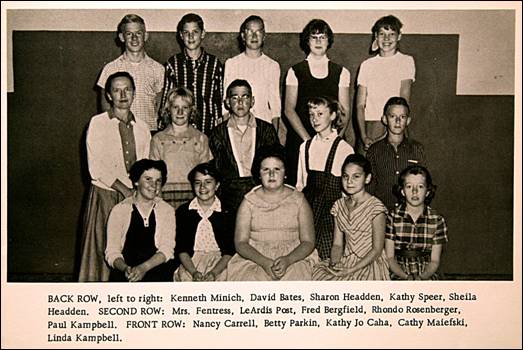 Eighth Grade Class –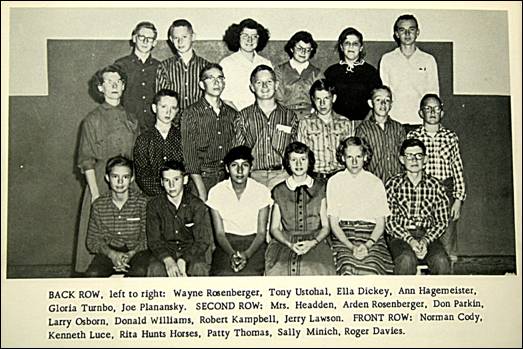 Yearbook Dedication – Alberta Byrum, Commercial Arts Instructor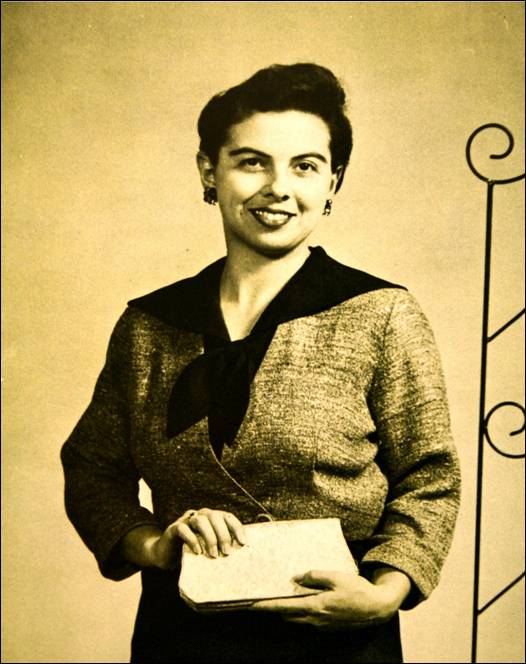 Superintendent – Glenn Bosley
Principal – Josephine Johnson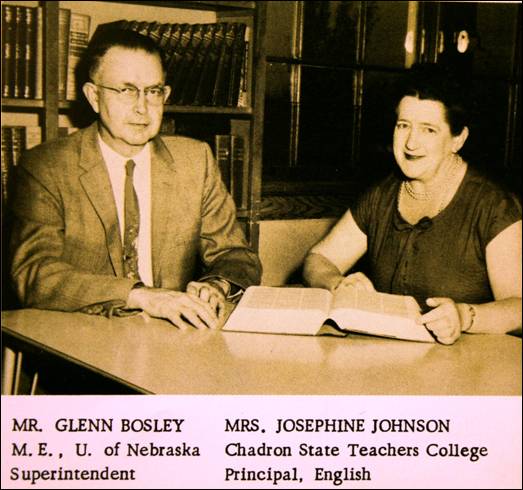 Elementary /Middle Grades Teachers – Kindergarten- Mrs. Clark; First Grade – Mrs. Ball; Second Grade – Mrs. Vedder; Third Grade – Mrs. Furman; Fourth Grade – Mrs. Hebbert; Fifth Grade – Mrs. Fendrich; Sixth Grade – Mrs. Jezek; Seventh Grade – Mrs. Fentress; Eighth Grade - Mrs. Headden
Secondary Teachers – Miss Arlene Neben, Business Education; Miss Dorothy Burns, Home Economics,Mr. Jeptha Byrum, Social Sciences, Coaching; Mrs. Alberta Byrum, Commercial; Mr. Lyle Fodnes, English, Dramatics; Mrs. Adelyn Headden, Geometry and Latin; Mr. James McCafferty, Science and Mathematics; Mr. Robert Raines, Science and Coaching; Mr. Ray Scott, Ag and Shop; Mr. Robert Williams, Music
1959 Highlights
Date
Subject
Posted by:
02/18/2008
2/17-08 Thank You to the person or persons who put this all together. I hope the rest of the class get to enjoy this. Brings back good memories
Mel Price

haymel@bbc.net

Hemingford, Ne.

Farming and Trucking

03/24/2009
These sites are fantastic. Sure brings back the good old days. Looking forward to seeing many at our 50th reunion. Please email me anytime. Would love hearing from you all.
Judy (Caha) Etherington

jjetherington@windstream.net

Lincoln, NE

Retired